Born February 9, 2022
Ready for homes April 6, 2022
SOLD OUT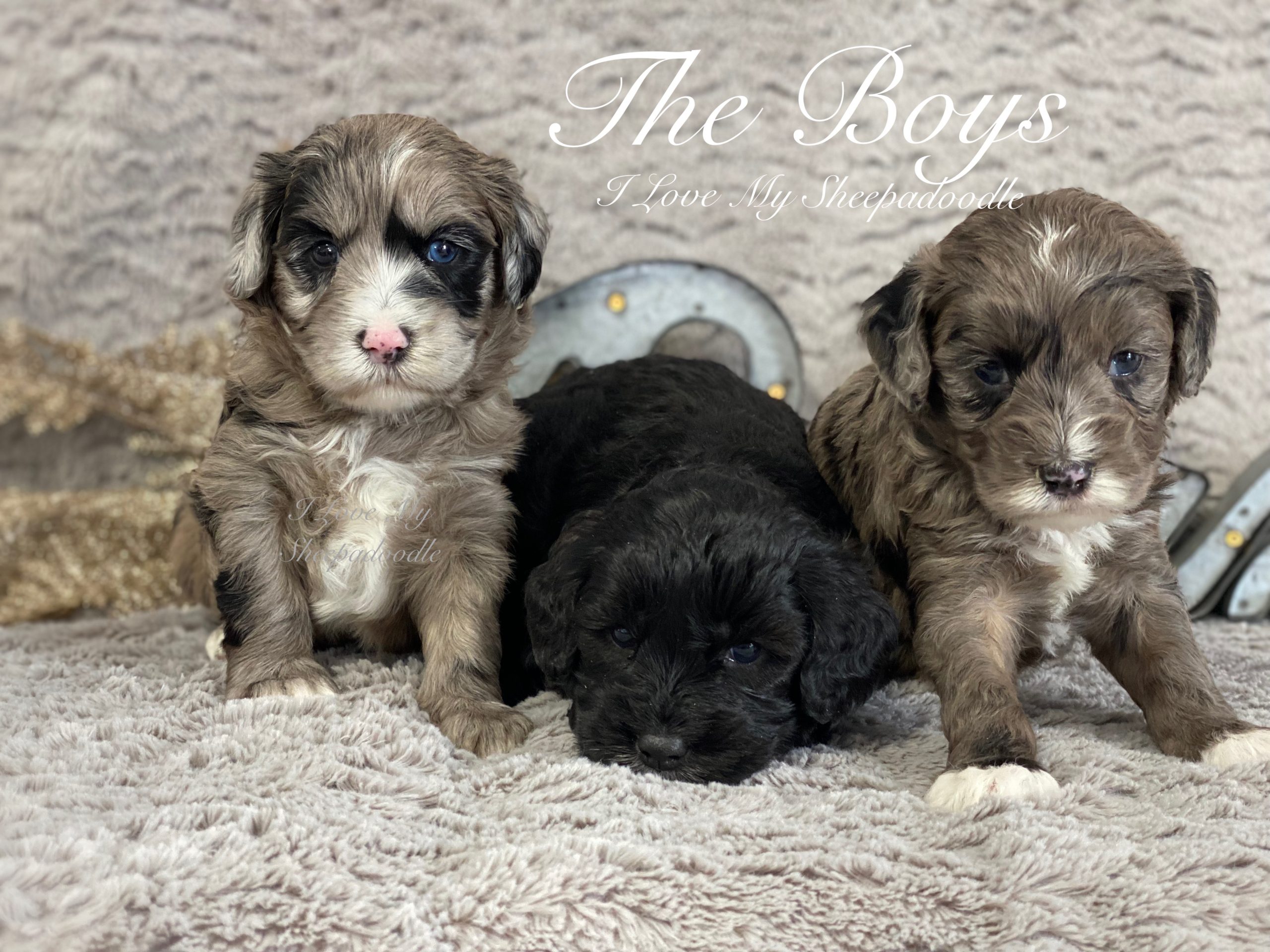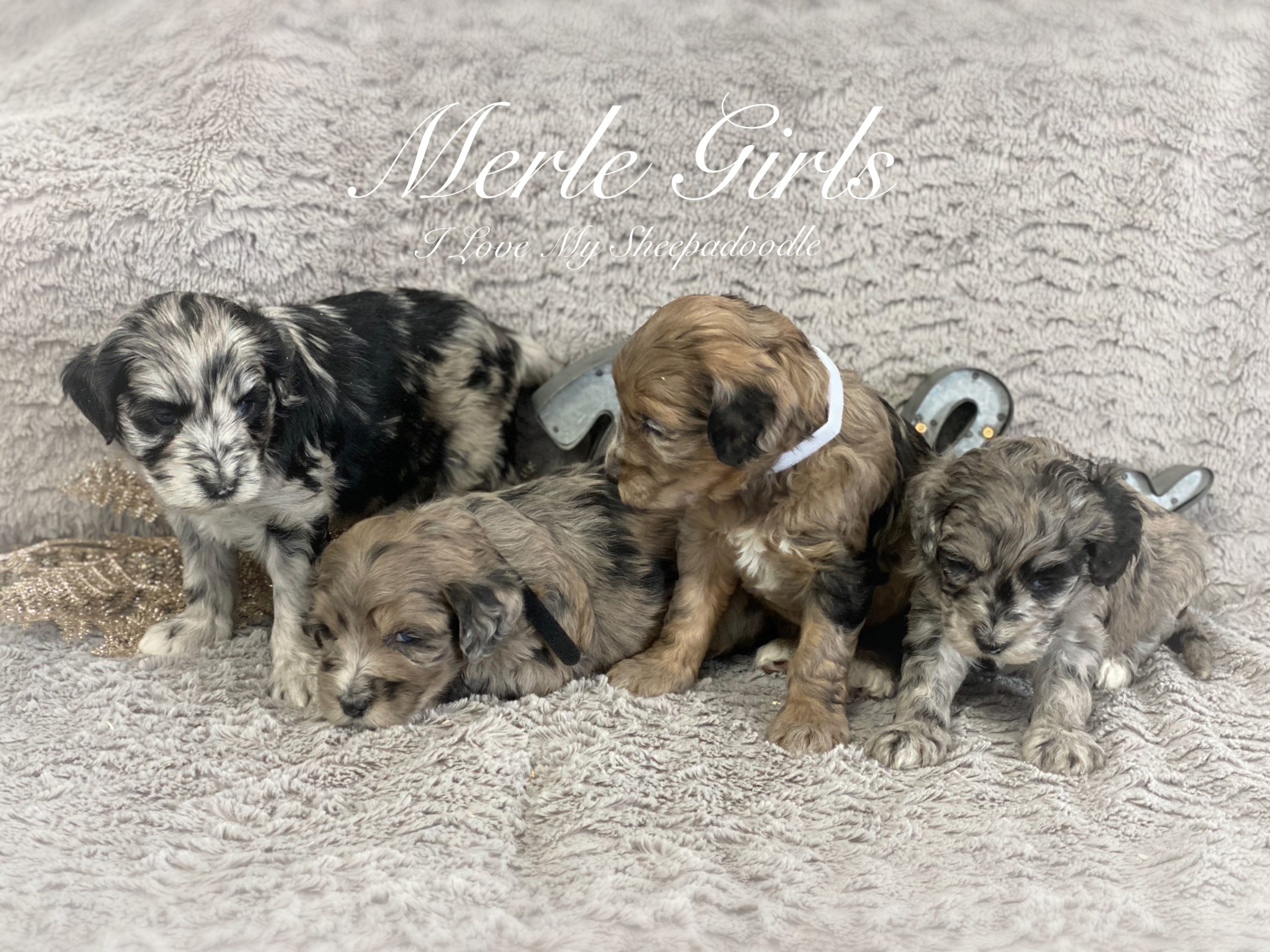 PUPPY INFO
Bailey and Murphy have been paired to make a beautiful litter puppies.  These pups are Sheepadoodles with a touch of Goldendoodle.  It is known as the Olde English Goldendoodle. In this litter the pups are 25 % Old English Sheepdog, 12.5% Golden Retriever and 62.5% Poodle.
The Olde English Goldendoodle generally has a gentle demeanour and are fast learners! They are friendly, social and love their families.  They make an excellent family dog and companion. So far this blend has also proven to be hypoallergenic with little to no shedding – very similar to human hair.
Bailey & Murphy's puppies arrived on Wednesday, Feb 9, 2022.  There are 6 gorgeous girls and 3 handsome little guys.  This litter has a variety of wavy and curly coats. The curly coats could be less shedding but I have seen wavy coats that are non shedding as well.
Colours ~ These pups markings are blue merle & white (which is grey, black and white), apricot and white and black pups with white abstract markings.  The blue merles will look light grey with dark grey or black spots in a mature coat.  The white typically stays white.  Will they fade? We are not sure!  Murphy has kept his colour and Bailey has faded into a lovely blends of grey highlights. So only time will tell what the pups will do.
Size ~ We predict the pups to be in the 20 – 40 lbs range with the average being around 25 – 35 lbs. They should be around 15 – 17 inches high at the shoulder.  Size in dog world? I would say bigger than the average Cocker Spaniel but smaller than average Australian Shepherd.  Of course when we blend bigger breeds with smaller sometimes we can still see a range of sizes in the litter.  So though we expect most to be in the 25 – 35 lbs range there could be some that are bigger or smaller. This litter fits between the Tiny and Mini size and we decided to go with Mini size.  Overall the 25 – 35 lbs Sheepadoodle is a nice size to have for hikes and to romp around outside but still have room to fit on the couch with the family or lift easily into the tub or vehicle.
Puppy picking is planned for Thursday, March 24, 2022 for when the pups are around 6 weeks of age by video call, email, text or phone call.  Pups will be ready to go home April 6, 2022 and after between 8-9 weeks of age.
The pups will come with their first booster, several rounds of dewormer, vet check with health records, and a puppy pack including some food, toy, blanket, vitamins and optional 30 day free pet insurance.
Our Tiny Sheepadoodles are priced at $3,500 CD taxes included.
  To apply for a puppy from this litter you can fill out our
Puppy Application Page
.  Only apply for a pup from current litters – not future litters.   Please note the litter you are interested in.

WAITING LIST
Puppy Picking is planned for March 24, 2022.  Your time slot will be posted by your name.
1. Sue M ~ Goderich, ON ~ Male 1 ~ "Jax"
2. Kim M ~ Toronto, ON ~ Female 5
3. Julie ~ Maple, ON ~ Female 1
4. Marlee E ~ Thornhill, ON ~ Female 2
5. Carol S ~ Oakville, ON ~ Female 4
6. Tammy H ~ North York, ON ~ Male 3
7. Jordon M ~ Montreal, QB ~ Female 3
8. Ellie B ~ Blyth, ON  ~ Female 6 ~ Confirmed
9. Mitchel R ~ Bridgewater, NS ~ Male 2 ~ Confirmed

4 WEEK PHOTOS

 1 WEEK PHOTOS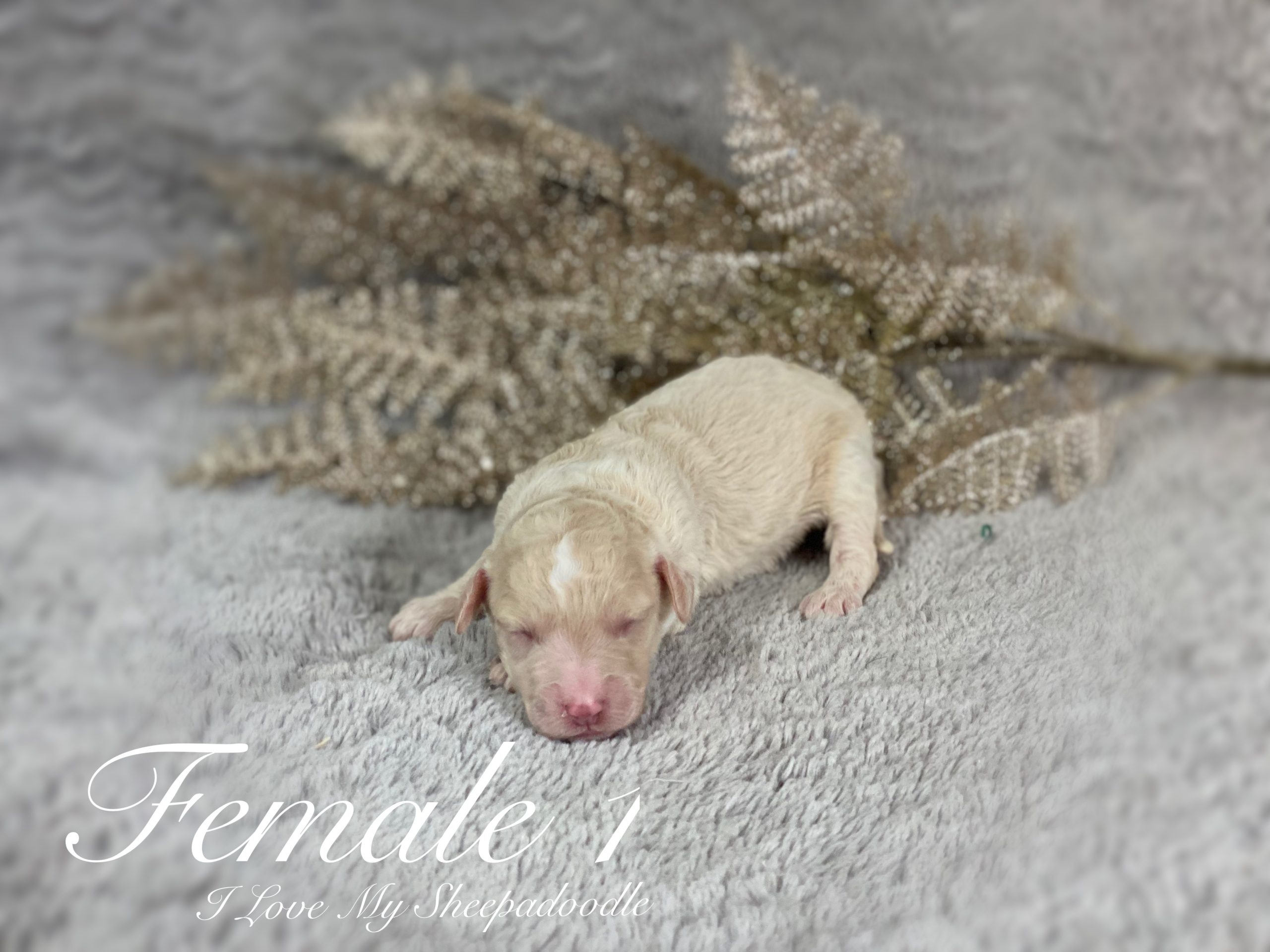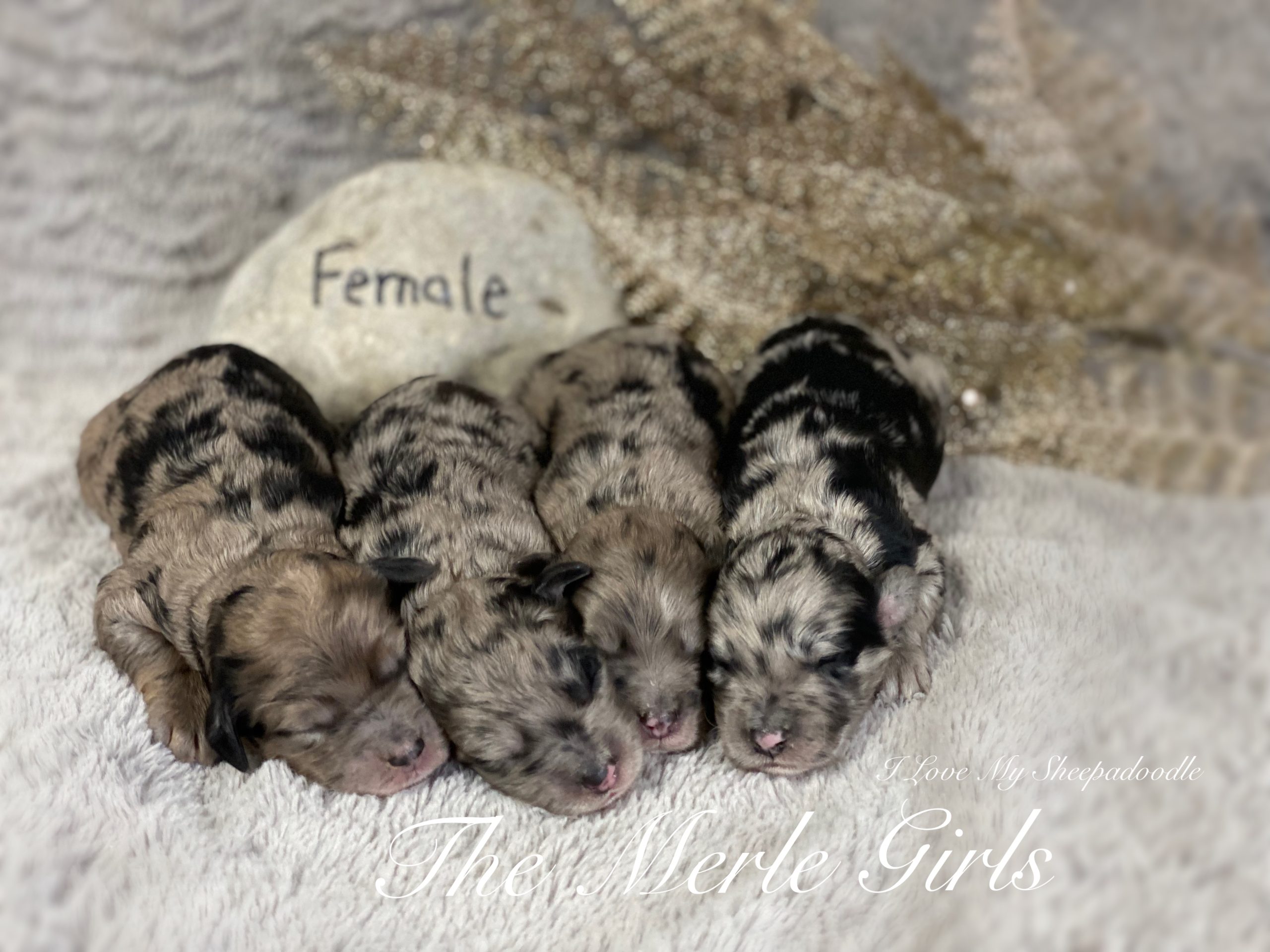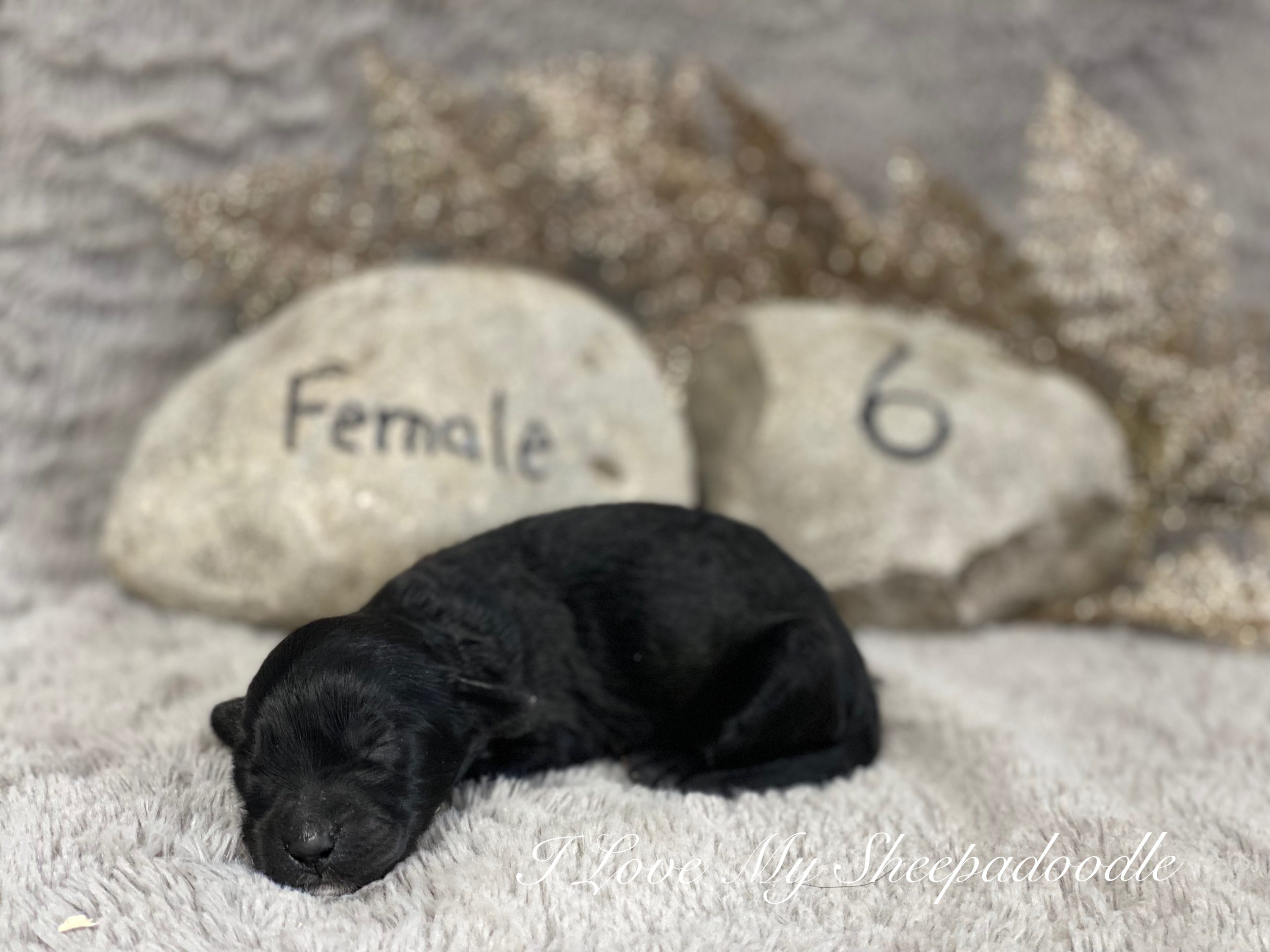 PAST PUPPY PHOTOS FROM
BAILEY SUMMER 2021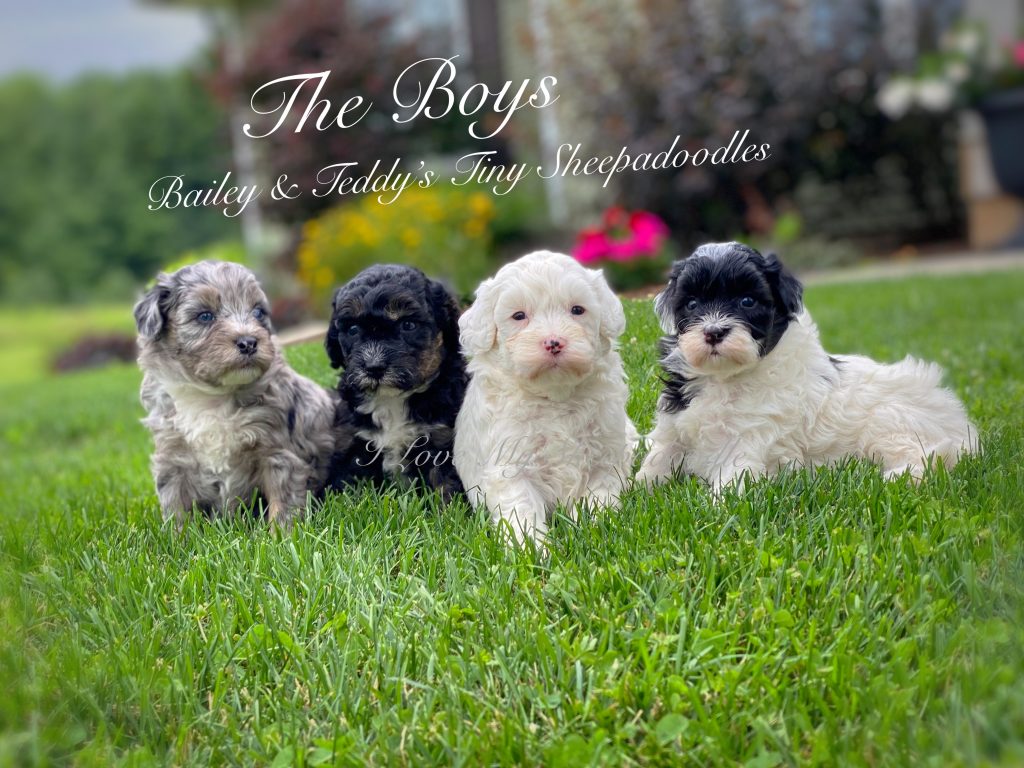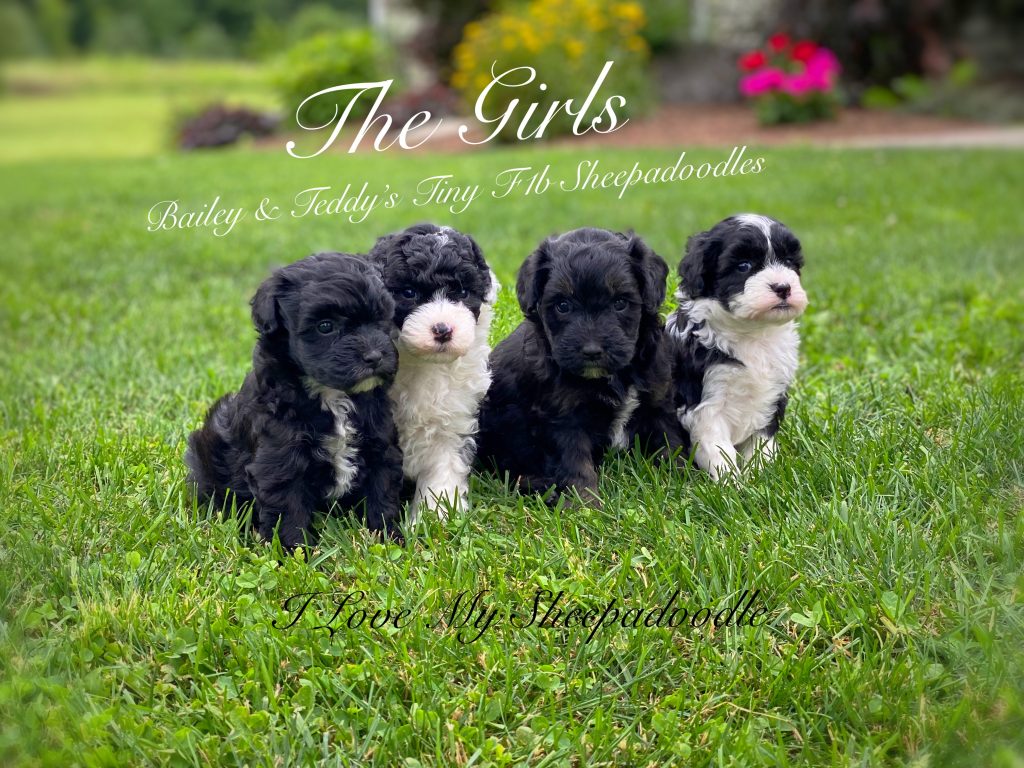 UPDATE FROM KEVIN ~ BAILEY'S PAST PUP
CHRISTMAS 2021
Hi there, Thought I would drop you a hello, Merry Christmas and Happy New Year and a little update on Kevin!
Kevin is really showing his personality these days. He's starting to outsmart us and has figured out how to move the gate barrier that keeps him from going upstairs. He only goes up there if he's looking for me so it's mostly difficult if I'm trying to get a minute alone. Other than that we all find it pretty funny!  He has also figured out to sit by the back door when he isn't getting as much attention (when I start to cook supper he immediately plants himself there even if he was out to potty only ten minutes beforehand). We've caught on and he gives up if we don't cater to him right away.  He loves the snow and doesn't seem to mind our constantly changing temperatures. He will never say no to a walk! He fights cleanup and wipe downs but we keep working on that
.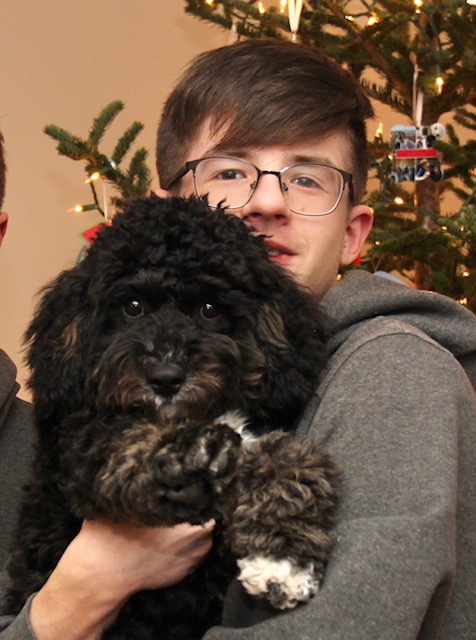 We are in lockdown here since Christmas so everyone is home. I've still tried to give him crate time so he doesn't get too used to freedom and company as we will be back to work at some point – he does well in there although goes in grudgingly. It's the only place he gets peanut butter in a Kong in the day. At night he runs in there on his own right after potty time and a tiny bit of cheese is his treat at night.
I hope you and your family are well and enjoying the start of 2022. Wishing you all the best from Newfoundland!
Sincerely
Heather, Jason, Benjamin, Thomas and Kevin
SEE SOME OF OUR PAST
MINI OLDE ENGLISH GOLDENDOODLES  
ON INSTAGRAM
MEET THE PARENTS!
BAILEY – F1 MINI SHEEPADOODLE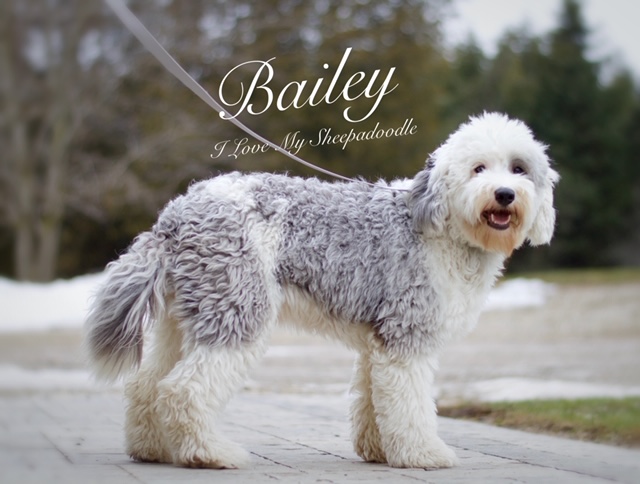 Bailey is our F1 Mini Sheepadoodle weighing in around 28 – 30 lbs and 16 inches at the shoulder.  She is 50% Mini Poodle and 50% OES.  Her father is our Blue Merle Mini Poodle Tobi!  Her mom is a purebred registered Old English Sheepdog. Bailey is a very gentle and kind mother taking attentive care of her little pups.  She's a natural!  Bailey is loved dearly by her guardian home of dad and mom and 2 younger kids.  Bailey loves them back equally!  Bailey has a close bond with her guardian family's Golden Retriever.  Bailey loves food! Who doesn't?  She's also content just hanging out with her family.  Bailey makes amazing Sheepadoodle puppies and those who get a pup from her will be truly blessed!
Weight: 30 lbs
Height: 15 inches at shoulder
OFA Prelims on Hips & Elbows ~ Excellent & Normal
Clear on her Sheepadoodle panel with Paw Print Genetics
MURPHY – MINI F1B GOLDENDOODLE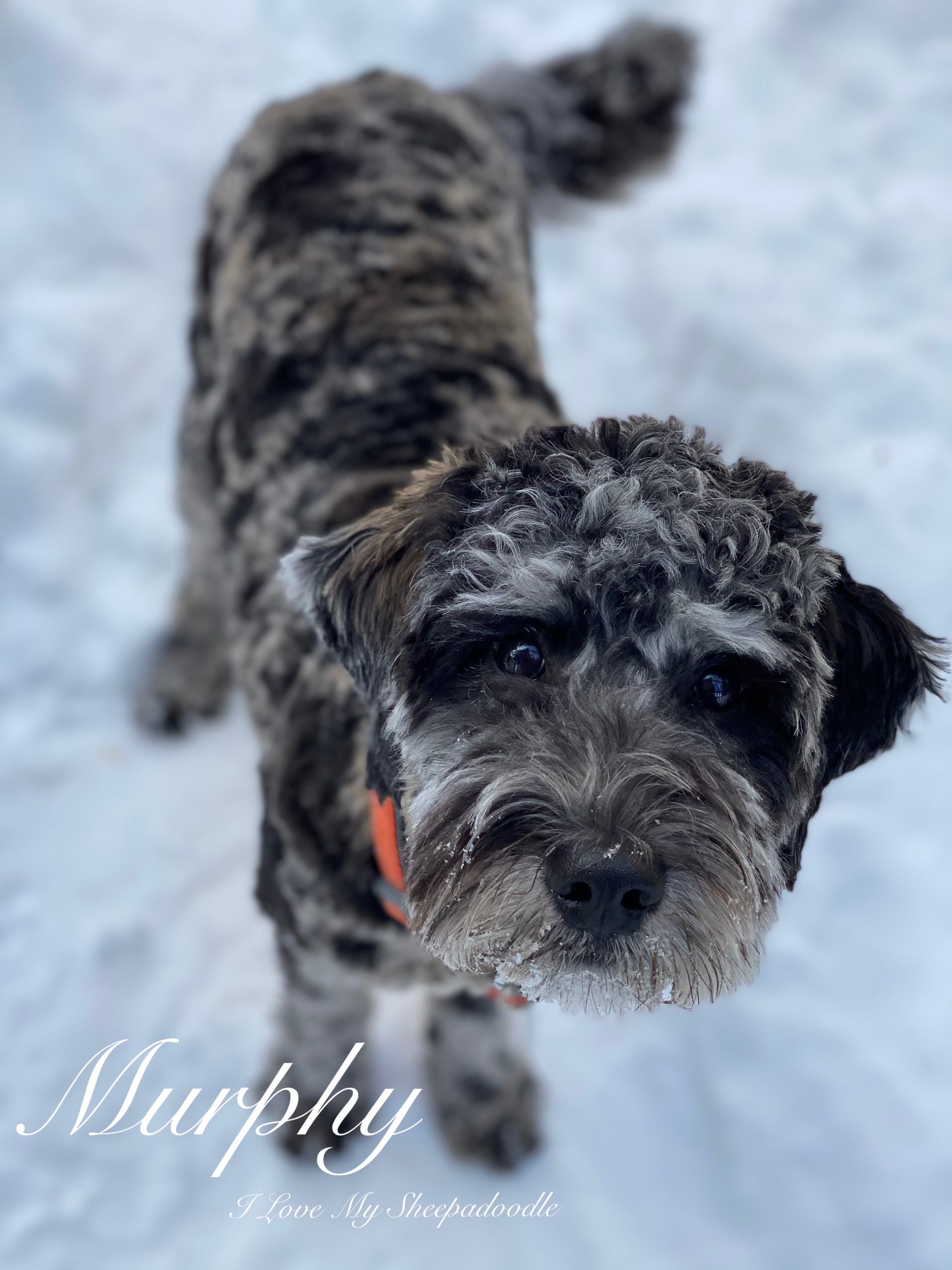 Murphy is a F1b Goldendoodle from a local acquaintance of ours.  His lines come from Doodle Creek's Goldendoodles.  He lives with his guardian family in Wingham, ON and a senior dog called Bella.  Murphy is loved very much by his family!  He has a super soft coat and turns heads all the time with his good looks.  He likes to be with his people but also likes his dependance.  He has his own personality that makes him Murphy.  He is intrigued with life and all its mysteries. Some would say he's easily distracted but Murphy would just say he is being aware of his surroundings 🙂  He's pretty easy going though and it's always a pleasure when Murphy comes to us for a visit.
Weight: 30 lbs
Height: 16 inches at shoulder
OFA Hips and Elbows ~ Good and Normal