OPENINGS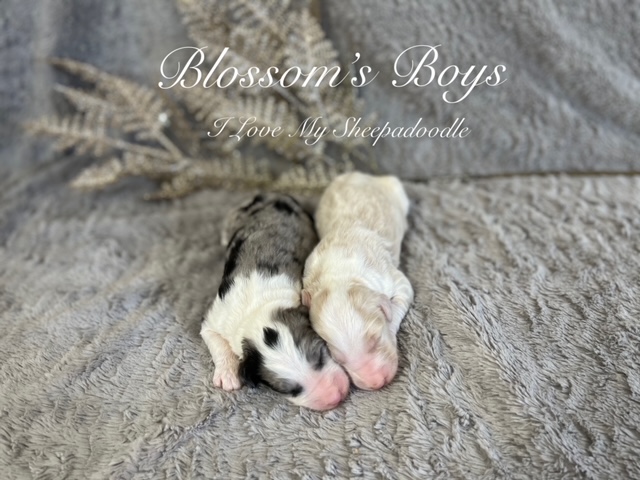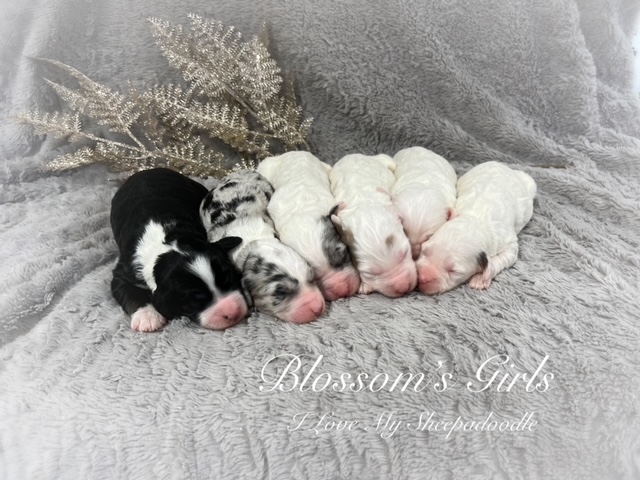 Born April 6, 2022
Ready for homes June 1, 2022
Blossom and Tobi have been paired to make another lovely litter of Olde English Goldendoodles!  Blossom & Tobi make loving, friendly wonderful family companions.   These pups are a Sheepadoodle with a touch of Goldendoodle.  They are 25% Old English Sheepdog, 12.5% Golden Retriever and 67.5% Poodle.
The Olde English Goldendoodle generally has a gentle demeanour and are fast learners! They are friendly, social and love their families.  They make an excellent family dog and companion.
We have 8 puppies in this litter, 2 boys and 6 girls.  I expect these puppies to have a nice soft, thick fleecy coat that is hypoallergenic with little to no shedding.
 These pups are expected to matured between 25 – 50 lbs or so with most being around 30 – 45 lbs.  Their expected height should be between 16 – 19 inches high at the shoulder give or take some. There could be one or two that is bigger or smaller – you will be able to tell by puppy picking date.
Puppy picking is planned for May 17th when the pups are 6 wks old.  We will be posting photos of pups around 4 – 5 wks of age and post a little description and weights just before puppy selection day.   Puppy picking can be done by video call, phone call, text or email.  We do not do in person visits.
Pups will be ready to go home June 1, 2022 or after between 8-9 weeks of age.   The pups will come with their first booster, several rounds of dewormer, vet check with health records, and a puppy pack including some food, toy, blanket, vitamins and optional 30 day free pet insurance.
Our Mini Sheepadoodles are priced at $3,500 CD (taxes in).
Our litter application page is open!  Deposits are $500 and valid for one litter only.
You can refer to our Pricing and Payments page for more info on the process.
    We look forward to helping you with your Sheepadoodle puppy!
WAITING LIST
Puppy selection planned for May 17, 2022
1. Misha C ~ Ottawa, ON ~ Male 1 ~ "LEWIS"
2. Yuxin Z ~ Ottawa, ON ~ Male 2
3. Shannon A ~ Cambridge, ON ~ Female 2
4. Available
5. Available
6. Available
7. Available
8. Available

5 WEEK PHOTOS

WEEK 1 PHOTOS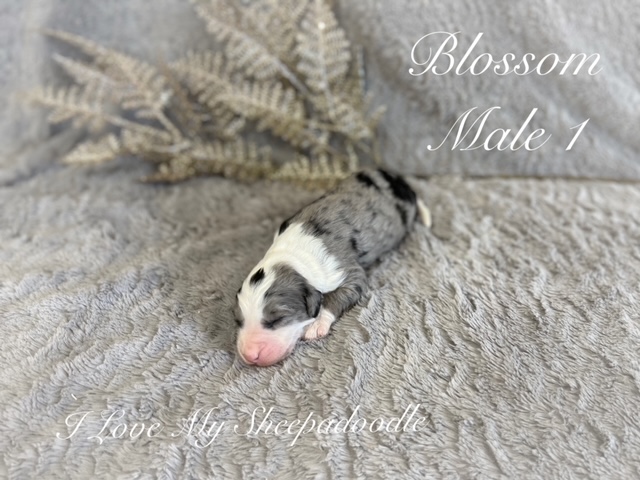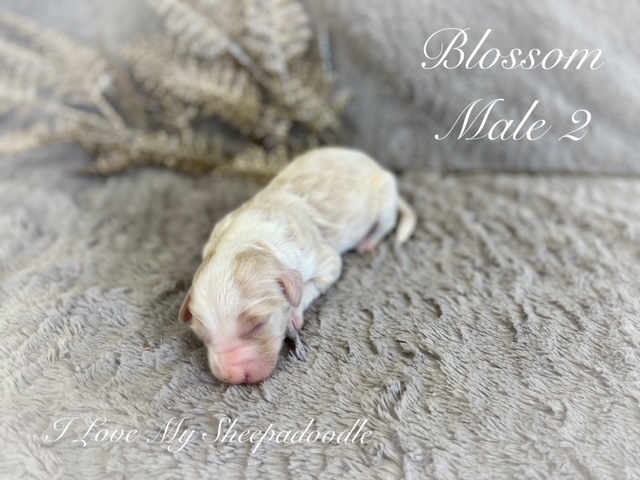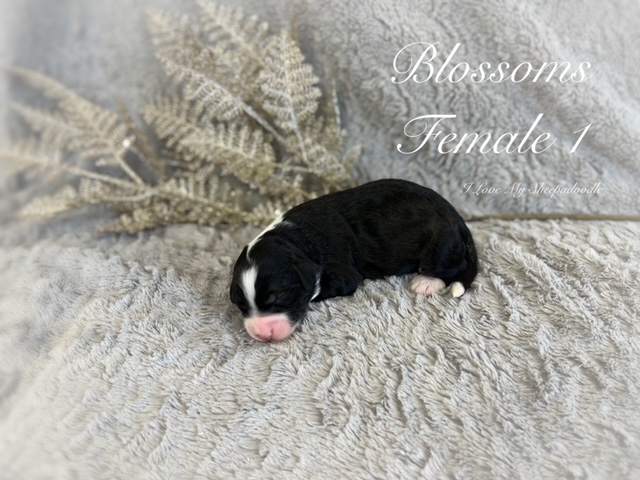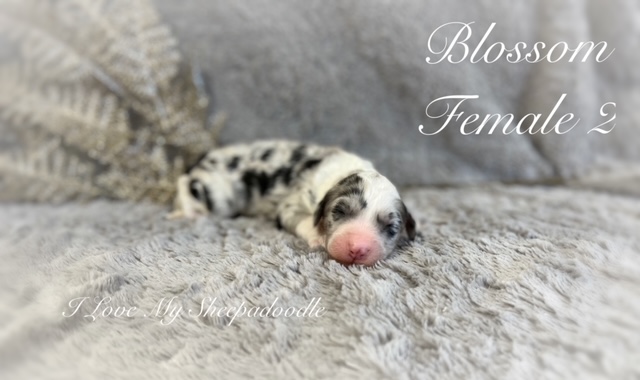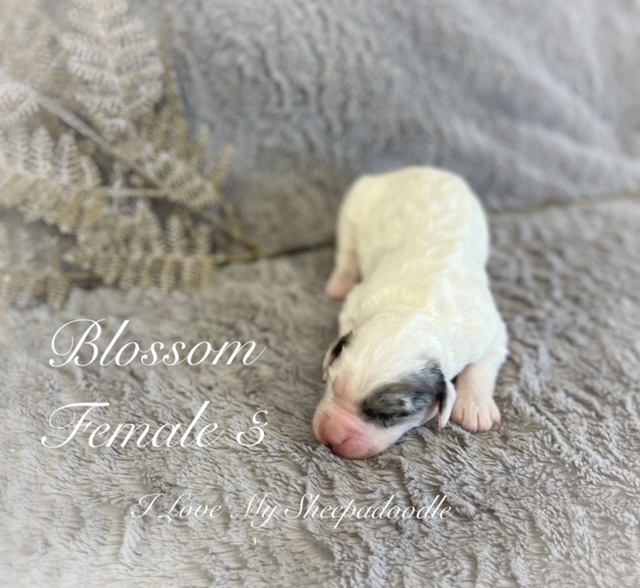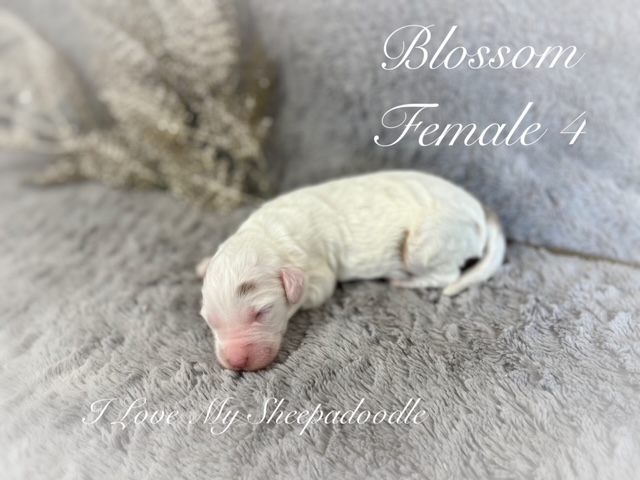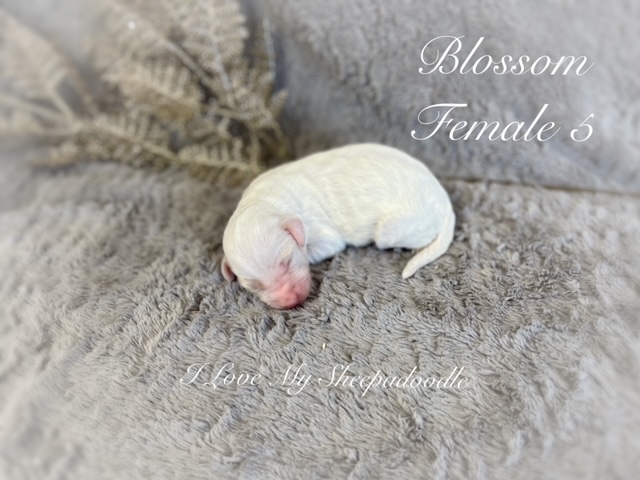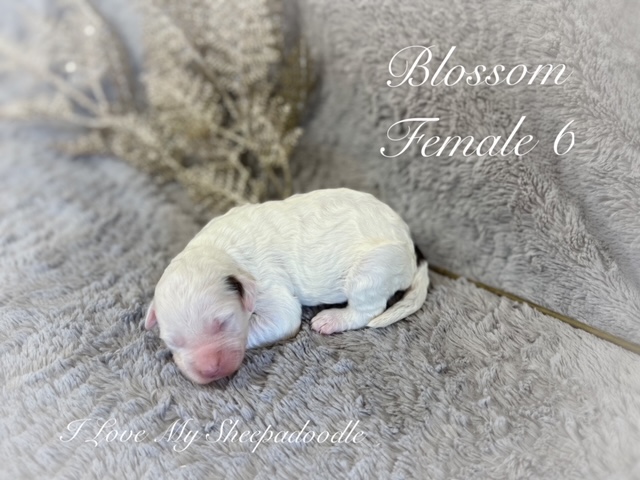 MEET THE PARENTS!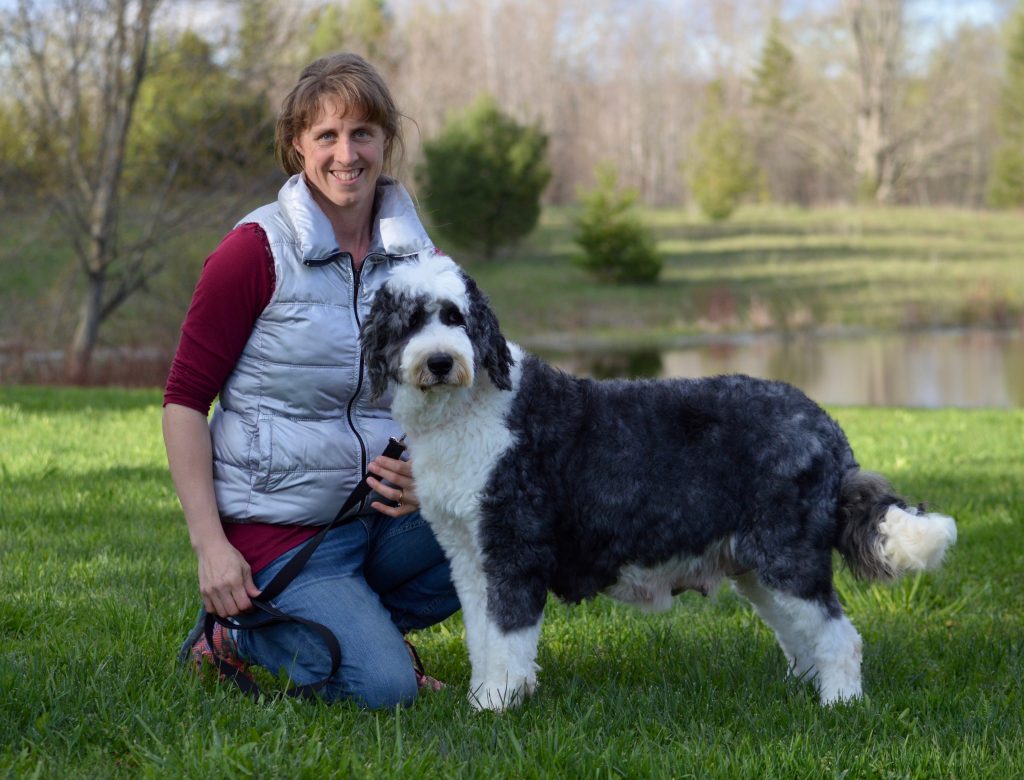 Mother: Blossom is our Goldendoodle Sheepdog from Wagging Heart Kennels made by crossing a Goldendoodle with our past Sheepdog Jake. She is sweet, quiet and gentle.  Her coat is soft, fleecy and full. She has a lovely tuxedo pattern.  She weighs in around 55 lbs. Her hips and elbow health testing has passed as good and normal.  You can see Blossom's Sheepadoodle DNA panel on Paw Print Genetics.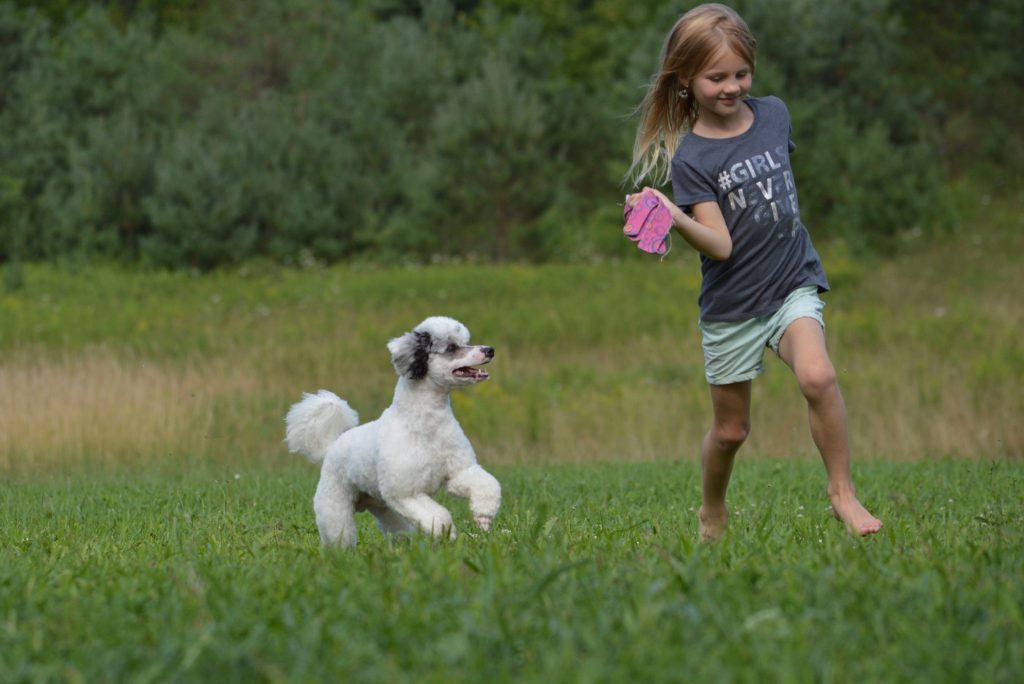 TOBI'S ALL CUDDLES
Tobi is such a sweet boy!  His name says it all!  He plays dress up and lets my kids take him along with them wherever they go.   He loves to cuddle on the couch for Netflix or Disney Plus shows.  Tobi loves life and brings joy to those he meets.   Tobi is 13.5 inches high and 16 lbs.  He has passed his OFA prelims with Good hips and normal elbows. Tobi has a clear Poodle panel with Paw Print Genetics.  Tobi is registered with the Canadian Kennel Club.   He is a lovely boy and produces beautiful pups inside and out!  He will be father to our Moyen, Mini and Tiny Sheepadoodle pups!
 Testimony from A Past Pup
Charlie's family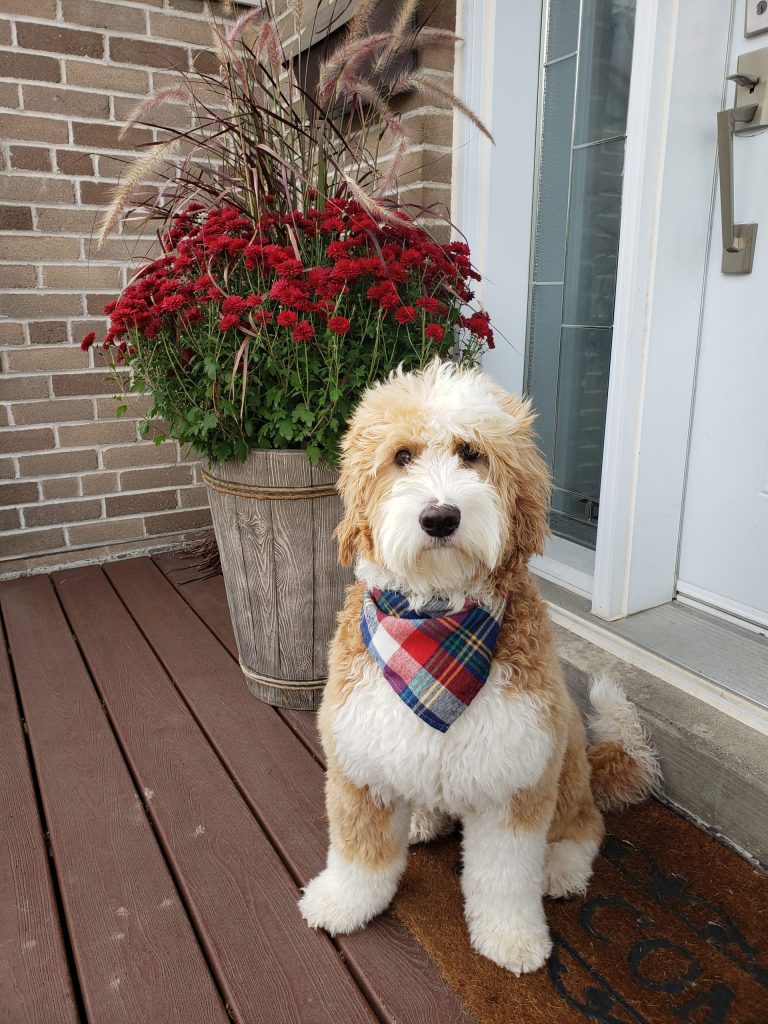 Hi Delicia,
An update on Charlie, from Tobi and Blossom's December 2019 litter.
Charlie is almost 10 months old, and weighs approximately 40 pounds.
He is a wonderful dog, full of love, curiosity and wonder.  He especially loves his morning walks and any visits to the dog park to play with his buddies.