BORN FEB 13, 2023
READY APRIL 10, 2023
~
~ OPENINGS ~  
Prices Starting at $2,000
~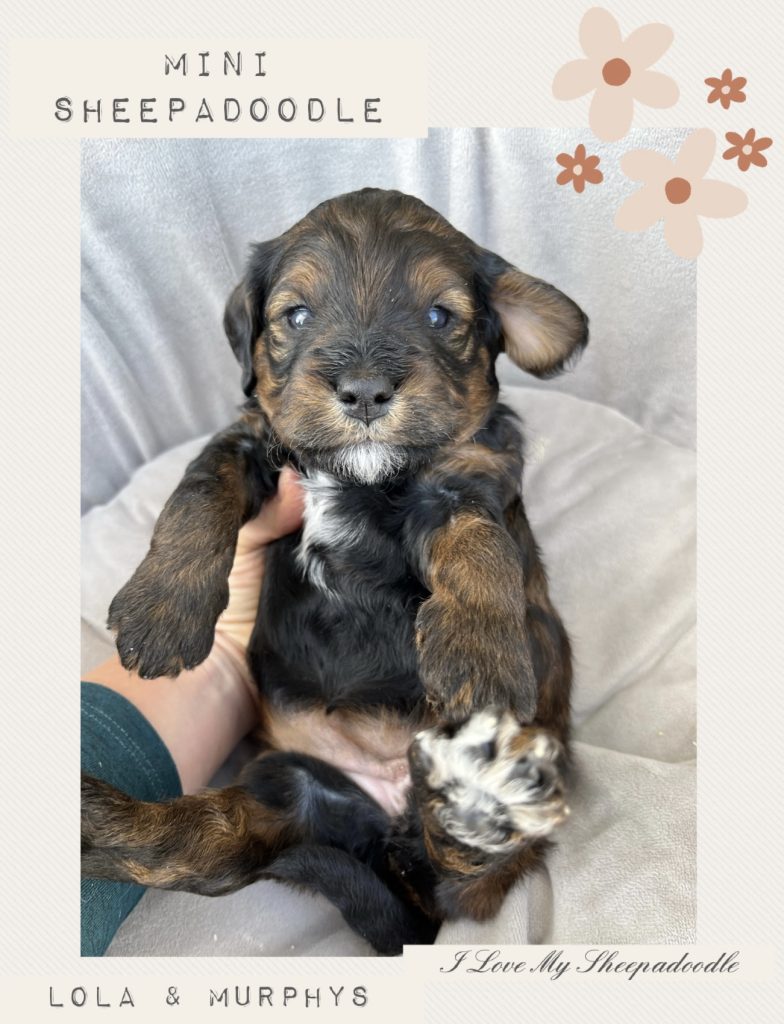 Lola & Murphy welcome a beautiful litter of 5 pups! We have 1 Blue Merle boy and 2 black and tan pups and 2 black pups with some tiny dashes of white.
 Lola & Murphy's pups are  Olde English Goldendoodles in the mini size.  These pups are a blend of Sheepadoodle and Goldendoodle – two favourite doodle breeds!  In this litter the pups are 12.5% Old English Sheepdog, 25% Golden Retriever and 67.5% Mini Poodle.
The Olde English Goldendoodle generally has a gentle demeanour and are fast learners! They are friendly, social and love their families.  They make an excellent family dog and companion.
The pups have a soft coat with little to very low shedding. Their hair is similar to human hair; it will continue to grow and needs trimmed.  Their hair needs to be brushed on a regular basis.  There are some wavy coats and curly coats in this litter.  Curly coats are known to have less chance of shedding.
 These pups should be an average around 30 – 40 lbs matured with most being around 30 – 35 lbs.  Their expected height should be between 17 – 18 inches high at the shoulder. There could be one or two that is bigger or smaller. You will be able to tell by puppy picking date.
Puppy picking is planned for March 23, 2023 when the pups are around 5 to 6 wks old.  We will be posting photos of pups around 4 wks of age.  Then the day before puppy picking we post on Instagram a video of pups playing.  Puppy picking can be done by video call, phone call, text or email.  We do not do in person visits for the safety of our baby pups.
Pups will be ready to go home Monday, April 10, 2023 or after between 8-9 weeks of age.  Pick up is available most days but we are closed Sundays.
The pups will come with their first booster, several rounds of dewormer, vet check with health records, and a puppy pack including some food, toy, blanket, vitamins and optional 30 day free pet insurance.
These pups are  priced at $2,500 CD (taxes in) for Blue Merle & $2,000 for the rest
If you want to add our 1 yr health guarantee it is an additional $500.  You can refer to our Pricing and Payments page for more info on the process.
You may apply for one of these puppies by completing our online puppy application if you are interested in purchasing one of these puppies. Deposits are a non-refundable $500 and only go to this litter.  Deposits will not be accepted until after the puppy application form has been approved.
Thank you and we look forward to helping you with your Sheepadoodle puppy!
– – –
WAITING LIST
Puppy selection planned for March 23, 2023
1. Amanda W ~ Toronto, ON ~ Confirmed ~ Referral from Abby/Barnes
2. Martin G ~ King City, ON ~ Confirmed
3. Available
4. Available

5. Available
–
3.5 WEEK PHOTOS
Descriptions and weights done around 5 wks of age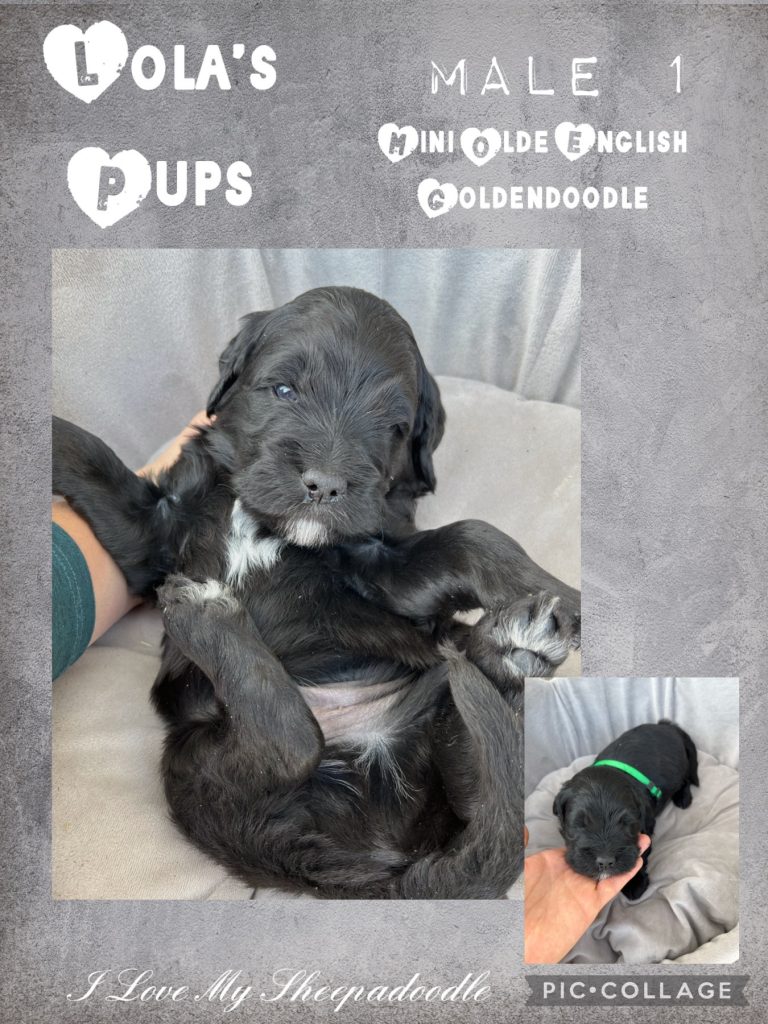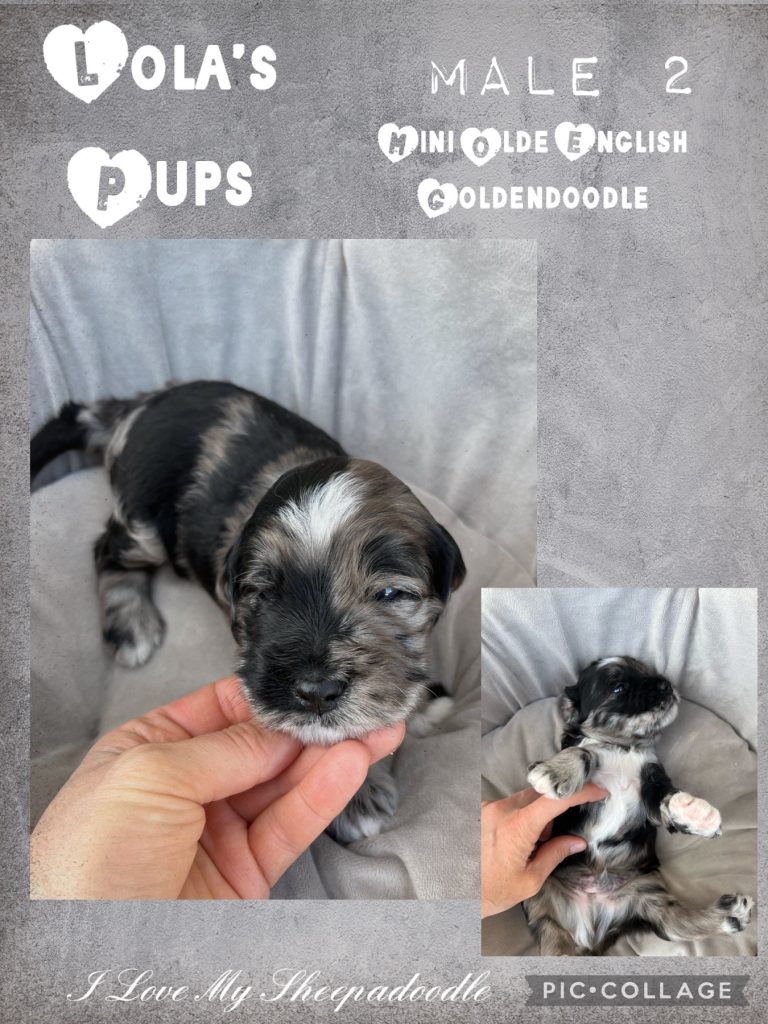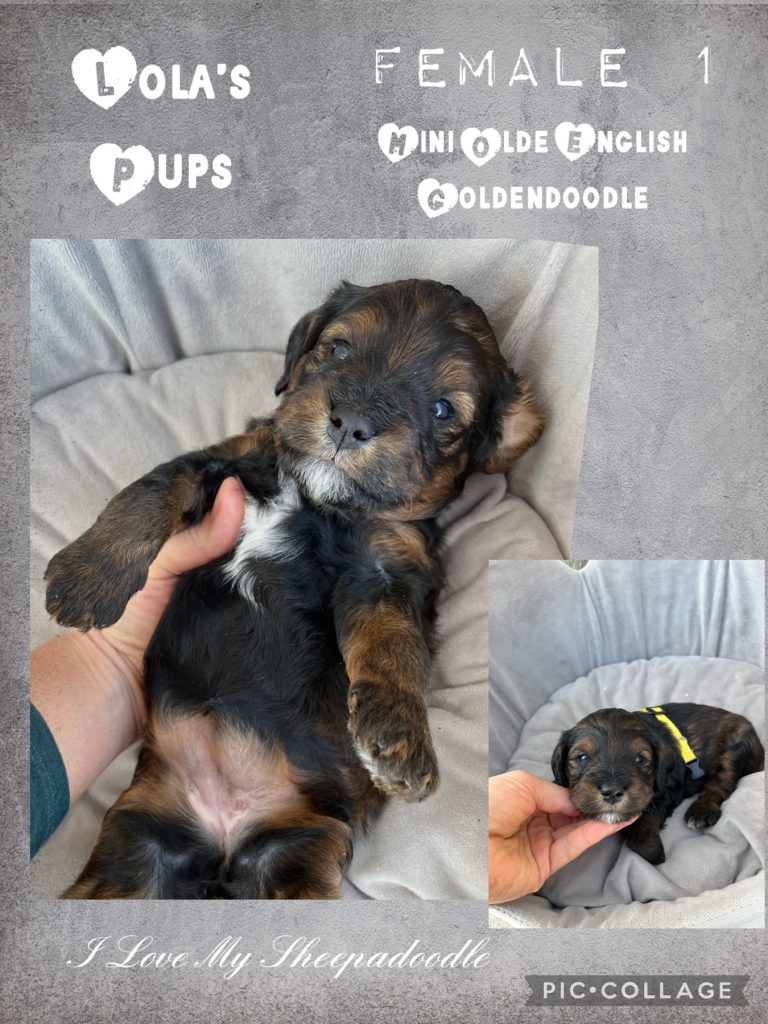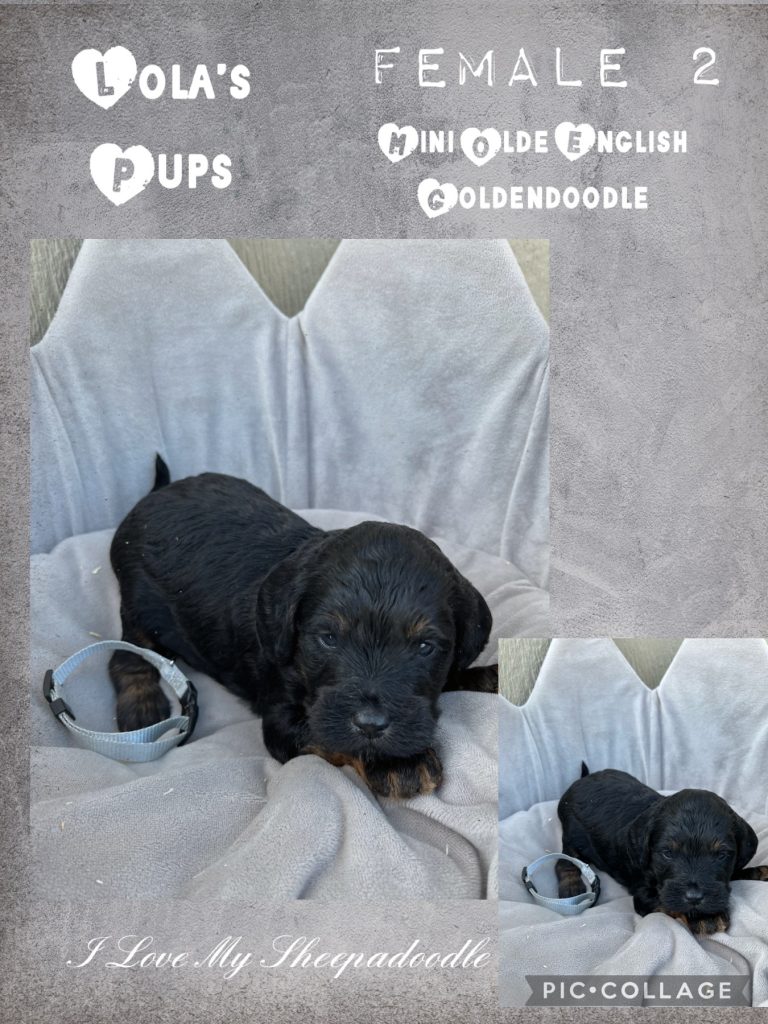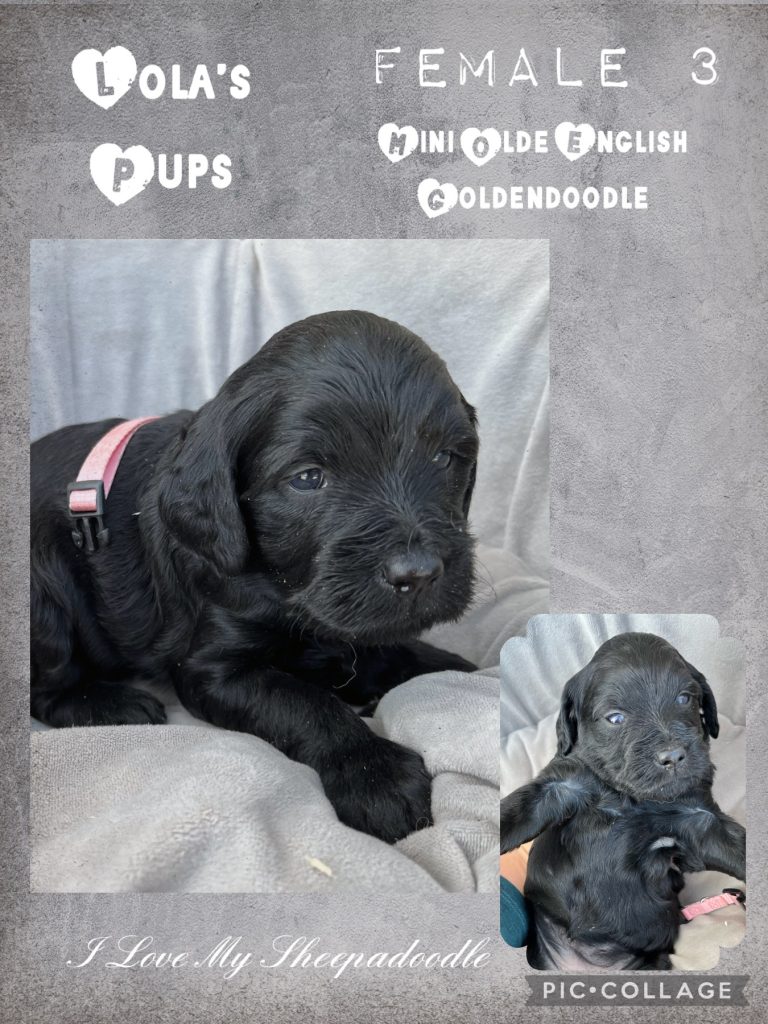 WEEK 1 PHOTOS

–
MEET THE PARENTS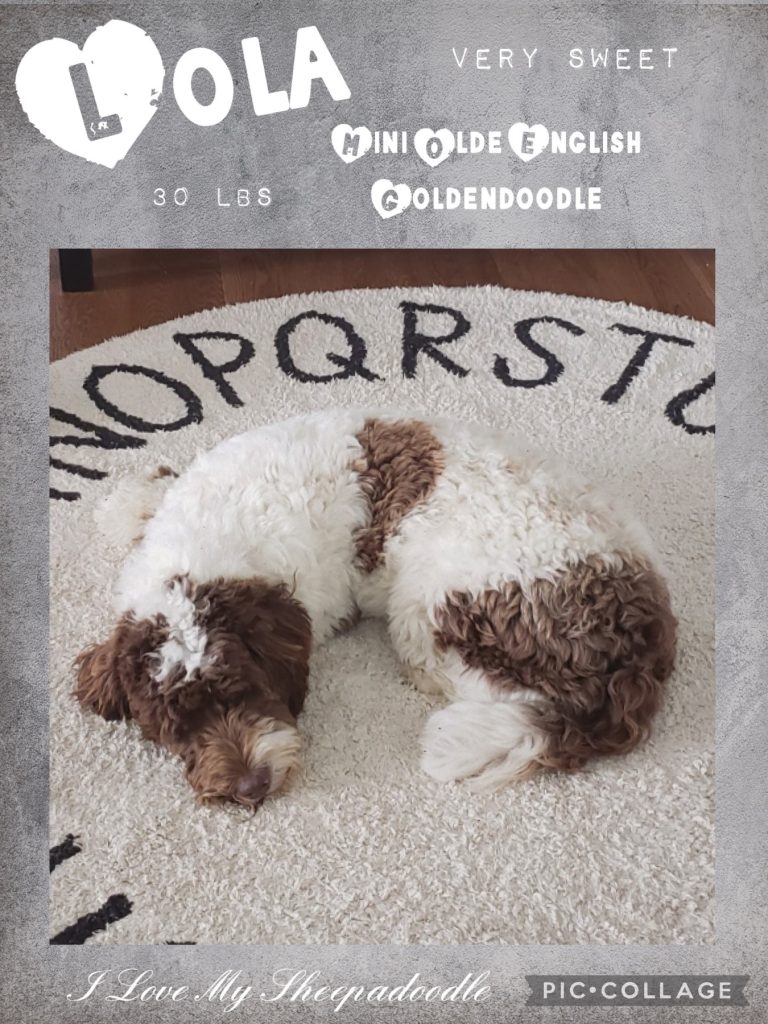 Lola is a gentle and kind girl.  She lives with her guardian family in the country side and enjoys chilling out with her family.  Lola is a soft chocolate and white parti Mini Olde English Goldendoodle.  She is 25% Old English Sheepdog, 25% Golden Retriever and 50% Poodle.  Her mom is one of our favourites moms here – Blossom.  And her dad is Duffy from Doodle Creek.  Lola is about 30 lbs and 17 inches at the shoulders.  She has a super soft silky wavy coat.   She is a calm, sweet and gentle girl and that's what really stands out about this girl!  We look forward to Lola's puppies starting 2023 and after!
OFA Hips and Elbows – Excellent & Normal
Clear on Embark DNA Genetic Testing
~

~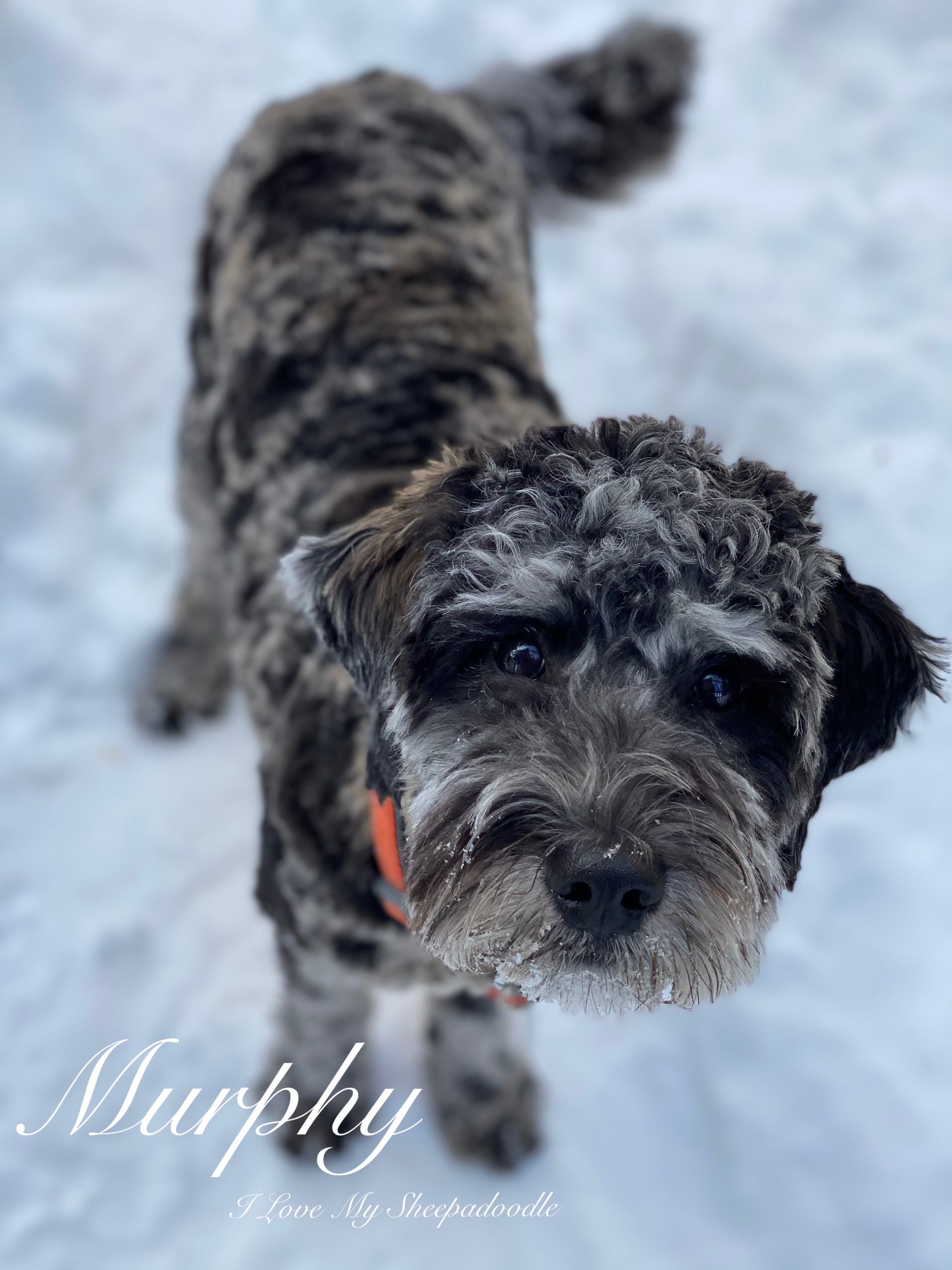 Murphy is a F1b Goldendoodle from a local acquaintance of ours.  His lines come from Doodle Creek's Goldendoodles.  He lives with his guardian family in Wingham, ON and a senior dog called Bella.  Murphy is loved very much by his family!  He has a super soft coat and turns heads all the time with his good looks.  He likes to be with his people but also likes his dependance.  He has his own personality that makes him Murphy.  He is intrigued with life and all its mysteries. Some would say he's easily distracted but Murphy would just say he is being aware of his surroundings 🙂  He's pretty easy going though and it's always a pleasure when Murphy comes to us for a visit.
Weight: 30 lbs
Height: 16 inches at shoulder
OFA Hips and Elbows ~ Good and Normal
– – –
PAST OLD ENGLISH GOLDENDOODLE PUPS
TESTIMONIES/INSTAGRAM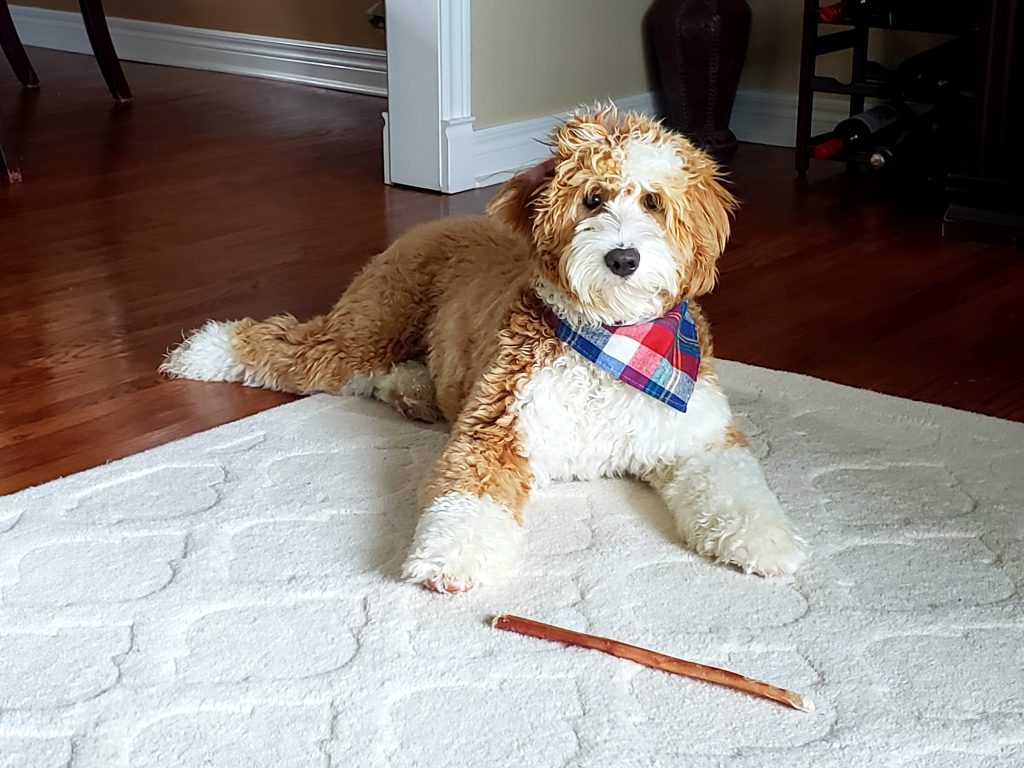 Hi Delicia,
An update on Charlie, from Tobi and Blossom's December 2019 litter.
Charlie is almost 10 months old, and weighs approximately 40 pounds.
He is a wonderful dog, full of love, curiosity and wonder.  He especially loves his morning walks and any visits to the dog park to play with his buddies.
– – –

CHECK SOME OF OUR PAST
OLD ENGLISH GOLDENDOODLES
ON INSTAGRAM