OPENINGS AVAILABLE!
$3,000 CD
Ready for homes Feb 10/23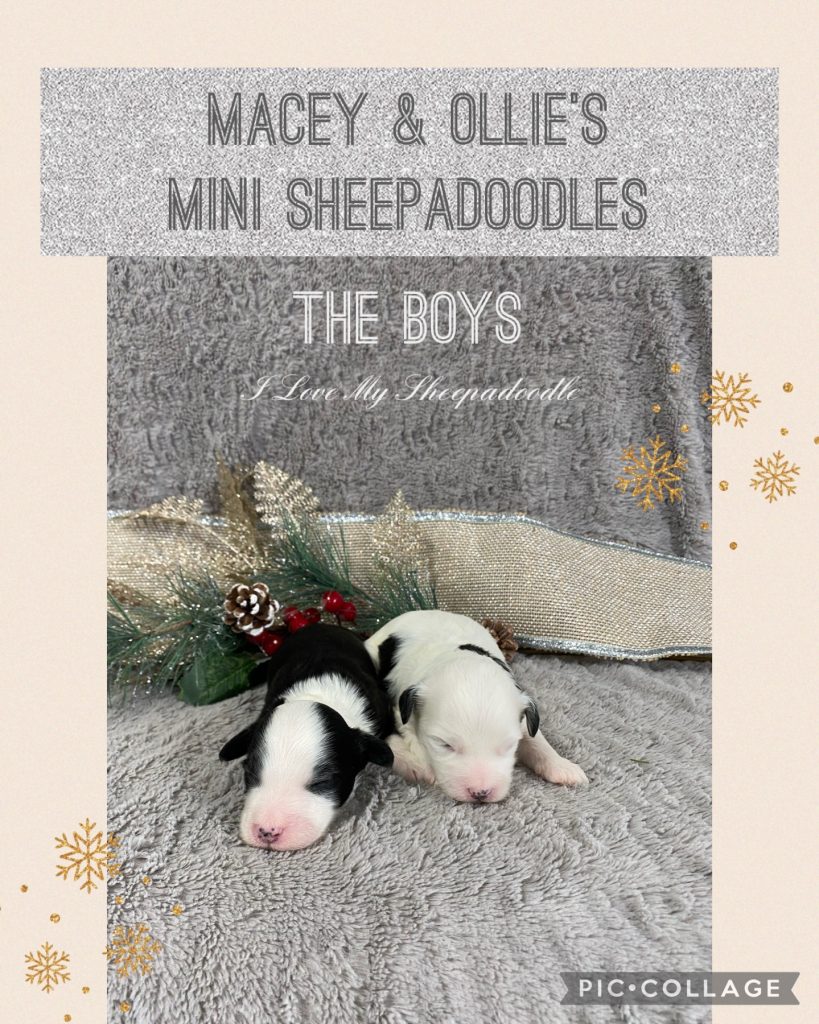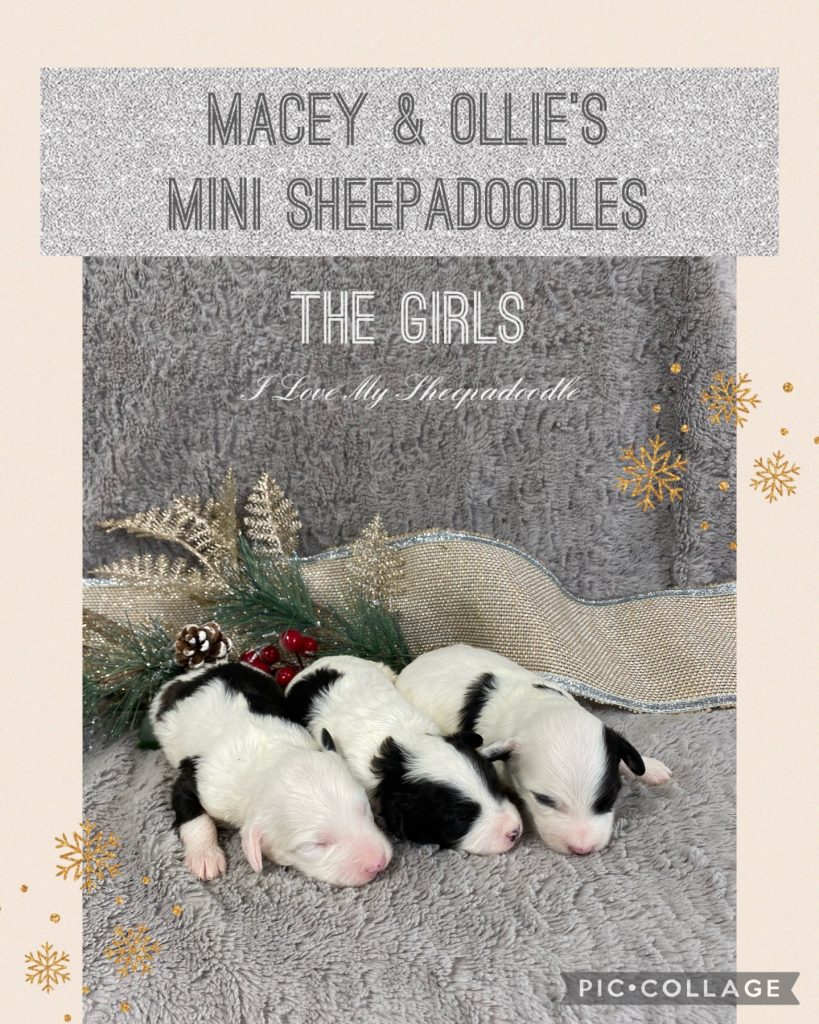 (Scroll down the page to see 5 week photos and 6 week descriptions)
PUPPY INFO
We are happy to introduce Macey and Ollie's litter of Mini Sheepadoodles!  We have 2 handsome boys and 3 adorable girls in this litter.  These pups should have some playful yet kind personalities.  Macey is sweet and affectionate, yet bright and alert.  Ollie is fun loving and playful yet listens well.
The pups in this litter have a similar coat as a F1 Mini Sheepadoodle litter which means they are soft and wavy/fleecy. The puppies are 35% Old English Sheepdog and 65% Mini Poodle.  Since both the Poodle and OES are hypoallergenic breeds these pups will also be hypoallergenic.
The average size of these pups is expected in the 25 – 35 pound range but there could be some bigger or smaller one than average since there is Old English Sheepdog and Mini Poodle in their genetics.  So we could see a range of sizes from 20 – 40 lbs plus in some cases.  For matured height at the shoulder the pups should mature between 16 – 18 inches but again there could be some taller or shorter due to the genetics behind them.
These pups will be ready to go home Feb 10, 2023 or after at the age of 8 weeks. They will have their first booster and several rounds of deworming. Our vet will also have done a thorough inspection of each pup.  Puppy picking is planned for Jan 26 by video call done in order of waitlist below.  Photos will be posted again around 4 – 5 weeks of age.
Macey & Ollie's litter is now open for puppy applications!   You may apply by sending in a puppy application.  If you have sent an application in before for another litter, you can fill out an updated one for this litter or forward your previous one if much hasn't changed.
We will do our best to reply within 24 – 48 hrs of your application.   We read through the applications and reply back with a suitable spot we have available for you.  We hold your name as pending to that spot for you for 24 – 48 hrs for you to decide if you like to confirm with a deposit. Take note we are closed Sundays. If you decide to confirm, you can then place a deposit.  Our puppy deposit is $500 non-refundable and goes towards the one litter you commit to.  We will give more info then in a follow up email with puppy prep.
These puppies are priced at $3,000 CD taxes included.  If you wish to add in our $500 health guarantee you can do so.  Just let us know.  Read more about it on our contract page.
  We are planning limited litters for Spring, Summer and Fall 2023 in each size.  Go to our News & Upcoming litters page for more info. You can sign up for our email updates to be notified of when we have puppies available.
We look forward to helping you with your future Sheepadoodle family member!

WAITING LIST
Puppy selection planned for Thursday, Jan 26, 2023
1.Courtney W ~ Windsor, ON ~ Female 3
2. Available
3. Available
4. Available
5. Available
5 WEEK PHOTOS
6 wk descriptions and weights below photos
–
WEEK 1 PUPPY PHOTOS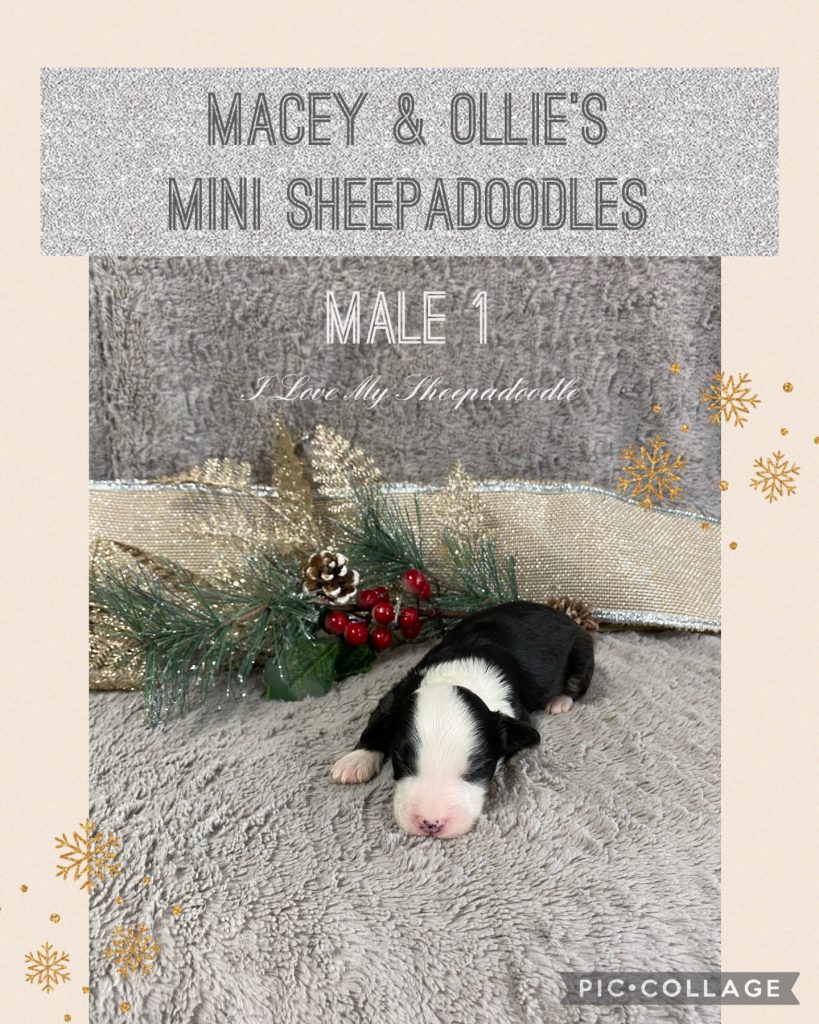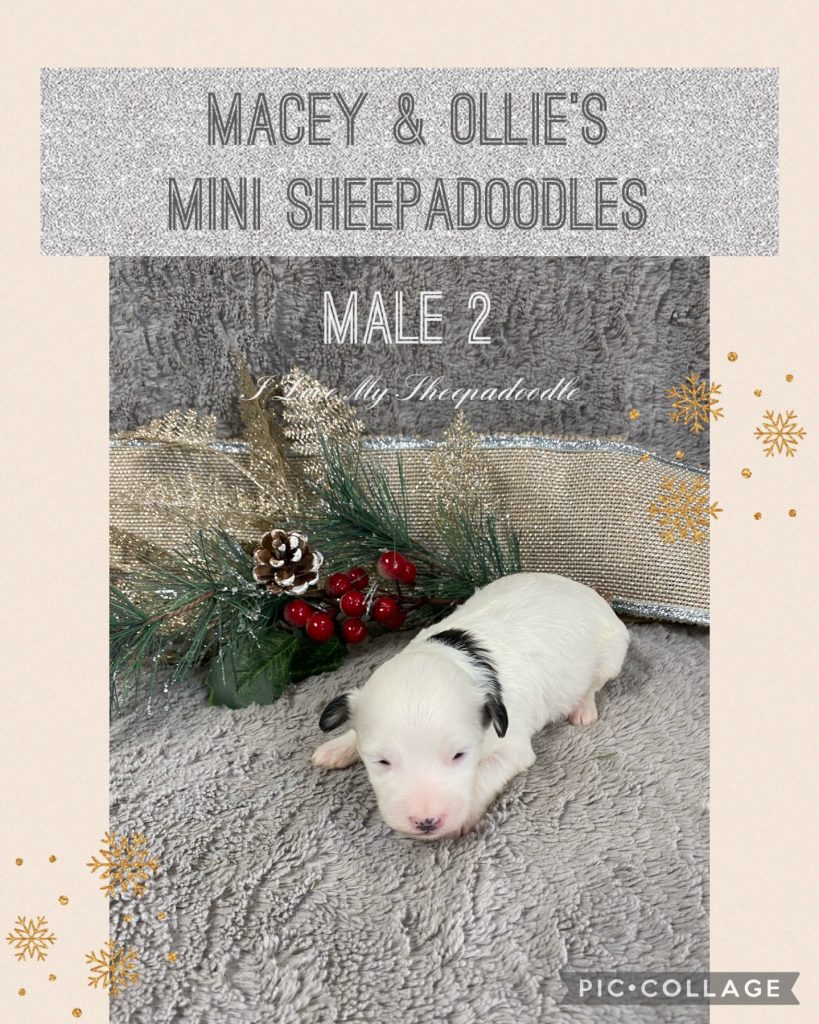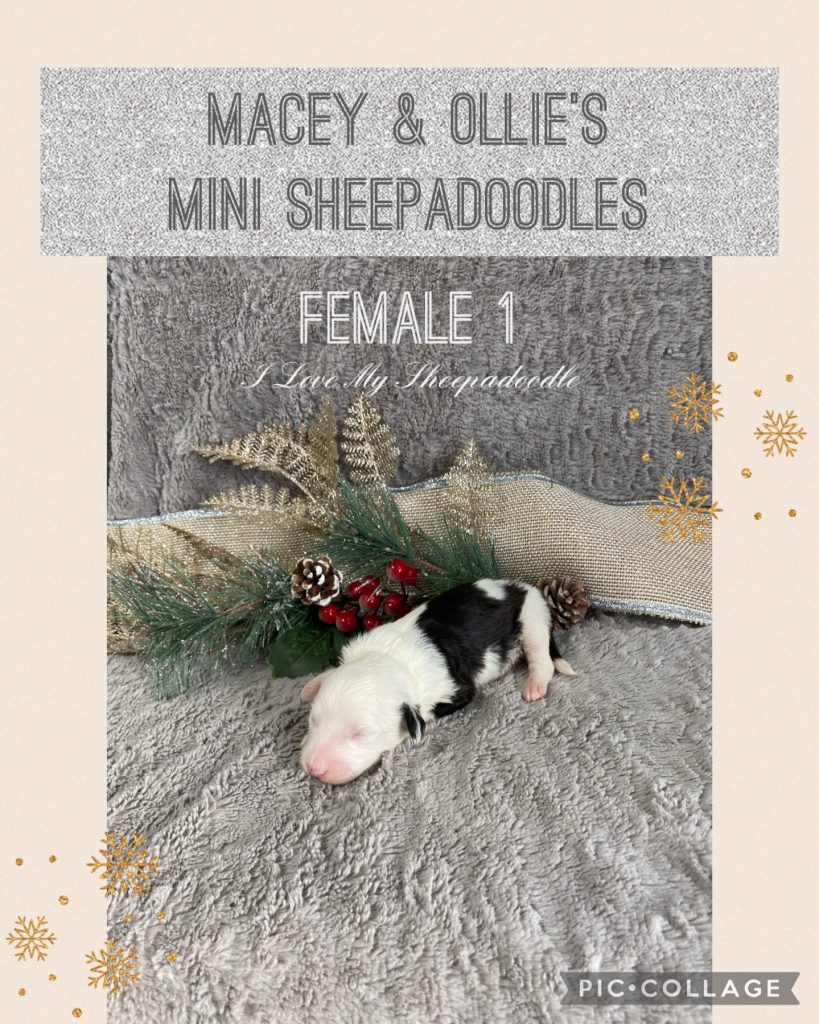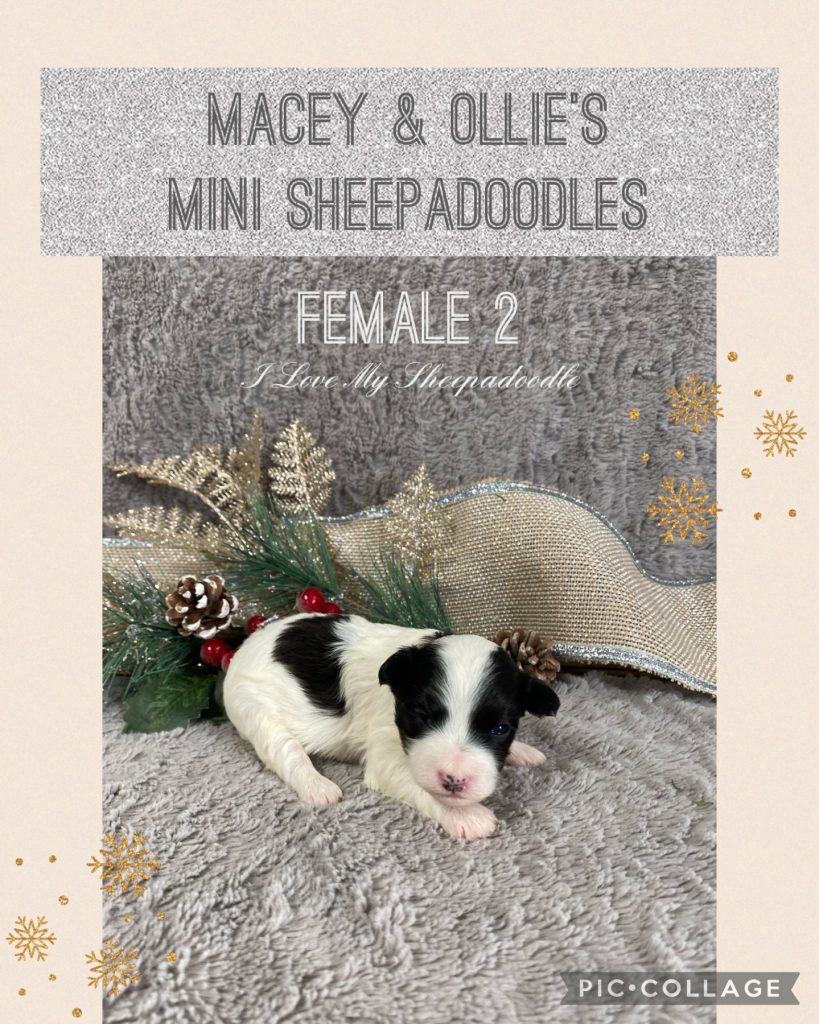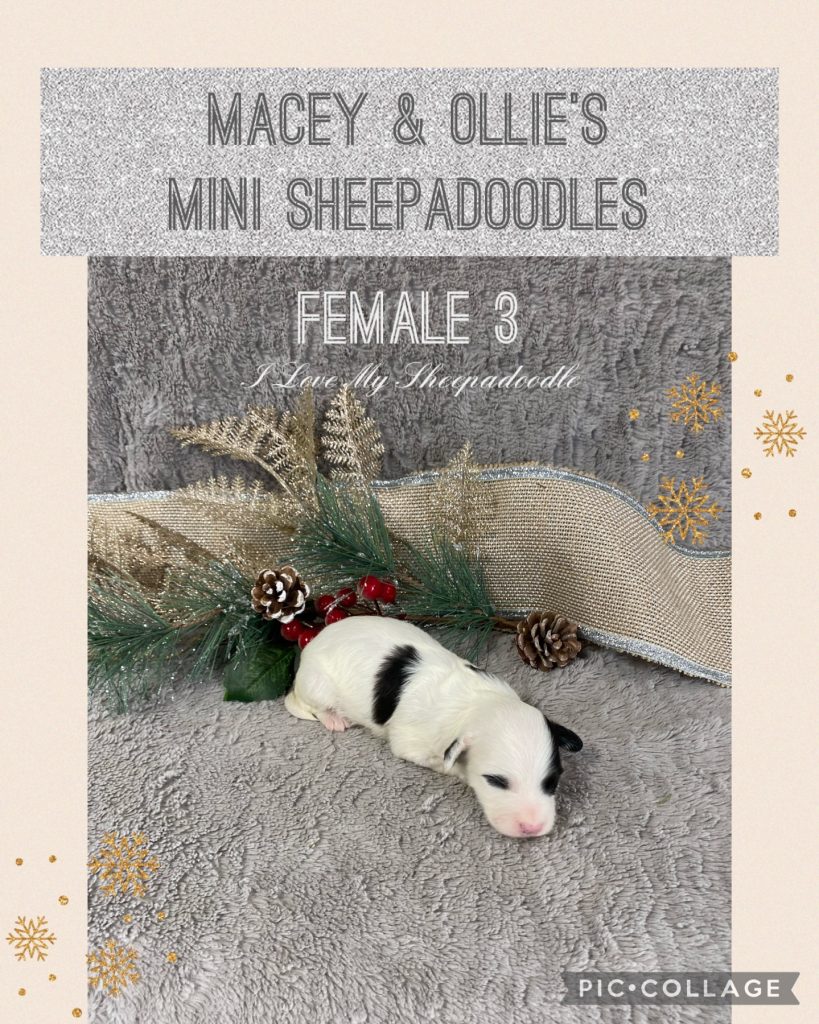 –

PHOTOS OF MACEY & GRYFFIN'S PREVIOUS LITTER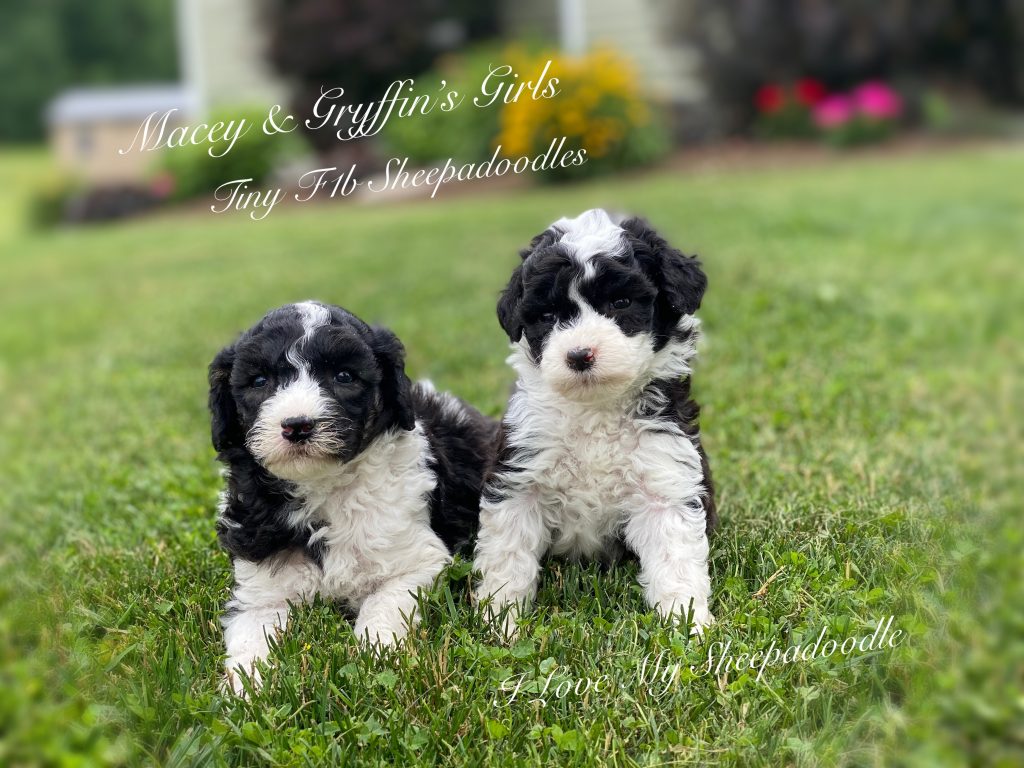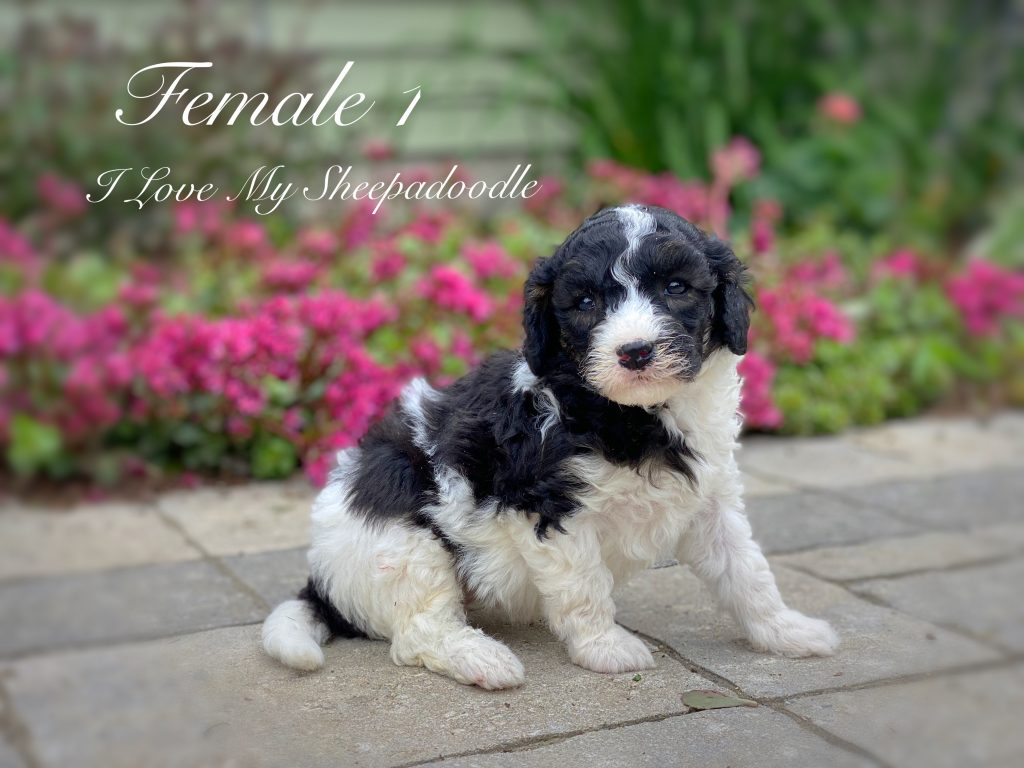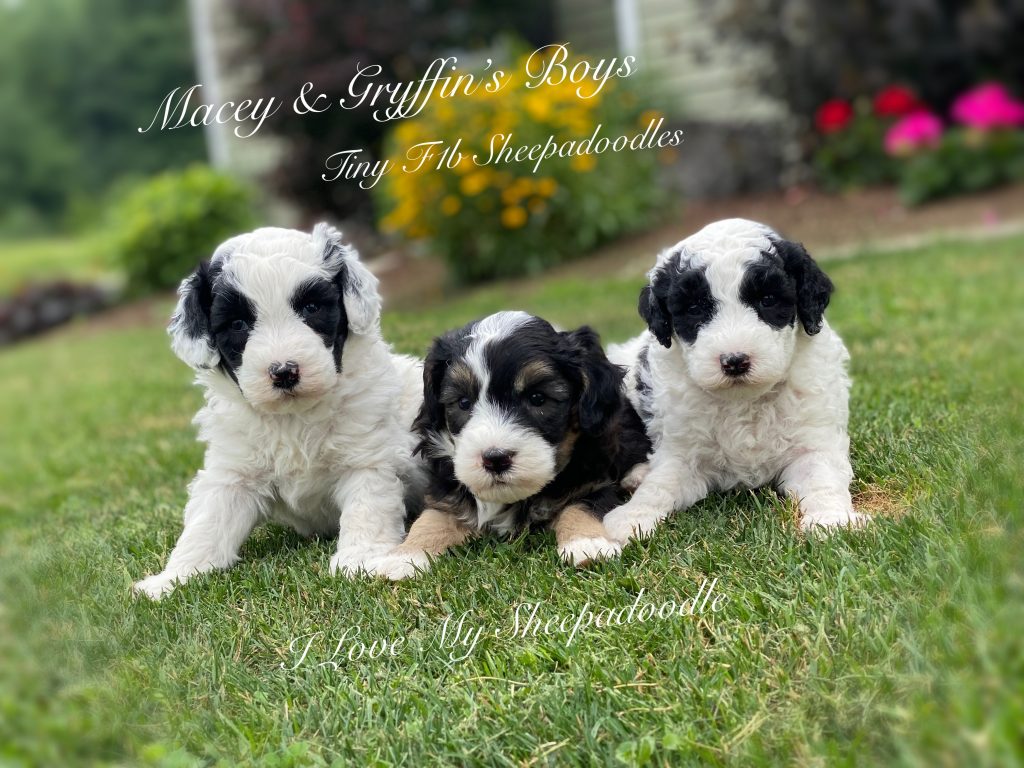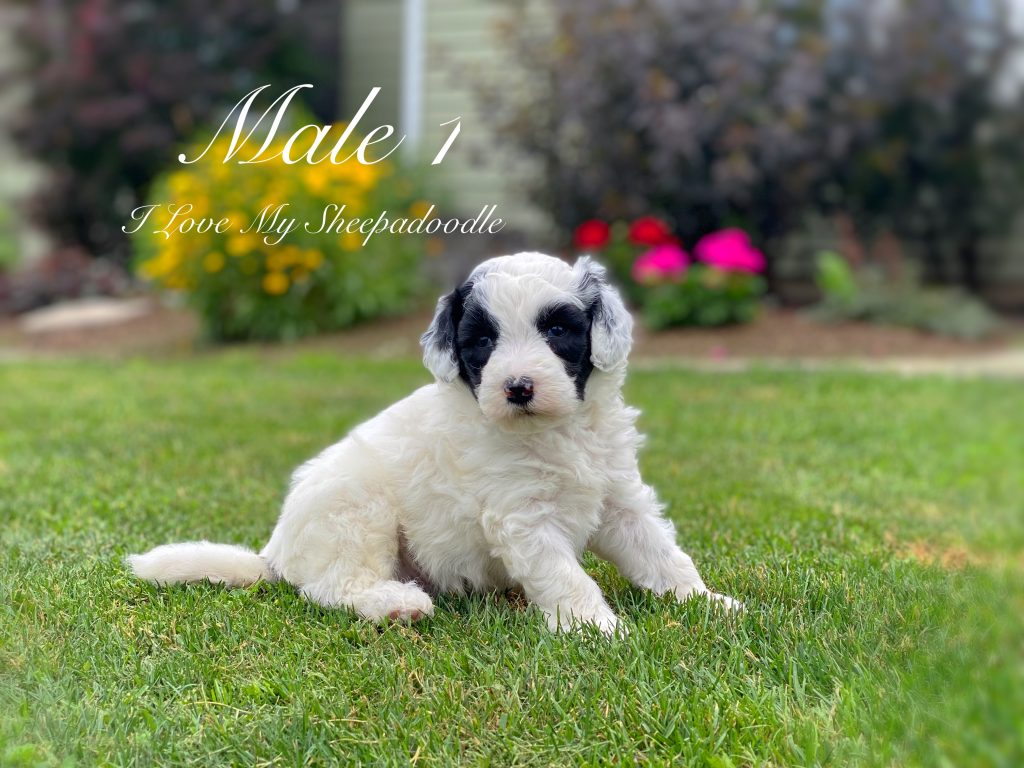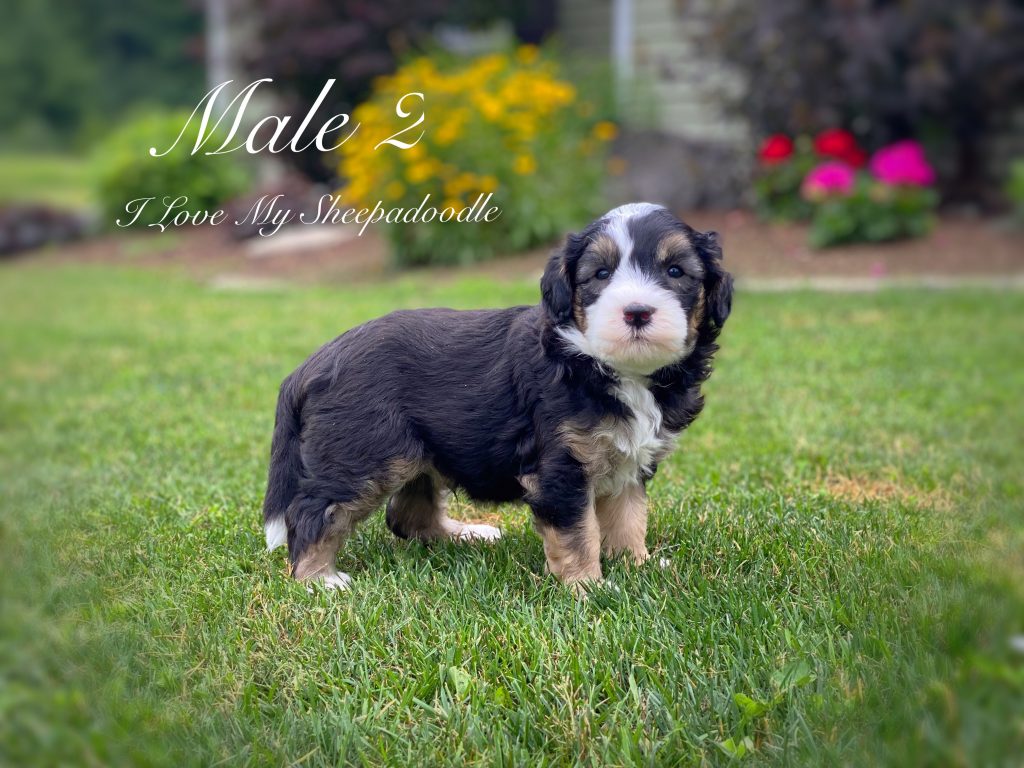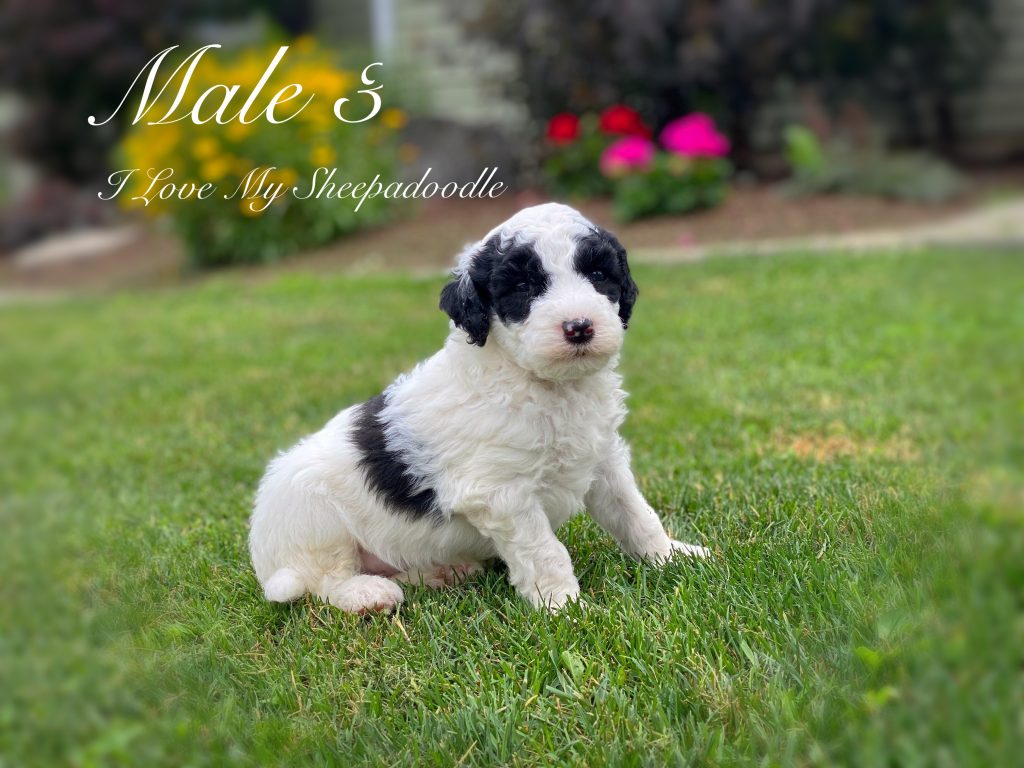 MEET THE PARENTS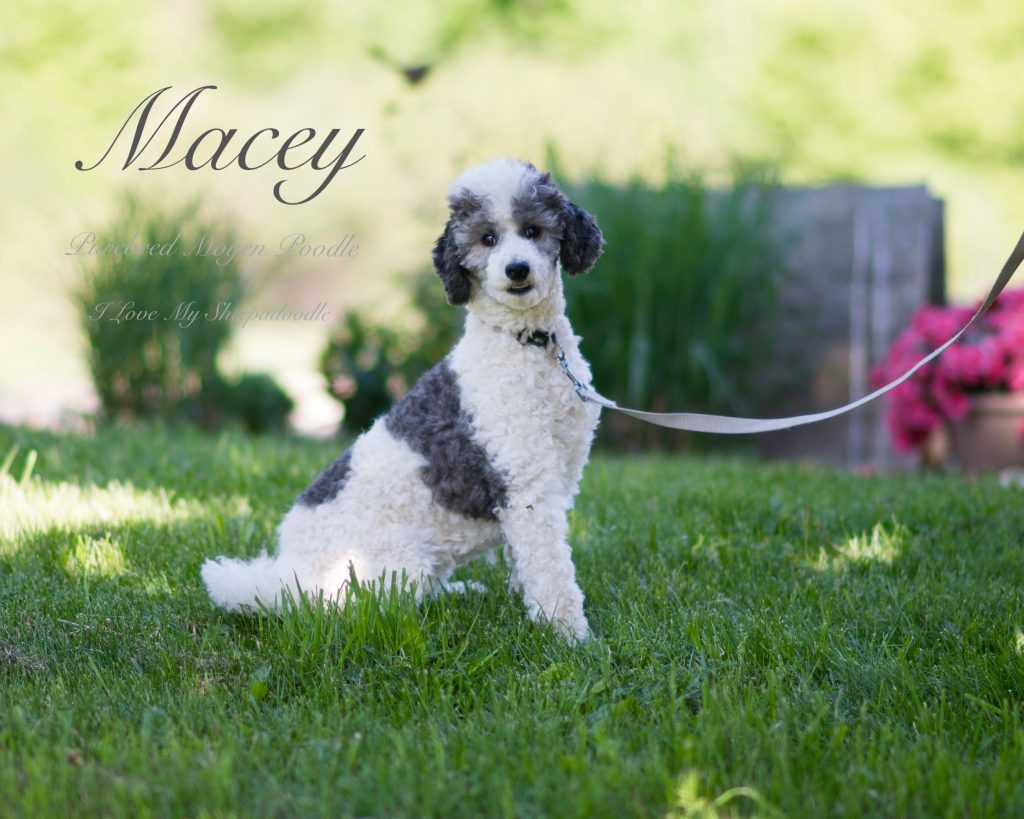 MACEY – PUREBRED CKC POODLE
Macey is a sweet natured, affectionate poodle. She is also very soft hearted and gentle.  We rarely hear her bark and she is content to sit by your side or snuggle in for cuddle time.  She is about 17 lbs and about 13 inches tall at the shoulder.  She comes from Tobi our mini poodle.  She takes after him in size and personality.  Her mom is a standard poodle.  So though Macey is small she has the ability to throw some larger pups.  We look forward to the smaller sized Sheepadoodle pups Macey will bring to us.  She is a gem and I'm sure her pups will be too!
OFA Hips and Elbows – Good  
Cleared by Parentage through Paw Print Genetics on Poodle Panel.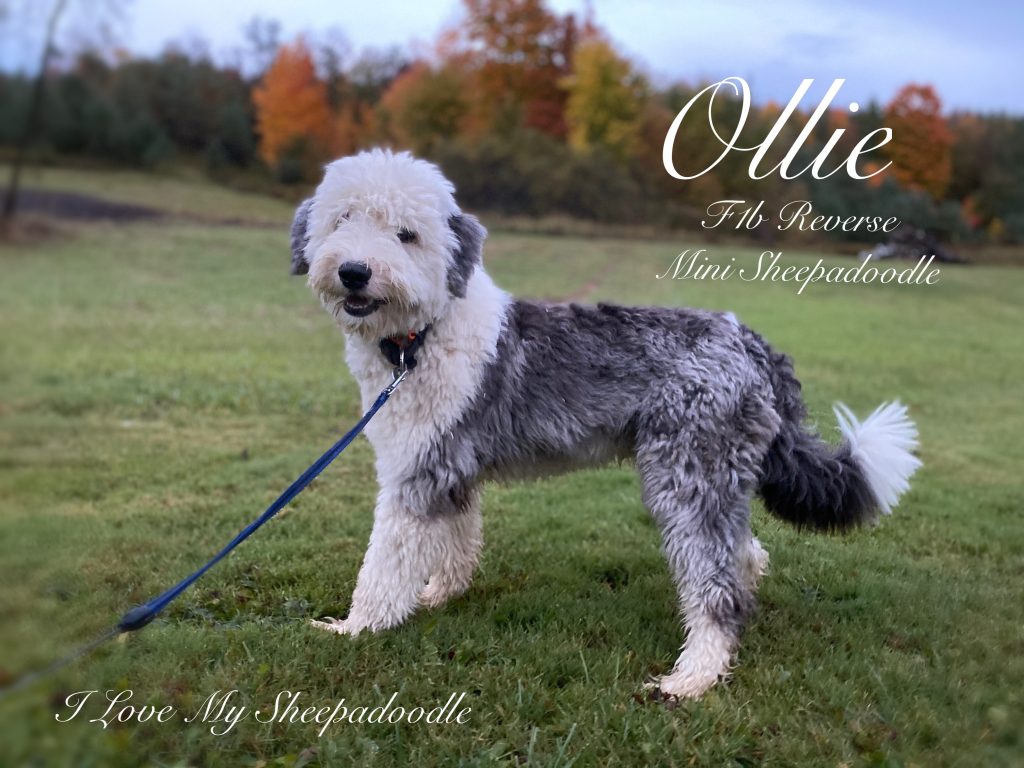 OLLIE – F1B REVERSE MINI SHEEPADOODLE
Ollie is a 30 lbs Mini F1b Reverse Mini Sheepadoodle.  He is a stunning little Sheepadoodle that cute teddy bear face.  He has all the attributes we look for in our dogs! Friendly and playful but submissive and sweet natured.  He has a beautiful wavy tuxedo coat that is non shedding.  He stands about 18 inches tall at his shoulders.   Ollie's mom comes from champion lines and has excellent hip ratings within the genetics.  Ollies dad is our Mini Sheepadoodle Wrigley- he looks just like him, carries a similar disposition as Wrigley, but is just a little smaller than his dad.  Ollie lives here with us and we enjoy his playful, happy presence!  We look forward to the stunning pups Ollie will produce starting late 2022.
OFA Hips and Elbows – Pending but comes from lines of Goods and Excellents
Clear with Embark DNA Genetics