Born May 1, 2023
Ready June 26, 2023
$3,000 CD
30 – 50 lbs maturity

PUPPY INFO
Maya & Einstein welcome a stunning litter of Mini Sheepadoodle puppies.  There are 10 gorgeous puppies in this litter.  We have 2 handsome boys and 8 sweet girls.
The pups in this litter are expected to mature in the 30 – 45 lbs range but there could be some bigger or smaller because of the genetics behind them.  I expect the pups to grow to an average height of around 18 – 20 inches at the shoulder.
These Sheepadoodles are a blend of F1b Mini Sheepadoodle to a F1 Mini Sheepadoodle.  They are about 2/3 Poodle and 1/3 Old English Sheepdog – the technical numbers are 62.5% Poodle and 37.5% Old English Sheepdog.  It is half way between a F1 Sheepadoodle and F1b Sheepadoodle.  The shedding will be minimal in this litter as both parents are considered hypoallergenic breeds.
There are a variety of wavy and curly coats in this litter. This is just personal preference to what style you like.
The colours should either stay or fade to a lighter shade of what they are now. I do expect most to fade to a lighter shade since both parents coats have lighten up with time.
~
THE PROCESS
Individual puppy photos will be posted around  4 – 5 weeks of age on our website and social media.  A video of the pups will also be posted on Instagram the day before puppy selection.  We will send you an updated photo of the pup you picked after puppy selection.
Puppy selection is planned around 6 weeks of age.  We have set aside Friday, June 9th for this. Puppy picking is done in the order posted on the website. Times will be arranged and listed on our website once the waitlist is place.   Puppy selection is done virtually for the safety of the little pups.  They haven't had their first booster and are a young tender age so we don't want to expose them to extra unnesassary viruses and sicknesses.
Pups will be ready to go home June 26th  or after between 8-9 weeks of age.   The pups will come with their first booster, several rounds of dewormer, vet check with health records, and a puppy pack including some food, toy, blanket, vitamins and optional 30 day free pet insurance.
If you are interested in one of these puppies please fill out a puppy application.  We will try to respond within 1 – 2 business days.  We will put your name as pending for 24 – 48 hrs for you to confirm.  A $500 deposit can be made to confirm your spot/pup.  Deposits are non-refundable and go towards your puppy purchase.  They are meant just for the litter you confirm too. We will send you some puppy prep as you wait and prepare for your new pup.  We will reach out to you with puppy selection times and pick up dates.  Photos and videos will be updated on social media.  The remaining payment is then due a few days before pick up.
In 2022, we dropped our prices $500 less and took out our health guarantee.   Our parents are health tested and passed their qualifications so we feel we have done our part to produce genetically healthy pups. If you want to add our 1 yr health guarantee back in, it is an additional $500.  We know and love our dogs and our breeding lines. We keep back the best of the best and so as time goes on, we trust our quality more and more.
We  look forward to helping you with your own I Love My Sheepadoodle puppy!
$3,000 CD 
Taxes Included already
~
WAITING LIST
Puppy Picking is planned June 9, 2023 – Times will be posted here
1. Potential Breeder's Pick ~ Preference to girl
2. Shaila and Jamie S ~ Toronto, ON ~ Confirmed ~ 10 am
 3. Patricia  ~ Simcoe, ON ~ Preference to male ~ Pending 
4. Alexandra G ~ Burlington, ON ~ Preference to girl ~ Pending 
5. Available
6. Available
7.Available
8. Available
9. Available
10. Available
~
1 WEEK PHOTOS

~
WATCH FOR 4 – 5  WEEK PHOTOS
~

MEET THE PARENTS!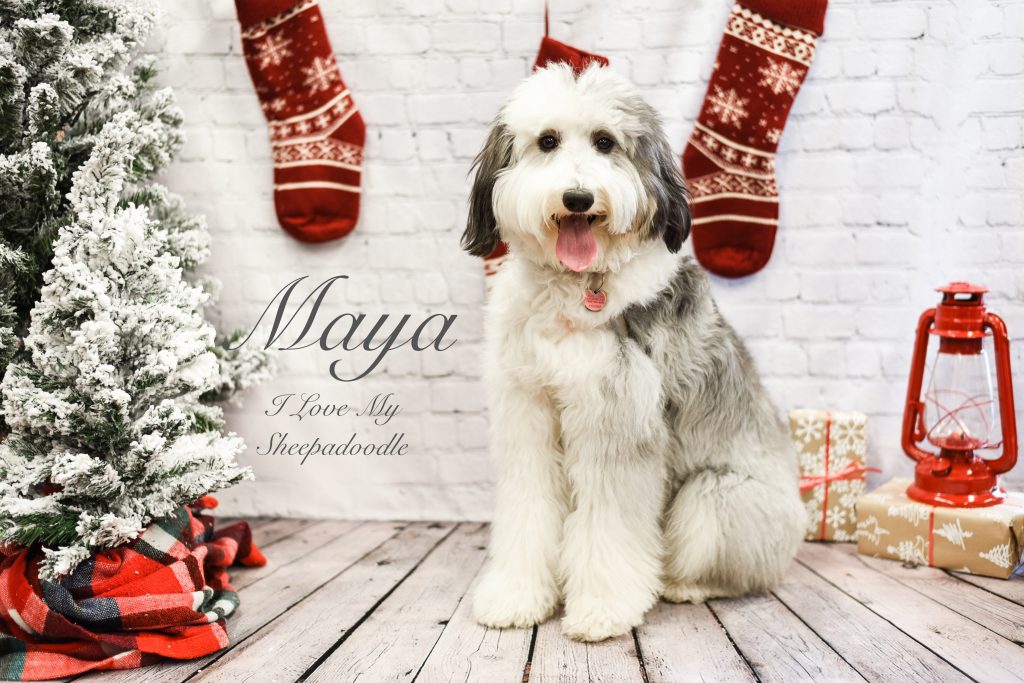 Maya is one of our own bred Sheepadoodles here from I Love My Sheepadoodle.  It's so nice to pick your own pup from favourite bloodlines.  Maya is a happy gal living the life with her family in the Grand Bend area.  She is pampered like an only child!  Her mom Missy is one of our favourite poodles here at I Love My Sheepadoodle.   Maya's dad is our popular Mini Sheepadoodle stud Wrigley!  He is a F1 Mini Sheepadoodle and looks like a purebred mini Old English Sheepdog.  Maya weighs in around 30 lbs.  Maya has passed her OFA prelims with good and normal hips and elbows. Maya is clear on all her genetic testing with Embark.
Einstein is a F1 Mini Blue Merle Parti Sheepadoodle. Einstein weighs in around 38 lbs and has a soft to touch, wavy coat.  His mom is a purebred AKC Old English Sheepdog weighing around 55 lbs.  Einstein's dad is our adored mini poodle Tobi.  Tobi is 15 lbs and 12 inches tall.
Einstein is a happy, easy going guy and enjoys life with his guardian family and Goldendoodle playmate.  People love Einstein's freckled nose and winsome personality.  He has a clear DNA with Paw Prints Sheepadoodle panel and has passed his OFA prelims with good and normal hips and elbows.