Born July 26, 2023
Ready Sept 20, 2023
25 – 50 LBS MATURED
~
~ OPENINGS ~
SALE OF $2,000 CD 
For Remaining Pups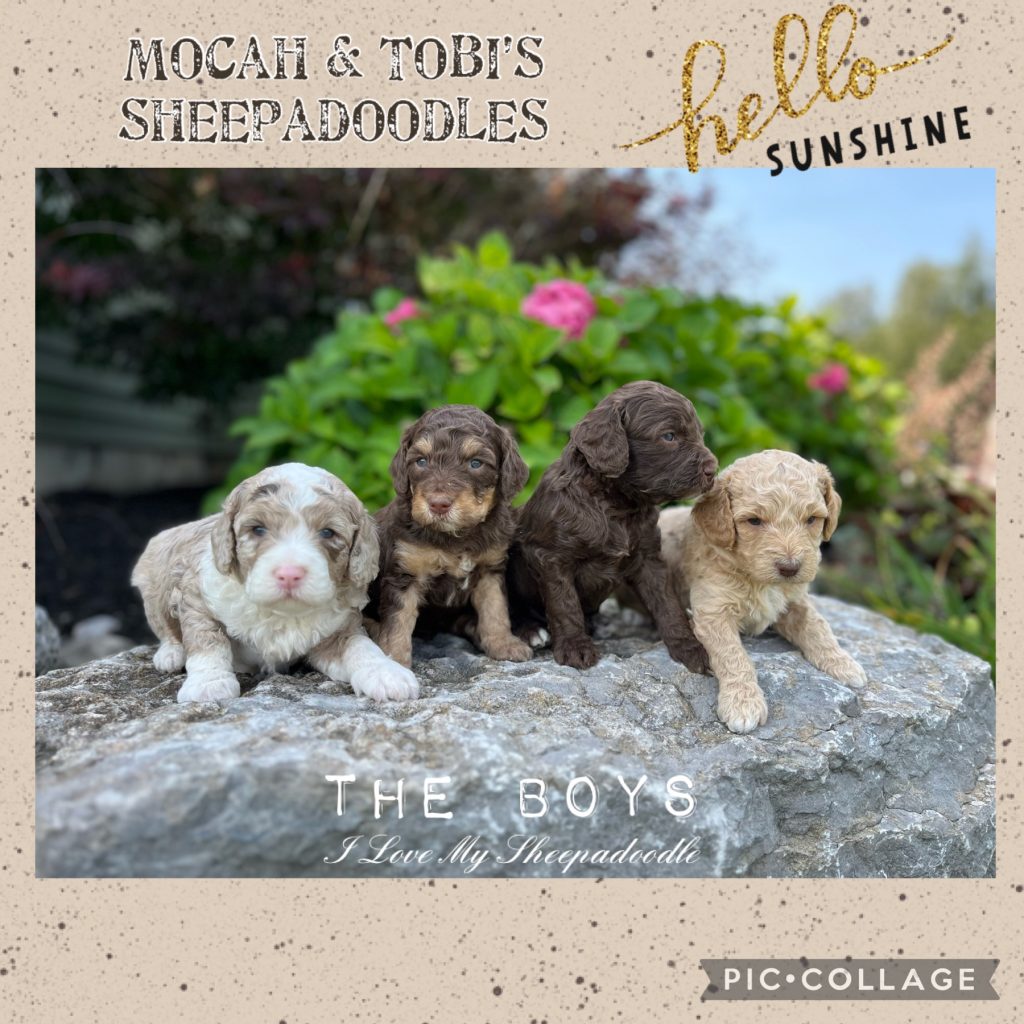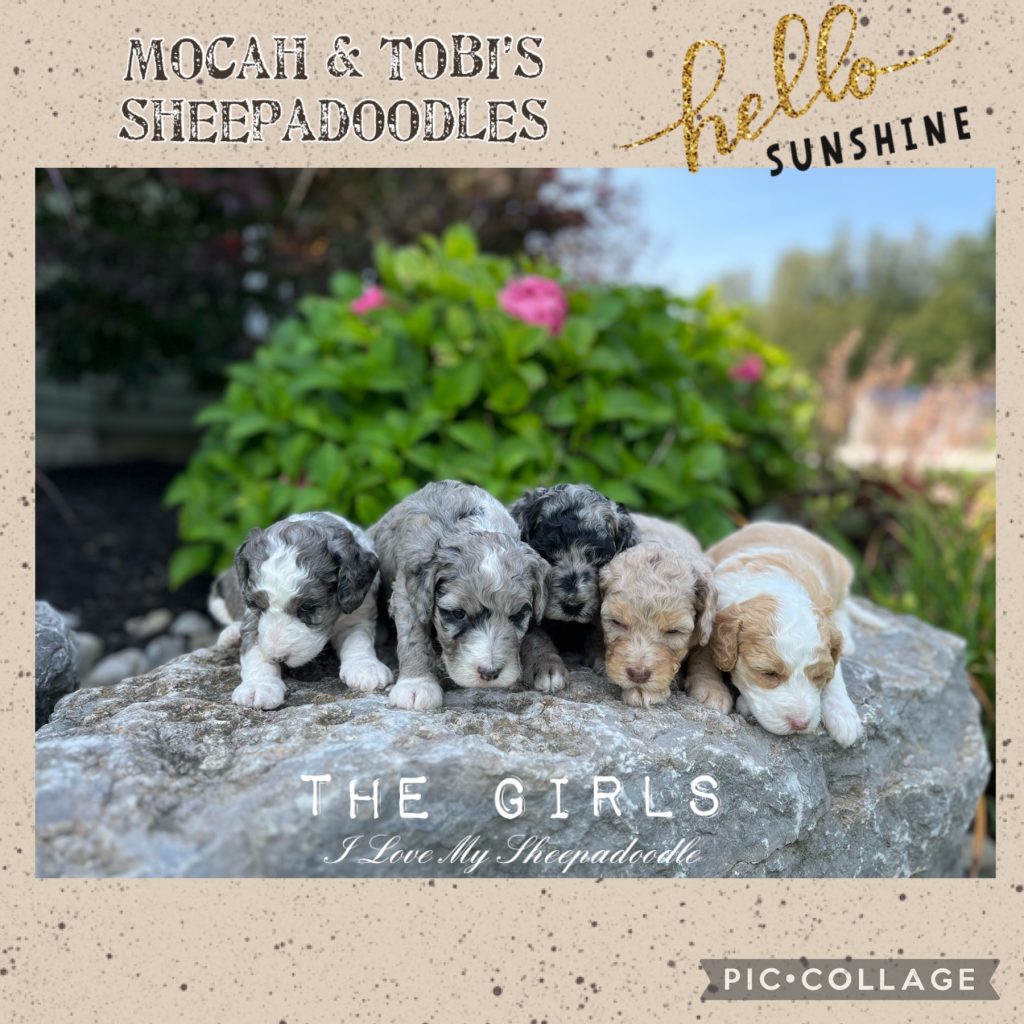 Mocah & Tobi welcome a beautiful litter of Mini to Medium sized Sheepadoodles. There are 4 boys and 5 girls.  These puppies have gorgeous markings with a nice variety of colours and patterns!  You will see black and white pups and also merle and white pups! Some of these merle pups could have blue or partially blue eyes.  The temperaments of these pups should be amazing as both mom and dad are friendly, personable dogs.
This is a F1bb litter making the pups mostly Poodle with a touch of Old English Sheepdog.  They are great for allergies or those wanting a curly coat. Some of the pups have curly coats and some with a gentle curl/wave.   Mocah is a F1b Moyen Sheepadoodle which is 75% poodle and 25% Old English Sheepdog. Tobi is our favourite mini poodle stud here.  He is our family dog and makes great pups!!  Theses puppies will be hypoallergenic since both the Poodle and Sheepdog are hypoallergenic breeds.
The size of these pups is predicted in the 25 – 50 lbs range but I expect most to be 30 – 45 lbs.  For matured height at the shoulder the pups are expected to be between 16 – 20 inches with most being around 17 – 18 inches high.
Puppy selection is planned for Thursday, Sept 7, 2023 by video call done in order of the waitlist below.  We will post times/dates here on the website.  We plan to post a little description of the pups the day before puppy selection.
These pups will be ready to go home Sept 20, 2023 or after at the age of 8 weeks. They will have their first booster and several rounds of deworming. Our vet will also have done a thorough inspection of each pup.   They will come with a puppy pack that has their health records, vaccines, toy, scented blanket from mom or littermates, a tube of probiotic paste and started off with love and care!
We look forward to helping your family with one of these puppies.  They make great family pets and lovely companions.
~
$2,500 CD taxes Inc
~
WAITING LIST
Puppy Selection Sept 7, 2023
1. Potential Breeder's Pick ~ Preference to female
2. Janet Kompare-Fristz ~ Hamilton, ON ~ Male 1 ~ "ROY"
3. 
4.
5.
6. 
7.
8.
9.
~

4 WEEK PHOTOS

4 WEEK PUPPY COLLAGES
(Weights are approximate)
~
MEET THE PARENTS
Mocah is a chocolate phantom F1b Moyen Sheepadoodle weighing in around 45 lbs and about 20 inches high at the shoulder.  She is friendly and social and enjoys meeting new people and making friends.  Mocah's coat reminds us of a chocolate Mars bar, she has light caramal socks and a chocolate coloured coat.  Her coat is soft, silky and wavy and is gorgeous grown out.   She is 75% poodle and 25% Old English Sheepdog.  Mocah has passed her OFA prelims with Good Hips and Normal Elbows.  Darla is cleared by parentage for Genetic DNA health clearances.  Her mom is our poodle Gracie and her dad is our Mini Sheepadoodle Wrigley. We are excited to produce more lovely pups like her for others to enjoy!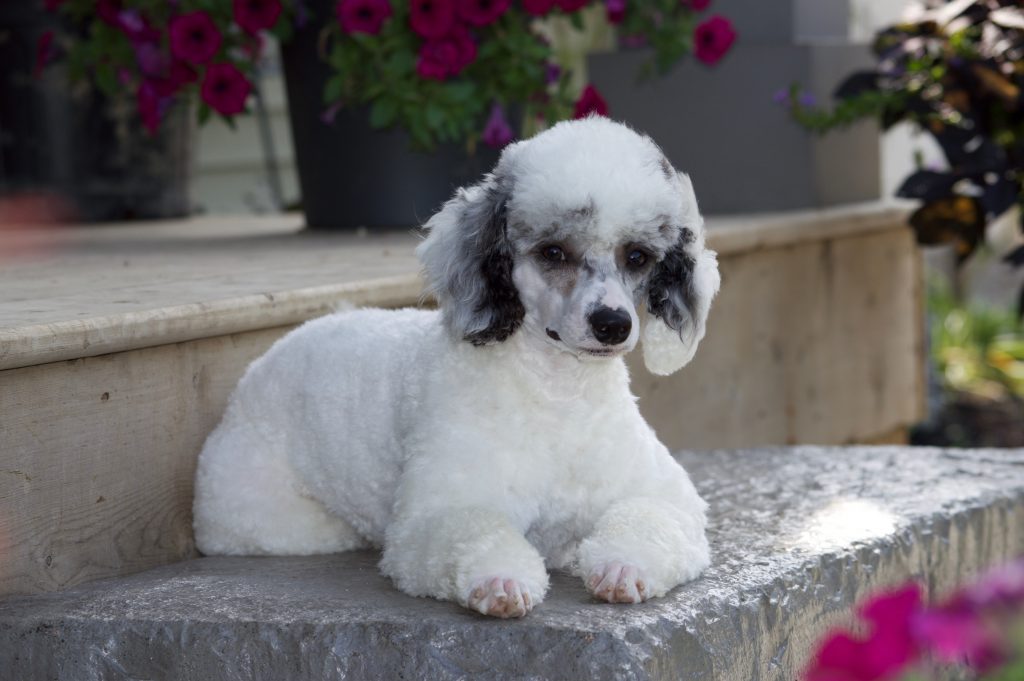 TOBI'S ALL CUDDLES
CKC MINI POODLE
Tobi is such a sweet boy!  His name says it all!  He plays dress up and lets my kids take him along with them wherever they go.   He also has his pass to the local nursing home where he can bring some more smiles.  Tobi loves life and brings joy to those he meets.   Tobi is 13.5 inches high and 16 lbs.  He has passed his OFA prelims with Good hips and normal elbows. Tobi is registered with the Canadian Kennel Club.   He is a lovely boy and produces beautiful pups inside and out!  He will be father to our Moyen, Mini and Tiny Sheepadoodle pups!
OFA Prelim Hips and Elbows – Good & Normal  
Clear on Paw Print DNA Poodle panel
~