~ OPENINGS ~
~
Born Dec 23, 2022
Ready for homes Feb 17, 2023
~
THESE PUPPIES ARE AVAILABLE!

$3,000 CD TAXES INC
–


–
Norah and Ollie have a beautiful litter of Mini Sheepadoodles!  We have 5 boys and 2 girls in this litter.  There is mostly wavy coats that should be soft and fleecy when matured.  These pups should be hypoallergenic with their soft, low to non-shedding coat.
We anticipate most the pups in this litter to mature in the 25 – 40 lbs range.  Some could be a bit more or less.   Based on the parents, the puppies should be around 17 – 19 inches high at the shoulder.
These pups will either keep their black and white colour or go some shade of grey where the black is. Time will tell.
These puppies are a blend of Sheepadoodle and Mini Poodle. They are 62.5% Old English Sheepdog and 37.5% Mini poodle.
Puppy selection is planned for around 6 weeks for Feb 2, 2023.  Our puppy selection is done virtually.  We will post a video on instagram of the pups playing a day or two before puppy selection date so you can see them in action.  We will also post individual puppy photos around 4 – 5 wks of age.
Pups will be ready to go home Feb 17, 2023 or after between 8 – 9 weeks of age.  The pups will come with their first booster, several rounds of dewormer, vet check with health records, and a puppy pack including a toy, blanket, vitamin samples and optional 30 day free pet insurance.  We send an email with a coupon code to order your food ahead of time.
 You can fill our the
puppy application page
 if you are interested in a pup from this litter.  We will try to get back to you within the next 1 – 2 business days.
Deposits are a non-refundable $500 and go only towards a puppy from this litter.  The remaining amount is due a few days before puppy pick up.
You can see our News & Upcoming litters page for more info on our next litters and our puppy process.
Our Mini Sheepadoodles are priced at $3,000 CD taxes included.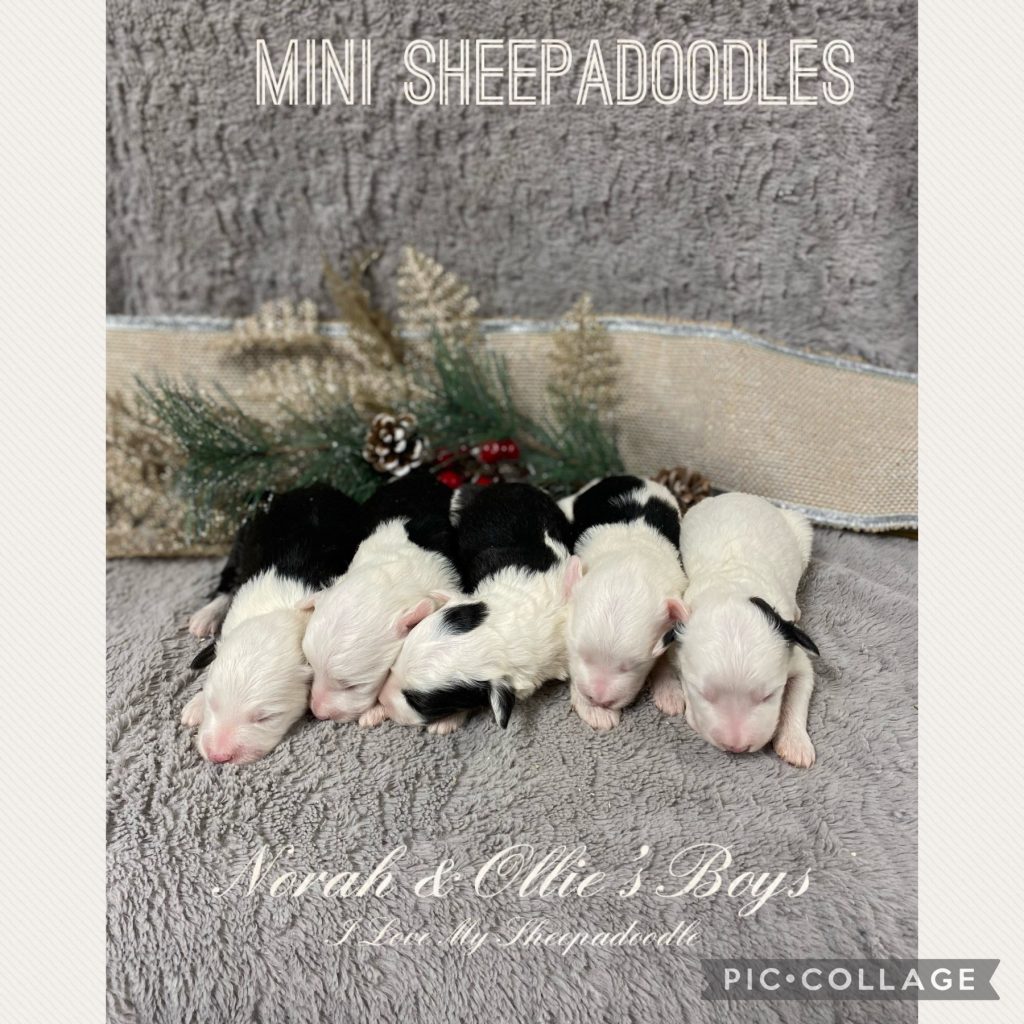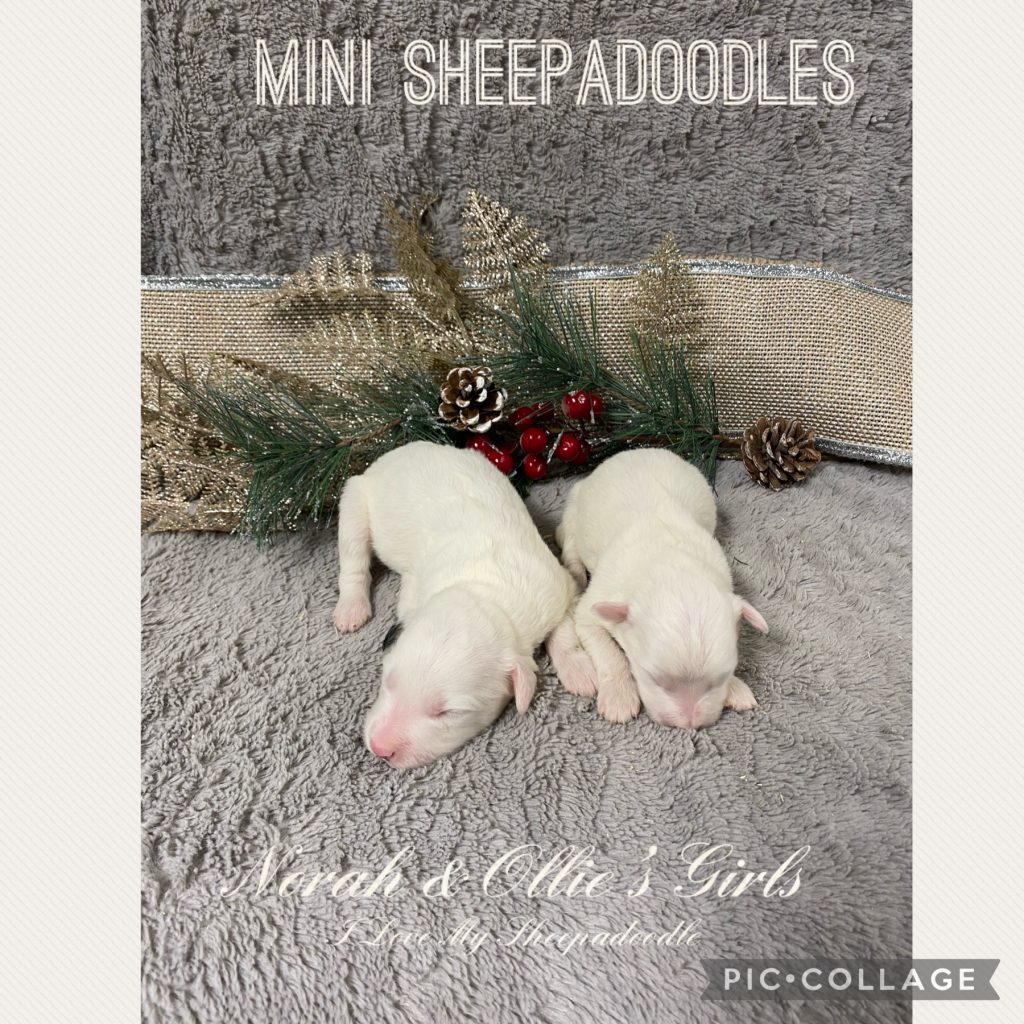 `
THIS LITTER HAS OPENINGS!

WAITING LIST
Puppy Selection Planned for Feb 2/23
1. Sylvia C ~ Etobicoke ON ~ Male 3 ~ "Doug"
2. Stacey C ~ Coldwater, ON ~ Male 1 ~ "Remy"
3. Amelie B ~ Ottawa, ON ~ Female 1
4. Mark & Michal ~ Toronto, ON ~ Male 4
5. Available
6. Available
7. Available
–

–
5 WEEK PHOTOS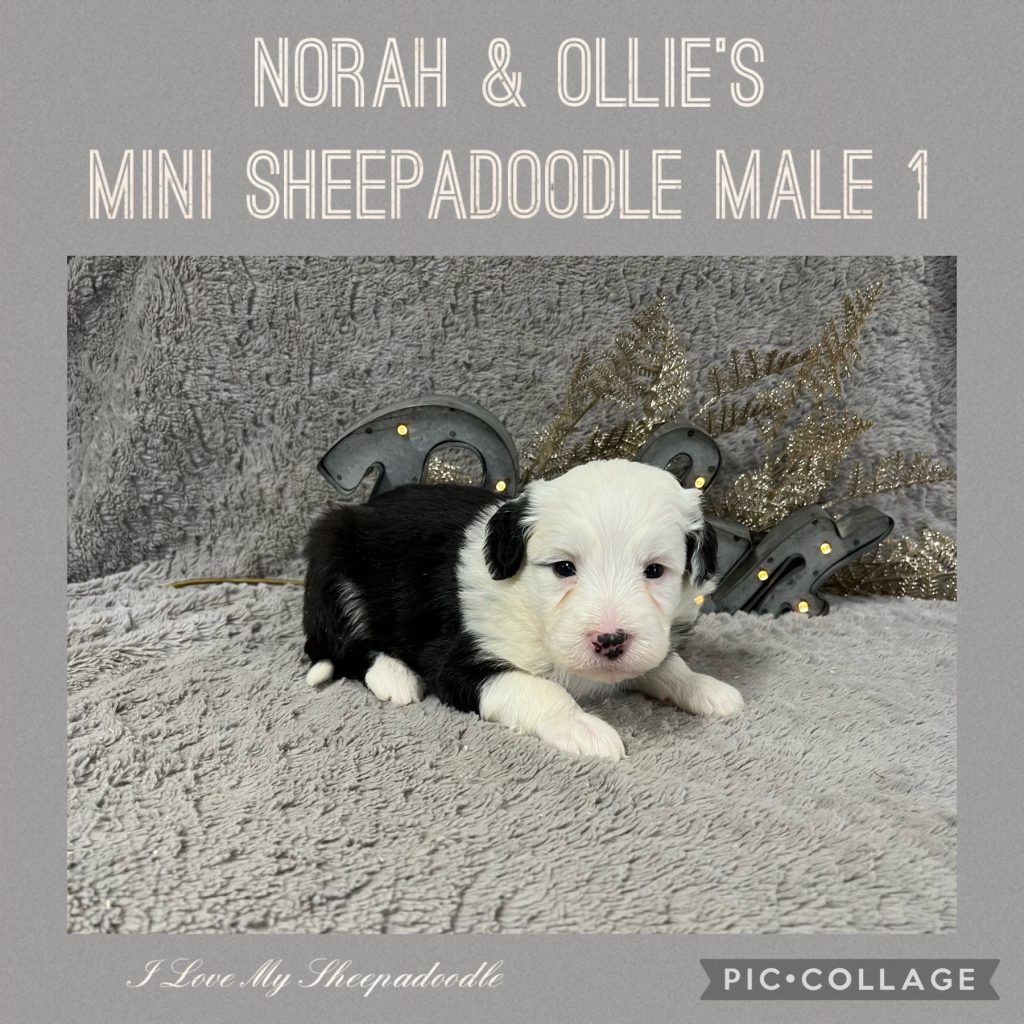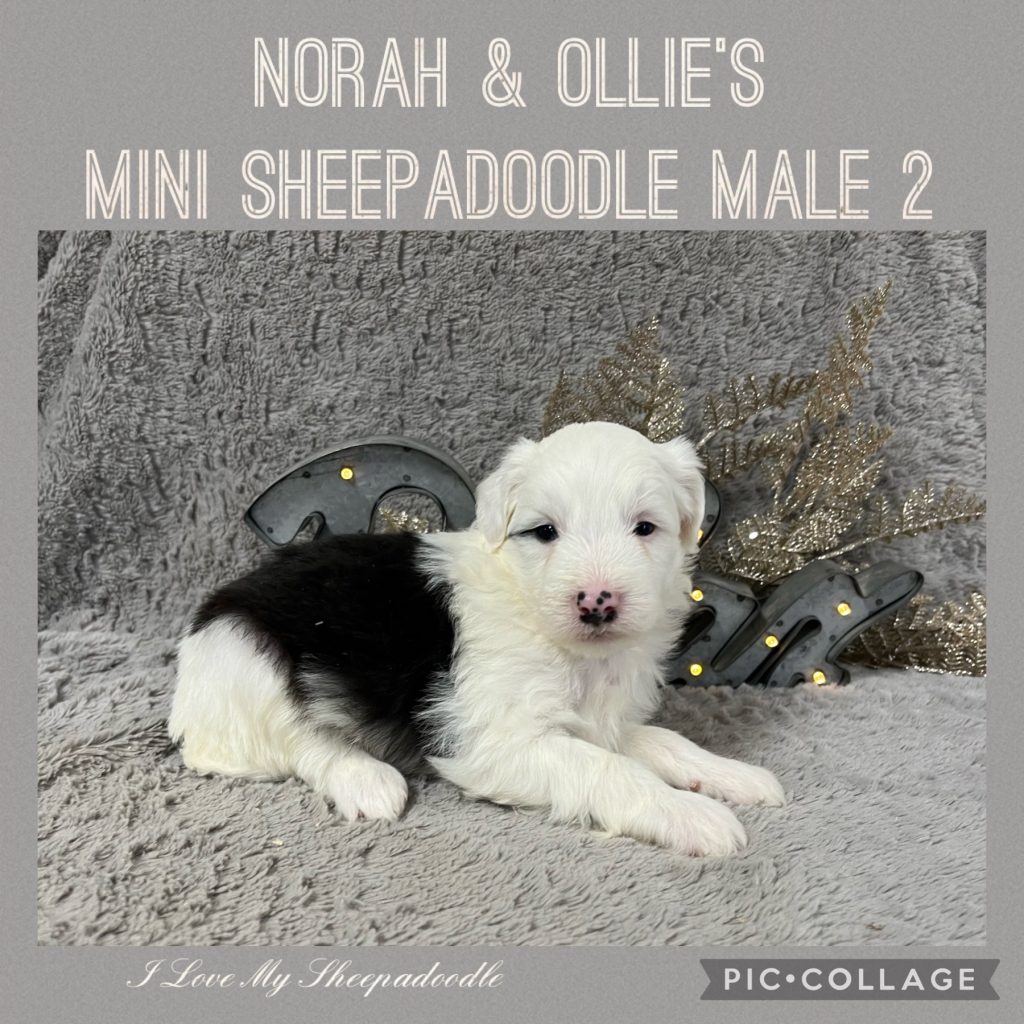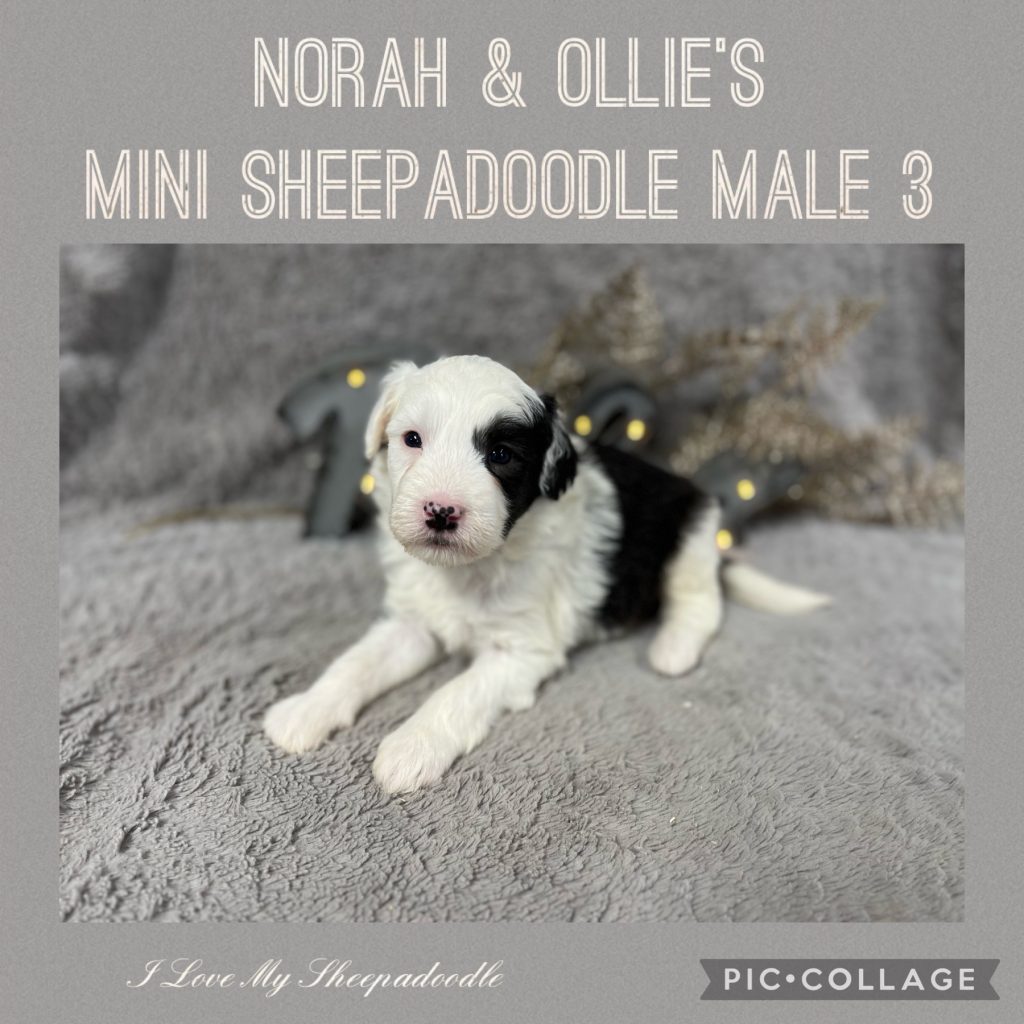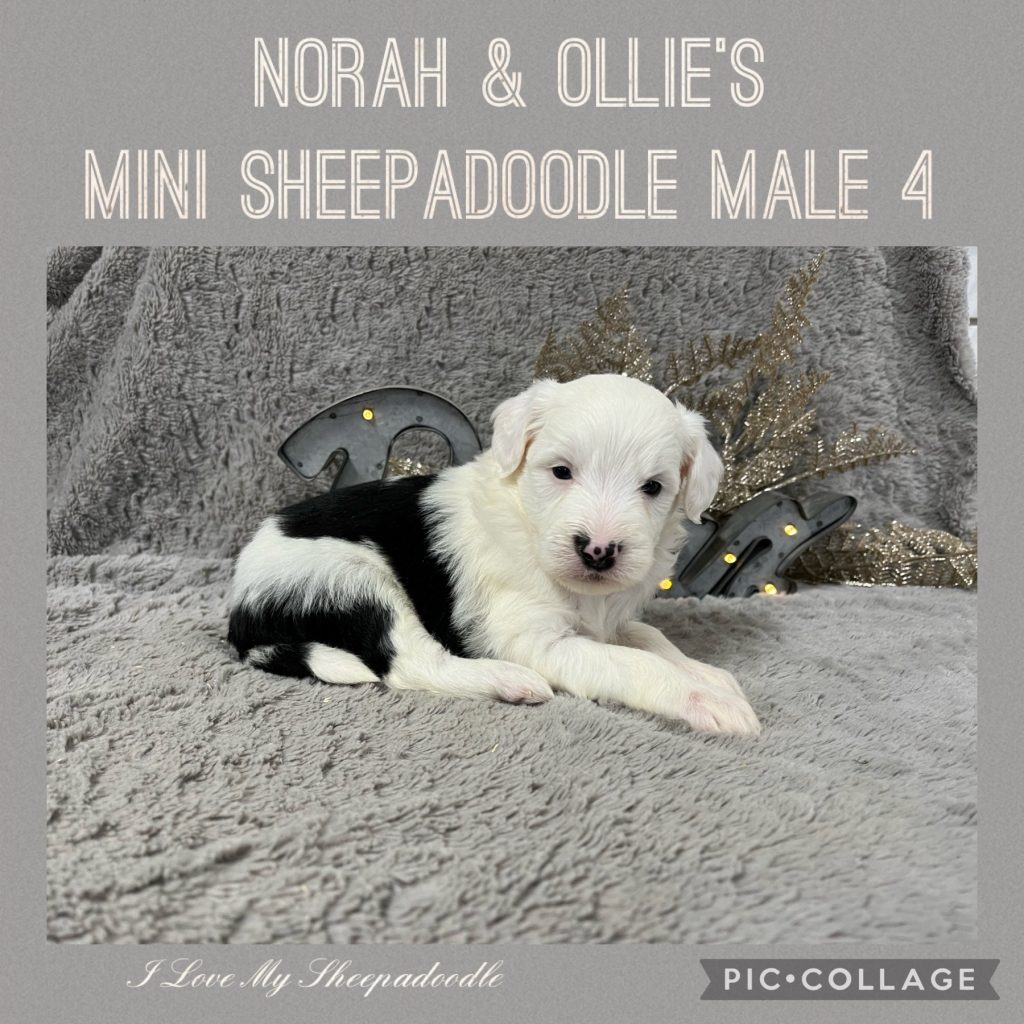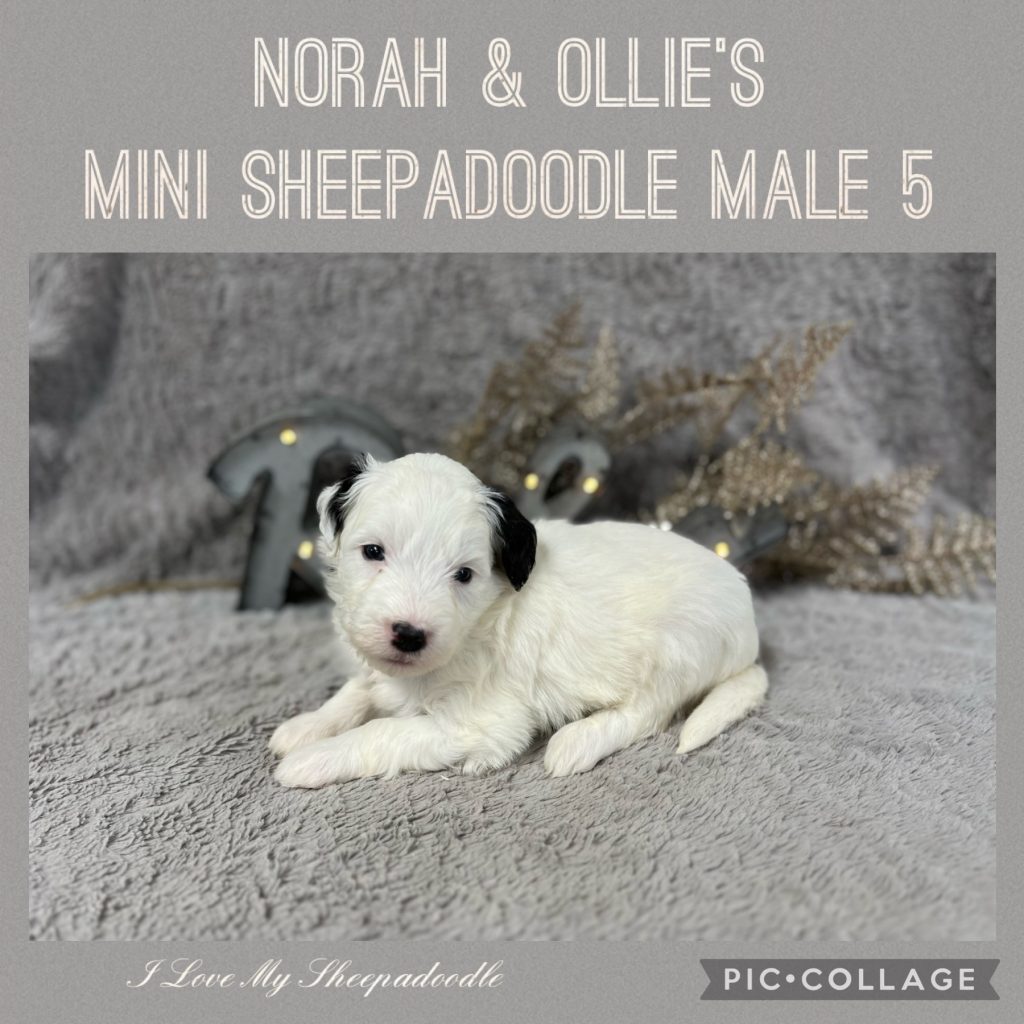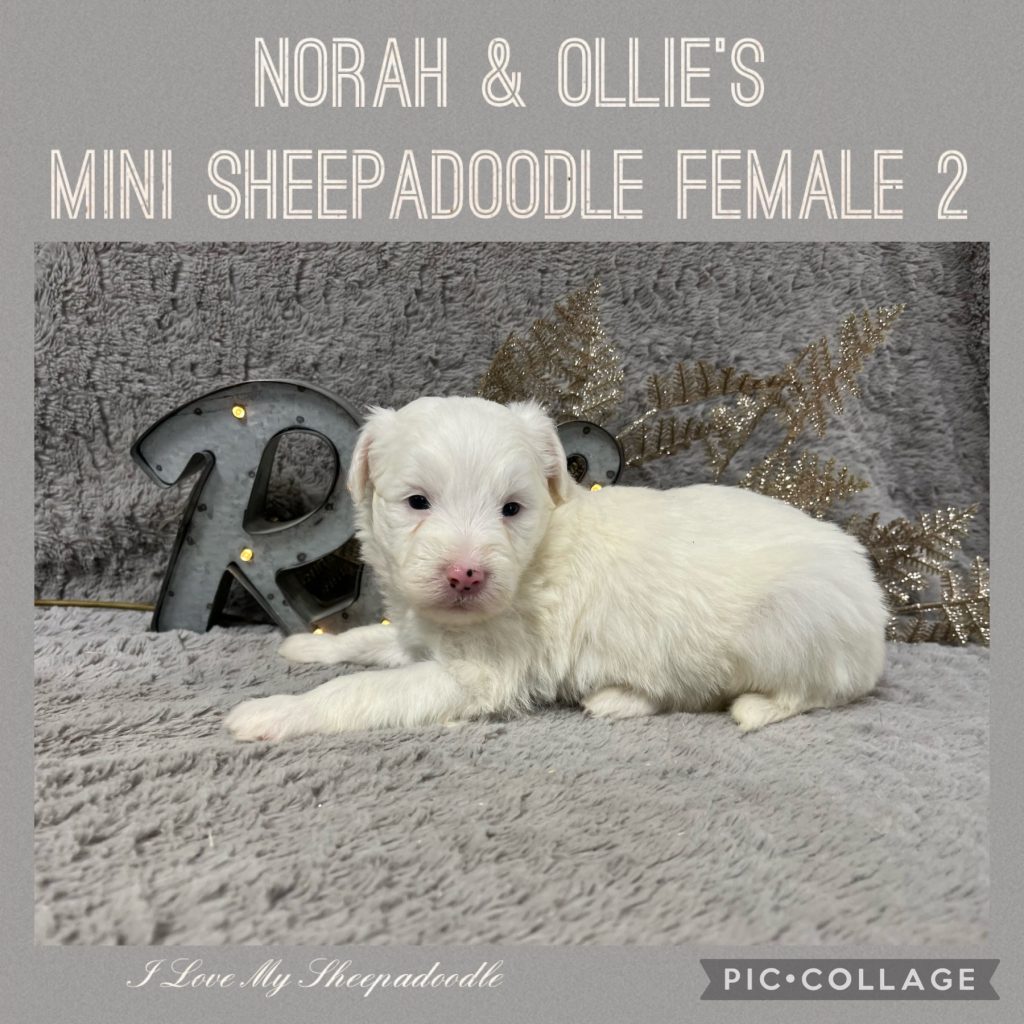 –
1 WEEK PHOTOS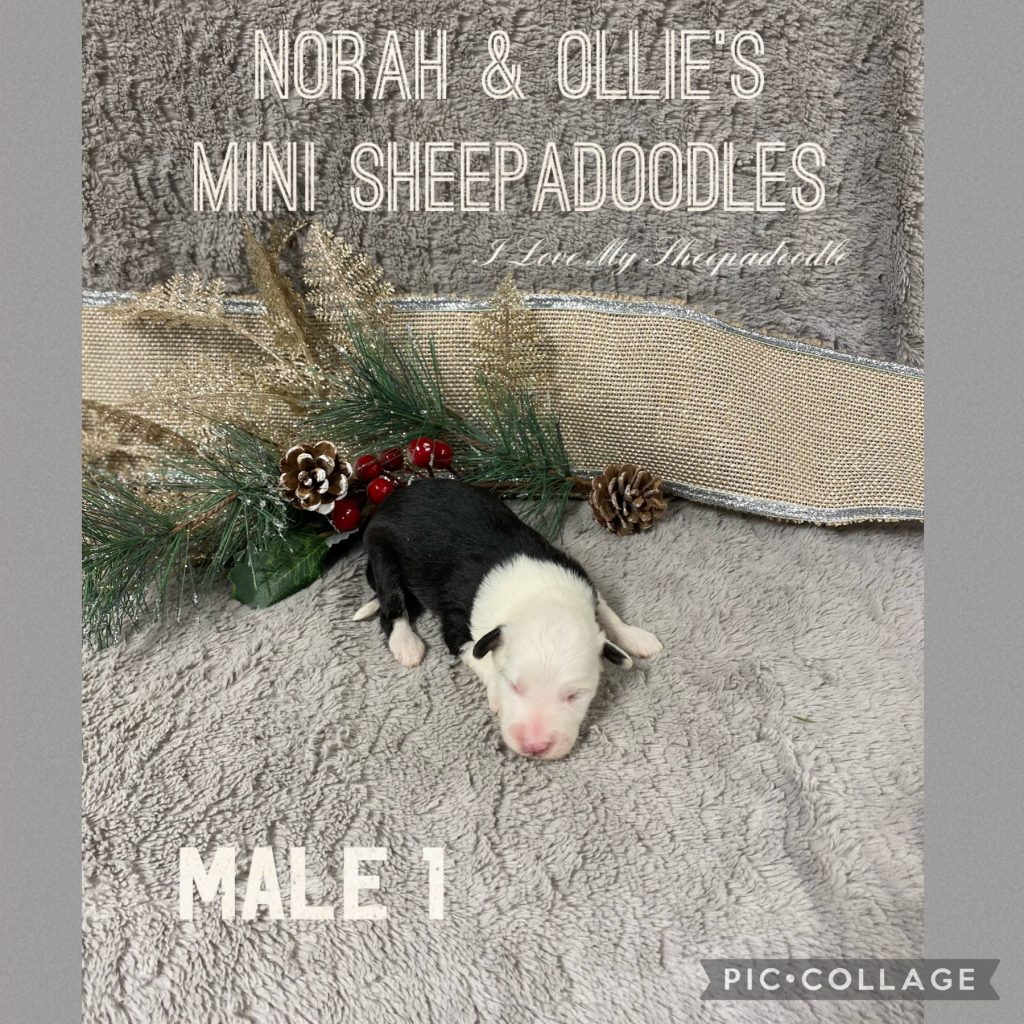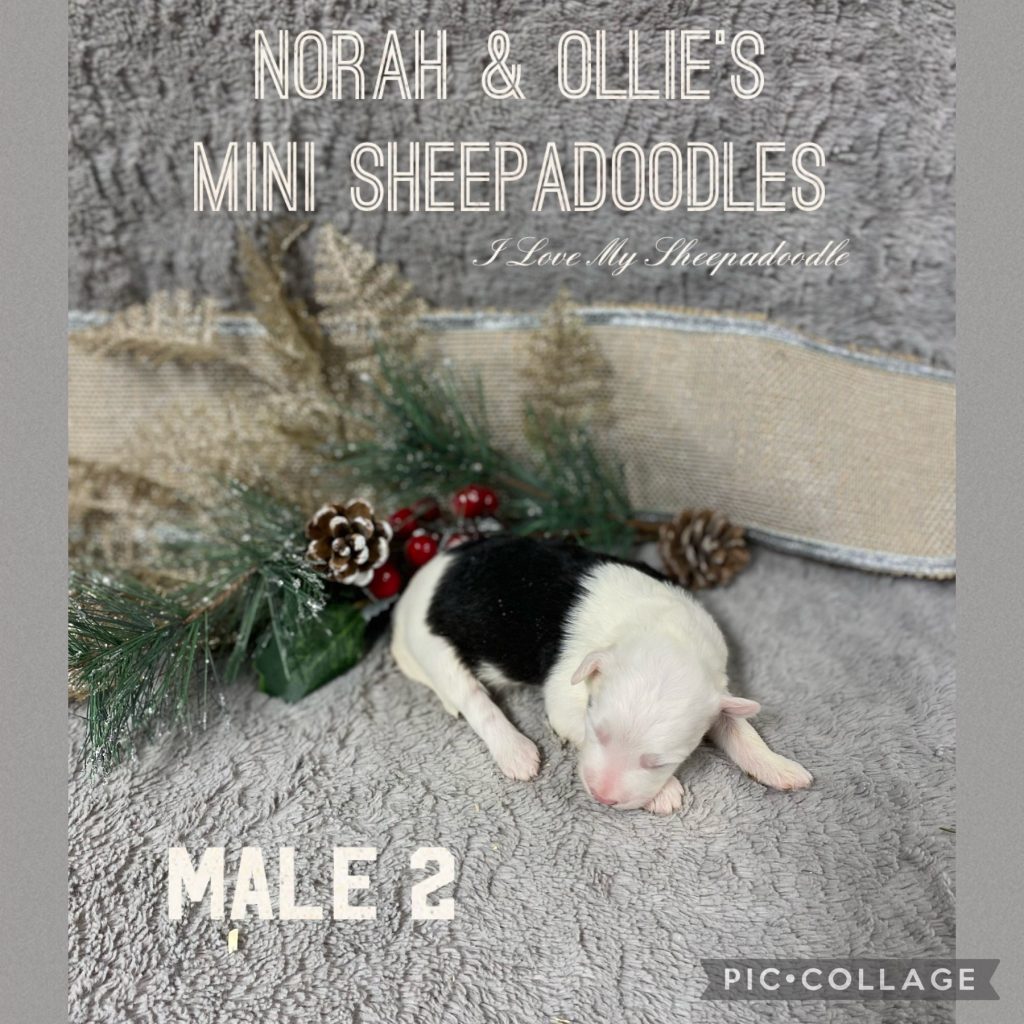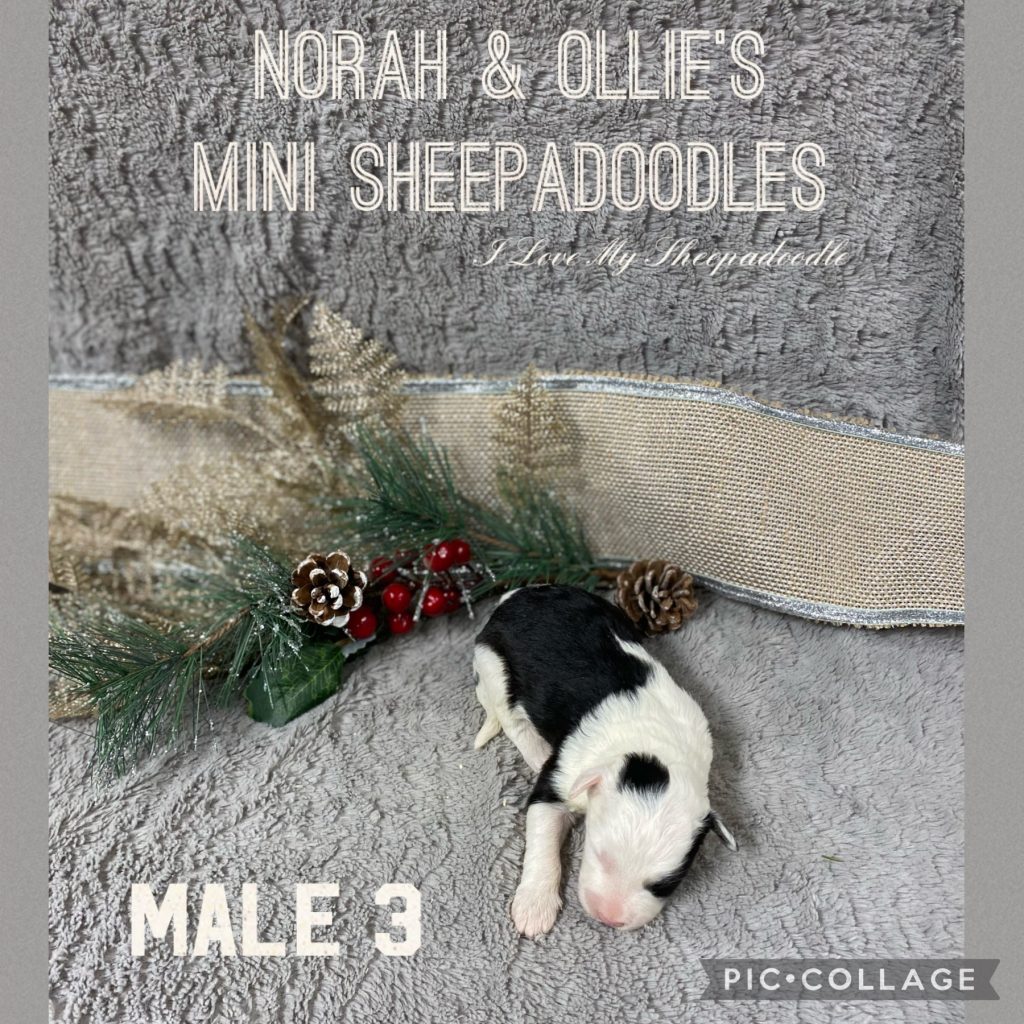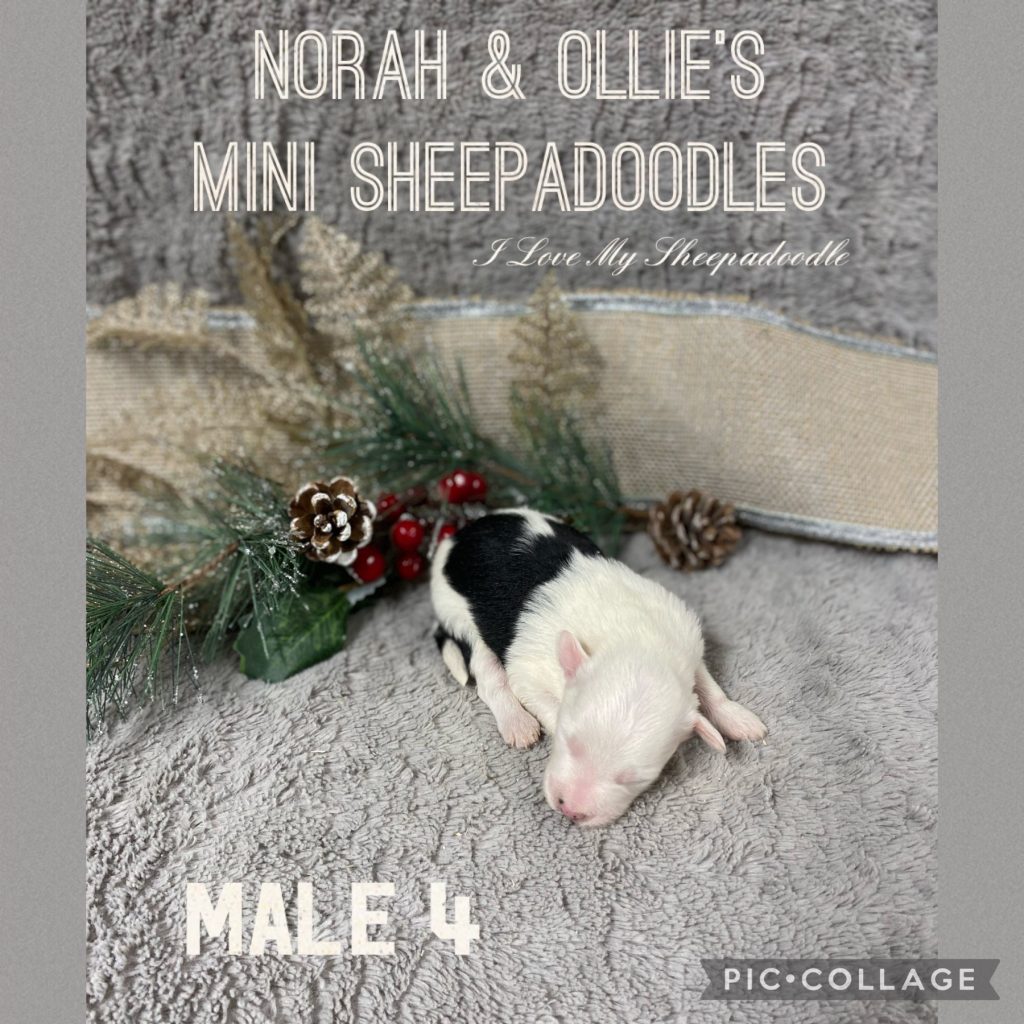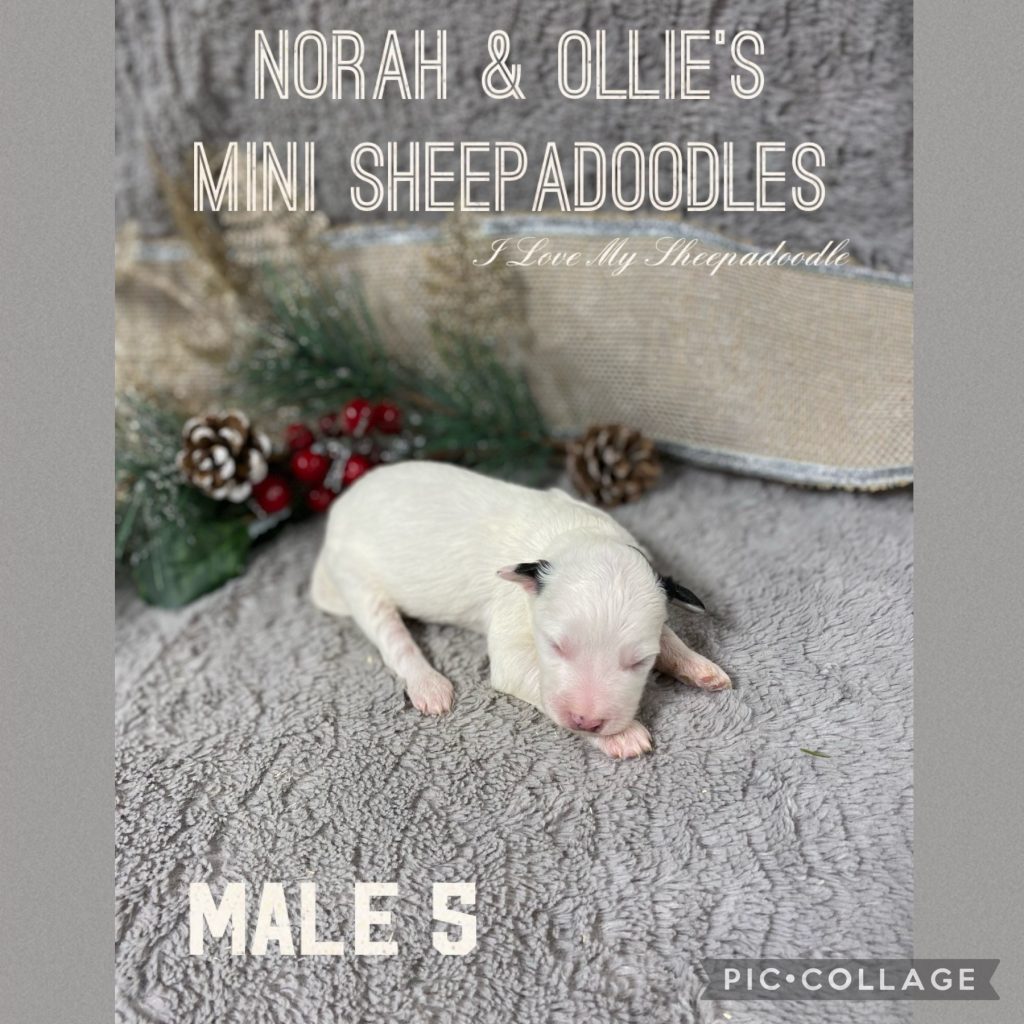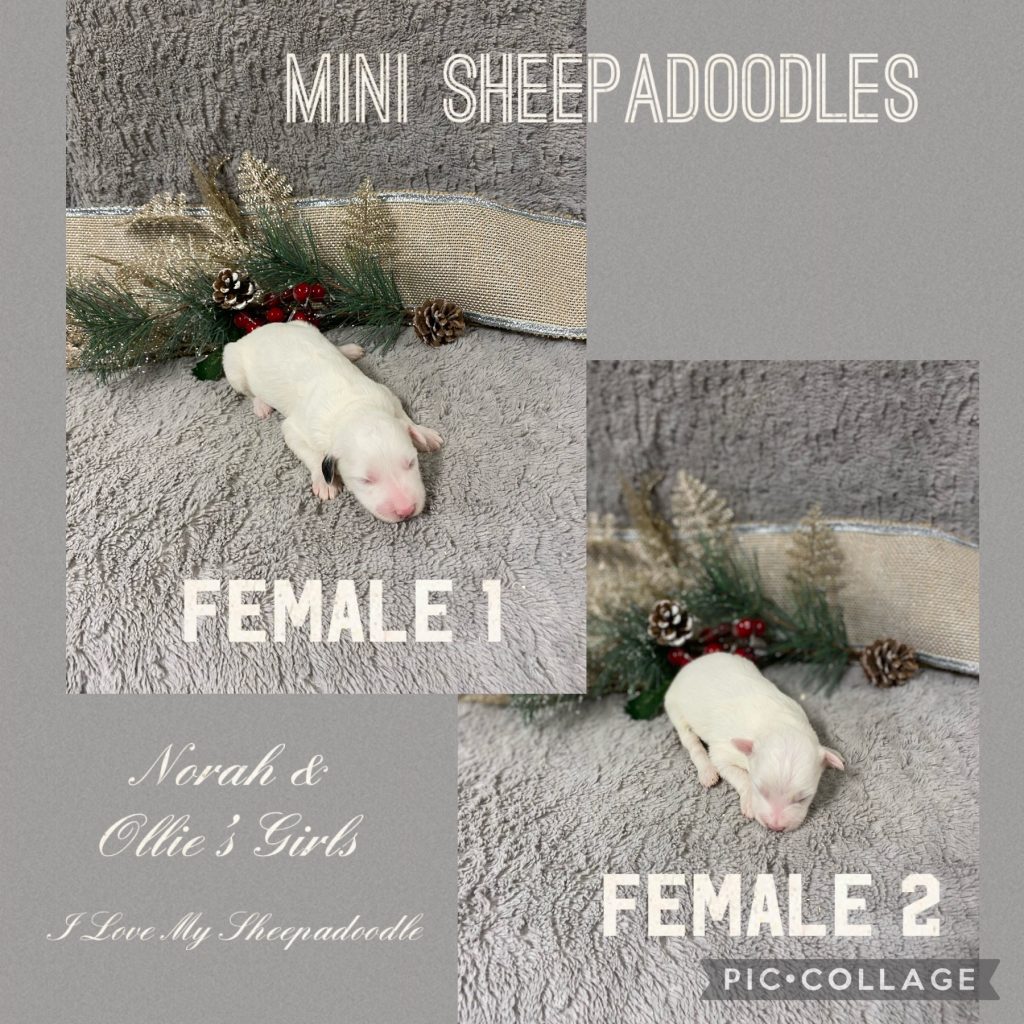 –
WATCH FOR 4 – 5 WK PHOTOS
Puppy descriptions done at 6 wks
–

MEET THE PARENTS!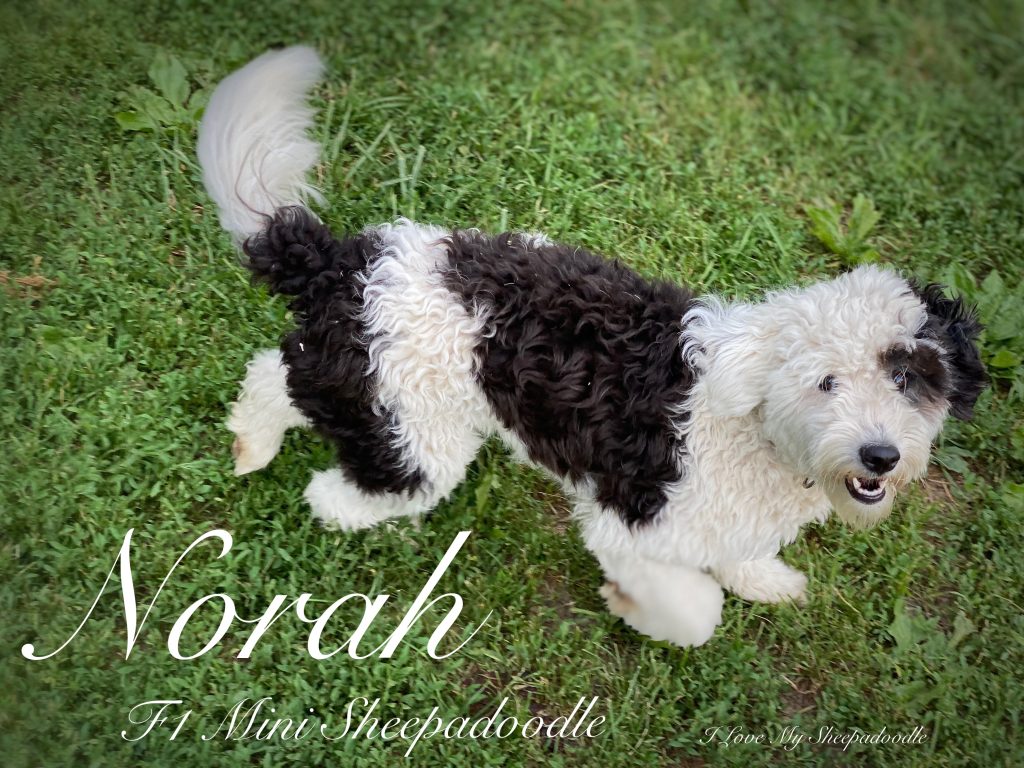 Norah is a F1 Mini Sheepadoodle as well and she is Izzy's sister.  She has kept her black & white colour and has a soft wavy coat.    She weighs in around 25 – 30 lbs and is  about 16 inches at the shoulder.  Her mom is a purebred AKC Old English Sheepdog and her dad is a 14 lbs AKC registered  mini poodle.  She is a little shy of new things but she does love to have fun and join in for cuddles.  We look forward to Norah's Mini and Tiny Sheepadoodles in the future here starting early 2023.
Hips & Normal Elbows –  Cleared by Graham Animal Hospital Consult for OFA Hip & Elblow Prelims.
DNA Genetic testing pending with Embark DNA Panel
~
OLLIE – F1B REVERSE MINI SHEEPADOODLE
Ollie is a 30 lbs Mini F1b Reverse Mini Sheepadoodle.  He is a stunning little Sheepadoodle that cute teddy bear face.  He has all the attributes we look for in our dogs! Friendly and playful but submissive and sweet natured.  He has a beautiful wavy tuxedo coat that is non shedding.  He stands about 18 inches tall at his shoulders.   Ollie's mom comes from champion lines and has excellent hip ratings within the genetics.  Ollies dad is our Mini Sheepadoodle Wrigley- he looks just like him, carries a similar disposition as Wrigley, but is just a little smaller than his dad.  Ollie lives here with us and we enjoy his playful, happy presence!  We look forward to the stunning pups Ollie will produce starting late 2022.
OFA Hips and Elbows – Pending but comes from lines of Goods and Excellents
Clear with Embark DNA Genetics