Born June 30, 2022
Ready Aug 25, 2022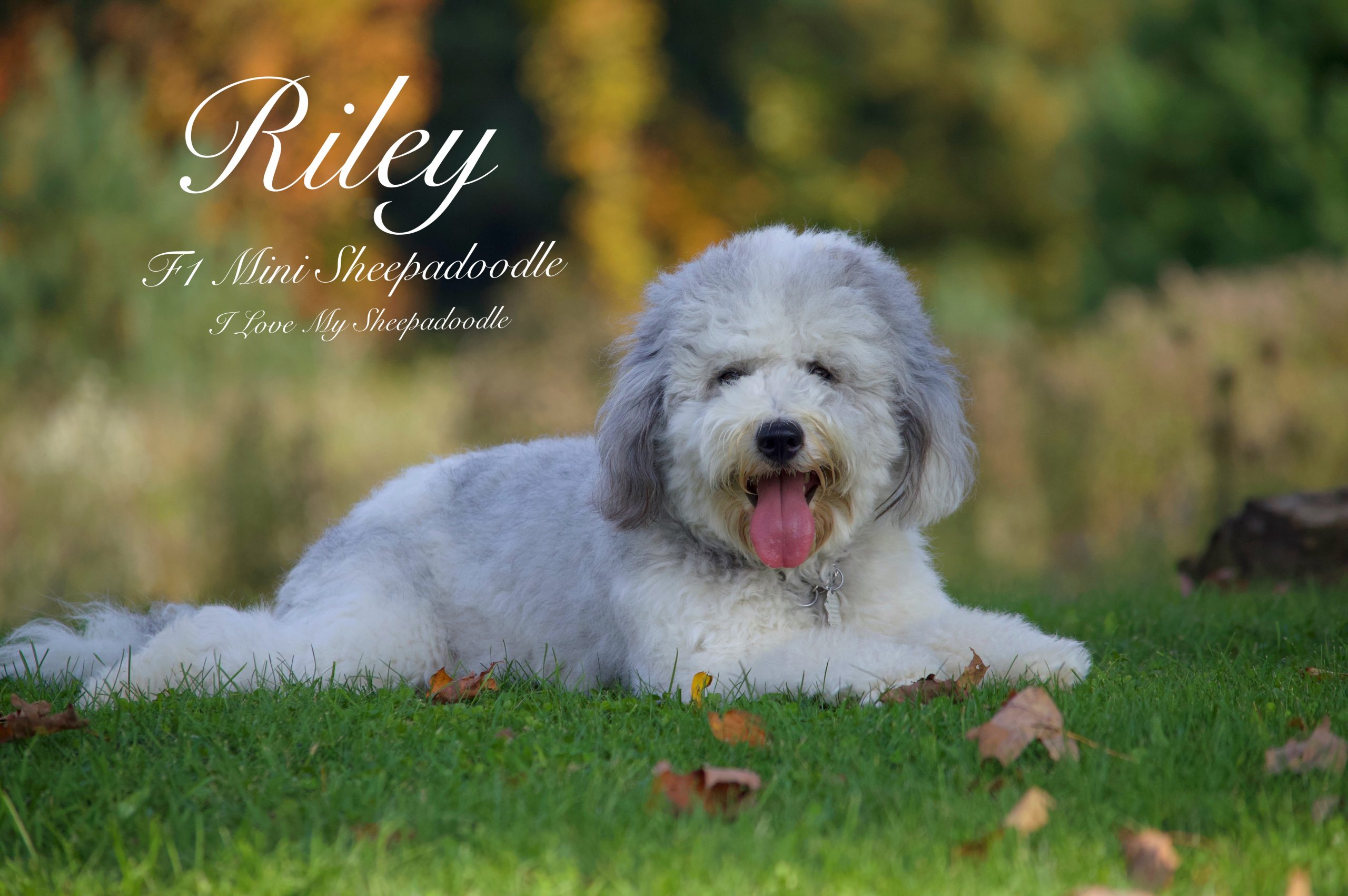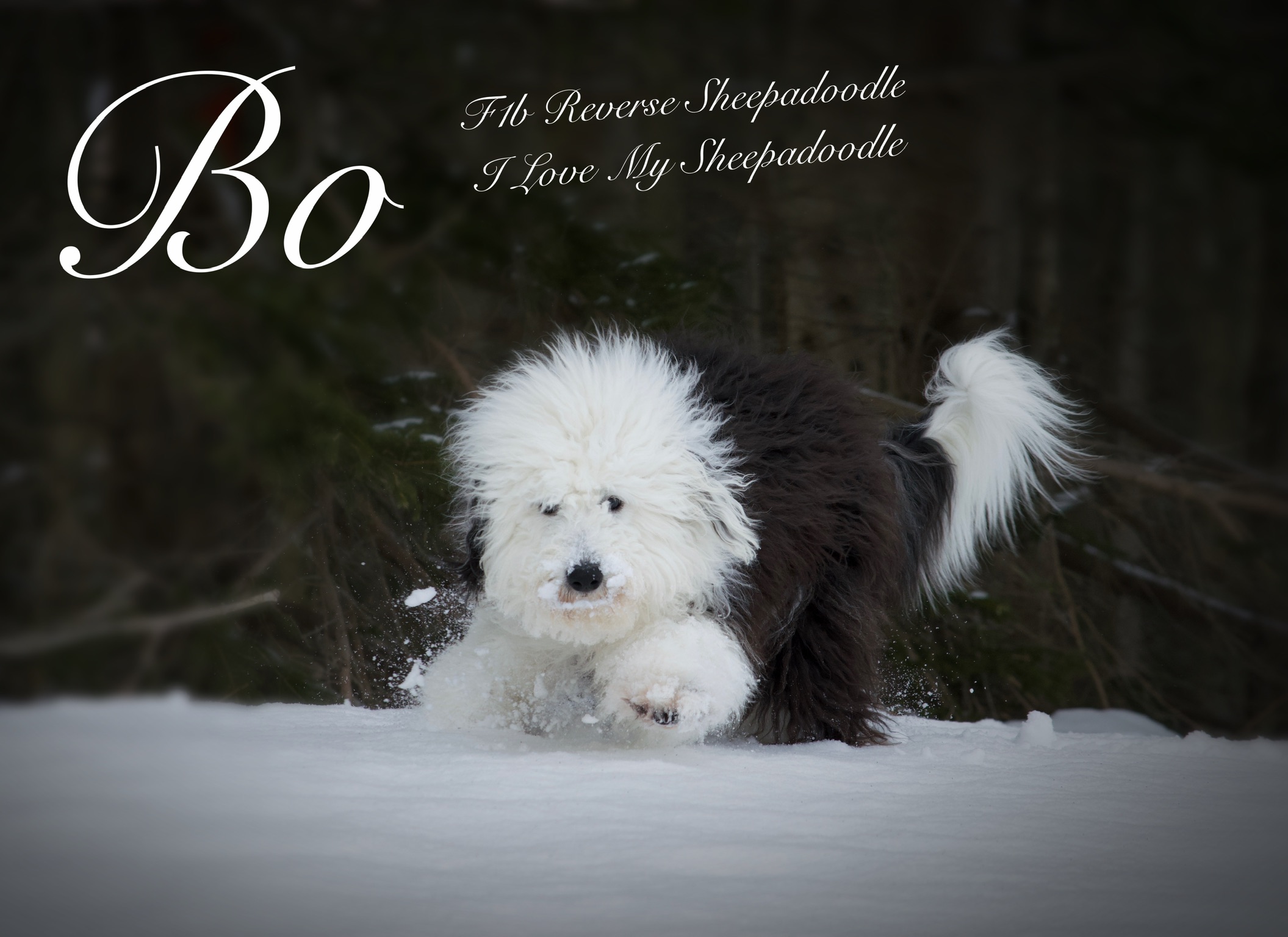 Riley & Bo have made a beautiful litter Mini Sheepadoodles!  There are 2 girls and 3 boys in this litter.   We have black and white puppies in this litter with some curly coats and some wavy coats. The temperaments of these pups should be amazing as both mom and dad are lovely dogs!
This is a F2b reversed litter which is a F1 Sheepadoodle crossed with a F1b Reverse Sheepadoodle.  The puppies are 62.5% Old English Sheepdog and 37.5% Mini Poodle.  Some of their puppies can take on more OES genes/traits and others more poodle.   This is why you see some curly coats and some straighter coats.  Since both the Poodle and OES are hypoallergenic breeds these pups will also be hypoallergenic.
The size of these pups is expected in the 30 – 45 lbs range give or take some. There could be a bigger or smaller one than average since there is Old English Sheepdog and Mini Poodle in their genetics.   For matured height at the shoulder the pups should be about 17 – 18 inches high.
Puppy selection is planned for Thursday, Aug 11 when the pups are 6 wks old.  This is done by video call done in order of waitlist below.  Photos will be posted again around 4 weeks of age.  We will also post videos on Instagram of the pups puppy playing the day prior to puppy picking.
These pups will be ready to go home August 25, 2022 or after at the age of 8 weeks. They will have their first booster and several rounds of deworming. Our vet will also have done a thorough inspection of each pup.
–
Fill out our puppy application if you are interested in one of these pups!  We will get back to you one openings available.  Deposits are $500 and valid for this litter only.
You can refer to our Pricing and Payments page for more info on the process.
    We look forward to helping you with your Sheepadoodle puppy!
These puppies are priced at $3,000 CD taxes in.
–
WAITING LIST
(Puppy selection planned for Aug 11, 2022.  Time selection will be posted here)
1. Breeder's Pick Potential Female
2. Breeder's Pick Potential Male
3. Blair R ~ Whitby, ON ~ Confirmed 
4. Andrew N ~ Oakville, ON ~ Pending  
5. Available 

4 WEEK PHOTOS


1.5 WEEK PHOTOS


MEET THE PARENTS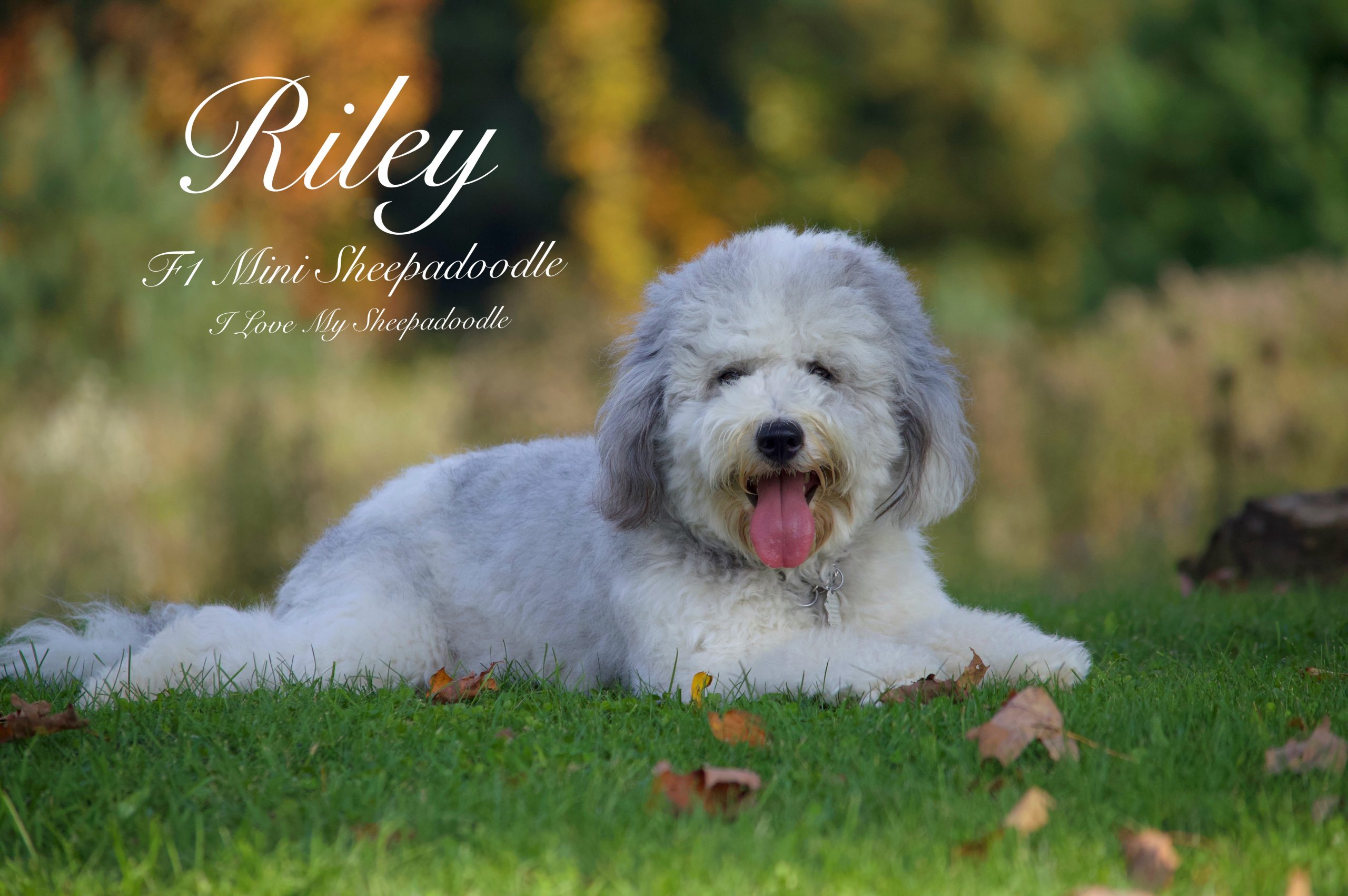 RILEY – F1 MINI SHEEPADOODLE
Riley is a F1 Mini Sheepadoodle with new bloodlines here at I Love My Sheepadoodle.  She weighs in just over 30 lbs and is about 16 inches high at her shoulder.   Her mom is a smaller sized OES weighing in around 45 lbs and her dad is about 25 lbs.   Riley has a shy, reserved personality.   She takes her time to meet new people.  She loves to run and play – give her a ball and a baseball field and she's a happy gal.  She lives close by to us with her guardian and lives a very content and happy life.   We look forward to the Mini and Tiny Sheepadoodles from Riley starting Fall 2021 and after.
Good Hips & Normal Elbows – OFA Prelims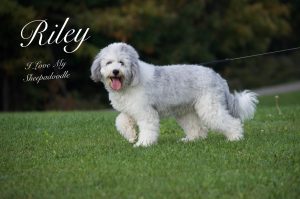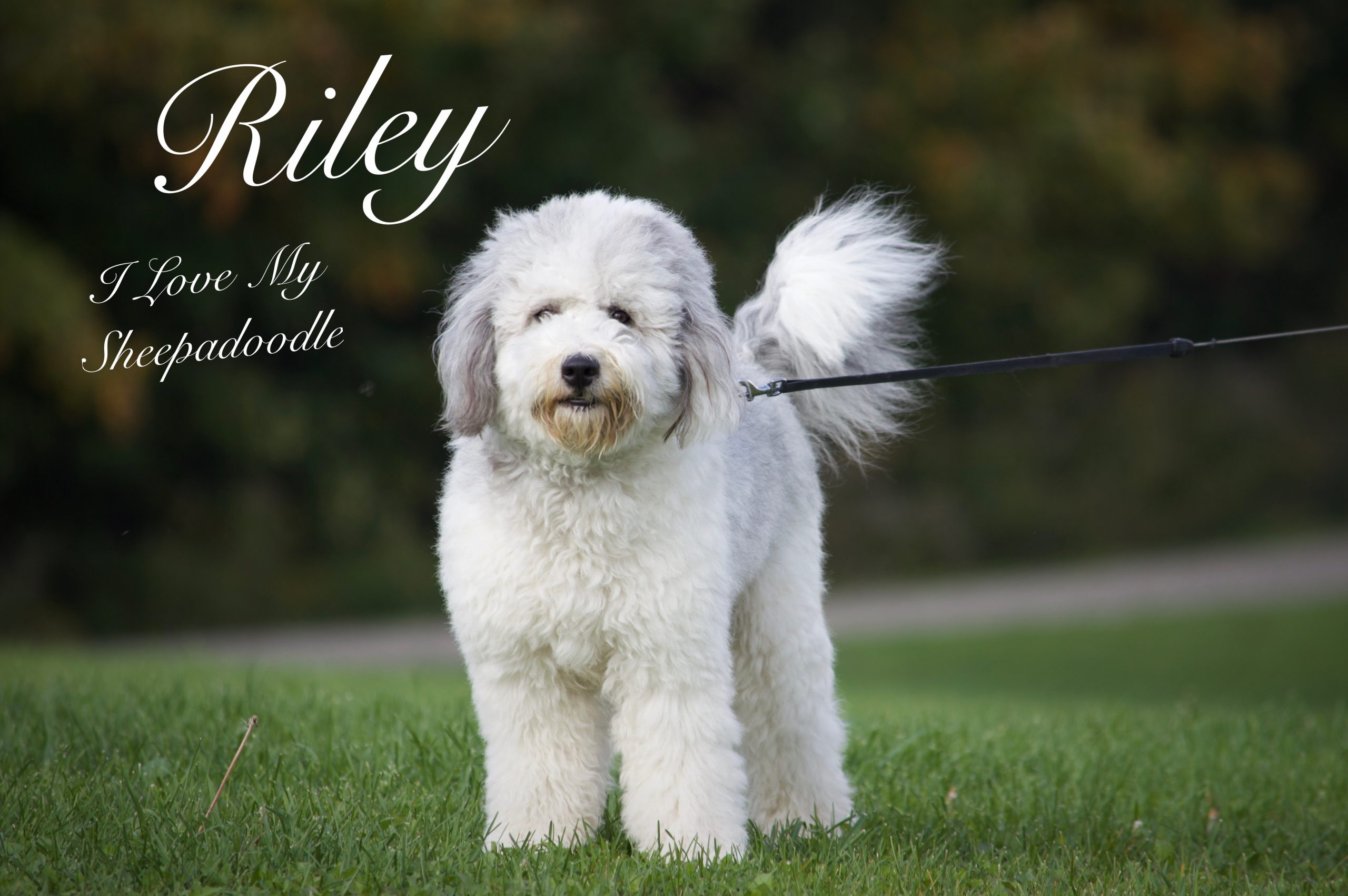 –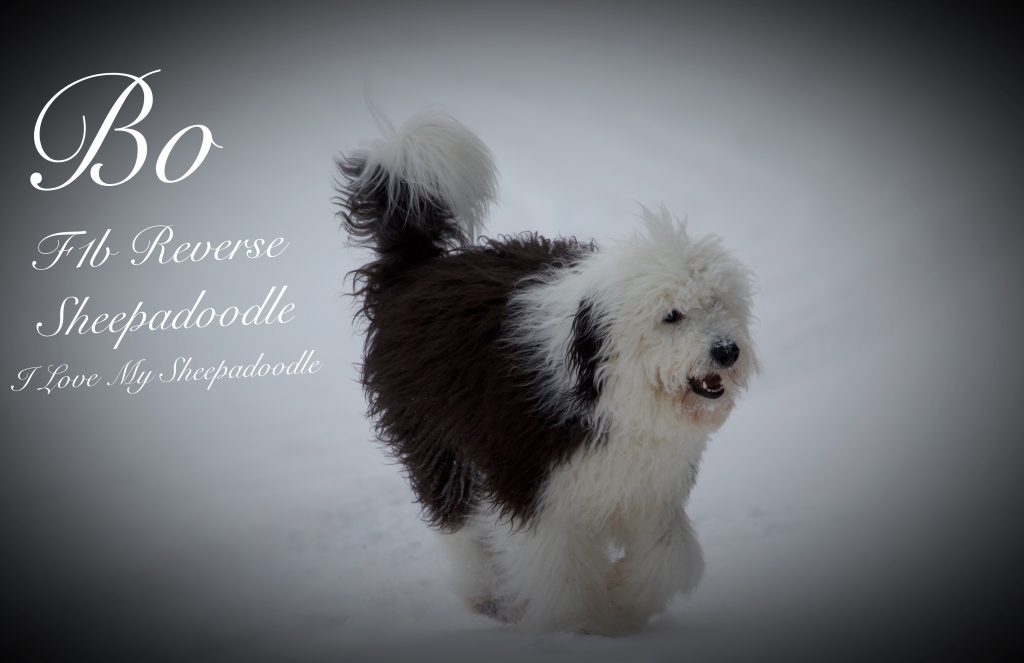 BO – F1B REVERSE MINI SHEEPADOODLE
Bo is a F1b Reverse Mini Tuxedo Sheepadoodle. He is 75% Old English Sheepdog and 25% mini poodle.  Bo weighs in around 35 lbs and has a full and magnificent coat.  Bo lived with us for about 4 or 5 months before joining his guardian family in a near by village from us.  He is adored by his family members and those around.  They say he is a dream dog since he is so good! Before he got his name Bo from his guardian family, we called him TJ for Tobi Junior.  He still responses to us when we call him TJ and he is always excited to come out and see his second family here out in the country.
Clear DNA with Animal Genetics and the Paw Print Sheepadoodle panel.
OFA prelims with excellent hips and normal elbows.

–
TESTIOMONIES FROM
RILEY'S PREVIOUS PUPS!
–
Hello Delicia! Finn is fantastic!! He is such a good pup! We are working on training but her is intelligent and very cute! I can't walk him without being stopped by people commenting or wanting to know what type of dog he is. He has Recovered from his neuter.. and loves cuddling! Here are some recent photos of him

–
Hi Delicia, Riley is doing great!  She is 7 months & 26 pounds and has a wonderful temperament.  She has a super sweet and friendly personality, and loves to be around people and other animals (she even gets along with our pet bunnies!).   Last week she went swimming in the lake at the cottage and lives it there too.   She's a happy pup everywhere!  We couldn't have asked for a more perfect addition to the family 🙂
Here are some photos

–
Hi Delicia, Winston is doing fantastic and life would not be the same without him.  We had a playdate with his littermates Molly and riley and Milo last night. It was so adorable.

Hi Delicia,
Thanks for checking in!!  Molly is doing great. Growing up so fast and has a big personality 🙂 Almost 30lbs now. She did really well with her spay surgery at the end of May and recovered super quickly. Sending some pics of Molly a few weeks ago at the cottage in her new life jacket! Hope you and your family are doing well!  Take care, 
Lauren