Ready for homes July 25, 2020
Sadie & Einstein have their first litter of Mini Multigen Sheepadoodles.  There are 9 gorgeous puppies in this litter.  There are 4 handsome boys and 5 cute little girls.  From the looks of the coats so far I think we may have a variety of wavy or curly coats – with most curly.  As you can see there is a nice variety of colours and markings in this litter.
These puppies are a new blend of Sheepadoodle that we have been looking forward to trying for several years.  We have blended the F1 Mini Sheepadoodle with a F1b Moyen Sheepadoodle.  These pups will be about 1/3 Old English Sheepdog and 2/3 Poodle.  Its a half way mark between the F1 and F1b Sheepadoodle.  These pups will have the nice hypoallergenic coat we like about the Sheepadoodle breed.
Since this litter is a blend of Mini and Moyen size we are putting it as Mini on the larger side.  Einstein is 38 lbs and Sadie around 42 lbs.  The pups should be in the 35 – 45 lbs range.  I expect the pups to matured to an average of around 17-22 inches high at the shoulder.
Puppy picking is planned for around 6 weeks of age.  We will be posting photos of pups at 1, 3 and 7 wks to help you decide.  Then the week of puppy picking we post a video of pups playing on our Instagram page and Facebook page.  Puppy picking can be done by video call, phone call, text or email.  Puppy picking will be arrange after Sadie's wait list has been established and will be done in deposit order.
Pups will be ready to go home July 25, 2020 or after between 8-9 weeks of age.   The pups will come with their first booster, several rounds of dewormer, vet check with health records, and a puppy pack including some food, toy, blanket, vitamins and optional 30 day free pet insurance.
All these puppies are reserved for those who already put a deposit down and are on our waiting list.   We will work our way through the master wait list from top to bottom for those on the Mini list and mark confirmed to those who wish to pick a pup from this litter.  If on puppy picking day there wasn't a suitable pup for you, you can keep your name on our master wait list and wait for another available puppy.  You will need to decide on one litter to pick from at a time.  If you pass on a litter on puppy picking day you will need to wait for the next available litter.  That puppy would then be available for the next people in line on our wait list to pick from.
These puppies are priced at $3,500 CD.  Everyone has already put a $500 deposit down so the remaining amount owing is $3,000 CD.   This can be paid after you pick your puppy at the 6 week mark.  Note – The Brown Merle Tuxedo Pups are an additional $500.
WAITING LIST
(Will confirm as we hear from people – Gender preference is not decided until puppy picking day)
1. Thomas Froese ~ Dundas, ON ~ Female 1 ~ "Gracie"
2. Tim Nash ~ Brampton, ON ~ Male 1 ~ "Ryker"
  3. Danielle Orsatti ~ Aurora, ON ~ Female 5 ~ "Marnie"
4. Angela Van Delft ~ Aurora, ON ~ Male 4 ~ "Freddie"
5. Randy Huffman & Lisa Mina ~ Etobicoke, ON ~ Female 4 ~ "Dixie"
6. Mary McKee ~ Female 2 
7. Rose Vetere ~ Ancaster, ON ~ Male 3 ~ "Finnigan"
8. Cory Sommise ~ Bright's Gove, ON ~ Male 2
9. Raafy Karim ~ Toronto, ON ~ Female 3 ~ "Maggie"
WEEK 1 PHOTOS

3 WEEK PHOTOS

7 WEEK PHOTOS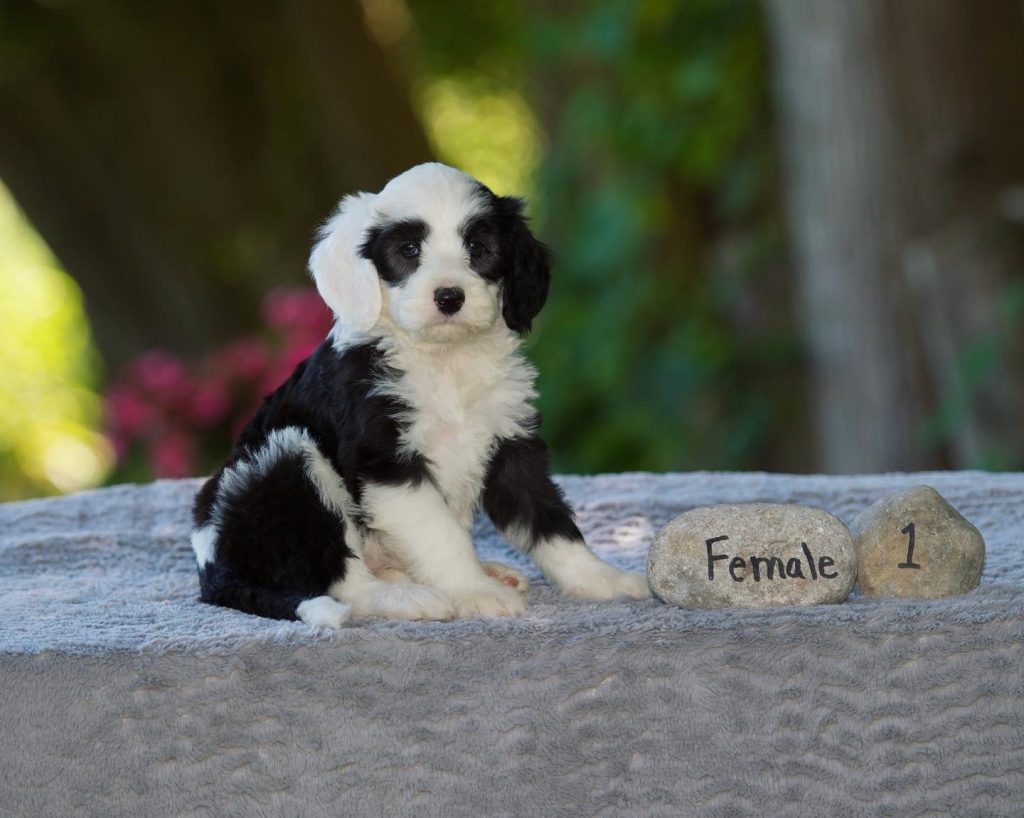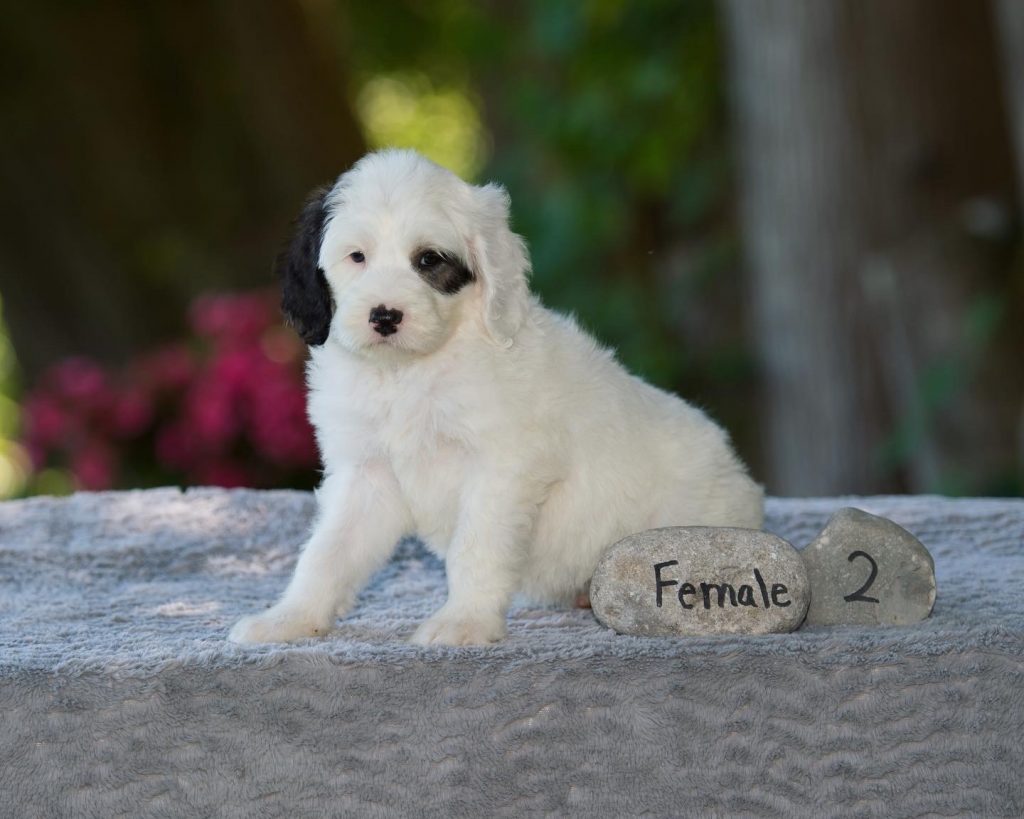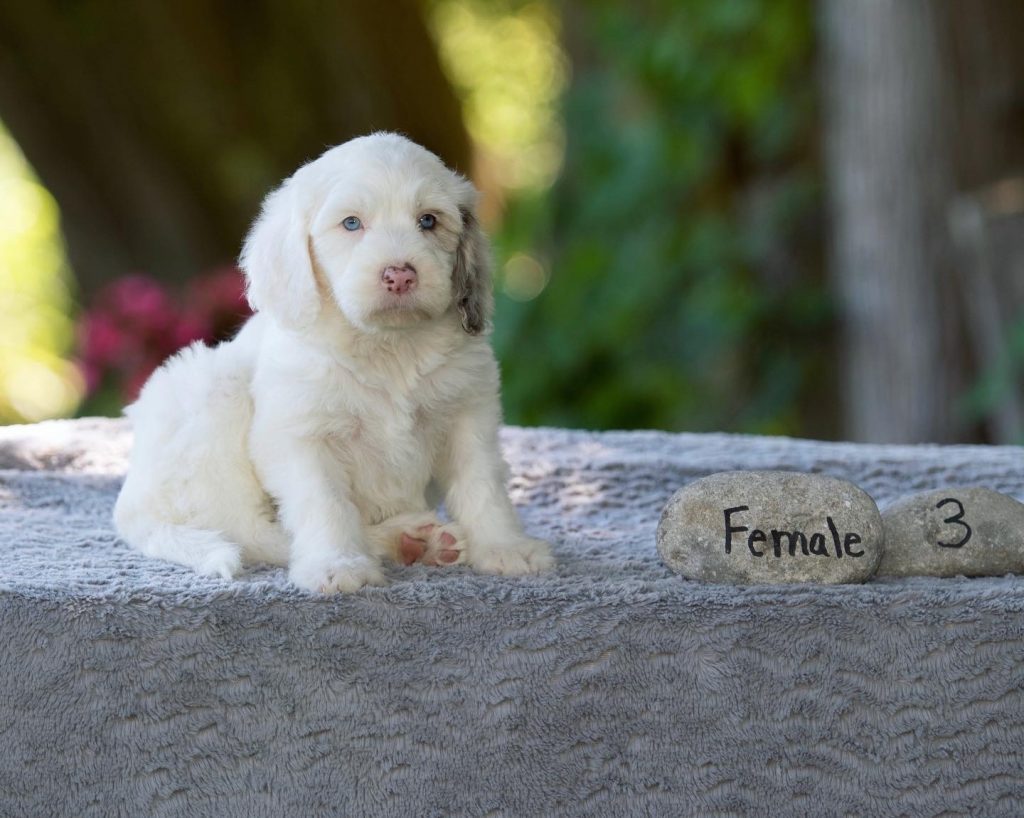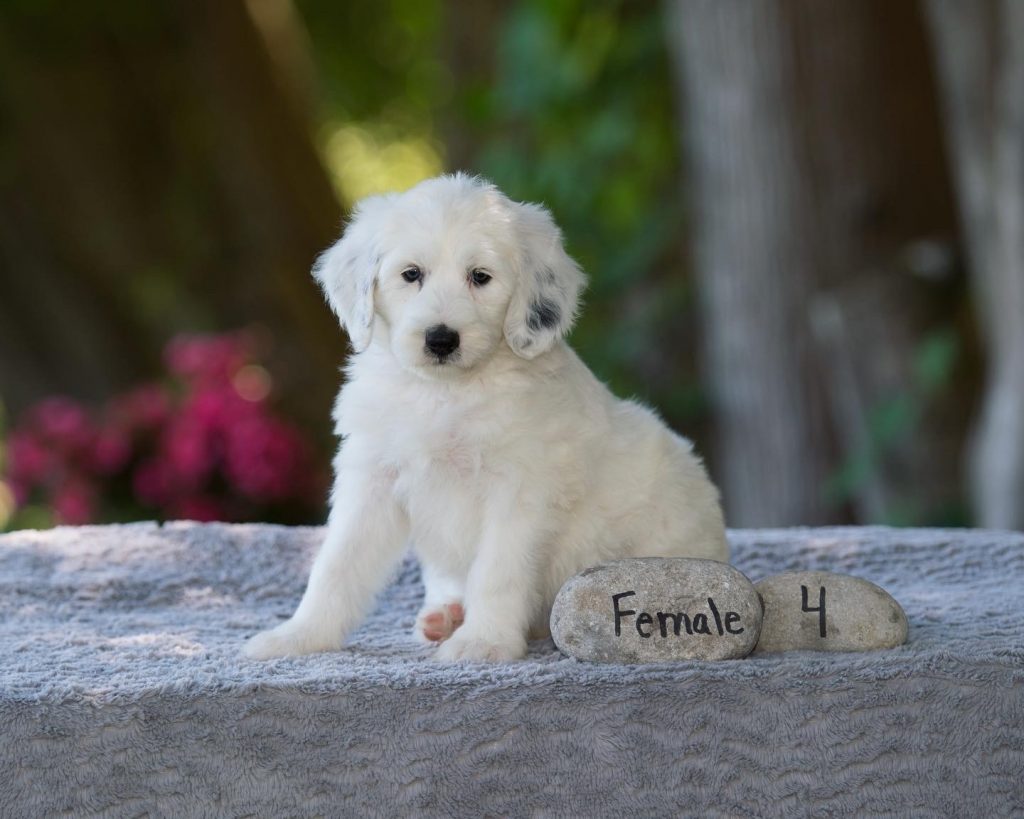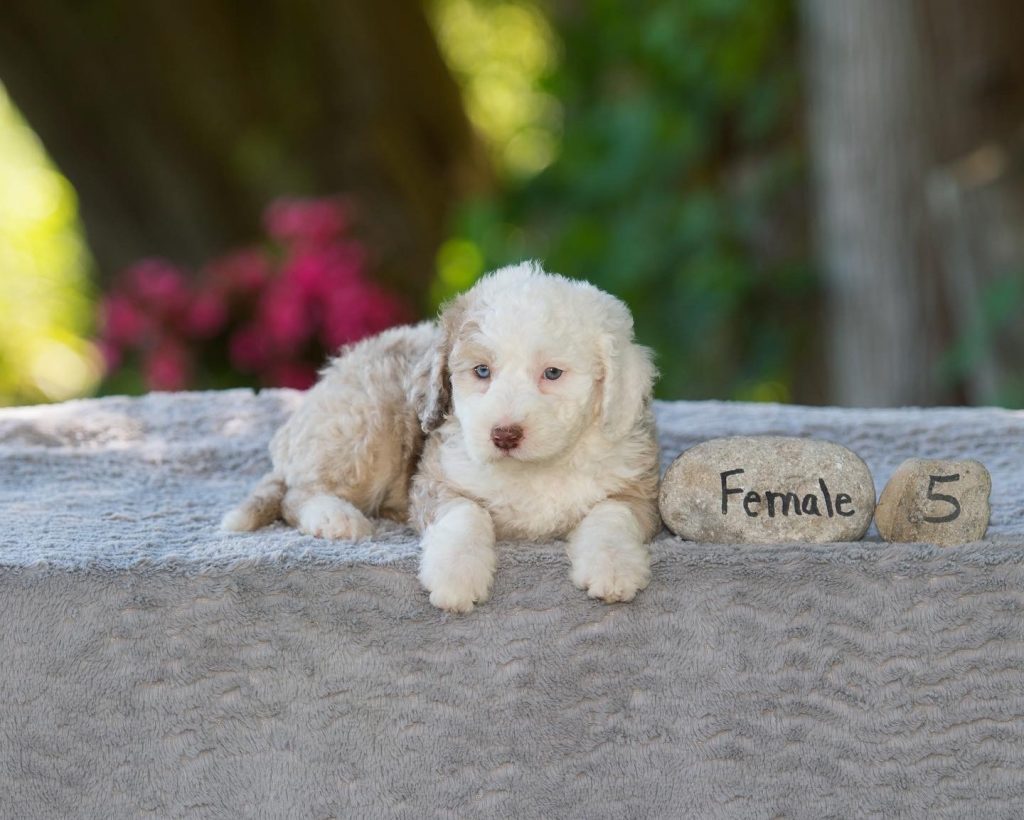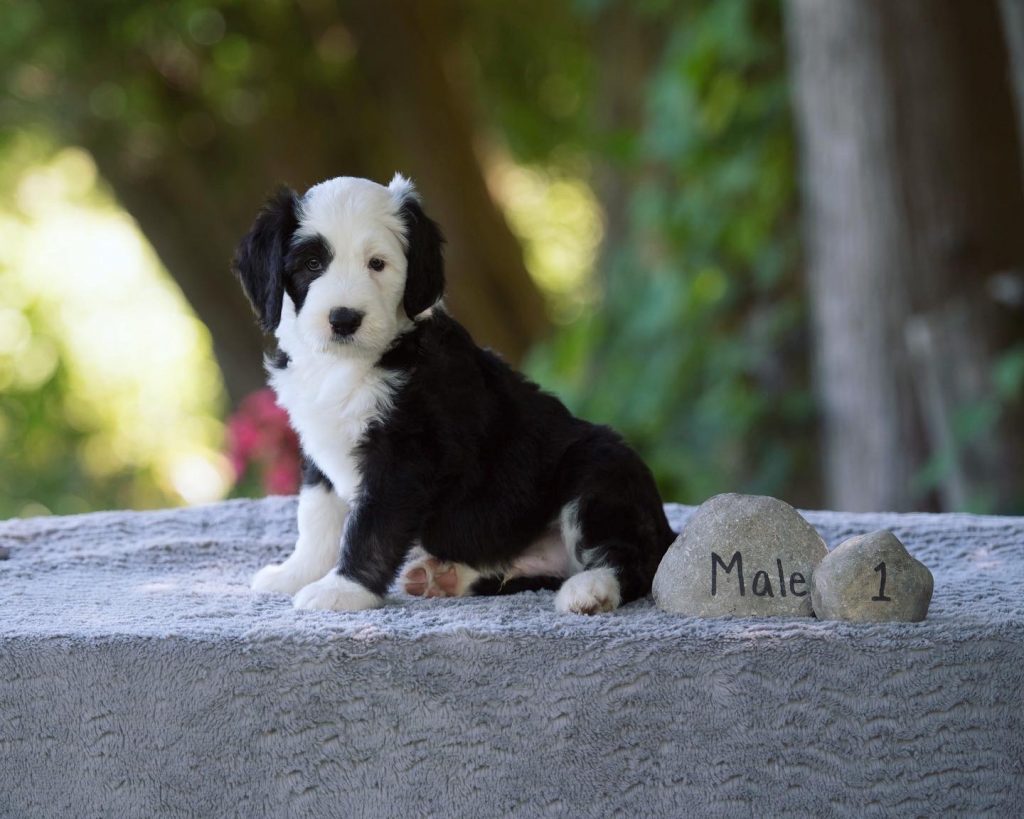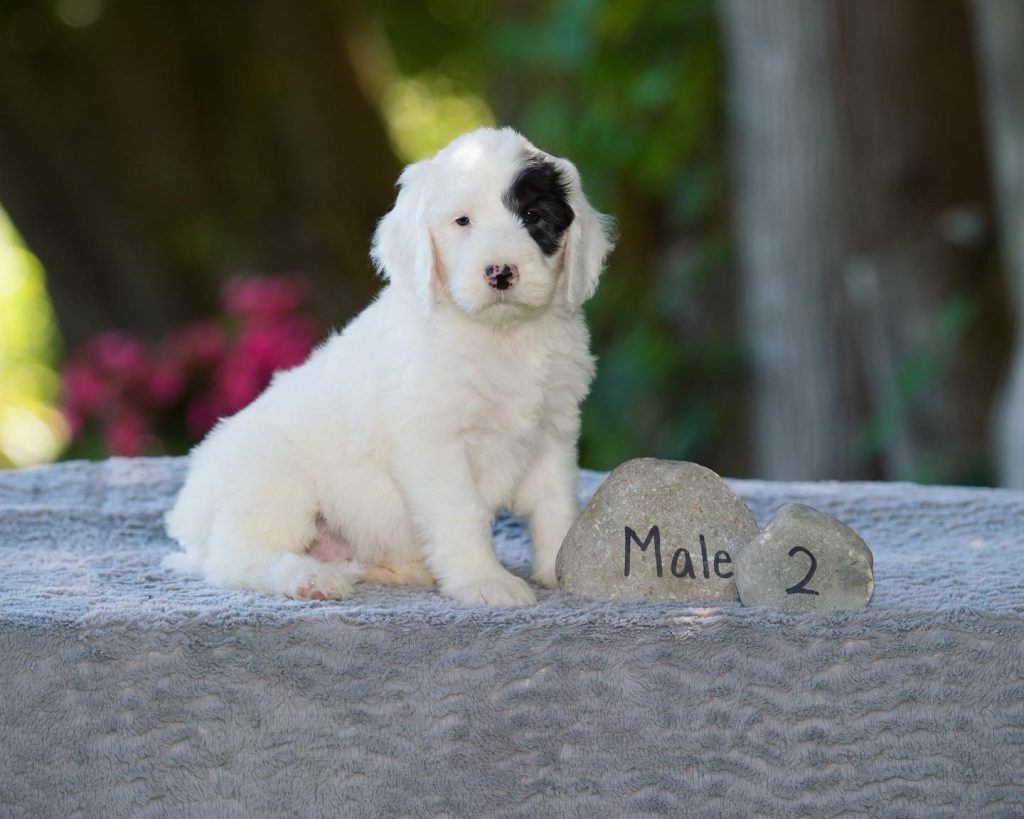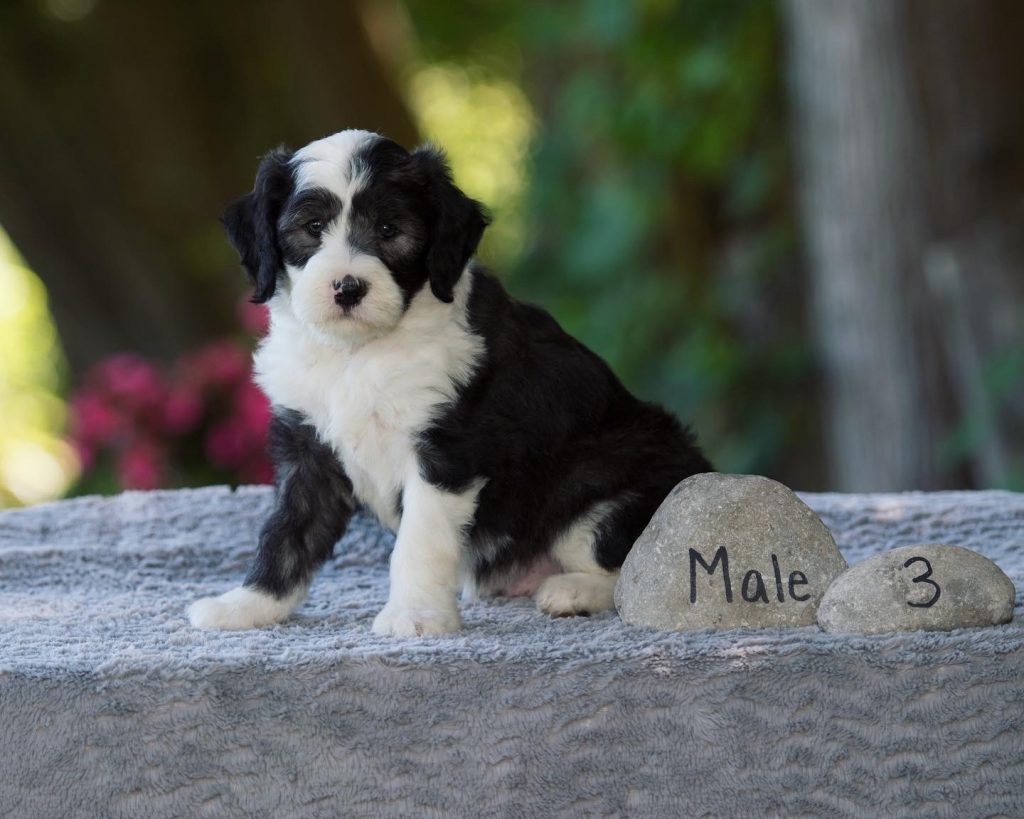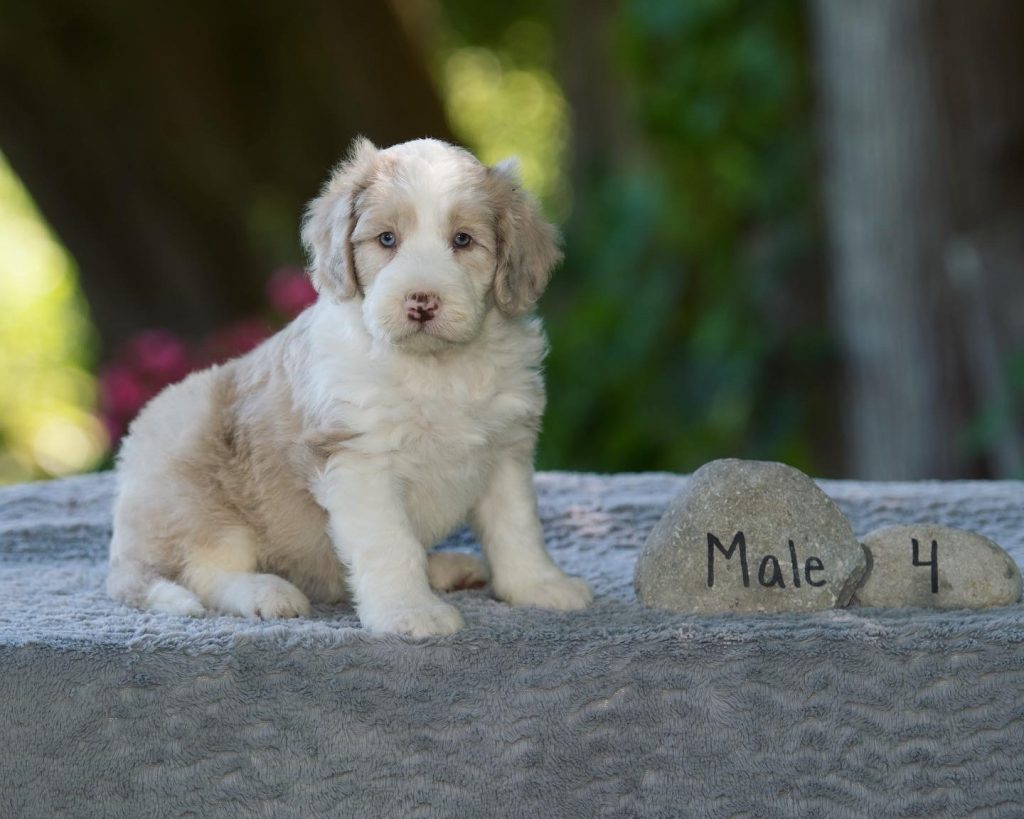 MEET THE PARENTS!
Sadie is one of our own bred Sheepadoodles here from I Love My Sheepadoodle.  It's so nice to pick your own pup from favourite bloodlines.  Sadie has the sweetest, most gentle personality.  Her mom Piper was one of the kindest Poodles we've met.  Sadie has her moms gentle eyes and demeanour.  Sadie's dad is our popular Mini Sheepadoodle stud Wrigley!  He is a F1 Mini Sheepadoodle and looks like a purebred mini Old English Sheepdog.  Both Sadies parents are around 40 – 45 lbs and she weighs in around 42 lbs.  She is taller than both her parents and is about 22 inches at her shoulders.  Sadie has passed her OFA prelims with good and normal hips and elbows.
Sadie has a gentle wavy coat.  Her coat is a Sable Tuxedo. Sable starts out with different dark highlights but then fades to a very light caramel or grey colour. It almost looks white from afar off.  You will notice the ears keep the darker grey highlights.  Sadie will throw her Sable coat on to some of her pups.   The thing that stands out about Sadie is her personality.  That is the most important thing to us and her pups could easily be therapy or support dogs.  She is a solid support and blessing to her guardian home and we expect the same of her puppies!   Below is a photo of Sadie as a pup and then as an adult.

Einstein is a F1 Mini Blue Merle Parti Sheepadoodle. Einstein weighs in around 38 lbs and has a soft to touch, wavy coat.  His mom is a purebred AKC Old English Sheepdog weighing around 55 lbs.  Einstein's dad is our adored mini poodle Tobi.  Tobi is 15 lbs and 12 inches tall.
Einstein is a happy, easy going guy and enjoys life with his guardian family and Goldendoodle playmate.  People love Einstein's freckled nose and winsome personality.  He has a clear DNA with Paw Prints Sheepadoodle panel and has passed his OFA prelims with good and normal hips and elbows.