~
OPENINGS ON BELOW PUPS!
Born April 12, 2023
Ready June 5, 2023
~
~

We are happy to introduce Winnie and Bo's beautiful litter of Mini Sheepadoodles!  We have 10 gorgeous pups in this litter.  There are 3 boys and 7 girls.  They have stunning colours and markings.  The personality of these pups should be great!  Winnie is gentle, kind and loving.  Bo is a handsome guy and is great with kids!
This is a F1b like litter with wavy coats or curly in the litter.  The pups are 62.5% poodle and 37.5%. Old English Sheepdog.  Since both the Poodle and OES are hypoallergenic breeds these pups will also be hypoallergenic.
The size of these pups is expected in the 30 – 45 pound range give or take some with the average pup maturing to around 35 lbs. The pups are expected to average between 17 – 19 inches high at the shoulder.
Puppy picking is planned for May 18 by video call done in order of confirmed waitlist below.  Individual puppy photos will be posted at 1-2 weeks and again around  4 – 5 weeks of age.  We will also post videos on Instagram the pups playing the day or two prior to puppy picking.
The pups go home between 8 – 9 wks of age starting June 5 or after between 8 – 9 wks of age. They will have their first booster done around 7 wks of age and several rounds of deworming. Our vet will also have done a thorough inspection of each pup.   We give them a fresh bath and nail trim just before going home. Our pups go home with an optional 30 days of free pet insurance – new owners must sign up within 24 hrs of pick up. The pup  will go home with a puppy pack that includes a scented blanket, puppy toy, small bag of food, probiotic paste and health records.
~
If you are interested in one of these puppies please fill out a puppy application.  We will try to respond within 1 – 2 business days.  We will put your name as pending for 24 – 48 hrs for you to confirm.  A $500 deposit can be made to confirm your spot/pup.  Deposits are non-refundable and go towards your puppy purchase.  They are meant just for the litter you confirm too.   If you want to add our 1 yr health guarantee it is an additional $500.  You can refer to our Pricing and Payments page for more info on the process.
Thank you and we look forward to helping you with your Sheepadoodle puppy!
$3,000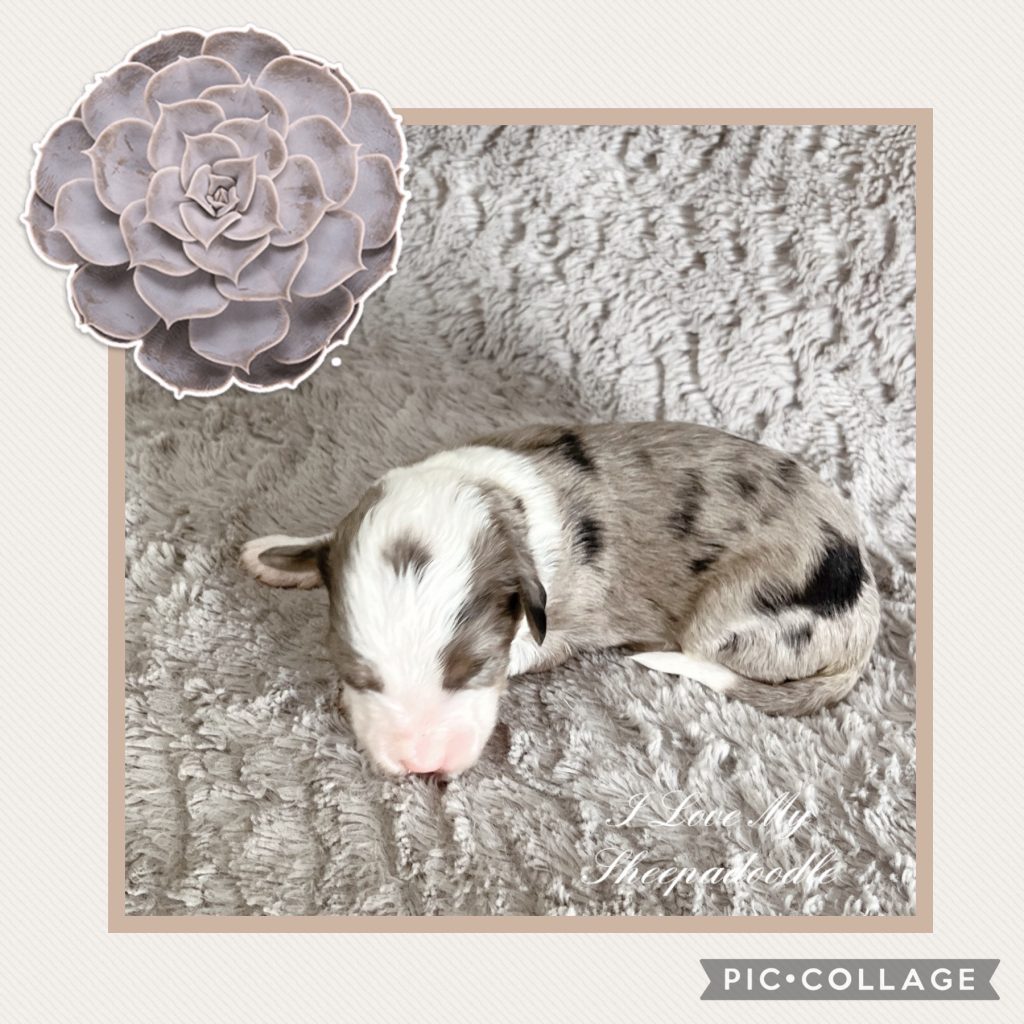 ~~
WAITING LIST
Puppy Selection is done virtually
Puppy selection is planned for May 18, 2023 – Time slots listed
1. Breeder's Pick ~ Female 6 
2. Carol M ~ Ottawa, ON ~ Female 5 ~ "FERN"
3. Ashley M ~ Toronto, ON ~ Male 1 ~ "BUZZ"
4. Andrew A ~ Mississauga, ON ~ Female 3
5. Elisa M ~ Orléans, ON ~ Female 7 ~ "DIXIE"
6. Rebecca J ~ London, ON ~ Male 2
7.Lauren ~ Georgetown, ON ~ Pending
8.
9.
10. 
~
4 WEEK PHOTOS
Descriptions & weights at 5 wks
~
1 WEEK PHOTOS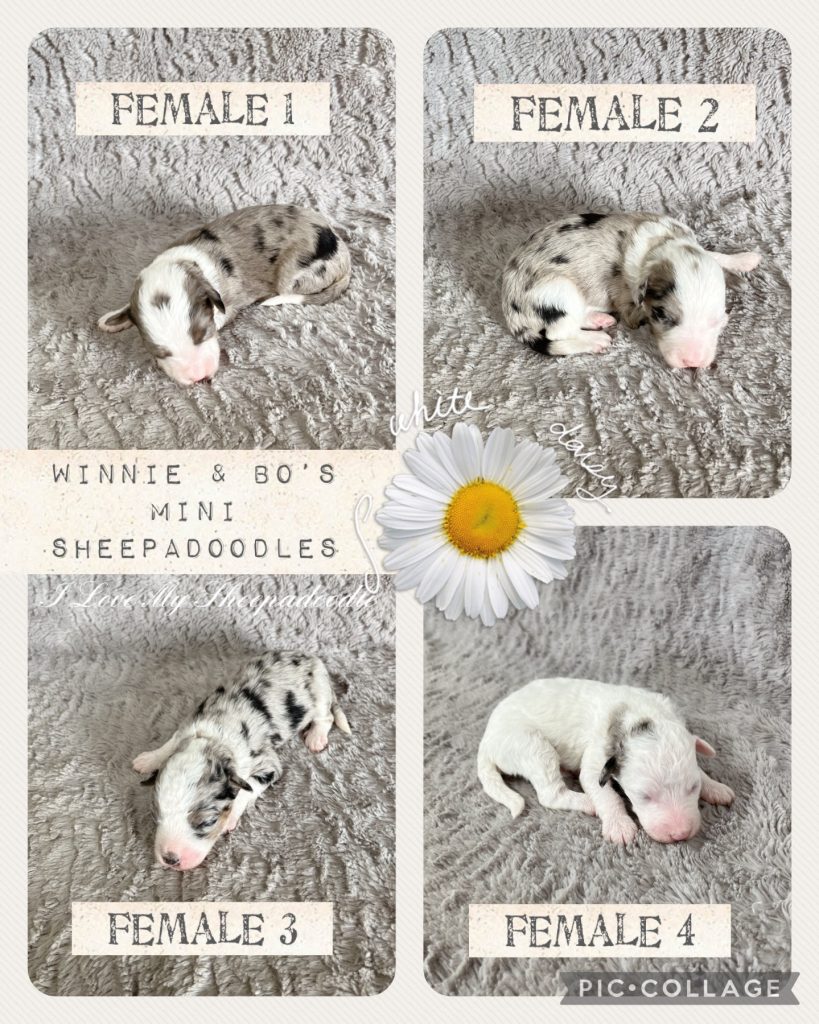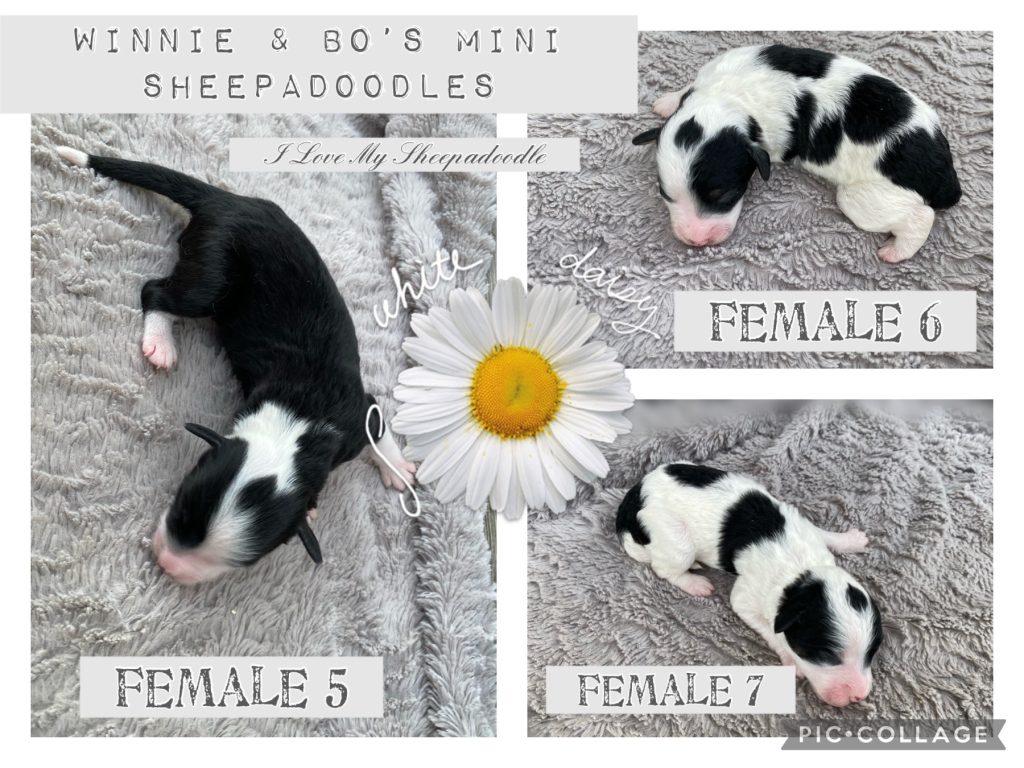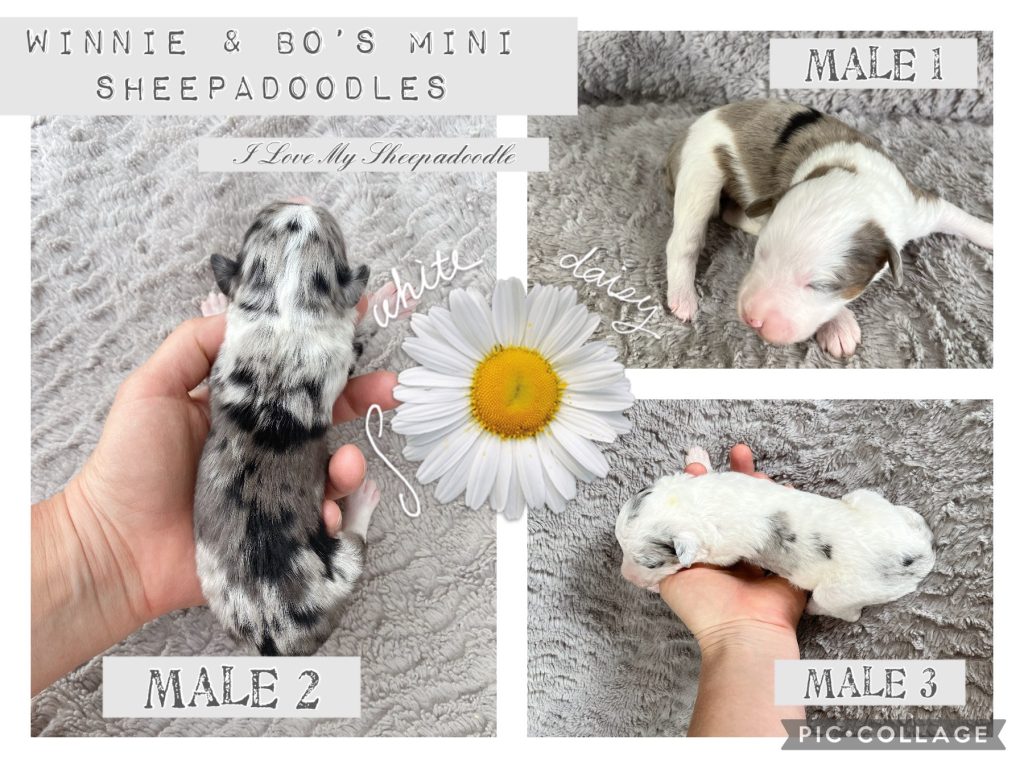 ~~
WINNIE'S 2022 PUPS ON INSTAGRAM
~
PUPPY PHOTOS OF WINNIE'S PAST PUPS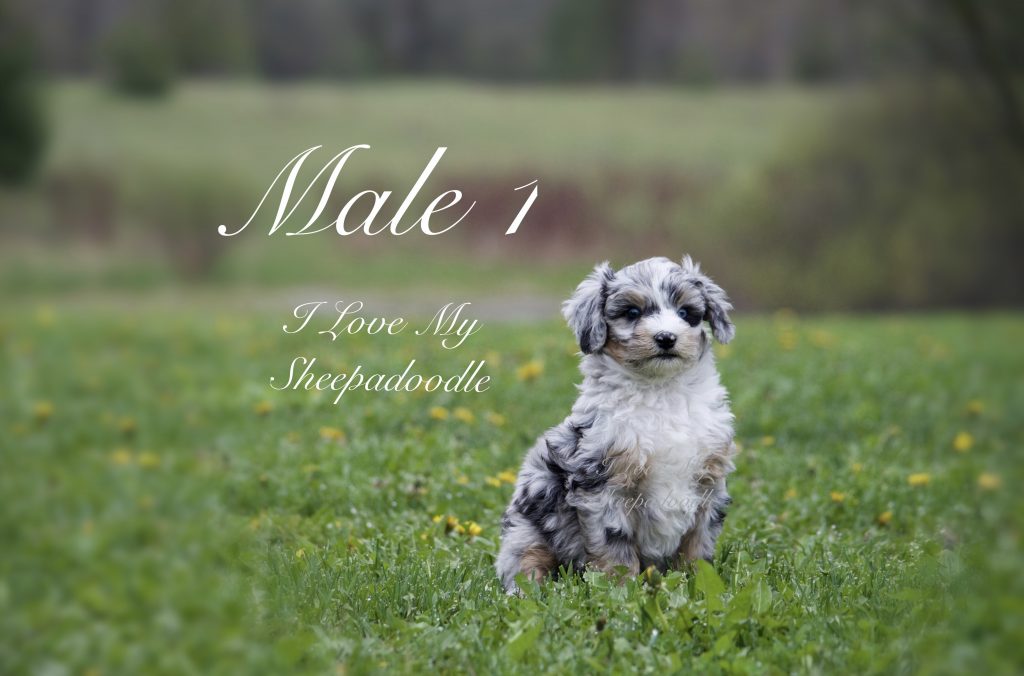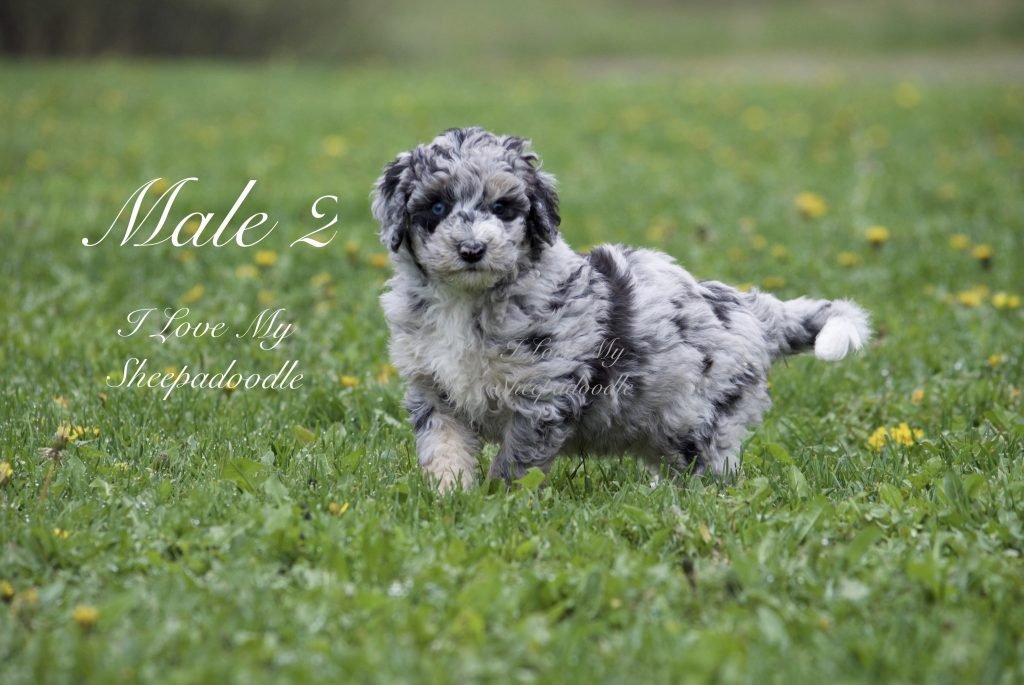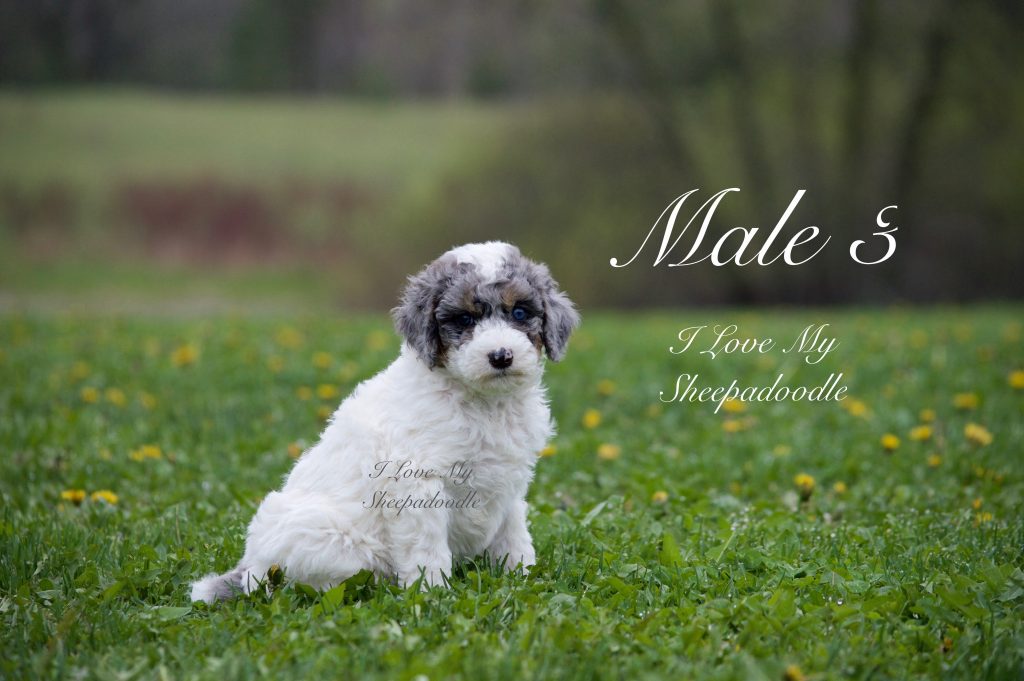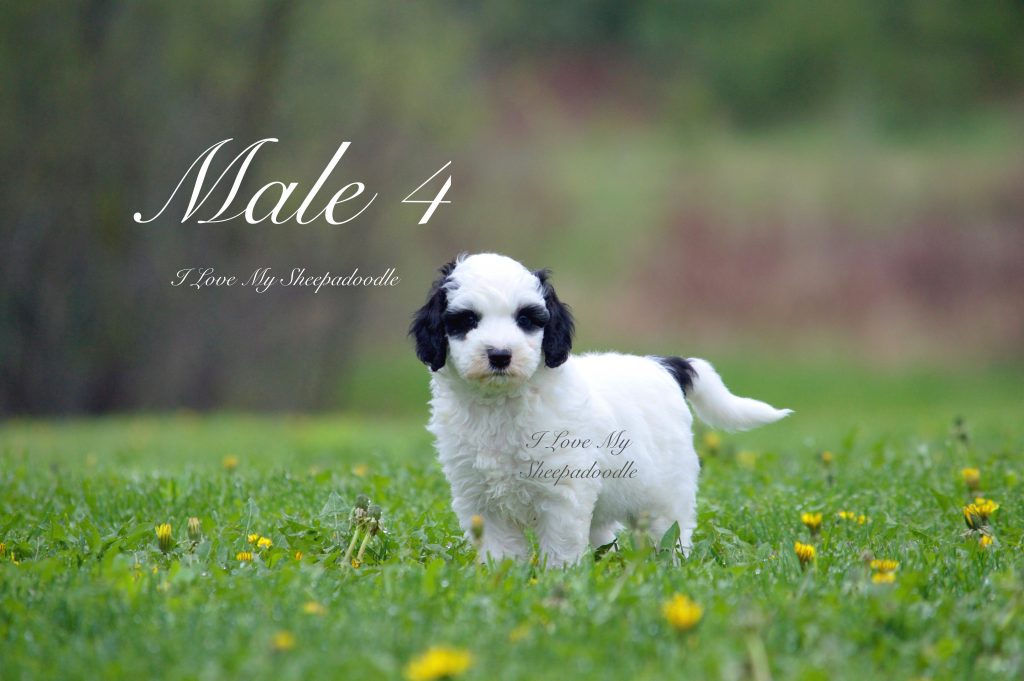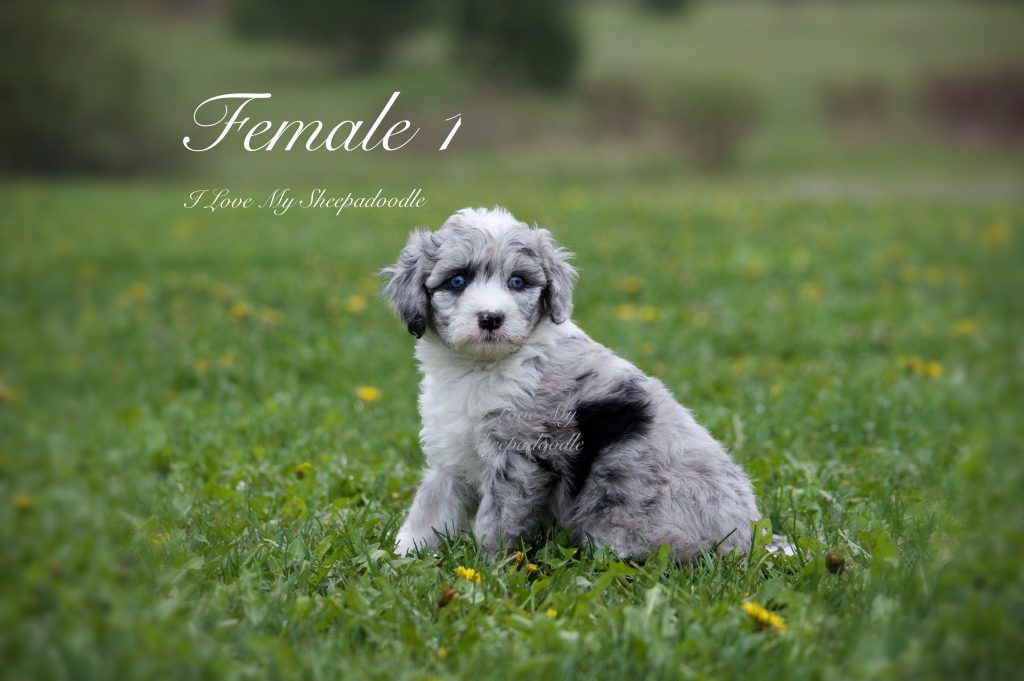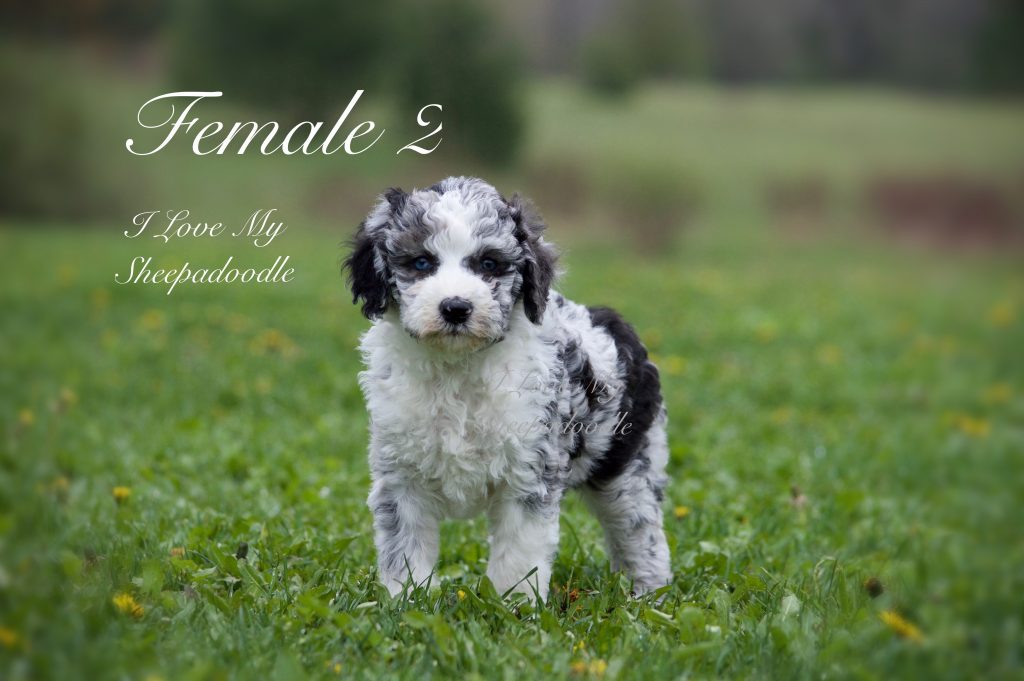 ~

MEET THE PARENTS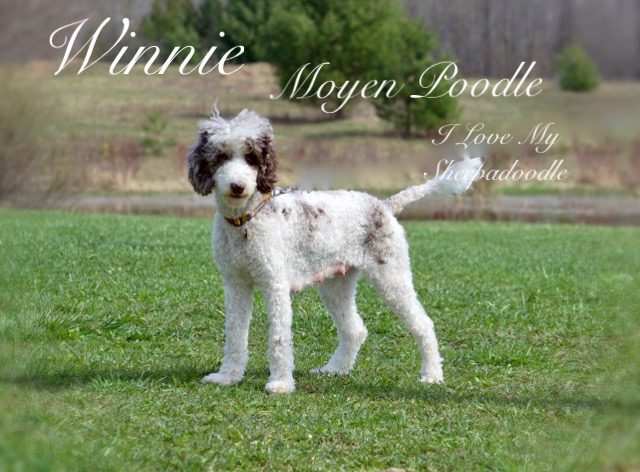 WINNIE – PUREBRED CKC MOYEN POODLE
Winnie is a loving, loyal Moyen poodle.  She is just under 30 lbs and about 17 inches tall at the shoulder.  Winnie's colour is chocolate merle and white with phantom highlights.  We look forward to the beautiful puppies that Winnie will make with some of our favourite studs here at I Love My Sheepadoodle. 
OFA Hips and Elbows – Excellent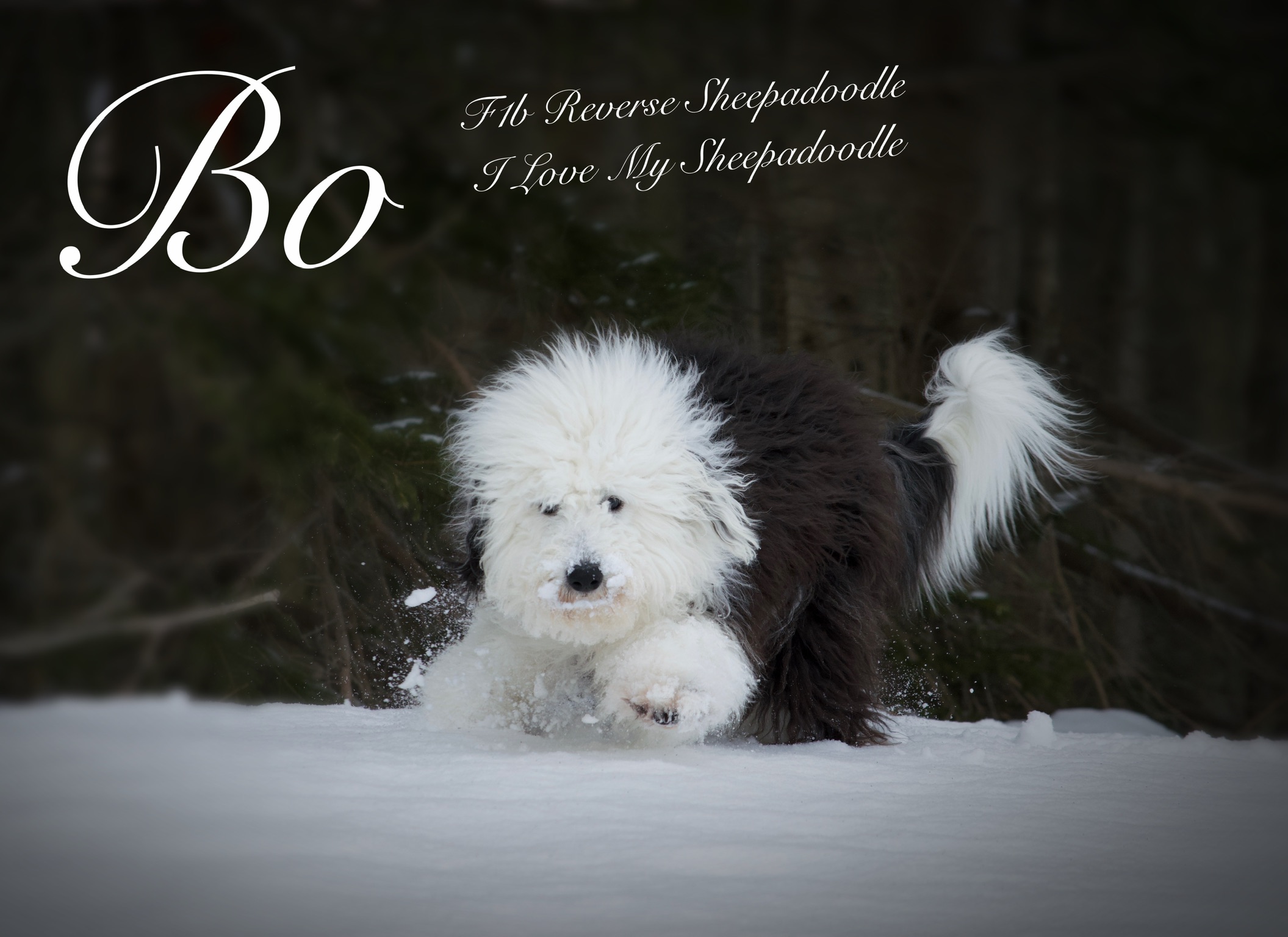 Bo is a F1b Reverse Mini Tuxedo Sheepadoodle. He is 75% Old English Sheepdog and 25% mini poodle.  Bo weighs in around 35 lbs and has a full and magnificent coat.  Bo lived with us for about 4 or 5 months before joining his guardian family in a near by village from us.  He is adored by his family members and those around.  They say he is a dream dog since he is so good! Before he got his name Bo from his guardian family, we called him TJ for Tobi Junior.  He still responses to us when we call him TJ and he is always excited to come out and see his second family here out in the country.
Clear DNA with Animal Genetics and the Paw Print Sheepadoodle panel.
OFA prelims with excellent hips and normal elbows.
~