ONE PUPPY AVAILABLE


Born April 8, 2022
Ready June 3, 2022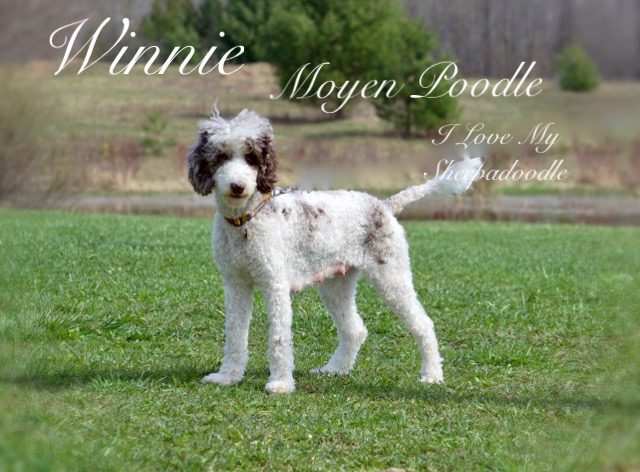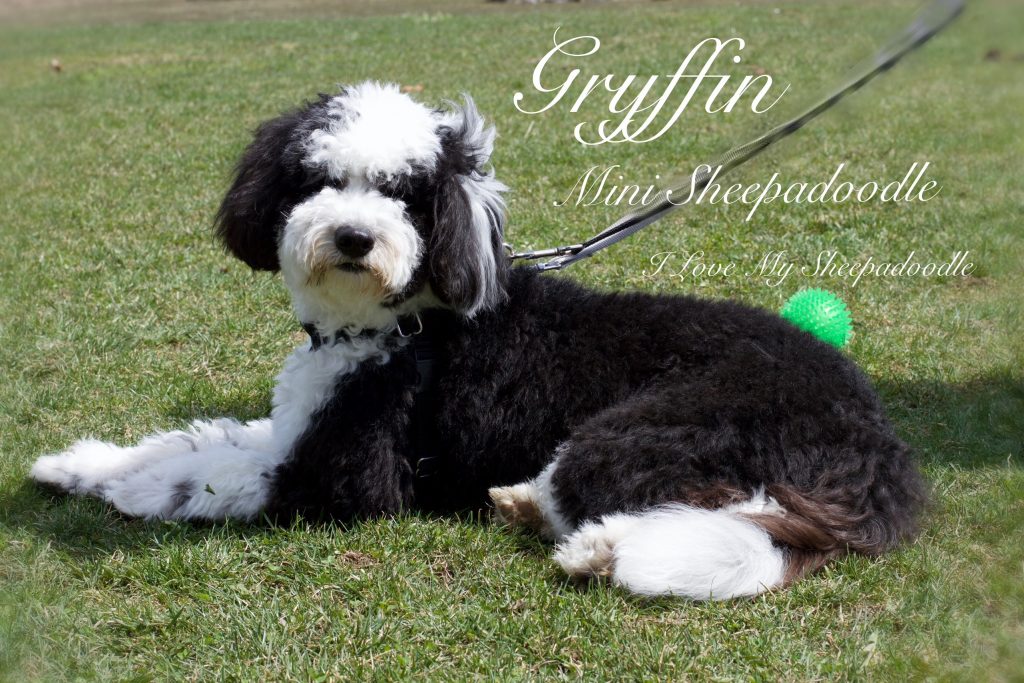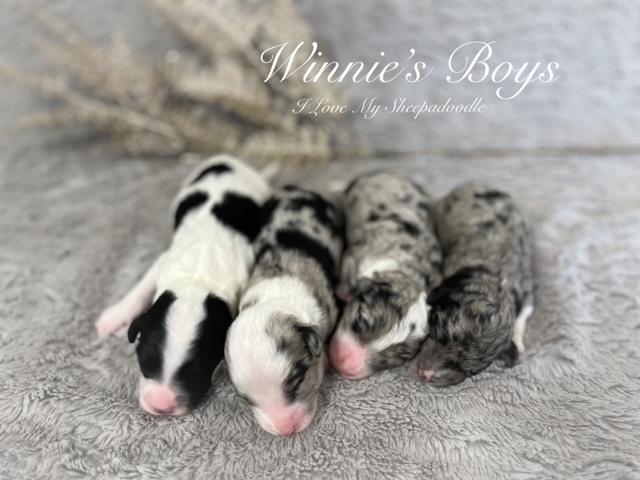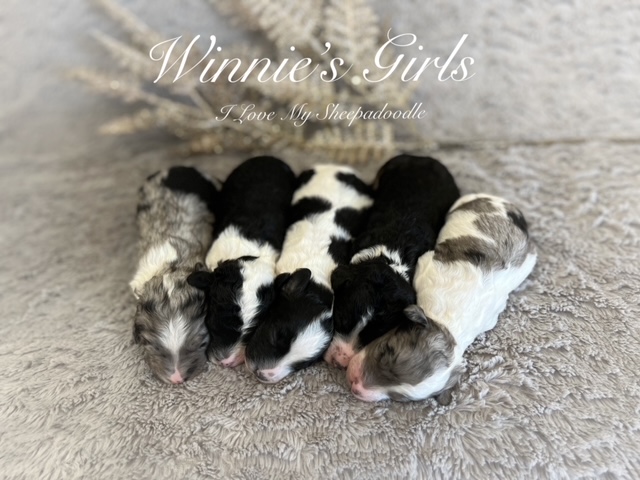 We are happy to introduce Winnie and Gryffin's first litter of Mini Sheepadoodles!  We have 6 beautiful puppies in this litter.  There are 4 boys and 5 girls.  They have stunning colours and markings!  The personality of these pups should be great!  Winnie is gentle, kind and loving.   Gryffin loves his people and is a true gentleman!
This is a F1b litter which is a F1 Sheepadoodle crossed with a Poodle.  The puppies are 25% Old English Sheepdog and 75% Mini Poodle.  You will see some curly coats and some straighter coats coats in this litter.  Since both the Poodle and OES are hypoallergenic breeds these pups will also be hypoallergenic.
The size of these pups is expected in the 25 – 40 pound range give or take some with the average pup maturing to around 30 – 35 lbs.  There could be a bigger or smaller one than average since there is Old English Sheepdog and Mini Poodle in their genetics.   For matured height at the shoulder the pups should average around 16 – 18 inches high.
These pups will be ready to go home June 3, 2022 or after at the age of 8 weeks. They will have their first booster and several rounds of deworming. Our vet will also have done a thorough inspection of each pup.  Puppy picking is planned for May 20, 2022 by video call done in order of confirmed waitlist below.  Photos will be posted again around 5 weeks of age.   We will post a little description of each pup with their weights just before puppy selection.
Our litter application page is open!  Deposits are $500 and valid for one litter only.
You can refer to our Pricing and Payments page for more info on the process.
    We look forward to helping you with your Sheepadoodle puppy!
These puppies are priced at $3,500 CD taxes in.
WAITING LIST
Gender will be chosen on puppy picking day.
Puppy selection planned for May 20, 2022 – Time slots listed
1. Samantha W ~ Etobicoke, ON ~ Male 2
2. Amanda R ~ Aylmer, ON ~ Female 1
3. Kristie W ~ Hong Kong ~ Male 3
4. B.J. ~ Hamilton, ON ~ Female 4
5. Rob R ~ East Rockaway, NY ~ Male 1
6. Gobi J ~ Toronto, ON ~ Female 5
7. Joseph L ~ Ottawa, ON ~ Female 3
8. Delicia ~ Female 2
9. Male 4 ~ Available
5 WEEK PUPPY PHOTOS
1 WEEK PUPPY PHOTOS

WATCH FOR 4 – 5 WEEK PHOTOS

MEET THE PARENTS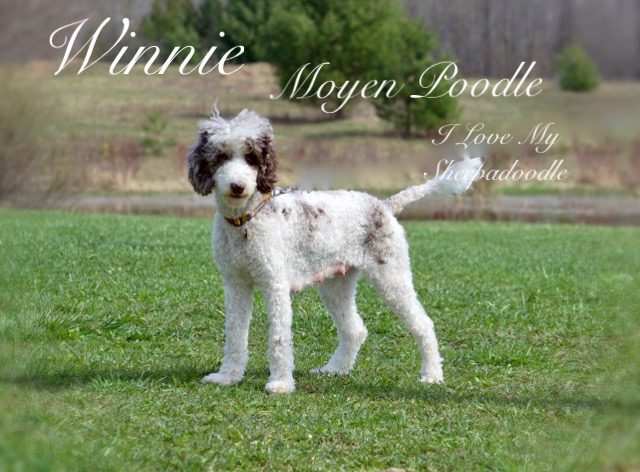 WINNIE – PUREBRED CKC MOYEN POODLE
Winnie is a loving, loyal Moyen poodle.  She is just under 30 lbs and about 17 inches tall at the shoulder.  Winnie's colour is chocolate merle and white with phantom highlights.  We look forward to the beautiful puppies that Misty will make with some of our favourite studs here at I Love My Sheepadoodle. 
OFA Hips and Elbows – Excellent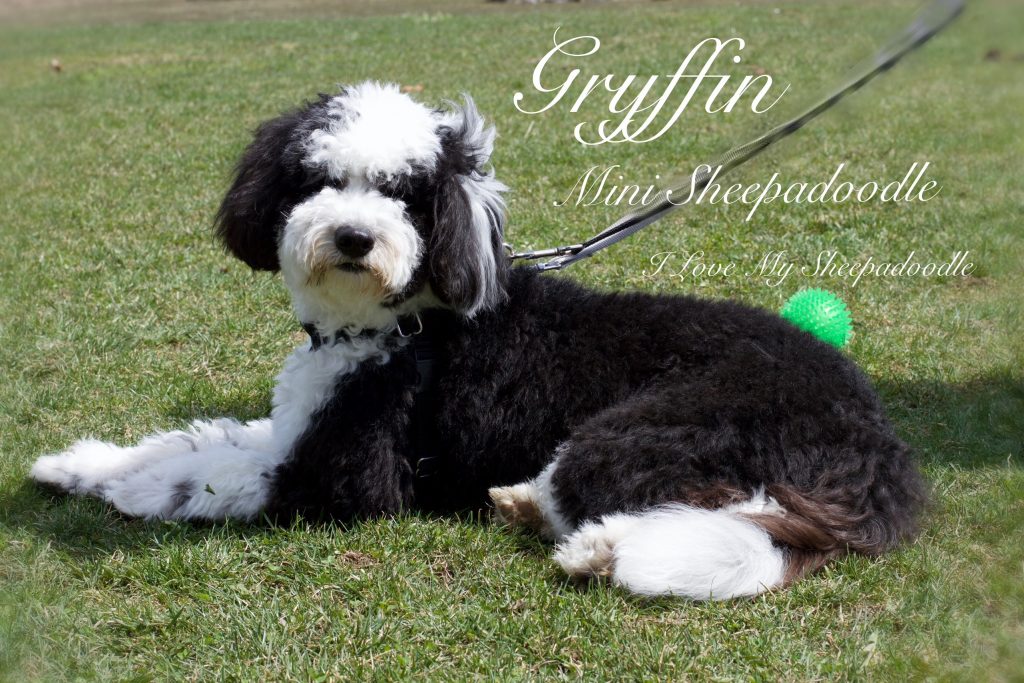 GRYFFIN – F1 MINI SHEEPADOODLE
Gryffin is a smaller F1 Mini Sheepadoodle weighing in around 25 lbs and standing about 18 inches high at the shoulder.  He has a lovely tuxedo coat which we look forward to seeing in his puppies.  He is a true gentleman!  He lives with his guardian family in the Waterloo area along with his Sheepadoodle playmate Callie!  They are well loved by their 3 little people and guardian parents.   Gryffin is a joy to have and we are thankful for this little man!
OFA Hips and Elbows – Good