These puppies are a litter my son Micah and I are raising together here at I Love My Sheepadoodle.  Cocoa is Micah's dog that we share together.
Cocoa & Einstein welcomed 7 healthy Sheepadoodle puppies to our world on Monday, Nov 8, 2021.  There are 3 handsome boys and 4 stunning girls in this litter.  These puppies have striking markings and there is a very nice variety of colours and markings.   The temperament should be relatively calm and submissive in nature but still playful, happy and smart.  There are some curly coats and some wavy coats in this litter.   These pups are hypoallergenic. They are 75% poodle and 25% Old English Sheepdog.
 Puppy picking will be planned for when the pups are around 5 wks of age on Monday afternoon/evening of Dec 13, 2021. These pups are ready to go home Jan 3, 2021 or later when they are 8 weeks old.   The puppies will come home with several rounds of dewormer, vet check, first booster, a puppy pack and lots of love!
This litter is now available to puppy applications.
You can fill out a puppy application and I will forward it on to Micah.  Payments will be made to Micah Kraayenbrink and you can reach him at micahkraayenbrink05@gmail.com if you have further questions about this litter.  Feel free to carbon copy us in your emails at ilovemysheepadoodle@gmail.com. Deposits are a non-refundable $500 and hold a puppy spot to your name on the waitlist below.  These pups do not come with a health guarantee but they will be vet checked and in good health.
Puppies are priced at $3,000 CD
The two merle pups are $500 extra. 

c
PUPPY WAIT LIST
(Puppy picking planned for Dec 13, 2021 in order below)
1. Alexandre Sarrazin ~ Confirmed to Female 4
2. Dan Jovicic ~ Confirmed to Female 3
3. Available
4. Available
5. Available
6. Available
7. Available
c
1 WEEK PHOTOS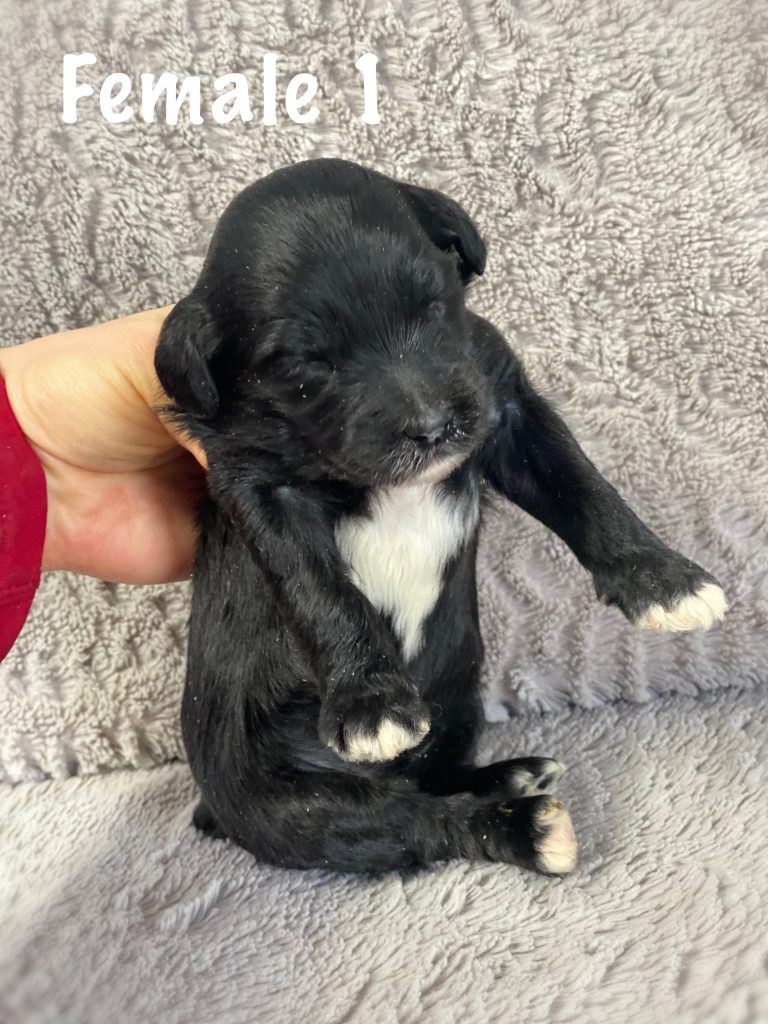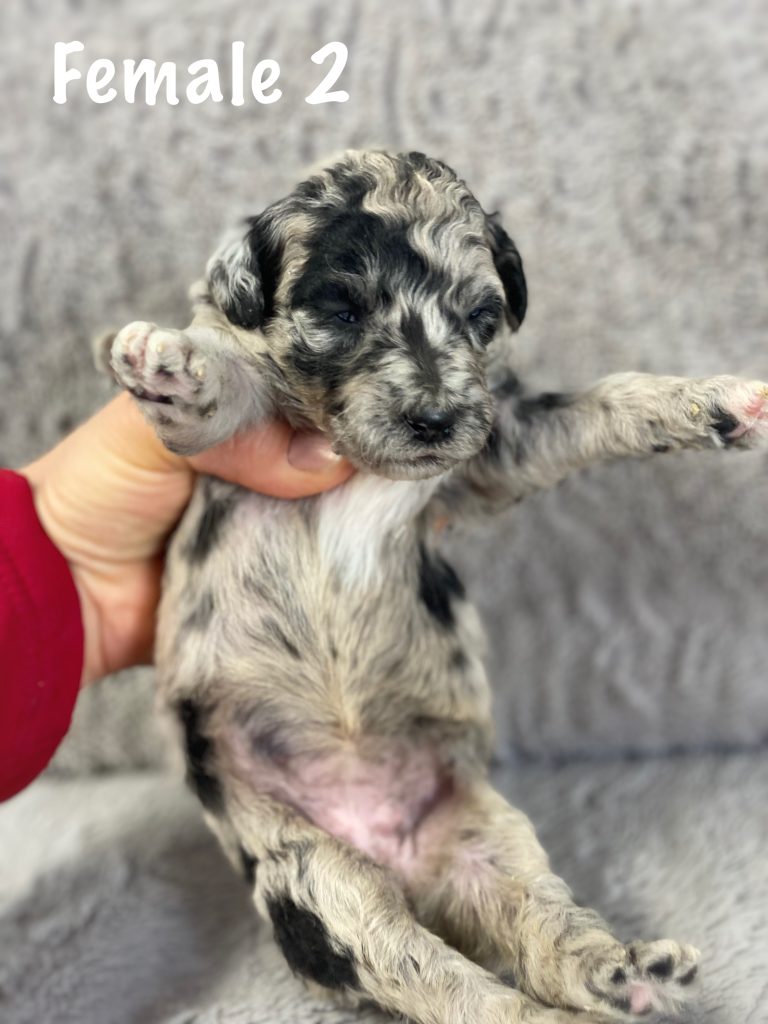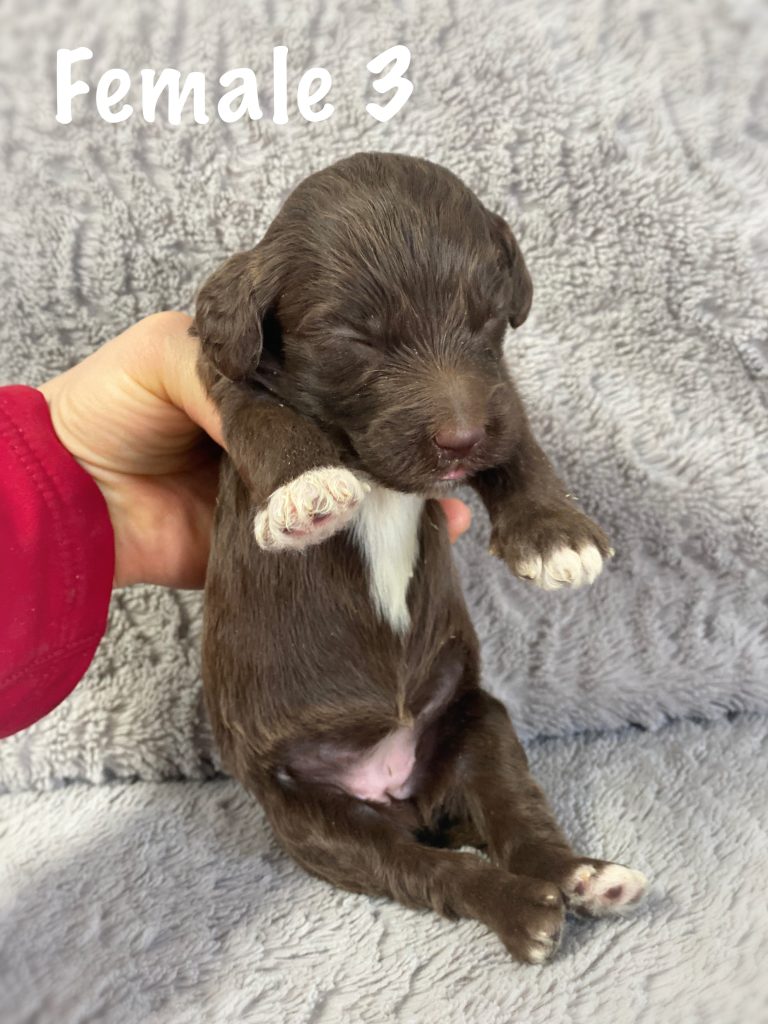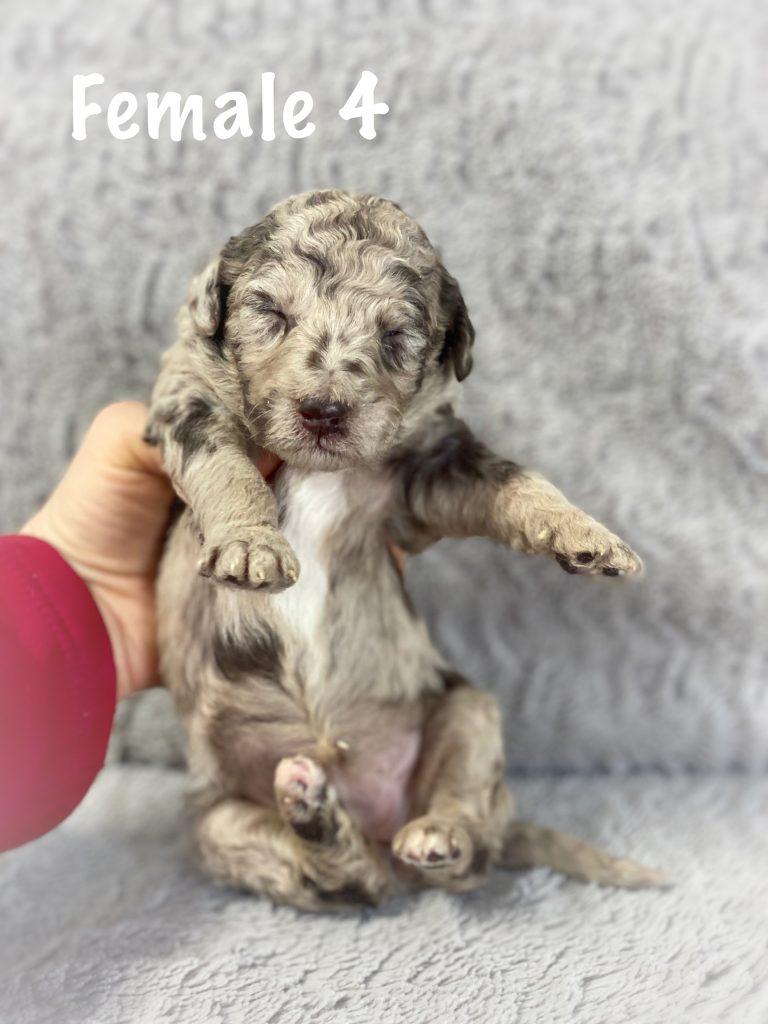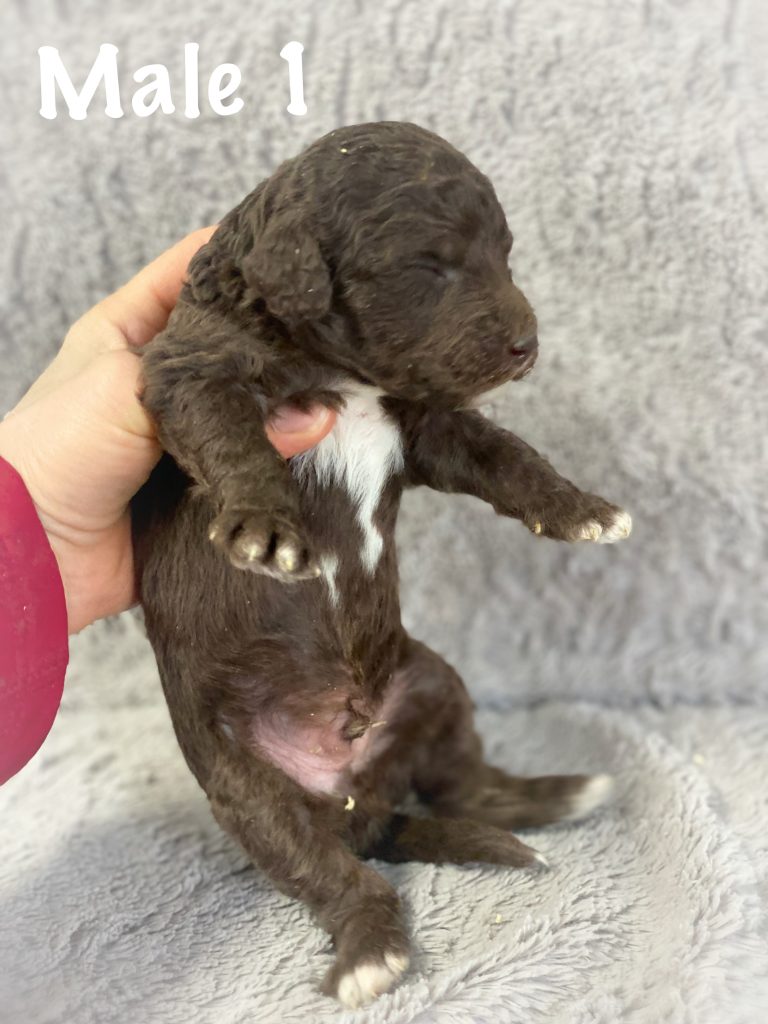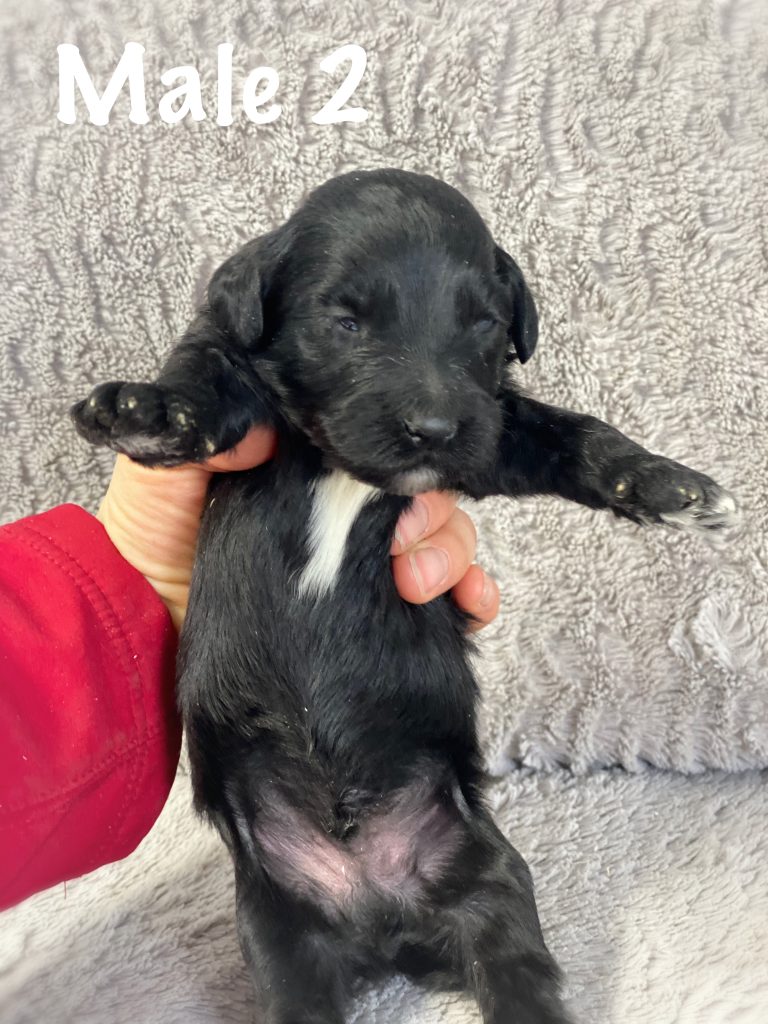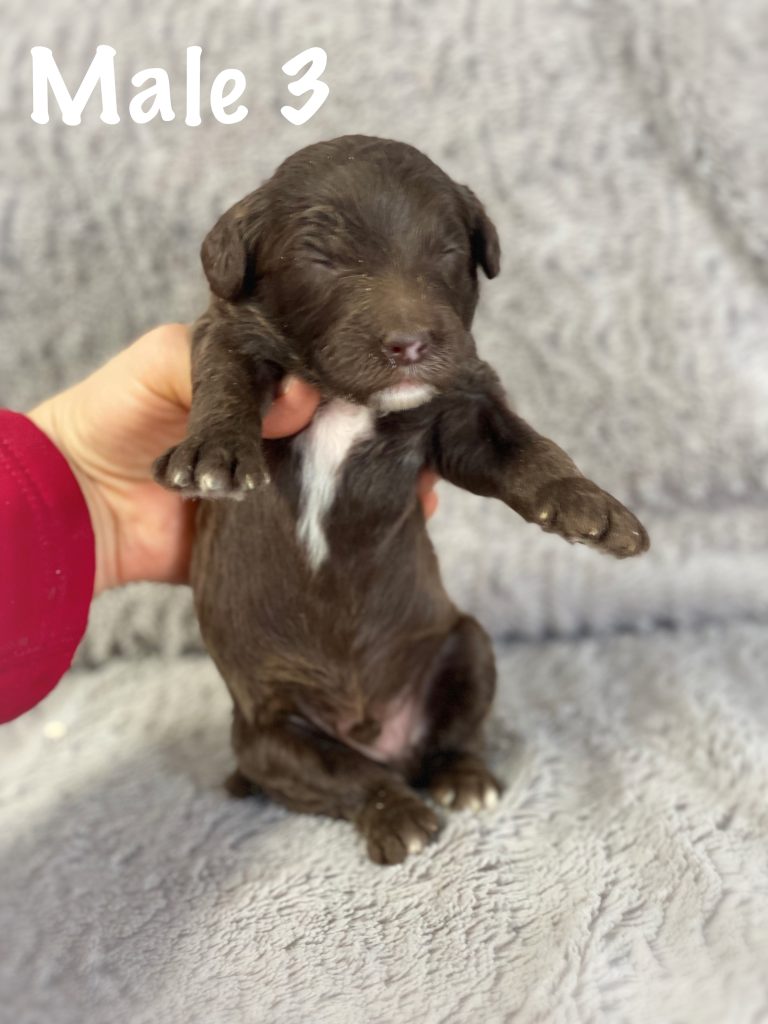 WATCH FOR 4 WEEK PHOTOS
WATCH FOR VIDEOS THE WEEK OF PUPPY PICKING ON INSTAGRAM
c
MEET THE PARENTS


Cocoa is 3 yrs old and is a loving and caring mother.   Cocoa is shy with strangers but warms up with love and affection to those she trusts.  Cocoa moves with grace and beauty when she runs and prances.  She reminds me of the swiftness and smoothness of a deer.  Her pups should be gentle and kind, inquisitive, trusting and loyal.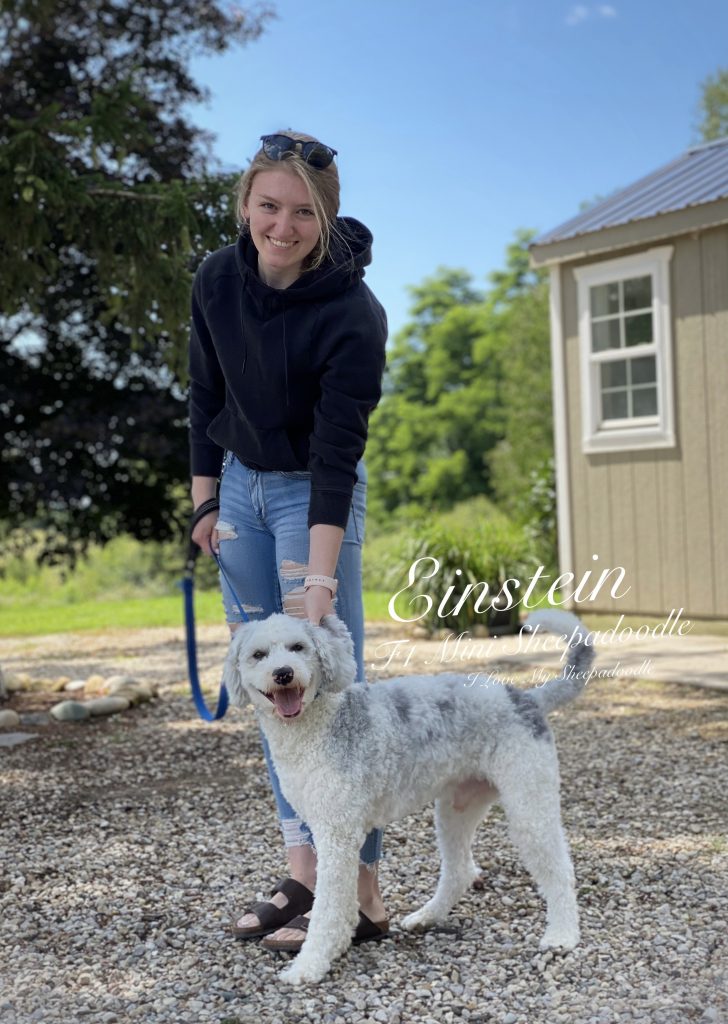 Einstein is a fun loving F1 Mini Sheepadoodle.  He weighs in around 37 lbs.  He loves to play!  He lives with his guardian family and if his Goldendoodle brother tires of playtime, Einstein turns to the family cat and they have some adventures together playing.  Einstein has a clear DNA Sheepadoodle panel with Paw Print Genetics.  He will pass a clear gene on to all his pups to make them healthy pups.  Einstein has good hips and elbows with OFA Prelims
c
TESTIMONIAL
(From half sibling of this litter!)
Hi Delicia and Abigail,
Just giving you a little pupdate (pun intended).
Rusty has adjusted beautifully to our family and the farm! He loves to just sit and watch, but he also loves to try to herd us! He'll cut us off and but our ankles to keep us together, and if you stop moving he charges at you and head butts you! Rusty also likes to herd our neighbours shih-tzu (my in-laws live next door so it's it's pretty funny). He also loves to chase out 4 wheeler, and loves to play frisbee. He is a very smart dog already!
His coat has stayed really brown in some parts, but I have noticed that a part of his tail is slowly turning white, and so are parts of his muzzle! His eyes have stayed blue/green so far! The vet has also said we have a very healthy pup, I had his first check up on May 20, a round of shots May 28, and his next round scheduled for June 24!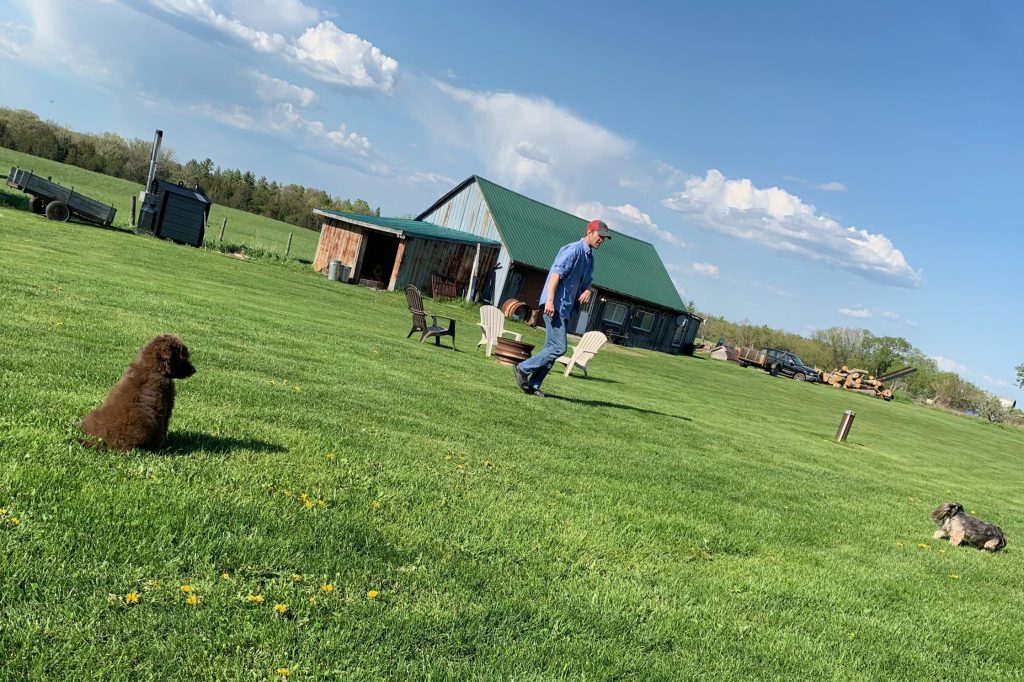 I just wanted to say thank you again. He has been an amazing addition to our family, and we couldn't be happier. Our hearts are so full!
Rusty is turning out to have quite the fantastic and funny personality, and I absolutely loving farm life. Smart, kind and patient. He's 39lbs right now. He's starting to fill out more and more.
Thank you for giving us the perfect addition to our family!