Born Nov 27, 2022
Ready  Jan 21, 2022
$2,500
PUPPIES AVAILABLE!
~
~
THE PARENTS

~
Puppy Info
Darla & Tobi welcome a stunning litter of F1b Moyen Sheepadoodles together!  There are 5 cute little girls and 1 handsome boy.  These puppies have a nice variety of colours and patterns!  You will see black and white pups and also merle and white pups and yes even some apricot.  Some of these merle pups could have blue or partially blue eyes.  The temperaments of these pups should be amazing as both mom and dad are friendly, personable dogs.
This is a F1b litter making the pups 1/4 OES and 3/4 Mini Poodle.  Darla is a F1 Standard Sheepadoodle. Tobi is a Mini Poodle.  Some of the puppies can carry more OES looks and traits while others may take on more of a poodle look or trait. The pups all have wavy coats with the exception of Male 1 having a curly coat.  Theses puppies will be hypoallergenic since both the Poodle and Sheepdog are hypoallergenic breeds.
The size of these pups is expected in the 25 – 55 lbs range.  On average they should be around 35 – 45 lbs.  Some could end up smaller or bigger since they have a mini poodle dad on one side but Old English Sheepdog on the moms side. This will factor in making some a bit bigger/stockier.  For matured height at the shoulder the pups are expected to be around 17 – 22 inches.
Puppy selection is planned for Tuesday, Jan 10, 2023 by video call done in order of the waitlist below.  We will post times/dates here on the website.
These pups will be ready to go home January 21, 2023 or after at the age of 8 weeks. They will have their first booster and several rounds of deworming. Our vet will also have done a thorough inspection of each pup.   They will come with a puppy pack that has their health records, vaccines, toy, scented blanket from mom or littermates, a tube of probiotic paste and started off with love and care from our family and staff!
This litter is now open for puppy applications!   You may apply by sending in a puppy application.  If you have sent an application in before, you still need to fill one out again for this litter as I will only be reviewing new applications sent for this litter.
We will do our best to reply within 24 – 48 hrs of your application.   We read through the applications and reply back with a suitable spot we have available for you.  We hold your name as pending to that spot for you for 24 – 48 hrs for you to decide if you like to confirm with a deposit. Take note we are closed Sundays. If you decide to confirm, you can then place a deposit.  Our puppy deposit is $500 non-refundable and only goes towards the one litter you commit to.   We will give more info then in a follow up email with puppy prep.
These puppies are priced at $2,500 CD taxes included.  If you wish to add in our $500 health guarantee you can do so.  Just let us know.  Read more about it on our contract page.
If you are interested in future litters, feel free to sign up for our email updates to be notified of when we have puppies available again.  You can see details on our News & Upcoming litters page and our Pricing and Payments page.
We look forward to helping you with your future Sheepadoodle family member!
NOW PRICED at $2,500 CD
Taxes included
~s

~
WAITING LIST
Puppy selection planned after 6 wks of age
1. Claudine B ~ Scarborough, ON ~ Female 1
2. Angie H ~ Bracebridge, ON ~ Male 1
3. Available
4. Available
5. Available
6. Available
~

~
5 WEEK PHOTOS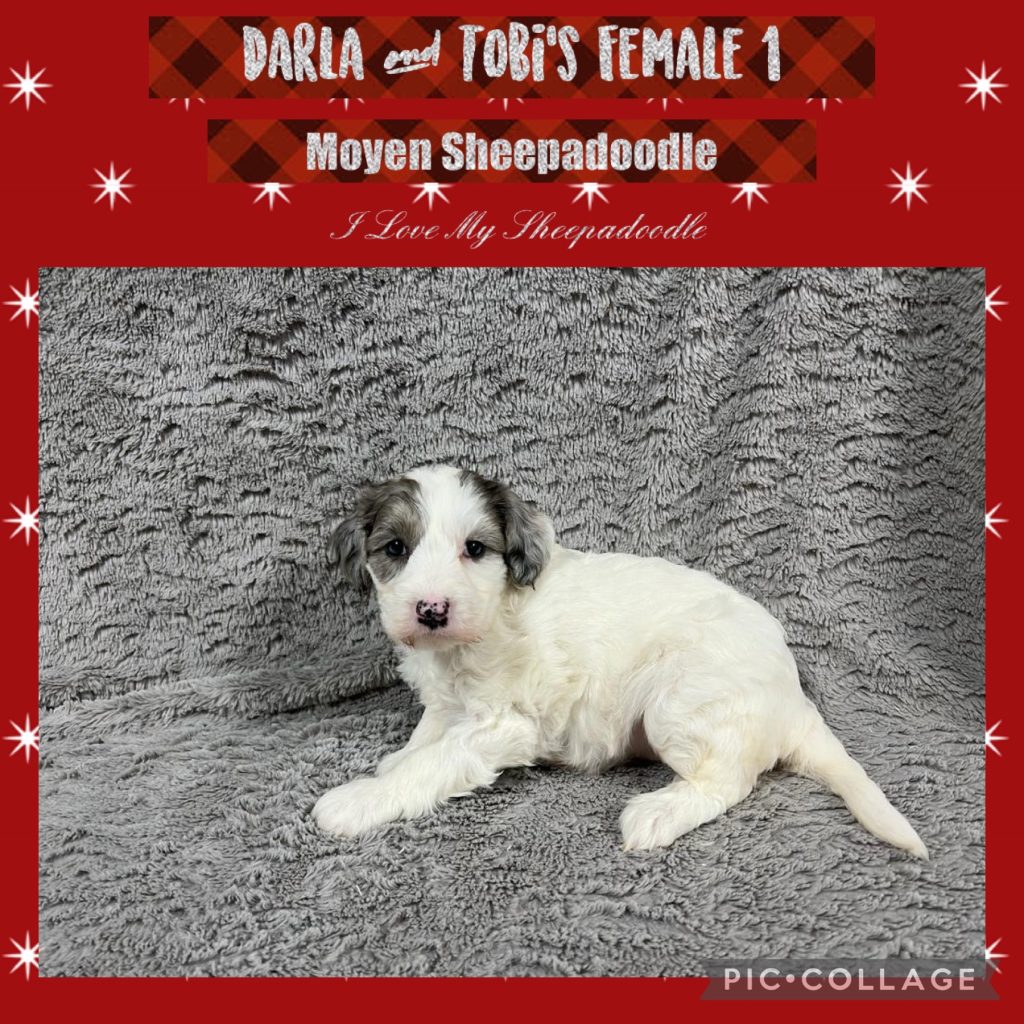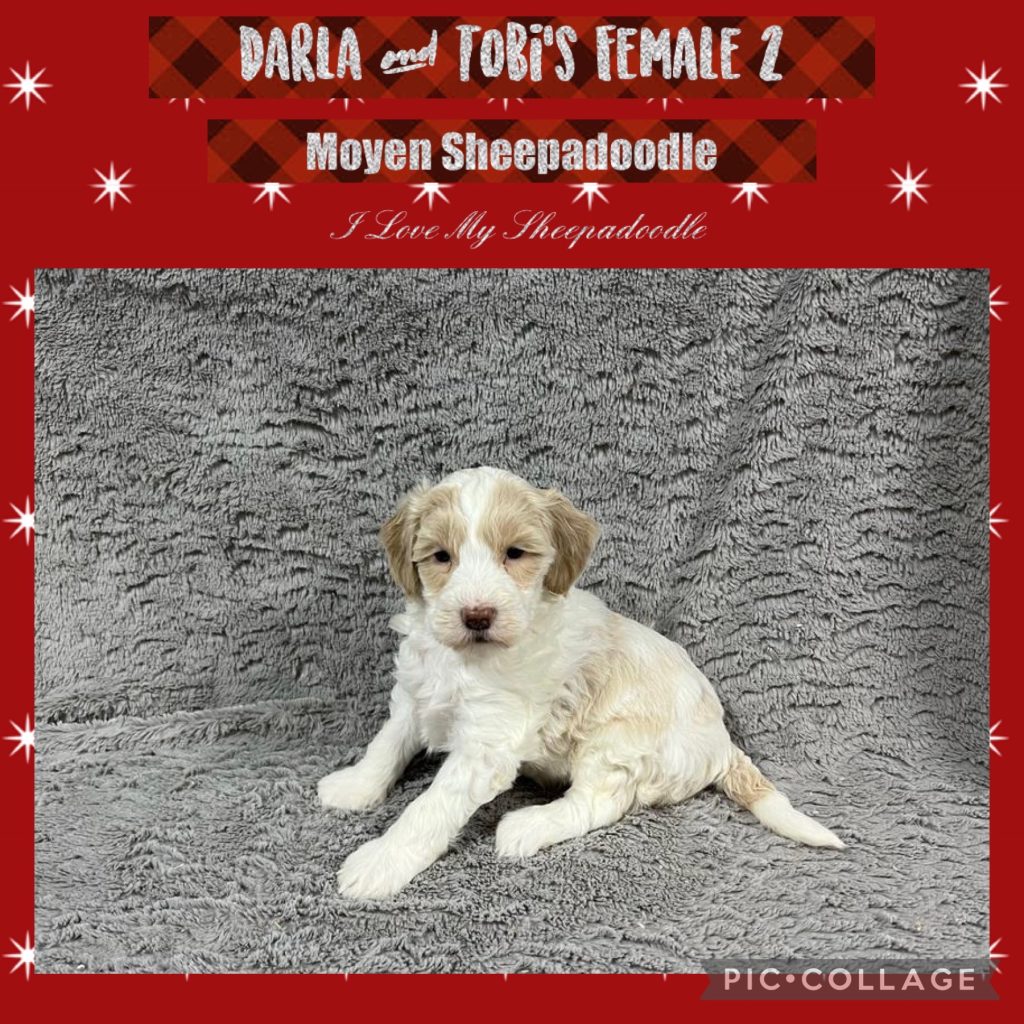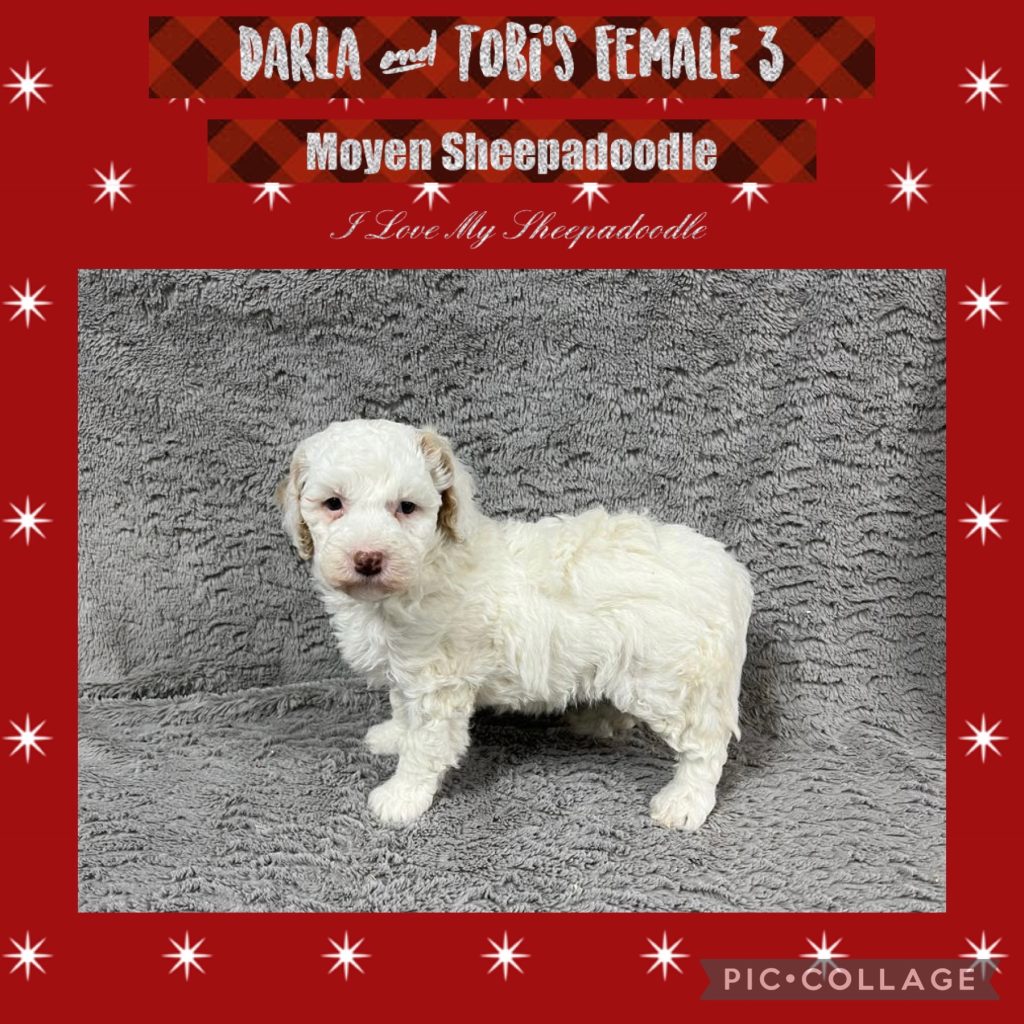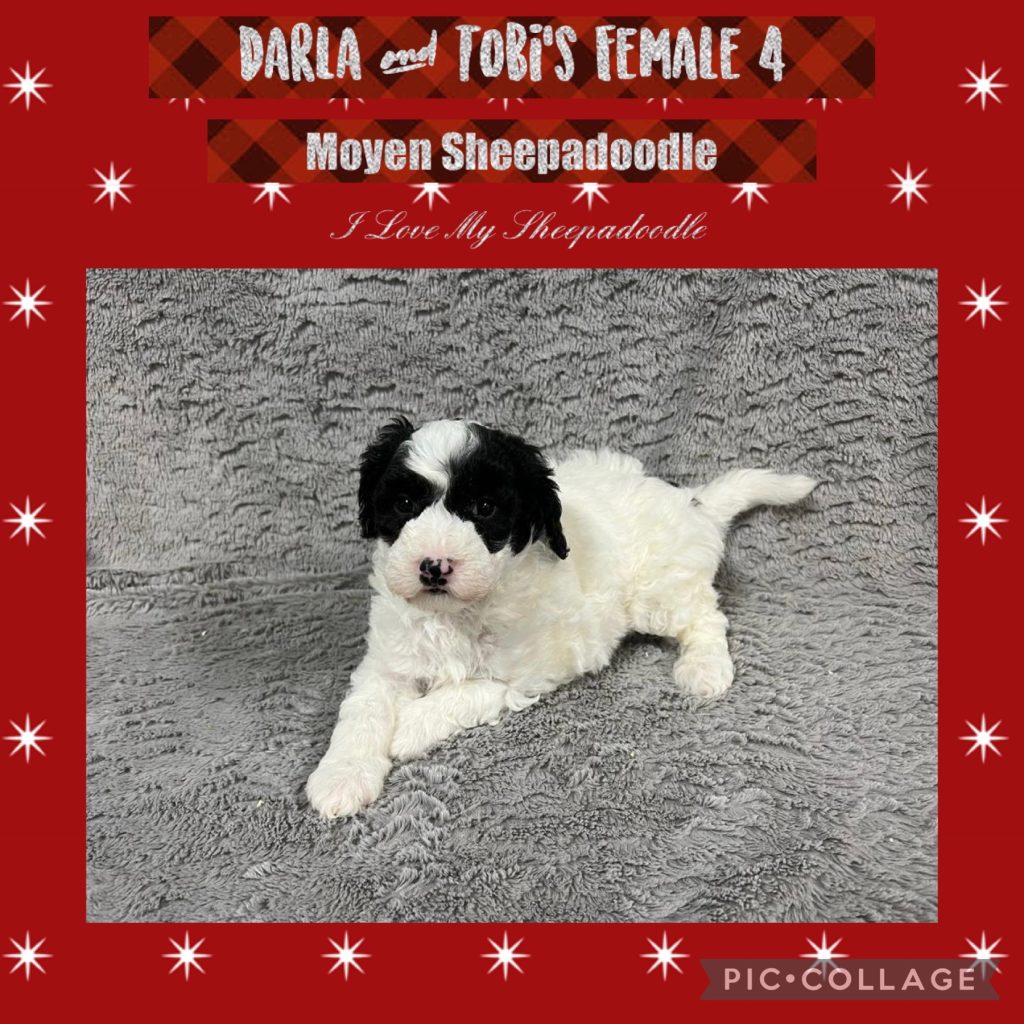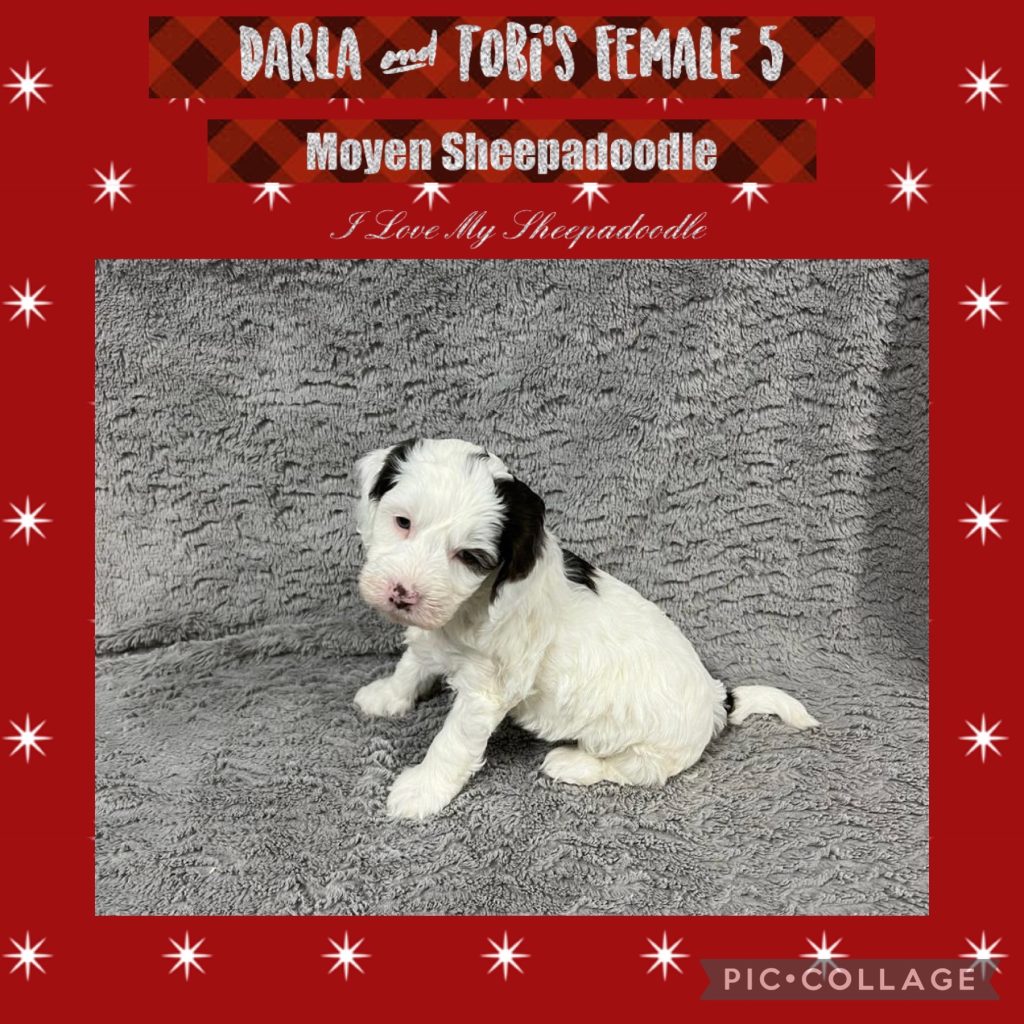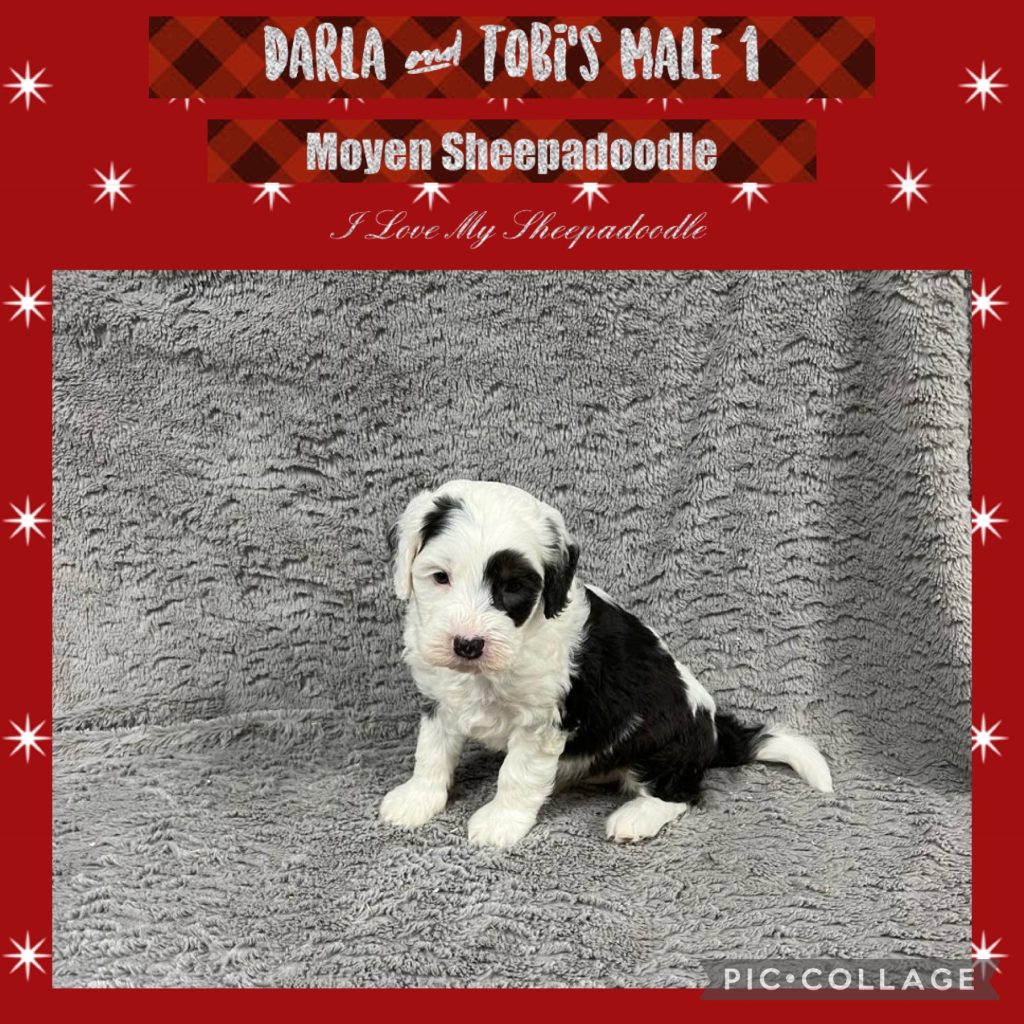 1.5 WEEK PHOTOS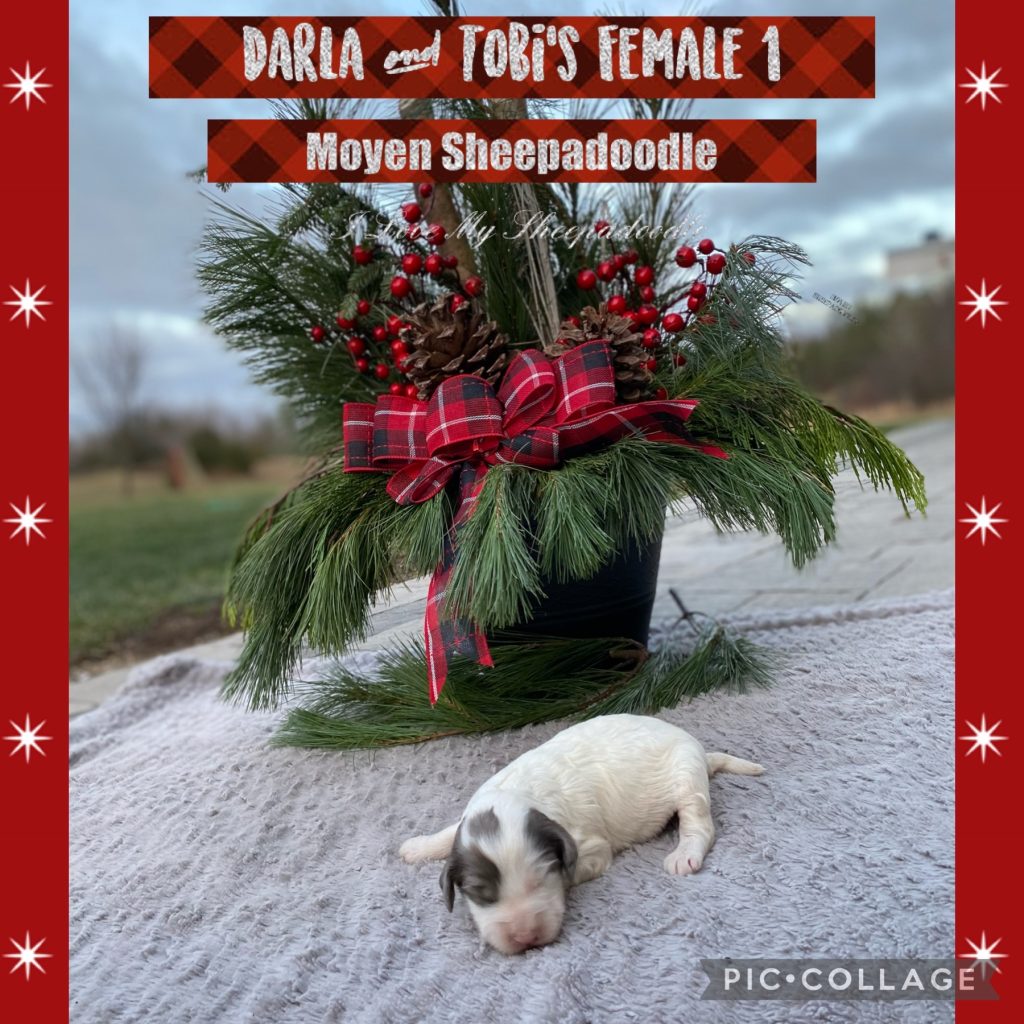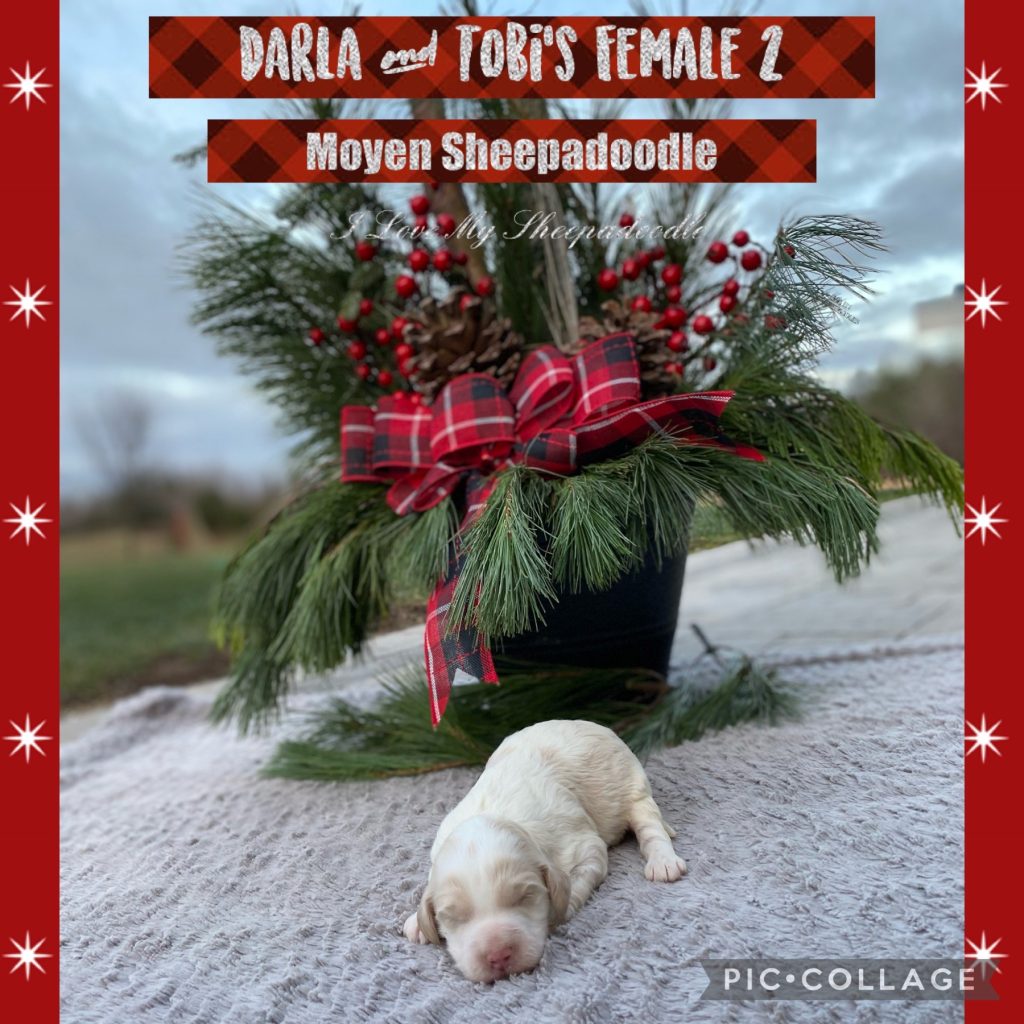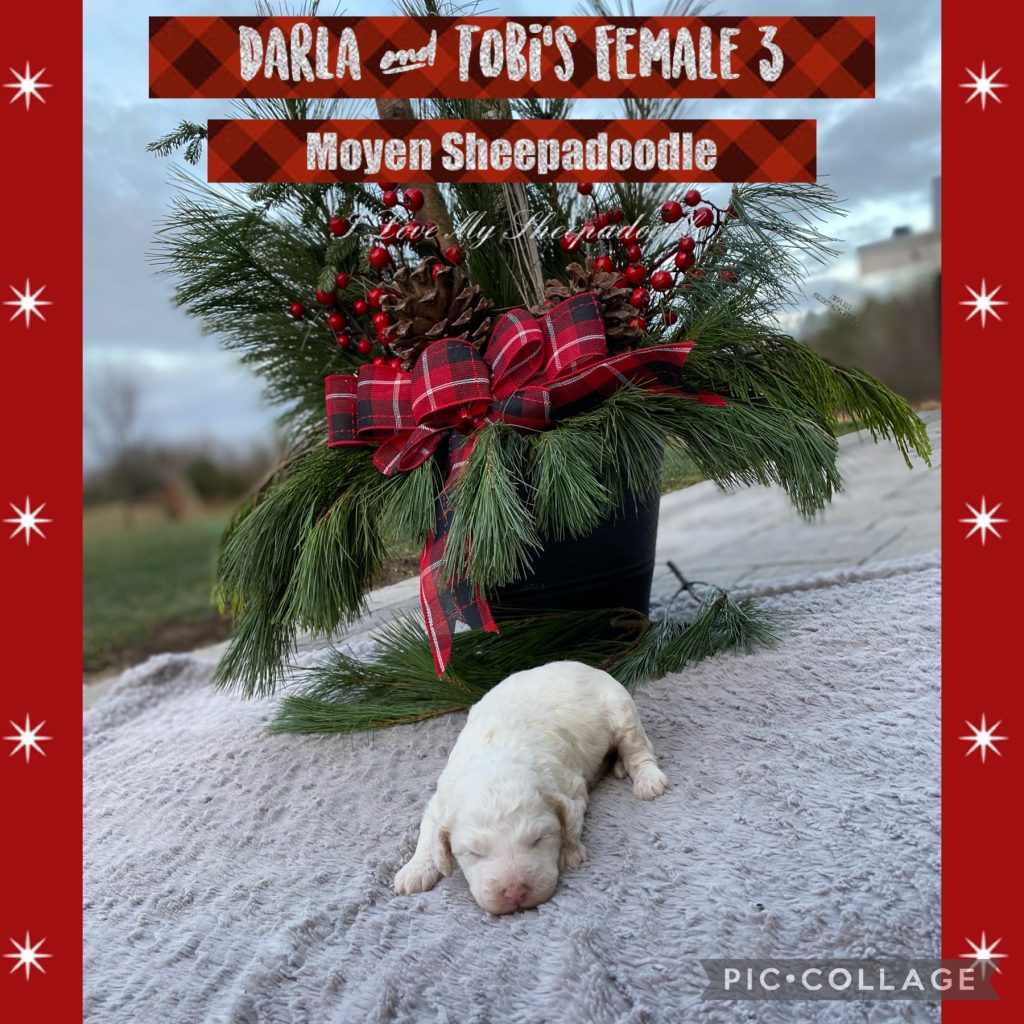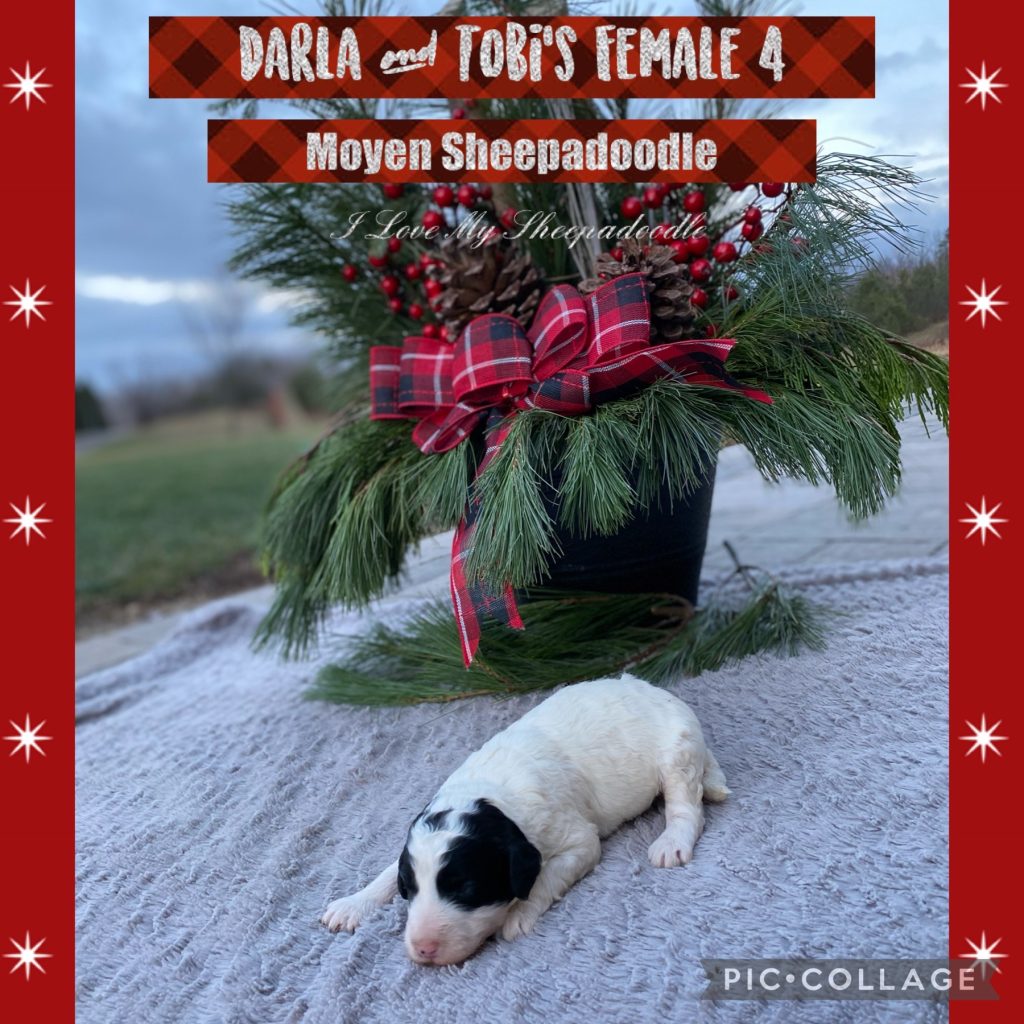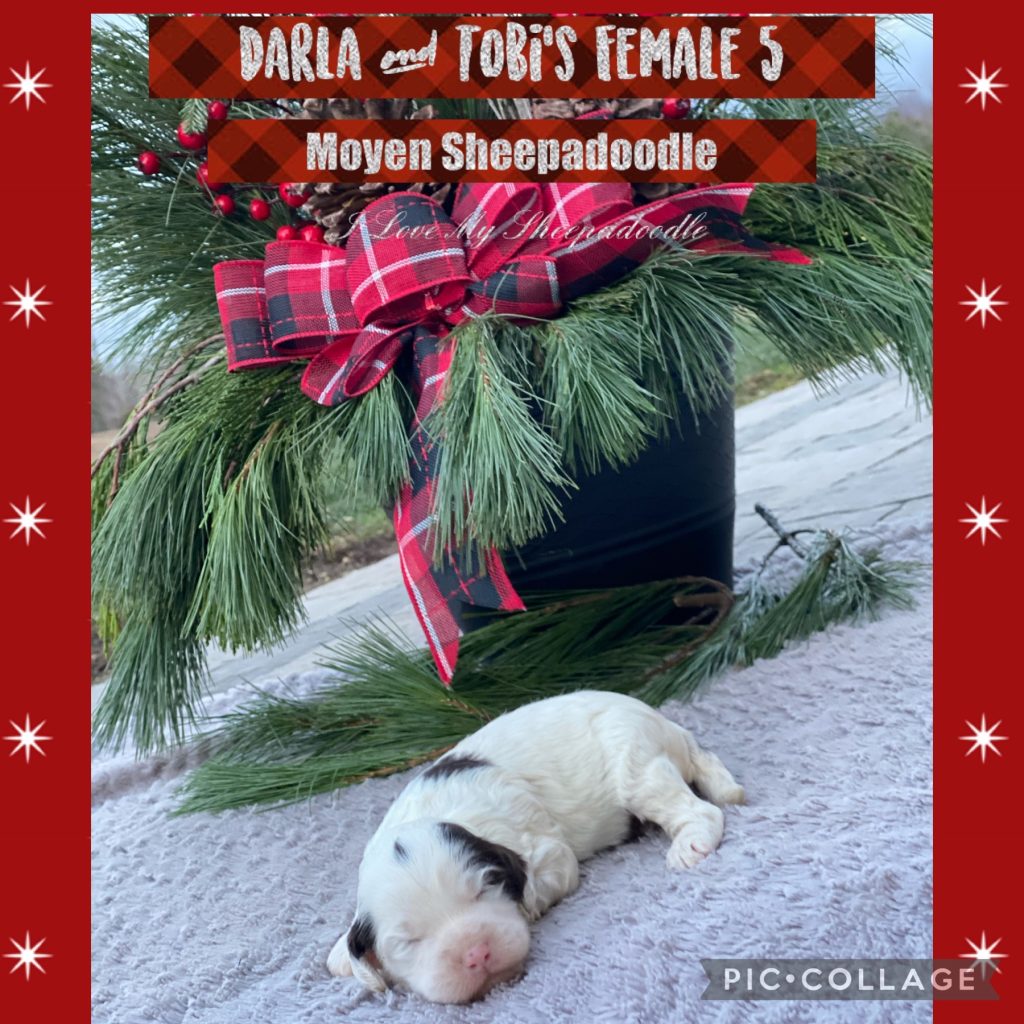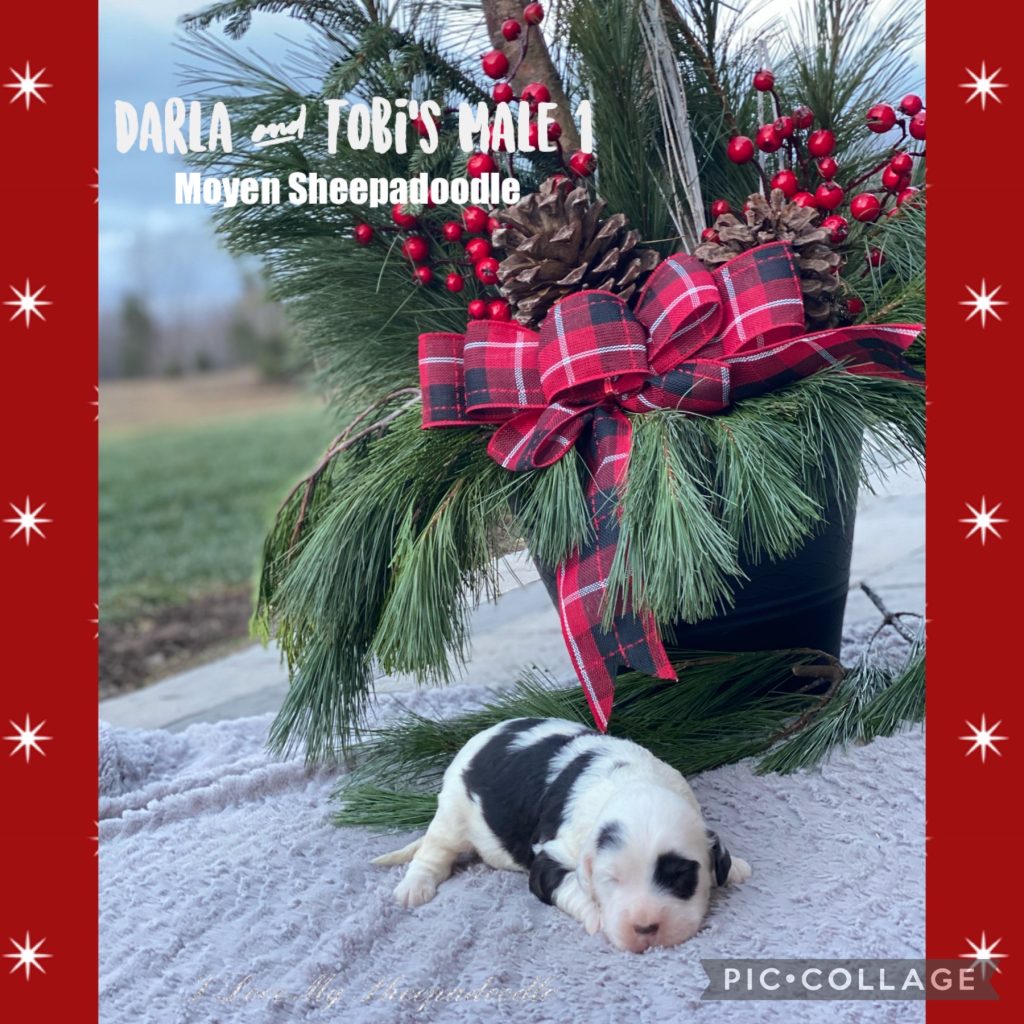 ~
~
ENJOY SOME PREVIOUS PUPPY PHOTOS OF DARLA!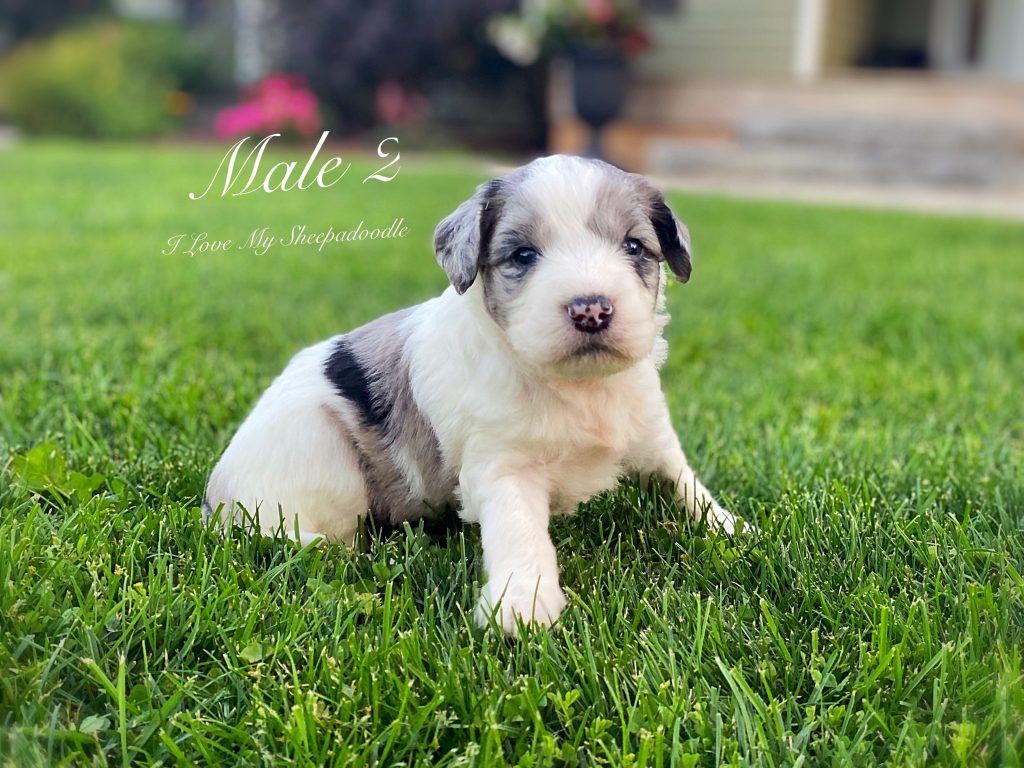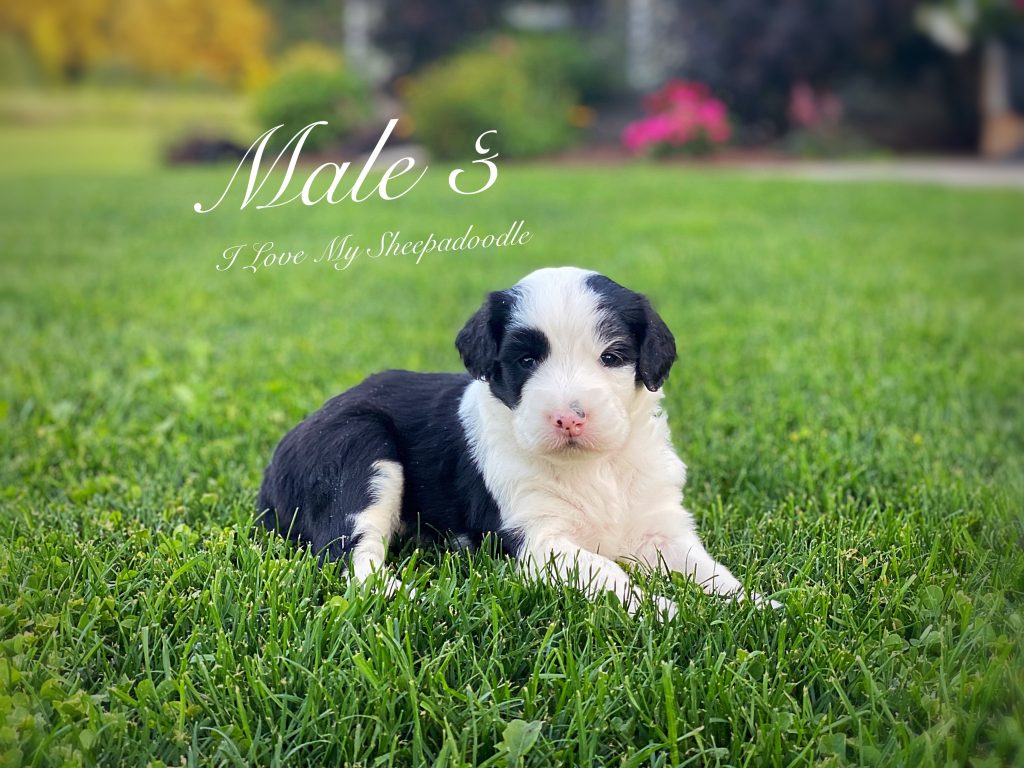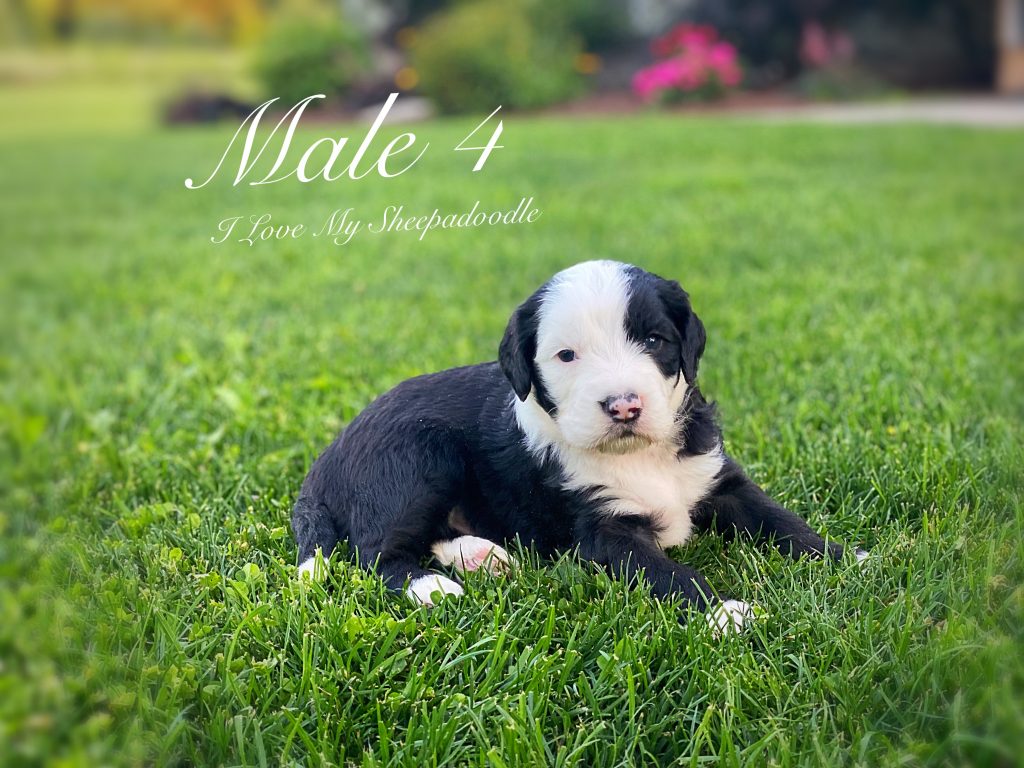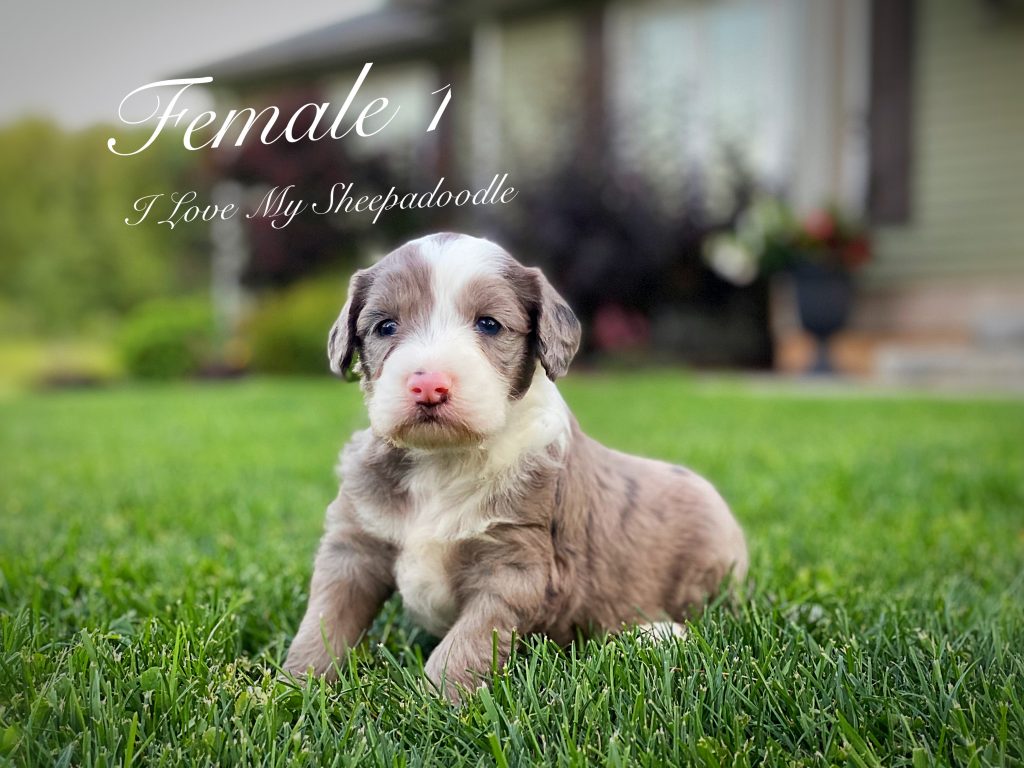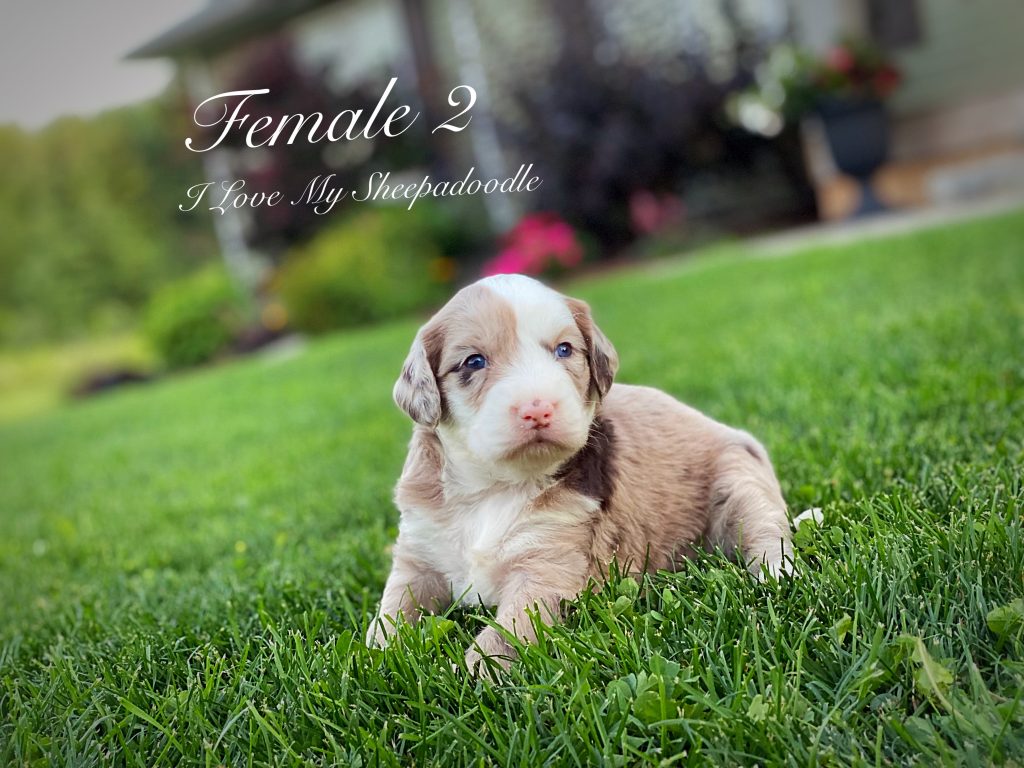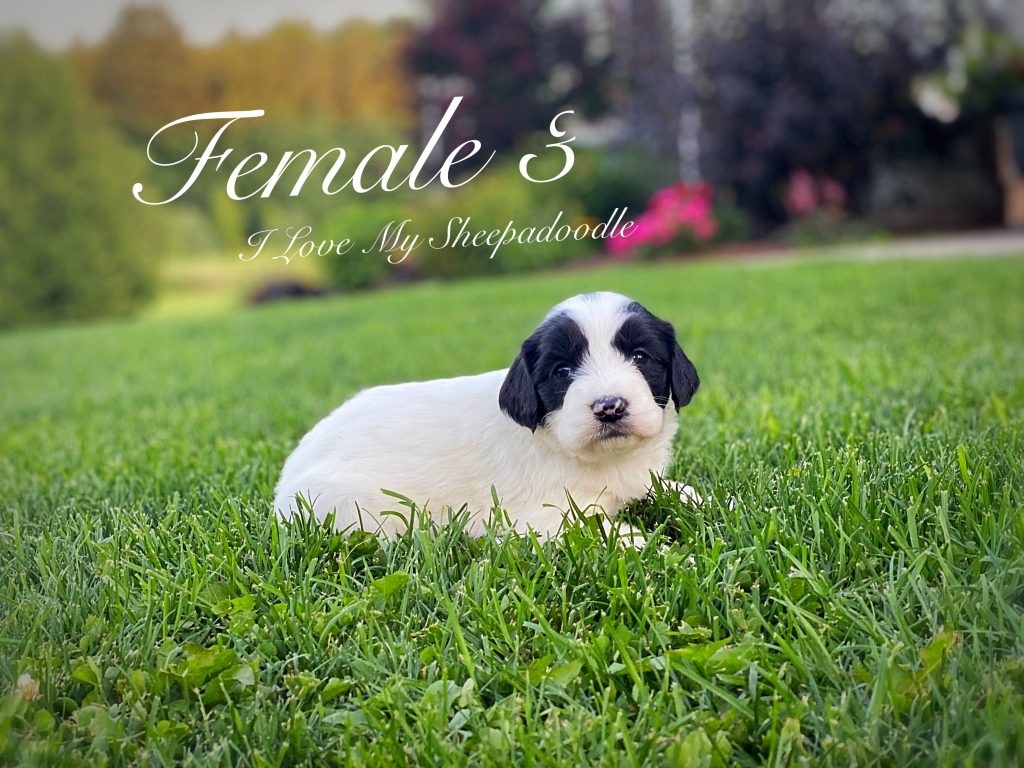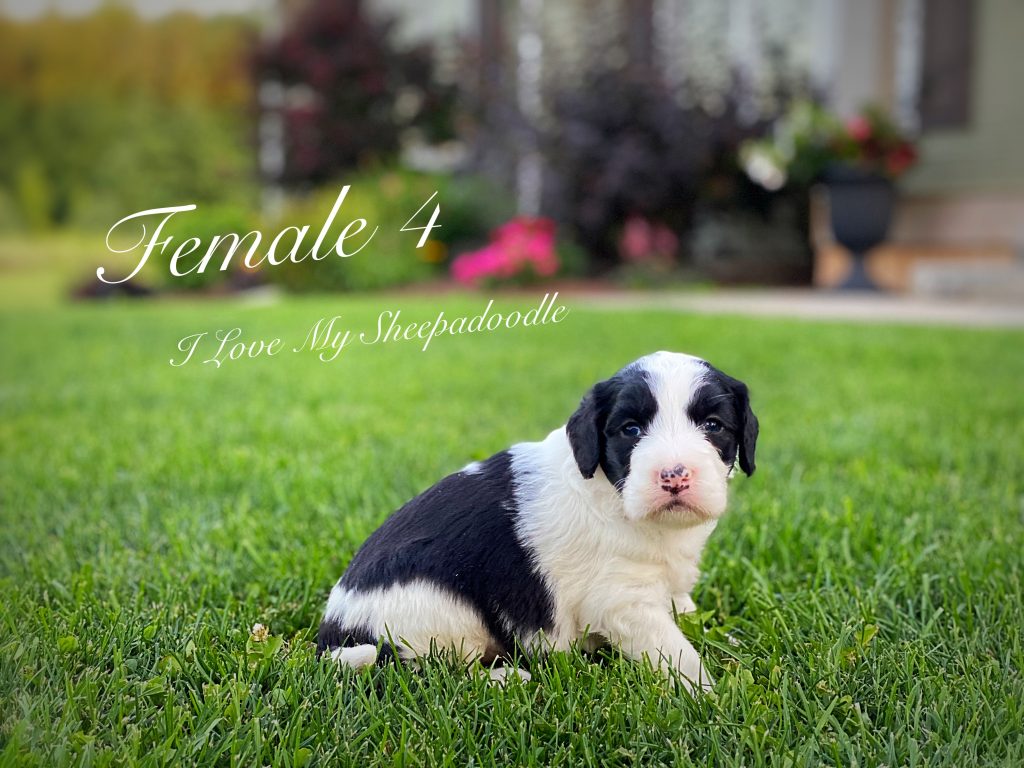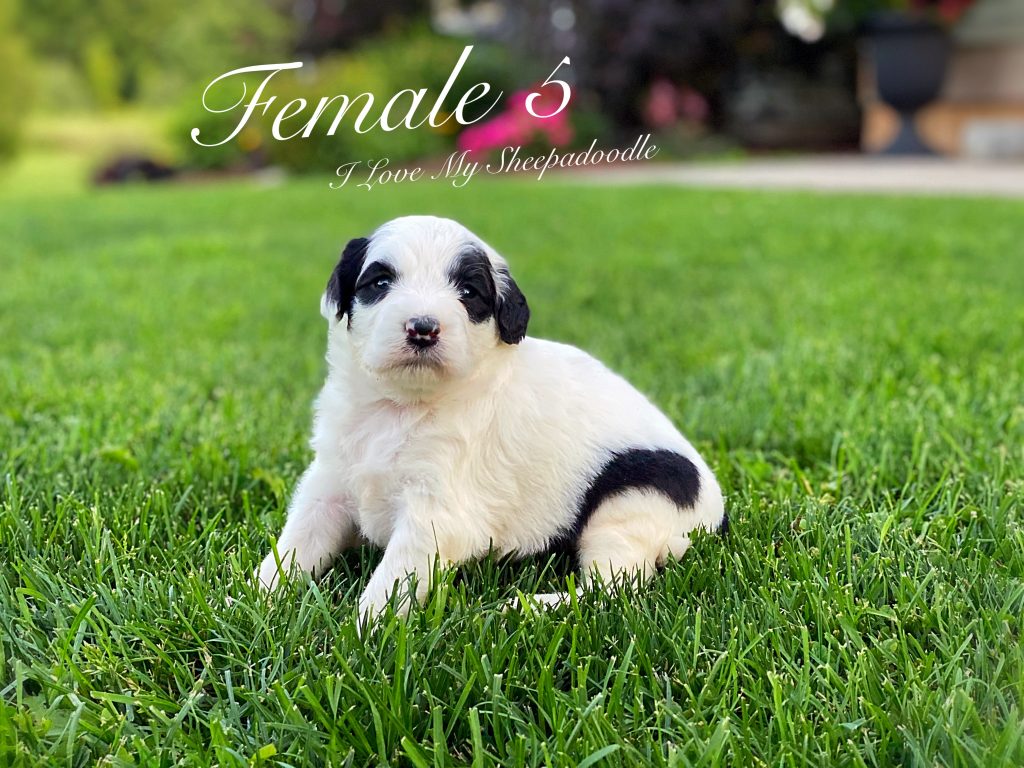 MEET THE PARENTS
Darla is a beautiful F1 Standard Sheepadoodle weighing in around 55 lbs and about 22 inches high at the shoulder.  She loves to be with people and is keen to snuggle in for any extra attention.  She lives with her guardian family in the Waterloo area along with her playmate Ottis, a Terrier cross.  Darla's mom is Sasha, our past purebred registered CKC Old English Sheepdog.  Sasha has a gentle easy going personality.  Darla's dad is our now retired Registered CKC Standard Poodle named King – a stately, quiet, regal poodle.   We were captivated by Darlas Old English Sheepdog look as a pup and thought she would be a great addition to our breeding program.  We are excited to produce more lovely pups like her for others to enjoy!    Darla has passed her OFA prelims with Good Hips and Normal Elbows.  Darla is clear on her DNA health panel with Embark
~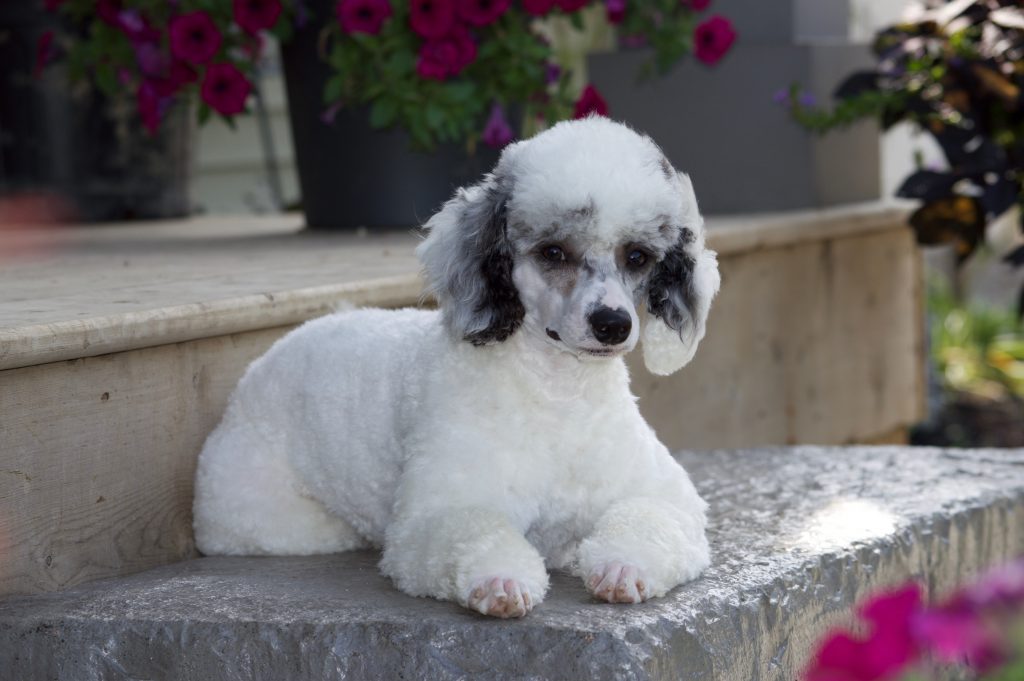 TOBI'S ALL CUDDLES
CKC MINI POODLE
Tobi is such a sweet boy!  His name says it all!  He plays dress up and lets my kids take him along with them wherever they go.   He also has his pass to the local nursing home where he can bring some more smiles.  Tobi loves life and brings joy to those he meets.   Tobi is 13.5 inches high and 16 lbs.  He has passed his OFA prelims with Good hips and normal elbows. Tobi is registered with the Canadian Kennel Club.   He is a lovely boy and produces beautiful pups inside and out!  He will be father to our Moyen, Mini and Tiny Sheepadoodle pups!
OFA Prelim Hips and Elbows – Good & Normal  
Clear on Paw Print DNA Poodle panel
We are thankful for the stunning Sheepadoodle pups Tobi has produced!