Darla & William welcome their first litter Sheepadoodles together!  There are 4 boys and 5 girls.  These puppies have gorgeous markings with a nice variety of colours and patterns!  You will see black and white pups and also merle and white pups! Some of these merle pups could have blue eyes.  The temperaments of these pups should be amazing as both mom and dad are lovely dogs!
This is a F2b litter making the pups about 1/3 OES and 2/3 Poodle.  Darla is a F1 Standard Sheepadoodle. William is a F1b Tiny Sheepadoodle.  Some of the puppies can carry more OES looks and traits while others may take on more of a poodle look or trait.  You will notice we have some wavy coats and some curly coats in this litter.  Both should be great choices for being hypoallergenic since both the Poodle and Sheepdog are hypoallergenic breeds.
The size of these pups is expected in the 25 – 50 plus pound range.  On average they should be 30 – 45 lbs but some could end up smaller or bigger than that because of the size difference of the parents.  For matured height at the shoulder the pups can be between 15 – 20 inches with most being around 17 – 18 inches high.  For size they could fall under mini or moyen.  We will reach out to our Moyen Sheepadoodle wait list since we had Darla marked under there in our Upcoming litters page.
These pups will be ready to go home Feb 4, 2020 or after at the age of 8 weeks. They will have their first booster and several rounds of deworming. Our vet will also have done a thorough inspection of each pup.  Puppy picking is planned for Saturday, Jan 24 by video call done in order of waitlist below.  Photos will be posted again around 4 – 5 weeks of age.  We will also post videos on Instagram and Facebook of each puppy playing the day prior to puppy picking.
  We are planning more litters for Spring, Summer and Fall 2021.  Ask to sign up for our email updates to be notified of when we have puppies available again. We will work our way through our master waitlist and confirm names below once we hear back.
WAITING LIST
Gender will be chosen on puppy picking day. Puppy selection planned for Jan 23
1. Breeder's Pick ~ Barry & Heather's Pup ~ Female 3
2. Tamara G ~ Toronto, ON ~ Male 1
3. Joanne H ~ Guelph, ON ~ Male 2 ~ "Gunner"
4. Miles D ~ Milton, ON ~ Female 1
5. Dawn M ~ Toronto, ON ~ Female 2 ~ "Stevie"
 6. Patricia M ~ Cochrane, Ontario ~ Female 4 ~ "Presley"
7. Kristian & Irina K ~ Vernon Hills, IL ~ Female 5 ~ "Matilda"
8. Carol C ~ Brights Grove, ON ~ Male 4 ~ "Ringo"
9. Raymond & Audrey R ~ Barrie, ON ~ Male 3 ~ "Cooper"
2 WEEK PHOTOS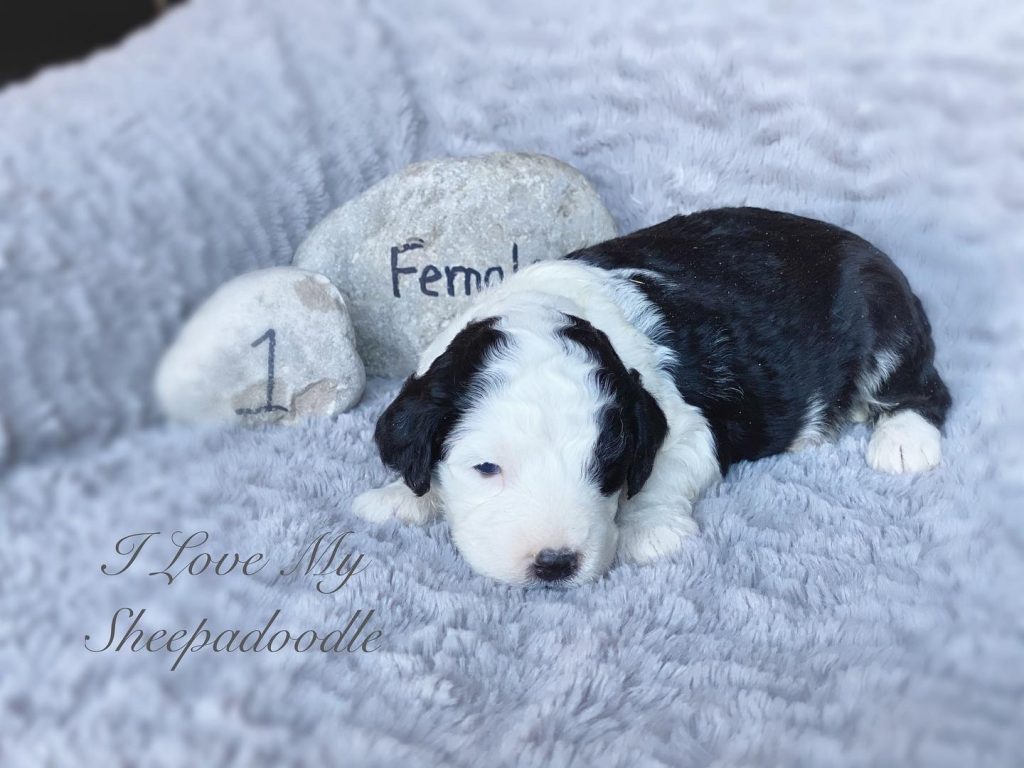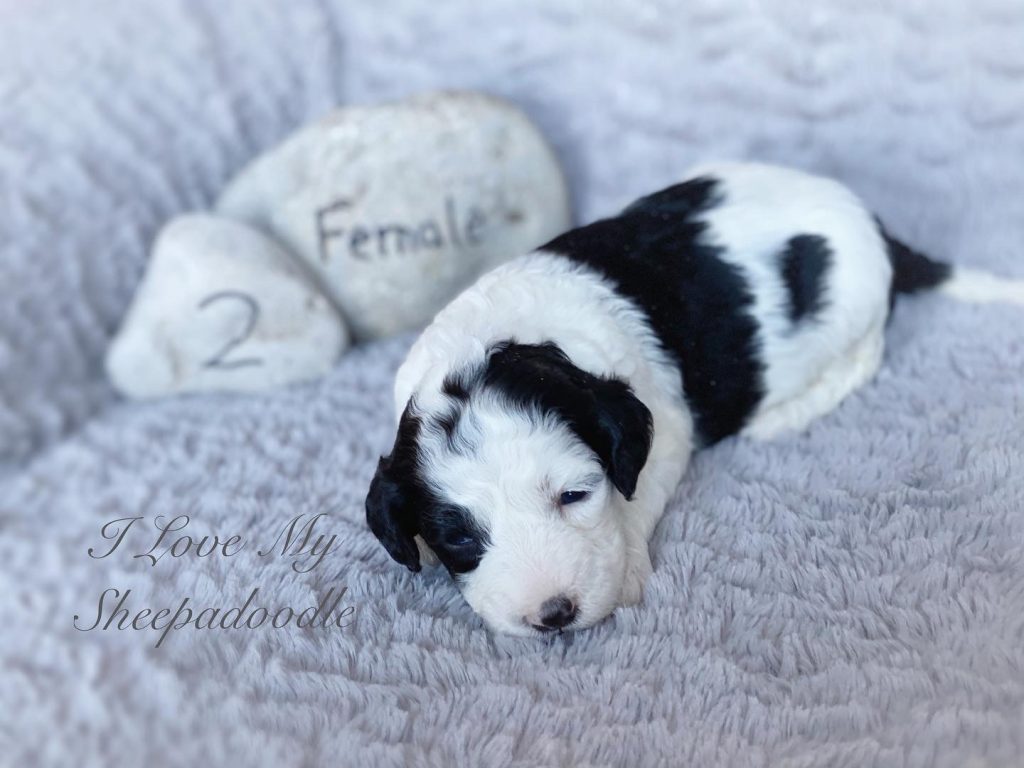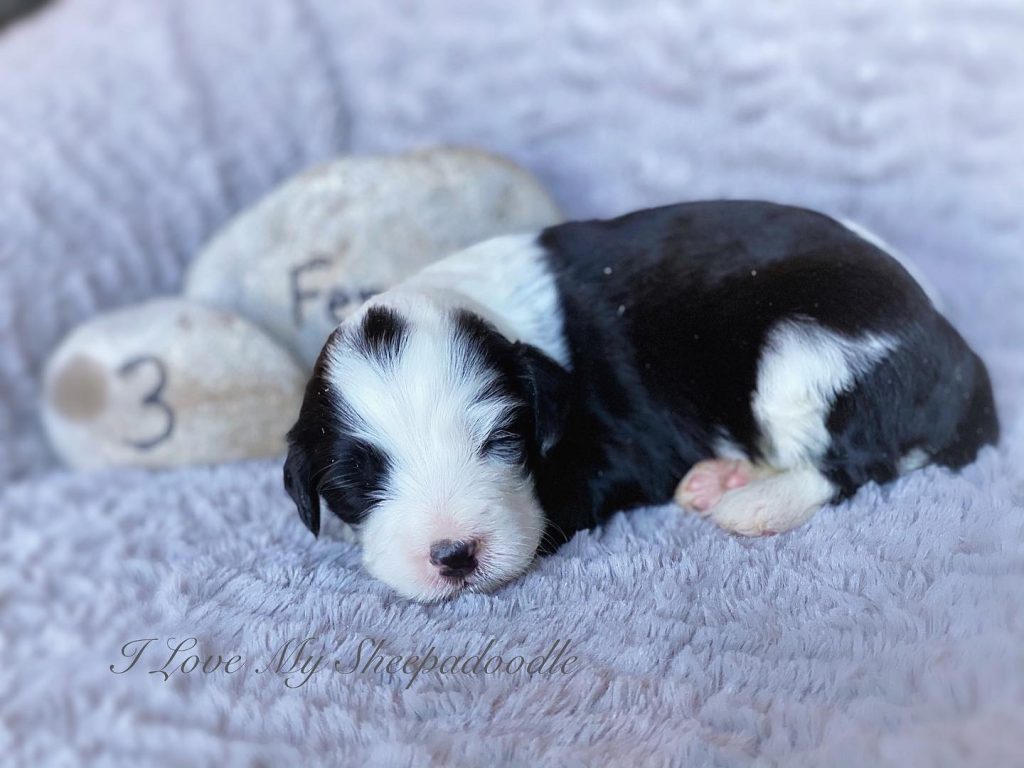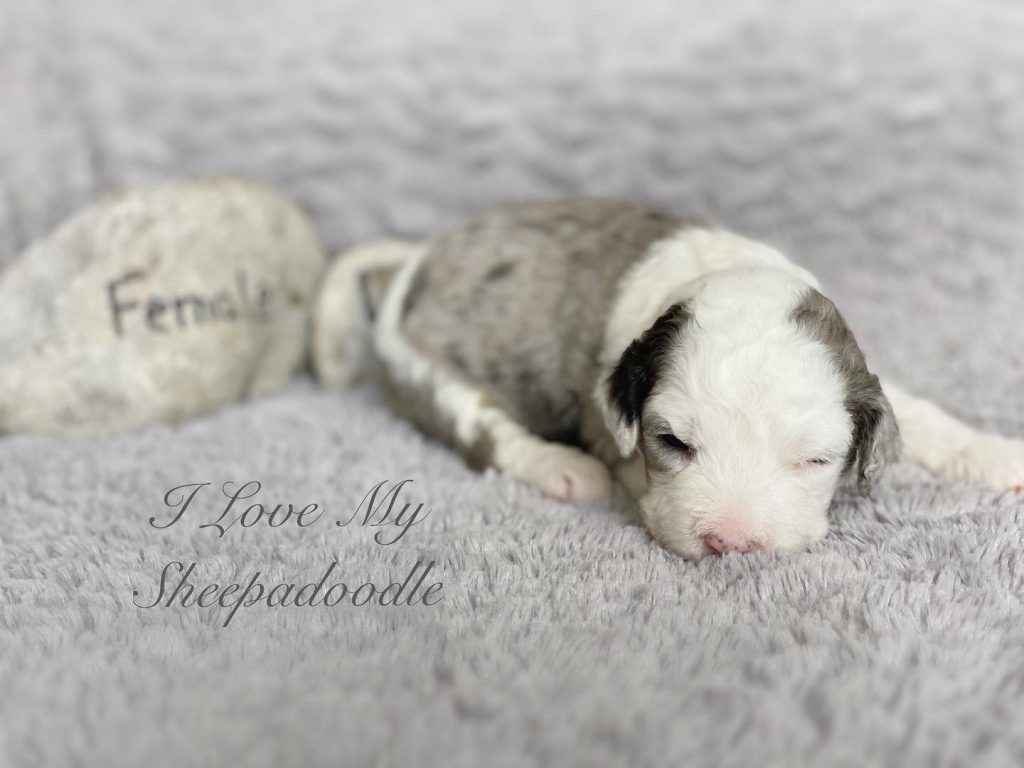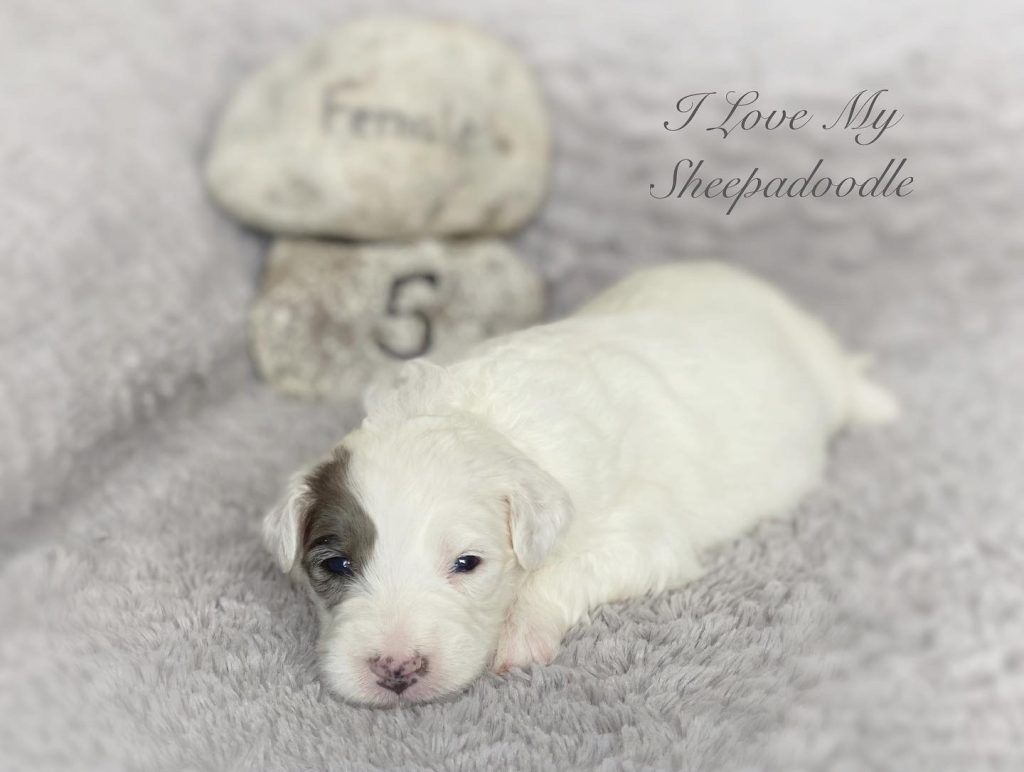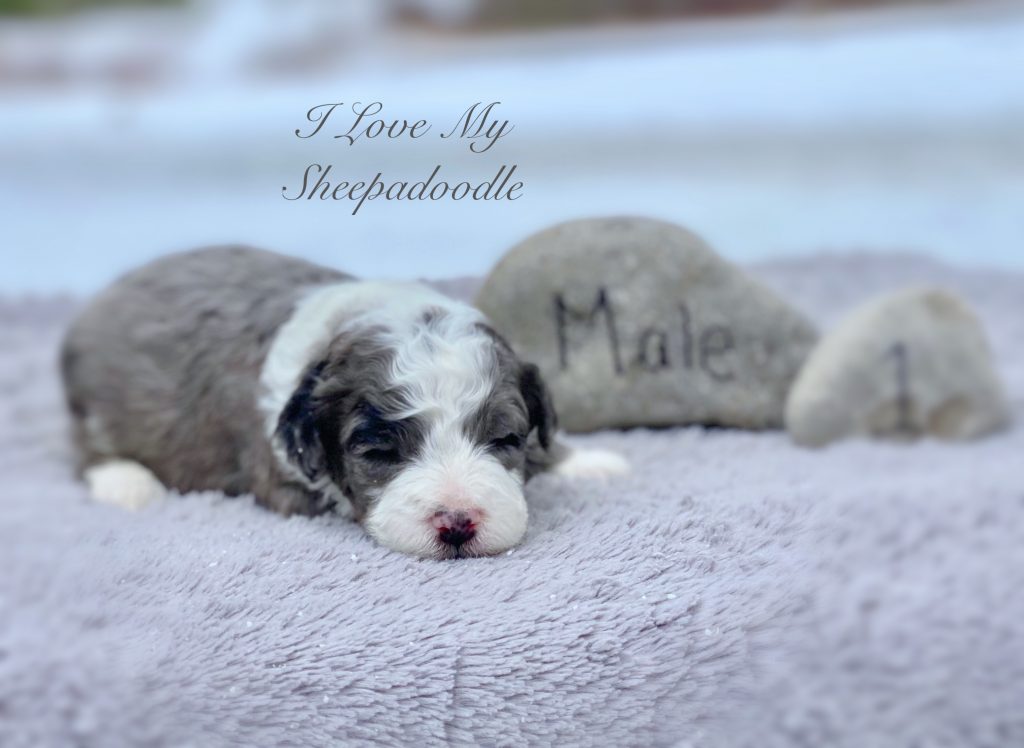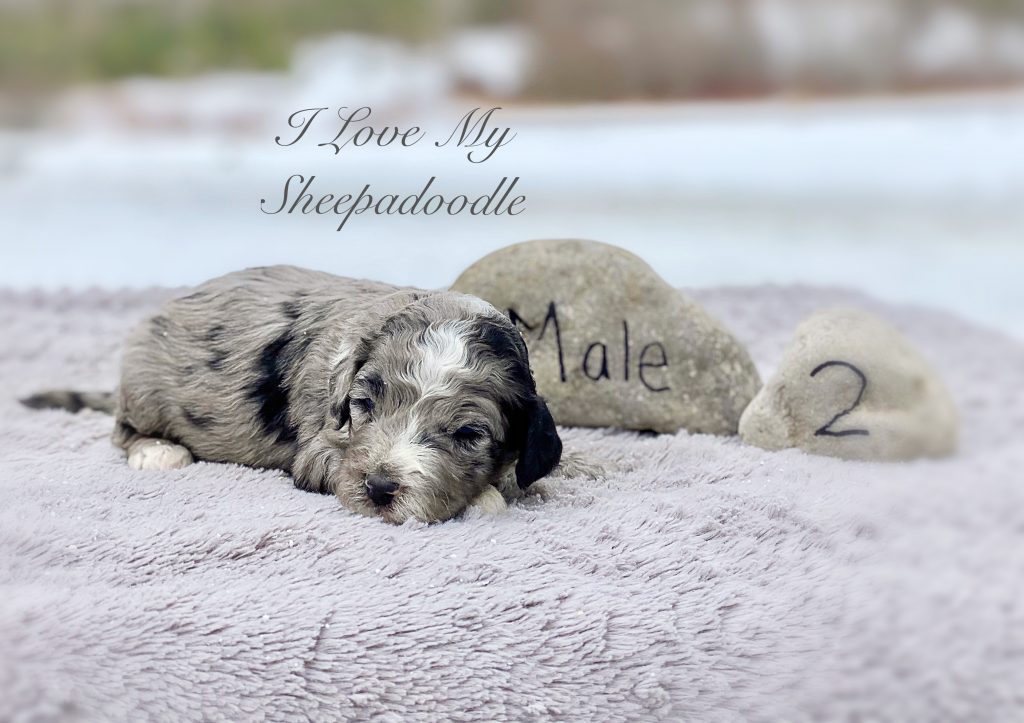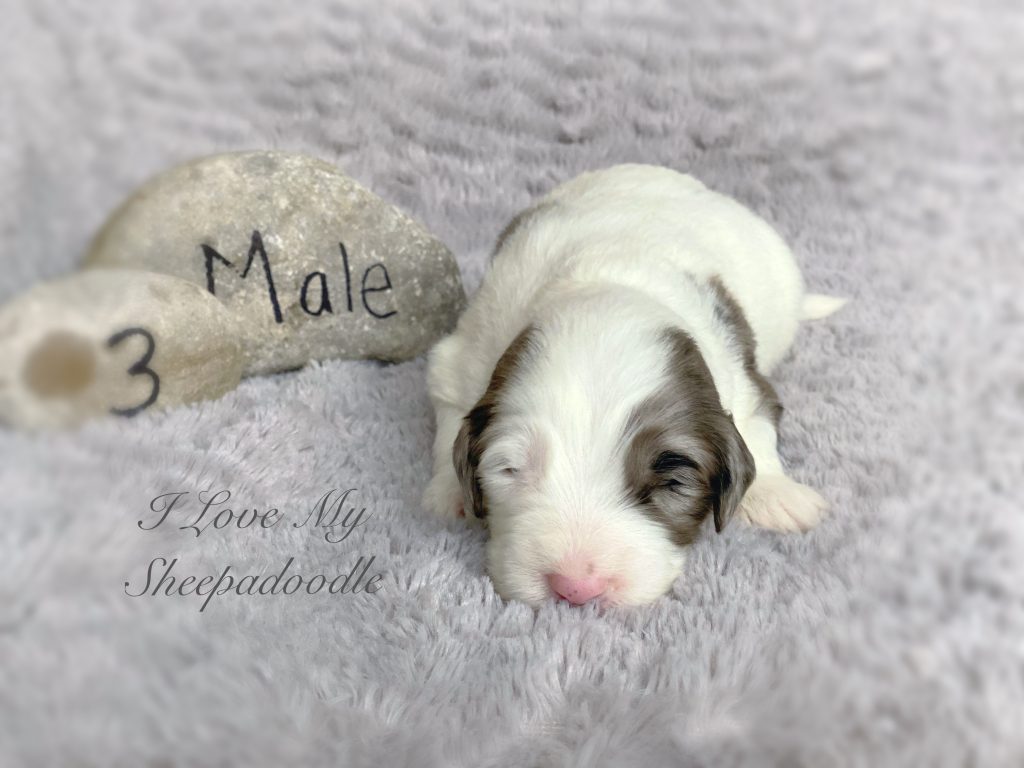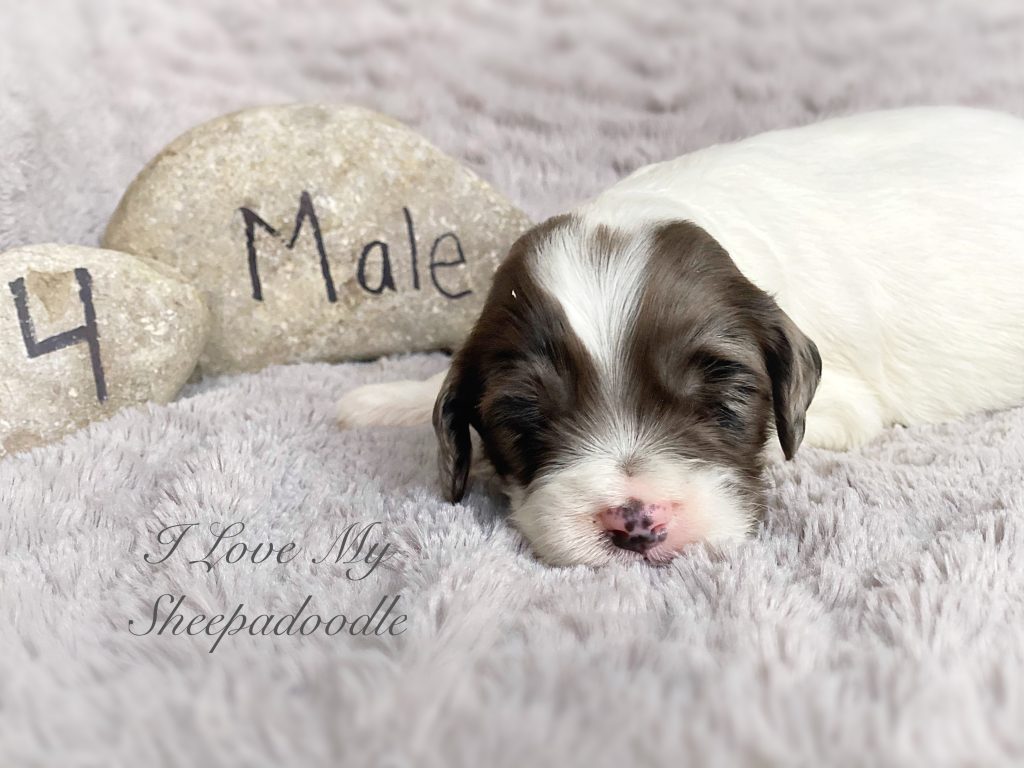 5 WEEK PHOTOS


MEET THE PARENTS
Darla is a beautiful F1 Standard Sheepadoodle weighing in around 55 lbs and about 22 inches high at the shoulder.  She loves to be with people and is keen to snuggle in for any extra attention.  She lives with her guardian family in the Waterloo area along with her playmate Ottis, a Terrier cross.  Darla's mom is Sasha, our purebred registered CKC Old English Sheepdog.  Sasha has a gentle easy going personality.  Darla's dad is our now retired Registered CKC Standard Poodle named King – a stately, quiet, regal poodle.   We were captivated by Darlas Old English Sheepdog look as a pup and thought she would be a great addition to our breeding program.  We are excited to produce more lovely pups like her for others to enjoy!    Darla has passed her OFA prelims with Good Hips and Normal Elbows.
William is our clown here at I Love My Sheepadoodle.  He loves to play!  Give him a toy and he will be occupied for a long time created his own adventures.  William is not a barker. He just does his own thing contently.  He is more independent but he still checks in with us to get his cuddle time too.
William is a F1b Tiny Sheepadoodle from our very first litter with Abby x Tobi.  He weighs in around 25 lbs and is about 14 inches high at his shoulders.  His mom Abby is a F1 Mini Sheepadoodle weighing in around 27 – 30 lbs.  His dad Tobi is our favourite little family pet here at I Love My Sheepadoodle.  Tobi is a purebred CKC registered Mini Poodle weighing in around 16 lbs.
William looks a lot like his dad Tobi with the blue Merle Parti coat.  He has stunning blue eyes that will captivate you if he can give you a minute of his time for a snuggle. William has a curly coat like a poodle but can throw the wavy coat since he has the OES.  He has made some wonderful Sheepadoodles already in 2020 and we look forward to seeing more of his striking puppies!  William has passed his OFA prelims with Good hips and normal elbows.