Born June 30, 2023
Ready August 25, 2023
40 – 65 lbs maturity
~
OPENINGS AVAILABLE!
SALE of $1,500
FOR LAST PUP
~
THE PARENTS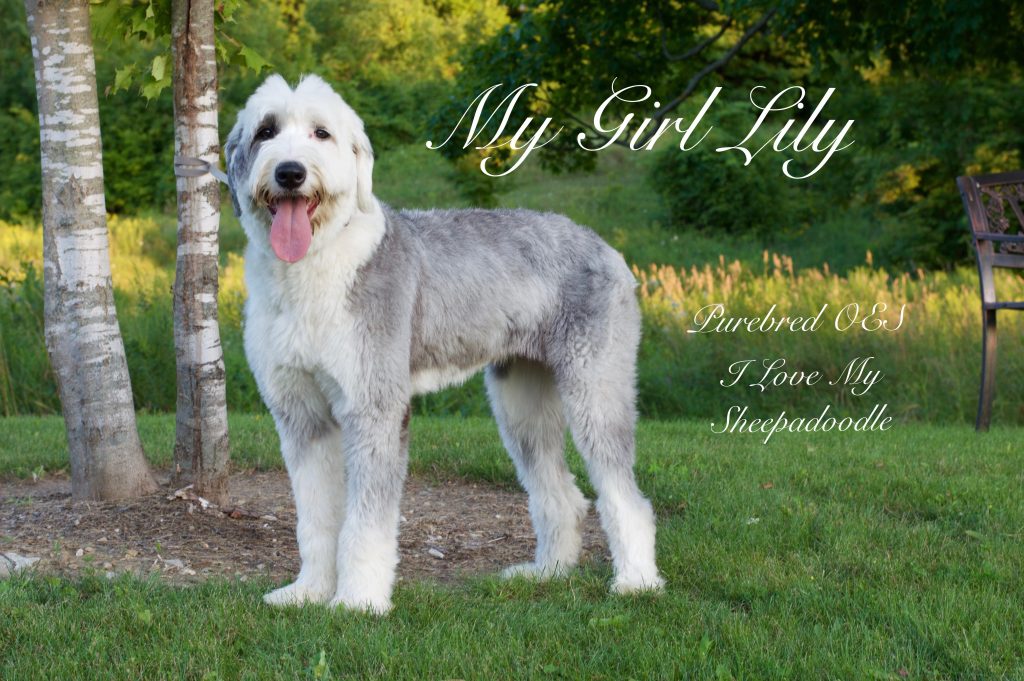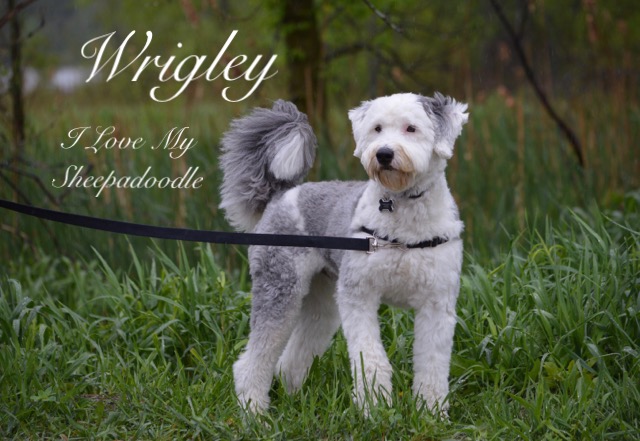 ~
THE PUPPPIES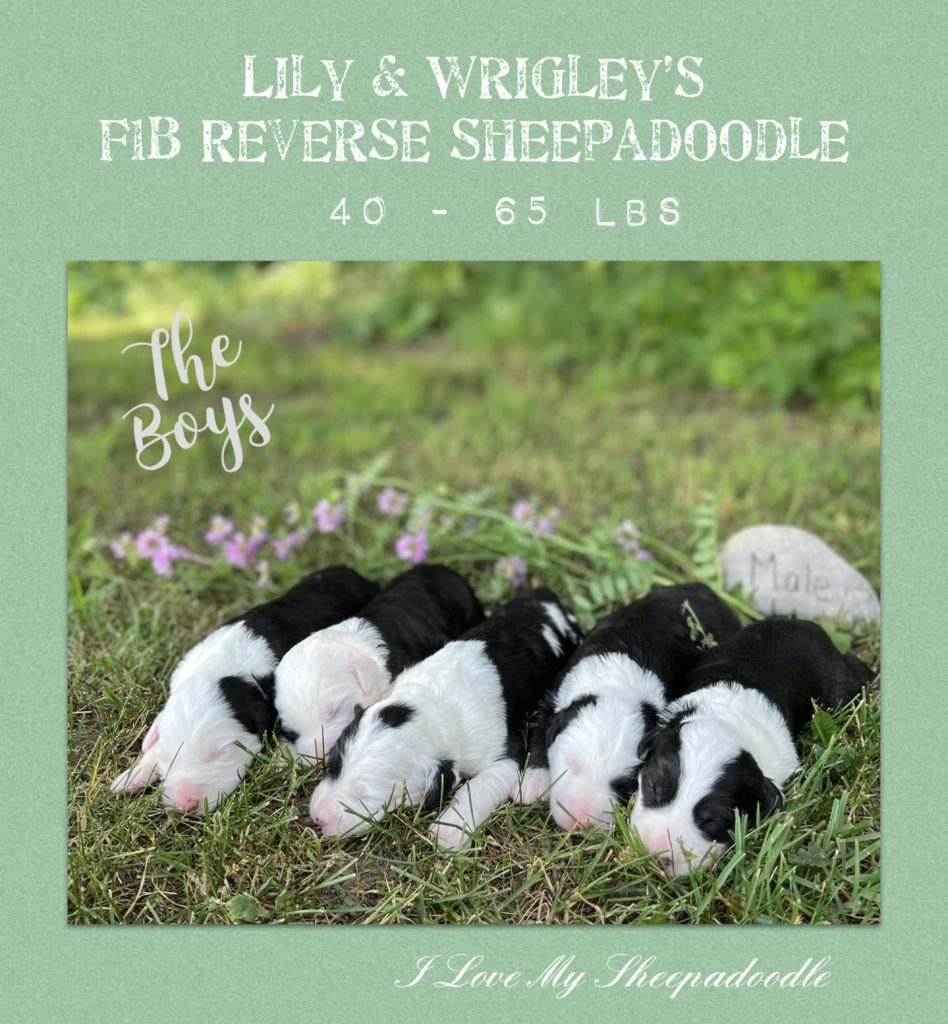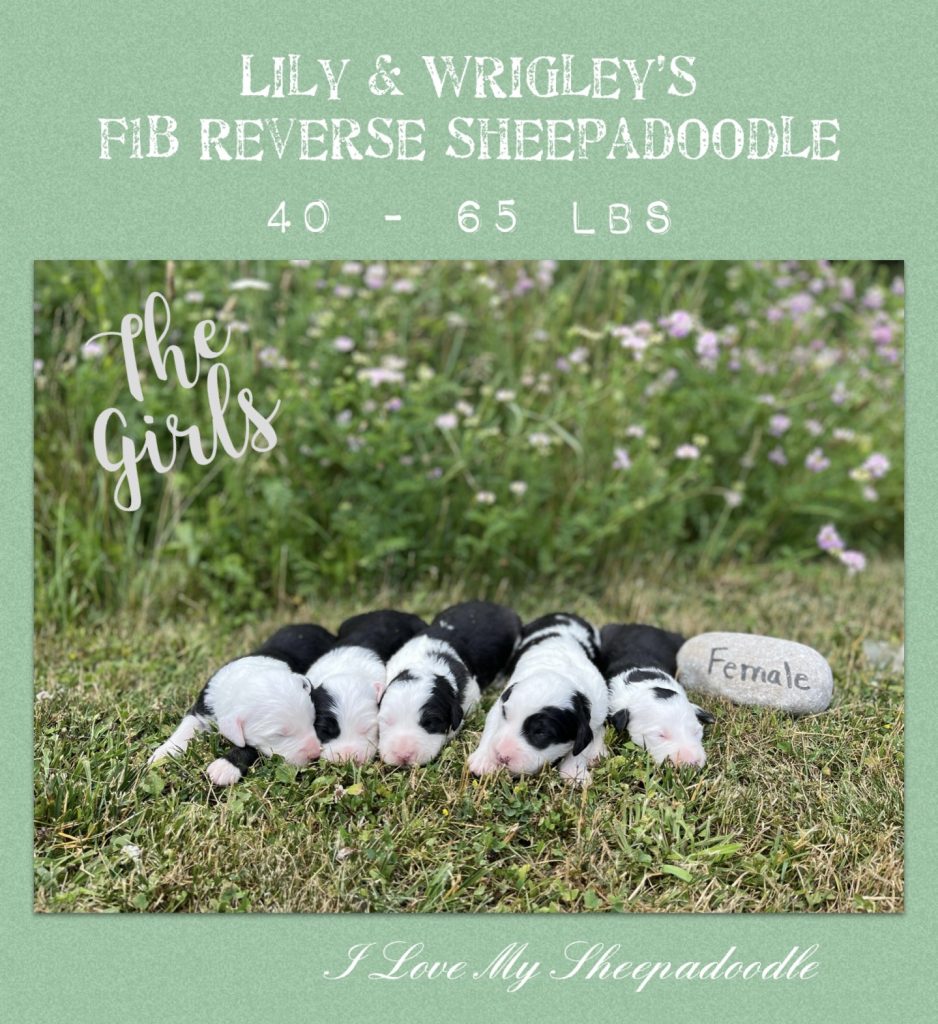 PUPPY INFO
Lily & Wrigley welcome their stunning  litter of F1b Reverse Moyen Sheepadoodle puppies.   There are 10  puppies!  We have 5 boys and 5 girls.  These puppies should mature to around 40 – 65 lbs.   We expect wavy coats for the pups in this litter.   Their black and white colour could stay or turn into some shade of grey in their adult coat.
 The F1b Reversed Sheepadoodle is a litter where there is more Old English Sheepdog in the Sheepadoodle being 75% OES and 25% Poodle.  In this case, 25% Mini Poodle to make a smaller blend.  For those that love the OES look and traits yet want it a bit smaller, then this is a good litter for you! The shedding will be very light in this litter as both parents are still considered hypoallergenic breeds.  It should be slightly better than a F1 Goldendoodle, Bernaddoodle, Labradoodle, ect.
Puppy selection is planned virtually by video call  when the pups are 6 wks old.  We have set aside Thursday, August 10, 2023.  Times will be listed on our website once the waitlist is place.  Puppy picking is done in order of those on Lily's Moyen Sheepadoodle waitlist.
Photos will be posted again around 5 weeks of age on our website page here and instagram. A video of the pups will also be posted on Instagram the day before puppy selection when the pups are 6 weeks old.
These pups will be ready to go home  August 25, 2023 or after between 8 – 9 weeks of age.
They will have their first booster and several rounds of deworming. Our vet will also have done a thorough inspection of each pup.  They come with a puppy pack including some food, a toy, blanket, vitamins and optional 30 day free pet insurance.
~
~

Puppy Selection on Thursday, August 10, 2023
(Video meeting times listed below – but will also confirm with each person) 
1. Kelly & Glyn V ~ Hamilton, ON ~ Male 3 ~ "MURPHY"
2. Rebecca Q ~ Toronto, ON ~  Male 1 ~ "ENZO"
3. Tayjah R ~ London, ON ~ Male 4 ~ "ROMEO"
4. Yung L ~ Thornhill, ON ~ 4:30 PM ~ Male 5 ~ "CLOONEY"
5. Ashley M ~ Dartmouth, NS ~ Female 1
6. Peter Robinson ~ Ottawa, ON ~ Female 3 
7. Courtney Dunbar ~ Stoney Creek, ON ~ Female 5
8.Elysha Wheeler ~ Etobicoke, ON ~ Female 2
9. Raymond Dion ~ Guelph, ON ~ Male 2 ~ "KAI"
10.
~

~
5 WEEK PHOTOS
1 WEEK PHOTOS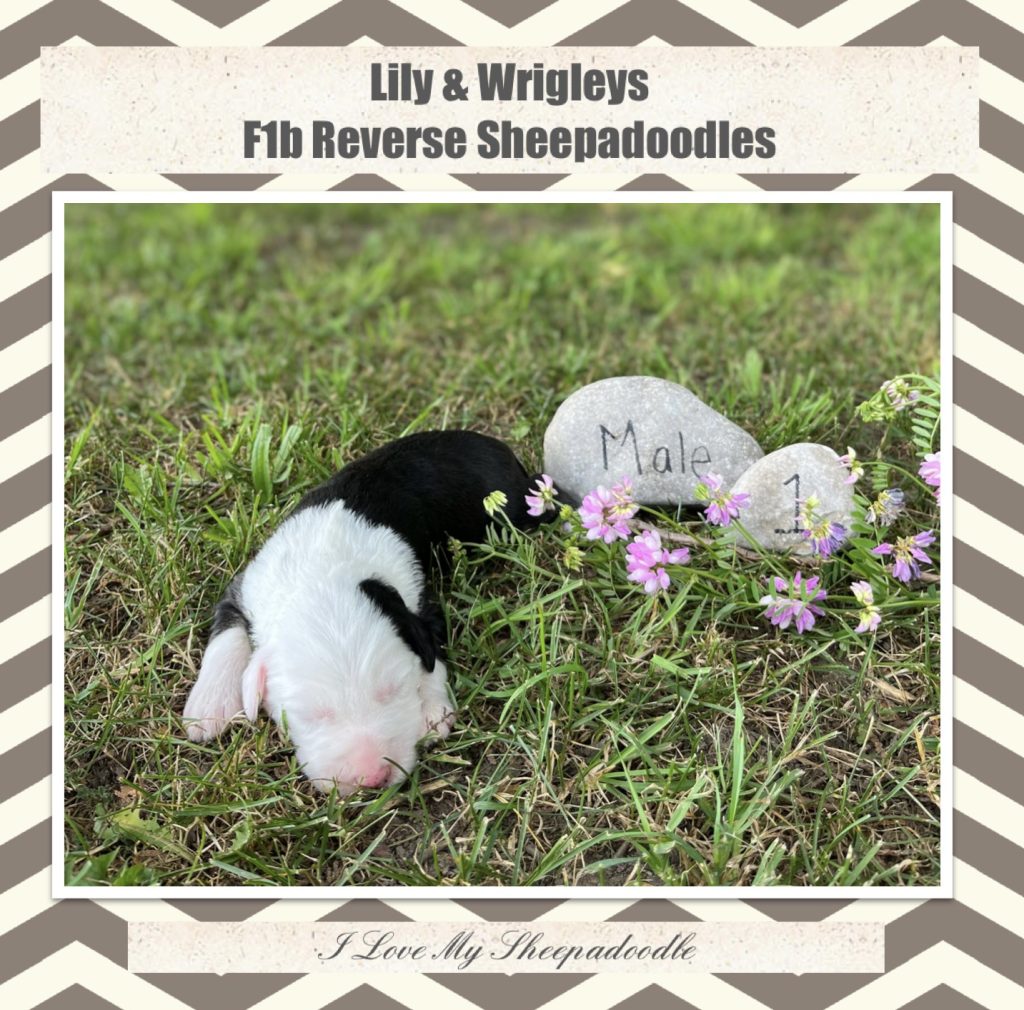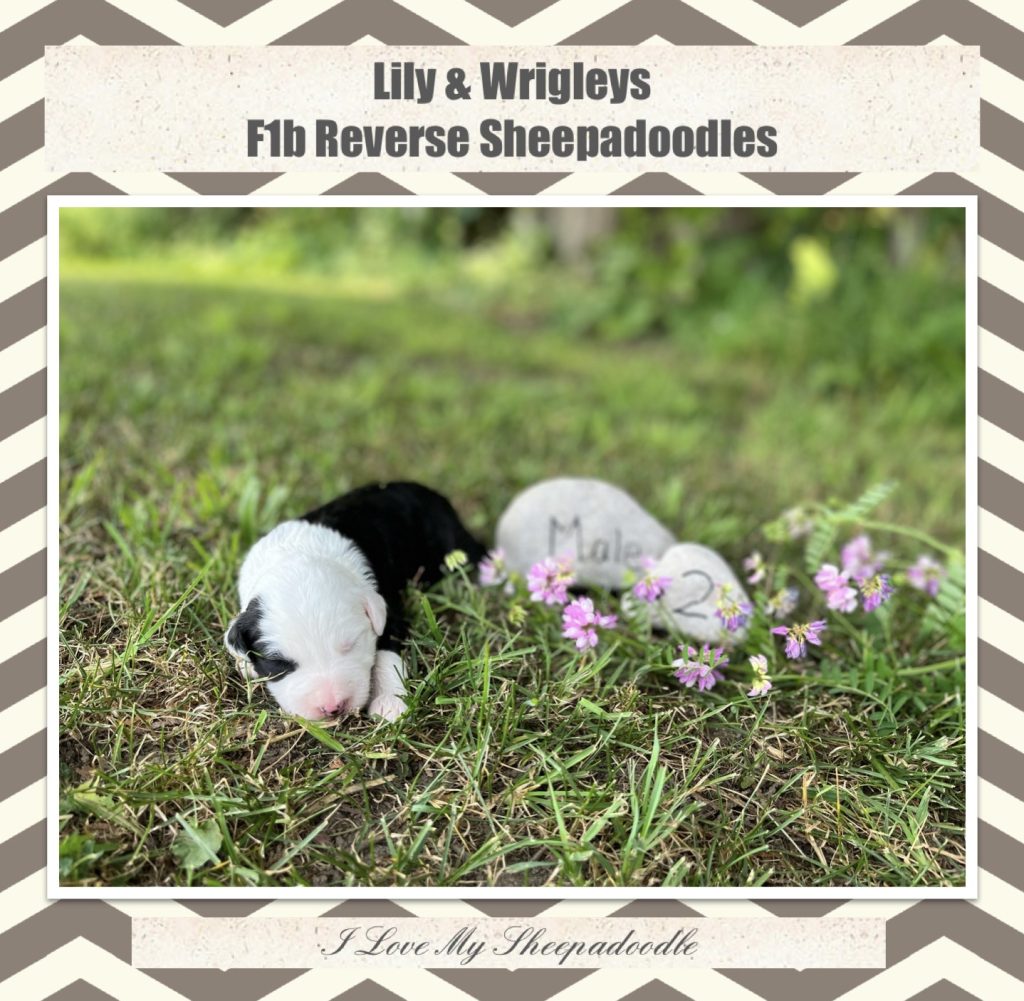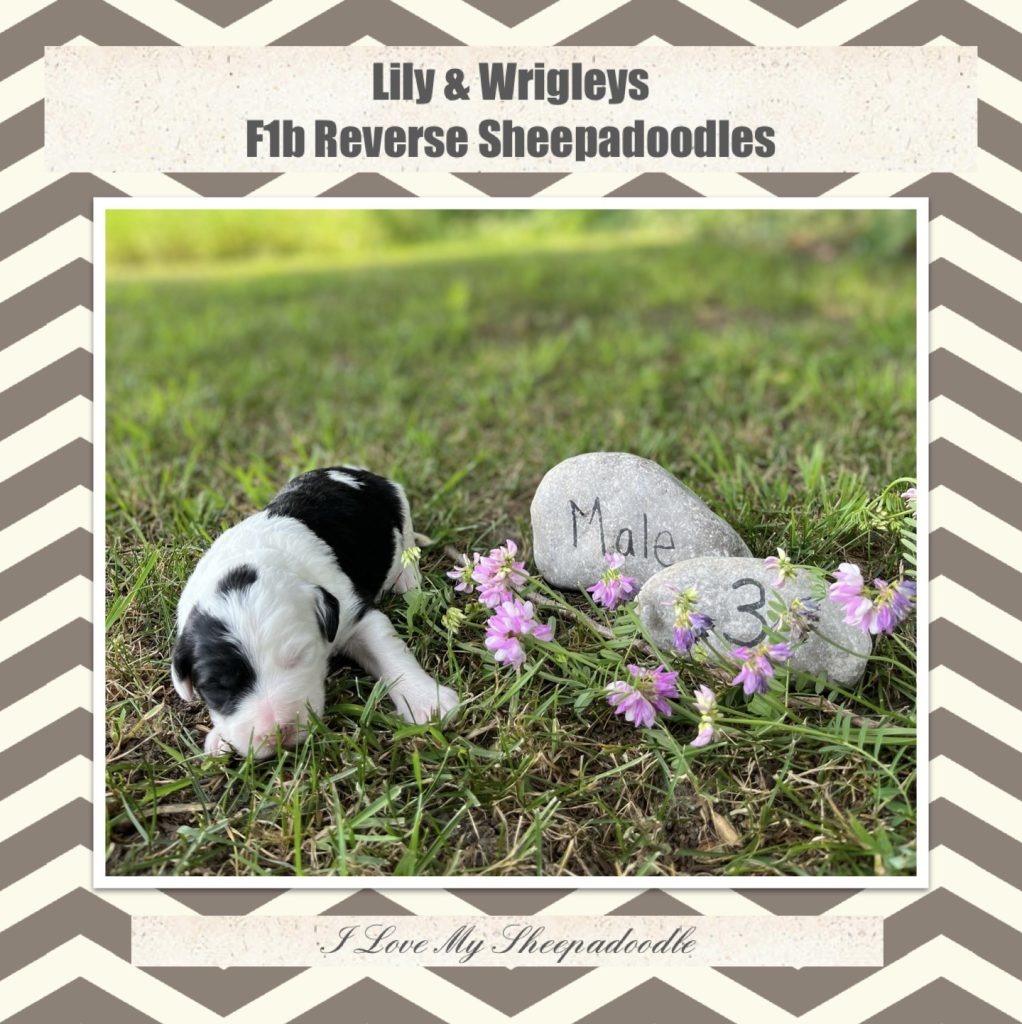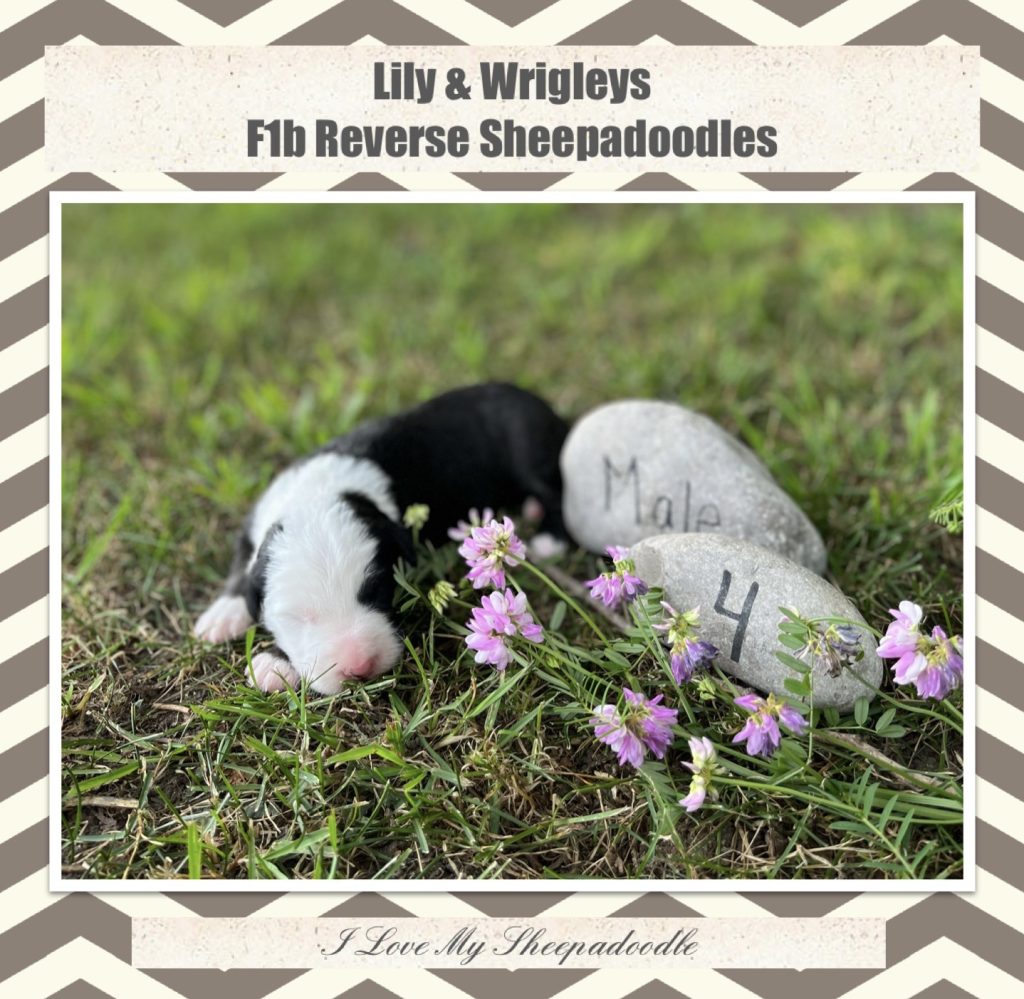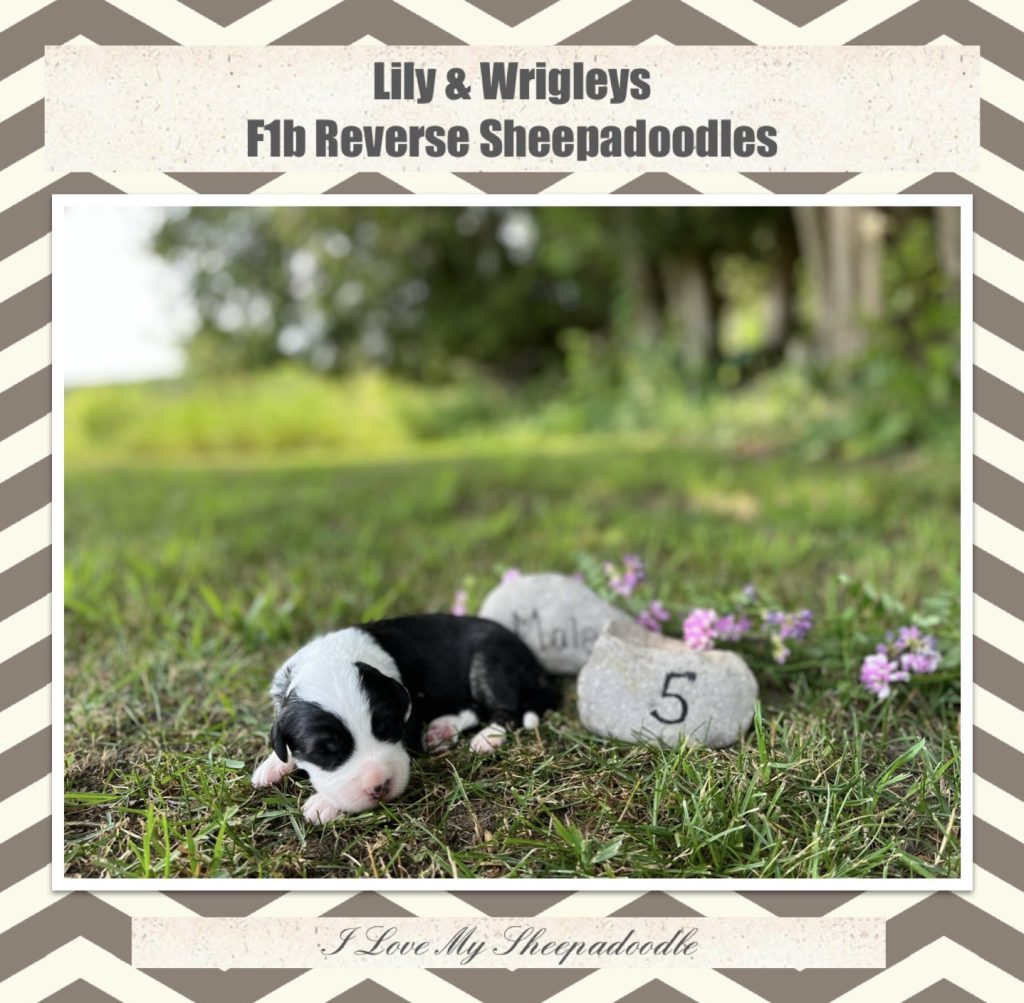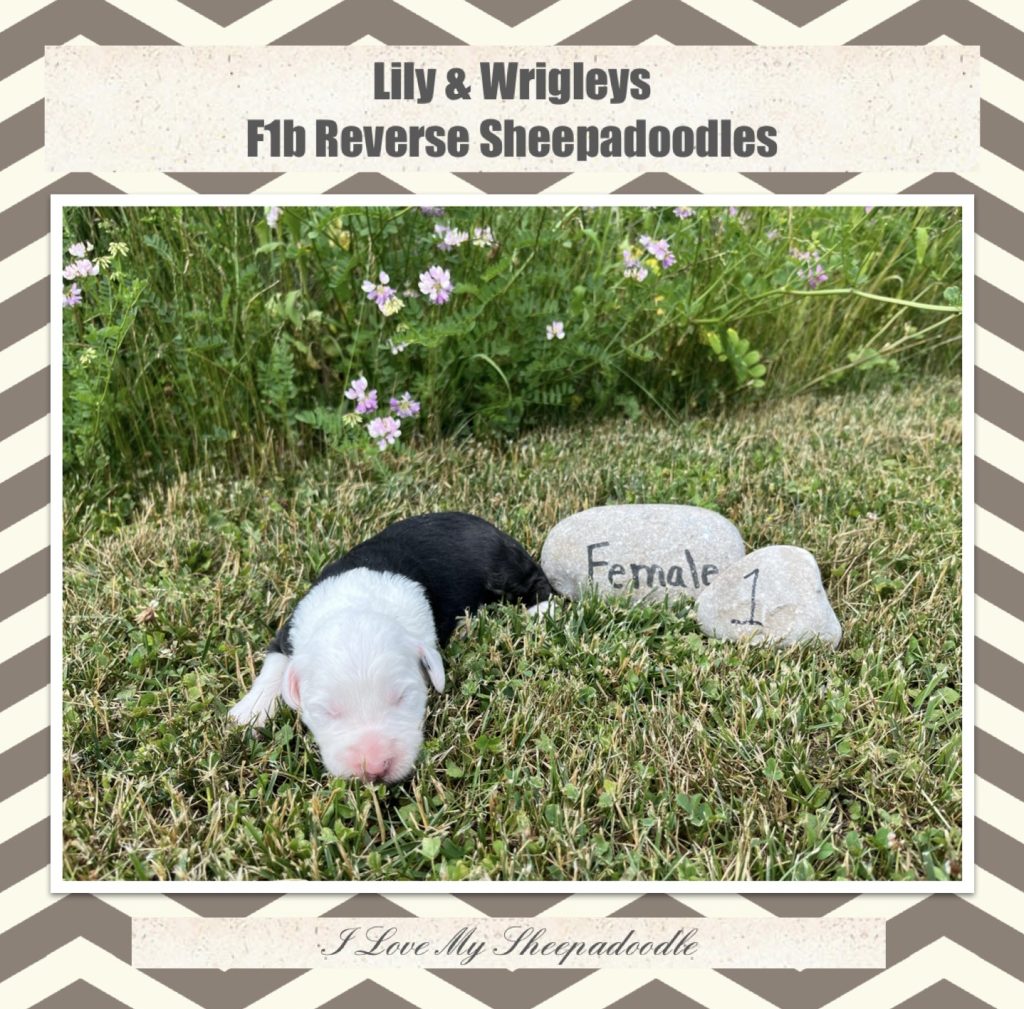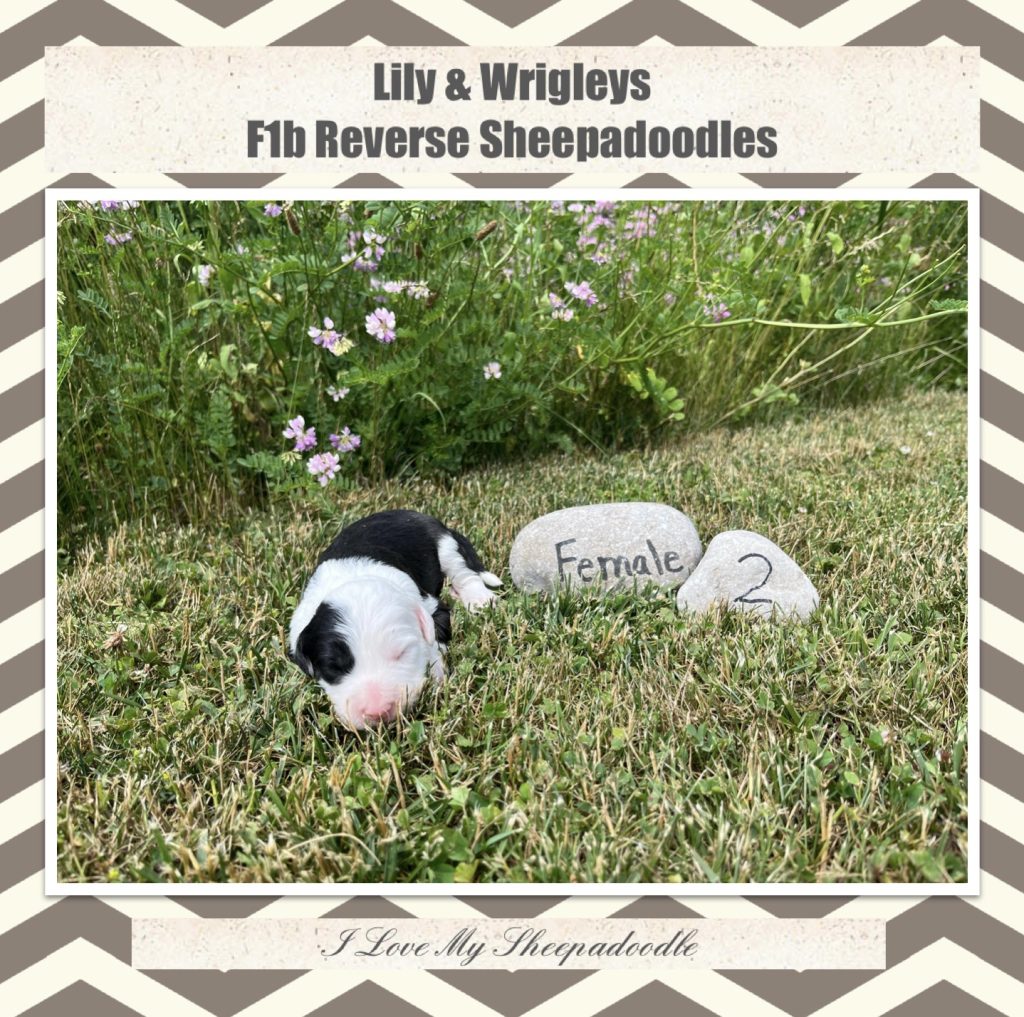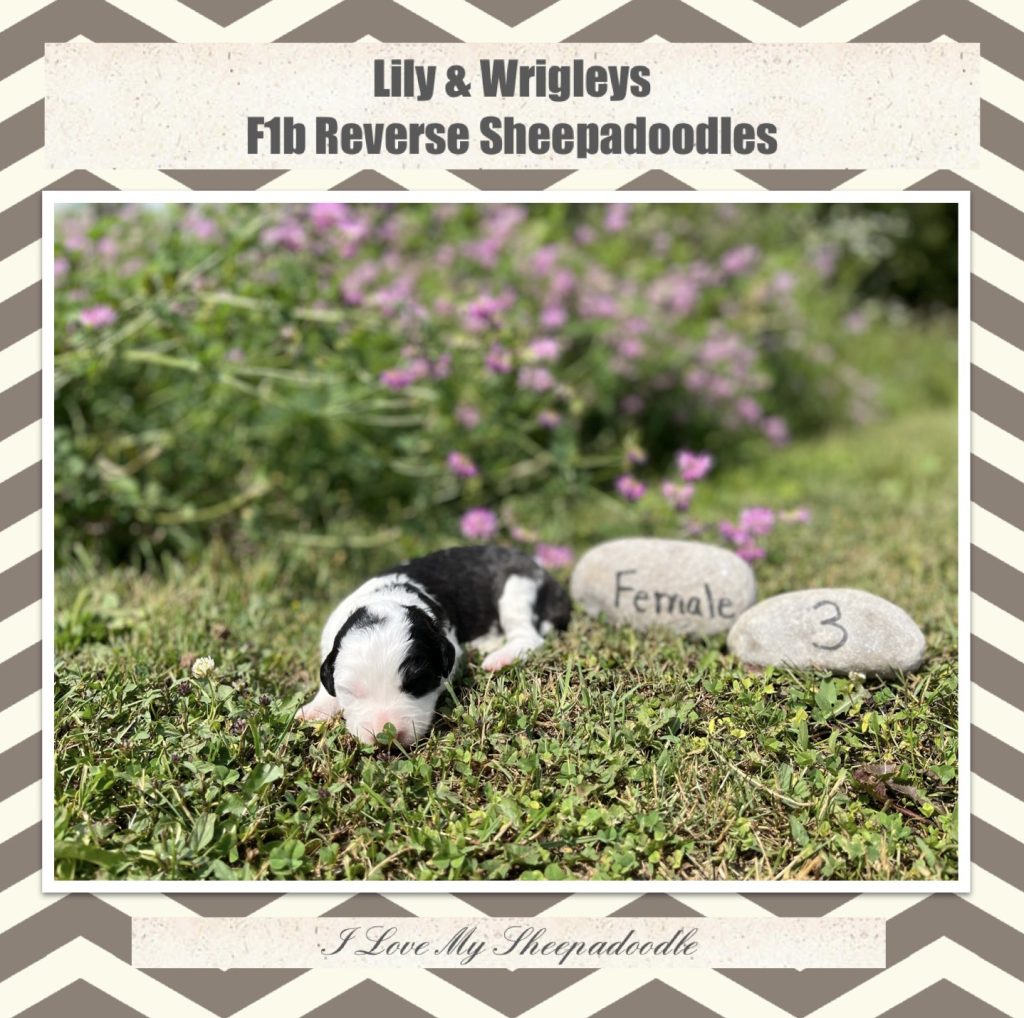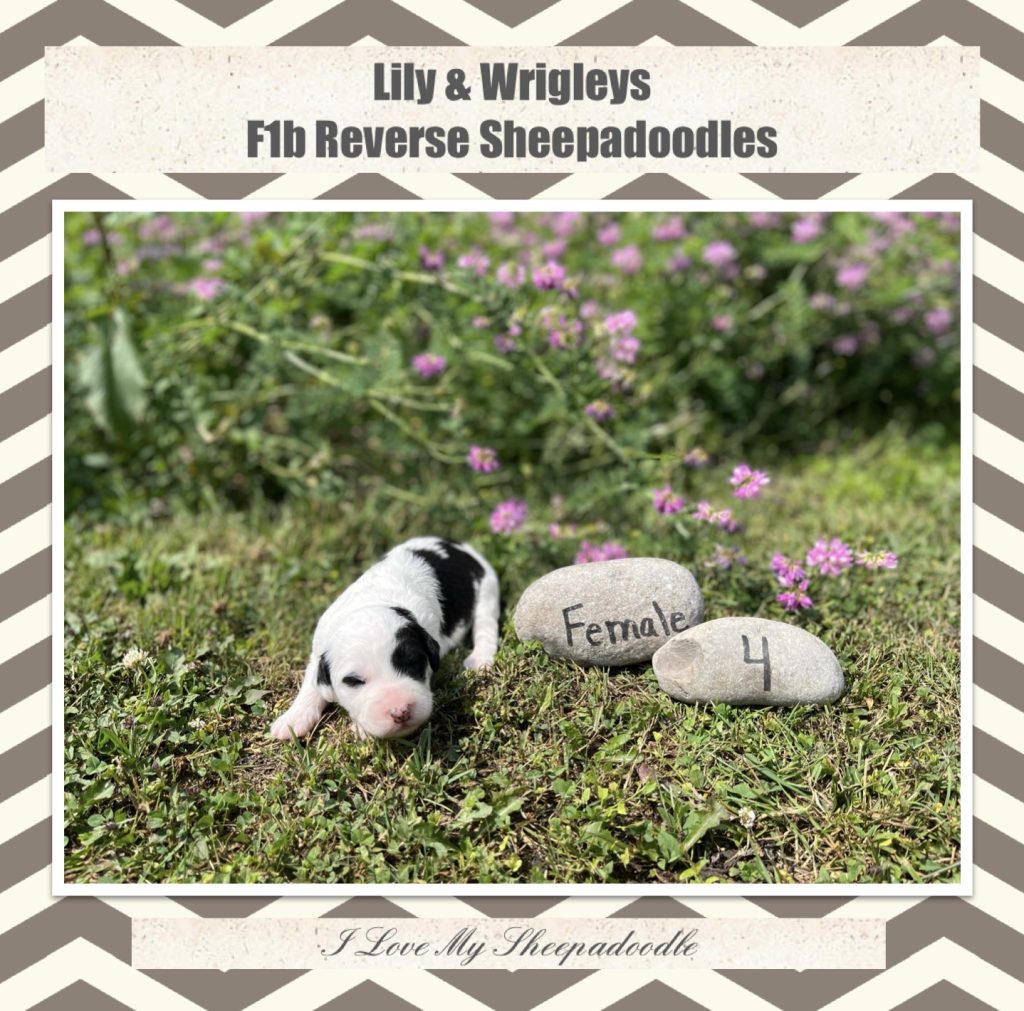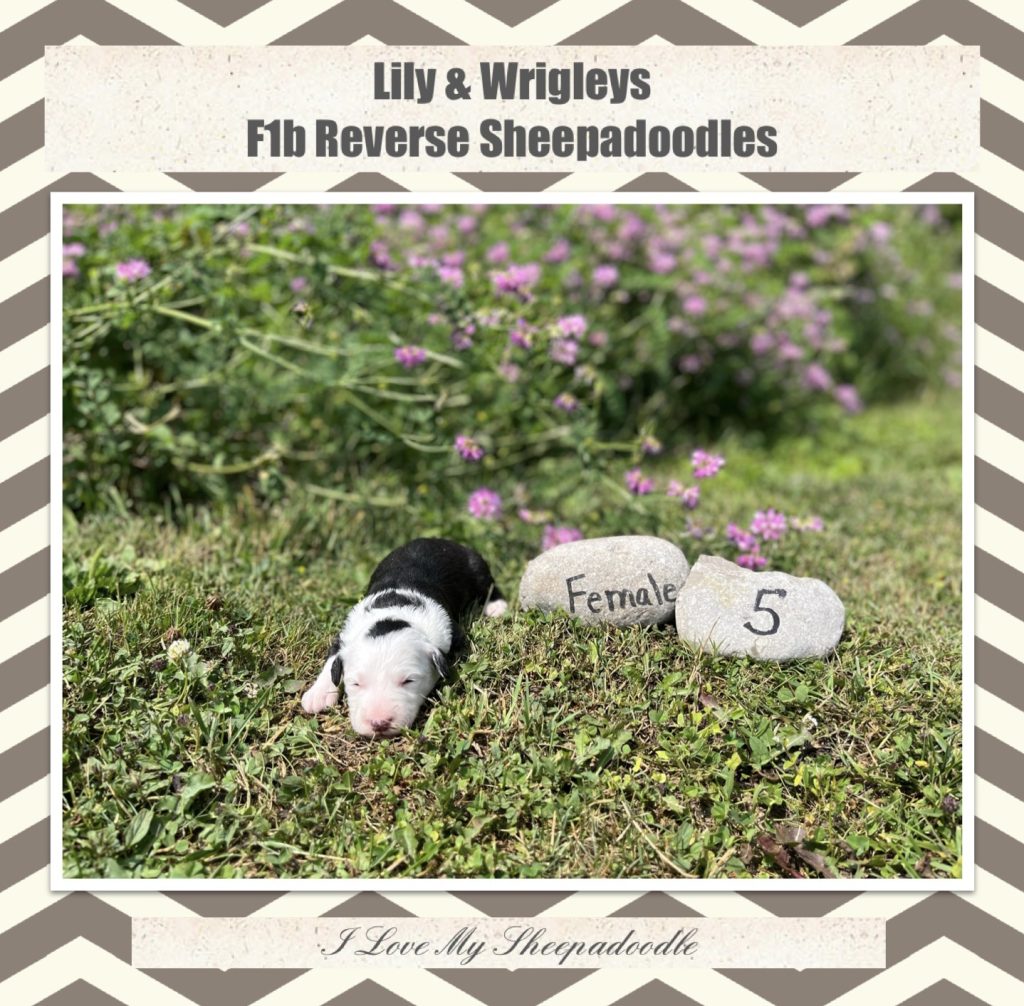 ~
WATCH FOR 5 WEEK PHOTOS
~

~
~
TESTIMONIES
PREVIOUS PUPS FROM LILY & WRIGLEY
~
POLA
We picked up our baby Pola on July 2021, she has been the greatest addition to our family, Pola is the sweetest girl, she loves pets, attention and cuddling when it's not hot. To say she's friendly is an understatement, she loves other humans, kids and dogs and will win everyone's heart during our walks. She is playful and smart but also very calm, enjoys walks and play time and is very obedient. Pola is the greatest company, she is always wherever we are around the house and wants to be included in everything! Having her as our family dog has been the best decision we've made, Pola makes us so happy!!  The adoption process was a great experience especially since it happened during Covid when we could not see the pups in person, however at iLoveMySheepadoodle every effort was made so we could see Pola on FaceTime and on pictures before pickup day. Pola has been a very healthy girl and her personality is perfect for a family dog.
~
ZOE
We are so in love with Zoe. Zoe is so amazing!! So sweet, loves every person and every dog so much.
She's a social butterfly with the sweetest soul!
~
MEET THE PARENTS
Lily is a fun loving dog.  She loves to go for walks, or runs around the neighbourhood trails or local hiking trails with her guardian family.  She is well loved by her guardian family and all her friends.   She is around 60 – 65 lbs matured. She has a straight, soft coat which sheds lightly in the Spring.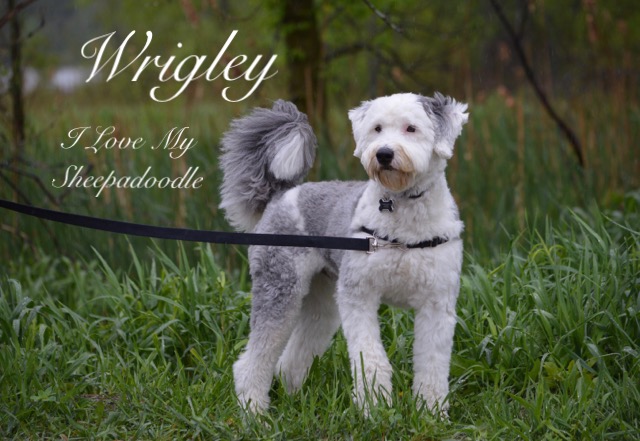 Wrigley is an easy going guy who will lounge around the yard, deck or house on most days.  He's up to fun when it comes and loves coming out to the country when it's time to make more Sheepadoodle puppies. He weighs in around 40 lbs.  He looks very much like a purebred Old English Sheepdog but just a miniature version.   Wrigley quickly becomes everyone's friend wherever he goes.