PUPPIES AVAILABLE!
–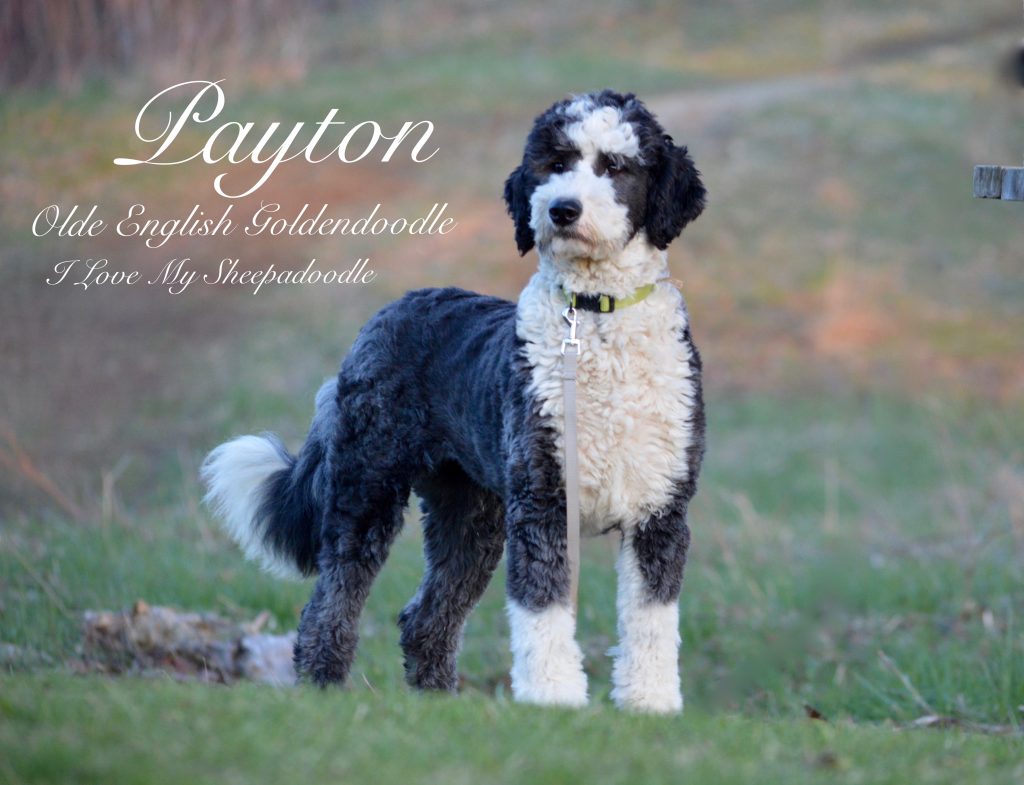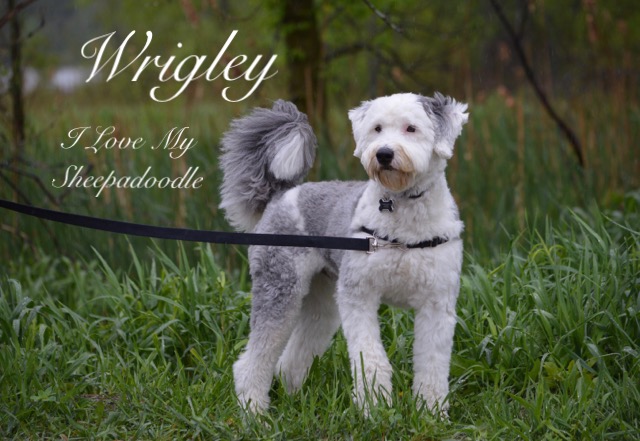 BORN MAY 3, 2022
READY JUNE 28, 2022


Payton and Wrigley have had their first litter of pups together.  There are 4 handsome boys and one cute little girl.   These puppies are Sheepadoodles with just a touch of Goldendoodle. They are 50% Old English Sheepdog, 44% Poodle and 6% Golden Retriever. They all have curly coats and I expect hypoallergenic, non-shedding coats.
The Sheepadoodle/Goldendoodle blend is a great family pet. They generally have a gentle demeanour and are fast learners! They are friendly, social and love their families.  They make an excellent family dog and companion.
 These pups are expected to matured between 40 – 60 lbs or so with most being around 50 lbs.  Their expected height should be between 19 – 22 inches high at the shoulder give or take some. You should be able to tell by puppy picking date which ones will be bigger or smaller.
Puppy picking is planned for June 14th when the pups are 6 wks old.  We will be posting photos of pups around 4 – 5 wks of age and post a little description and weights just before puppy selection day.   Puppy picking can be done by video call, phone call, text or email.  We do not do in person visits.
Pups will be ready to go home June 28, 2022 or after between 8-9 weeks of age.   The pups will come with their first booster, several rounds of dewormer, vet check with health records, and a puppy pack including a toy, blanket, probiotic paste and optional 30 day free pet insurance.
Our Moyen Sheepadoodles are priced at $3,000 CD (taxes in).
Our litter application page is open!  Deposits are $500 and valid for one litter only.
You can refer to our Pricing and Payments page for more info on the process.
    We look forward to helping you with your Sheepadoodle puppy!
WAITING LIST
Puppy selection planned for June 14, 2022
1. Navneet S ~ Surry, BC ~ Male 1
2. Andrew C ~ Toronto, ON ~ Male 2
3. Josh V ~ Toronto, ON ~ Male 3
4. Glory G ~ Oshawa, ON ~ Male 4
5. Available
–

–
 5 WEEK PHOTOS
This litter is so fluffy and every one of them loves attention and snuggles.
They are very similar to their mom Payton in that way.  
–
2 WEEK PHOTOS


–
MEET THE PARENTS!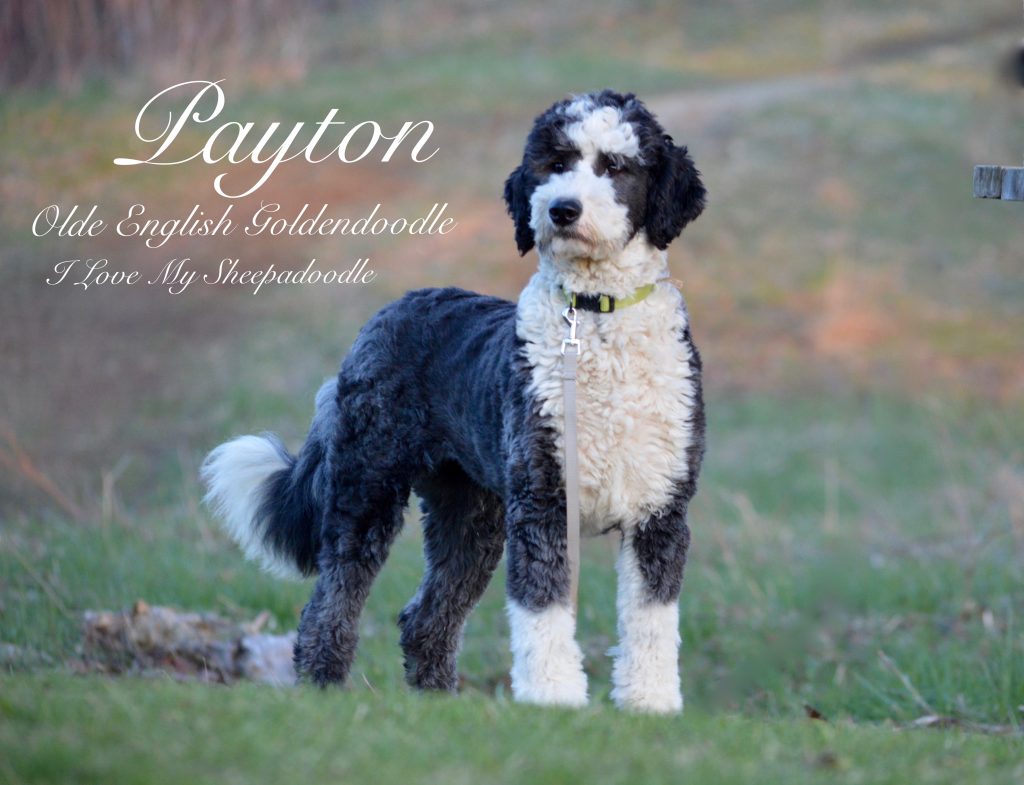 PAYTON
OLDE ENGLISH GOLDENDOODLE
Payton is Sheepadoodle with a touch of Goldendoodle.  She is gentle and kind, loving and easy going.  She has the boxy chest from the Golden Retriever and the stunning markings of the Old English Sheepdog and the kind disposition of the Standard poodle.  She weighs in around 55 lbs. Her coat is thick and soft and non shedding.  We will match her with some of our favourite studs here at I Love My Sheepadoodle to make some more lovely Olde English Goldendoodles.  These pups are a desired blend of the Sheepadoodle and Goldendoodle. We look forward to seeing more of their striking markings and wonderful temperaments!!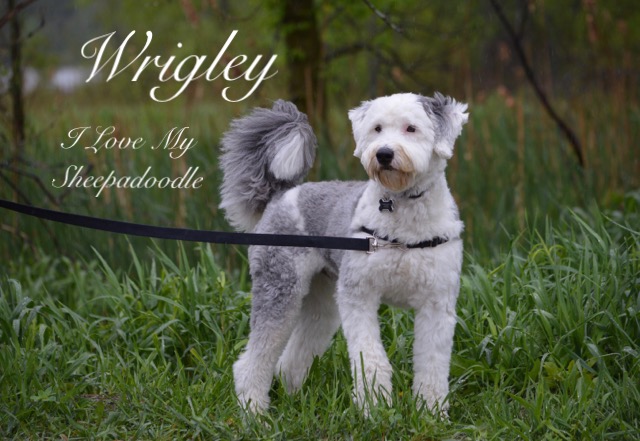 WRIGLEY – F1 MINI SHEEPADOODLE
Wrigley is a friendly fellow.  He lives with a foster home in the nearby area where he gets lots of love and attention.  He has turned out to be quite the gentleman!  He sure is a charmer with his good looks and playful but gentle spirit.  He has a thick soft coat ~ it is irresistibly huggable!  Wrigley has matured to 41 pounds.  He looks just like an Old English Sheepdog but in a mini version.   Wrigley is our stud for our Moyen Sheepadoodles and  he makes some of the nicest Sheepadoodle pups out there!
Good Hips & Normal Elbows – OFA Prelims
Clear on Paw Print DNA Sheepadoodle panel
–

–
Charlie's Family
 Testimony from one of our previous litters that is a  Sheepadoodle with a touch of Goldendoodle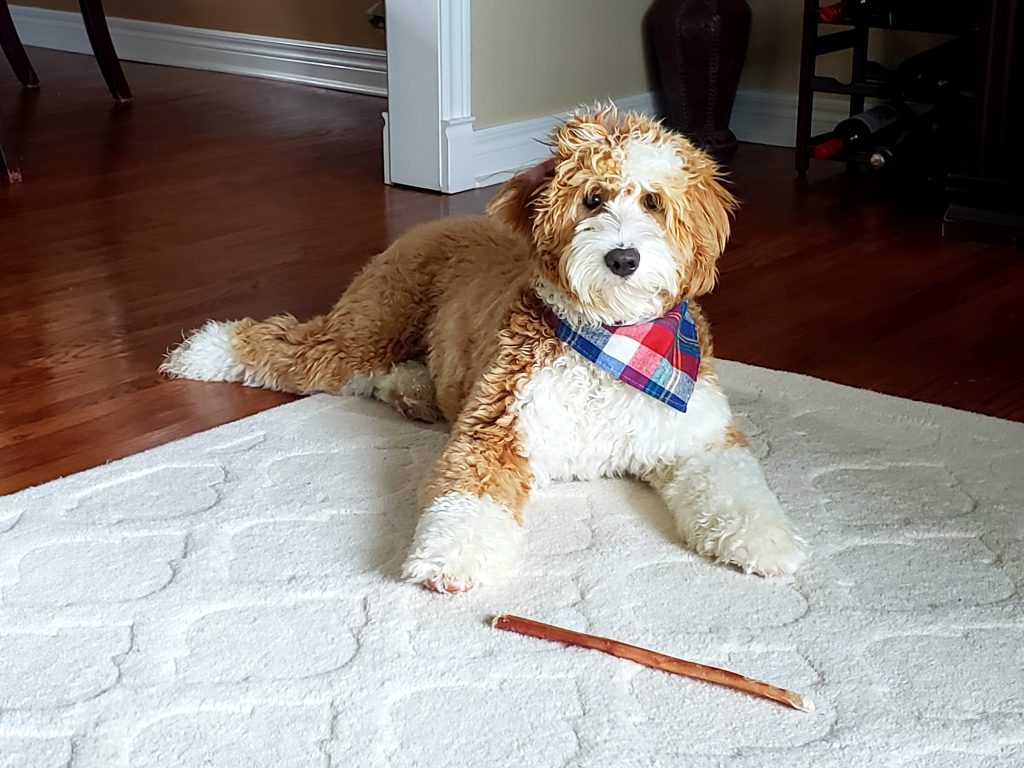 Hi Delicia,
An update on Charlie, from Tobi and Blossom's December 2019 litter.
Charlie is almost 10 months old, and weighs approximately 40 pounds.
He is a wonderful dog, full of love, curiosity and wonder.  He especially loves his morning walks and any visits to the dog park to play with his buddies.
–
–