Born Dec 5, 2021
Ready Jan 30, 2022
SOLD OUT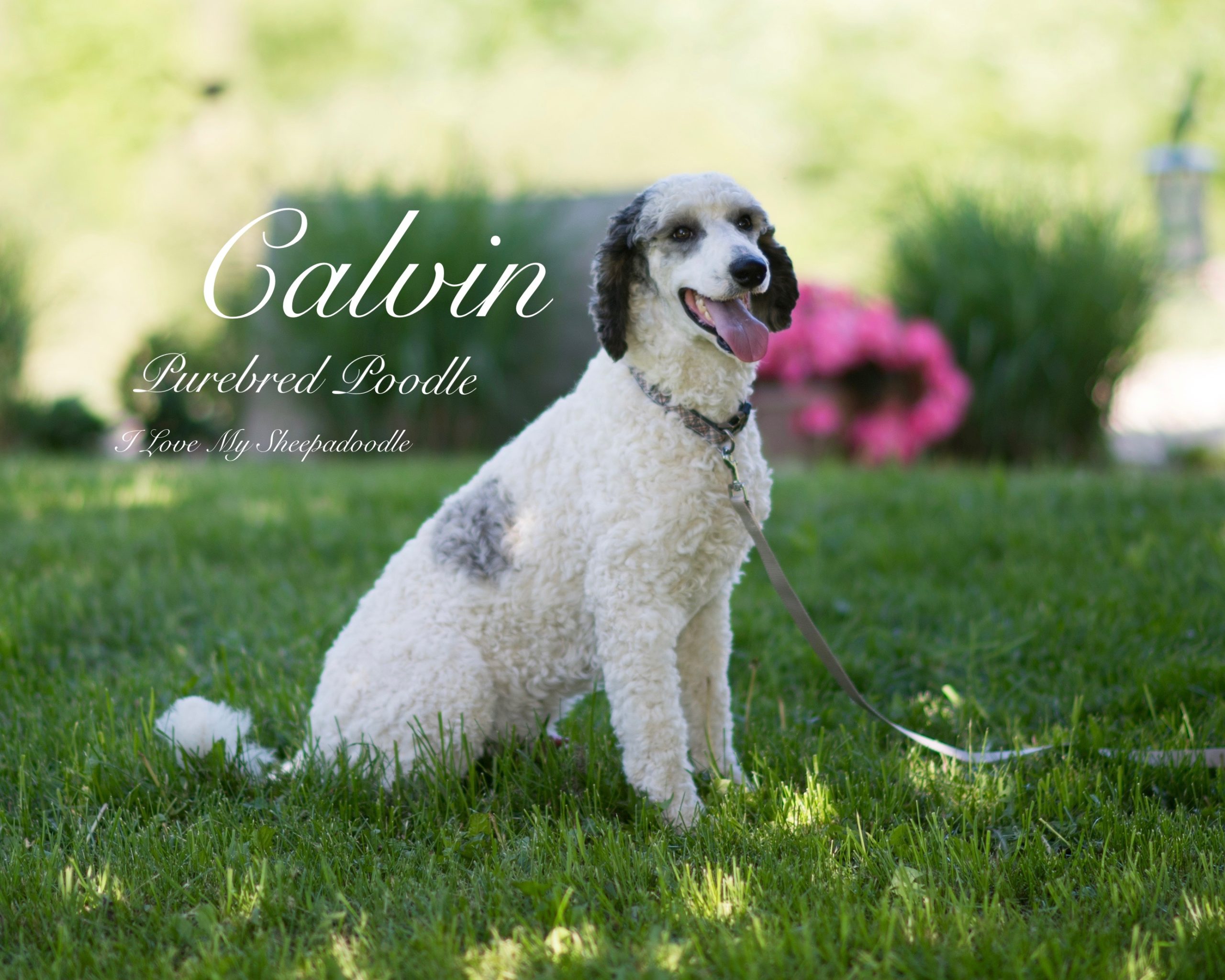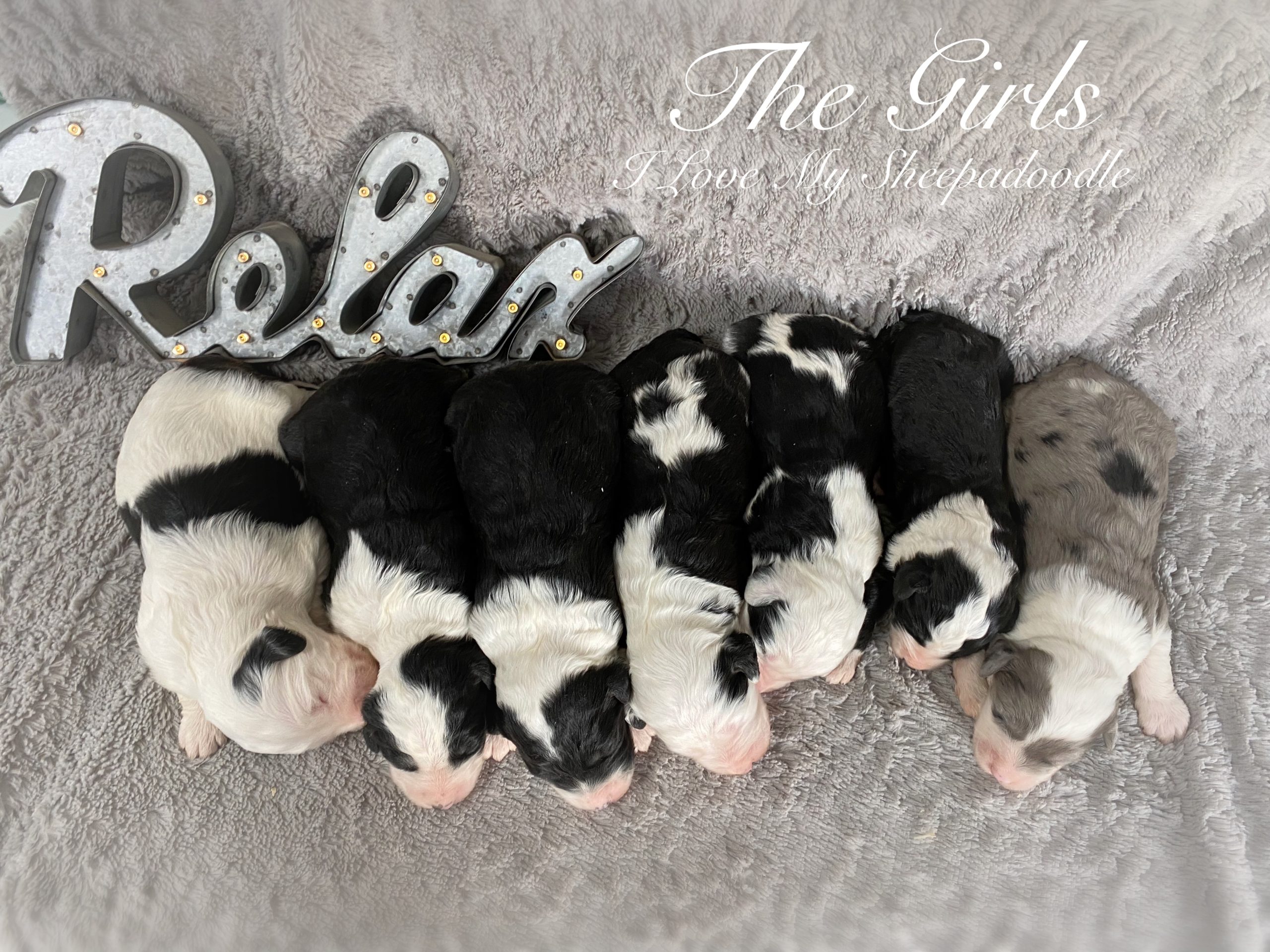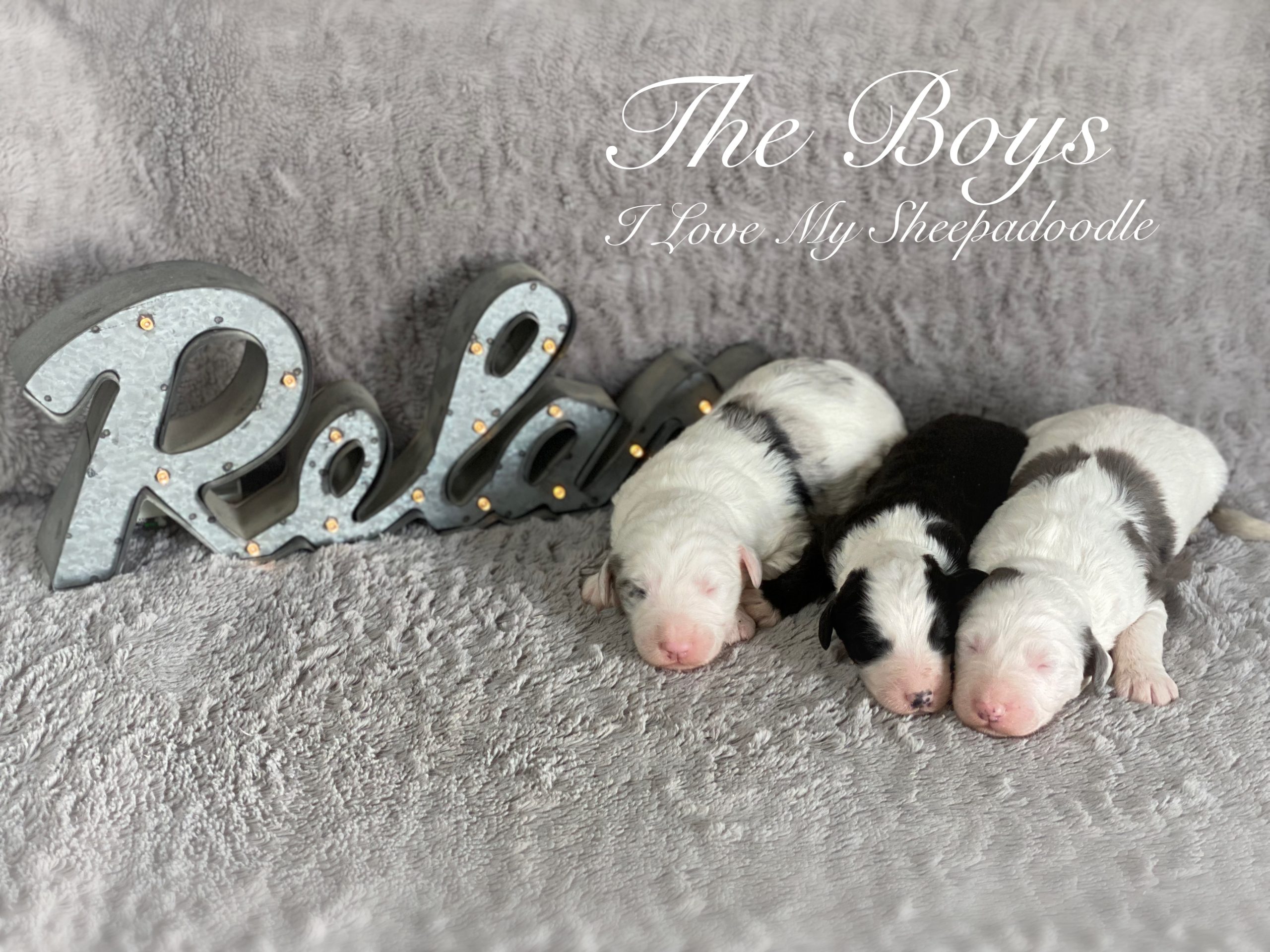 Suzie & Calvin welcome a beautiful litter of F1 Moyen Sheepadoodle puppies.   There are 10 puppies in total, 7 girls and 3 boys.  These puppies should mature to around 40 – 60 lbs, give or take some.   We expect wavy hair to a gentle curl in their coats for this litter.  The grey, black and white pups are called Blue Merle and white puppies.  Some of these pups could have blue eyes (one or two or partial).  The black and white pups could keep their colour or go some shade of grey in their adult coat.
We have been looking forward to Calvin puppies for a while!  Calvin comes from two of our favourite poodles here for looks and disposition.  And now we can finally offer a Sheepadoodle puppy from this anticipated gentleman.  We expect these puppies to have playful, happy, loyal personalities.
Puppy picking is planned for Thursday, Jan 13, 2022 virtually by video call.  Times will be listed on our website once the waitlist is place.  Puppy picking is done in order of those already on our Moyen Sheepadoodle waitlist list. We also have openings available for others as well!  So feel free to apply for one of these puppies.
Photos will be posted again around 4 weeks of age here on our website page.  A video of the pups will also be posted on Instagram the day before puppy selection.
These pups will be ready to go home January 30, 2022 or after at the age of 8 weeks. They will have their first booster and several rounds of deworming. Our vet will also have done a thorough inspection of each pup.  They come with a puppy pack including some food, a toy, blanket, vitamins and optional 30 day free pet insurance.

 Puppy selections will be posted here as the picks are made on Puppy Picking Day.
Puppy Picking is planned for Thursday, Jan 13 2021 at posted timeslot
1. Nathan & Vanessa ~ Female 4 ~ Cleo
2. William & Rushan W ~ Female 1 ~ Luna
3. Clara C ~ Female 7 ~ Mochi
4. Sarah & Andrew B ~ Female 3 ~ Hali
5. Nick & Cassie V ~ Female 5
6. Shelley A ~ Male 2 ~ Higgins
7. Colleen C ~ Female 2 ~ Skye
8. Angela P ~ Male 3
9. Melissa S ~Female 6
10. Lynne & Paul P ~ Male 1

WEEK 5 PHOTOS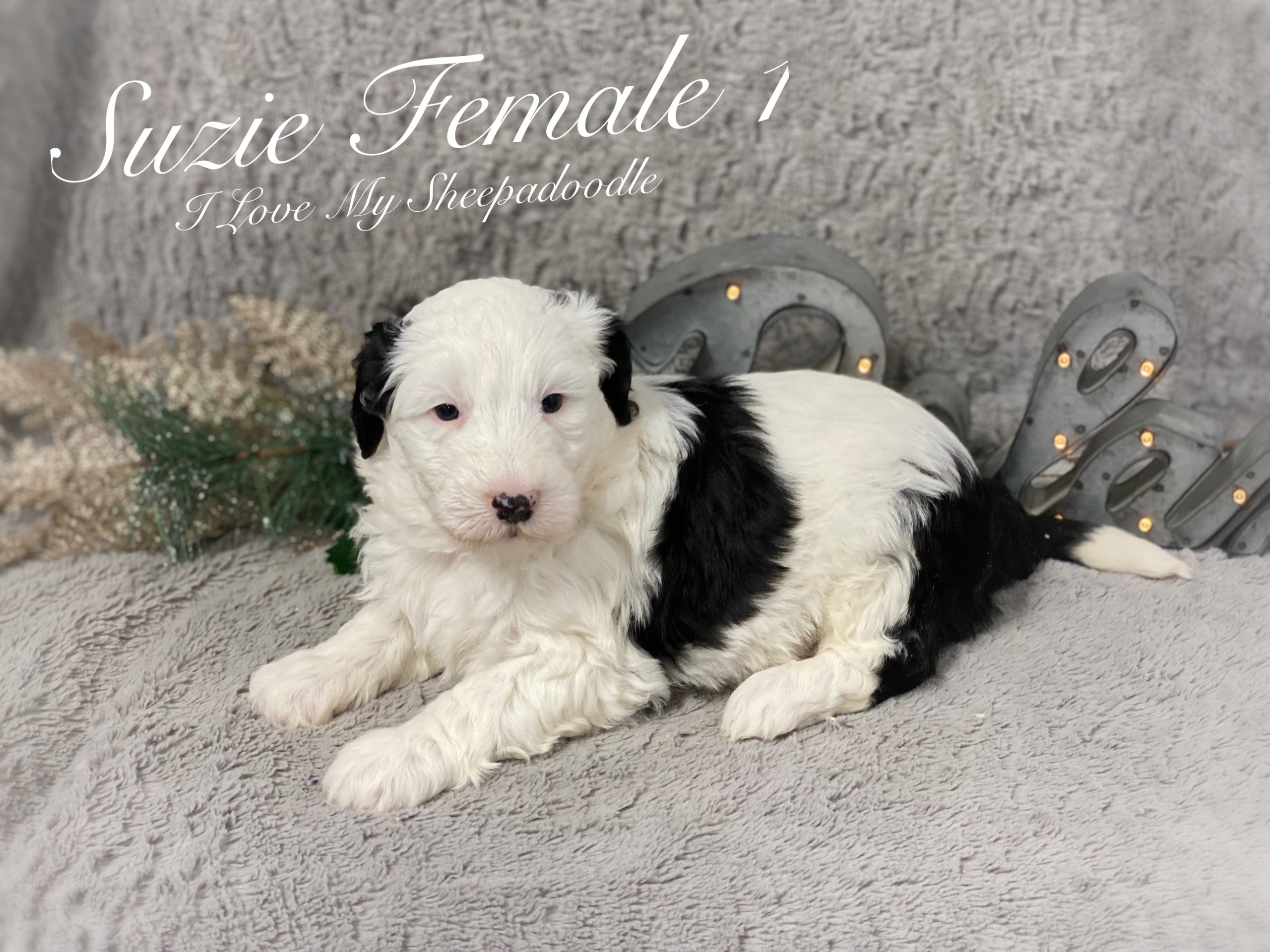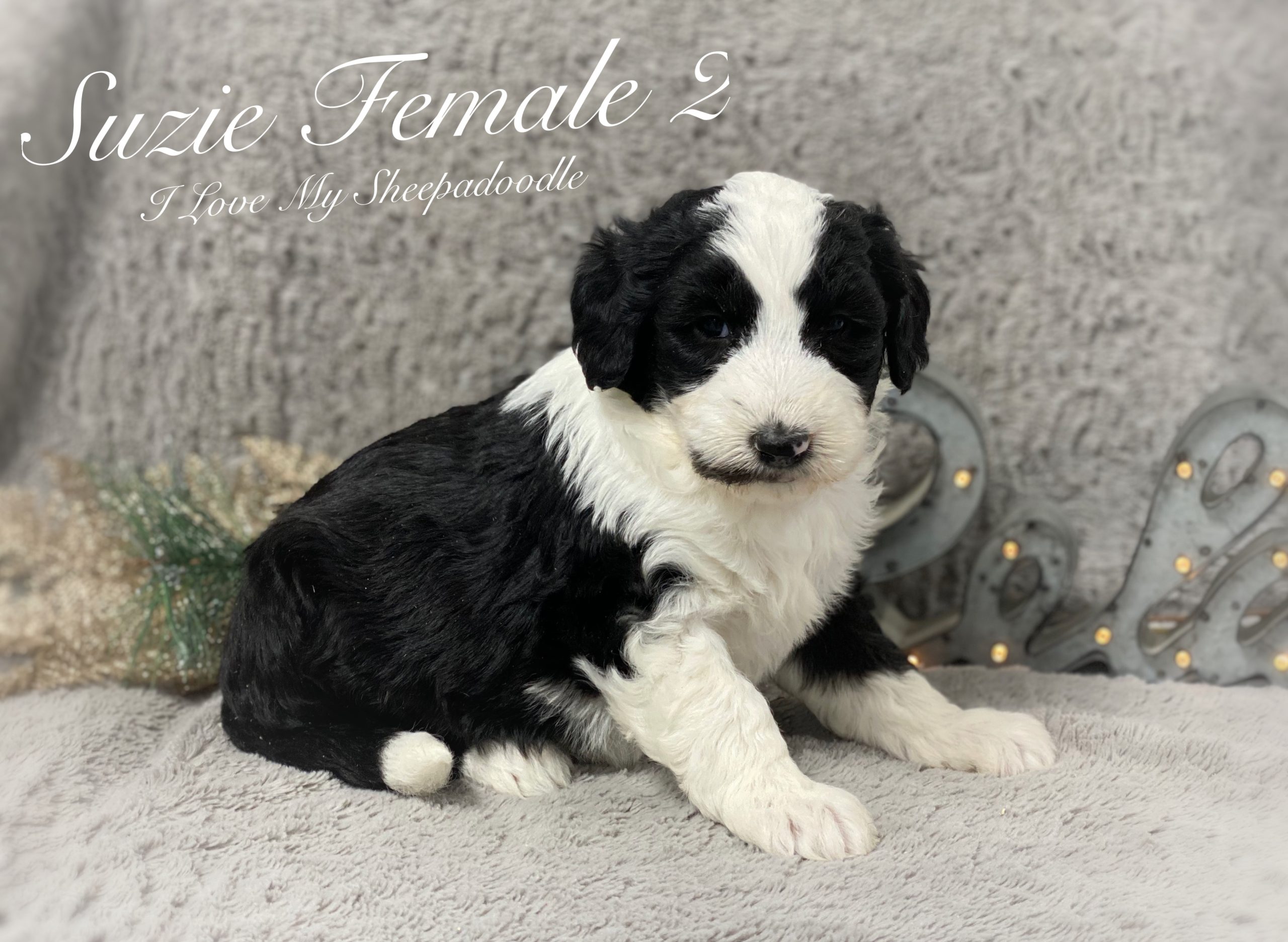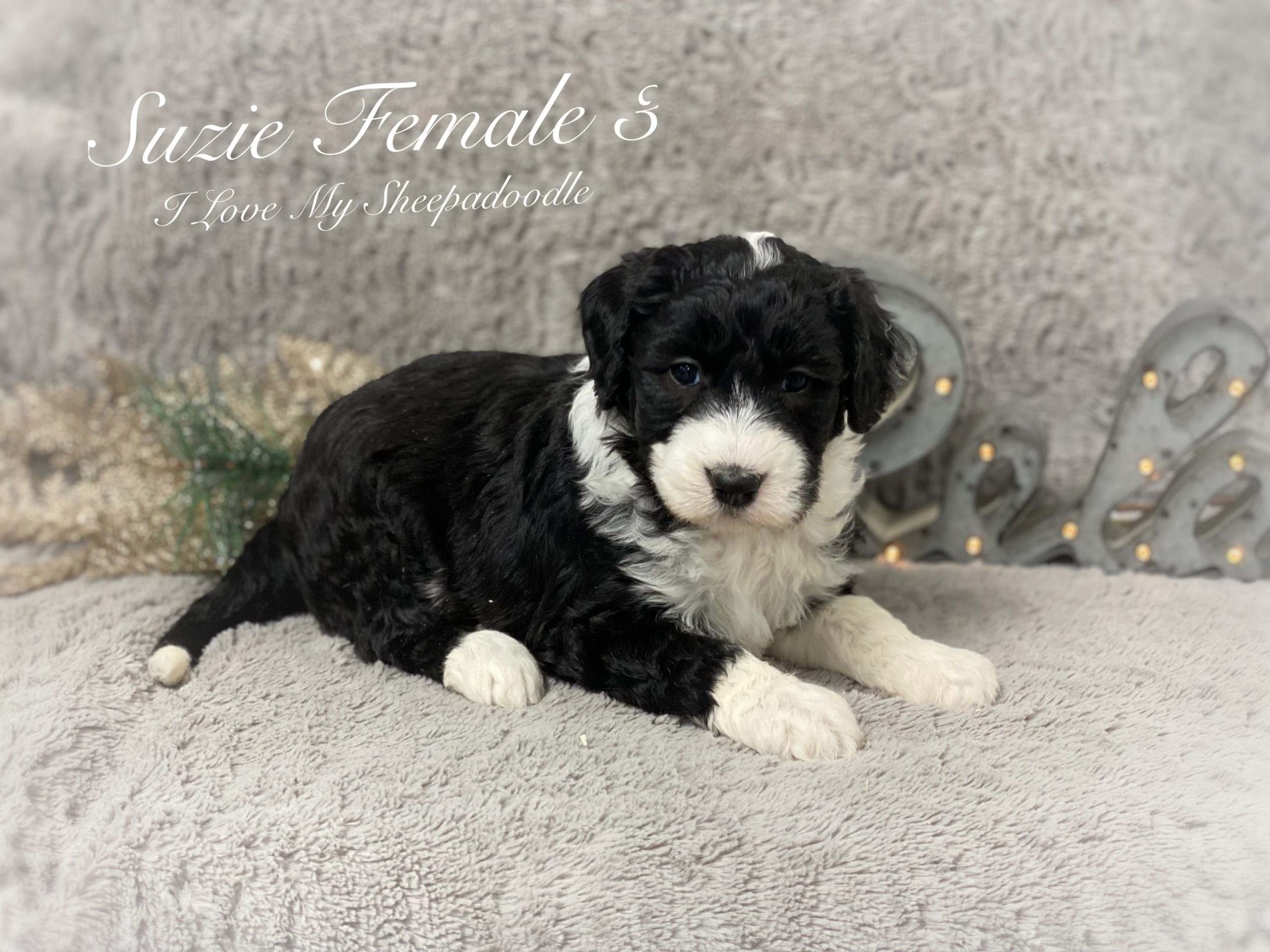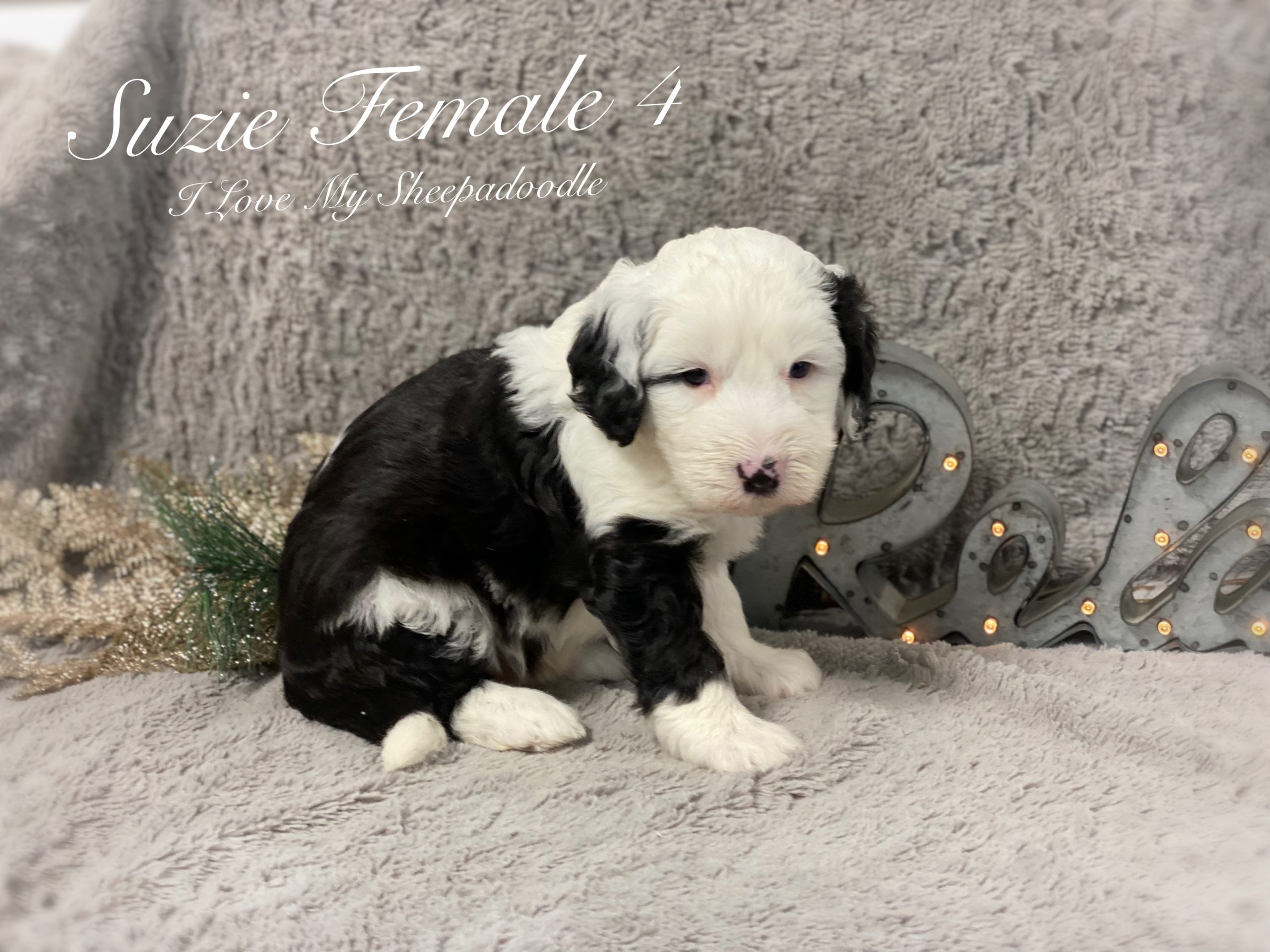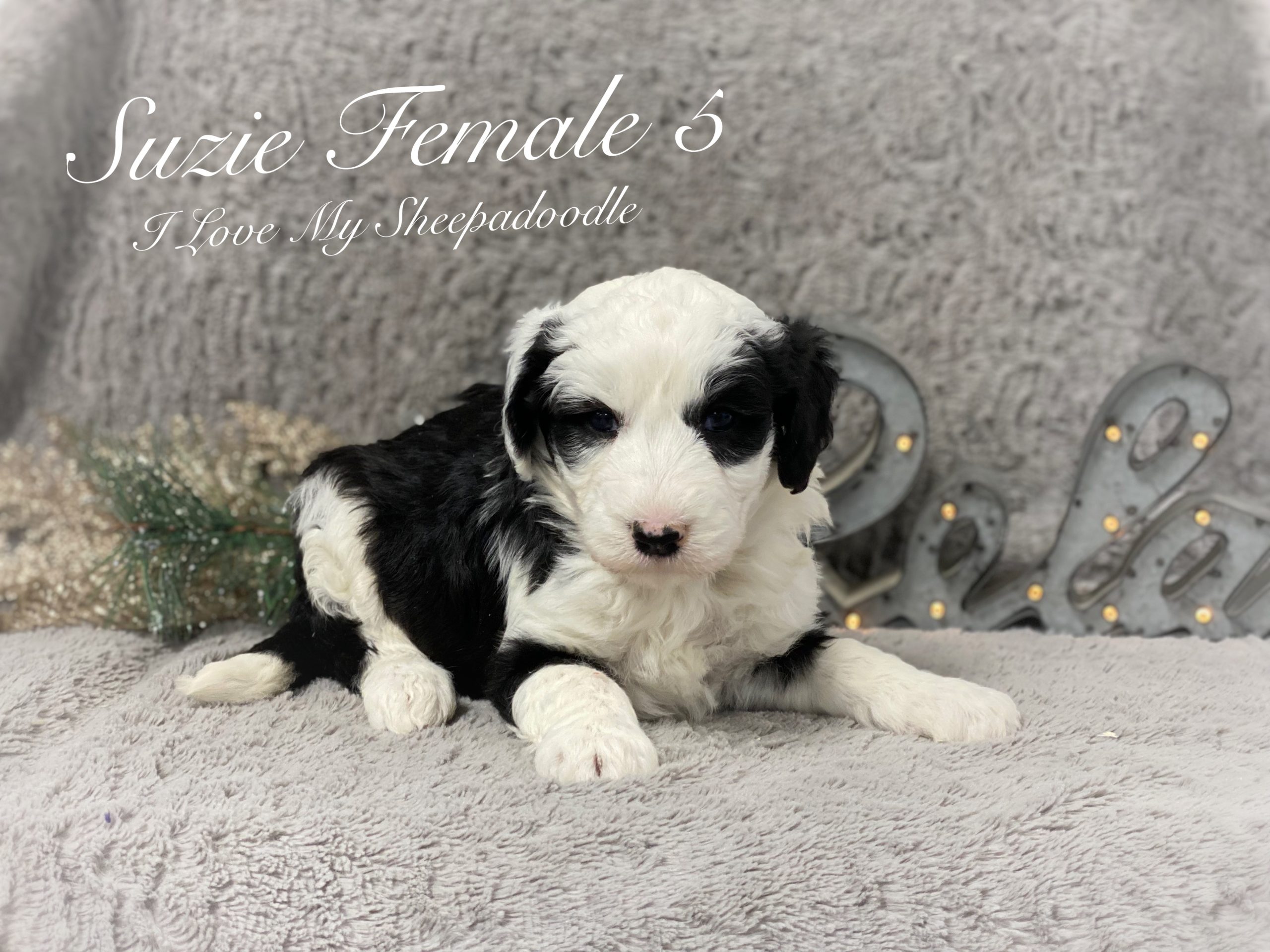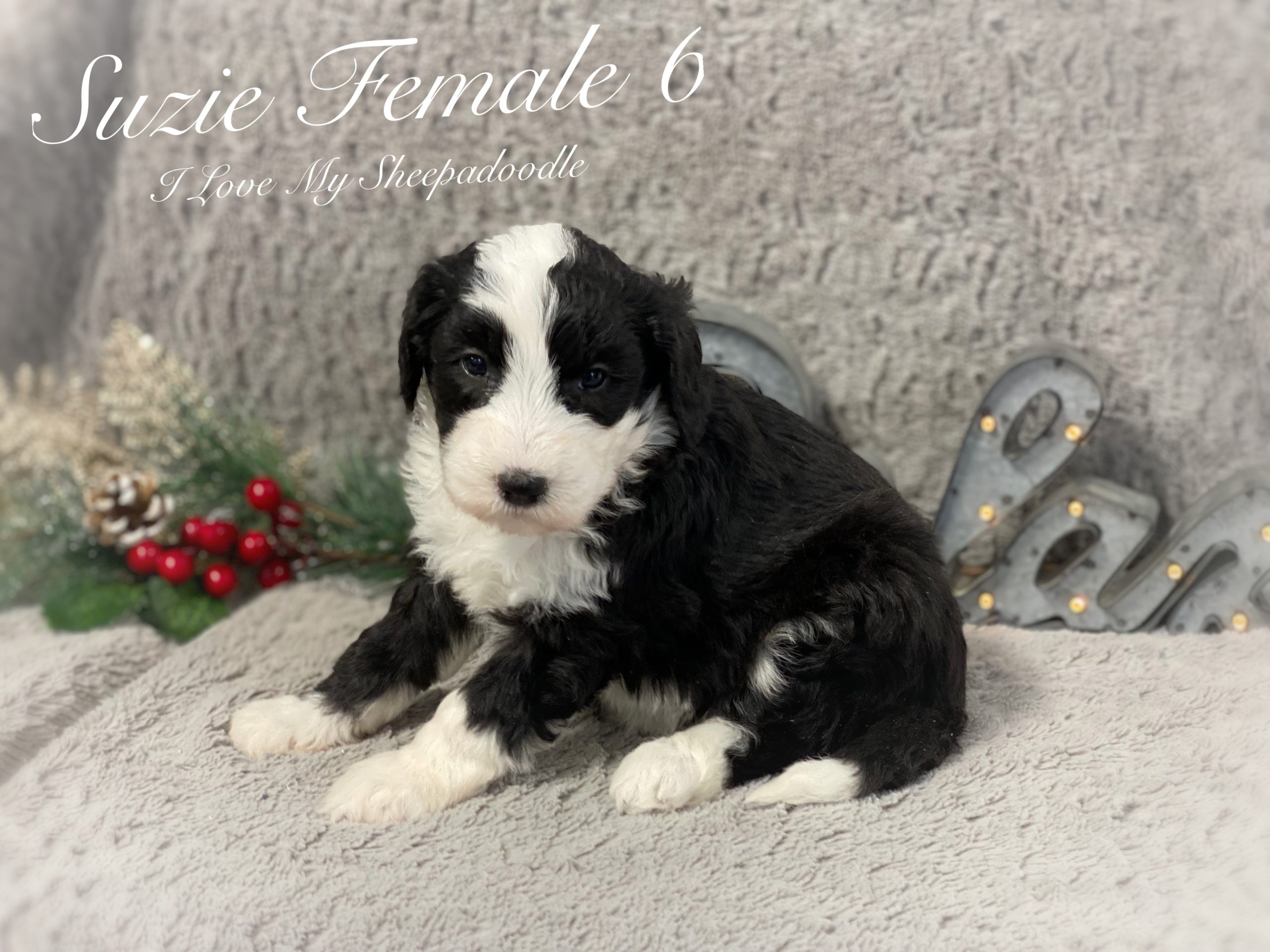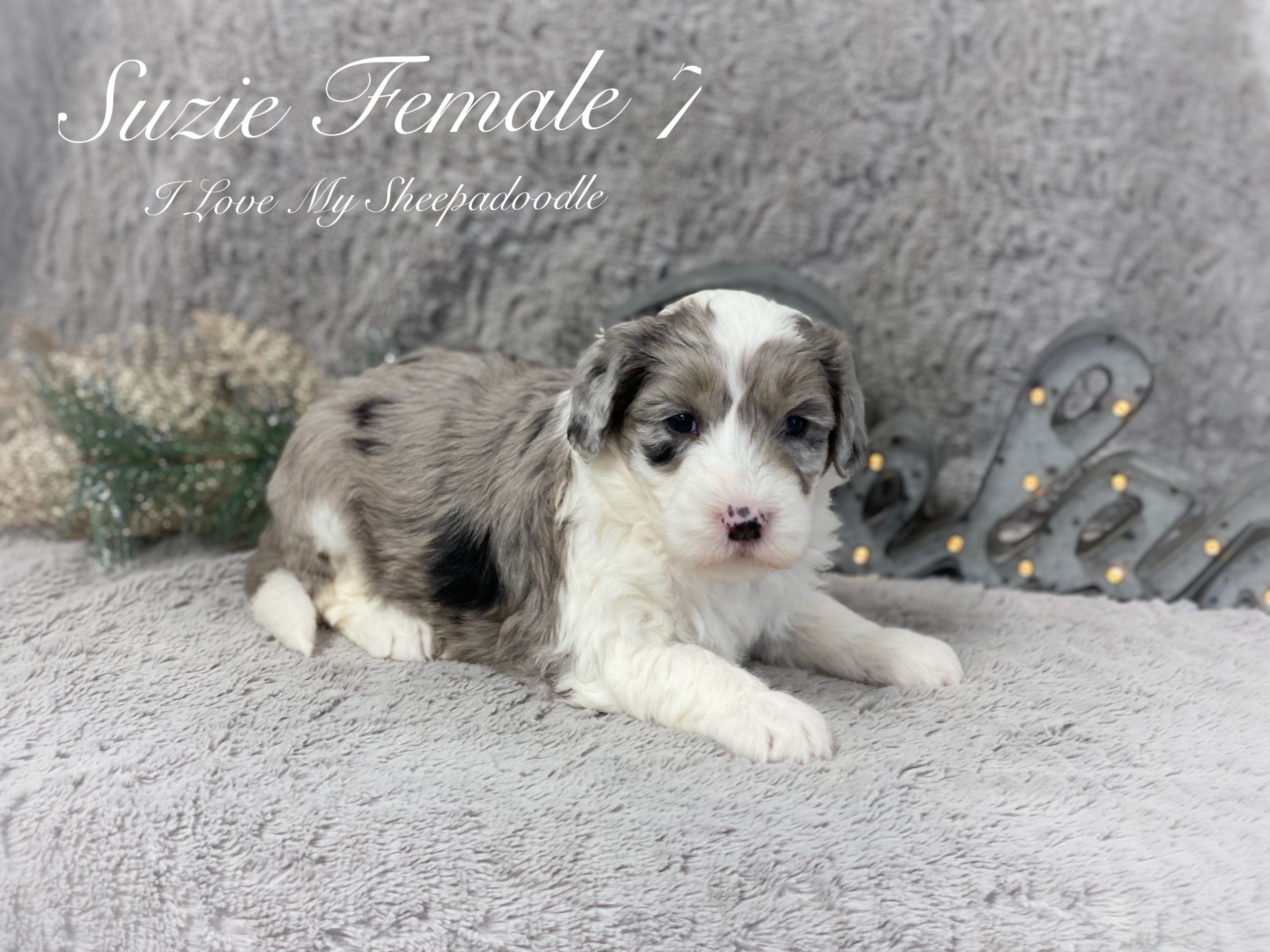 WEEK 1 PHOTOS

WATCH FOR 4 WEEK PHOTOS

MEET THE PARENTS

SUZANNE FLUFFINGTON ~ CKC OES
Suzie is our Old English Sheepdog bred here at I Love My Sheepadoodles.  She lives with her guardian family near Georgetown, ONT.  She loves her family and they loved her equally back!  She has a solid boxy build and has a quiet, steady personality.  She weights in around 70 lbs and is about 25 inches at the shoulder.  We look forward to her producing some gorgeous Sheepadoodles!
Good Hips & Normal Elbows – OFA Prelims
Clear on Paw Print DNA Sheepdog panel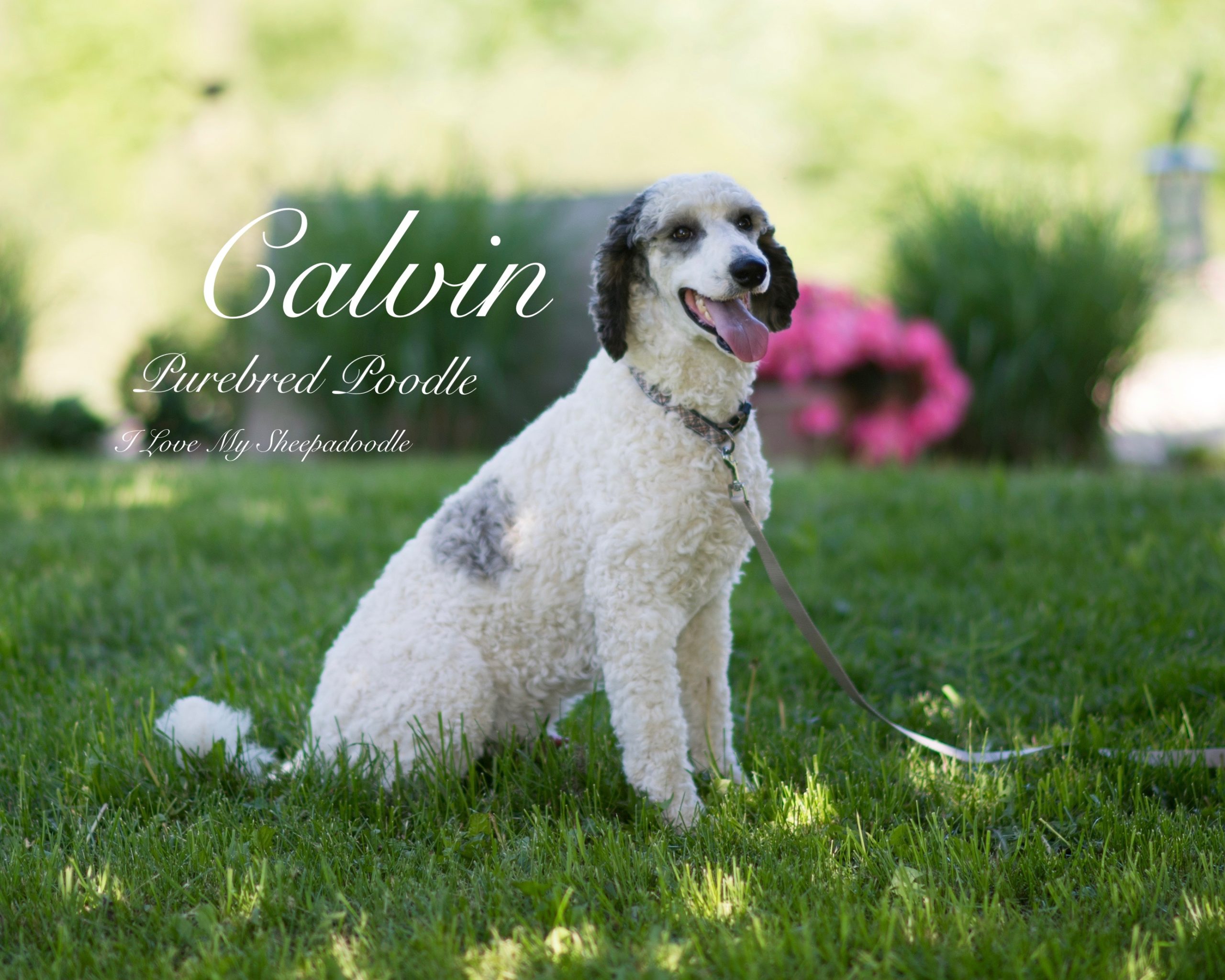 – CALVIN –
CKC MOYEN POODLE
Calvin is a son from our favourite standard poodle Missy and our well loved miniature poodle Tobi.  He is gentle natured, submissive and quiet.  However, he loves the ladies!  We are looking forward to the puppies he will make here at I Love My Sheepaododle.  Calvin has a blue Merle Parti coat with phantom markings so we expect black and white pups or blue merle pups from him.   Calvin is about 40 – 45 lbs and 18 inches tall at the shoulder.
Good Hips & Normal Elbows – OFA Prelims
DNA Cleared by Parentage

SUZIE'S PREVIOUS MOYEN SHEEPADOODLES