Payment Details
PRICING IS NOW $3,500 CD FOR ALL OUR PUPPIES – TAXES INCLUDED
THE TINY SHEEPADOODLE AND MERLE TUXEDO ARE AN ADDITIONAL $500
We will honour prices on past deposits but if you choose to pass on a litter or puppy available to you, then the next puppy would be charged at our new price.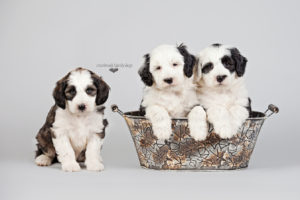 PRICING
Standard F1 Sheepadoodles 50 – 80 lbs ~ $3,500
Moyen Sheepadoodles 40 – 60 lbs ~ $3,500
Mini Sheepadoodle 25 – 50 lbs ~ $3,500
Tiny Sheepadoodle 15-30 lbs ~ $4,000
Puppy Deposit ~ Holds a pup to your name and goes towards purchase ~ $500 Nonrefundable
Pups with Merle Tuxedo markings ~ Extra $500
* Puppy Boarding ~ includes food, deworming and next booster if needed ~ $250/week
Shipping ~ includes airline fee and crate, delivery to airport, health certificate and taxes ~ $650
*(Puppy boarding is only for puppies that people pick here and need an extra week or two. We prefer pups to go home by 9 weeks of age)
WAITING LIST

To join our wait list a deposit is needed.   This shows your commitment to us and ours to you. Deposits are a nonrefundable $500 and go towards puppy purchase.  It holds a pup to your name on our Master Waiting list.  When we have a litter of pups we will go through the Master Waiting list of that size of pup in order deposits are made. We will email you when we get to your name.
When we contact you about an available litter of puppies, please confirm yes or no within 3-4 business days.  We will continue on down the list if we don't hear from you.  If the timing doesn't work, you can wait for another litter.  Your name will stay on our master waiting list for a future litter or puppy opening.  
Deposits are good for 2 yrs.  After 2 years your name dissolves from our list and deposit is kept with us as it is non refundable.  If you request to leave our waitlist you will not get your deposit back. It is non-refundable.
We are always excited to announce puppy births and appreciate all who patiently wait for their puppies to arrive!  Once added to our wait list you will have access to where you are on it.
Breeder reserves 1st and 2nd pick to each litter if desired.   
PAYMENTS

Payments can be made by e-transfer or PayPal. We take a non-refundable $500 Canadian deposit. This goes to the purchase price of your puppy.   This guarantees a puppy to your name and puts you in a picking order based on who gave a deposit first.  If there are no pups available in the litter, your place is held in priority for the next available litter of that size.  We do not take names on our waiting list without a deposit.  Feel free to check back for openings after a litter is born if you decide to wait on a deposit. 
Full payment must be made before the puppy goes to its new home.  Our preferred payment is by e-transfer.  Please make payments for pup at least 2 days prior to puppy pick up.  If paying by certified cheque or cash you can bring that the day of puppy pick up. If your pup is in training, puppy purchase price is due at 8 weeks and training price is due 2 days prior to puppy pick up.
PUPPY PICKING & PICK UP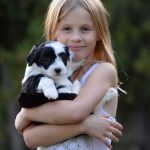 Puppies are chosen around 6  weeks of age.  Picking order comes in order of deposits on the waiting list. Have a few favourites in mind so it helps out at picking time.  Your puppy is ready for its new home between 8 and 9 weeks of age.  After 9 weeks, there is a boarding charge of $40/day or $250/week.  We will arrange a pick up date and time with each new puppy owner when you pick out your puppy.
CONTACT US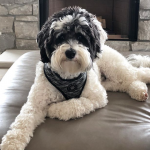 If you are interested in one of our puppies, please fill out our puppy application.  We will get back to you as soon as possible.  We get lots of emails and also spend time with our family and pets so we can't always get back right away. Your emails are important to us and we do try to get back within 5 business days.  Be sure to tell us about yourself and what you are looking for in your future puppy.  Then press submit. You should get an email as well.  Looking forward in hearing from you!