OR

Occasionally we have a retired dog come available. Most of our breeding dogs are already in guardian homes but sometimes we keep some here too.  These dogs are great for people who like to skip the puppy stage.
Our dogs are used to going potty outside on their own in our indoor/outdoor kennel set up.  They are not formally house trained but with some commitment should catch on pretty quick.   All our dogs get along well with each other and with our family and staff.
–
LOOKING TO RETIRE/REHOME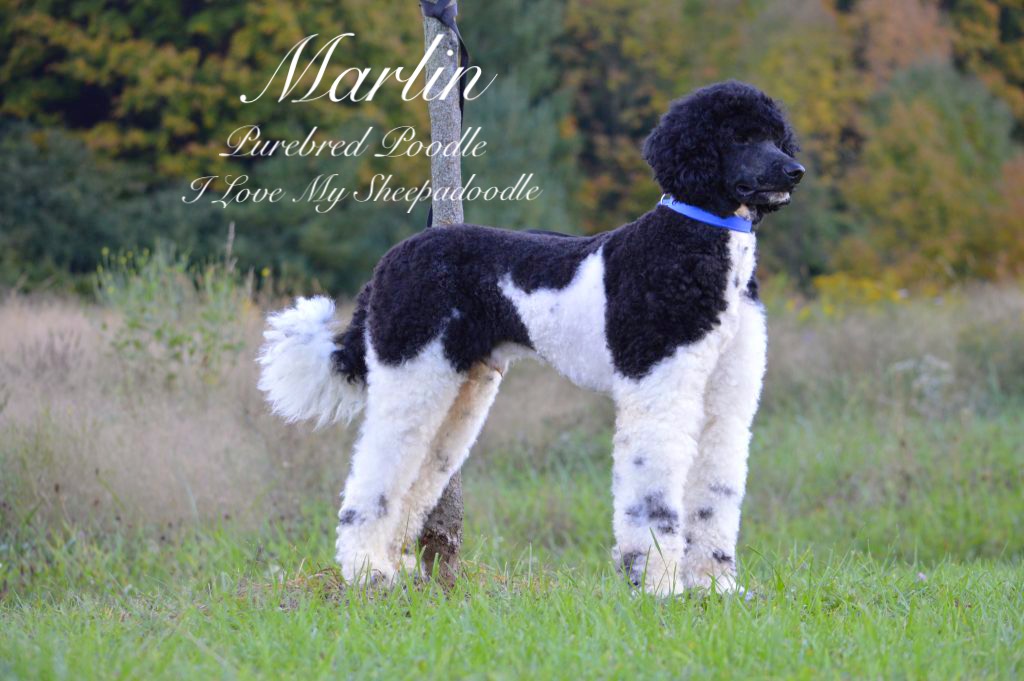 PRINCE MARLIN IN BLACK & WHITE
CKC STANDARD POODLE
Marlin is a striking black and white standard poodle.  He weighs in at 50 – 55 lbs.  He is registered with the Canadian Kennel Club.  He has passed his hips and elbows tests.  He is a prancy boy – a true poodle!  He is also very loyal and stays close by to his owner.  He has a soft coat with a gentle curl to it.  He has made stunning Standard Sheepadoodles in our program!
Good OFA Hips and Normal Elbows.
Embark DNA  – clear with one carrier of DM
AVAILABLE FOR NEW HOME – CONTACT US IF INTERESTED
* $500 CD Taxes Included *
–
4 YEAR OLD
F1B TINY SHEEPADOODLE
~ CHLOE ~
20 lbs F1B TINY SHEEPADOODLE
* SOLD *
Chloe is a F1b Tiny Sheepadoodle who is a part of our guardian program. Her guardian family moved and she needs a new family and home.  Chloe has 2 more breedings remaining in our program and then we will spay her and she will become the new families dog.  Till then she can live with a family but then comes here to have her puppies.
Chloe loves to play, loves people and is very smart and intelligent.  She is like Tigger from Winnie and loves to jump up and down like Tigger when she is excited.  She enjoys sitting on a couch by the window and watching life happen.  Chloe has a wavy, hypoallergenic coat.  She does have a chicken allergy so eats a certain food to keep everything happy and healthy.  Chloe is house trained and crate trained.   She gets along well with other dogs and people.   She weights in just under 20 lbs and is about 16 inches tall at her shoulder.  Her guardian fee is $500 and it includes us covering her spay when she has completed our breeding program.