SOLD OUT
Introducing our 2019 Fall Litter of F1 Sheepadoodles!  We have 3 boys and 3 girls available in Sarah x King's  litter. These pups should mature from 50-80 lbs.  They will have a stronger OES look with black & white wavy coats.   They may shed very lightly – similar to human hair.   The pups will either stay black and white or transition to grey and white with adult coat.  Sarah's past pups tend to keep their black coats.
We will go through our master wait list about a week after the litter arrives.  Updates will be posted here with CONFIRMED beside names from master wait list.
Puppy picking is planned for around 6 weeks of age either in person, by video call or by email/text or phone call.  Pups will be ready to go home January 2 or after between 8-9 weeks of age.   The pups will come with their first booster, several rounds of dewormer, vet check with health records, and a puppy pack including some food, toy, blanket, vitamins and 30 day free pet insurance.
These pups are priced at $2,500 CD taxes in.  Deposits are $500 and go toward puppy purchase.
Feel free to contact us if you are interested in joining our wait list. Possible openings available – depends on how many people decide to confirm to a pup from this litter off our master wait list.  We are planning another F1 Standard Sheepadoodle litter for Spring and Summer 2020.
WEEK 3 PHOTOS
6 Week Photos

Meaghan Cromie & Ryan ~ Cambridge, ON ~ Orange Collar Boy ~ BOWIE
Emily Cooke ~ Aurora, ON ~ Blue Collar  Boy ~ GATSBY 
Adam Betteridge ~ Toronto, ON ~ Brown Collar Boy
Darce & Sue Connell ~ Dundas, ON ~ Pink Collar Girl ~ MAGGIE 
Helen D ~ Toronto, ON ~ Yellow Collar Girl ~ SCOUT
Brian & Kim Traise ~ Purple Collar Girl ~ BELLA
Some Photos & Testimonies
of Sarah's Past Pups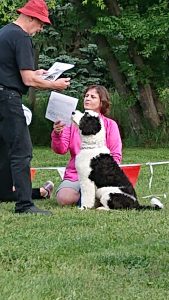 Cargo – Sarah x Bruno January 2019
Cargo got top puppy at puppy obedience class graduation last night. Beat out all those Shepherds. Who's smartest now!? Sheepadoodle! The trainer said she hasn't given out a mark this high in a very long time.  Very smart pup.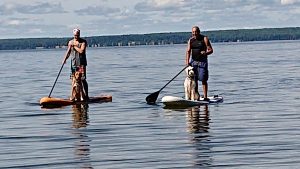 Cargo has mastered paddle boarding, loves all water, picks her own peas and strawberries in the garden.  We get so many people commenting on how well behaved and beautiful she is.  Thank you for a near perfect puppy!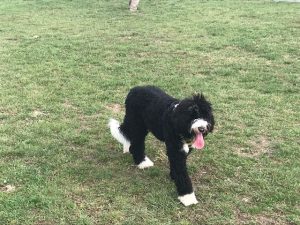 Good morning Delicia, just thought I would forward over a couple of photos of our Basil. Healthy and happy and still growing. Weighs in at 33.9 KG as of last night at the vets. Loves going to the dog park on a regular basis and really enjoys running with the grandkids and walks every day in the forest.
So glad we found you guys and made the leap of faith to go ahead and purchase him, he's an absolute joy to be around and I have let lots of people know where he came from and in fact ran into someone who had one of Sarah's pups as well, but not the same father.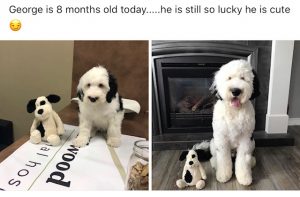 George – Sarah x Marlin January 2019
It has already been almost 10 months and George is growing up so quick. He is very smart and funny, he has his own gentle personality except when he has the zombies…then he is just crazy 😂
He is like a giant teddy bear and can be very cuddly. He has no concept of personal space. He loves to sit next to me and just lean in.
🙂