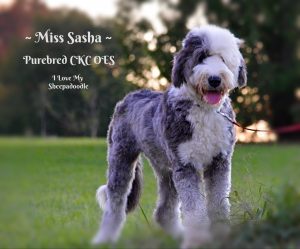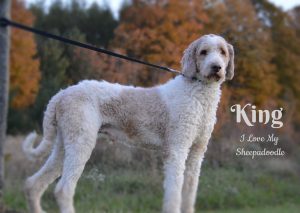 Sasha & King welcome 5 little puppies to this world. These puppies have beautiful markings!  They should mature to around 50 – 65 lbs on average. These pups have straighter, wavier coats – similar to the OES.  We will be planning puppy picking for these pups August 30/31 when they are about 6 wks old. They will be ready to go home Sept 16, 2019 or after.  These puppies are priced at $2,500 CD taxes in.  We will go through our master wait list and then post if there are openings available in this litter.  Contact us if you are interested in one of these puppies.
WAITING LIST
(the following people are on for Chloe's litter but on this as back up)
Check for available openings after Chloe's puppy selection is complete – finalized after August 24th.  
Sasha's Puppy Picking is planned for August 30/31
Possible Breeder's Pick – Female
Jasmine Graham ~ on Chloe's litter but on this as back up
Connie Phillion ~ Kitchener, ON ~ Either Gender ~ on Chloe's litter but on this as back up
Kaitlyn Izon ~ Toronto, ON ~ Male ~ on Chloe's litter but on this as back up
Stacey Lieberman & Sebastien ~ Lantana, Florida ~ Male ~ on Chloe's litter but on this as back up
Connie Smith ~ Lucknow, ON ~ Either Gender ~ on Chloe's litter but on this as back up
Mert Tatari ~ Toronto, ON ~ Moyen or Standard Male with Patches ~ on Chloe's litter but on this as back up
Nancy Martin ~ Sudbury, ON ~ Standard Male from Chloe ~ on Chloe's litter but on this as back up
Robin Walsh ~ Confirmed if suitable pup
Tanya Morris ~ Either Gender ~ Sasha or Suzie's Litter
Amber Saarland ~ Female if available 
WEEK ONE PHOTOS
3 WEEK PHOTOS