Born May 15, 2023
Ready July 10, 2023
 ~ RESERVED ~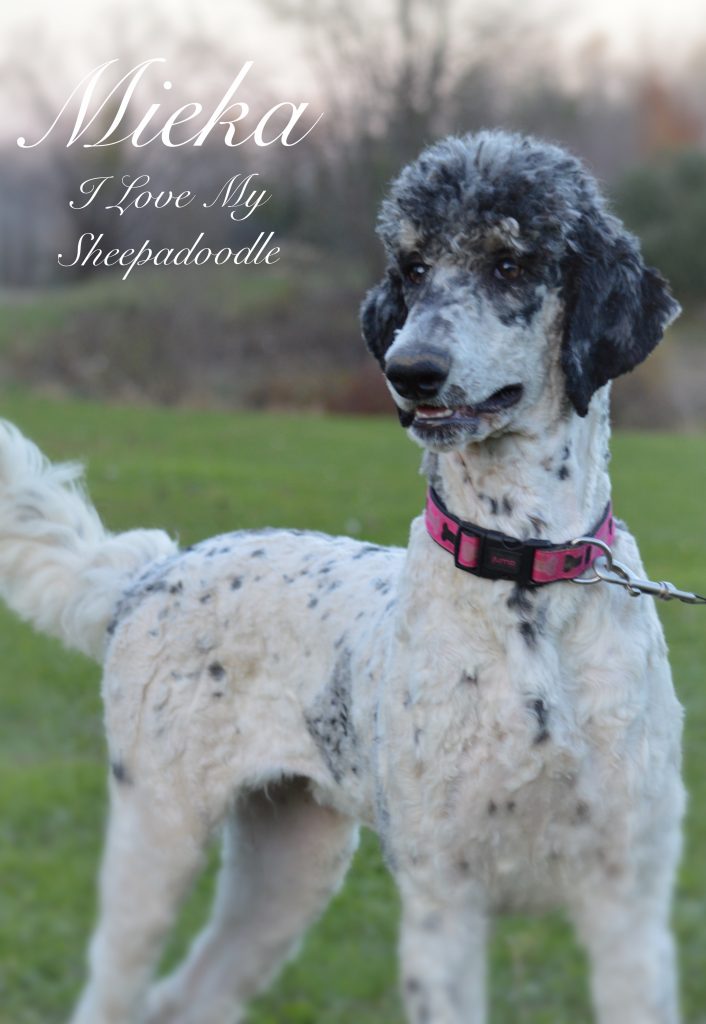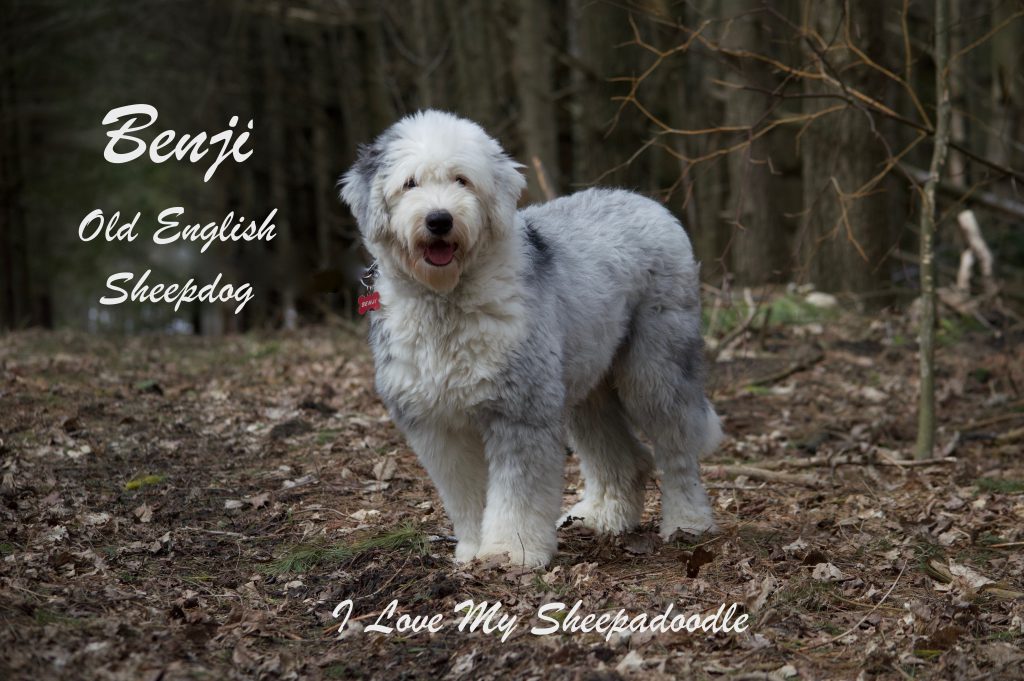 PUPPY INFO
Meika & Benji have 8 stunning Sheepadoodle pups!  This litter has lots of girls, 6 in total.  And 2 handsome boys. These pups should mature to around 70 – 95 lbs give or take some.  These puppies have black and white coats or the blue merle and white coats.  These pups could keep their colour or fade to a lighter shade – time will tell!
This is a F1 litter so 50% Poodle and 50% Old English Sheepdog.  These pups have wavy coats.  These pups should be good for being hypoallergenic.
 Puppy picking is planned for Thursday, July 29, 2023 by video call done in order of waitlist.  Photos will be posted around 1 and 4 – 5 weeks of age here and on social media.  We will also post a puppy description of the pups the week of puppy picking and a video to instagram the day before puppy selection.  After your puppy selection time, we will send you a photo of the pup you choose to share with friends and family.
These pups will be ready to go home Monday, July 10, 2023 or after between the 8 – 9 wks of age. The pups will have their first booster and several rounds of deworming. Our vet will also have done a thorough inspection of each pup.  We will have a puppy pack for each pup with a scented blanket, toy, food coupon previously mailed for online delivery, vet records and vitamin samples, plus the love and fun our family puts into them!
THIS LITTER IS SPOKEN FOR AT THIS TIME
$3,000 CD taxes included

WAITING LIST
Time Slot is beside your name for
virtual puppy selection on June 29/23
1. Kate G ~ Toronto, ON ~ Preference for male ~ Deposit made Feb 1/23 ~ 10 am
2.  Jennifer H ~ Colborne, ON ~ Preference for male ~ Deposit made Feb 23/23 ~ 10:30 am
3. Kells E and Sean H ~ North York ~ Preference for Male ~ Deposit made Feb 24/23 ~ 11 am
4. Patti VH ~ Erin, ON ~ Preference for Male ~ Deposit made March 11/23 ~ 11:30 am
5. Stefany K ~ Kitchener, ON ~ Preference for Female ~ Deposit made March 12/23 ~ 12 pm
6. Caitlin & Phil L ~ Limoges, ON ~ Deposit made April 4/23 ~ 1 pm
7. Aditya T ~ York, ON ~Deposit made April 12/23 ~ 1:30 pm
8. Angela F ~ Port Colborne, ON ~ Deposit pending May 23/23. ~ 2 pm

1 WEEK PHOTOS
WATCH FOR 4 – 5 WEEK PHOTOS

MEET THE PARENTS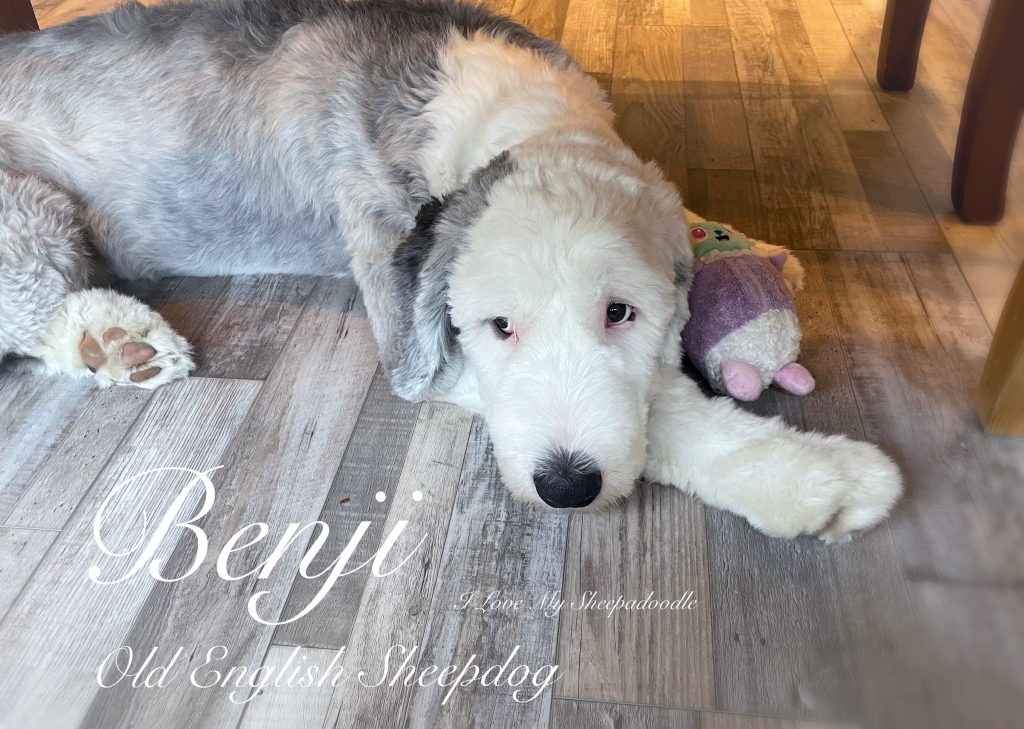 My Hunter's A Handsome Guy
"Benji" – CKC Old English Sheepdog
Benji is our purebred CKC Old English Sheepdog.  He lives with his guardian family in the Kitchener area.  He is well loved by dad and mom and 2 teenager human brothers.  His family calls him Benji yet he still knows his puppy name Hunter from the young days he lived with us at our country property.  Benji is a teddy bear dog!  He is soft and gentle in personality and looks.  We kept him back from our own breeding stock.  His mom Chloe is our top OES breeding dog in our program.  His dad is Henry.  Both his parents are calm and gentle and he carries those attributes as well – from a pup and into adulthood.  Benji has matured to around 65 lbs.   We look forward to F1 Standard Sheepadoodle puppies starting Spring 2022!
Fair Hips & Normal Elbows – OFA Prelims
Clear by parentage – Both parents clear on Paw Print DNA Sheepdog panel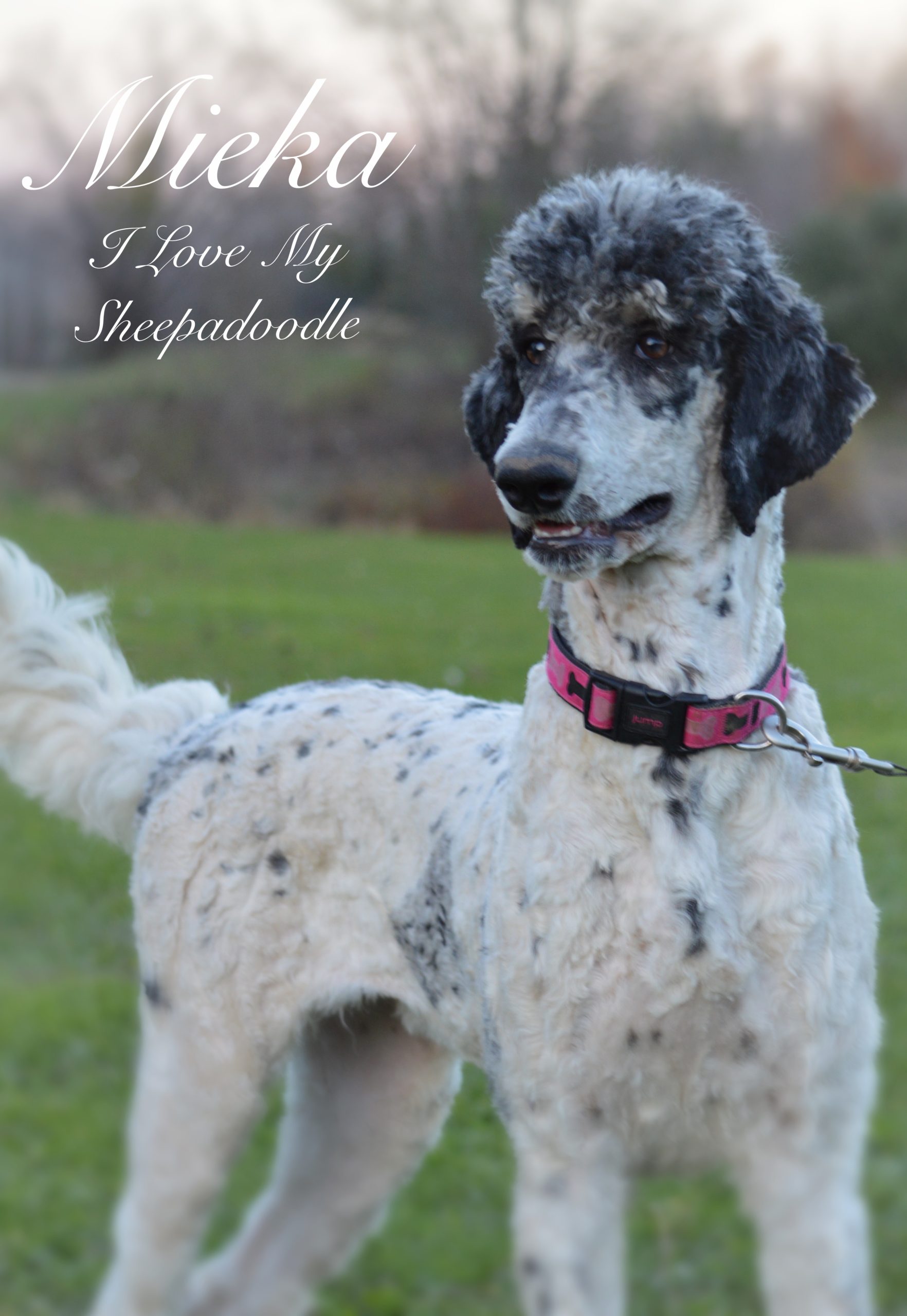 ~ MEIKA ~
CKC STANDARD POODLE
Meika is one of our new girls here at I Love My Sheepadoodle.  She comes from one of my favourite moms in our breeding program – Missy our now retired CKC poodle.  Her father is also a favourite from another breeder's program, a big, study, strong structured phantom merle poodle.  Meika is big and tall like her dad.  She loves people! She also loves to play! She has a winsome, free spirit and always seems happy.  She weighs in around 60 lbs and is about 26 inches tall at her shoulders.  We look forward to her Sheepadoodle puppies in 2022 and after.
Good Hips & Normal Elbows – OFA Prelims
Paw Print Genetics ~ Clear on Poodle Panel
SOME OF MEIKA & BENJI'S
PAST F1 SHEEPADOODLES
~
ON INSTAGRAM
~
AS PUPS