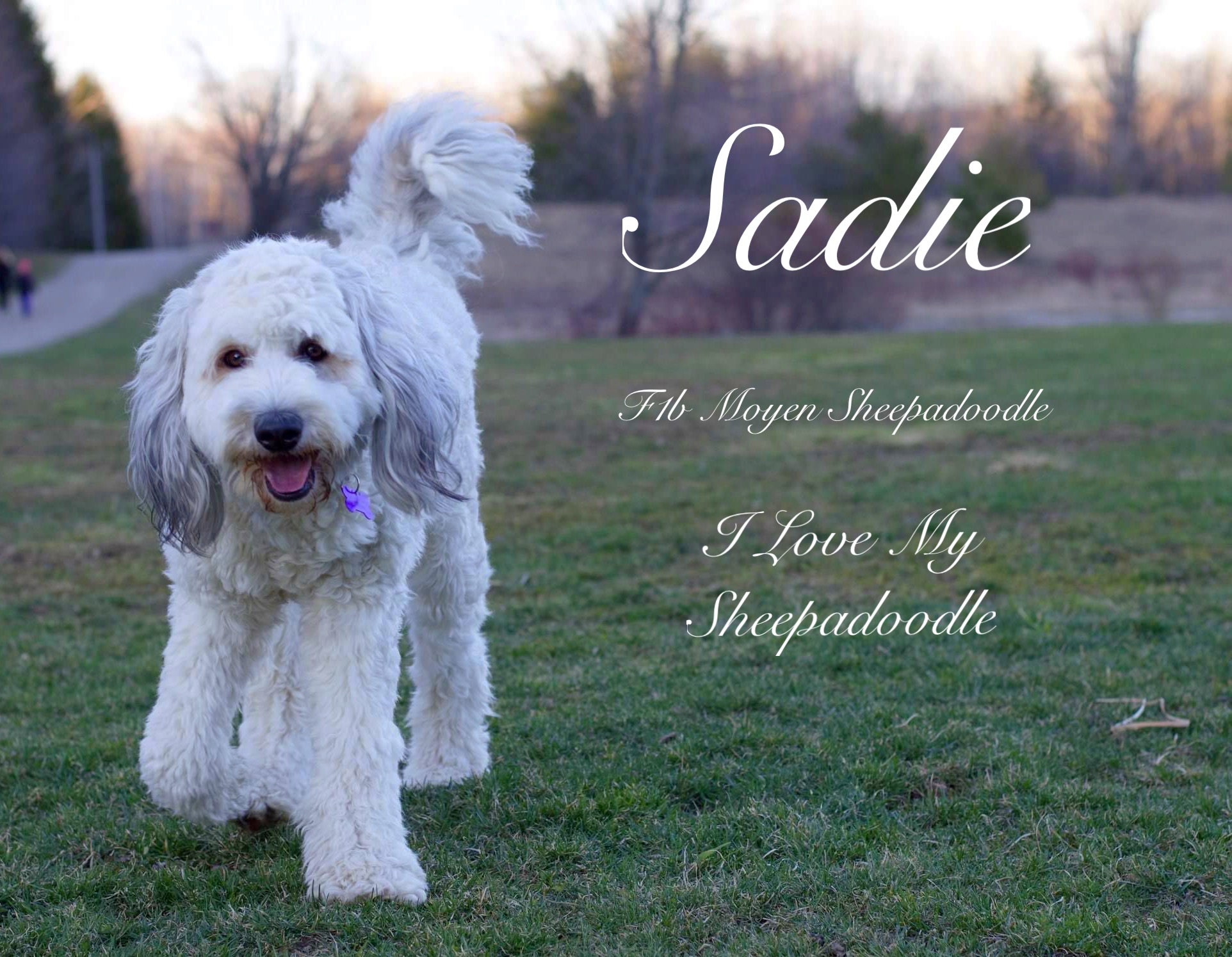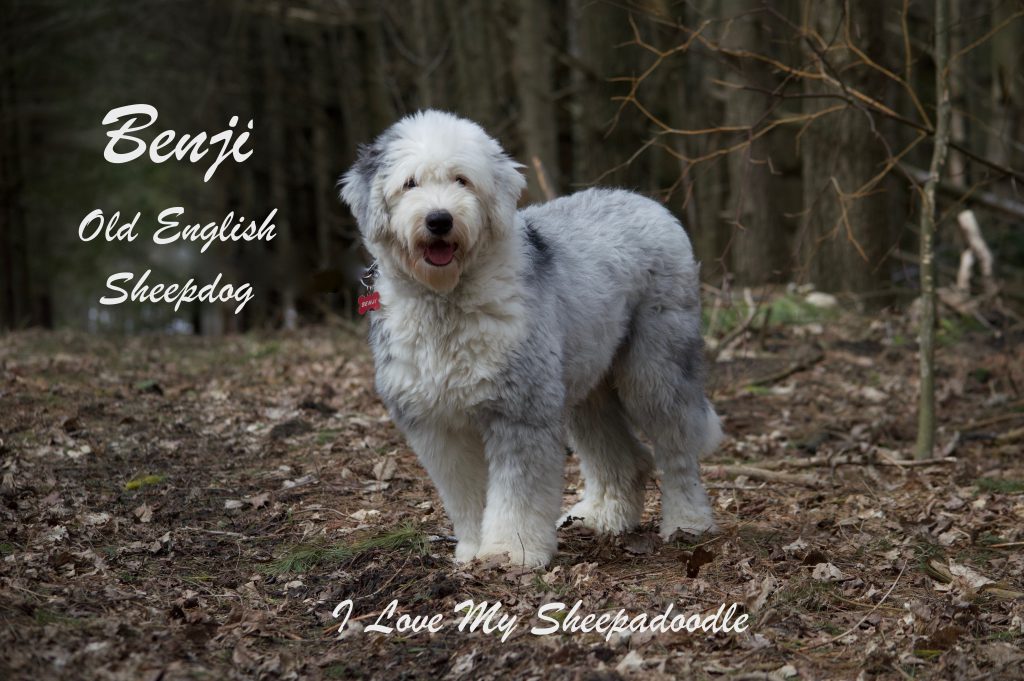 The Puppies!
Ready for homes July 21, 2022
~ $3,000 CD ~
Sadie & Benji welcome a beautiful litter of Standard Sheepadoodle puppies.  There are 11 gorgeous puppies in this litter.  We have 5 handsome boys and 6 cute little girls. All these pups have wavy coats that should be hypoallergenic, low to non-shedding coats – similar to human hair.
These Sheepadoodles are a blend of F1b Sheepadoodle to purebred Old English Sheepdog.  They are about 1/3 Poodle and 2/3 Old English Sheepdog – the technical numbers are 62.5% OES and 37.5% Standard Poodle.  It is half way between a F1 Sheepadoodle and F1b Reverse Sheepadoodle.  I have read this blend is called a F2B Reverse Sheepadoodle.
The pups in this litter are expected to be in the 50 – 80 lbs range.  I expect the pups to matured to an average of around 22 – 26 inches high at the shoulder.  Sadie weighs in around 50 lbs and Benji weighs in around 70 lbs.
Both parents are very sweet and gentle natured so I expect the same from the pups in this litter! Both could be therapy dogs and bring joy and meaning to their guardian families.
We are planning puppy selection for these pups at an early age. 
With your application mark which top 3 pups you would like in order.  Once we have confirmed your spot and the available pup of your choice for you, then you can hold that pup with a $500 deposit. We may need a few days to sort it out depending on how many people apply at the same time.  We appreciate your promptness as I am sure you do ours.
The next individual puppy photos will be posted around  4 – 5 weeks of age on our website and social media.  A video of the pups will also be posted on Instagram around 6-7 wks of age.
Pups will be ready to go home July 21, 2021 or after between 8-9 weeks of age.
The pups will come with their first booster, several rounds of dewormer, vet check with health records, and a puppy pack including a toy, blanket, probiotic paste, vitamins and optional 30 day free pet insurance.  We send a food link where you can order puppy food directly from Royal Canin as well as an online coupon to use towards your first purchase.

If you are interested in one of these pups for your own, you can fill out a puppy application.  Let us know which pup/s you like!  And tell us a bit about yourself.  We will get back to you within the next 24 – 48 hrs (take note we are closed Sundays) with more info on the next steps.
We look forward to helping your family with one of these lovely pups!
Priced at $3,000 CD taxes included
–

–
WAITING LIST
–
1. Daniel Walker ~ Kingsville, ON ~ Male 4
2. Cathy Rogers ~ Dundas, ON ~ Male 2
3. Jordan P ~ Kitchener, ON ~ Female 1 
4. Brenda W ~ Orillia, ON ~ Male 5
5. Available
6. Available
7. Available
8. Available
9. Available
10. Available
11. Available
–

–
4 WEEK
PHOTOS
Note: M1, M2, F2, F3 have sable colour coats like their mom Sadie
–
–
WEEK 1 PUPPY PHOTOS
Note: M1, M2, F2, F3 have sable colour coats like their mom Sadie
–
WATCH FOR 4 – 5 WEEK
PHOTOS
–
PAST PUPPY PHOTOS
FROM SADIE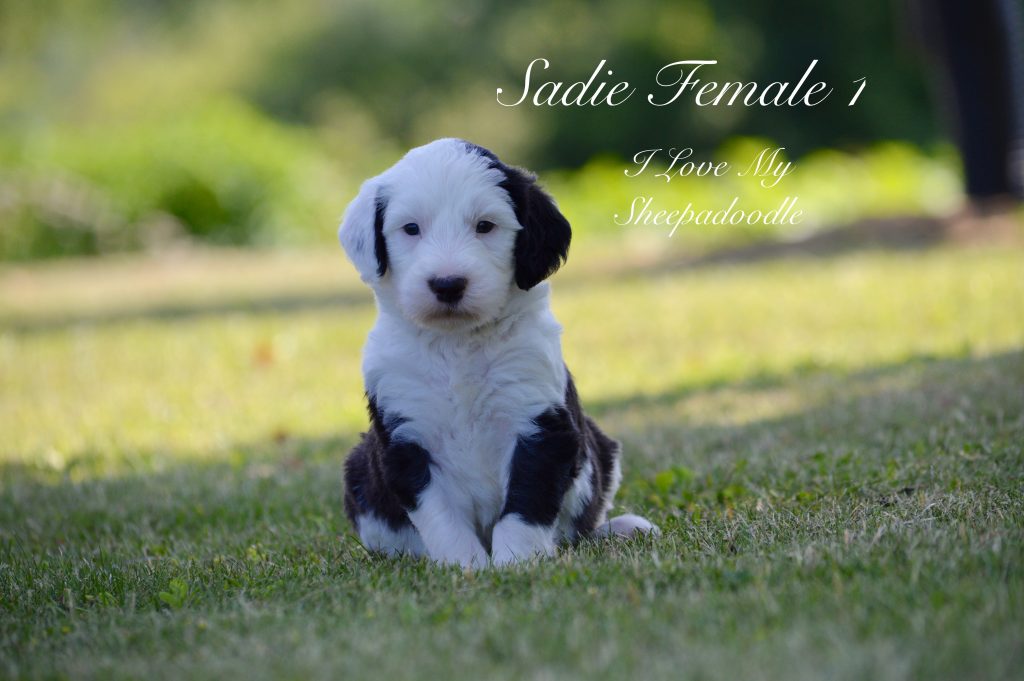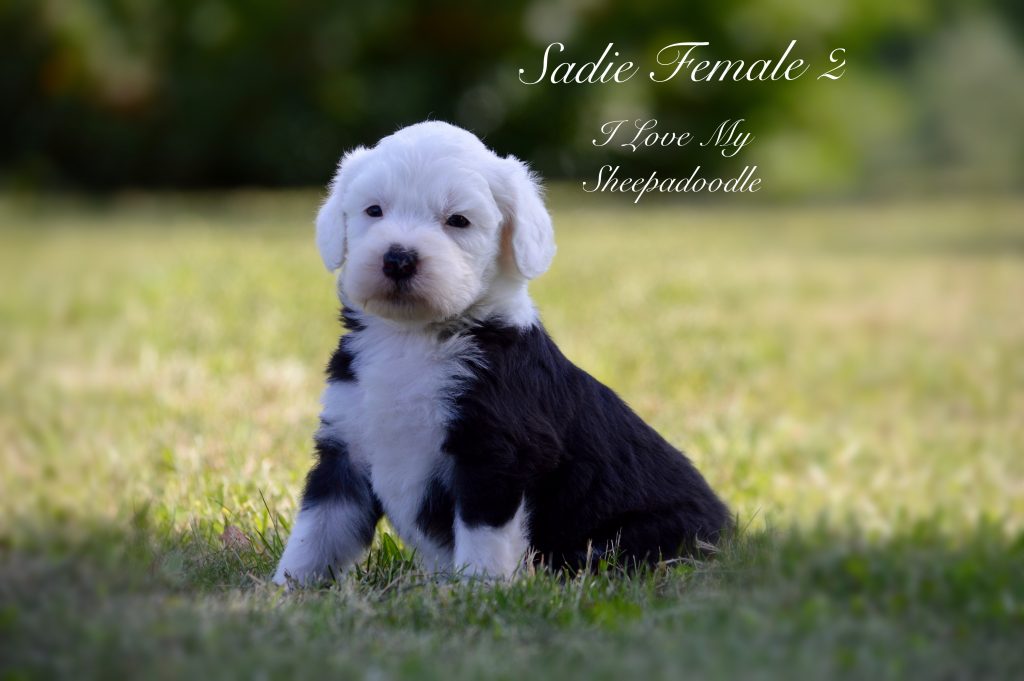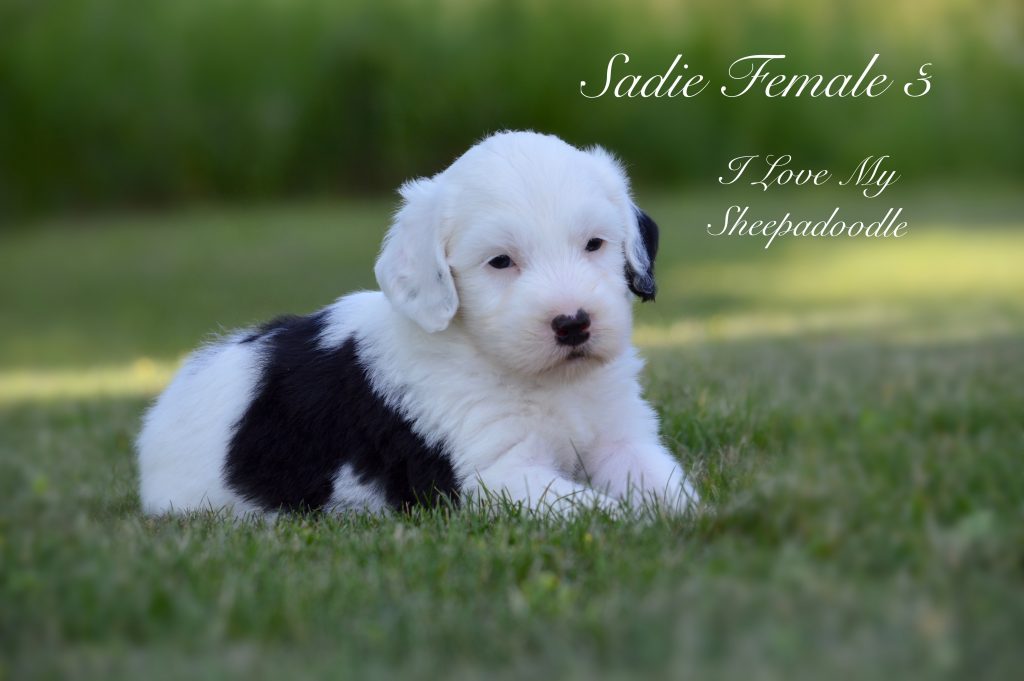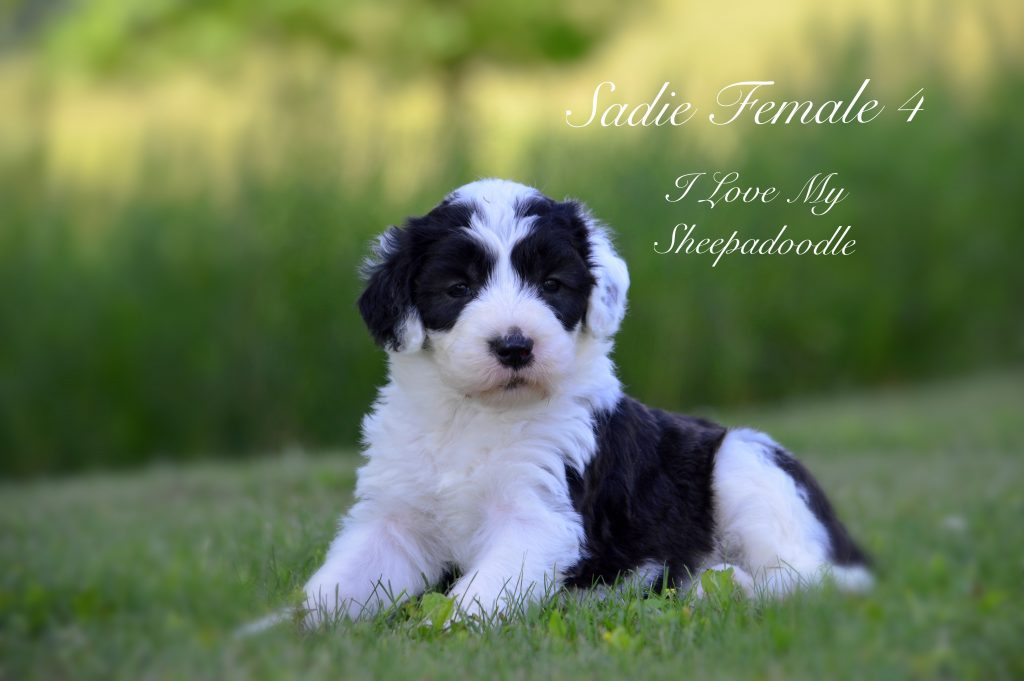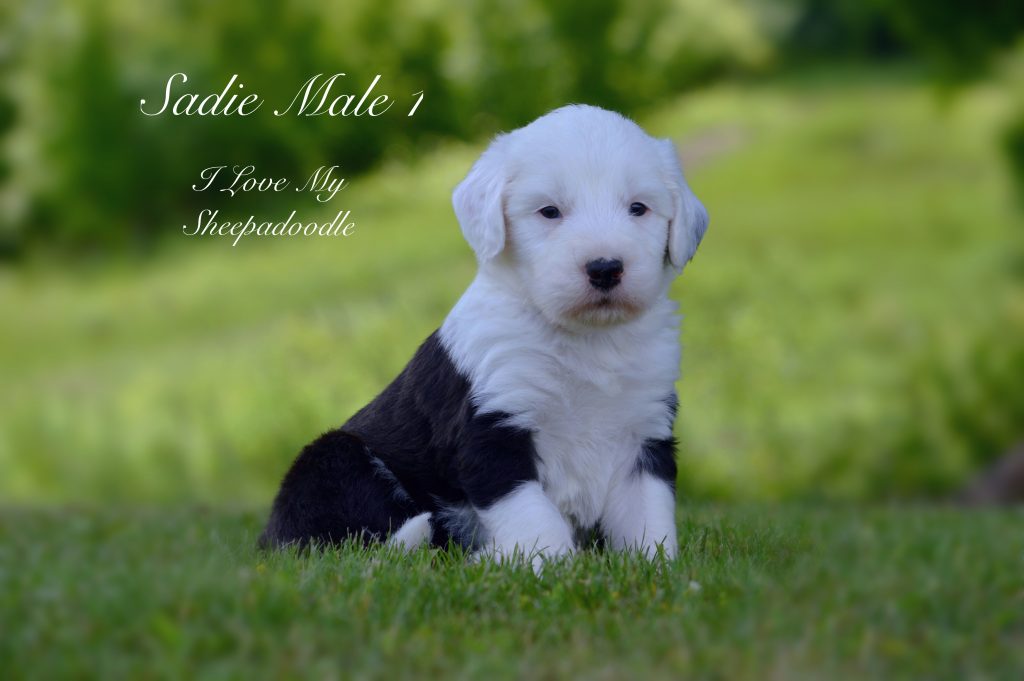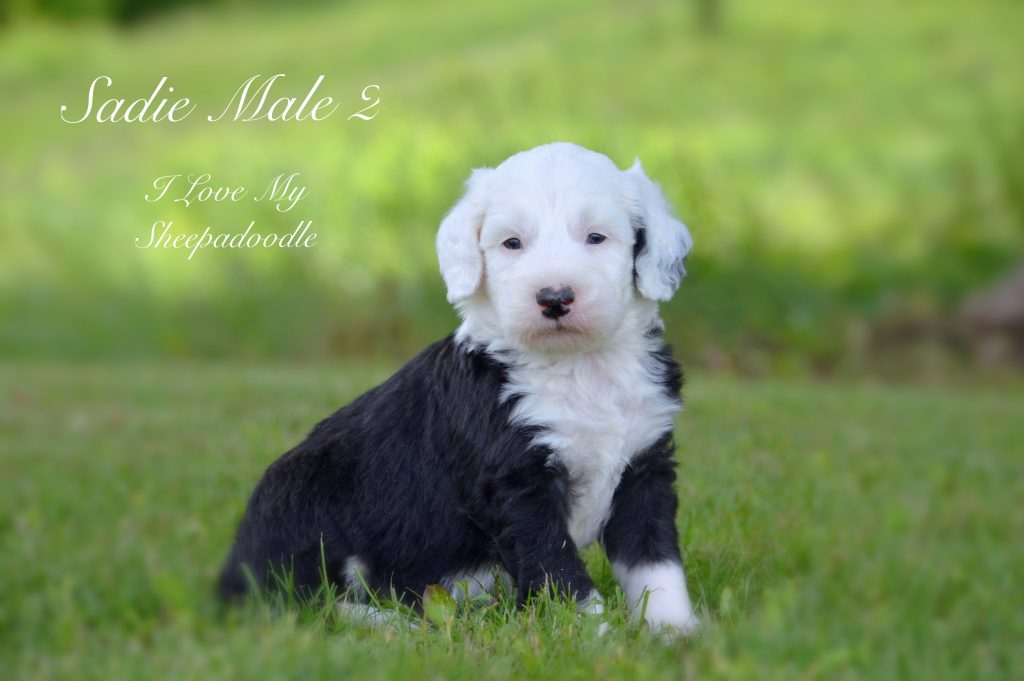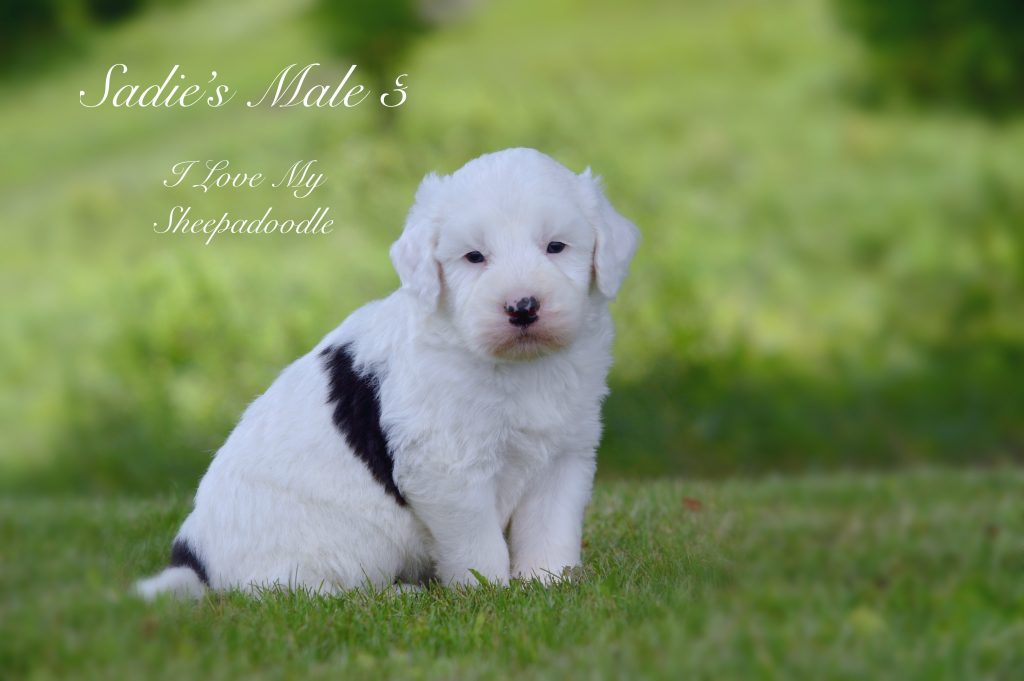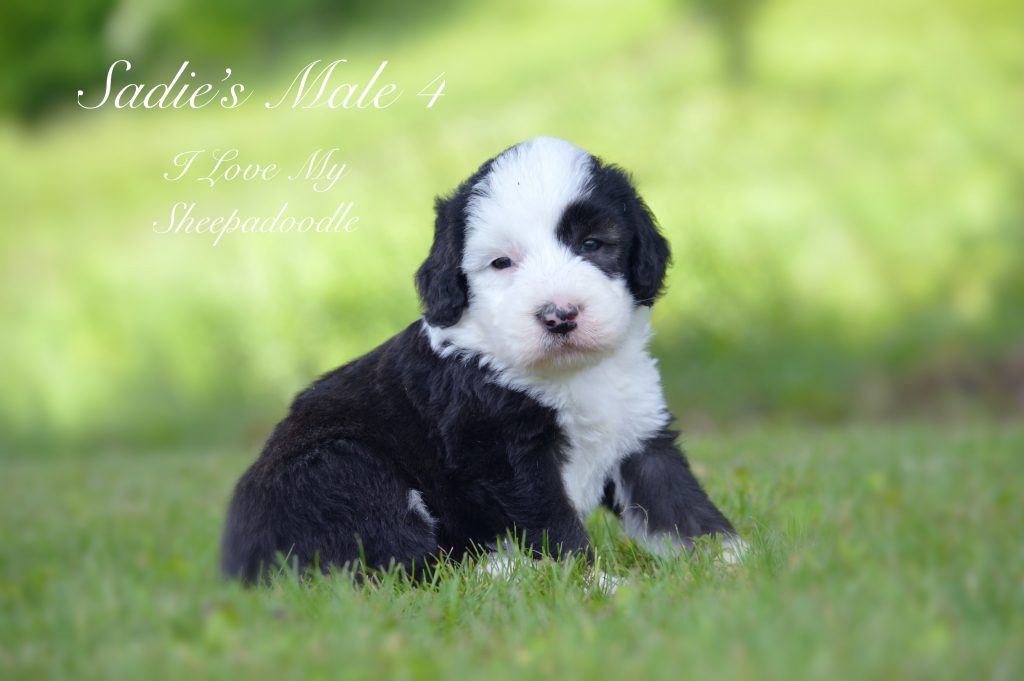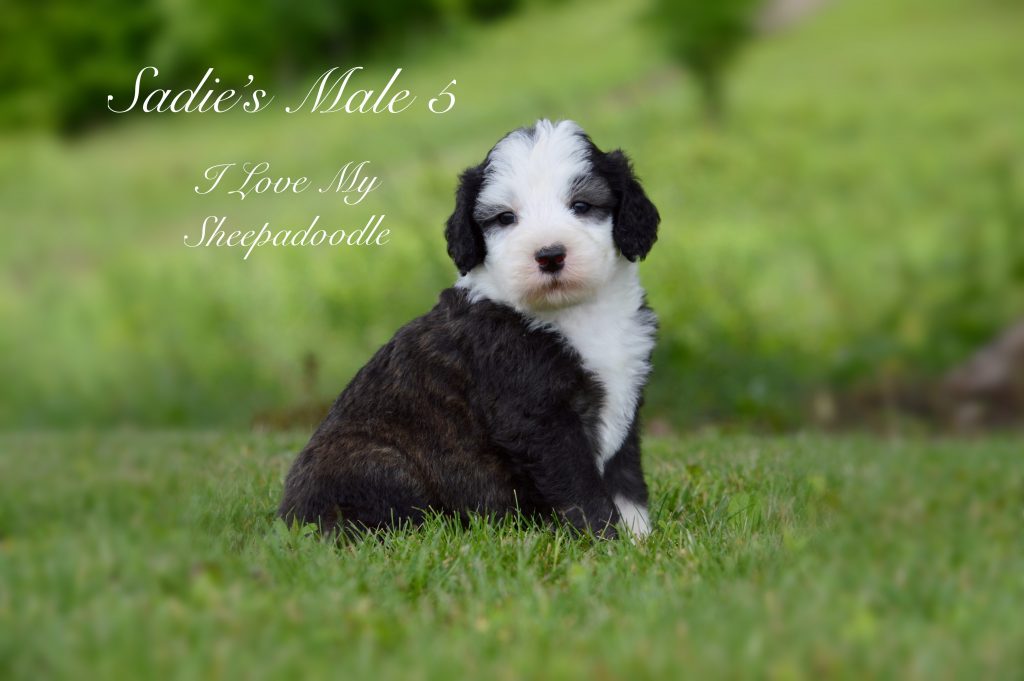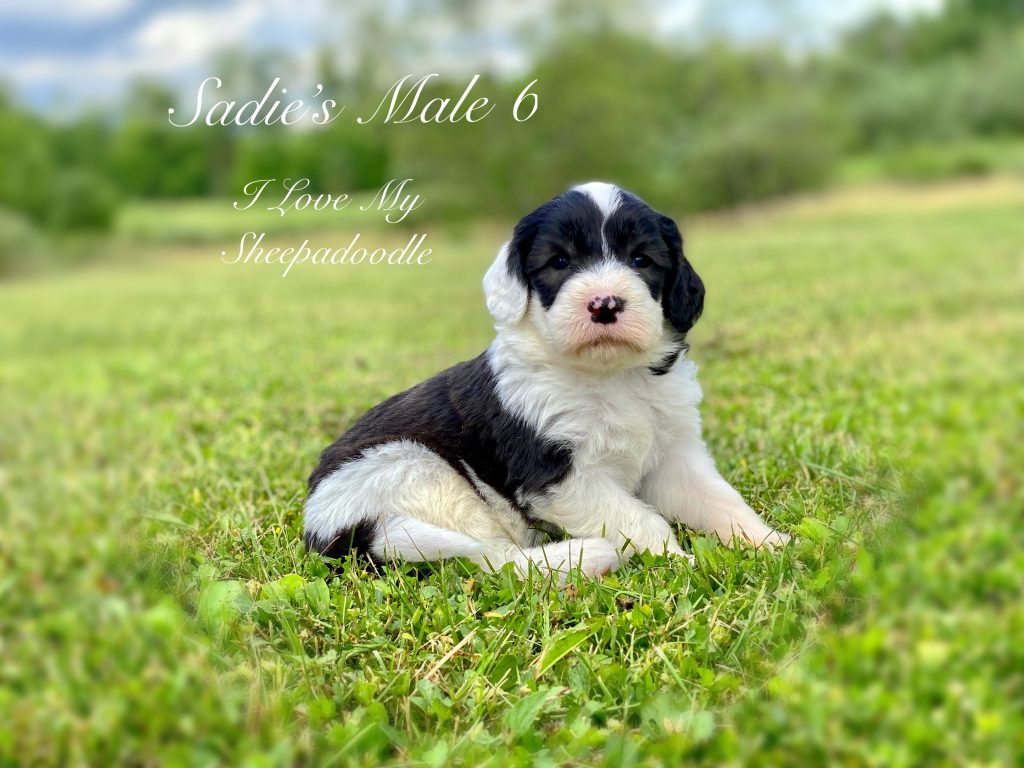 MATURE PUP
FROM SADIE
–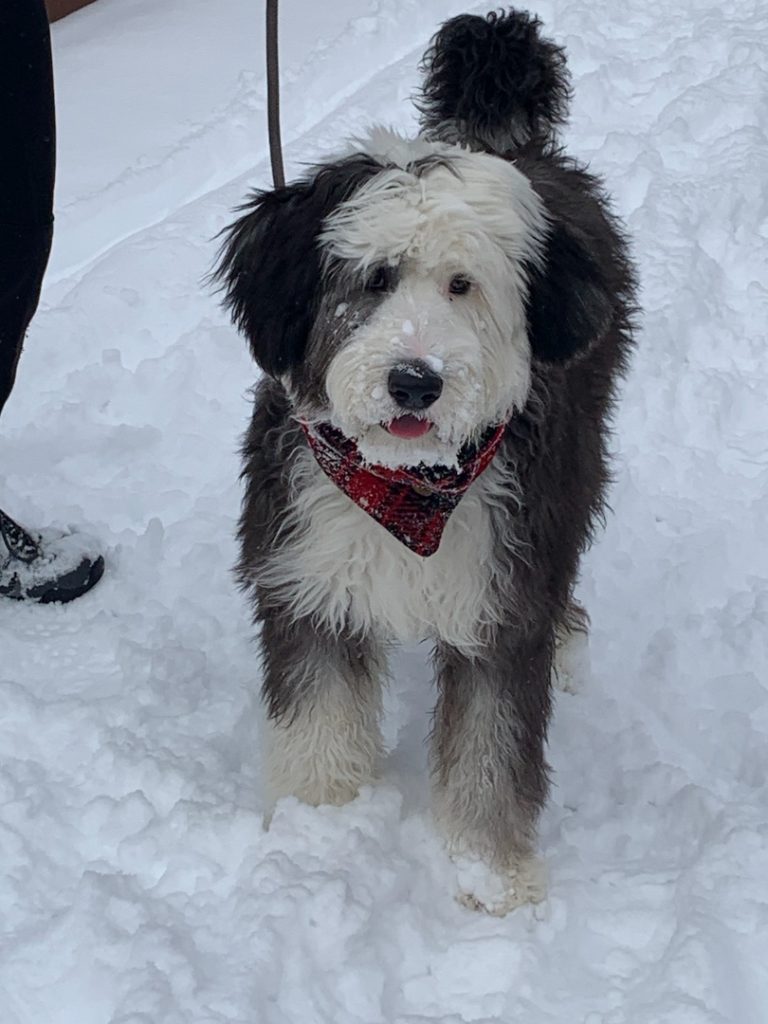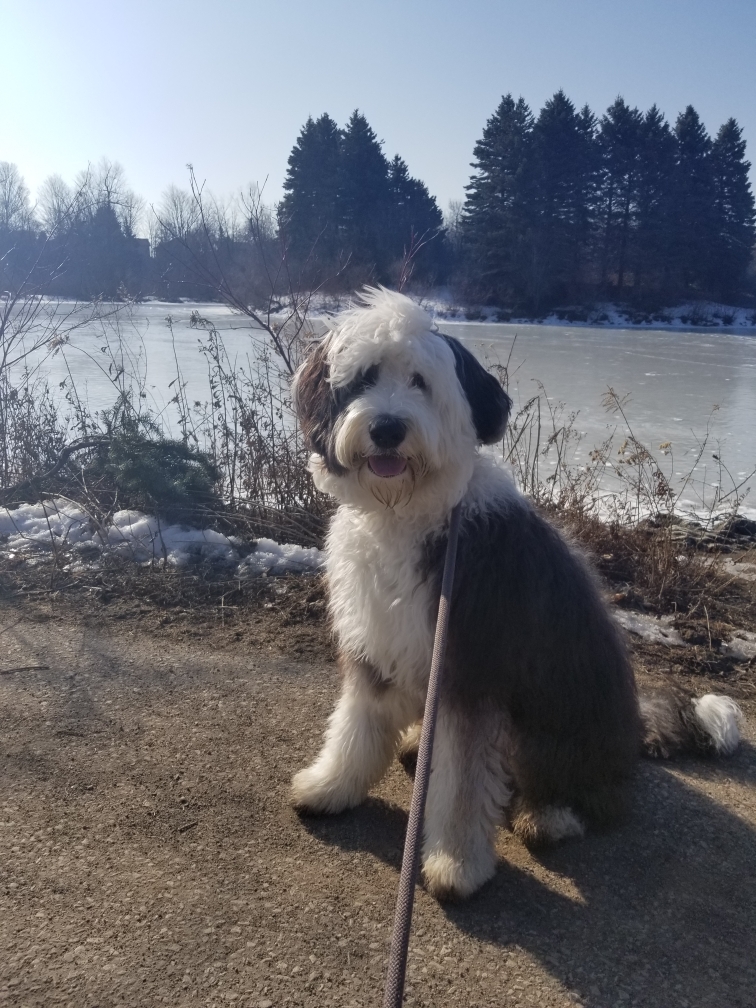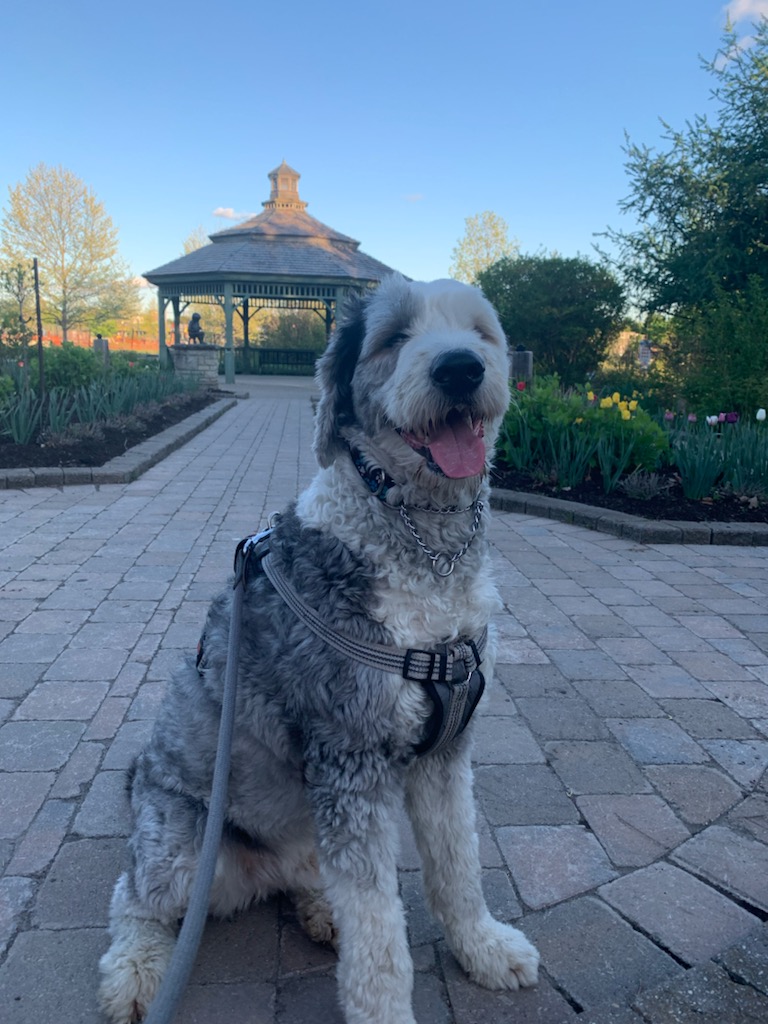 Here are some photos of Ryker as he's matured.  And one of the updates they sent, "Hi Delicia, just thought I'd send a couple updated photos of Ryker!  He's doing great and is a very fit and energetic 80 pounds and full of happiness and love!
–

–
MEET THE PARENTS!
Sadie is one of our own bred Sheepadoodles here from I Love My Sheepadoodle.  It's so nice to pick your own pup from favourite bloodlines.  Sadie has the sweetest, most gentle personality.  Her mom Piper was one of the kindest Poodles we've met.  Sadie has her moms gentle eyes and demeanour.  Sadie's dad is our popular Mini Sheepadoodle stud Wrigley!  He is a F1 Mini Sheepadoodle and looks like a purebred mini Old English Sheepdog.  Sadie weighs in around 50 lbs.  She is taller than both her parents and is about 22 inches at her shoulders.  Sadie has passed her OFA prelims with good and normal hips and elbows.
Sadie has a gentle wavy coat.  Her coat is a Sable Tuxedo. Sable starts out with different dark highlights but then fades to a very light caramel or grey colour. It almost looks white from afar off.  You will notice the ears keep the darker grey highlights.  Sadie will throw her Sable coat on to some of her pups.   The thing that stands out about Sadie is her personality.  That is the most important thing to us and her pups could easily be therapy or support dogs.  She is a solid support and blessing to her guardian home and we expect the same of her puppies!   Below is a photo of Sadie as a pup and then as an adult.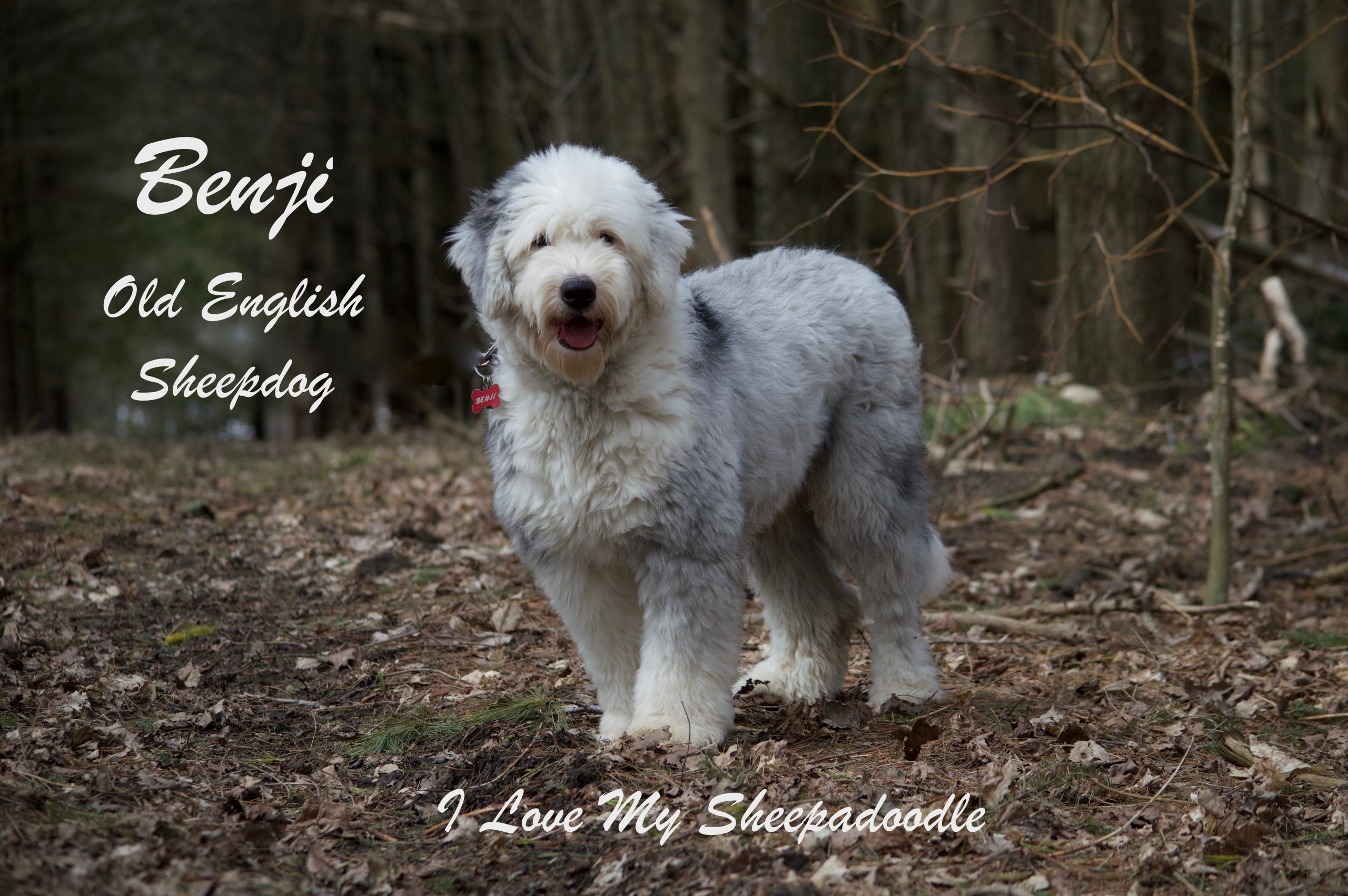 My Hunter's A Handsome Guy
"Benji" – CKC Old English Sheepdog
Benji is our purebred CKC Old English Sheepdog.  He lives with his guardian family in the Kitchener area.  He is well loved by dad and mom and 2 teenager human brothers.  His family calls him Benji yet he still knows his puppy name Hunter from the young days he lived with us at our country property.  Benji is a teddy bear dog!  He is soft and gentle in personality and looks.  We kept him back from our own breeding stock.  His mom Chloe is our top OES breeding dog in our program.  His dad is Henry.  Both his parents are calm and gentle and he carries those attributes as well – from a pup and into adulthood.  Benji has matured to around 70+ lbs.   We look forward to F1 Standard Sheepadoodle puppies starting Spring 2022!
Fair Hips & Normal Elbows – OFA Prelims
Clear by parentage – Both parents clear on Paw Print DNA Sheepdog panel