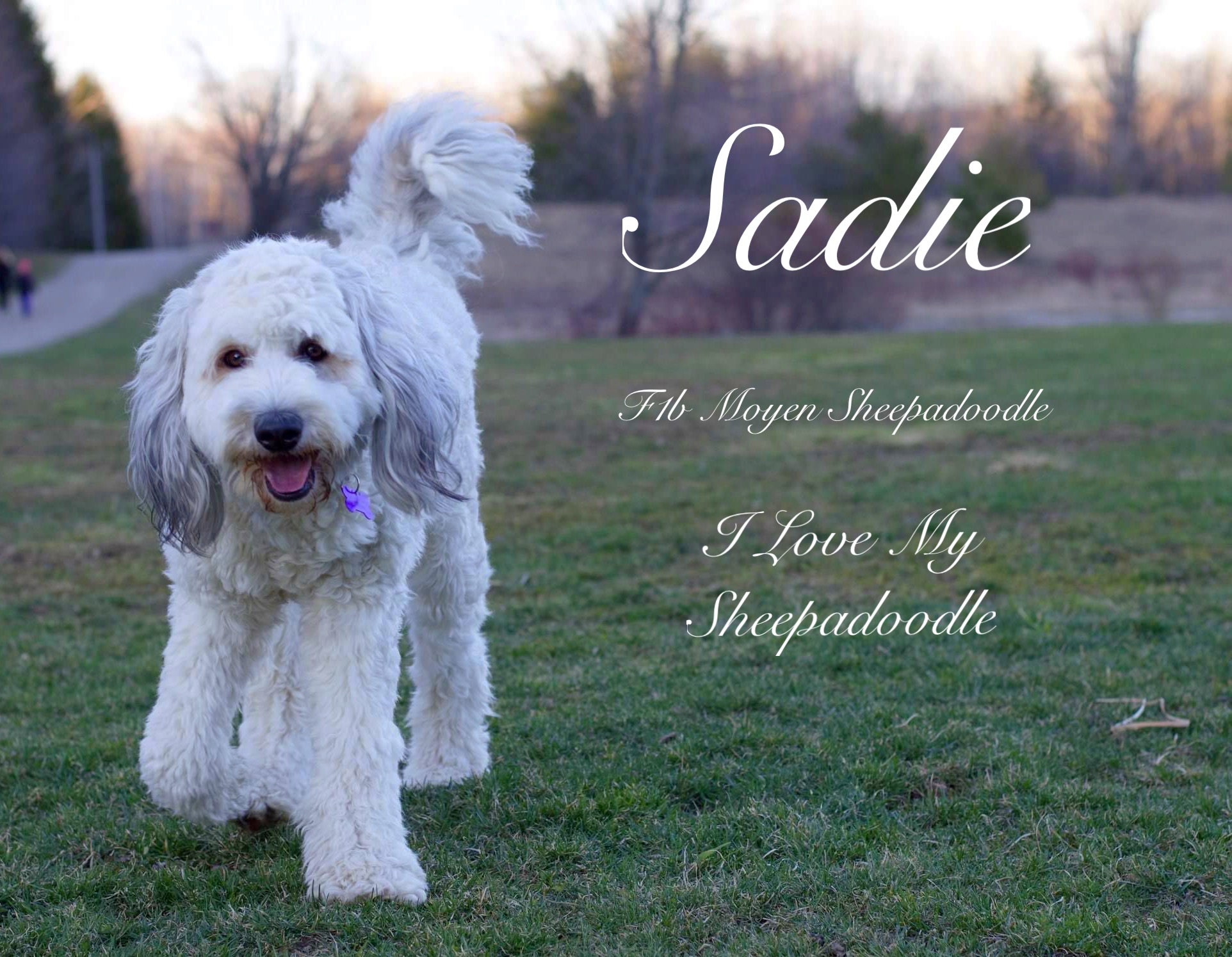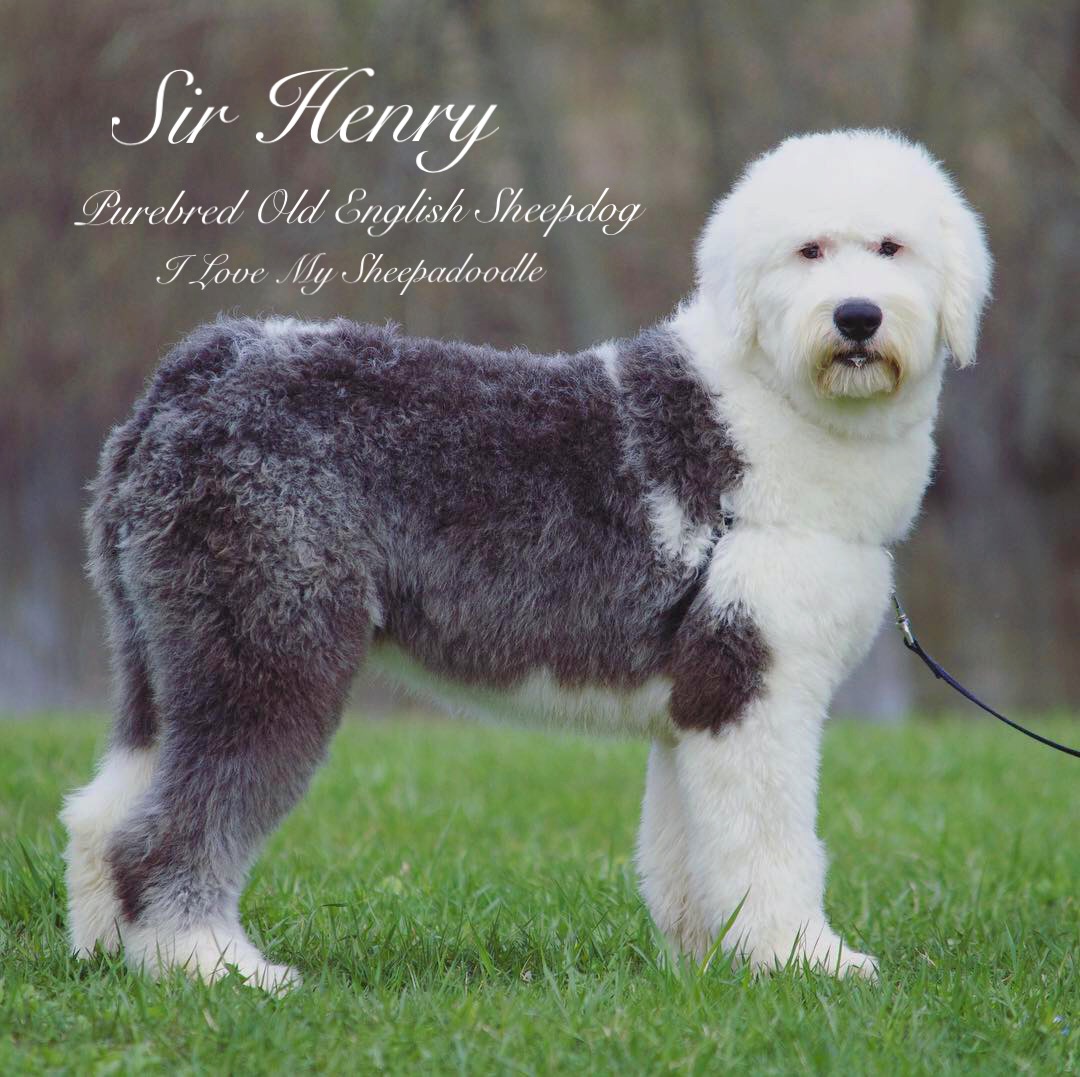 The Puppies!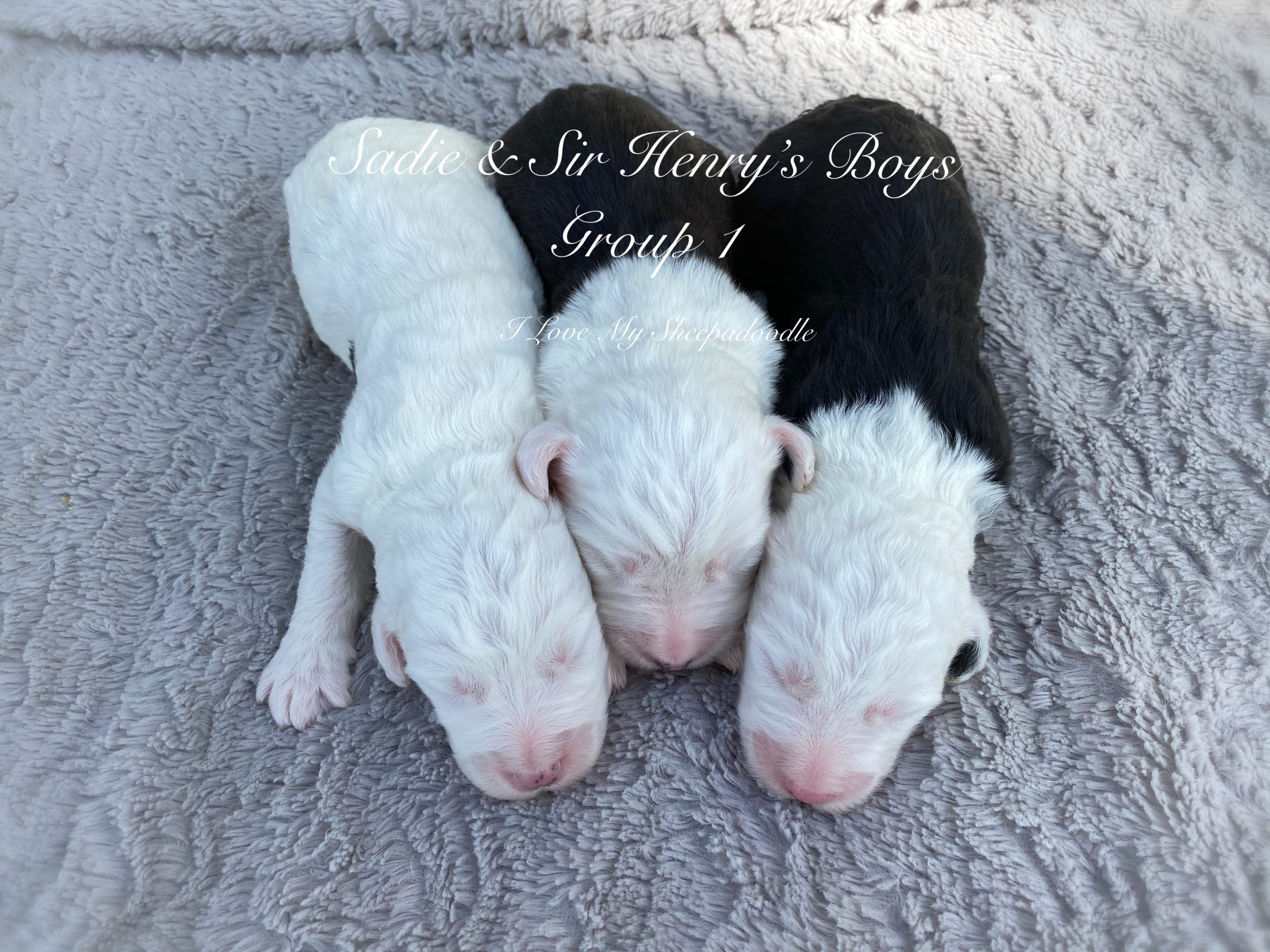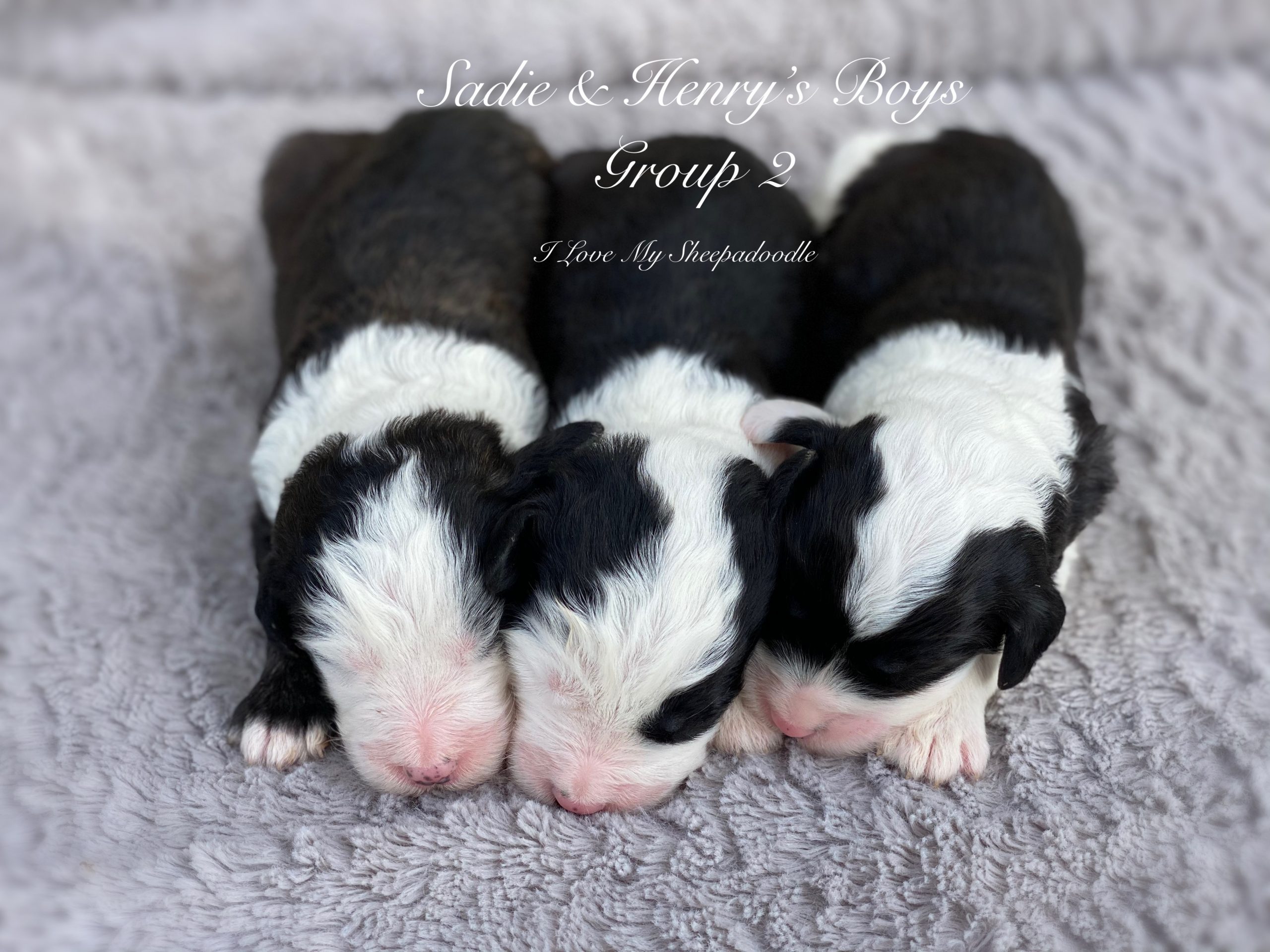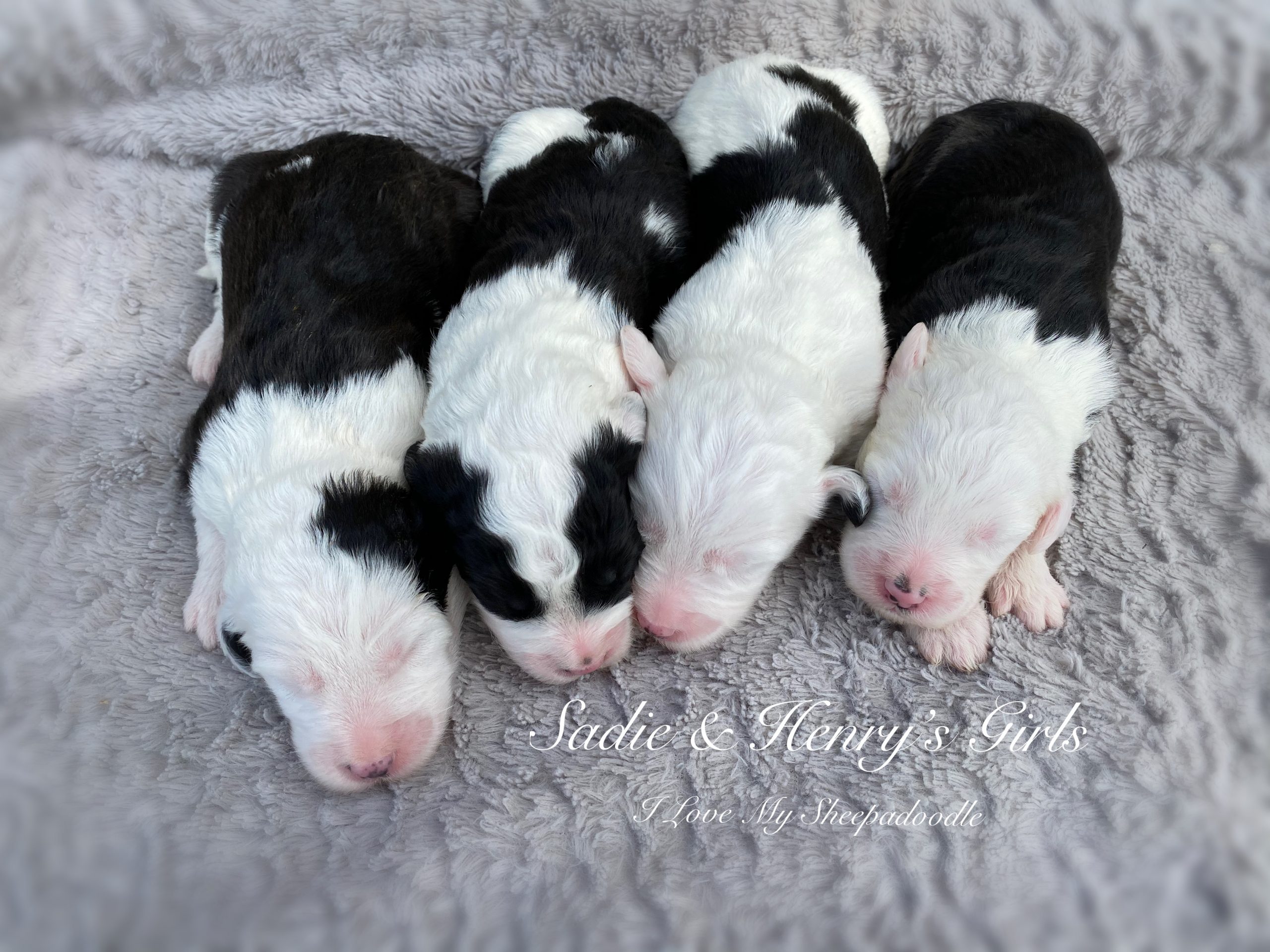 Ready for homes July 23, 2021
These puppies are priced at $4,000 CD
Sadie & Sir Henry welcome their litter of Standard Sheepadoodle puppies.  There are 10 gorgeous puppies in this litter.  We have 6 handsome boys and 4 cute little girls.  From the looks of the coats it looks like there will be wavy and curly coats.
These Sheepadoodles are a blend of F1b Sheepadoodle to purebred Old English Sheepdog.  They are about 1/3 Poodle and 2/3 Old English Sheepdog – the technical numbers are 62.5% OES and 37.5% Standard Poodle.  It is half way between a F1 Sheepadoodle and F1b Reverse Sheepadoodle.  I have read this blend is called a F2B Reverse Sheepadoodle.  The shedding will be very light in this litter as both parents are still considered hypoallergenic breeds.  It could be similar or better than a F1 Goldendoodle, Bernaddoodle, Labradoodle, ect.
The pups in this litter are expected to be in the 45 – 75 lbs range.  I expect the pups to matured to an average of around 22 – 26 inches high at the shoulder.  Sadie weighs in around 45 – 50 lbs and Henry weighs in around 60 – 65 lbs.
Individual puppy photos will be posted around  4 – 5 weeks of age on our website and social media.  A video of the pups will also be posted on Instagram & Facebook the week of puppy picking.  We will send you an updated photo of the pup you picked after puppy selection.
Puppy selection is planned around 6 weeks of age for early July 2021. Puppy picking is done in the order posted on the website. Times will be arranged and listed on our website once the waitlist is place.   We will work through our master waitlist and mark confirmed to names as we hear back from people.   If there are any openings after that we will reach out to those on our email subscription list.
Pups will be ready to go home July 23, 2021 or after between 8-9 weeks of age.   The pups will come with their first booster, several rounds of dewormer, vet check with health records, and a puppy pack including some food, toy, blanket, vitamins and optional 30 day free pet insurance.
For our puppy picking process refer to our pricing and payments page.  You can also look at our News & Upcoming litters page for more info on our process and our planned upcoming litters.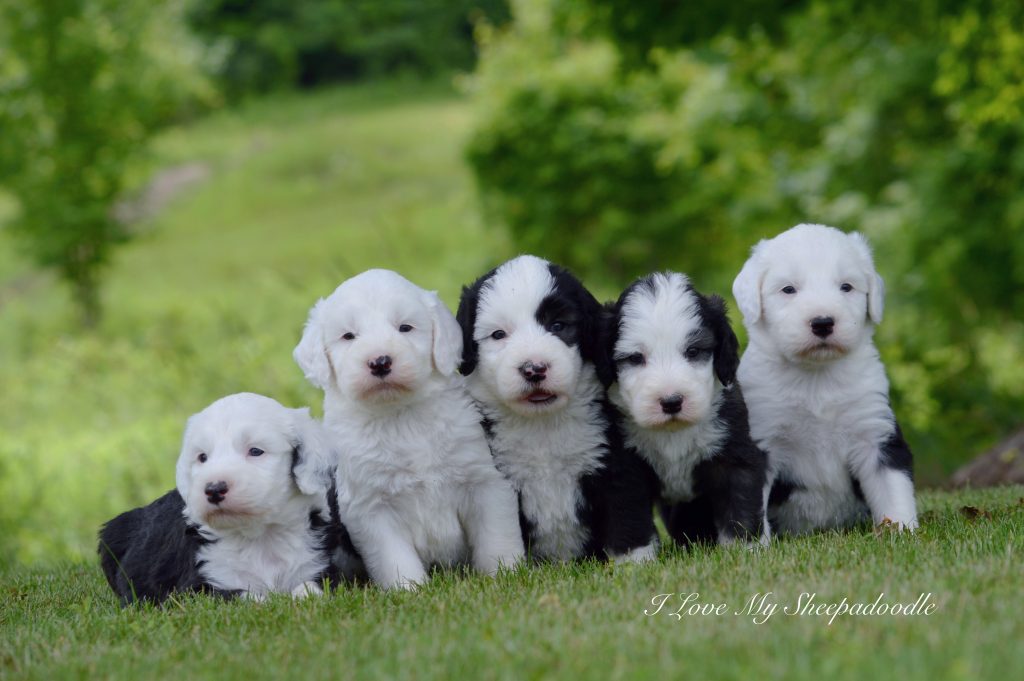 WAITING LIST
 Puppy Picking Planned for July 3, 2021
1. Sherry K ~ Female 3 ~ "Mika"
2. Stephanie M ~ Female 4
3. Chris & Allison W ~ Female 1
4. Ely G ~ Male 4 ~ "Finn"
5. Holly S ~ Male 6 ~ "Pekko"
6. Bruce B ~ Male 1 ~ "Winston"
7. Tiyana M ~ Male 5 ~ "Bear"
8. Leah M ~ Female 2 
9. Tanya C ~ Male 2
10. Jeff M ~ Male 3
4 WEEK PHOTOS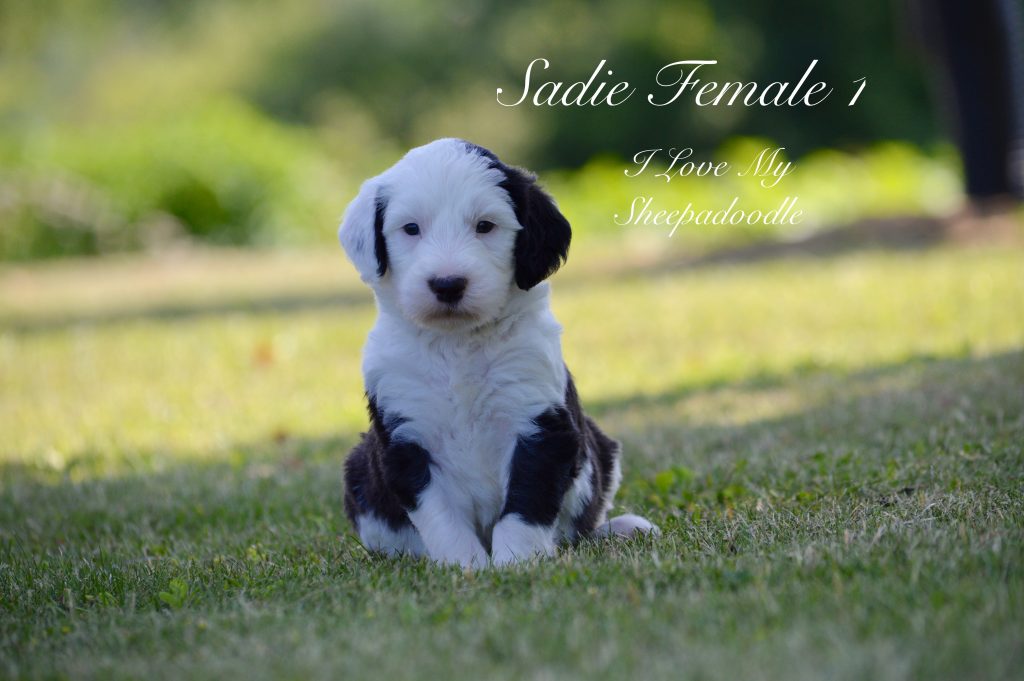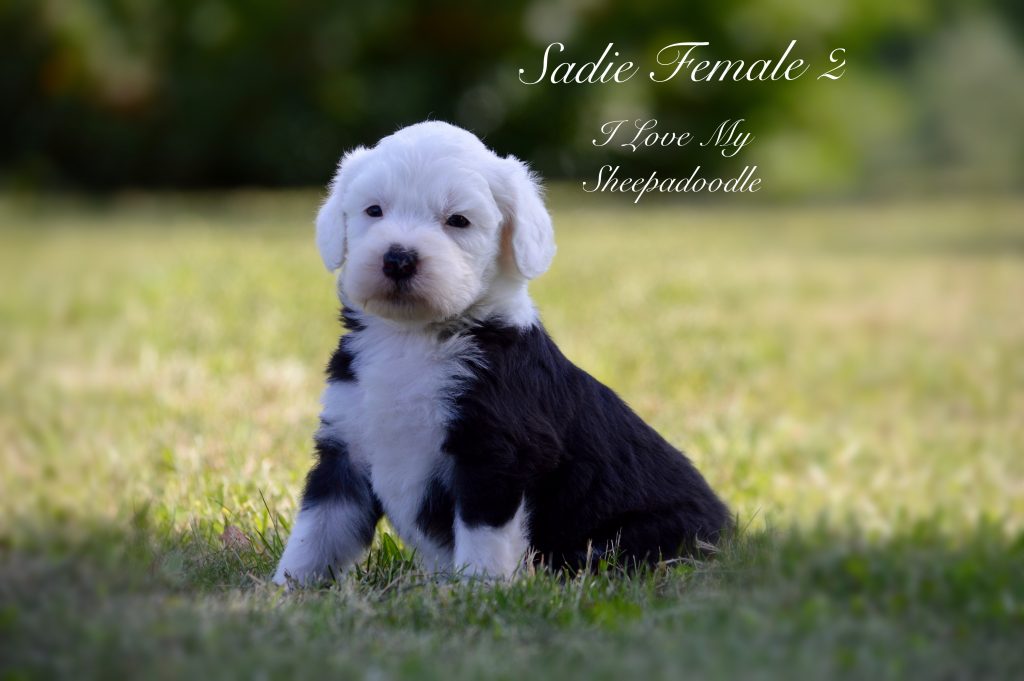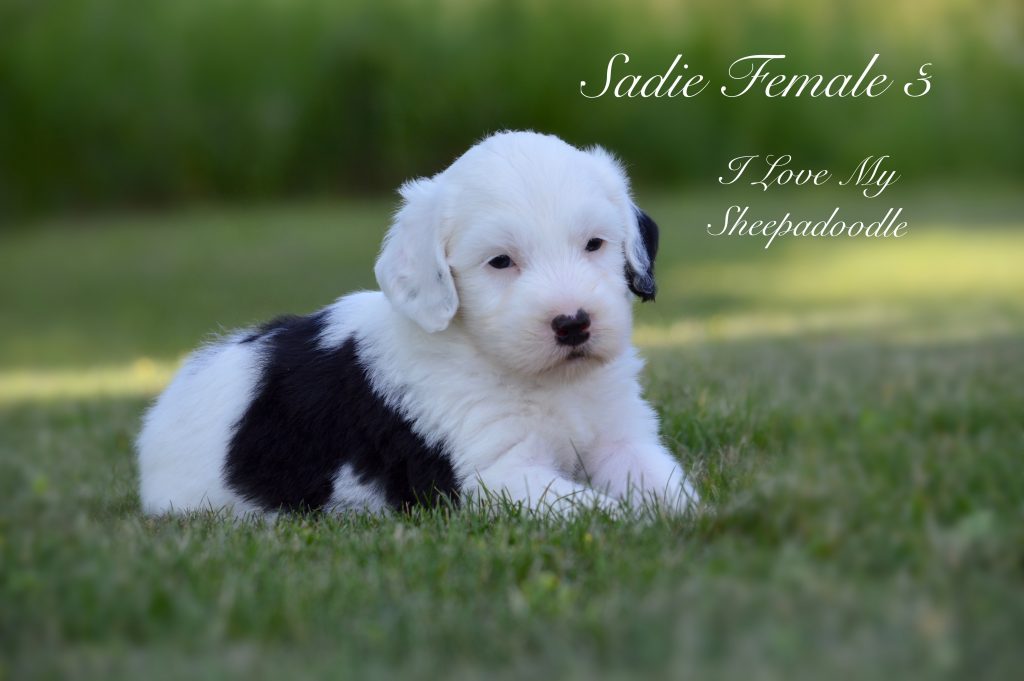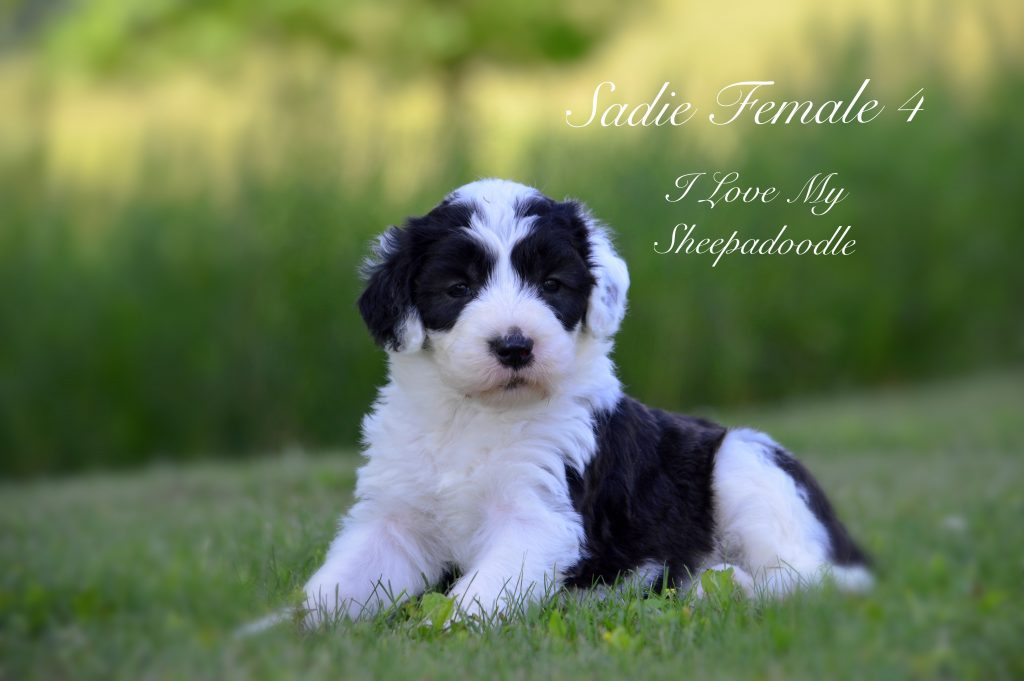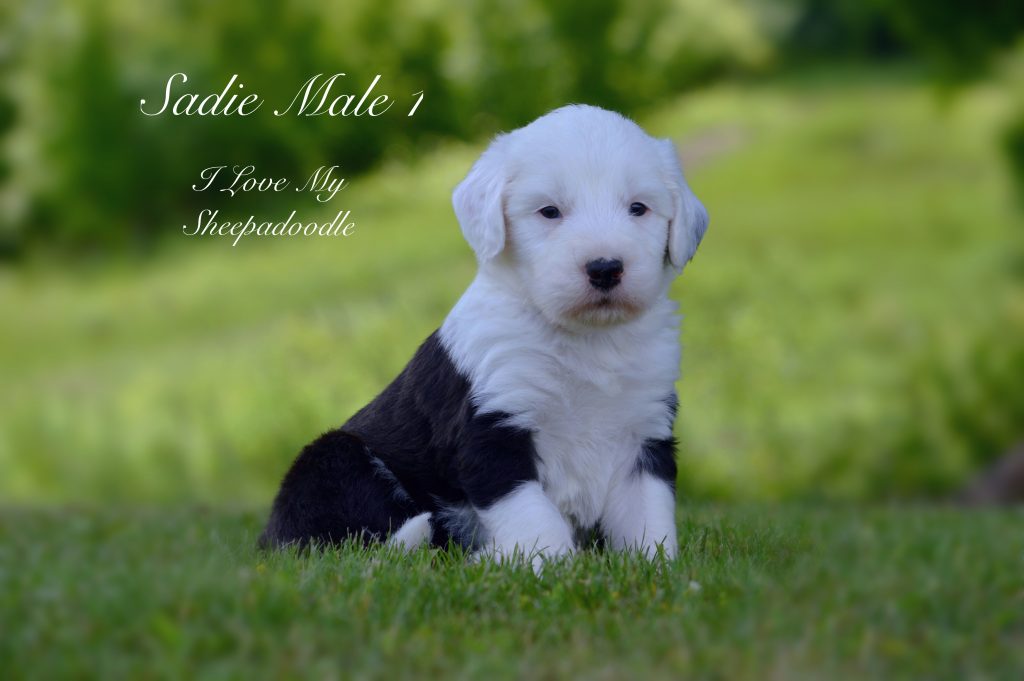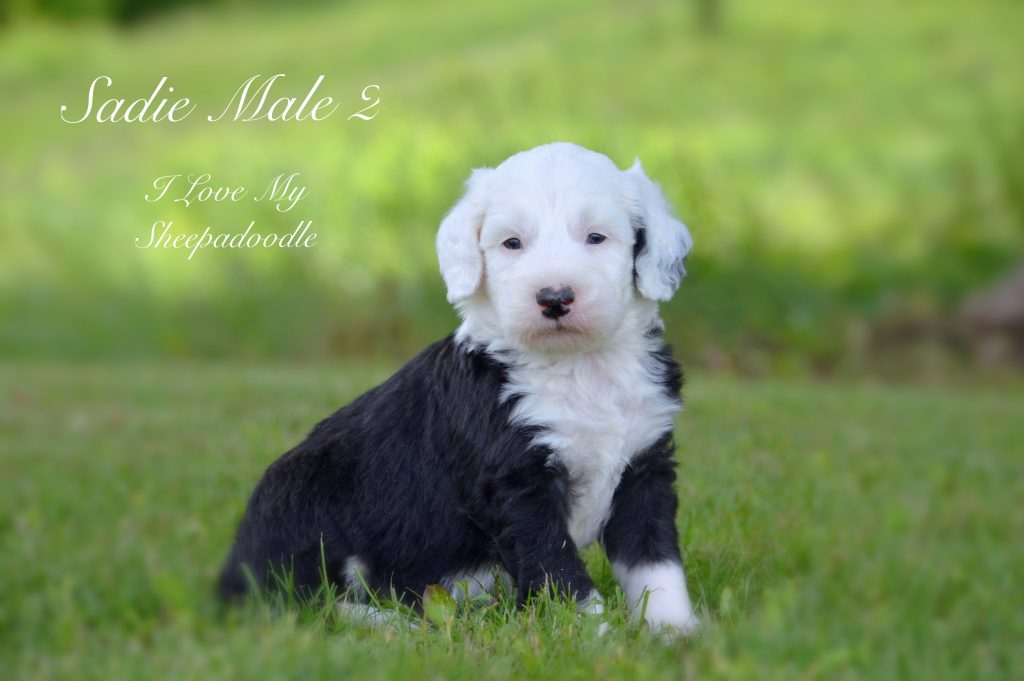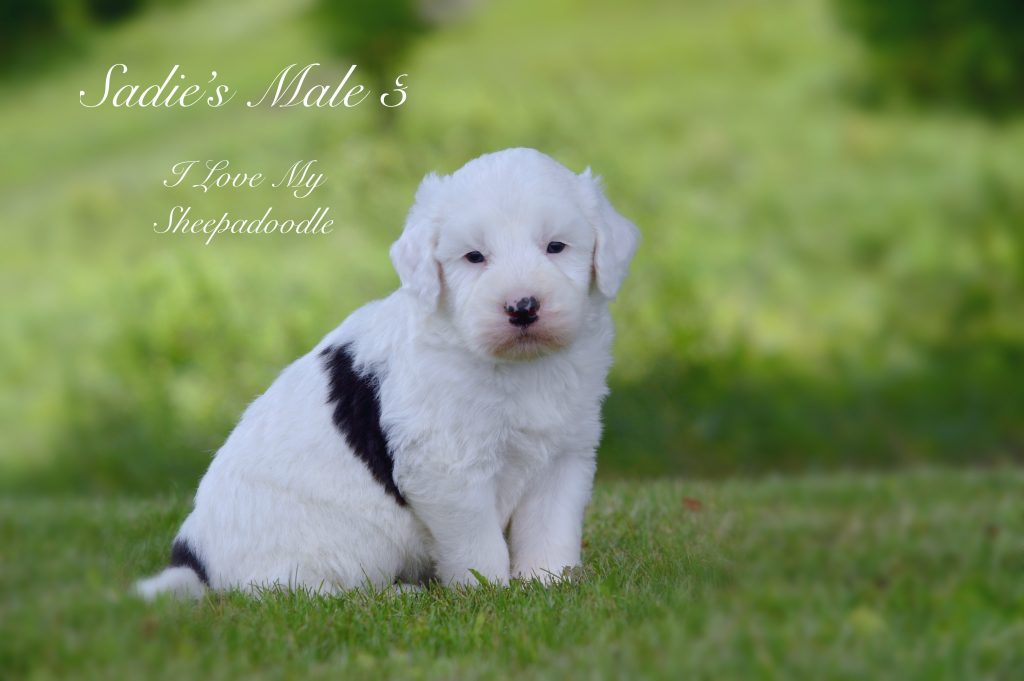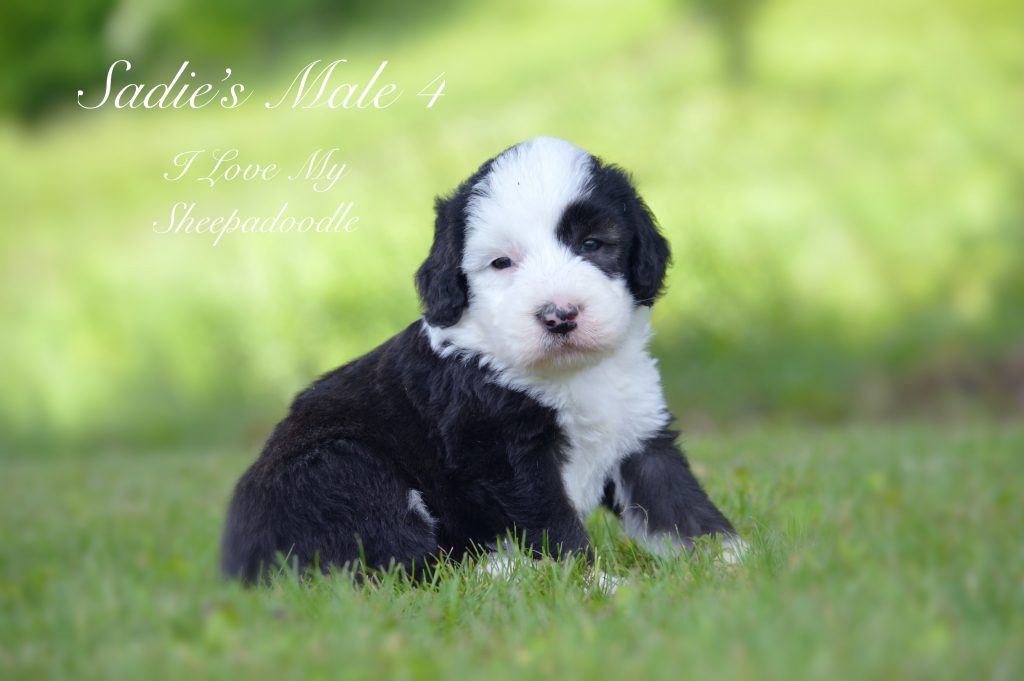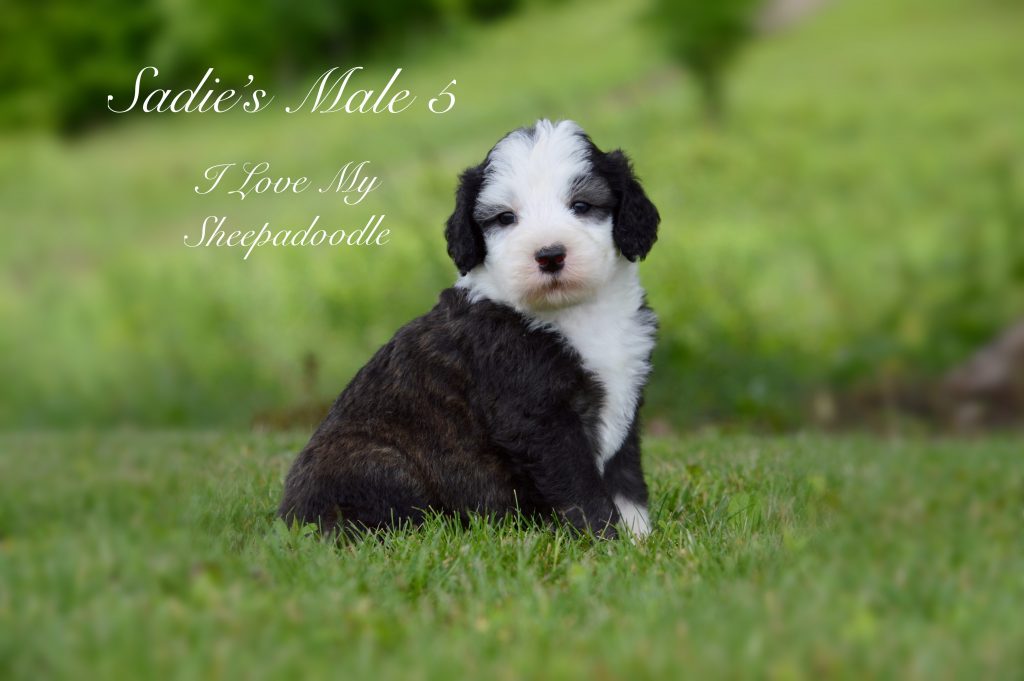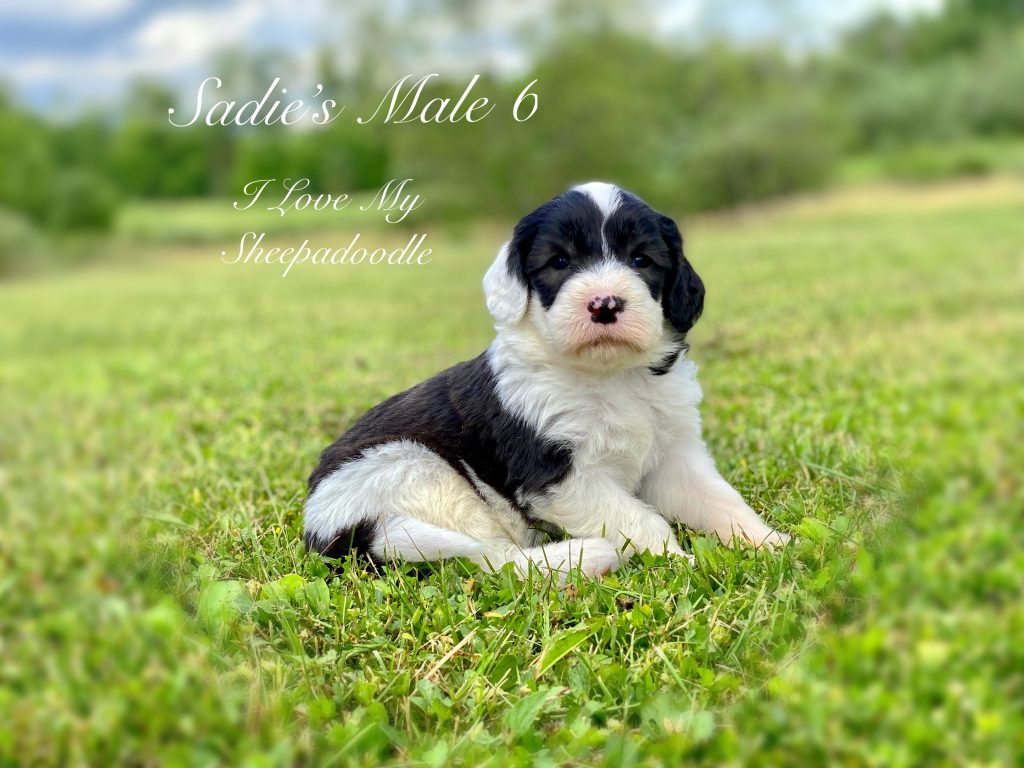 MEET THE PARENTS!
Sadie is one of our own bred Sheepadoodles here from I Love My Sheepadoodle.  It's so nice to pick your own pup from favourite bloodlines.  Sadie has the sweetest, most gentle personality.  Her mom Piper was one of the kindest Poodles we've met.  Sadie has her moms gentle eyes and demeanour.  Sadie's dad is our popular Mini Sheepadoodle stud Wrigley!  He is a F1 Mini Sheepadoodle and looks like a purebred mini Old English Sheepdog.  Sadie weighs in around 45 – 50 lbs.  She is taller than both her parents and is about 22 inches at her shoulders.  Sadie has passed her OFA prelims with good and normal hips and elbows.
Sadie has a gentle wavy coat.  Her coat is a Sable Tuxedo. Sable starts out with different dark highlights but then fades to a very light caramel or grey colour. It almost looks white from afar off.  You will notice the ears keep the darker grey highlights.  Sadie will throw her Sable coat on to some of her pups.   The thing that stands out about Sadie is her personality.  That is the most important thing to us and her pups could easily be therapy or support dogs.  She is a solid support and blessing to her guardian home and we expect the same of her puppies!   Below is a photo of Sadie as a pup and then as an adult.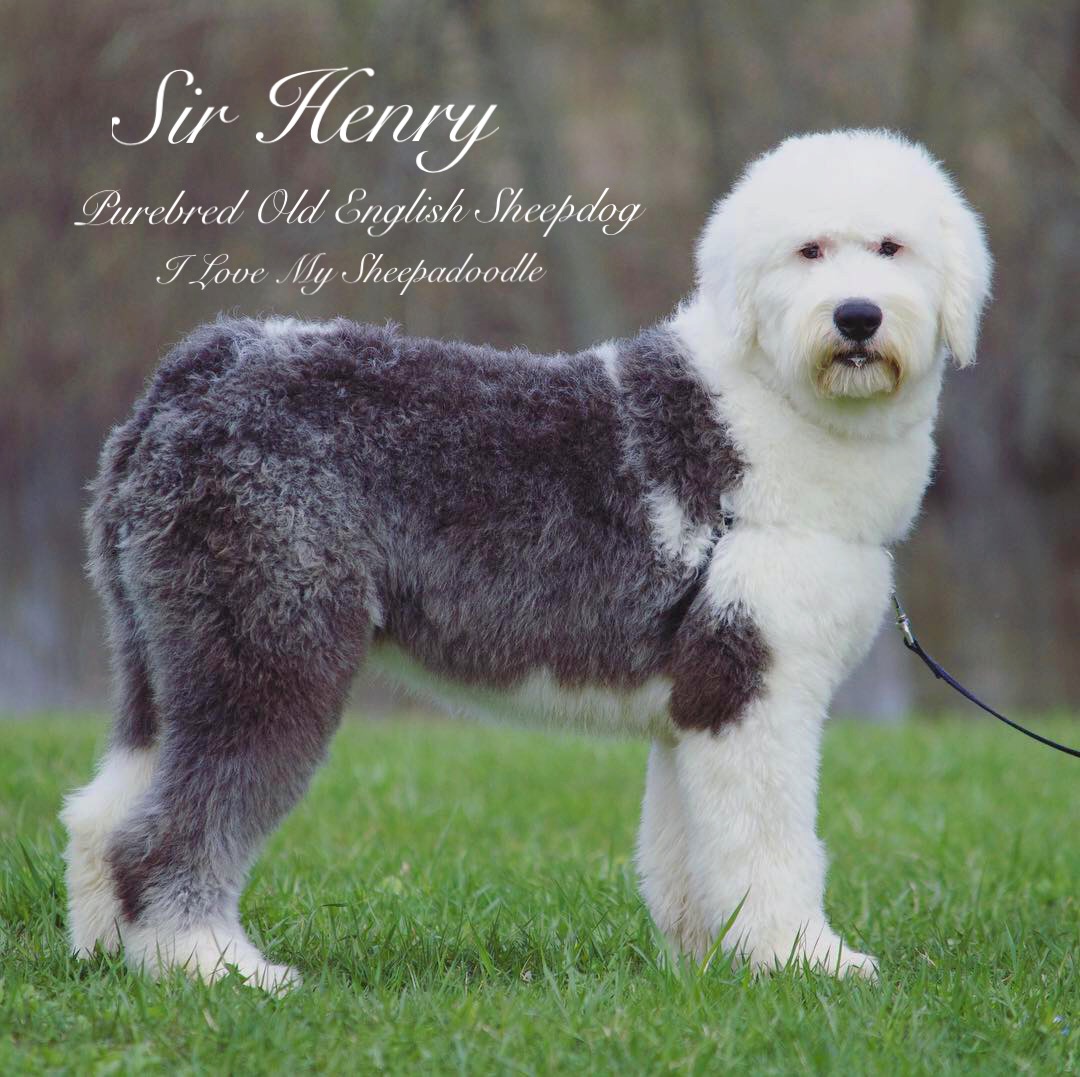 Sir Henry is a purebred Old English Sheepdog we purchased from a breeder in the United States.   He has a beautiful tuxedo coat. We love his big white head!  He has a quiet gentle personality.  He is not the alpha dog.  He is what you could say a gentle giant.  He weighs in around 60 – 65 lbs.  He has passed his OFA hips with Fair and OFA elbows as good.  He is clear on Paw Prints Genetic Sheepdog panel.