Born Dec 1, 2022
Ready Jan 26, 2023
~
~ SOLD OUT ~
~
$3,000 CD
–Scroll Down to see photos!
~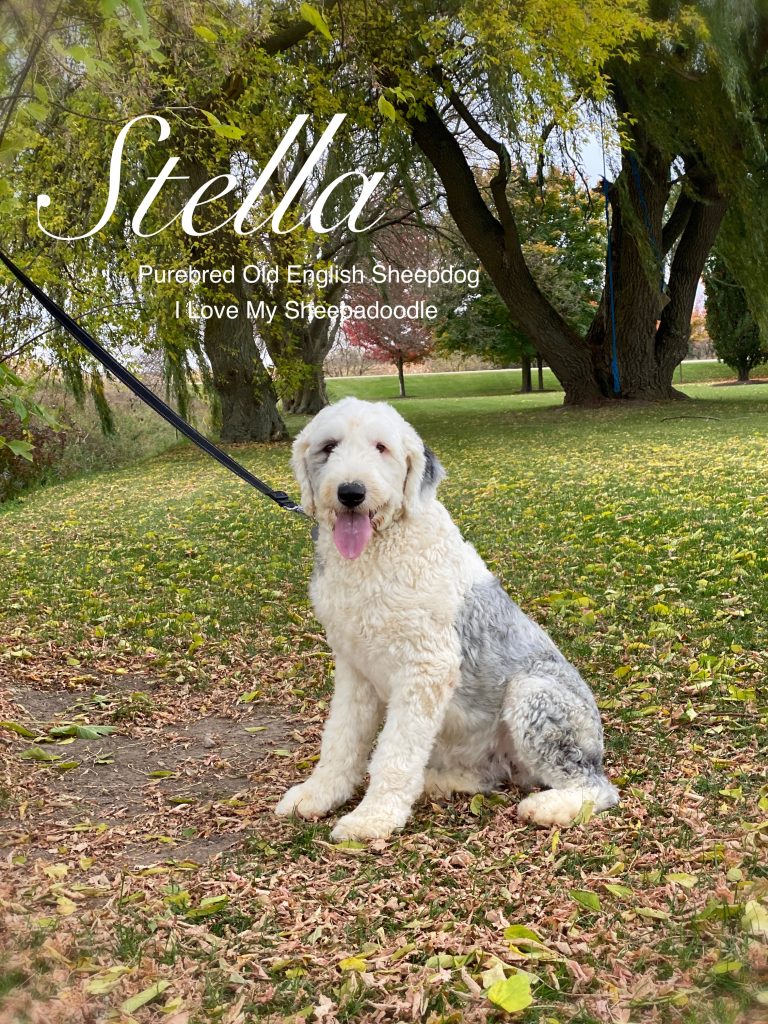 –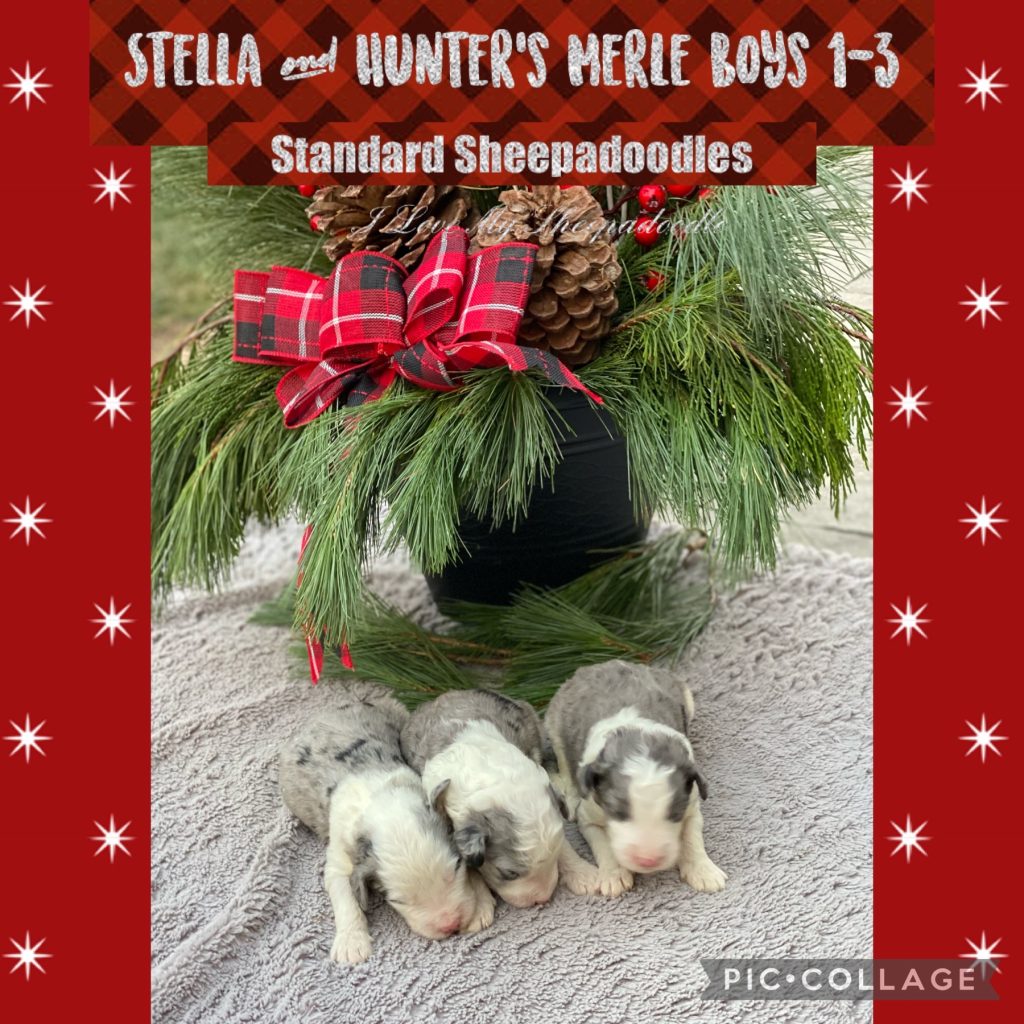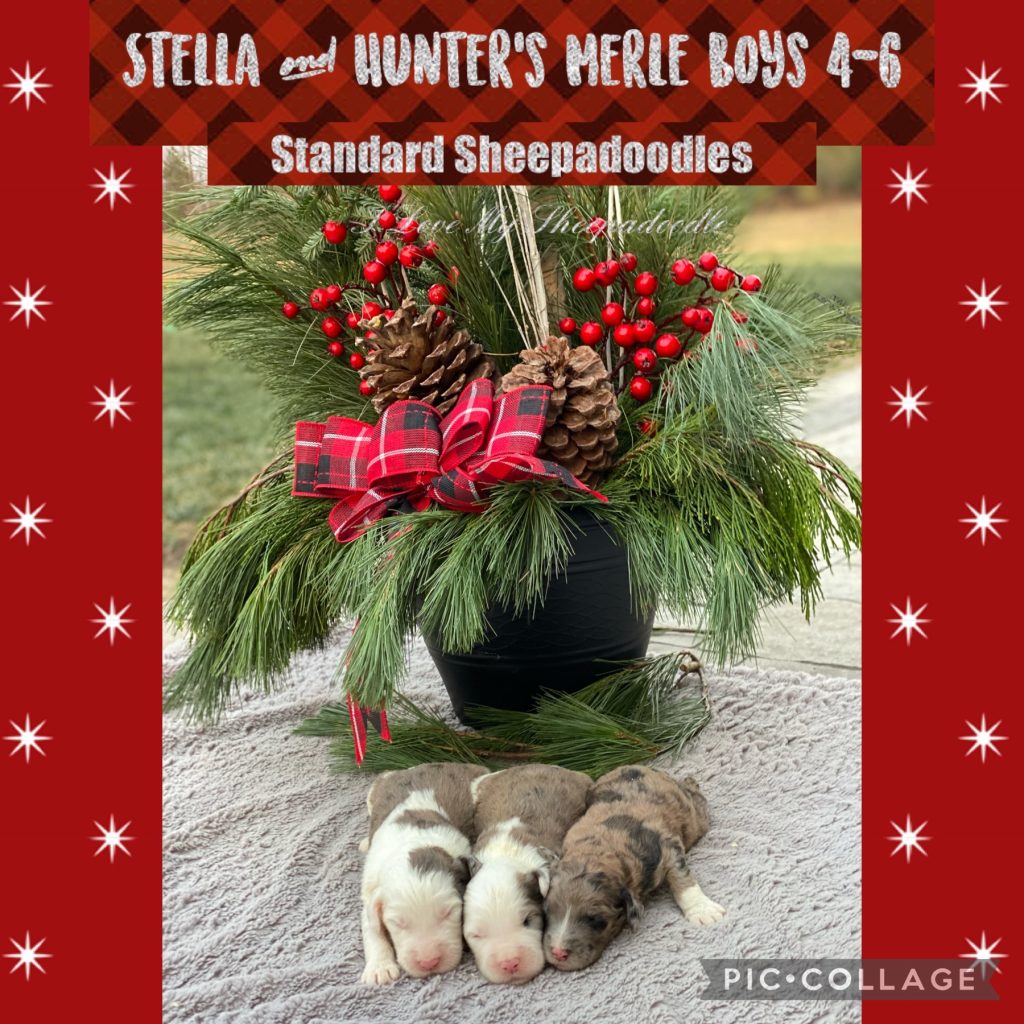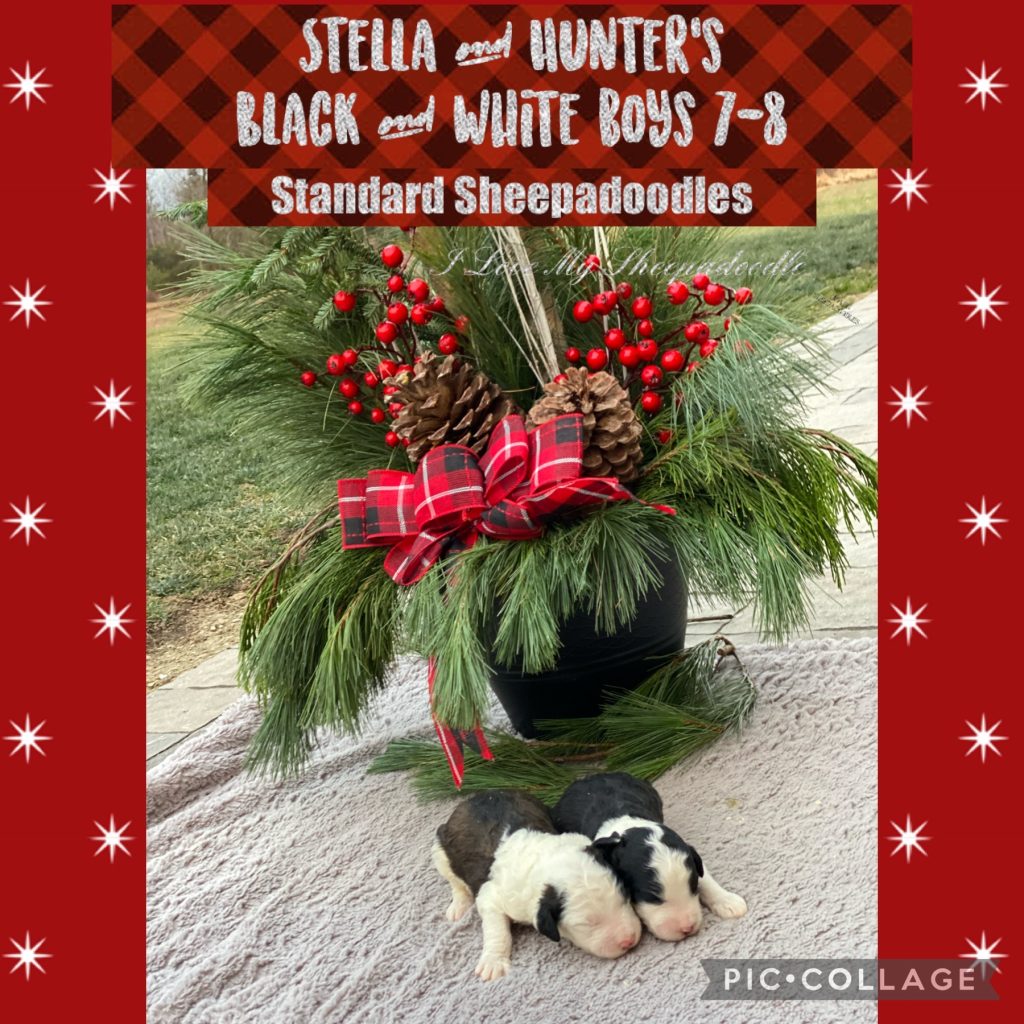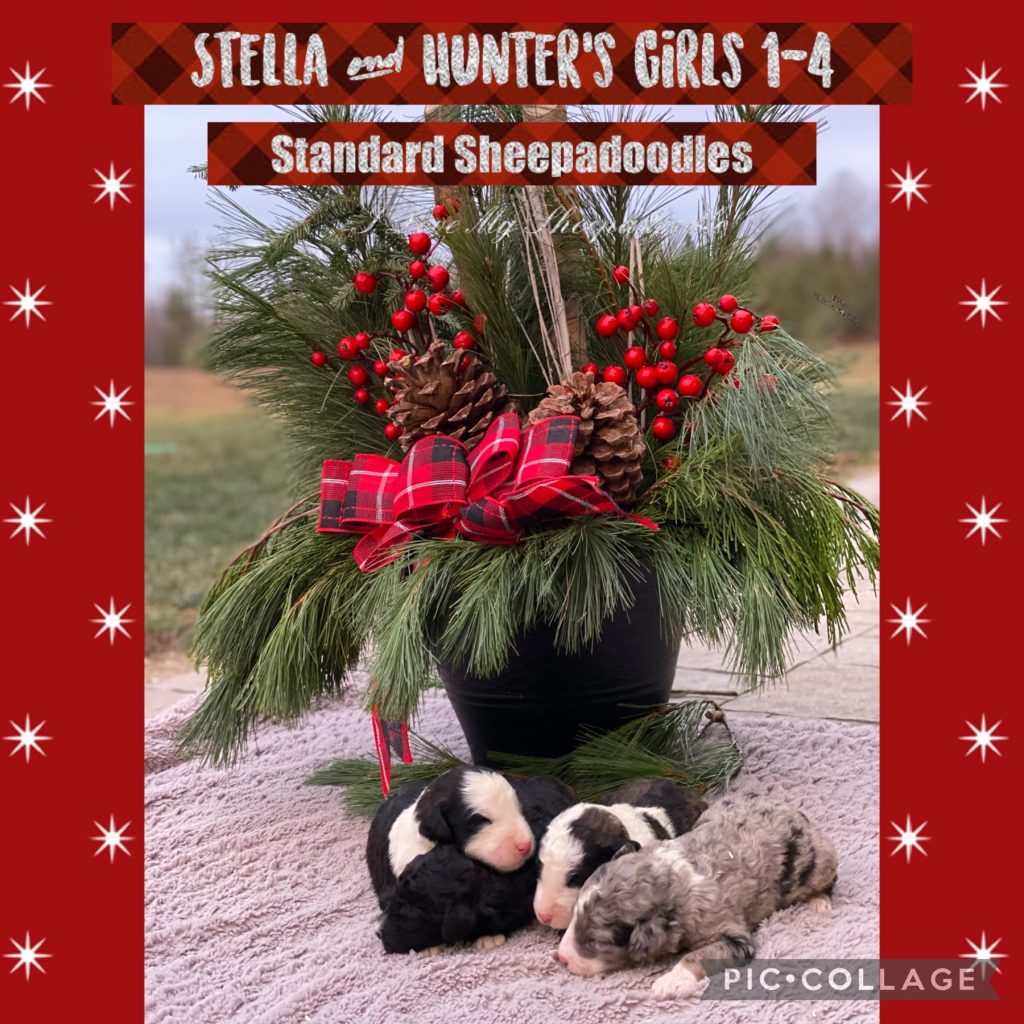 PUPPY INFO
Stella & Hunter welcome 12 healthy puppies!  We have 8 boys and 4 girls girls.  These puppies should mature in and around the 60  – 90 lbs range give or take some.   We have some wavy coats and some curly coats in this litter.  We have some variety of colours here! We have black & white pups and merle (ryhymes with pearl) & white pups. Their colour will either stay the same or lighten up to some shade of grey.
 The F1 Sheepadoodle is a litter where one parent is an Old English Sheepdog and the other parent is a poodle. The pups in this litter will be 50% OES and 50% Poodle. The shedding will be very light in this litter as both parents are still considered hypoallergenic breeds.  It could be similar or better than a F1 Goldendoodle, Bernedoodle, Labradoodle, ect.
Stella and Hunter's pups should be a more mellow laid back type of personality if they are like their parents.  They will enjoy activities and hikes/outdoor adventures, but really like to hang out with their people. They are generally good with other dogs and people as the Sheepadoodle is a social dog!
Puppy picking is planned for  Thursday and/or Friday January 12/13, 2023 by video call.  Photos will be posted again around 4 – 5 weeks of age.  We add a little description and weights of the pups just before puppy selection day.  You will see this under their 4 – 5 wk photos.
These pups will be ready to go home Jan 26, 2023 or after at the age of 8 weeks. They will have their first booster and several rounds of deworming. Our vet will also have done a thorough inspection of each pup.
This litter is now open for puppy applications!   You may apply by sending in a puppy application.  If you have sent an application in before, you still need to fill one out again for this litter as I will only be reviewing new applications sent for this litter.
We will do our best to reply within 24 – 48 hrs of your application.   We read through the applications and reply back with a suitable spot we have available for you.  We hold your name as pending to that spot for you for 24 – 48 hrs for you to decide if you like to confirm with a deposit. Take note we are closed Sundays. If you decide to confirm, you can then place a deposit.  Our puppy deposit is $500 non-refundable and only goes towards the one litter you commit to.   We will give more info then in a follow up email with puppy prep.
These puppies are priced at $3,000 CD taxes included.  If you wish to add in our $500 health guarantee you can do so.  Just let us know.  Read more about it on our contract page.
  We are planning more litters for Spring, Summer and Fall 2023.  Go to our News & Upcoming litters page for more info. You can sign up for our email updates to be notified of when we have puppies available.
We look forward to helping you with your future Sheepadoodle family member!
Priced at $3,000 CD taxes included
~s

~
WAITING LIST
Virtual Puppy selection planned for Jan 12/13, 2022
NOTE – Gender will be chosen on puppy picking day. Selection times posted here
1. Jennifer C ~ Saint Lambert, QB ~ Male 7 ~ "Darwin"
2. Ashlee A ~ Port Colborne, ON ~ Female 4 ~ "Harper"
3. Camila J ~ Calidonia, ON ~ Male 3 ~ "Kai"
4. Jonathan B ~ Winnipeg, Manitoba ~ Male 6 ~ "Rocket"
5. Alex M ~ Hamilton, ON ~ Confirmed ~ Male 8 ~ "Hank"
6. Ashley M ~ London, ON ~ Male 57.
7. Cindy K ~ Baden, ON ~ Male 4 ~ "Hank"
8. Lydia P ~ Kitchener, ON ~ Male 1 ~ "Camper"
9. Angie H ~ Bracebridge, ON ~ Female 2
10. Selena C ~ Blenheim, ON ~ Male 2 ~ "Sullivan" 
11.  Female 1 ~ Sold
12. Linda S ~ Toronto, ON ~ Female 3
~

~
5 WEEK PHOTOS
(Descriptions & weights done at 6 wks of age)
~
1 – 2 WEEK PHOTOS
~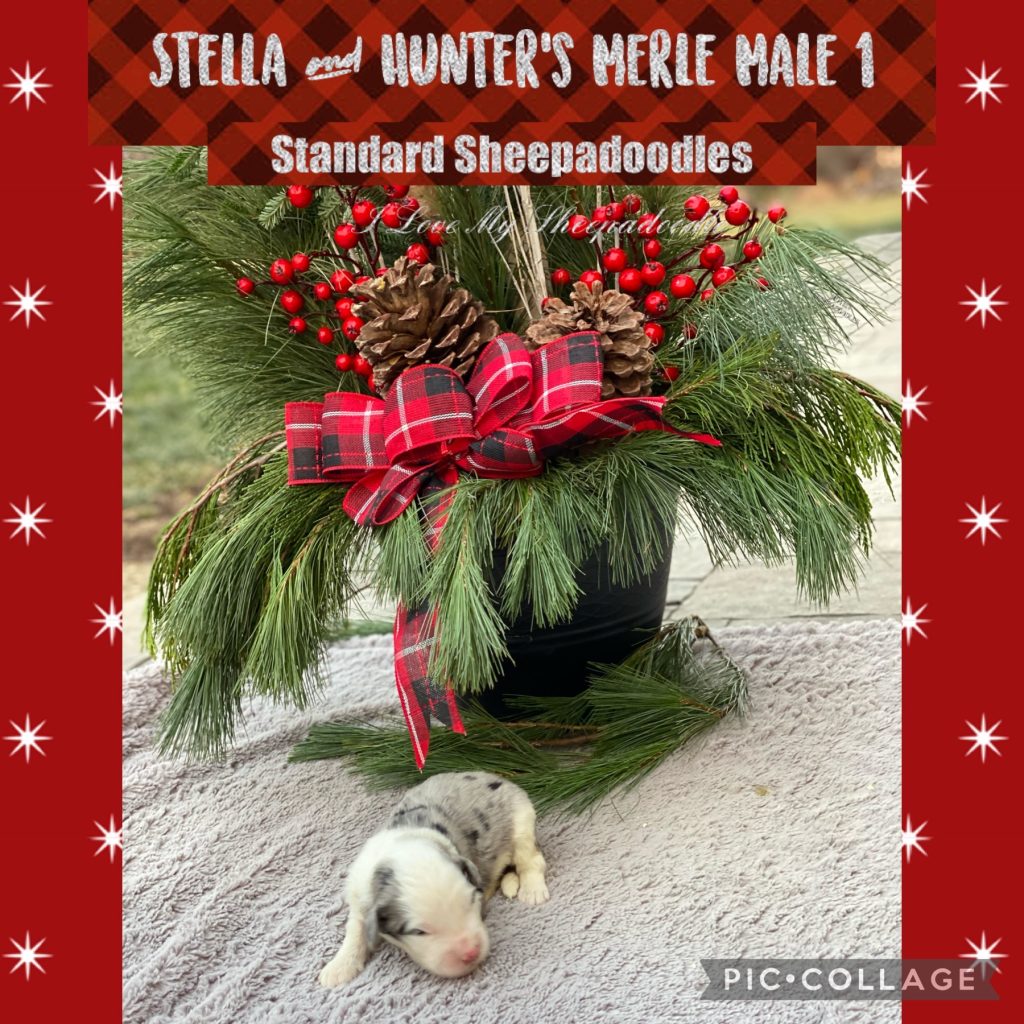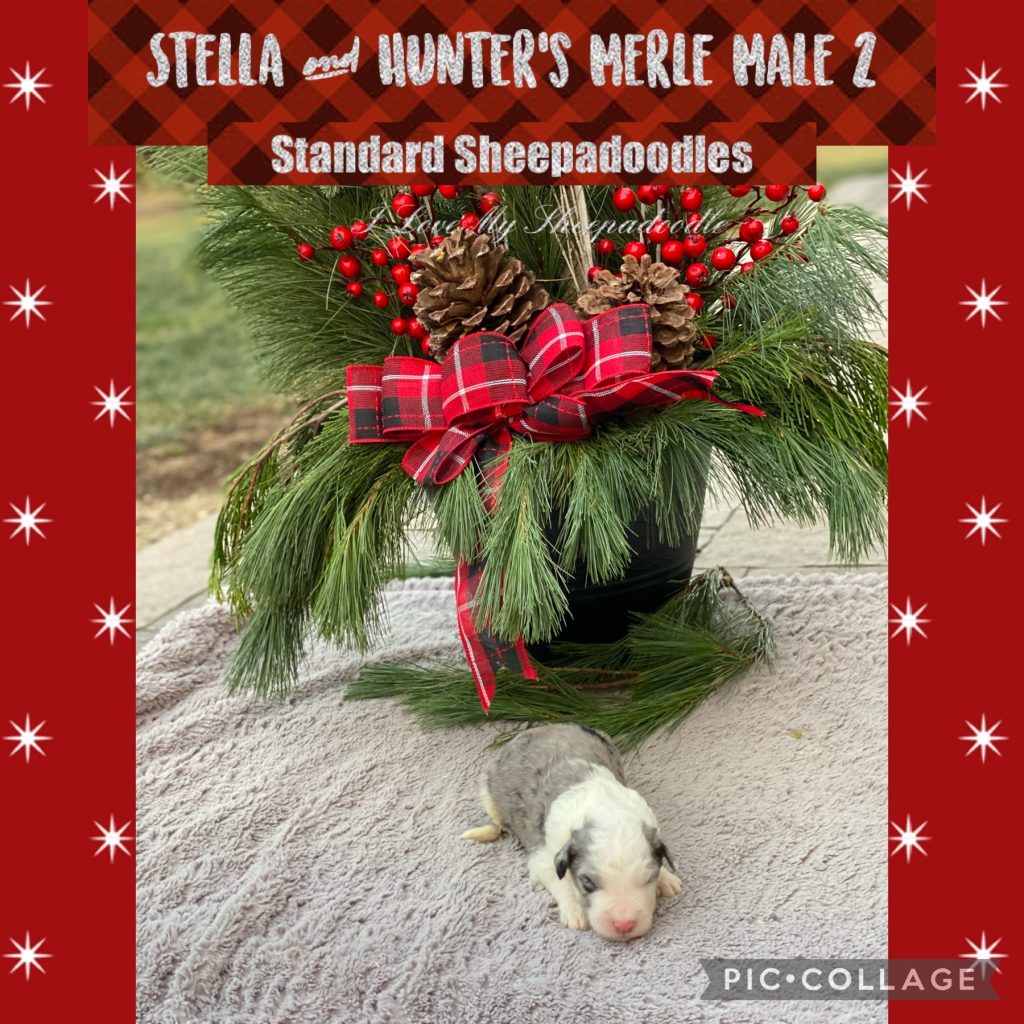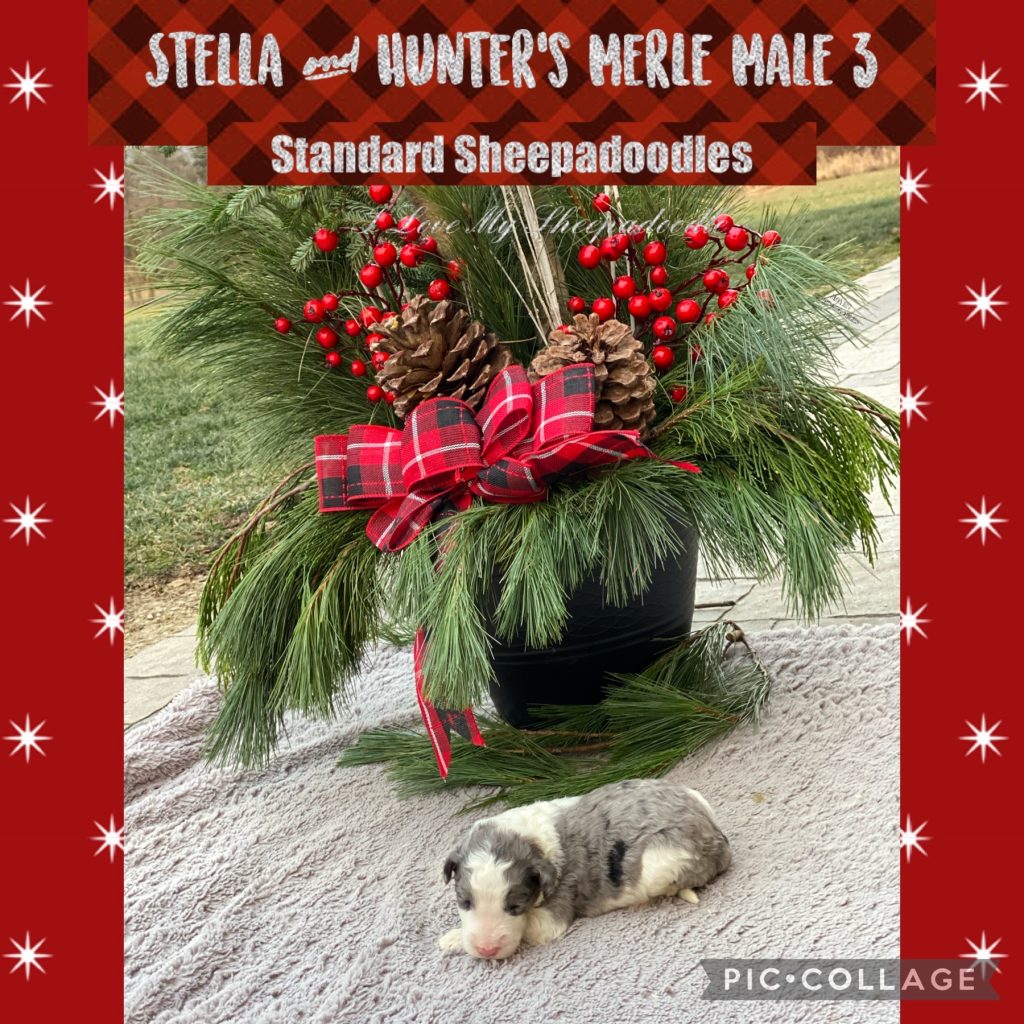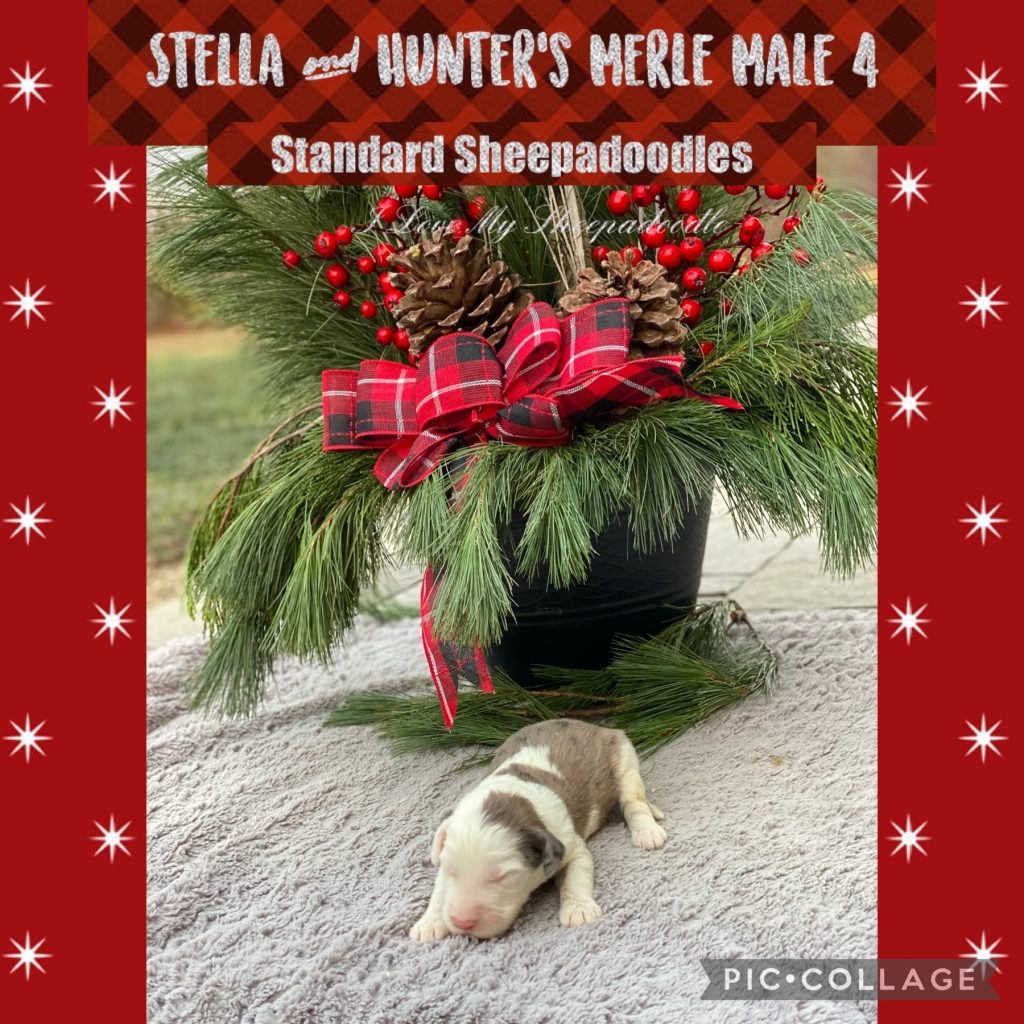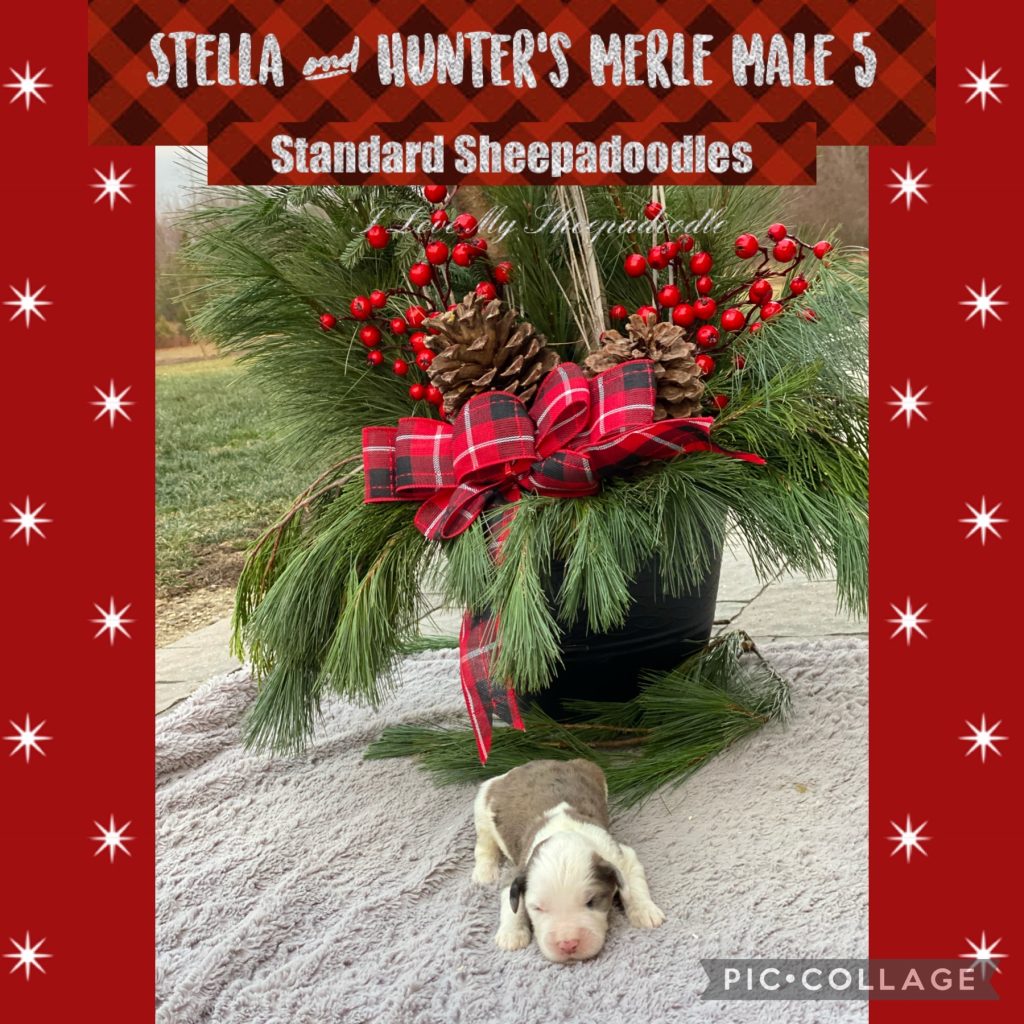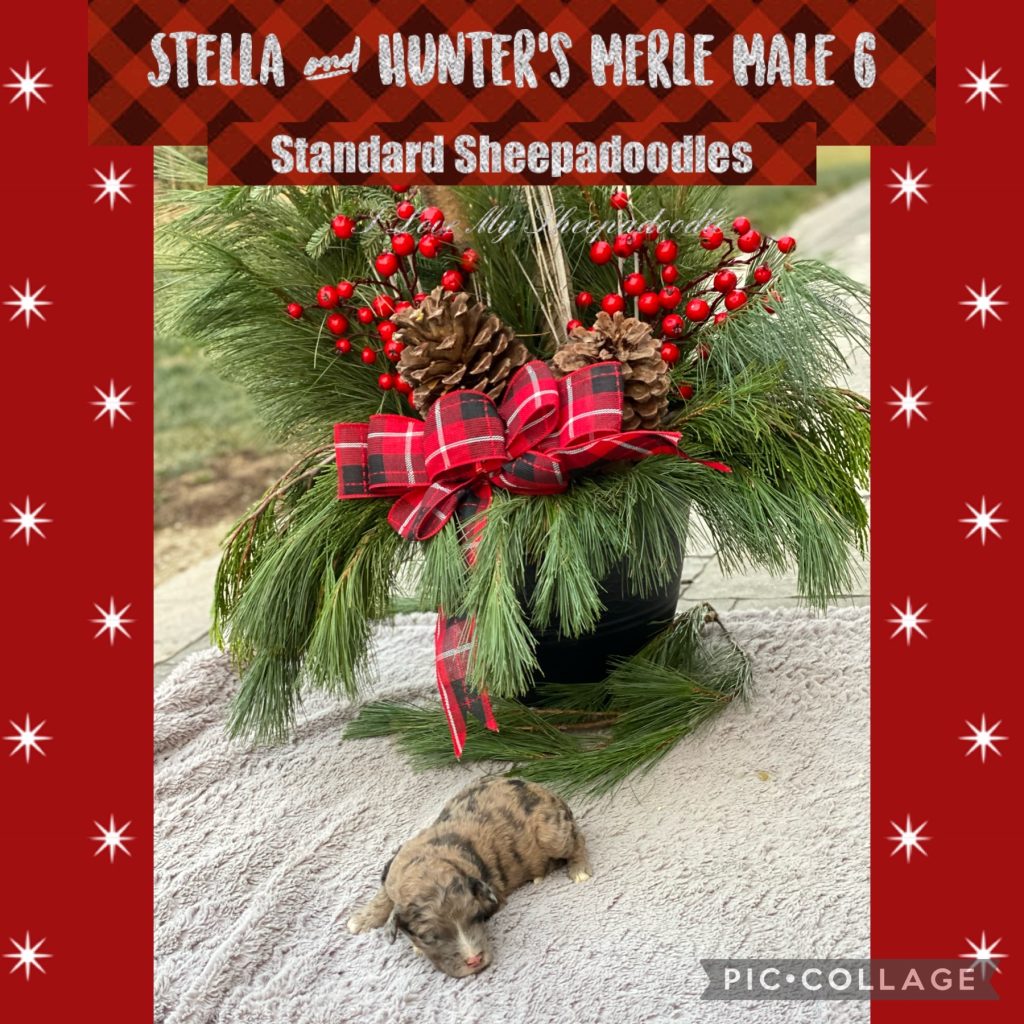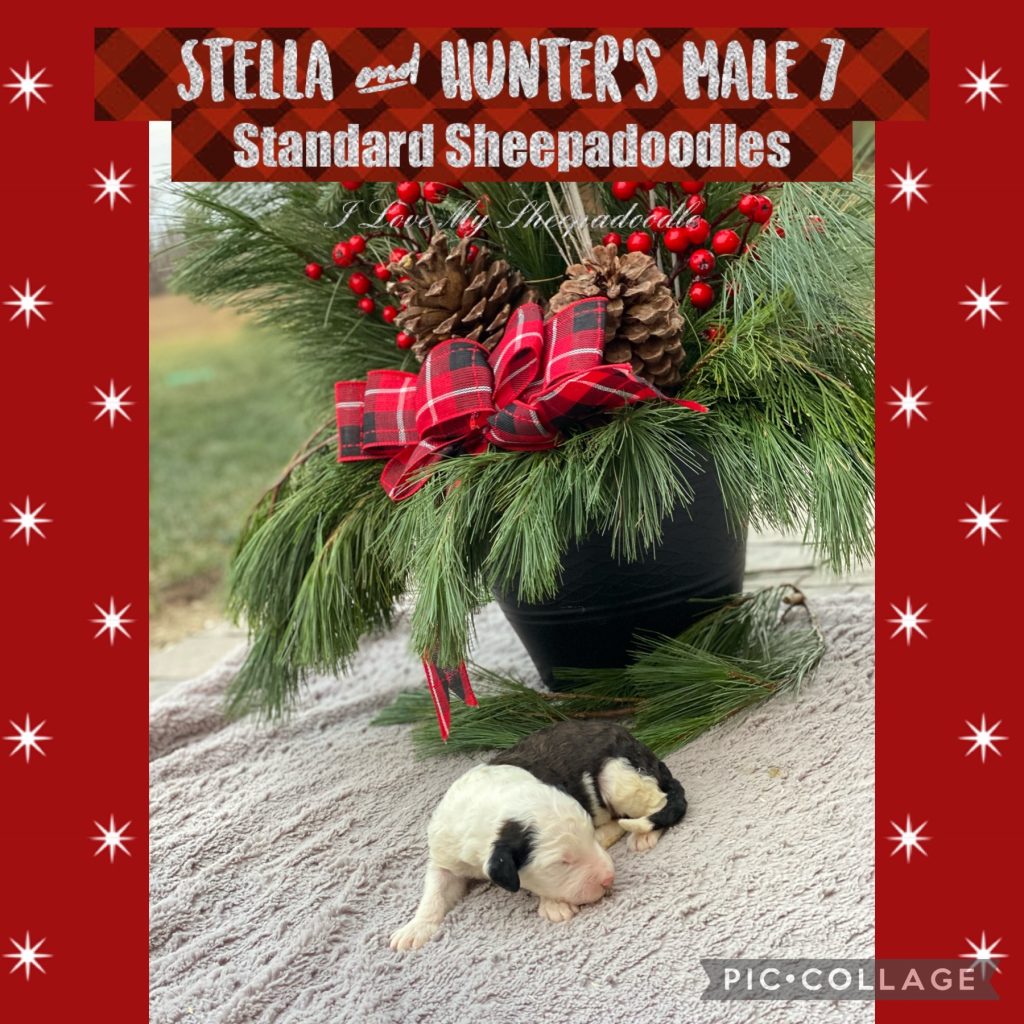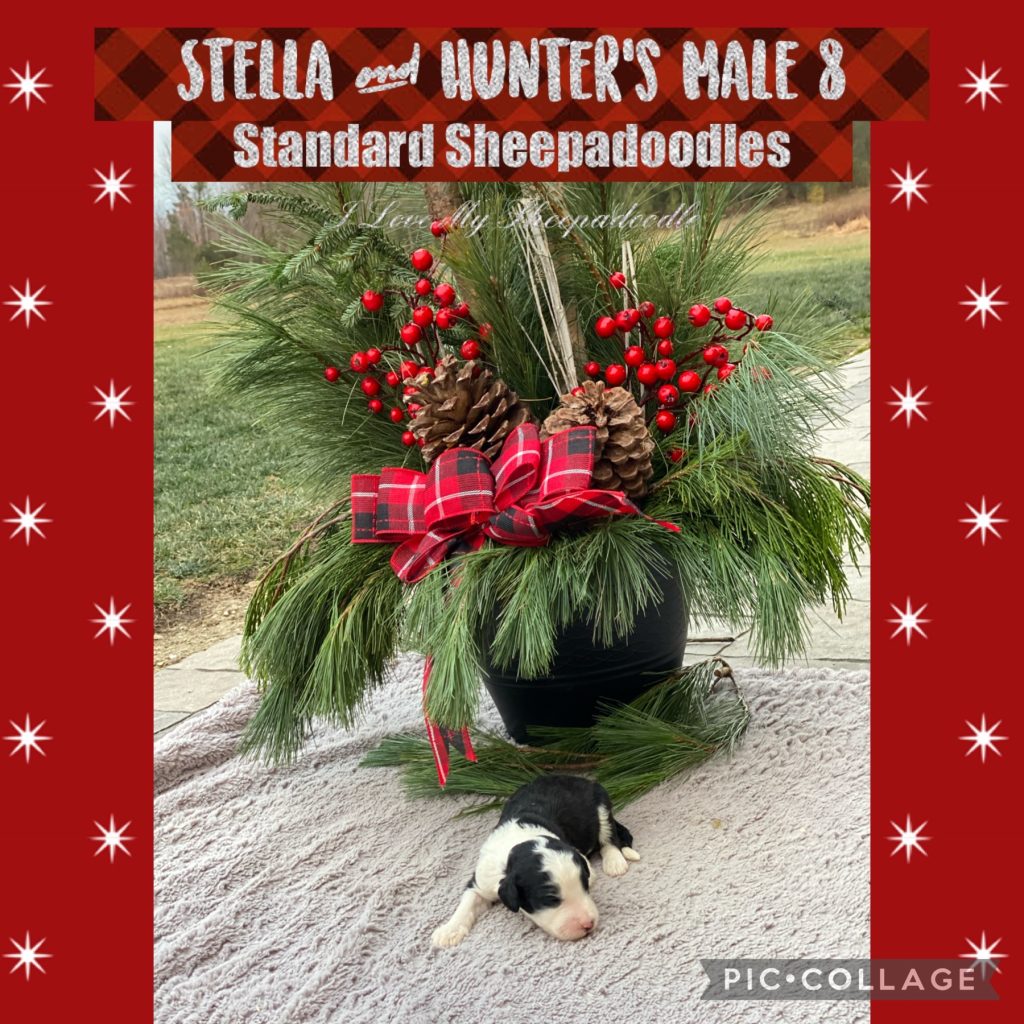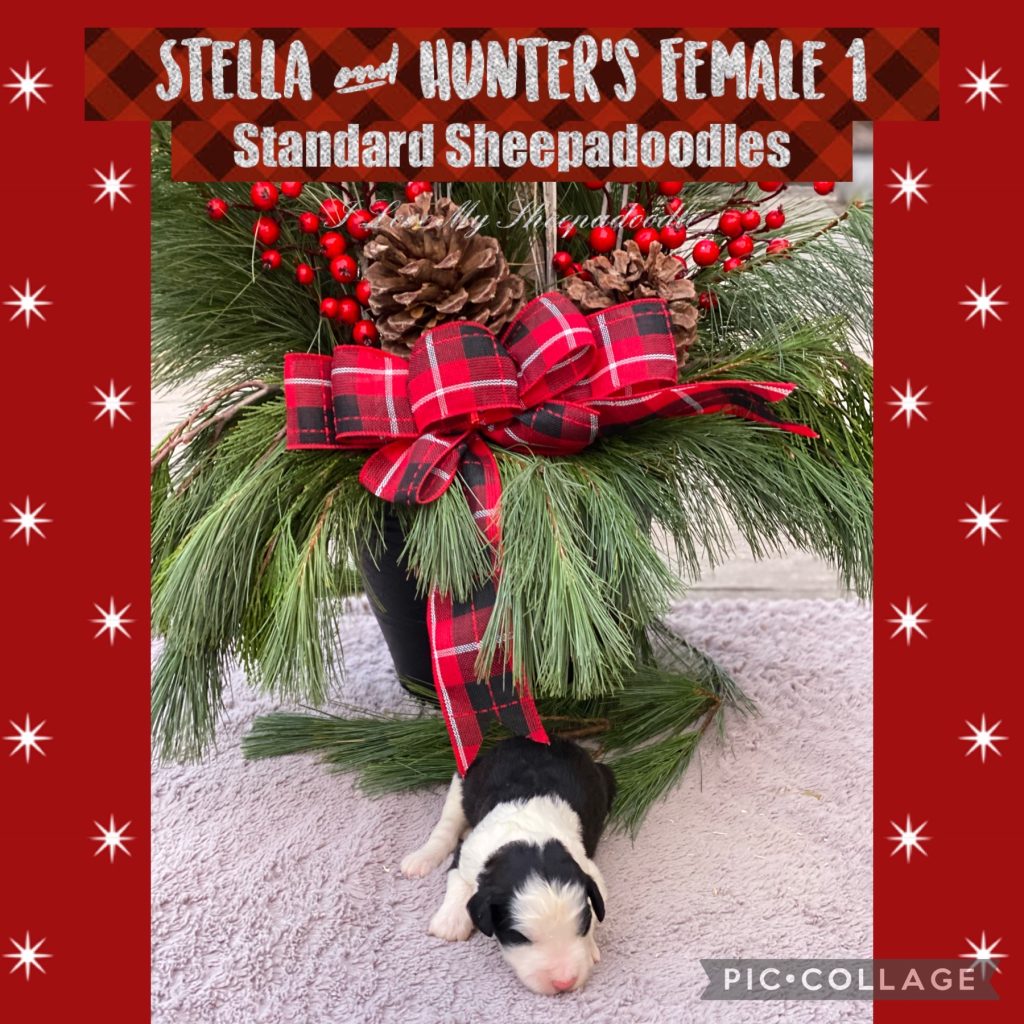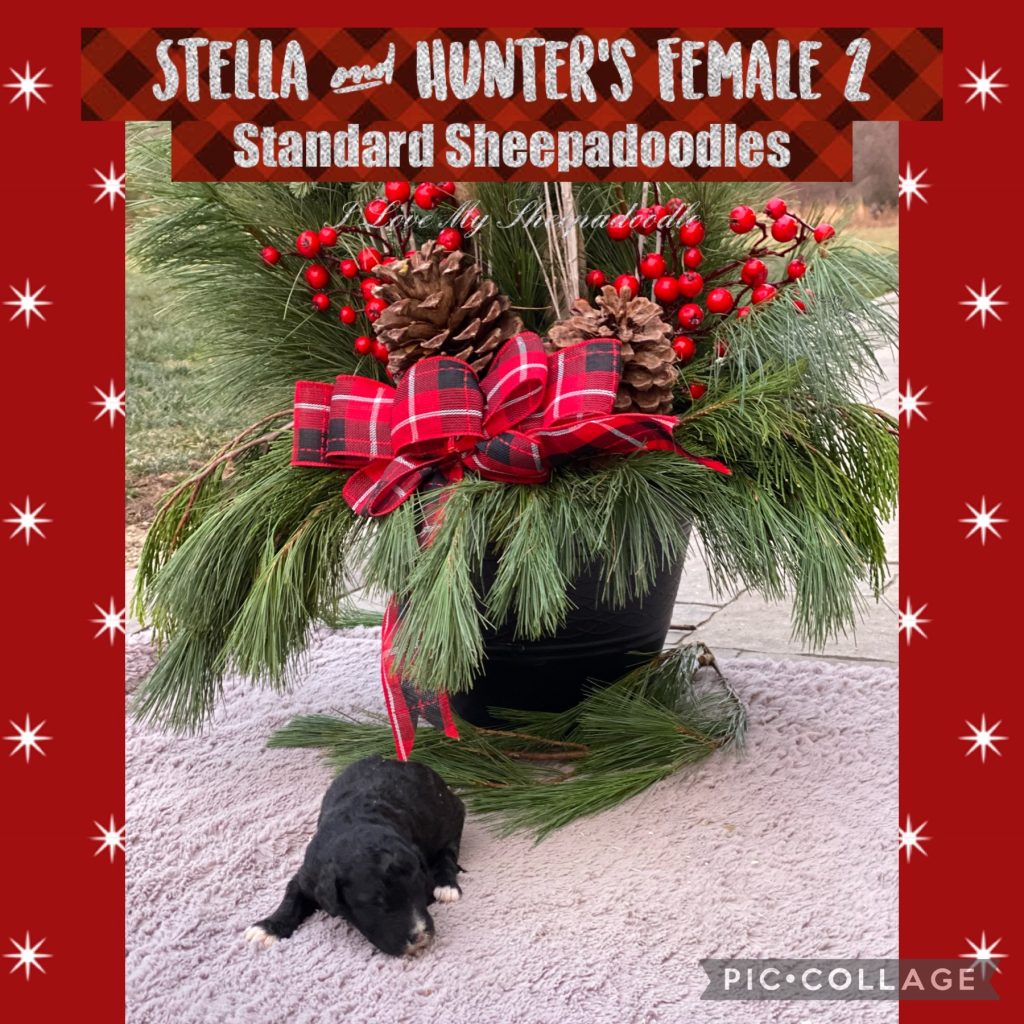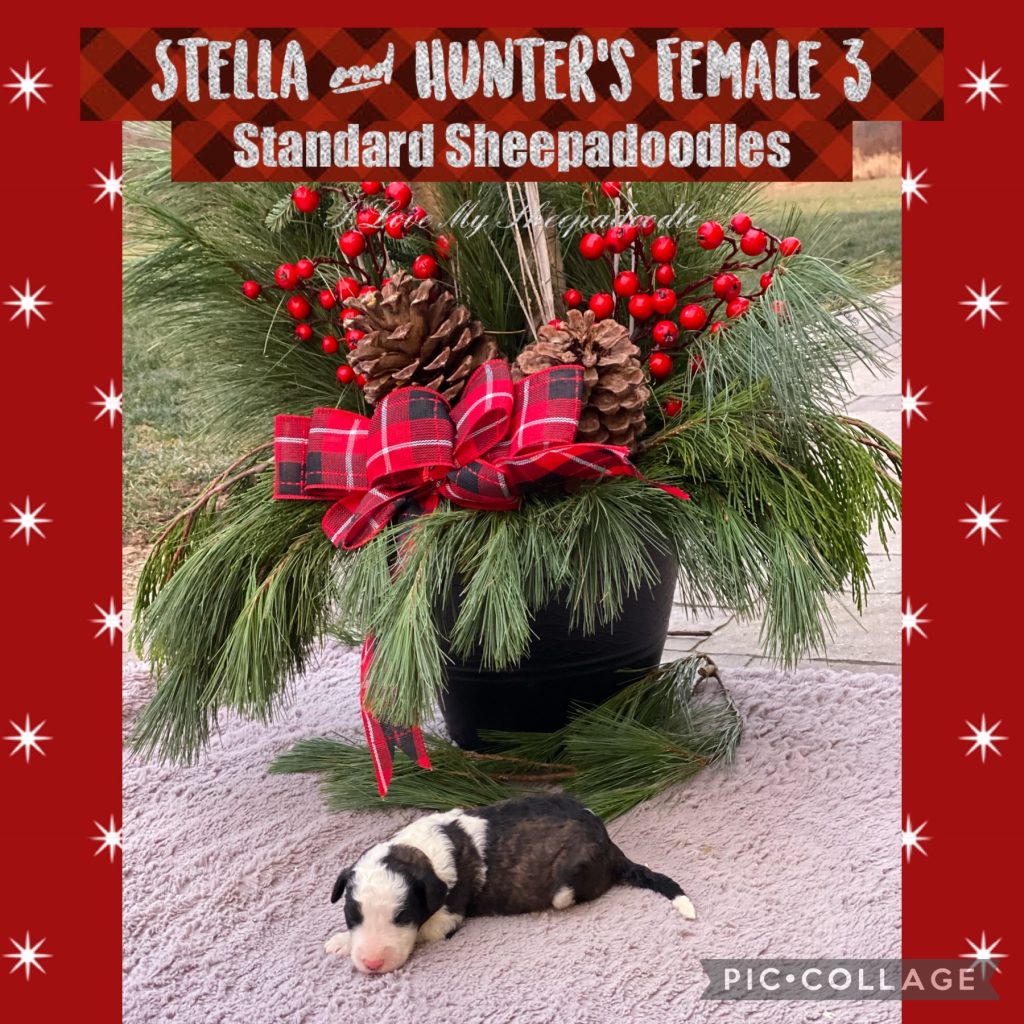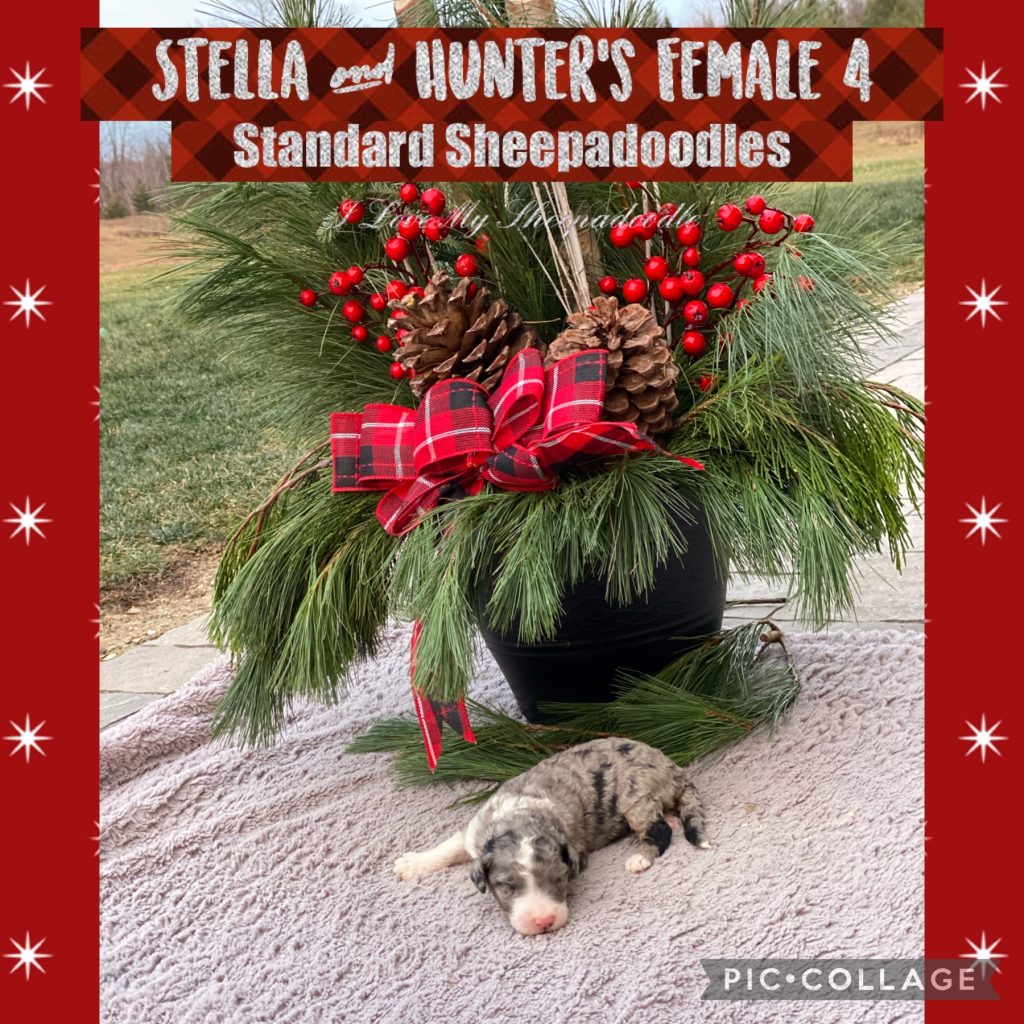 ~
~

~
MEET THE PARENTS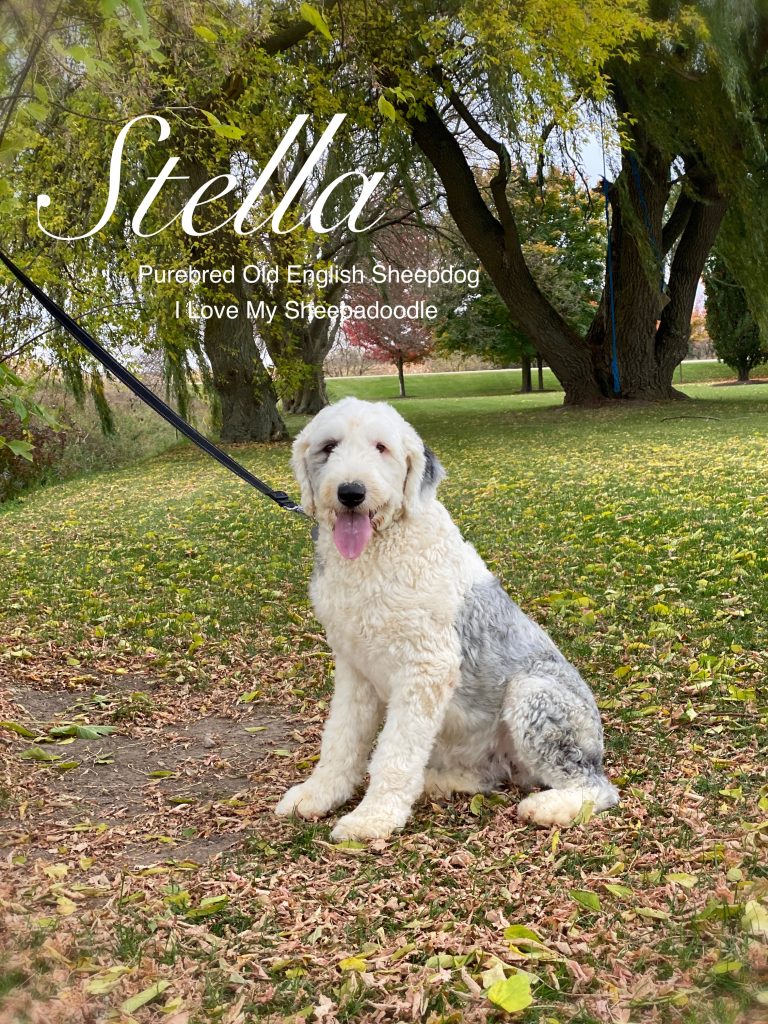 STELLA ~ CKC OES
Stella is a quiet, gentle Sheepdog.  She loves to be with people and sit near by.  She is our calmest Sheepdog and we love her gentle kind disposition.  Stella is around 65 – 70 lbs matured.  She has a fluffy soft coat and we expect her to pass that on to her pups.  We look forward to the kind, gentle natured puppies Stella should produce starting early 2023.
Excellent Hips & Normal Elbows – OFA Prelims
Paw Print DNA Sheepdog panel – Pending
–

–
HUNTER
AKC STANDARD POODLE
Hunter is our recently acquired standard merle & white poodle.  He is a very tall boy!  And he weighs in around 65 lbs.  The thing that stands out about Hunter other than his huge size, is his very gentle easy going personality.   We love to see this in our dogs and look forward to having more puppies with his golden personality!
Good OFA Hips and Normal Elbows
Genetic testing clear
~