BORN OCT 31, 2021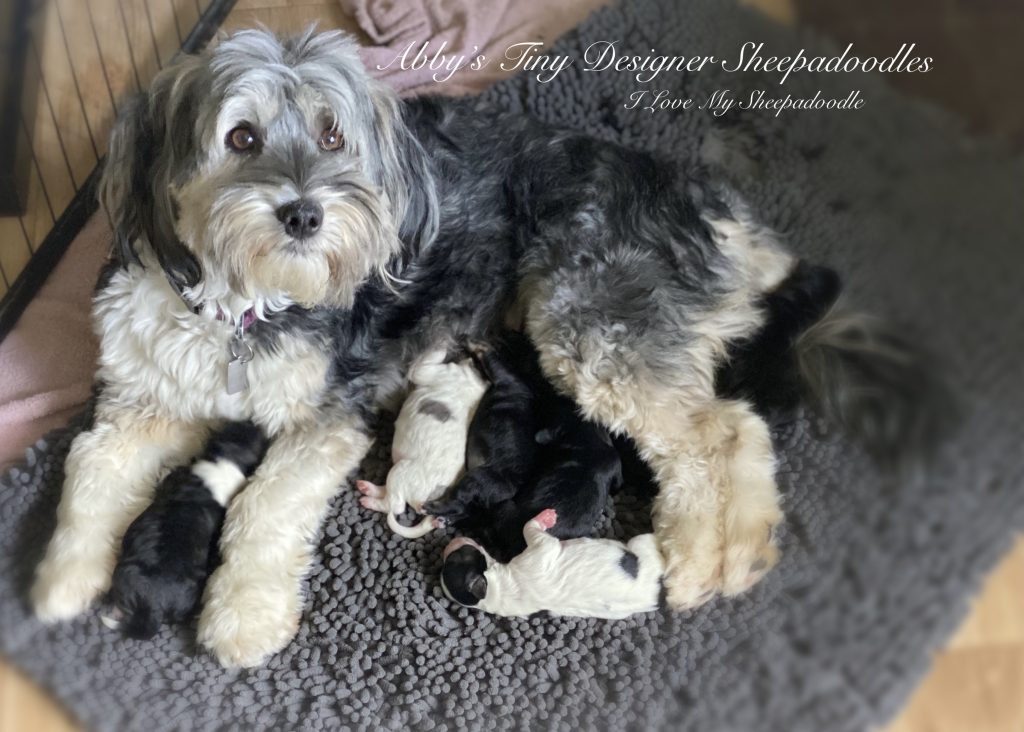 We are excited to welcome our first litter of Tiny Designer Sheepadoodles from Abby Jr & Teddy.  There are 7 puppies, 4 girls and 3 boys.  The temperaments of these pups should be fun loving, sweet, affectionate, bright and happy.   Abby is a loving companion and Teddy is bright and keen for fun and games.
These pups should mature to around 12 – 25 lbs and somewhere around 12 – 15 inches tall at the shoulder. We have black and white pups and blue merle and white pups with some having tan markings on their face and legs. The pups will either keep their colour or go some shade of grey and white with their adult coat.
Our Tiny Designer Sheepadoodles are a blend of Old English Sheepdog, a Havanese mix and Miniature Poodle.  Our goal is to make a loving, loyal Sheepadoodle hybrid in the smaller size.  So we have put together this blend for those searching for a Sheepadoodle in the Tiny size.  These puppies will have soft, hyper-allergenic coats.
These pups will be ready to go home Dec 26, 2021 or after when they turn 8 weeks.  Puppy picking is planned by video call.  Photos will be posted when pups are 1 week old and again around 4 weeks of age.  We will also post videos on our Instagram feed of each puppy playing the day prior to puppy picking.
The pups will come with their first booster, several rounds of dewormer, vet check with health records, and a puppy pack including some food, toy, blanket, vitamins and optional 30 day free pet insurance.
Abby & Teddy's puppy application page is now open!  Sign up for our email notifications or check back after Nov 6th for our puppy litter announcement.
Starting Oct 2021 our Fall prices are now on sale at $4,000 CD
You can refer to our Pricing and Payments page for more info on the process.
    We look forward to helping you with your Sheepadoodle puppy!

WAITING LIST
Puppy Picking Planned for Thursday, December 9, 2021
1. Karen S ~ Confirmed ~ Either Gender ~ 2:30 pm
2. Melanie T ~ Confirmed ~ Either Gender ~ 3 pm
3. Donna S ~ Confirmed ~ Preference to male ~ 3:30 pm
4. Jan C ~ Confirmed ~ Preference to male ~ 4 pm
5. Available
6. Available
7. Available
5 WEEK PHOTOS
Biggest to smallest in each gender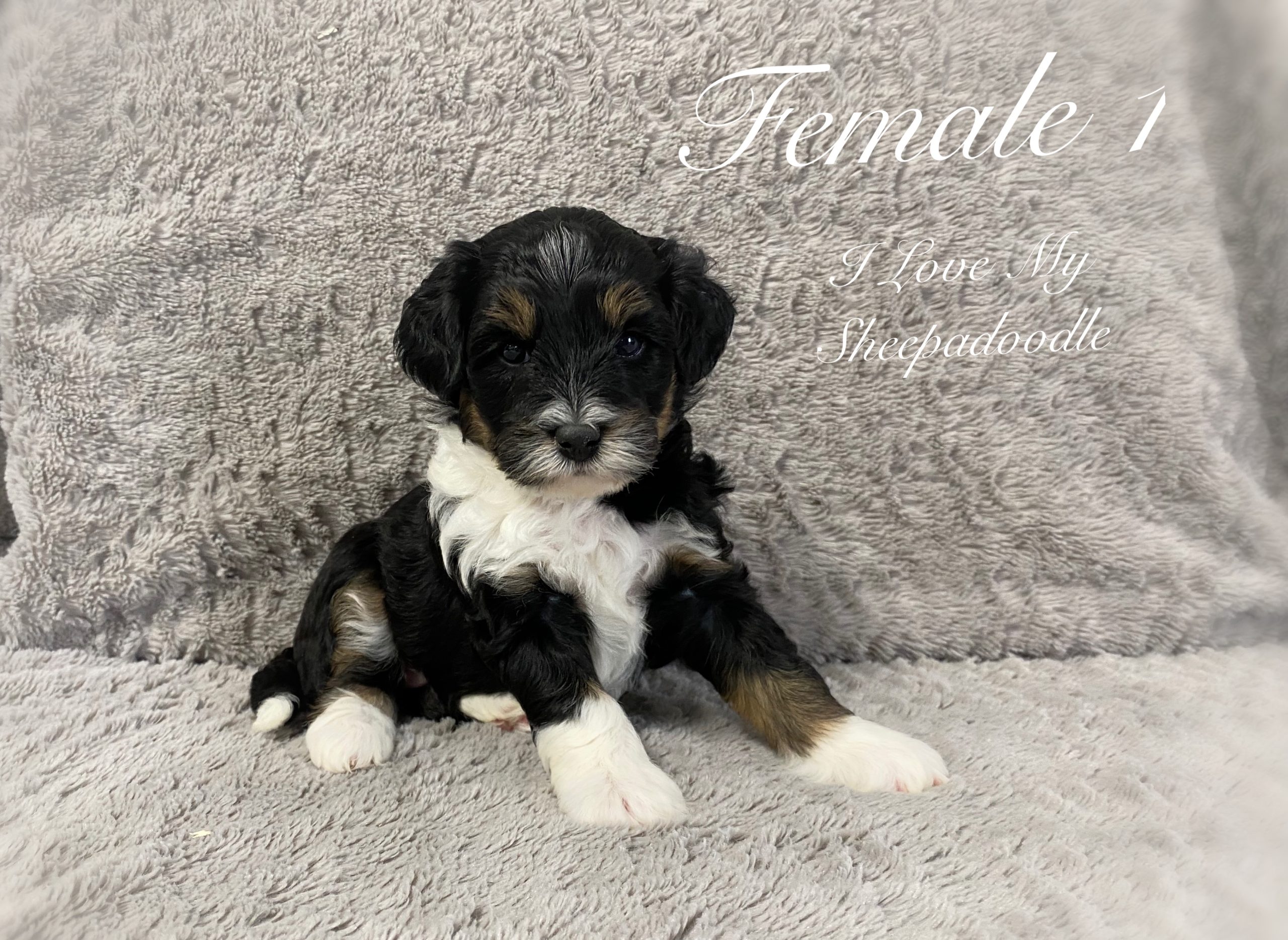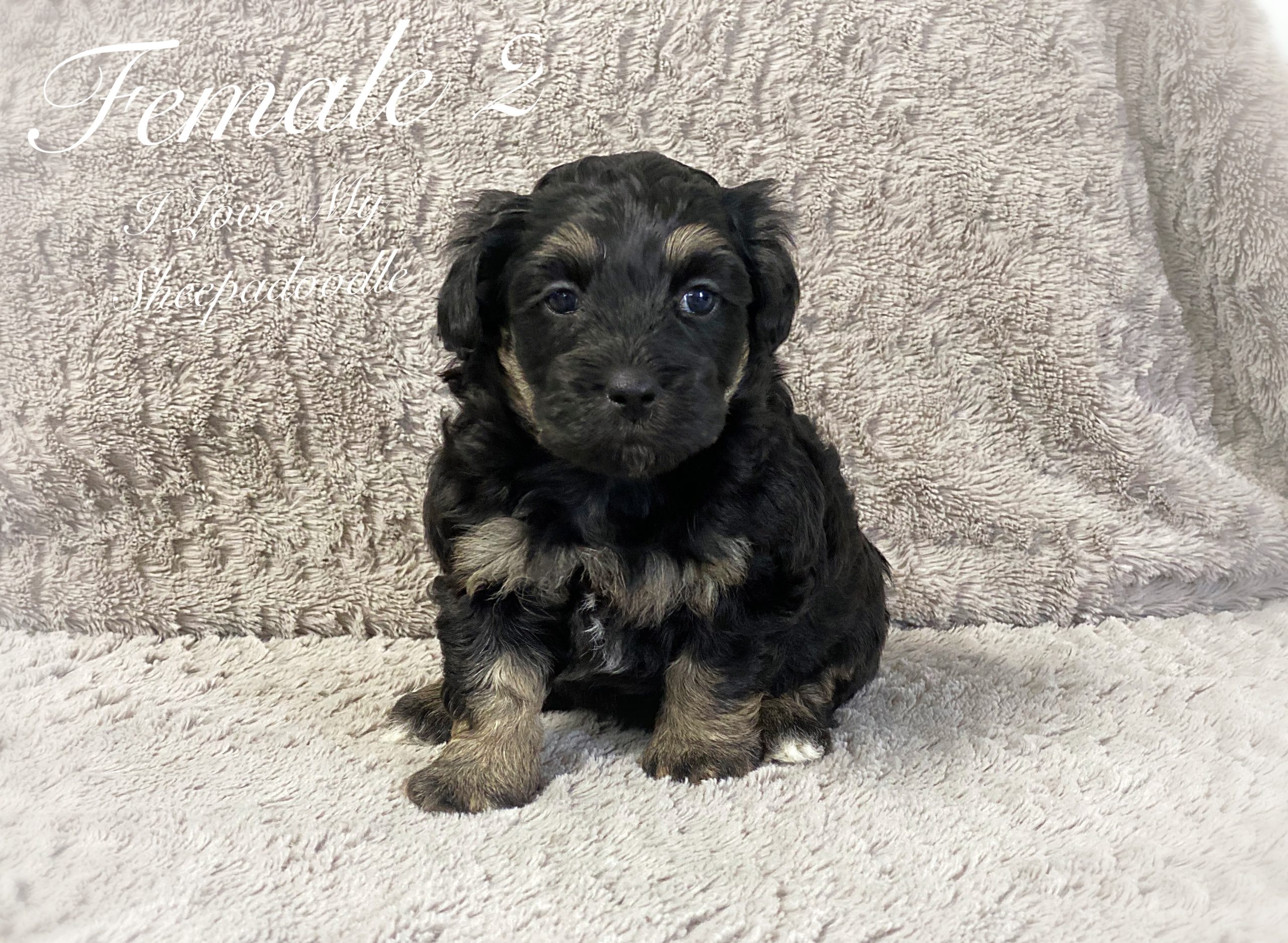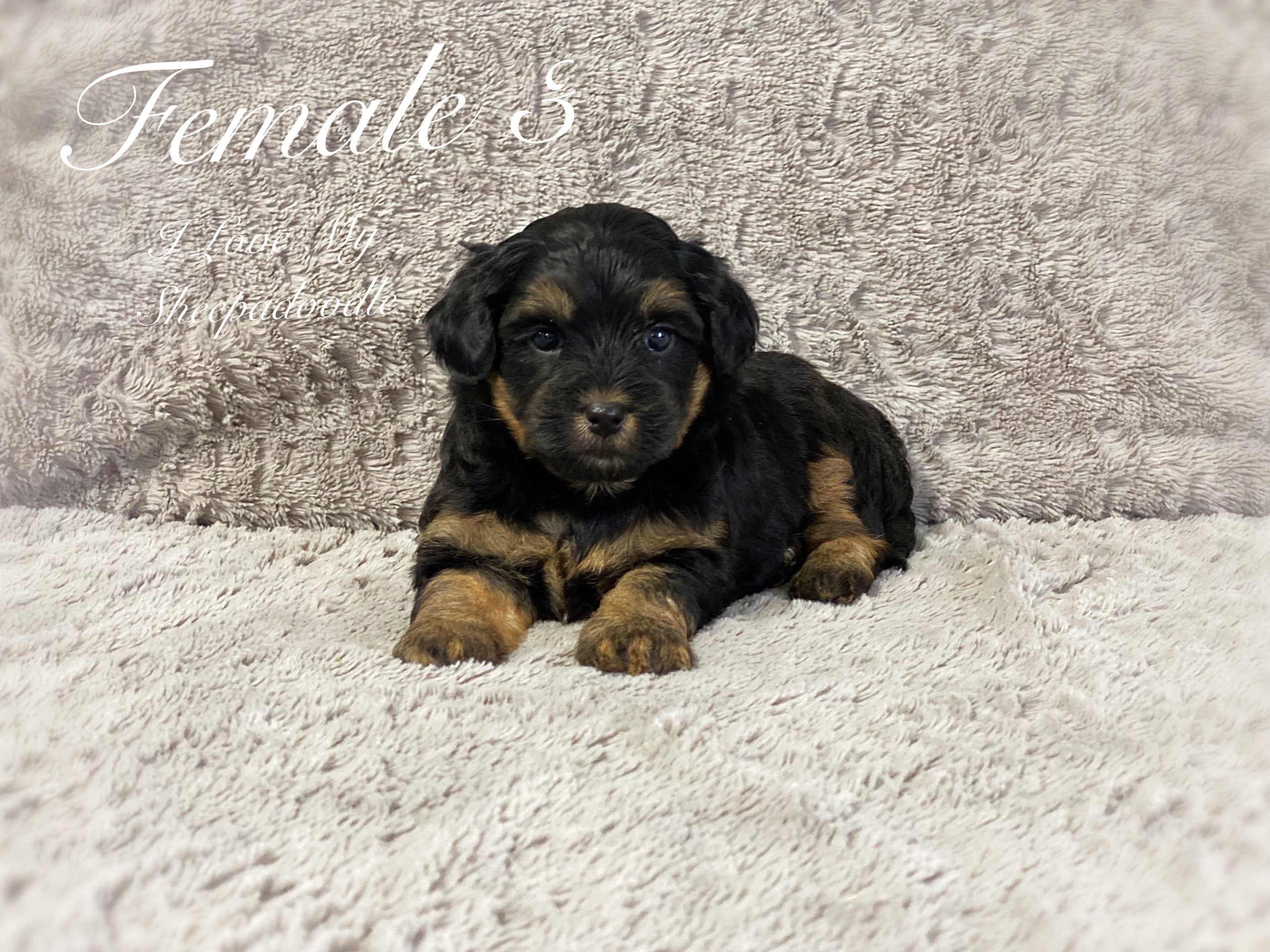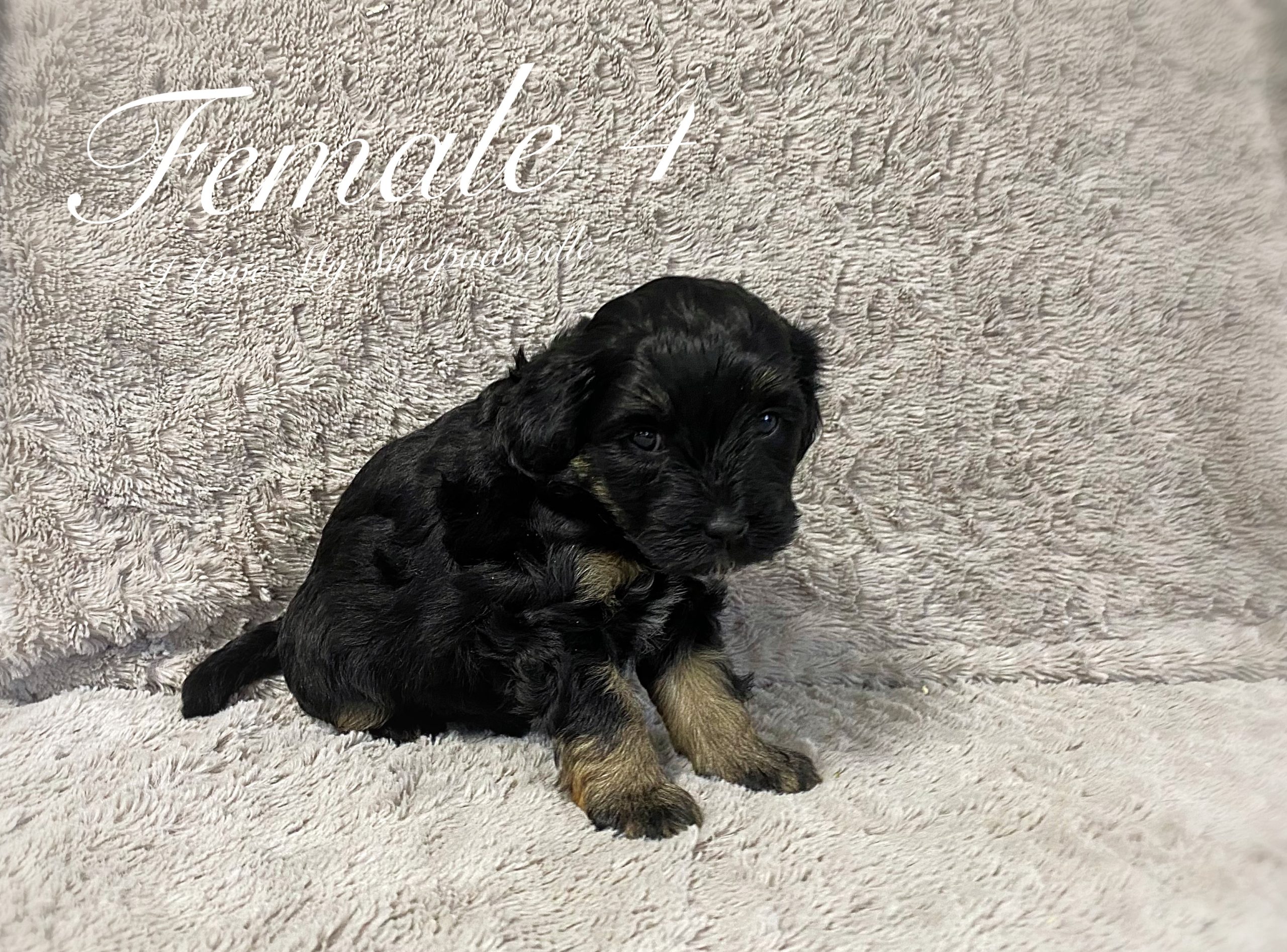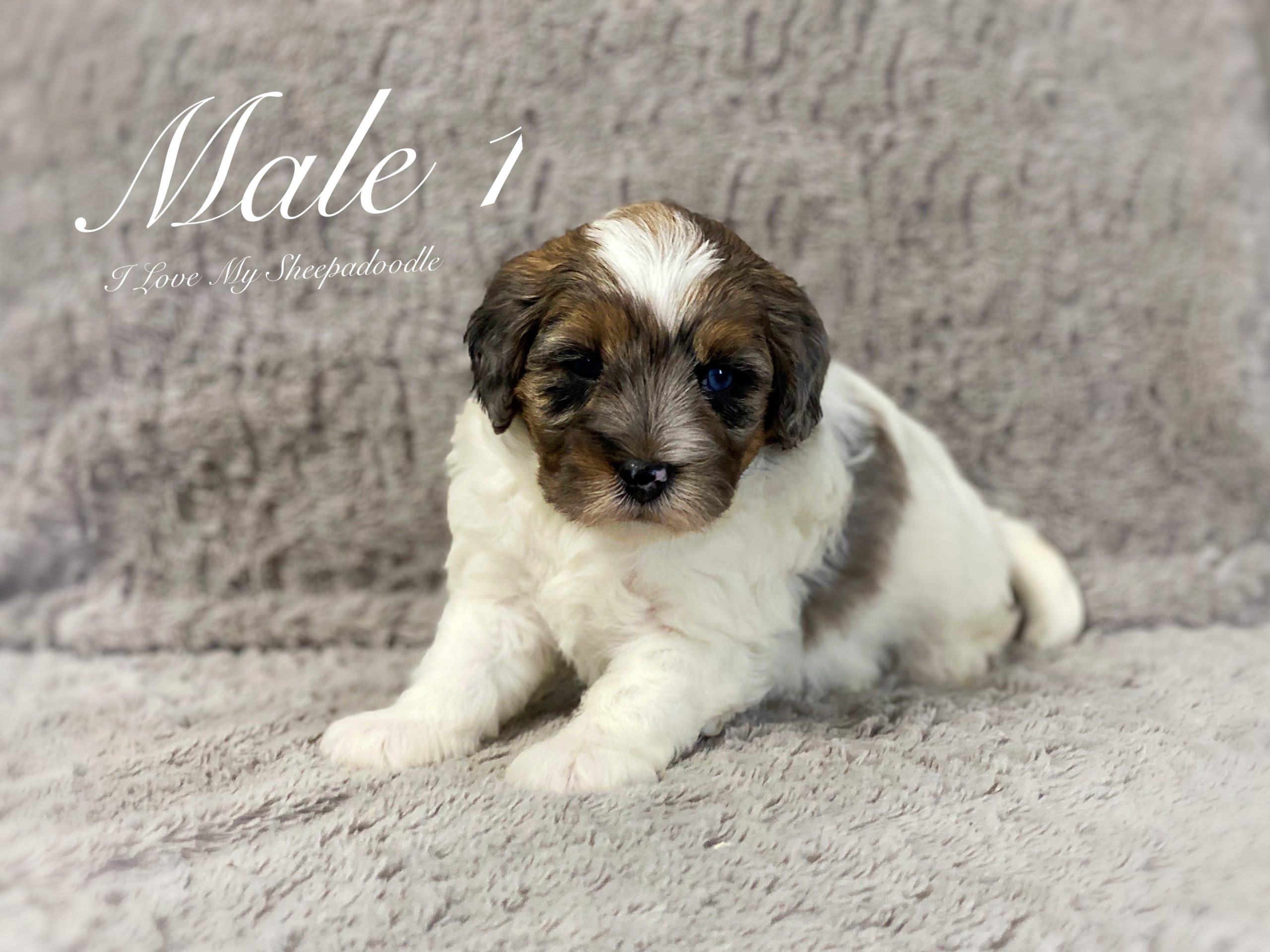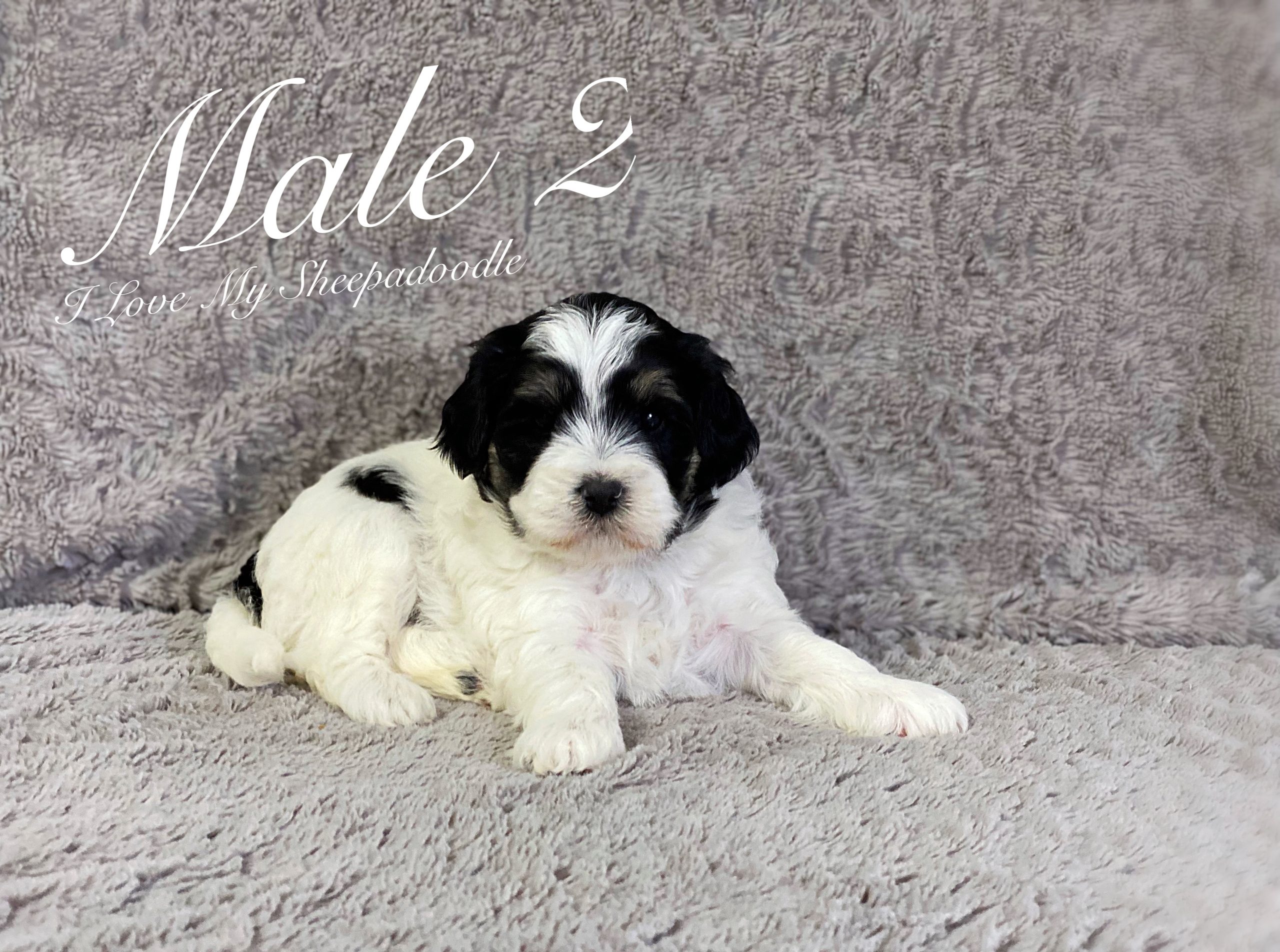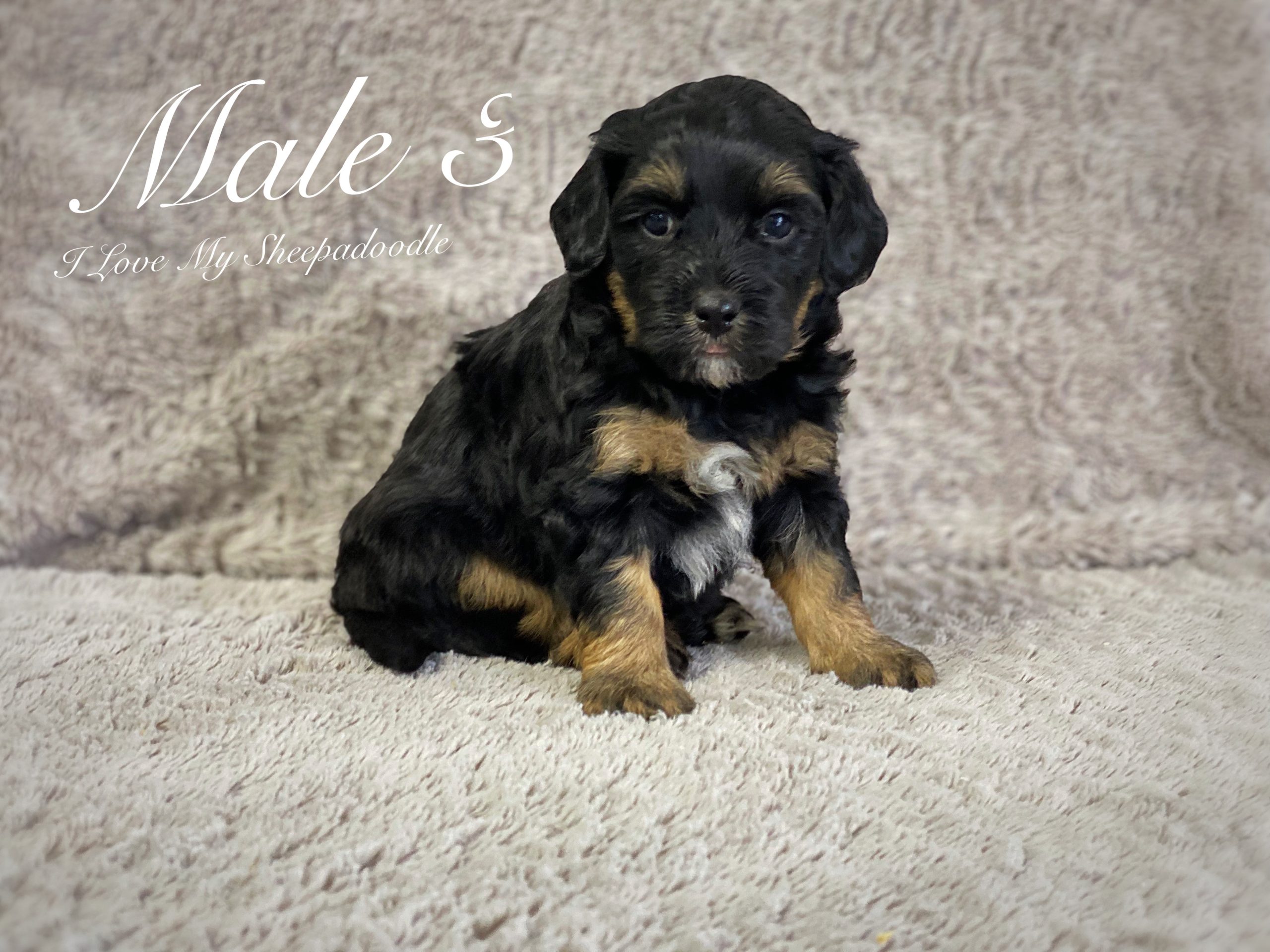 MEET THE PARENTS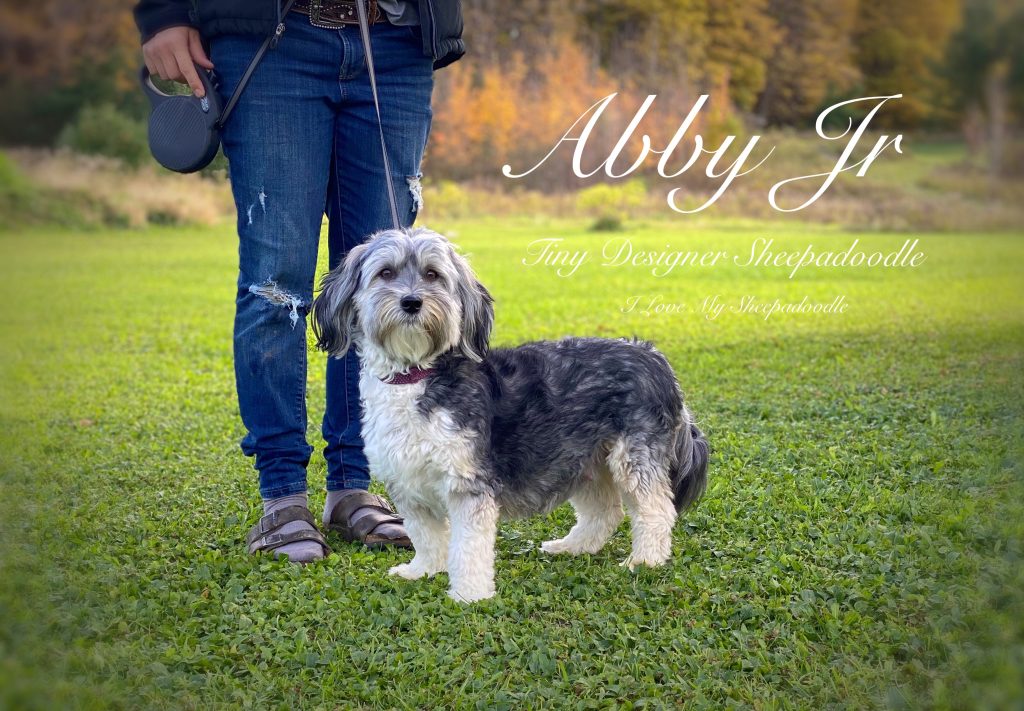 ABBY – HAVANESE SHEEPADOODLE
Abby lives in London with her guardian dad Brad.  She is a faithful friend and has a great life living the retired life with "dad".  Abby is around 23 lbs matured and about 13 inches tall at her shoulder.  Abby is a blend of Old English Sheepdog, Mini Poodle and Havanese. Her dad is Buddy, a 12 lbs grey and white Havanese breed.  Her mom is Phoebe, a grey and white 35 lbs Mini Sheepadoodle.  Abby has past her OFA prelim Hips and Elbows as good and normal.  You can see Abby's breed history with the Designer Sheepadoodle blend and her health traits on her Embark link here.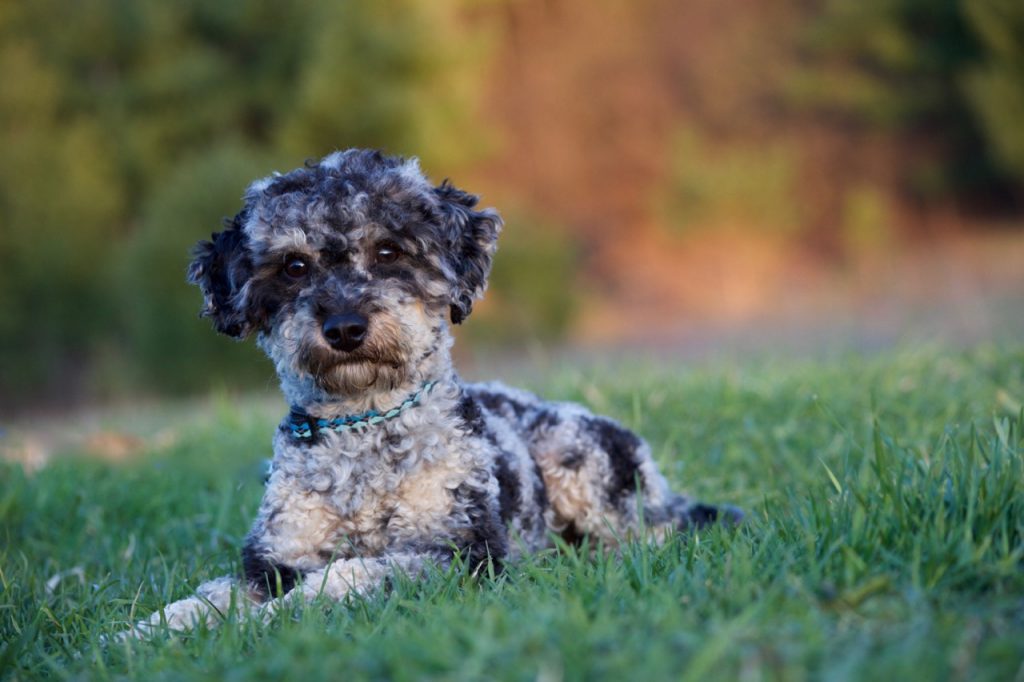 TEDDY – MINI PUREBRED POODLE
"Teddy is a miniature purebred poodle with so many beautiful colors. Teddy lives in a guardian home and comes for visits. We ask them what he's like with them, and this is some of what they said. Teddy is very sociable with other dogs and people. He is very trainable. He has a nice gait and gets a lot of compliments on his unusual colours. We bought Teddy as a 8 week old puppy, and at 11 weeks he went to his guardian home. He is alway a joy when he come for visits. We are so excited to have him in our breeding program!" ~ From Country Raised Bordoodles
OFA Prelim Hips and Elbows – Good and Normal.
12 lbs and 12 inches at the shoulder

PAST TINY DESIGNER SHEEPADOODLES
OREO & GRYFFIN'S FALL 2021 PUPPIES – ALL SOLD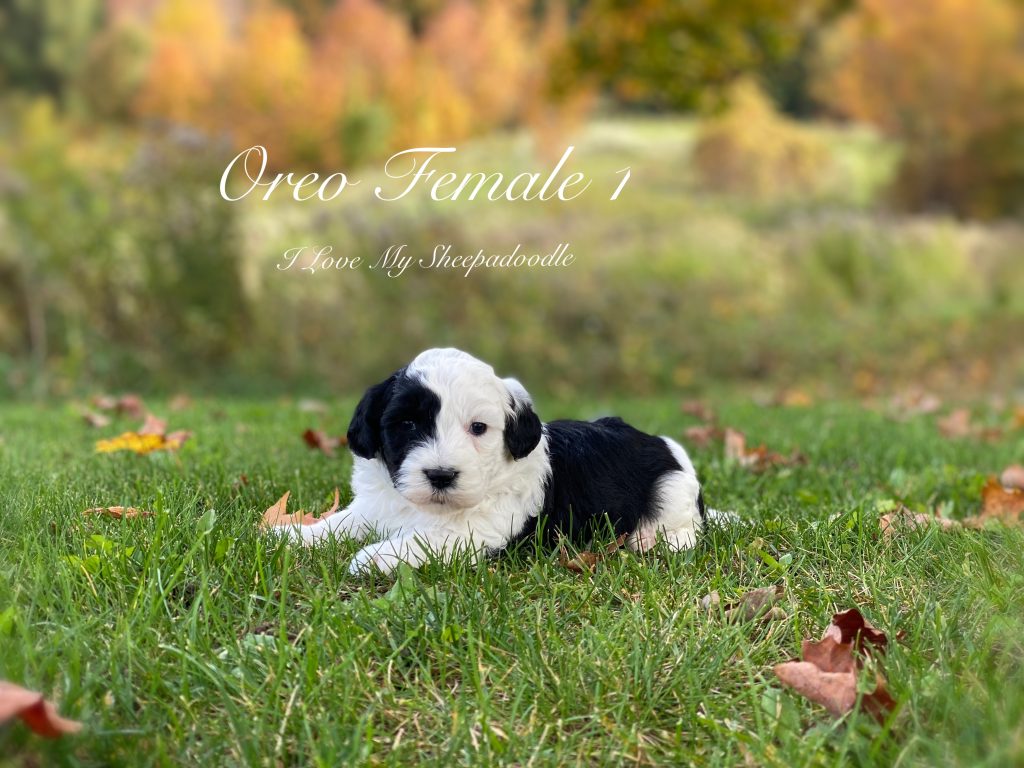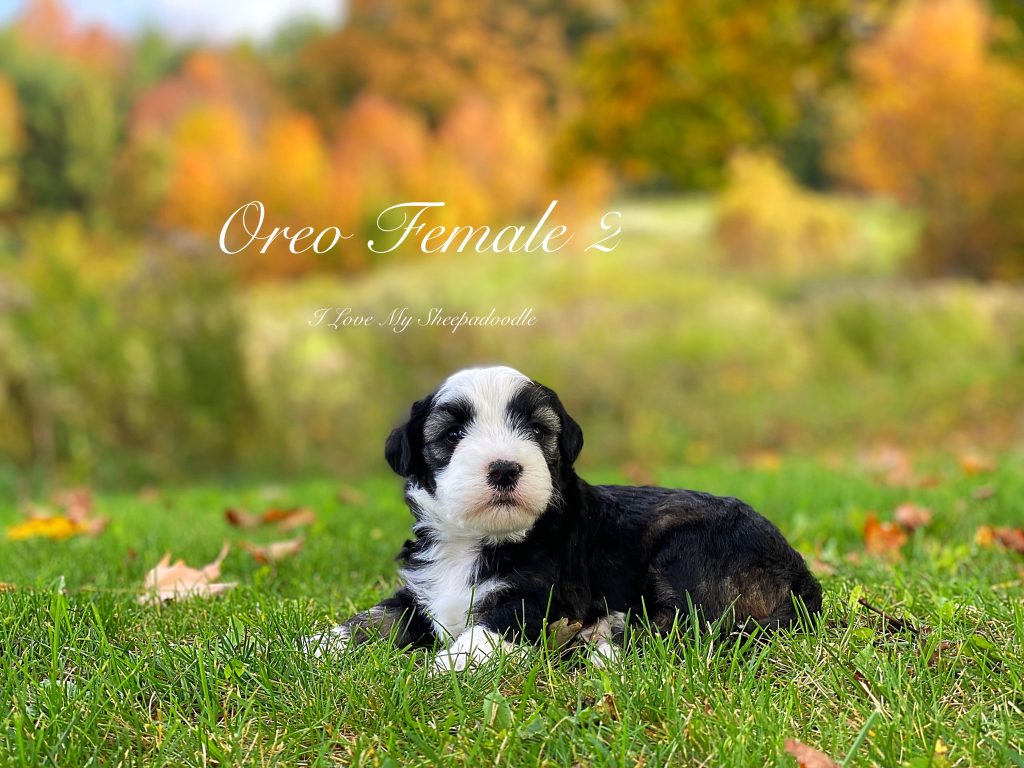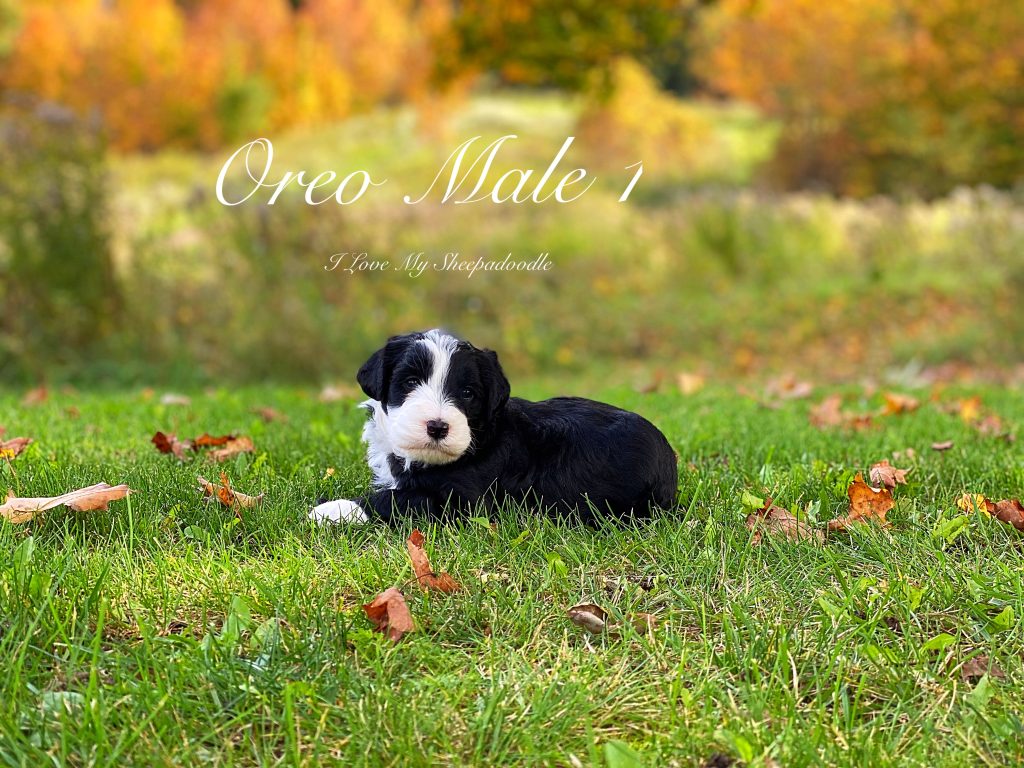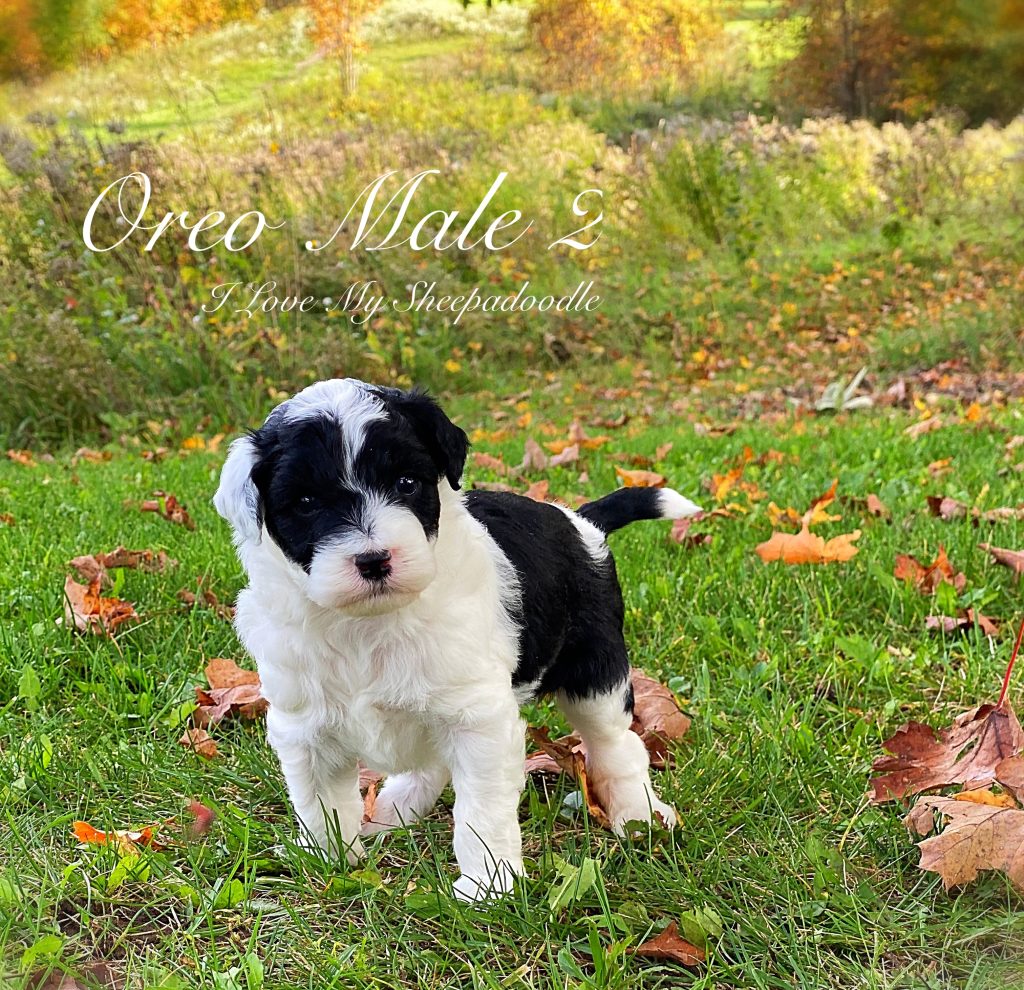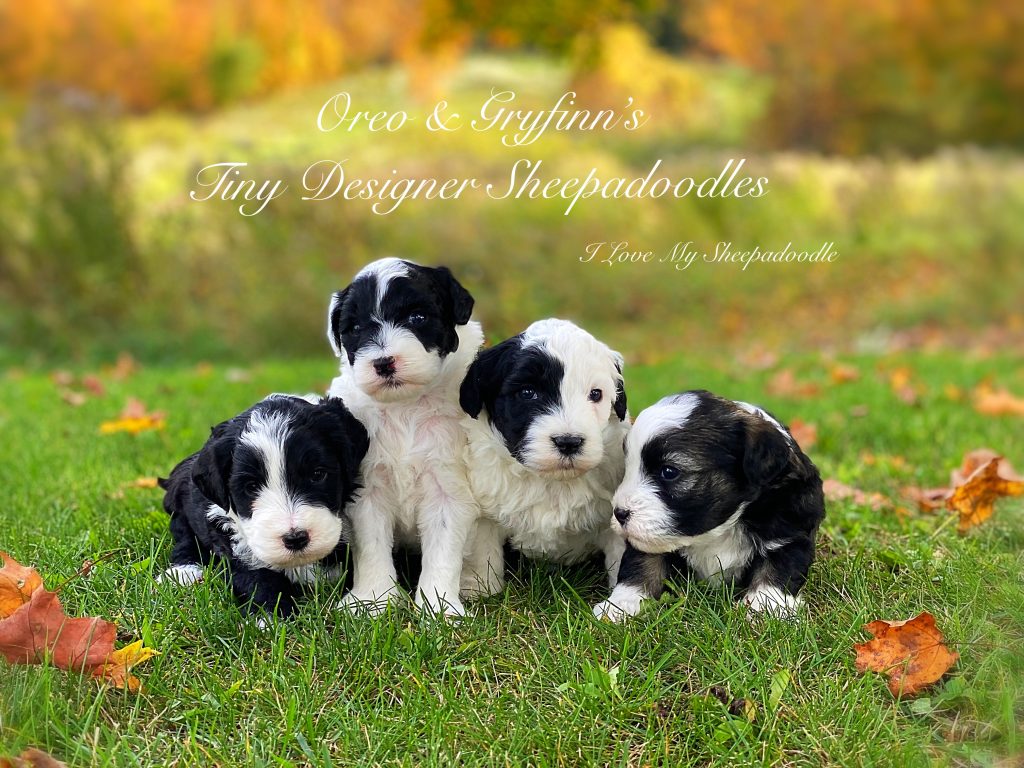 TINY DESIGNER SHEEPADOODLES ON INSTAGRAM

~ LEIA ~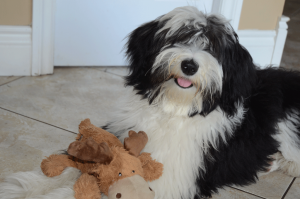 Leia is the happiest, most relaxed, and just all around most pleasant-to-have-around dog we have ever had, and we've had plenty of dogs over the years – OES x 3, Bulldog X 3, Puli x 2, and a Cocker Spaniel (a long time ago, along with multiple cats). Leia has certainly worked her way into our hearts!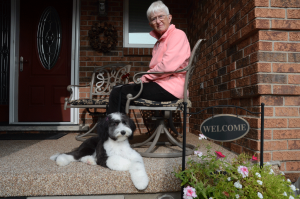 I don't know if it is just the dog, or the extra training provided by Heidi, or likely a combination of both, plus the fact we are pretty experienced dog owners, but she is SO well adjusted – oh sure, she's a puppy, with all her energy, and her "zoomies", but she is just the darn "sweetest" dog we have ever had. Gentle, friendly, mostly restrained, a delight to have around as a companion.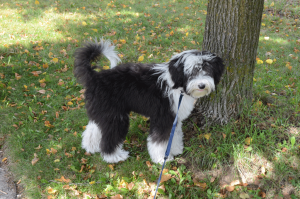 Having had sheepdogs over the years, we certainly recognize all the sheepdog traits in Leia – and we love them. I assume the little curly tail (reminiscent of the Puli) is a Havanese trait, bit it sure helps accentuate her walk – Leia doesn't just walk, she trots or prances 🙂 So pretty to watch. Enough, I guess – you must think I'm struck with her, but she has me wrapped around the heart.

MORE LITTERS COMING
  We are planning more litters for Fall 2021 and Winter/Spring 2022.  You can see these on our News & Upcoming litters page.  Click on the link to sign up for our email updates to be notified of when we have puppies available.  Check back to our website for the upcoming litters you are interested in.