~ RESERVED FOR THOSE ON WAITLIST ~
Ready for homes December 16, 2020
Bailey & Benji welcomed their first litter of Tiny F1b Sheepadoodles on Wednesday, October 21, 2020.  There are 7 gorgeous girls and 3 handsome little guys.  This litter has a variety of wavy and curly coats.  We expect them to have that soft to touch coat and be hyper-allergenic. These Tiny Sheepadoodle pups are lovable and cute and we look forward in providing you with a beautiful Tiny Sheepadoodle!
These pups markings are blue merle & white (which is grey, black and white) and black and white tuxedo pups or black with abstract markings.  The blue merles will look light grey with dark grey or black spots in a mature coat. The white will stay white.  The black pups could stay black and white or go grey and white – time will tell!  The pups should mature to around 15 – 25 lbs with the average being around 20 lbs. They should be around 13 – 16 inches high at the shoulder.  What a great little size for the Sheepadoodle!!
Puppy picking is planned for December 5, 2020 for when the pups are around 6 or 7 weeks of age by video call or by email/text or phone call.  Pups will be ready to go home around Dec 16, 2020 between 8-9 weeks of age.   The pups will come with their first booster, several rounds of dewormer, vet check with health records, and a puppy pack including some food, toy, blanket, vitamins and optional 30 day free pet insurance.
Our Tiny Sheepadoodles are priced at $4,000 CD taxes included with the Merle pups being $500 more.  This litter is reserved for those on our waitlist.  We plan to have more litters available 2021 so check back at that time or ask to sign up for our email updates.

WAITING LIST
(Will mark confirmed as we work through master waitlist. Gender preference may be listed but is not decided until puppy picking day.  If there is not a suitable puppy on puppy picking day you may wait for our next available opening in a future litter)
Puppy Picking is planned for Saturday, Dec 5.  Your time slot is by your name.
 1. Breeder's Pick Blue Merle Female ~ Aiden's Pup ~ Female 1 ~ "Daisy"
2. Kelly I ~ Woodlawn, ON ~ Blue Merle Female 2 ~ "Gerti"
3. Sara P ~ Westmount, QB ~ Female 3 ~ "Olive"
4. Roy & Lisa C ~ Tiny or Mini ~ Male 2
5. Rena N ~ Delta, BC ~ Female 6
6. Lauren W ~ Toronto, ON ~ Tiny or Mini ~ Male 3
7. Mariah Z ~ London, ON ~ Tiny F1b or Designer Sheepadoodle ~ Female 5 ~ "Poppy"  
8.  Tom C ~ Moncton, NB ~ Tiny ~ Female 7
9. Sue V ~ Midland, ON ~ Tiny ~ Male 1
10. Karina & Alex ~ Toronto, ON ~ Female 4
3 WEEK PHOTOS

WATCH FOR 7 WEEK PHOTOS

MEET THE PARENTS!
BAILEY – F1 MINI SHEEPADOODLE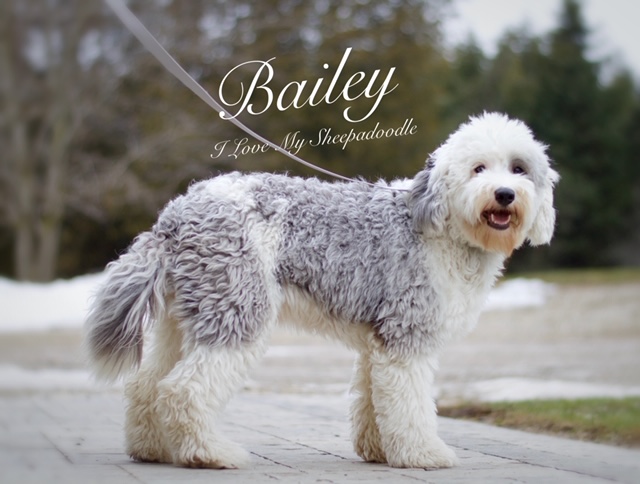 Bailey is our F1 Mini Sheepadoodle weighing in around 28 lbs and 16 inches at the shoulder.  She is 50% Mini Poodle and 50% OES.  Her father is our Blue Merle Mini Poodle Tobi!  Her mom is a purebred registered Old English Sheepdog. Bailey is a very gentle and kind mother taking attentive care of her little pups.  She's a natural!  Bailey is loved dearly by her guardian home of dad and mom and 2 younger kids.  Bailey loves them back equally!  Bailey has a close bond with her guardian family's Golden Retriever.  Bailey loves food! Who doesn't?  She's also content just hanging out with her family.  Bailey's going to make some great pups for future Sheepadoodle owners and those who get a pup from her will be truly blessed!  Bailey has passed her genetic health tests with Excellent Hips and normal Elbows.  She is clear on her Sheepadoodle panel with Paw Print Genetics.
BENJI – MINI POODLE
Benji is a Mini Poodle we bought from a lovely breeder in the US.  He is a blue Merle Parti poodle registered with the Continental Kennel Club.  He carries lots of colour and markings and you will see this in the litter he produces.  He is a nice little size of about 12 inches high at the shoulder and 12 lbs in weight.  He is a happy dog and enjoys playing with people or just hanging out.  Benji has past his OFA prelims with good hips and elbows.  This will be Benji's final litter as he has retired.

ENJOY SOME OF OUR PAST TINY F1B SHEEPADOODLES ON INSTAGRAM