–

Born Sept 21, 2022
Ready Nov 16, 2022
–
SALE $1,000 CD
–
1 OPENING LEFT
On hold for Brenda
THESE ARE UPDATED PHOTOS
~
Willow, Teddy & Billy are reserved
~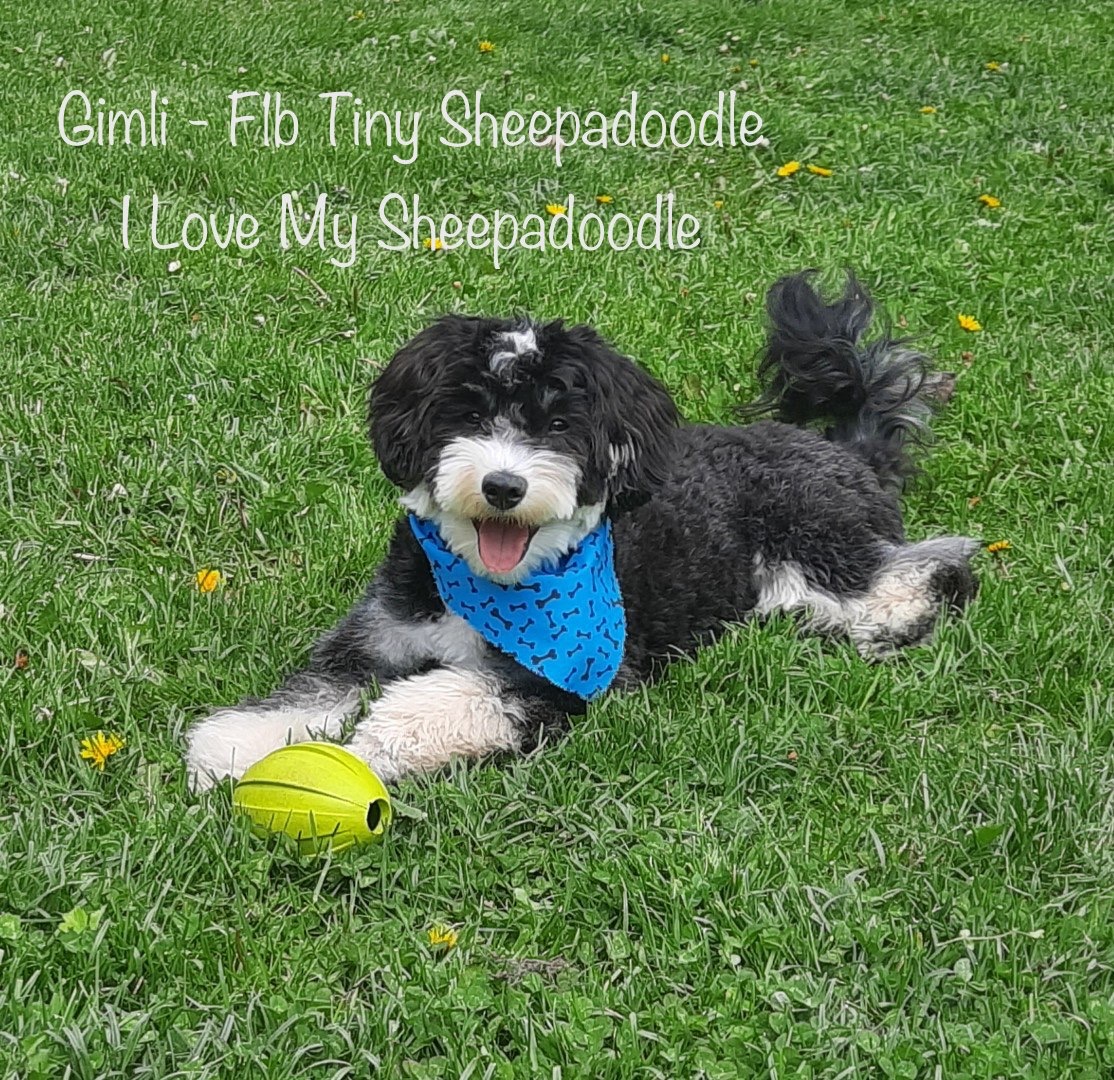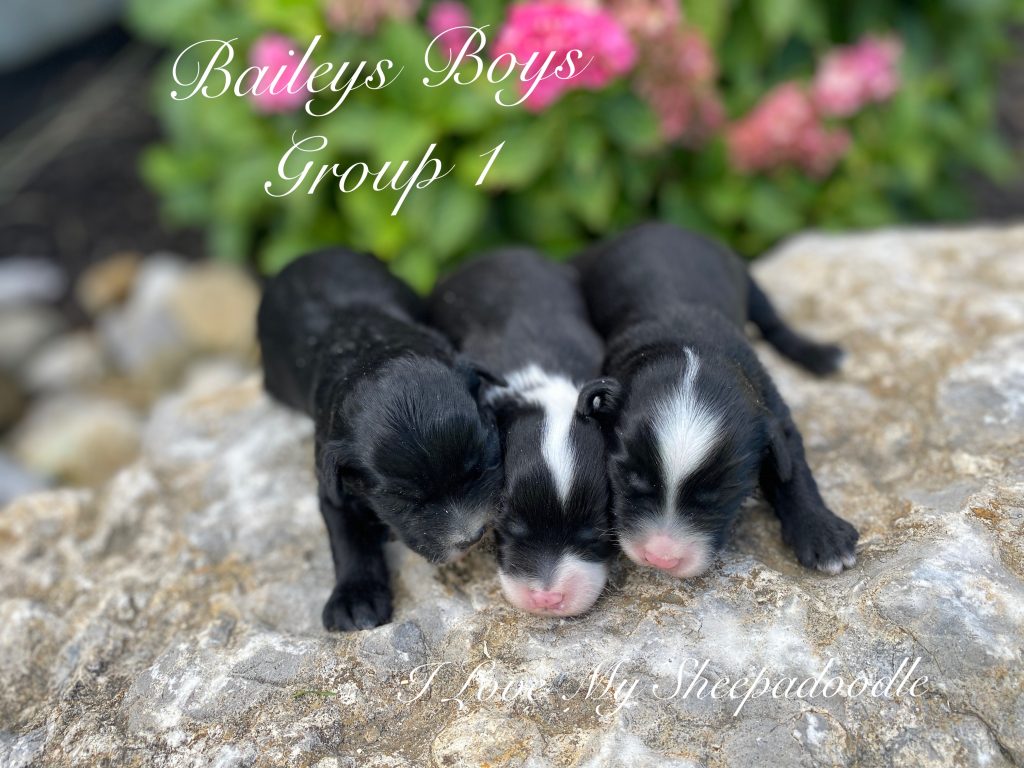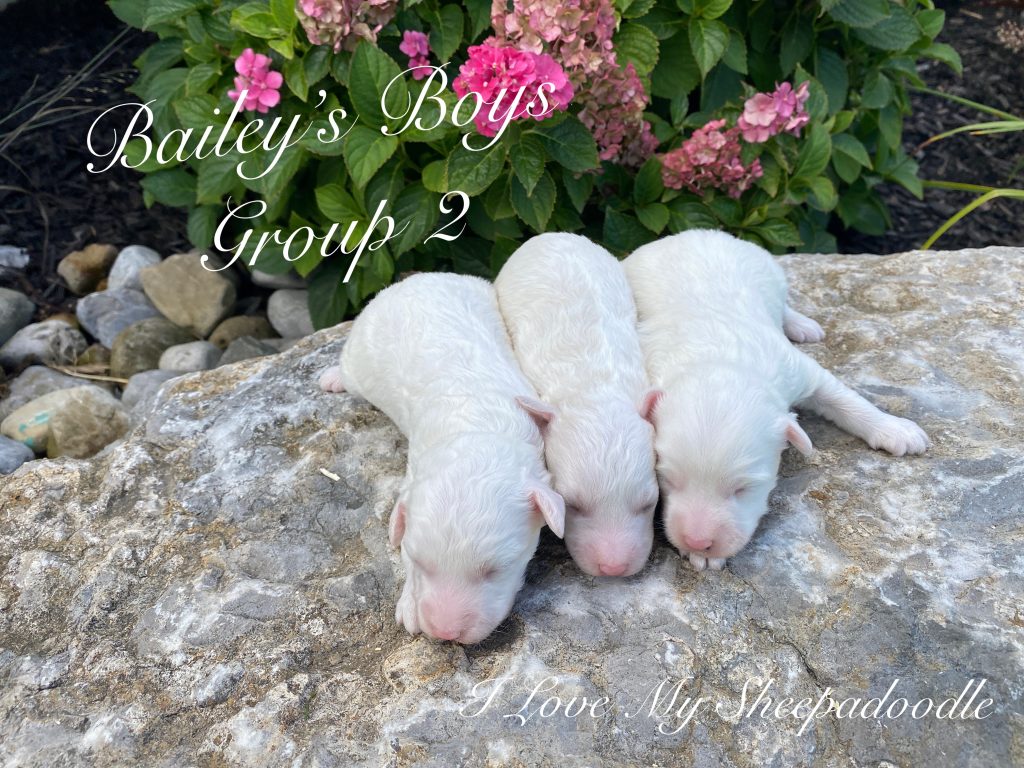 We are happy to introduce Bailey and Gimli's litter of Tiny Sheepadoodles!  There are 3 beautiful girls and 6 handsome boys in this litter.  The personality of these pups should be friendly, fun loving, with a bit of cuddly and a bit of curiosity.
This litter of pups is a F1 Mini Sheepadoodle crossed with a F1b Tiny Sheepadoodle.  The pups are about 2/3 mini poodle and 1/3 OES. You will see some curly coats and some wavy coats coats in this litter.  Since both the Poodle and OES are hypoallergenic breeds these pups should also be hypoallergenic.
The average size of these pups is expected in the 20 – 30 pound range and I expect most to be around 25 lbs.  For matured height at the shoulder the pups should mature between 15 – 17 inches.  There could be some taller or shorter due to the genetics behind them.
These pups will be ready to go home Nov 16, 2022 or after at the age of 8 weeks. They will have their first booster and several rounds of deworming. Our vet will also have done a thorough inspection of each pup.  Puppy picking is planned for Nov 3, 2022 by video call done in order of the waitlist below.  Photos will be posted again around 4-5 weeks of age.  We will also post videos on Instagram of each puppy playing a day or so prior to puppy picking.
Puppy Openings
Our Puppy Application page is open!
Send in an application if you are interested in one of these puppies.  We will email you the spot we have available for you.  We give 24 – 48 hrs for you to decide if you like to confirm to that spot.   Once things are confirmed we will give you info on deposit and puppy prep info. Deposits are $500 and valid for the one litter you confirm too.  This goes towards the puppy purchase. You can refer to our Pricing and Payments page for more info on the process.
Our Tiny Sheepadoodles are priced at $3,000 CD (taxes in)
–
WAITING LIST
Puppy selection planned for Nov 3,  2022
2. Breeder Pick ~ Male 3
3. Breeder Pick ~ Female 2
3. Nicole M ~ North Dumbfries, ON ~ Female 3
4. Jennifer & Aaron J ~ Bradford, ON ~ Male 2
5. Esther C ~ Woodbridge, ON ~ Freddie – Male 6
6. Sara ~ Walkerton, ON ~ Teddy – Male 1
7. Brenda H ~ Heildelburg, ON ~ Billy ~ Male 4
8. Pat N ~  Thamesville, ON ~ Willow ~ Female 1
9. Brenda H ~ Brantford, ON ~ Pending for Scottie ~ Male 5
 5 WEEK PHOTOS
Weights and descriptions at 6 wks of age
–
WEEK 1 PHOTOS

–
MEET THE PARENTS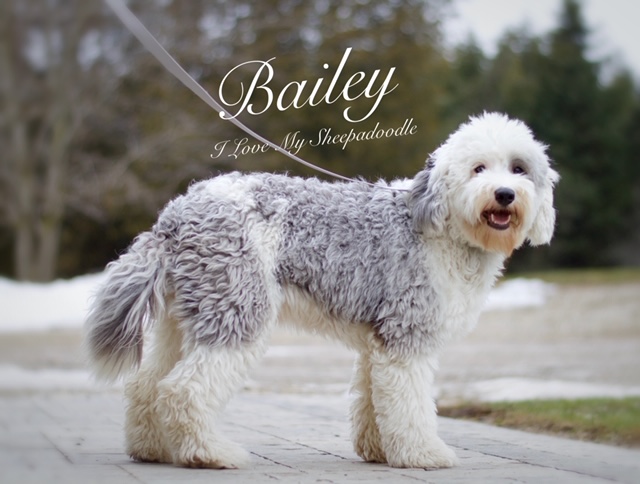 BAILEY – F1 MINI SHEEPADOODLE
Bailey is our F1 Mini Sheepadoodle weighing in around 28 lbs and 16 inches at the shoulder.  She is 50% Mini Poodle and 50% OES.  Her father is our Blue Merle Mini Poodle Tobi!  Her mom is a purebred registered Old English Sheepdog. Bailey is a very gentle and kind mother taking attentive care of her little pups.  She's a natural!  Bailey is loved dearly by her guardian home of dad and mom and 2 younger kids.  Bailey loves them back equally!  Bailey has a close bond with her guardian family's Golden Retriever.  Bailey loves food! Who doesn't?  She's also content just hanging out with her family.  Bailey's going to make some great pups for future Sheepadoodle owners and those who get a pup from her will be truly blessed!
Excellent Hips & Normal Elbows – OFA Prelims
Clear on Paw Print DNA Sheepadoodle panel
Clear on Embark DNA Panel with 1 carrier of IVDD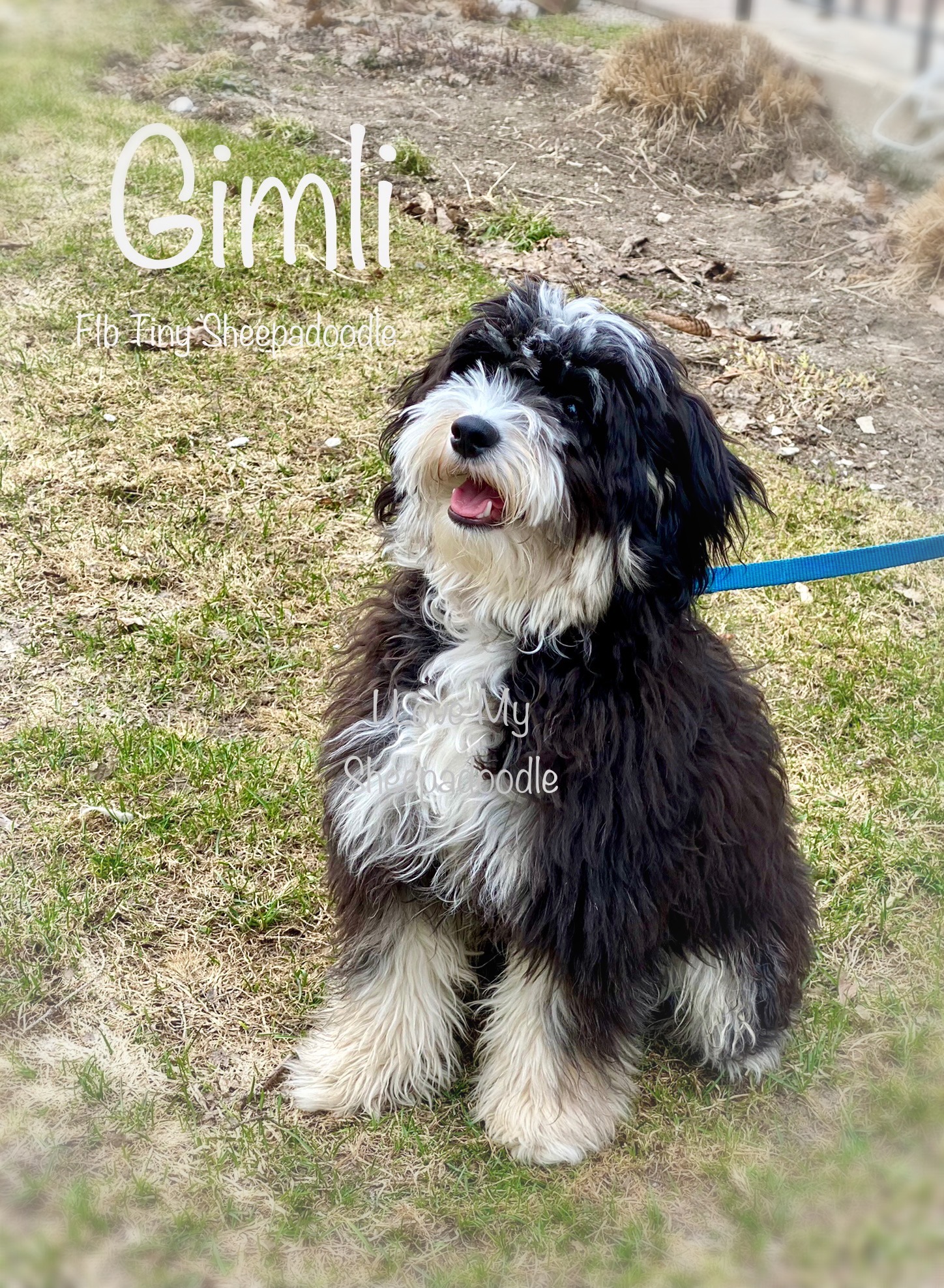 GIMLI – F1B TINY SHEEPADOODLE
Gimli is a fun loving, smart, sweet, sensitive, kind Sheepadoodle.  He is all one could ask for!!   His stunning black wavy coat with phantom highlights makes him a show stopper.  He is light and agile yet cuddly and calm.  He weighs in just under 20 lbs and standing about 16 inches high at the shoulder. He lives with his guardian family in the Wingham area along with his loving family members.  Gimli is such a blessing!  We are excited about his upcoming puppies that will carry on his good looks and outstanding temperament.
OFA Hips and Elbows – Good and normal 
Clear DNA panel through Embark