SALE OF $3,000
FOR REMAINING OPENINGS AVAILABLE!



Born March 23, 2022 ~ Ready May 18, 2022
Callie & Tobi have a beautiful litter of Tiny Designer Sheepadoodle puppies.  There are 5 healthy puppies in this litter!  We have 3 girls and 2 boys.  Each of these puppies have a soft, hypoallergenic, wavy coat.  Callie & Tobi have had pups together in the past and they are wonderful furry family members!  People love their Callie & Tobi pups!  See below for some testimonies of our past Tiny Designer Sheepadoodles.
These puppies are a blend of Old English Sheepdog, Havanese and Miniature Poodle.  We are the first breeder to do this.  We did this by blending three of my favourite breeds together to make a dog that I thought others would like too!  Our goal is to make a lovely family Sheepadoodle in the smaller size – so we produced this blend for those searching for a Sheepadoodle in the Tiny size!
These puppies should mature in the weight range of 15 – 30 lbs with most being around 20 – 25 lbs and be around 13 – 15 inches high at the shoulder.
Puppy selection is planned for May 4, 2021 for when the pups are 6 weeks of age. We do this by video call, text or phone call.  We will post photos of the pups a week or so before puppy picking day.  We will also post individual videos of the pups the day before puppy selection.  You will see photos here and videos on our Instagram feed.
These puppies will be ready to go home around May 18, 2022 or after between 8-9 weeks of age.   They will come with their first booster, several rounds of dewormer, vet check with health records, and a puppy pack including some food, toy, blanket, vitamins and optional 30 day free pet insurance.
This litter is now open for puppy applications.  Give us 24 -48 hrs to respond (take note we are closed Sundays).  We will offer a spot to qualified applicants who can confirm back in the following 24 – 48 hrs.
We have sent out an email notification to our email subscribers about openings in this litter.  You can see the link on the top of this page if you missed it.
Our puppy application is meant for a puppy from a current litter with openings.
Our Tiny Sheepadoodles are priced at $3,500 CD (taxes in). You can purchase our 1 yr health guarantee for $500 more.  You can refer to our Pricing and Payments page and Contract page for more info on the process.
    We look forward to helping you with your Sheepadoodle puppy!
WAITING LIST
Puppy selection planned for May 4, 2022
1. Krista E ~ Milbank, ON ~ Male 2
2. Andrea S & Mike S ~ Toronto, ON ~ Female 1
3. Available
4. Available
5. Available

1 WEEK PHOTOS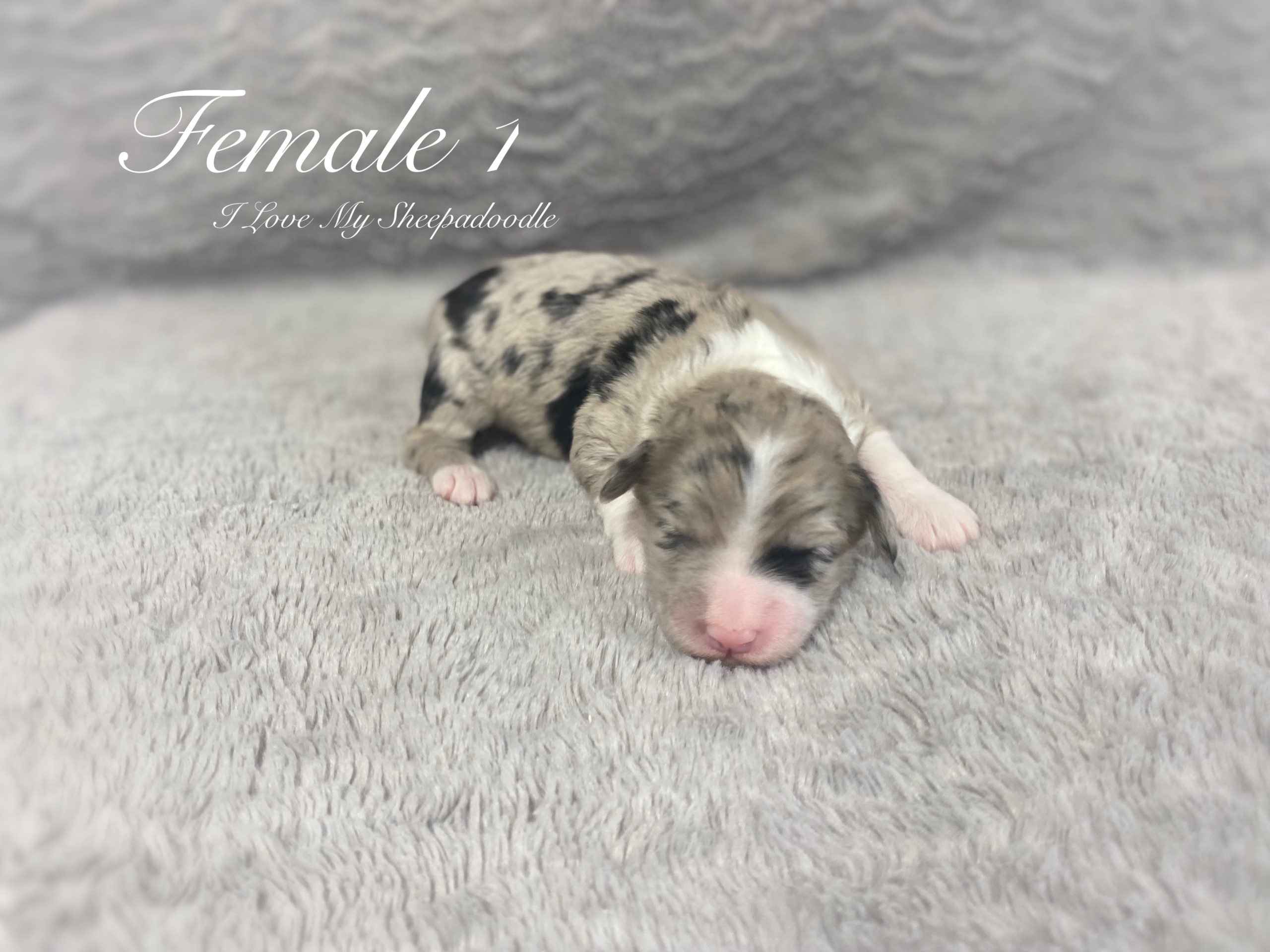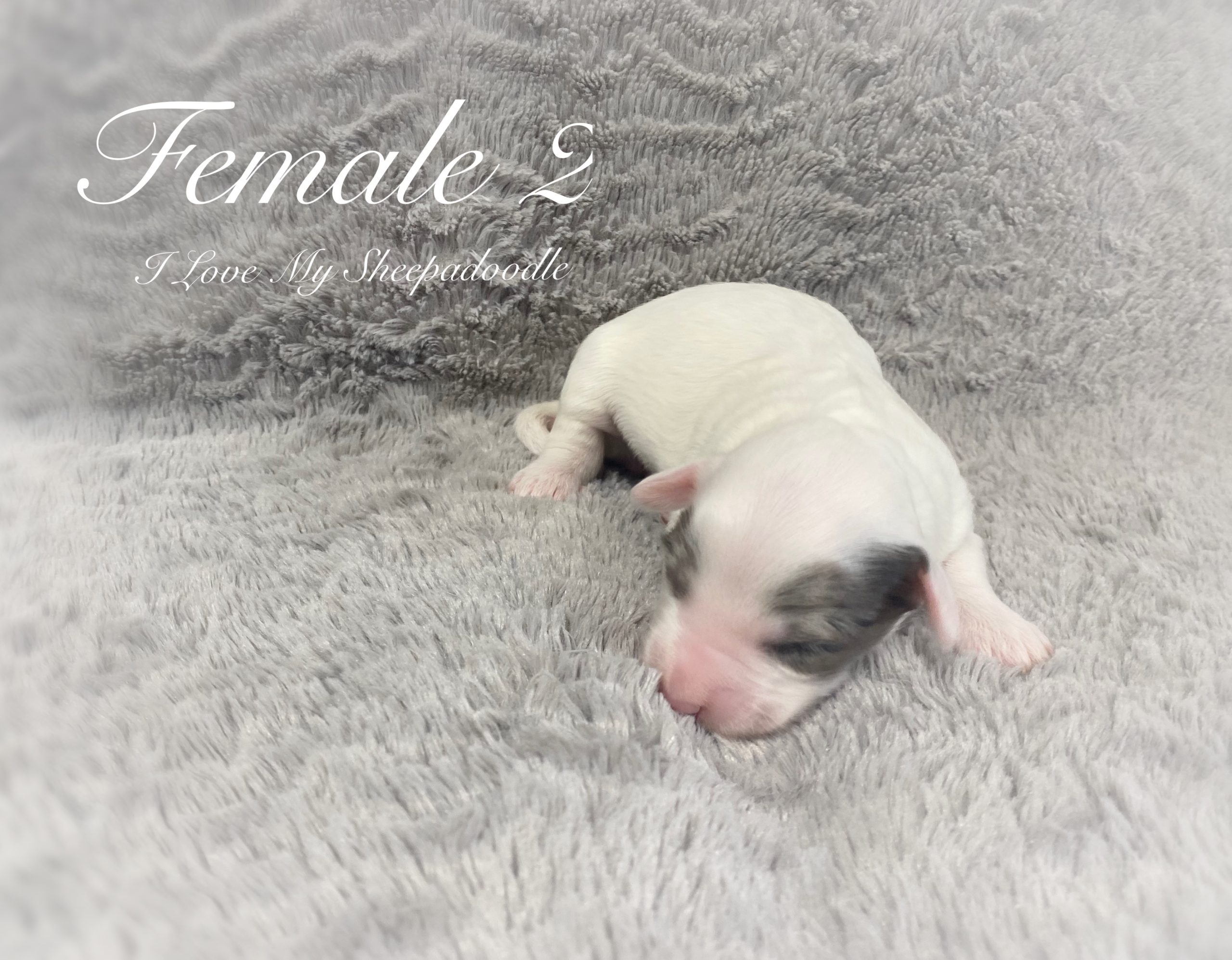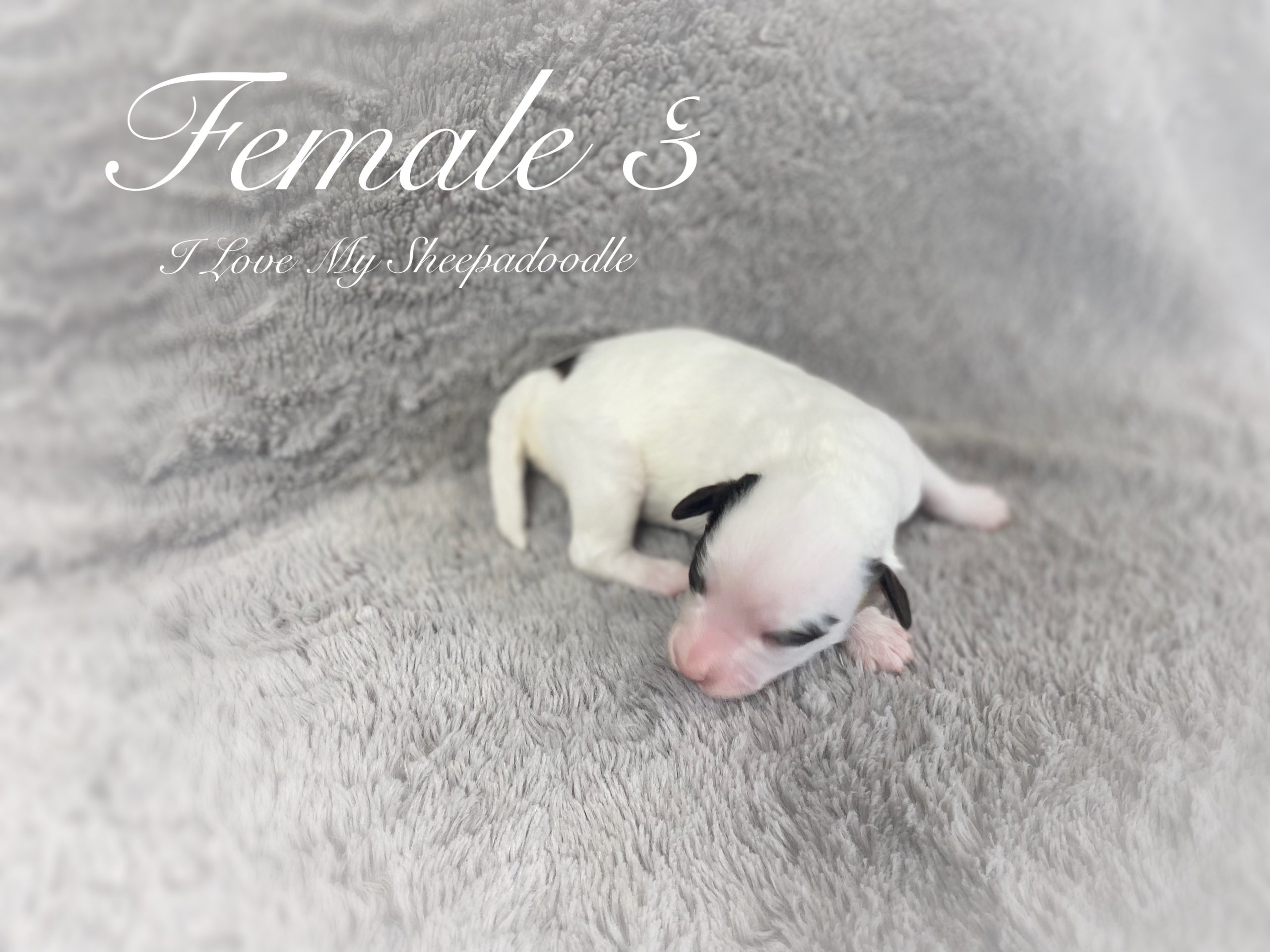 4 – 5 WEEK PHOTOS

MEET THE PARENTS!
Callie is a special little lady here at I Love My Sheepadoodle.  She is 50% Havanese and 50% OES.  She is around 30 lbs and 13 inches high at her shoulder.  She is a love bug!!  She is gentle and kind and very affectionate.  She is also pretty easy going.  Callie takes great care of her pups and they thrive under her care.  Her puppies should have her loving attributes.  Callie has passed her genetic health tests with Good Hips and Elbows.
Tobi is such a sweet boy!  His name says it all!  He plays dress up and lets my kids take him along with them wherever they go.   He also has his pass to the local nursing home where he can bring some more smiles.  Tobi loves life and brings joy to those he meets.   Tobi is 13.5 inches high and 16 lbs.  He has passed his OFA prelims with Good hips and normal elbows. Tobi is registered with the Canadian Kennel Club.   He is a lovely boy and produces beautiful pups inside and out!  He will be father to our Moyen, Mini and Tiny Sheepadoodle pups!
OFA Prelim Hips and Elbows – Good & Normal  
Clear on Paw Print DNA Poodle panel

SOME OF CALLIE'S
PAST PUPS ON INSTAGRAM
TESTIMONIALS
From Previous Tiny Designer
Sheepadoodle 
Families
~ HAPPY ~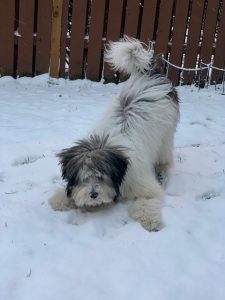 Happy is a ray of sunshine in our lives! She is funny, sweet, and adorable. Her size has tapered off at around 23lbs, which is absolutely perfect for cuddling – which she loves to do. She is truly filled with personality. Her favourite pass-time is sitting on our front steps and watching the world go by. She's very funny: she has a couple times now fallen asleep with her body on the couch but her legs on the floor! She is affectionate and very smart. Whenever her ball rolls under a chair, she tries everything she can think of to retrieve it, but if she can't, she asks for our help with a gentle sound and points her nose in the direction of her toy.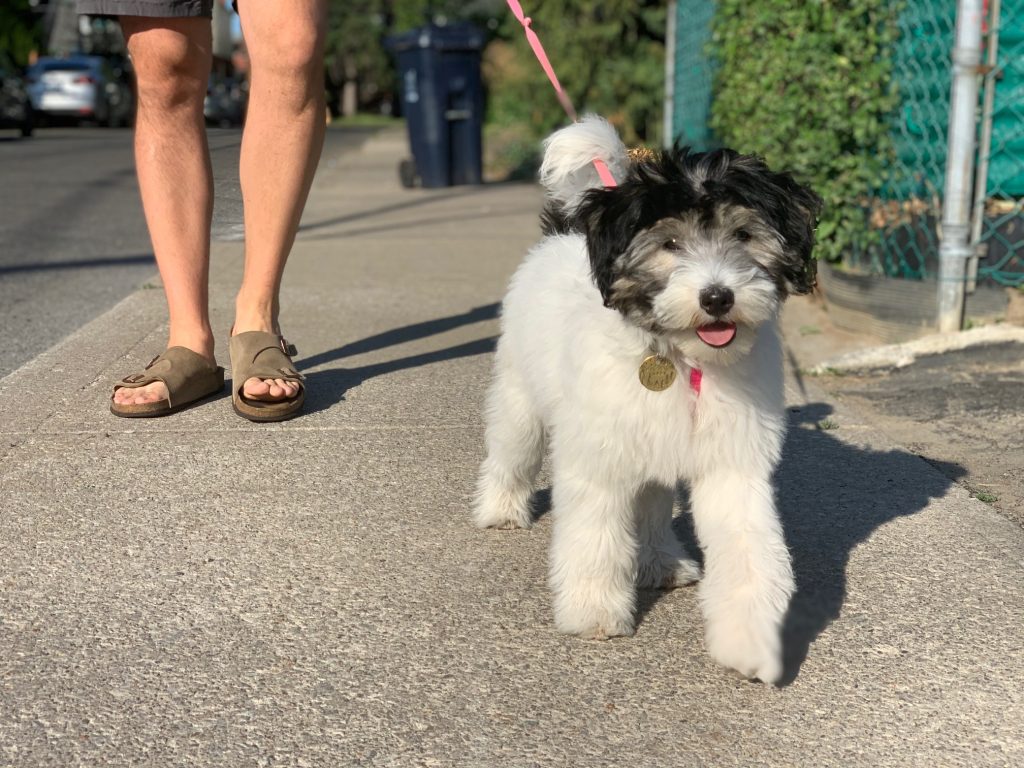 We can't go anywhere without strangers on the street admiring her and saying how beautiful she is. Happy absolutely loves children – she is so gentle with them and nicely sits or lies down so they can pet her. Happy's favourite thing is puppy class, where she is fast becoming the star student (and the 'teacher's pet'!). She loves the dog park and playing with other dogs of any size (she is not shy!) – she's a strong, independent puppy that can hold her own.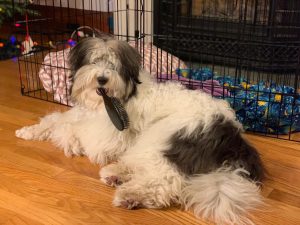 She is a true sheepdog in that she's only truly happy when the three of us are together! Happy also is not weary of the water and does love a good bath – she has actually surprised me by climbing into the shower while I'm in there (so much for peace and quiet!). Happy doesn't mind being brushed – she sometimes brings the hairbrush over to me! Since having her, we've never found a hair of hers anywhere except on her coat – she really does not shed at all. She's a dream come true and we love her so much! ~ Darcie & Craig

~ LUNA ~
 Luna is absolutely fantastic! She's truly the most incredible puppy! Sweet, kind, gentle and playful. We are madly in love and obsessed!  She still has the most amazing eyes!
She weighs around 21lbs … we love her size – she all around perfect for our family.  ~ Heather G

~ LEIA ~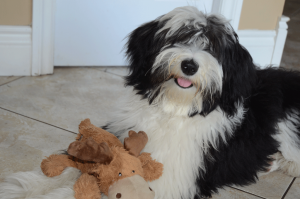 Leia is the happiest, most relaxed, and just all around most pleasant-to-have-around dog we have ever had, and we've had plenty of dogs over the years – OES x 3, Bulldog X 3, Puli x 2, and a Cocker Spaniel (a long time ago, along with multiple cats). Leia has certainly worked her way into our hearts!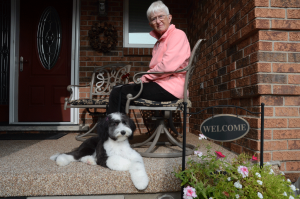 I don't know if it is just the dog, or the extra training provided by Heidi, or likely a combination of both, plus the fact we are pretty experienced dog owners, but she is SO well adjusted – oh sure, she's a puppy, with all her energy, and her "zoomies", but she is just the darn "sweetest" dog we have ever had. Gentle, friendly, mostly restrained, a delight to have around as a companion.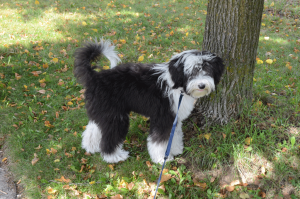 Having had sheepdogs over the years, we certainly recognize all the sheepdog traits in Leia – and we love them. I assume the little curly tail (reminiscent of the Puli) is a Havanese trait, bit it sure helps accentuate her walk – Leia doesn't just walk, she trots or prances 🙂 So pretty to watch. Enough, I guess – you must think I'm struck with her, but she has me wrapped around the heart.

~ LOKI ~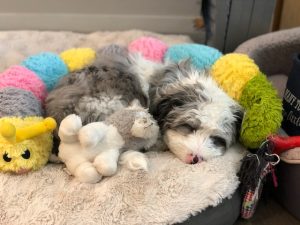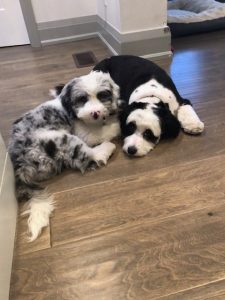 Hi Delicia
See attached photos of our lovely Loki – he is still the most beautiful boy. He is very cuddly, sociable with both people and dogs, particularly children. He is still full of puppy fun and loves to play.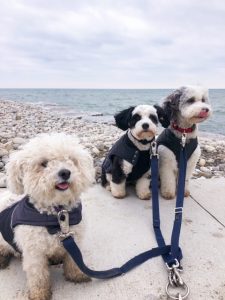 He fitted into our family immediately and is best buddies with Andi and TRex our other dogs. Best Covid purchase of the year!!!
We'll be back for dog #4 another year.
Happy holidays
Moira