Around 20 lbs Matured
Born May 14, 2023
Ready July 8, 2023
 ~ OPENINGS ~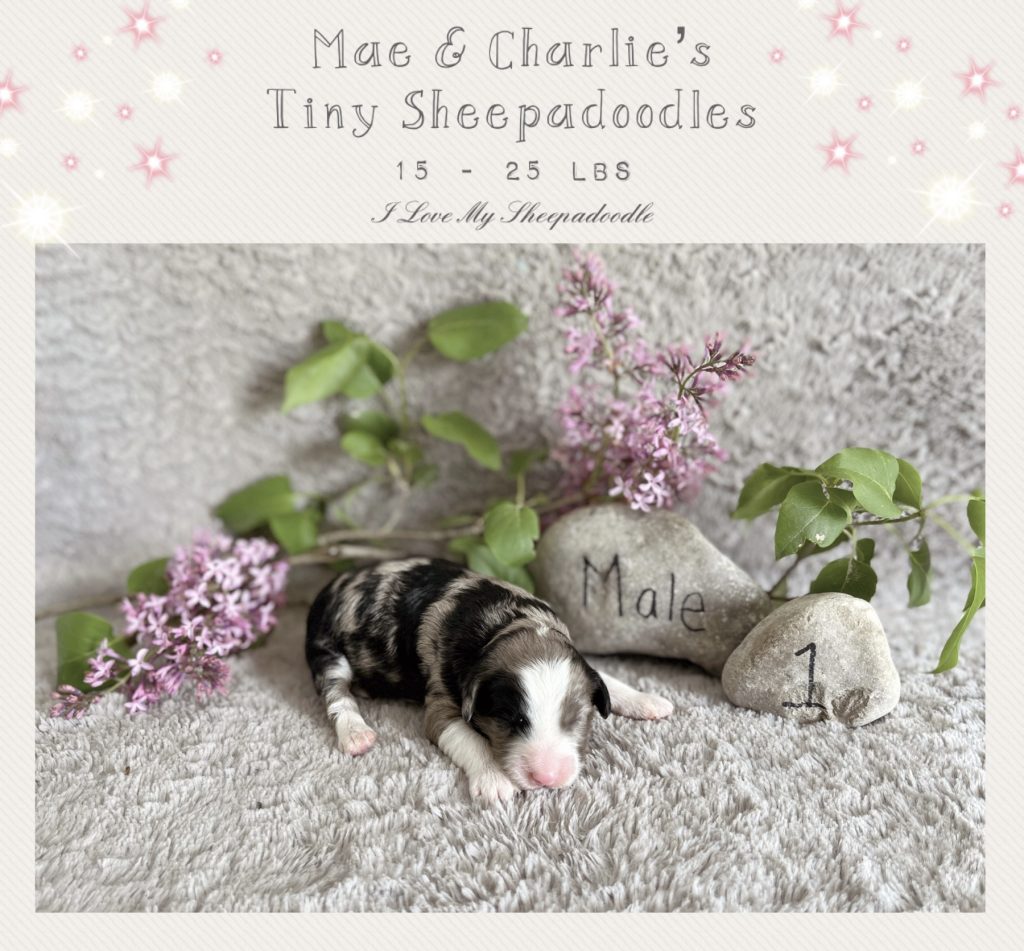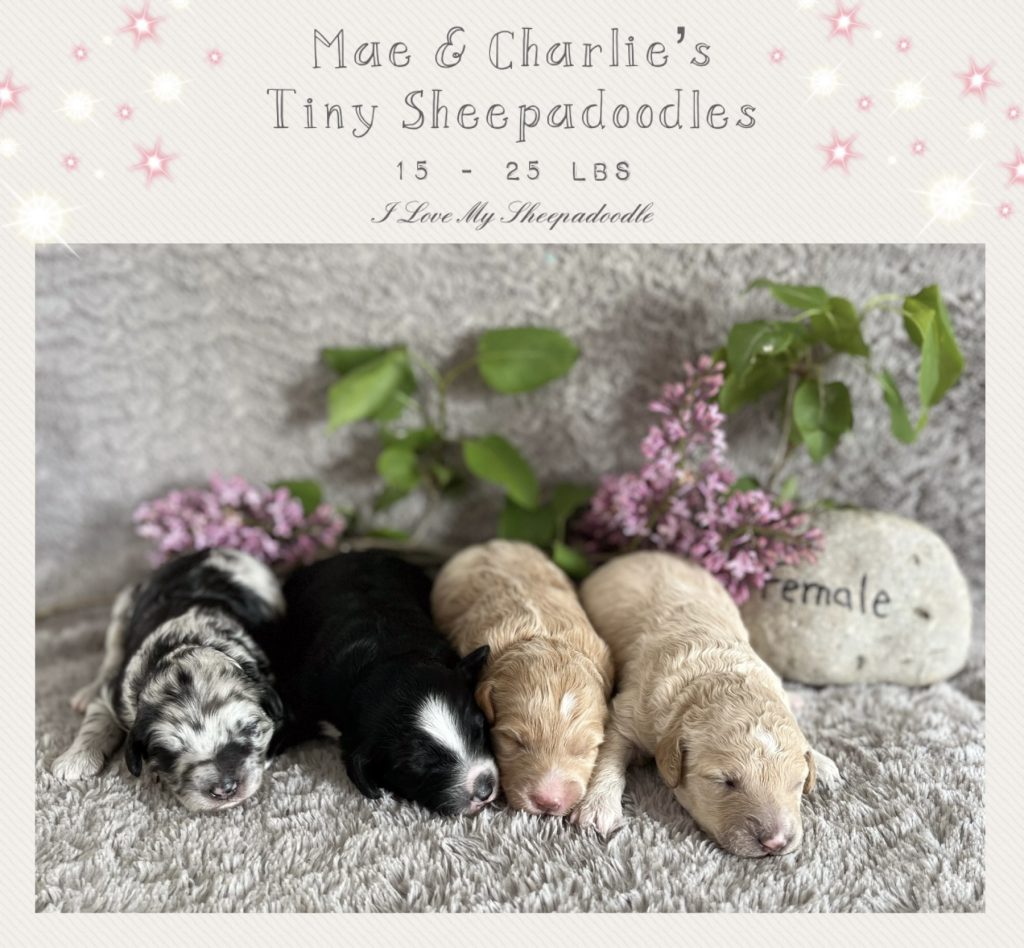 ~ PUPPY INFO ~
Mae & Charlie gifted us with a Mother's Day litter of Tiny F1bb Sheepadoodle puppies.  There are 4 adorable girls and 1 handsome boy.  This is going to be one of our smaller litters so if you are looking for a Tiny little Sheepadoodle this is a good litter for you.
There are curly coats and wavy coats in this litter.  They should be hypoallergenic with either coat.
There is a nice rainbow of colours in this litter.  Sheepadoodles either keep their colour or fade to a lighter version of it with their adult coat.  In this litter, we have black & white, apricot and blue merle.   The blue merles will look light grey with dark grey or black spots in a mature coat. The white should stay white.  The black & white pup could stay black and white or go grey and white – time will tell!
The pups should mature to around 20 lbs in general and 14 – 15 inches high at the shoulder.   The size range could be 15 – 25 lbs but we do expect most around 18 – 20 lbs matured. What a great little size for a Sheepadoodle!!
Puppy picking is planned for around 6 weeks of age by video call or by email/text or phone call.  We have scheduled puppy selection for Thursday, June 22, 2023 for those who have put a deposit down. Puppy picking is done virtually over video call.  Time slots are below with the waitlist.
Pups will be ready to go home between July 9 or after between 8 – 9 weeks of age.  The pups will come with their first booster, several rounds of dewormer, vet check with health records, and a puppy pack including some food, toy, blanket, vitamins and optional 30 day free pet insurance.
APPLY FOR A PUP
Send in an application if you are interested in one of these puppies.  We will email you the spot we have available for you.  We give 24 – 48 hrs for you to decide if you like to confirm to that spot.   Once things are confirmed we will give you info on deposit and puppy prep info. Deposits are $500 and valid for the one litter you confirm too.  This goes towards the puppy purchase. You can refer to our Waitlist Page or  Pricing and Payments page for more info on the process.
Thank you and we look forward to helping you with your Sheepadoodle puppy!
$3,000 CD
~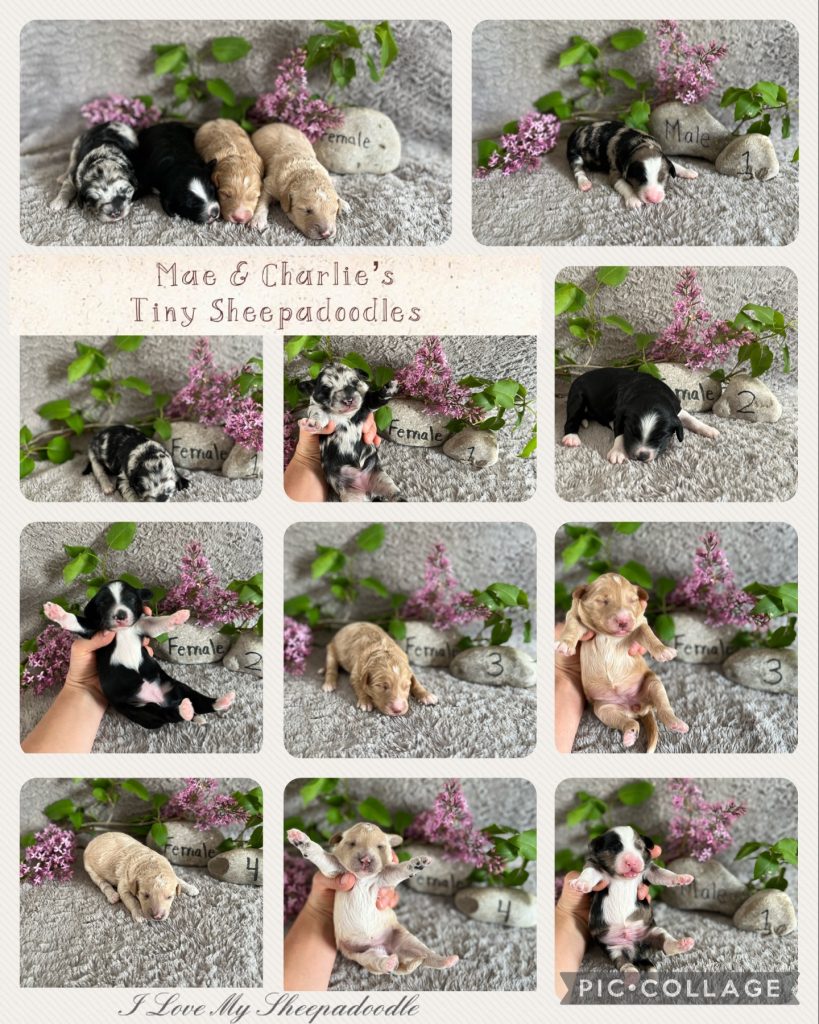 ~
~
WAITING LIST
Preference may be listed but is not decided until puppy picking day
Puppy selection planned for Thursday, June 22, 2023
1. Shauna & Jay S ~ Toronto, ON ~ Preference to girl ~ Confirmed
2. Michelle L ~ Windsor, ON ~ Preference to girl ~ Confirmed
3. Nicole P ~ Toronto, ON ~ Preference to boy ~ Confirmed
4.
5.
1 WEEK PHOTOS
–
WATCH FOR 4 – 5 WEEK PHOTOS
–

–
MEET THE PARENTS!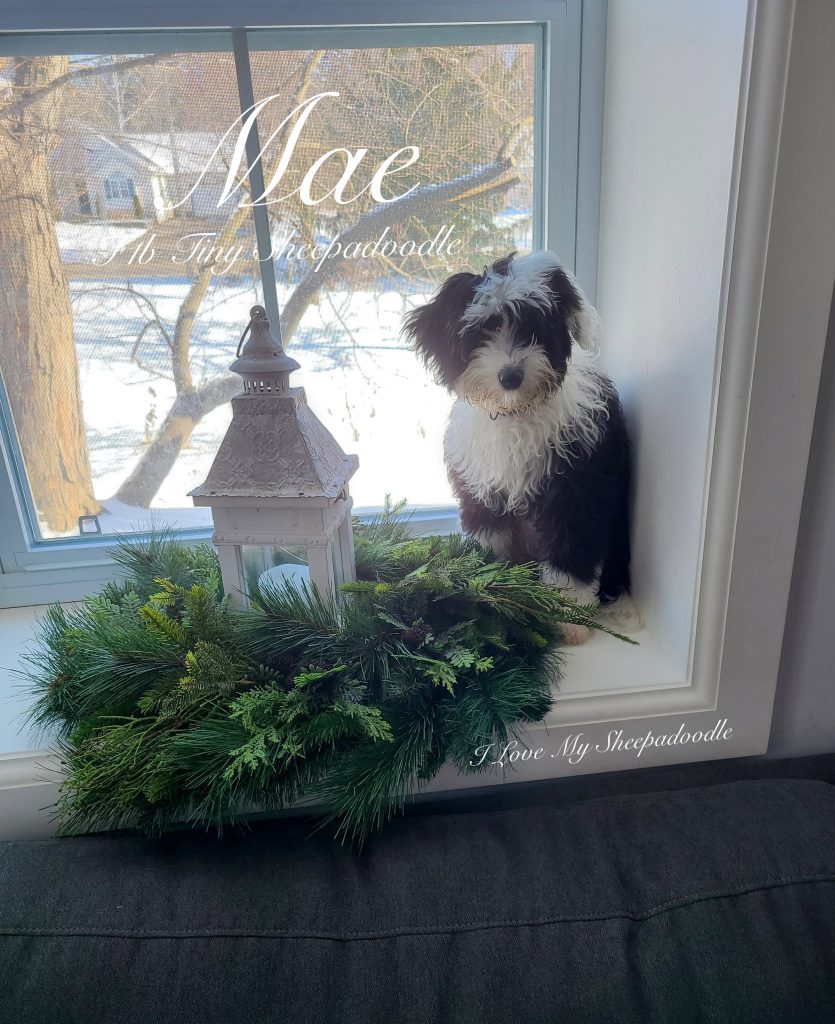 Mae is our own bred Tiny Sheepadoodle at I Love My Sheepadoodle.  She is one of the smallest Tiny Sheepadoodles in our program so we expect some nice little pups from her as well.   Mae is around 18.2 lbs and 14.5 inches high at her shoulder. She is 75% mini poodle and 25% Old English Sheepdog.  Mae is well loved by her guardian family.  As a little pup she had lots of energy and thought she was the queen of the world. She had some sass to her but soon found out how to be a lady with manners and politeness.  She is now a big snuggler and loves to cuddle with her family.  She is a gentle and watchful mother to her little pups.  Mae has passed her genetic health tests.
OFA Prelim Hips as Fair and Elbows as Normal.
Charlie is a CKC registered Mini Poodle as a hired in stud.  He is a calm yet confident poodle.  He carries a nice array of colours.   He is about 17 lbs and 14 inches tall at his shoulder.  Charlie has passed his OFA tests with excellent hips and normal/good elbows.

SOME PHOTOS OF OUR PAST TINY F1B SHEEPADOODLES PUPS WITH CURLY OR WAVY COATS
ALL GROWN UP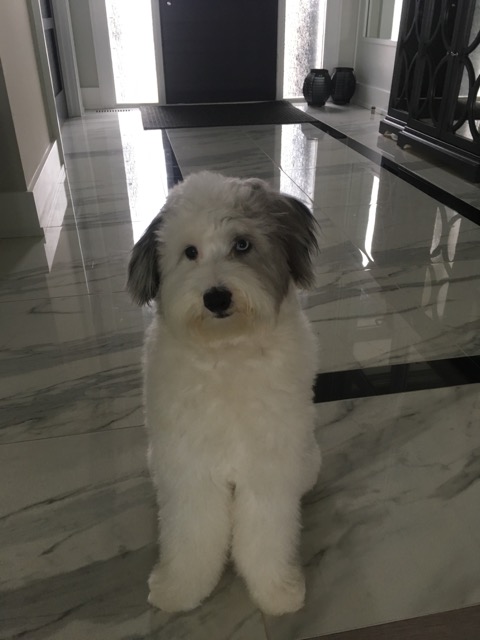 Hi Delicia – This is
Sabre
(Toby and Abby's male #3 Summer 2018) days shy of turning 7 months.  In one word
Sabre
is WONDERFUL.  He has passed level one obedience training in late November and is currently working through level two obedience training with Metro Muttz. He has yet to meet a human or fellow canine that doesn't absolutely thrill him!  Thankfully he has learned some amazing habits that are helping him control himself and continue to make him a welcome addition to our family. He sleeps happily in his crate every night.  He was purchased with the intention that he would chase geese away from our property which he is outstanding at fulfilling that duty to earn his keep.  He is just shy of 20 pounds and went from a grazing eating pattern to demolishing his meals when we recently switched him to a 'raw' diet from kibble.  Back to the Bone of Burlington was very helpful in educating us about feeding raw. Delicia, in Sabre's litter, as you know he was not our first choice but our choice amongst the puppies available when it came our time to choose.  Given our satisfaction with Sabre, it fuels my belief that things work out the way they are meant to be! If all Tiny Sheepadoodles are similar in demeanour to Sabre, all your customers are going to be satisfied.