BORN OCT 10, 2022
READY DEC 5, 2022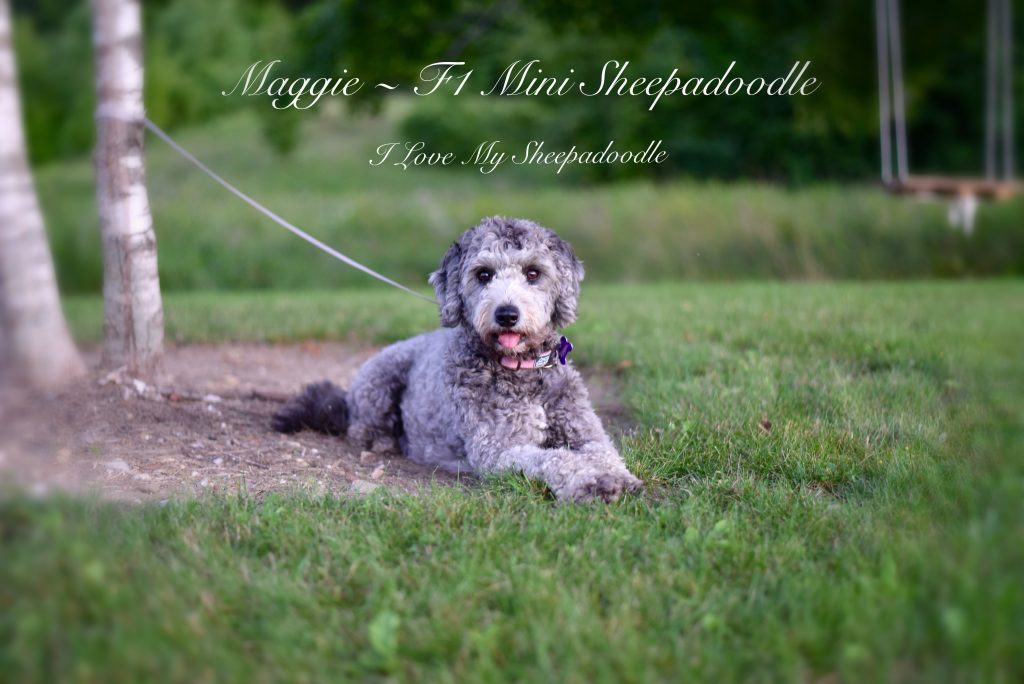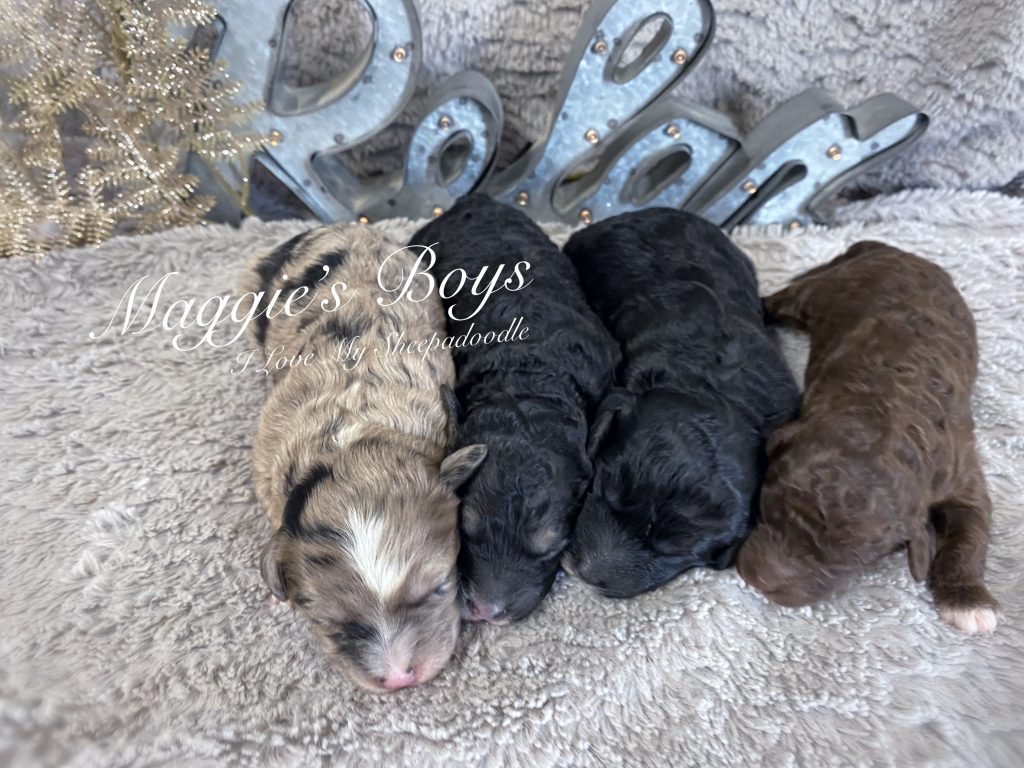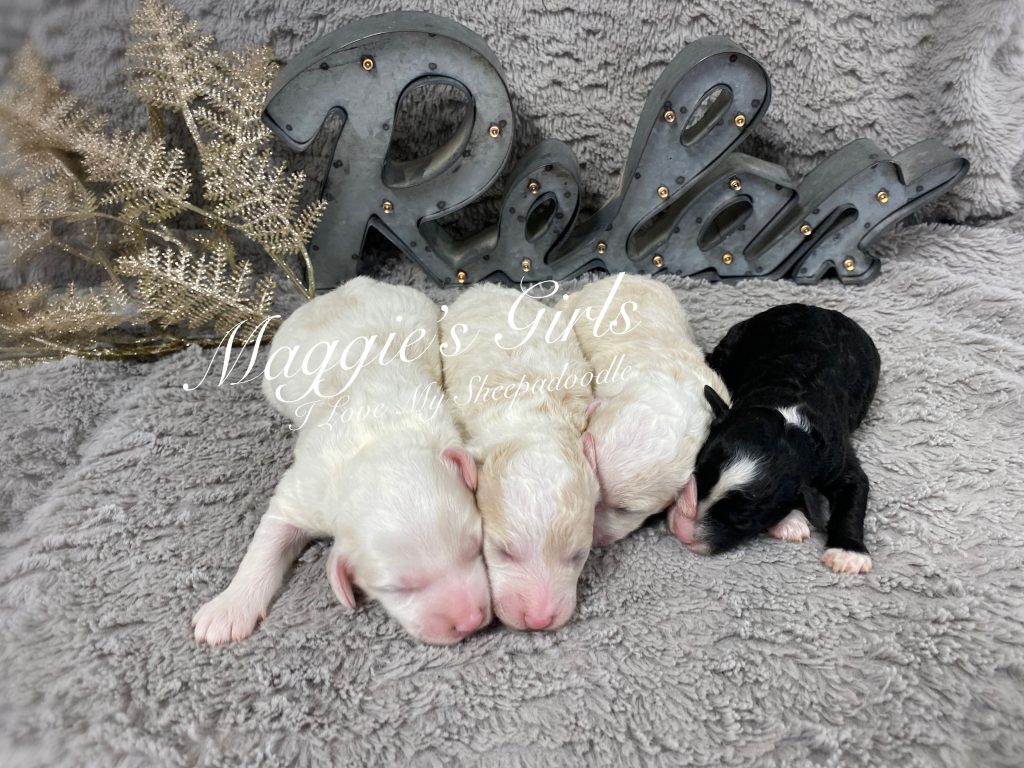 Ready for homes Dec 5, 2022
–
Maggie & Tobi have a beautiful litter of Tiny Sheepadoodles!
There are 4 stunning boys and 4 lovely little ladies.  This litter has a variety of wavy and curly coats.  We expect them to have that soft to touch coat and be hyper-allergenic.
We anticipate the pups in this litter to mature out in the 15 – 30 lbs range with most being around 20 – 25 lbs.  Based on the parents their heights at the shoulder matured to should be around 14 – 17 inches high.  What a great little size for the Sheepadoodle!!
This is a F1b litter which is a F1 Sheepadoodle crossed with a Poodle.  The puppies are 25% Old English Sheepdog and 75% Mini Poodle.  You will see some curly coats and some straighter coats coats in this litter.  Since both the Poodle and OES are hypoallergenic breeds these pups will also be hypoallergenic.
These pups markings are blue merle & white (which is grey, black and white), black and white, apricot and white, chocolate and also white.  The colouring could stay or fade to a lighter colour of what it is now – time will tell!  The white spots will stay white.
Puppy selection is planned for around 6 weeks of age for Tuesday, Nov 22, 2022 by video call.  Our puppy selection is done virtually by video call.  We will post a video of the pups playing a day or two before puppy selection date so you can see them in action.  We will also post individual puppy photos around 4-5 wks of age.  We have been adding puppy descriptions and weights of the pups shortly before puppy selection day as well.
Pups will be ready to go home Monday, December 5, 2022 or after between 8-9 weeks of age.   The pups will come with their first booster, several rounds of dewormer, vet check with health records, and a puppy pack including some food, toy, blanket, vitamins and optional 30 day free pet insurance.
–
Maggie & Tobi's litter is now open for puppy applications!   You may apply by sending in a puppy application.  If you have sent an application in before, you still need to fill one out again for this litter as I will only be looking at the new applications sent in for this litter.
–
APPLICATION PROCESS
We will do our best to reply within 24 – 48 business hours of your application.   We read through the applications and reply back with a suitable spot we have available for you.  We hold your name as pending to that spot for you for 24 – 48 hrs for you to decide if you like to confirm with a deposit. Take note we are closed Sundays. If you decide to confirm, you can then place a deposit.  Our puppy deposit is $500 non-refundable and only goes towards one litter.   We will give more info then in a follow up email with puppy prep.
–
PRICE & PAYMENT
These puppies are priced at $3,000 CD taxes included.  If you wish to add in our $500 health guarantee you can do so.  Just let us know.  Read more about it on our contract page.
–
FUTURE LITTERS
Our next Tiny litters are planned for Spring 2023.
Watch our News & Upcoming litters page to see what litters have been mated and expected due dates.  You can sign up for email notifications for alerts on when puppy litters arrive with our available openings open.
We do have other tiny litters available at this time so feel free to check those out to!   Seen on our Tiny Sheepadoodle page.
We look forward to helping you with your future Sheepadoodle family member!

WAITING LIST
Puppy selection is planned for Tues, Nov 22, 2022  
Your time slot will be posted by your name
1. Doris L ~ Ottawa, ON ~ Female 4 ~ "Mya"
2. Brenda H ~ Heidelberg, ON ~ Male 1
3. Patricia B ~ Belleville, ON ~ Pending for Male 4
4. Stacy E ~ Warwick, P ~ Pending for Female 2
5. Available
6. Available 
7. Available 
8. Available
4.5 WEEK PHOTOS
~
1 WEEK PHOTOS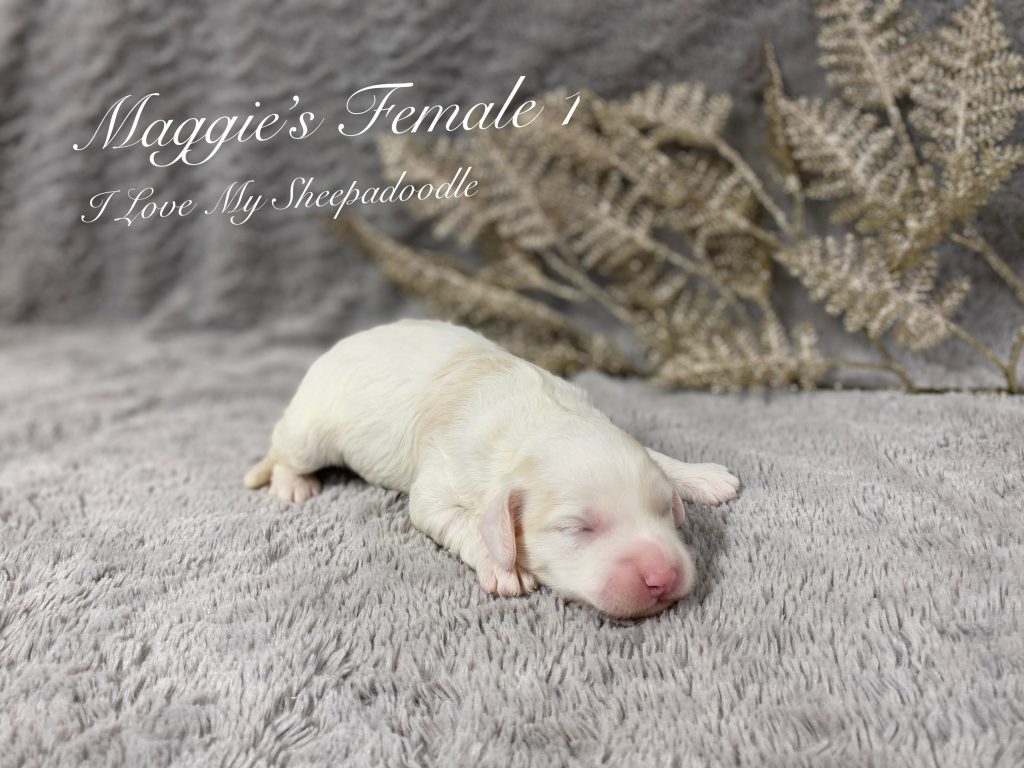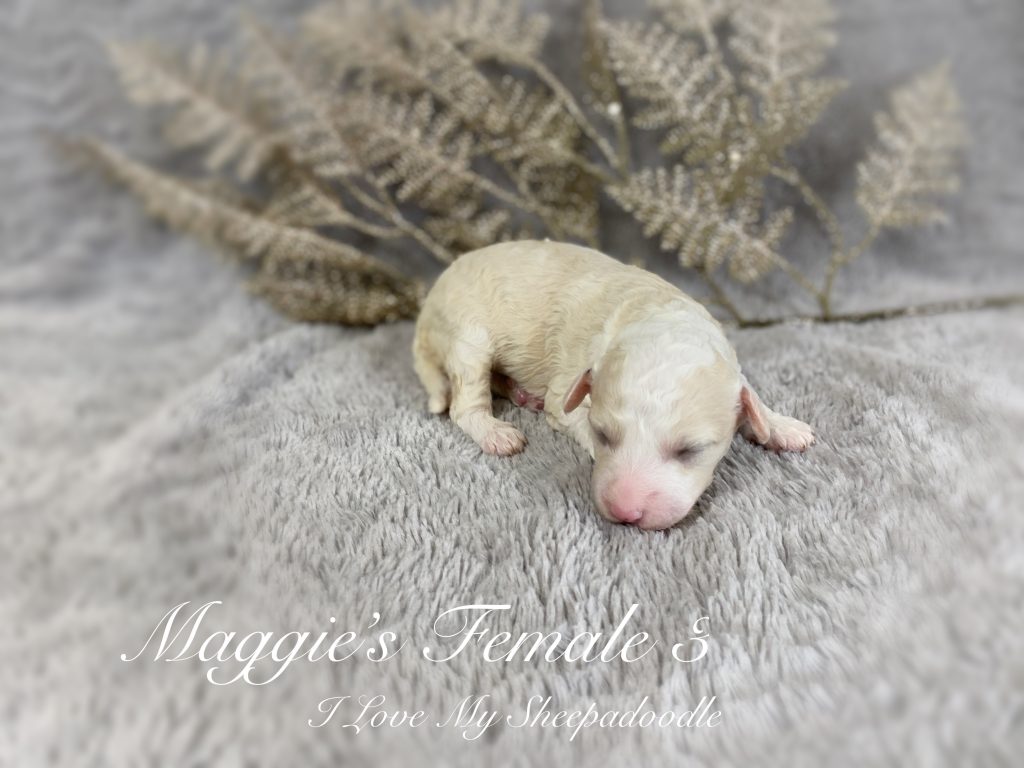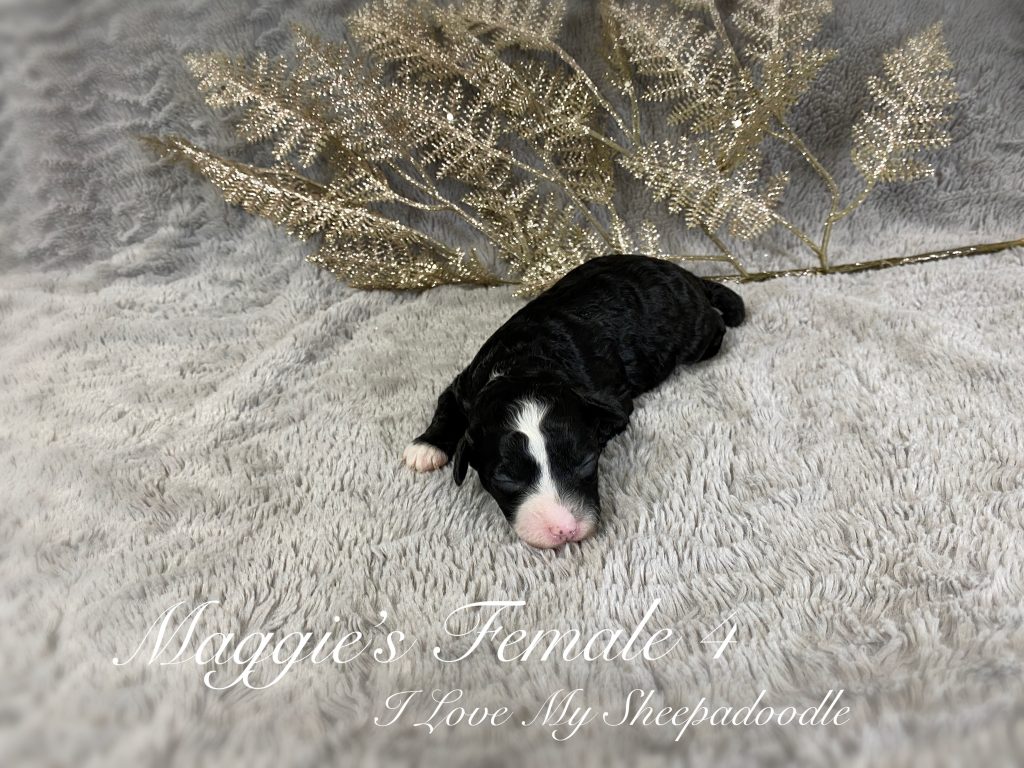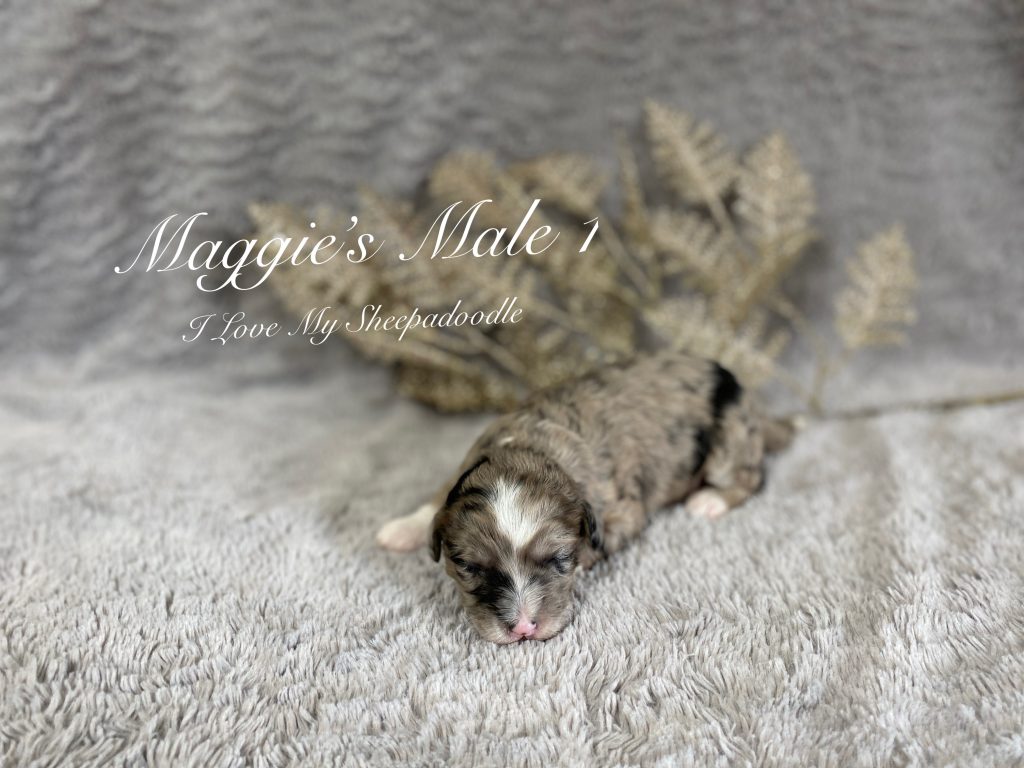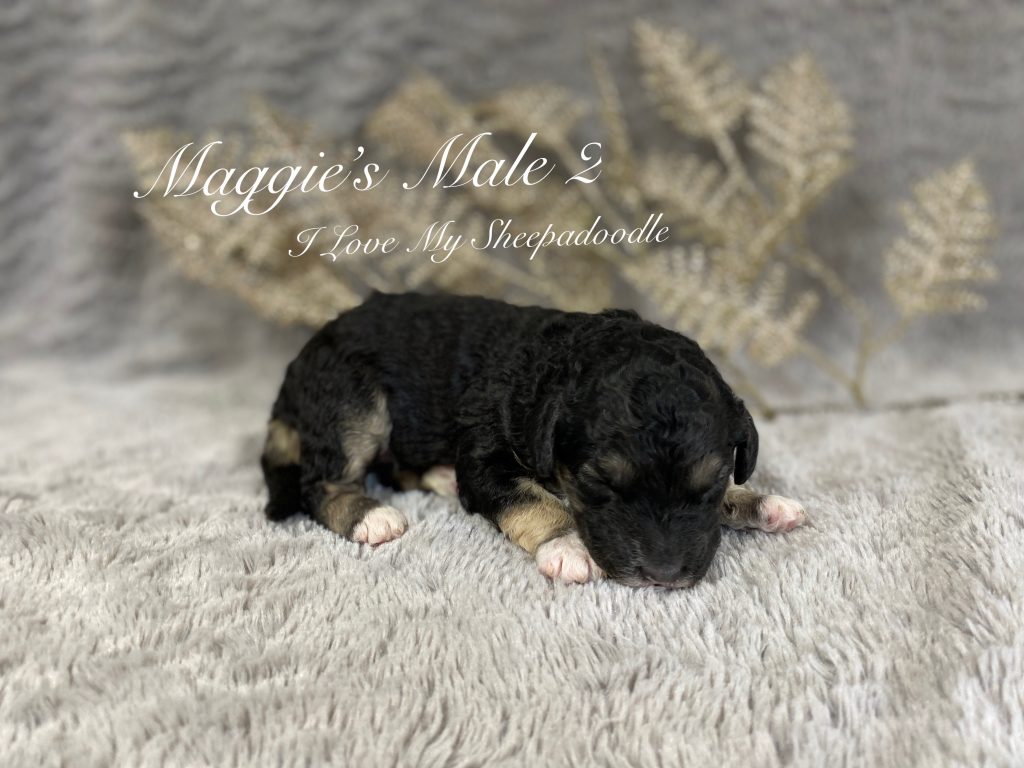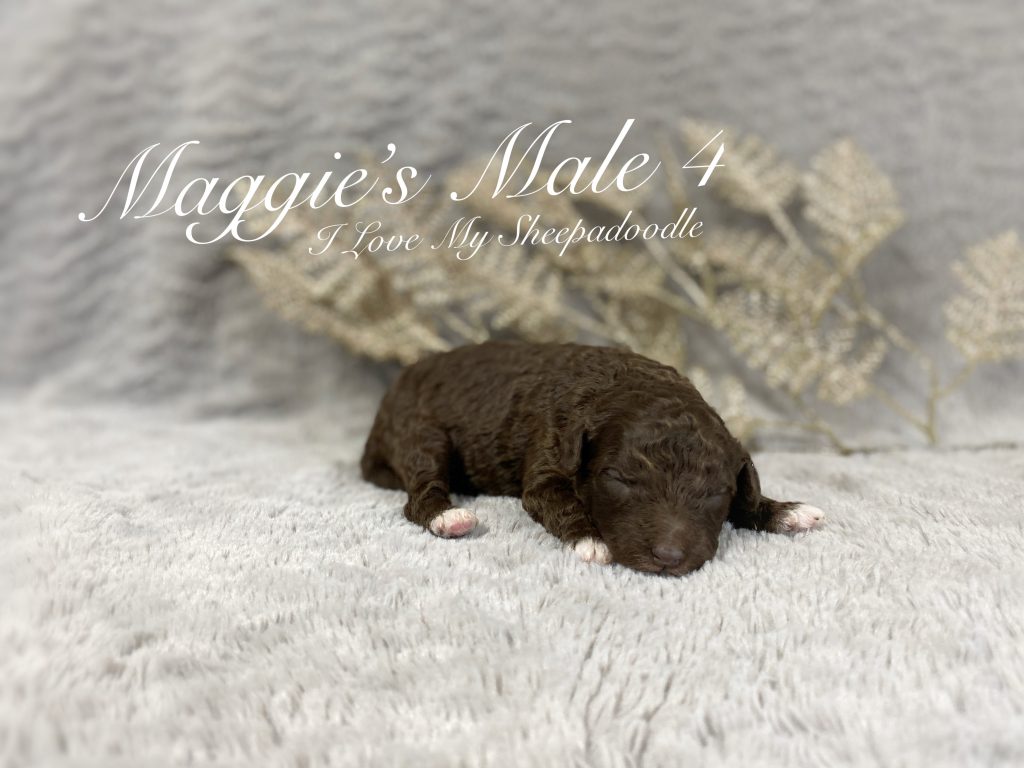 –
WATCH FOR 4 – 5 WEEK PHOTOS
–

MEET THE PARENTS!
MAGGIE – F1 MINI SHEEPADOODLE
Maggie is our F1 Mini Sheepadoodle weighing in around 25 lbs and 16 inches at the shoulder.  She is 50% Mini Poodle and 50% OES.  She is a very gentle and kind mother. Abby lives with her guardian home most of the time and enjoys the fun and games with her family and just hanging out.  She loves people of all age or genders. She is a beautiful dog inside and out and we expect the same of her puppies!  Maggie has passed her genetic health tests with Good Hips and Elbows.
TOBI – MINI POODLE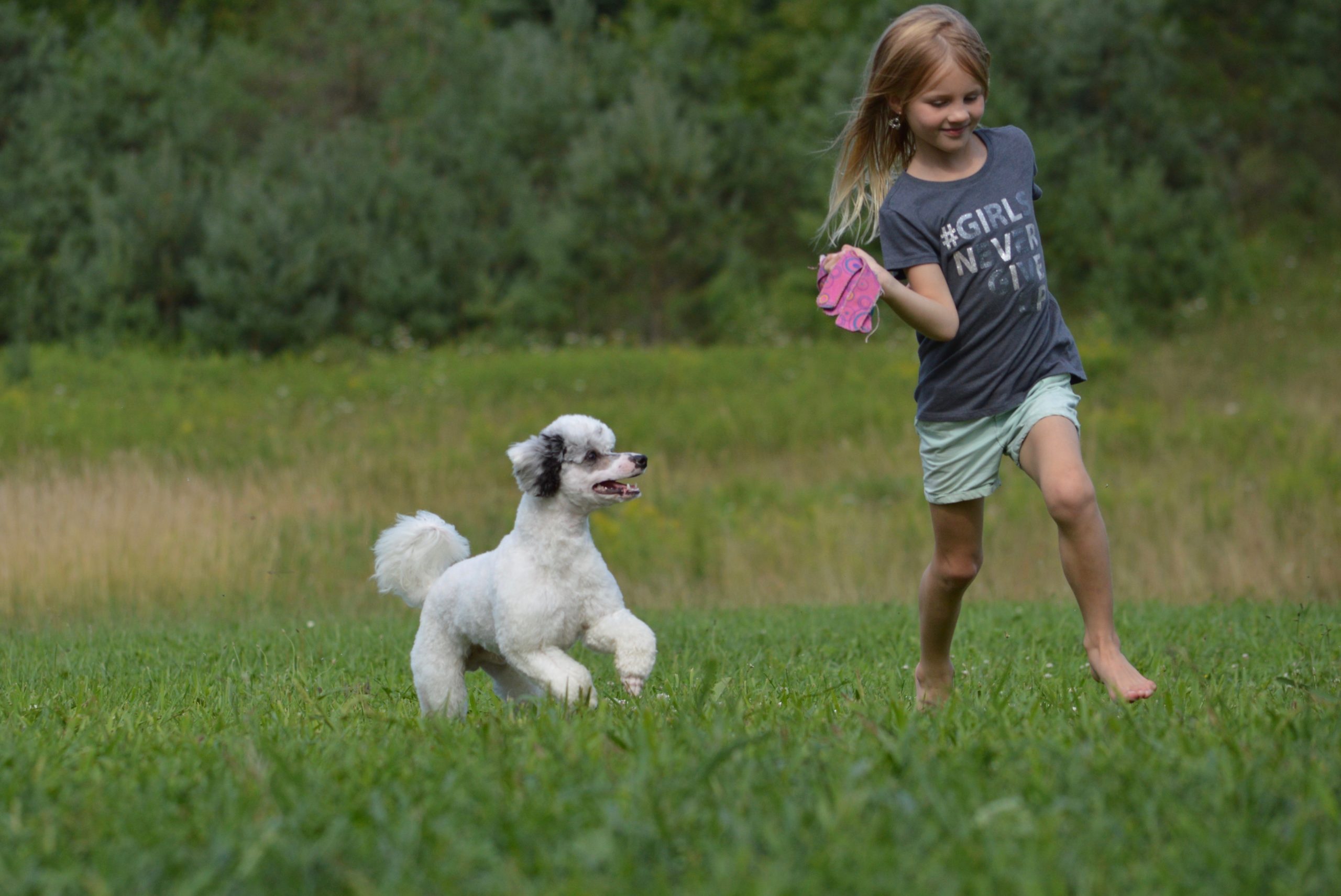 Tobi is our Mini Poodle that is also our family pet.  He lives with us in our home and is our youngest daughters dog.  He is dearly loved!  He has a wonderful disposition and is a big snuggler.  He loves to play!  So fun to watch him during his zoomie time when we go out for our evening walks.
Tobi is a blue Merle Parti poodle registered with the Canadian Kennel Club.  He carries lots of colour and markings and has made many wonderful puppies!  He is a nice little size of about 12 inches high at the shoulder and 16 lbs in weight.  Tobi has past his OFA prelims with good hips and elbows.  He is clear on the Paw Print Poodle panel.

ENJOY SOME OF OUR PAST
TINY SHEEPADOODLES
ON INSTAGRAM