~ Click here for E-mail update ~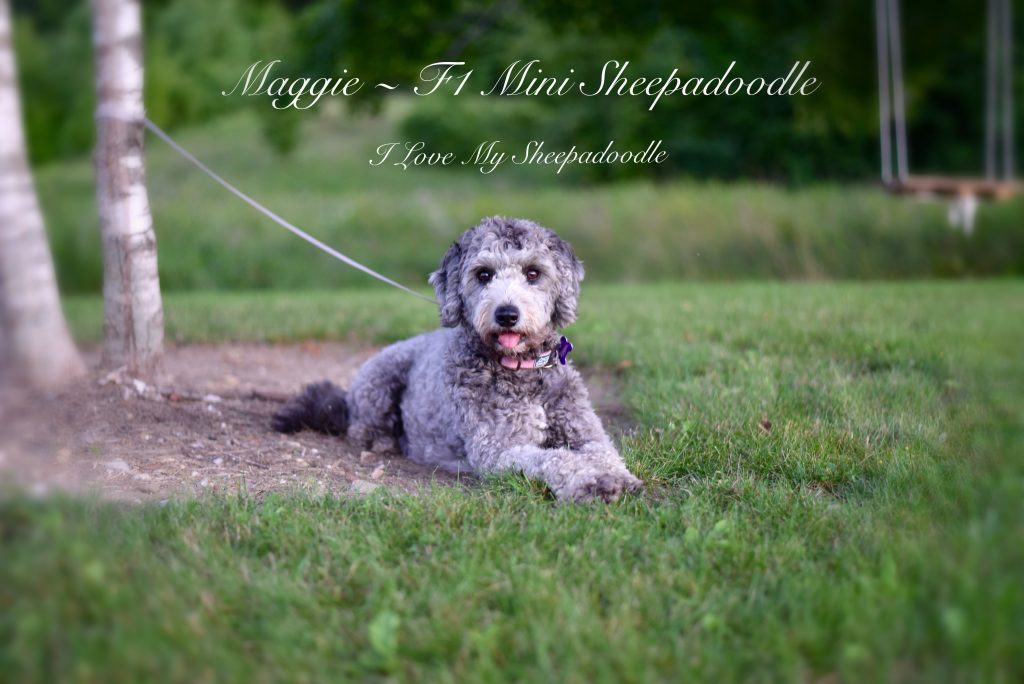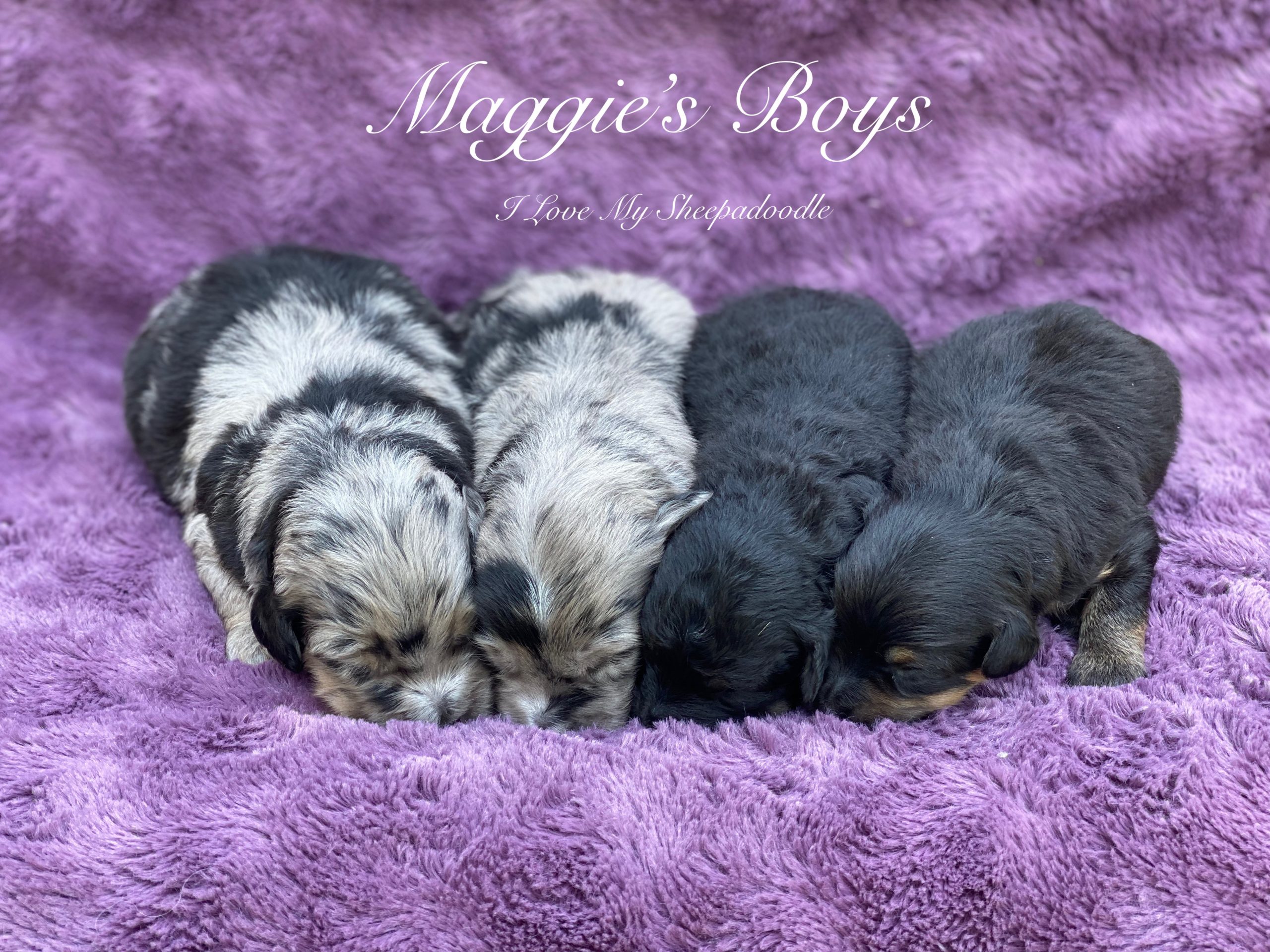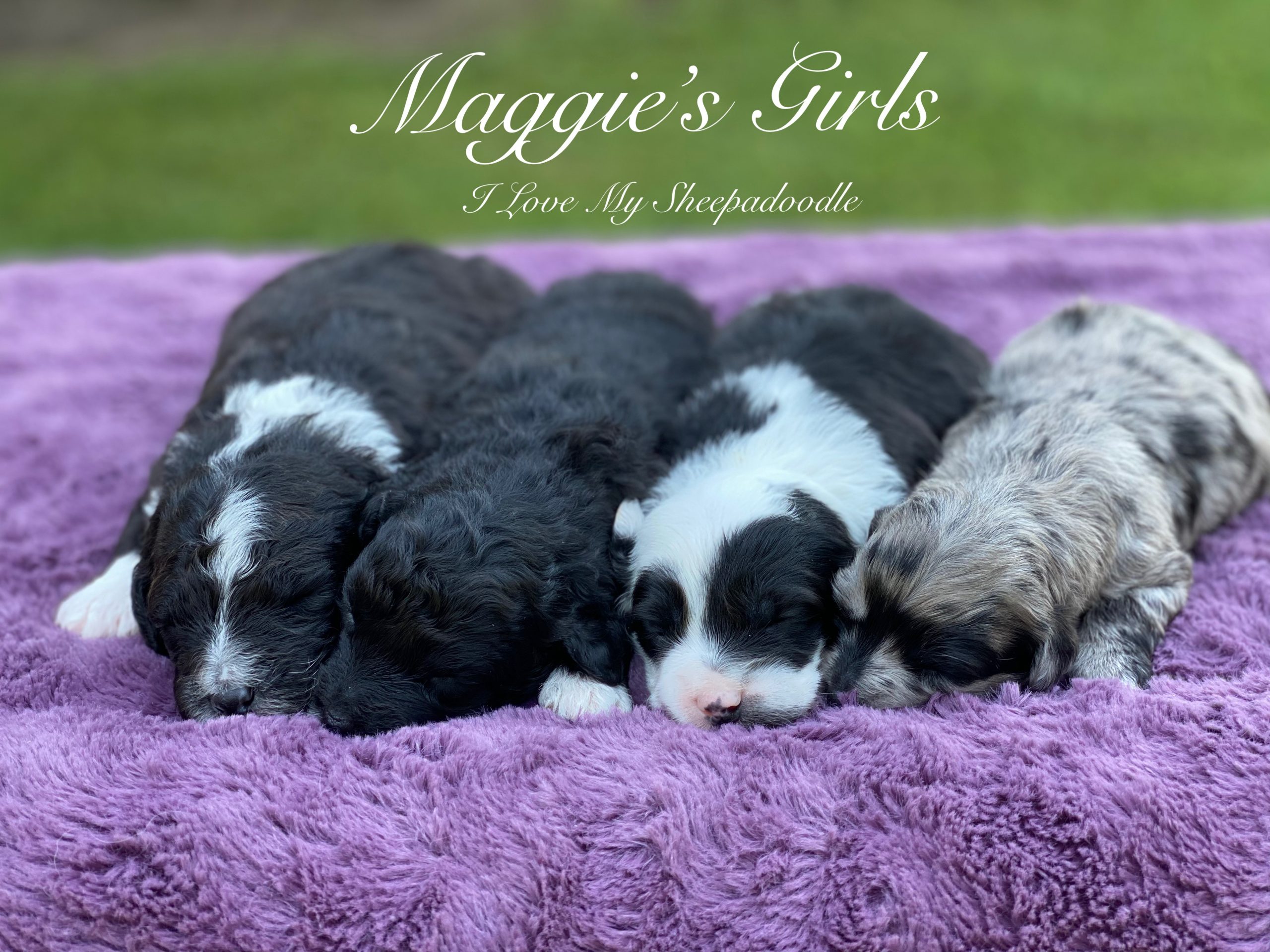 Ready for homes July 26, 2020
Maggie had a beautiful litter of Tiny Sheepadoodles on Sunday, May 30, 2020.  There are 4 stunning boys and 4 lovely little ladies.  This litter has a variety of wavy and curly coats.  We expect them to have that soft to touch coat and be hyper-allergenic. These Tiny Sheepadoodle pups are lovable and cute and we look forward in providing you with a beautiful Tiny Sheepadoodle!
We have two sires to this litter. We planned to use William, our Tiny F1b Sheepadoodle. However he lost interest after the first two matings so we finished off the breedings with Tobi his dad to help things along.  William is just over 20 lbs and is 25% Old English Sheepdog and 75% Mini Poodle.  Tobi is a purebred mini poodle weighing in around 16 lbs.    There are two pups that are slightly larger than the rest and my guess is that they are from William and the rest are from Tobi.    The difference would be that those pups would have 12.5% more Old English Sheepdog than the smaller ones.
We anticipate the pups in this litter to mature out in the 15 – 30 lbs range.  The smaller ones being in the 15 – 23 lb range and the bigger ones in the 25 – 30 lbs range.  Based on the parents their heights at the shoulder matured to should be around 13 – 16 inches high.  What a great little size for the Sheepadoodle!!
These pups markings are blue merle & white (which is grey, black and white) and black and white tuxedo pups or black with abstract markings.  The blue merles will look light grey with dark grey or black spots in a mature coat. The white will stay white.  The black pups could stay black and white or go grey and white – time will tell!
Puppy selection is planned for around 6 weeks of age on July 17, 2021 by video call.  Our puppy selection is done virtually. I know some may be disappointed that they cannot see the pups in real life, but it is safest for the pups and people alike.   As we know with covid, viruses can spread quick.  We will post a video of the pups playing a day or two before puppy selection date so you can see them in action.  We will also post individual puppy photos around 4-5 wks of age.
Pups will be ready to go home July 24, 2021 between 8-9 weeks of age.   The pups will come with their first booster, several rounds of dewormer, vet check with health records, and a puppy pack including some food, toy, blanket, vitamins and optional 30 day free pet insurance.
The litter application will be open on Friday, June 18, 2021 from 9 am – 9 pm.  The password is Maggie2021
  Applicants are not necessary chosen in order sent in, but rather by what we feel is the best matches at this time for this litter.
 You can see our News & Upcoming litters page for more info on our next litters and our new process.
Our Tiny Sheepadoodles are priced at $5,000 CD taxes included.

WAITING LIST
Puppy selection is planned for Saturday, July 17, 2021  
Your time slot will be posted by your name
 1. Ariel & Lawrence N ~ Female 3 ~ "Iris"
2. Lori F-M ~ Female 1 ~ "Cordelia"
3. Pat N ~ Female 2
4. Sarah P ~ Male 3
5. Melanie T ~ Male 1
6. Haline B ~ Male 4
7. Janet A ~ Male 2 ~ "Murdoch"
8. Emily T ~ Female 4 ~ "Lily"
WATCH FOR 4 – 5 WEEK PHOTOS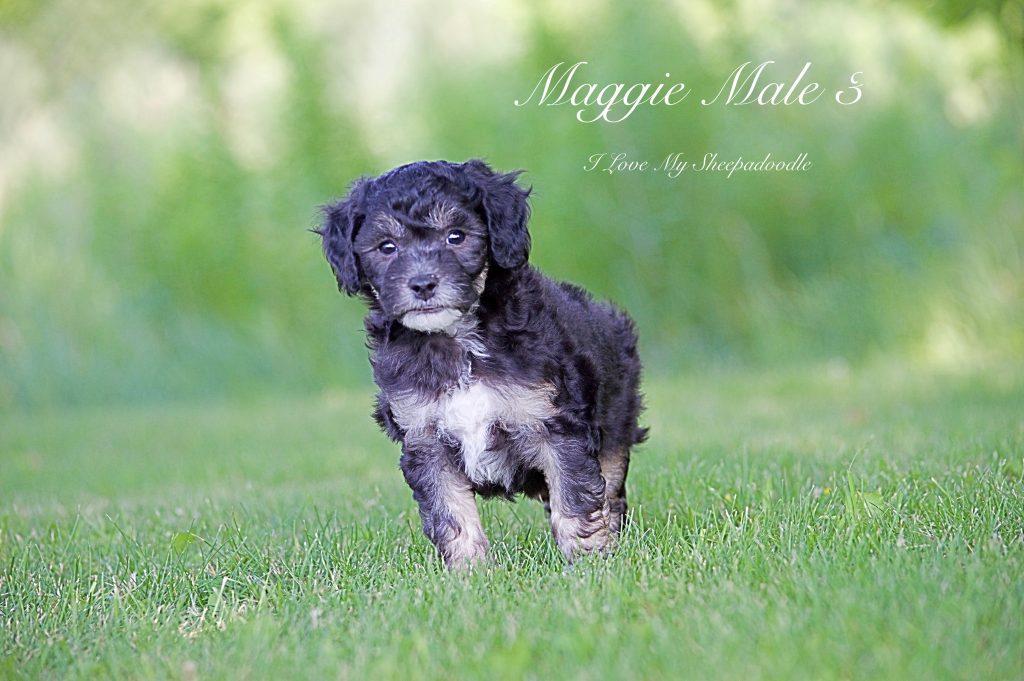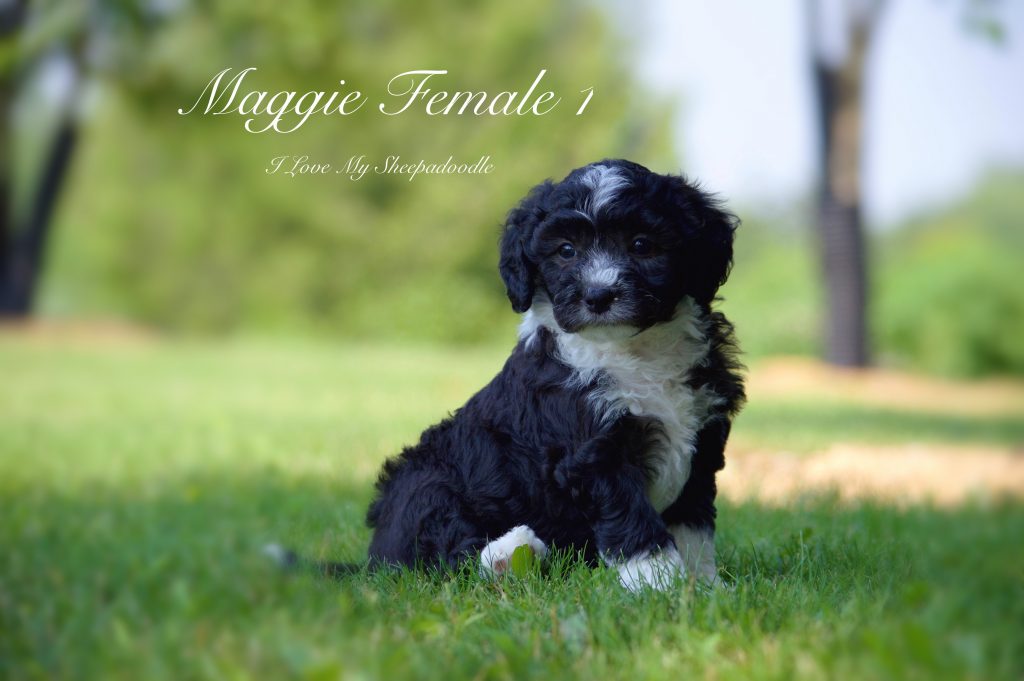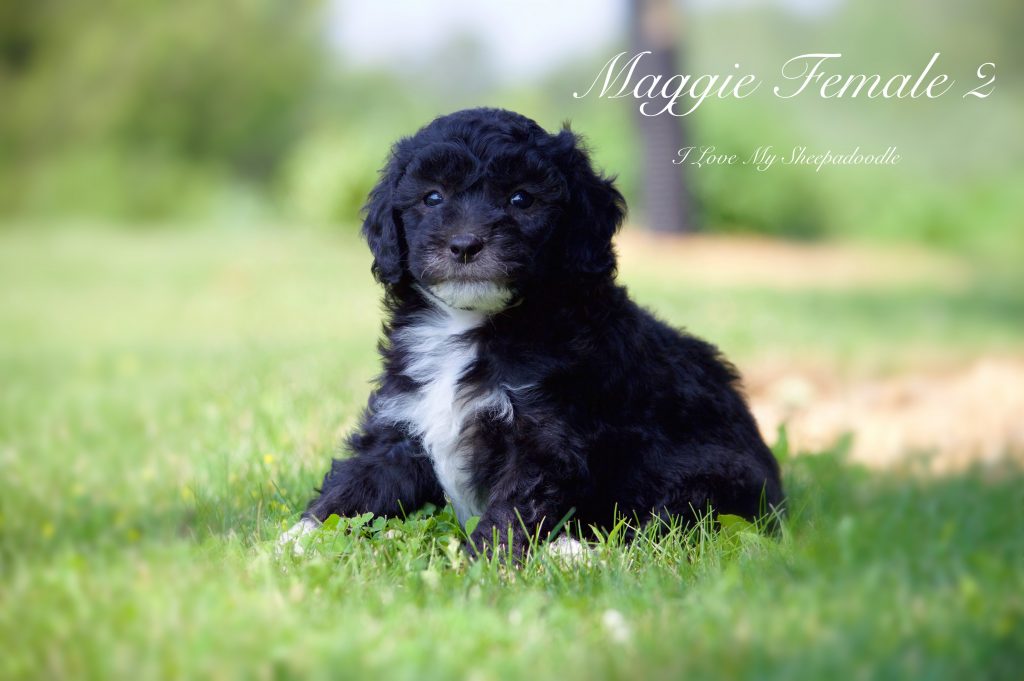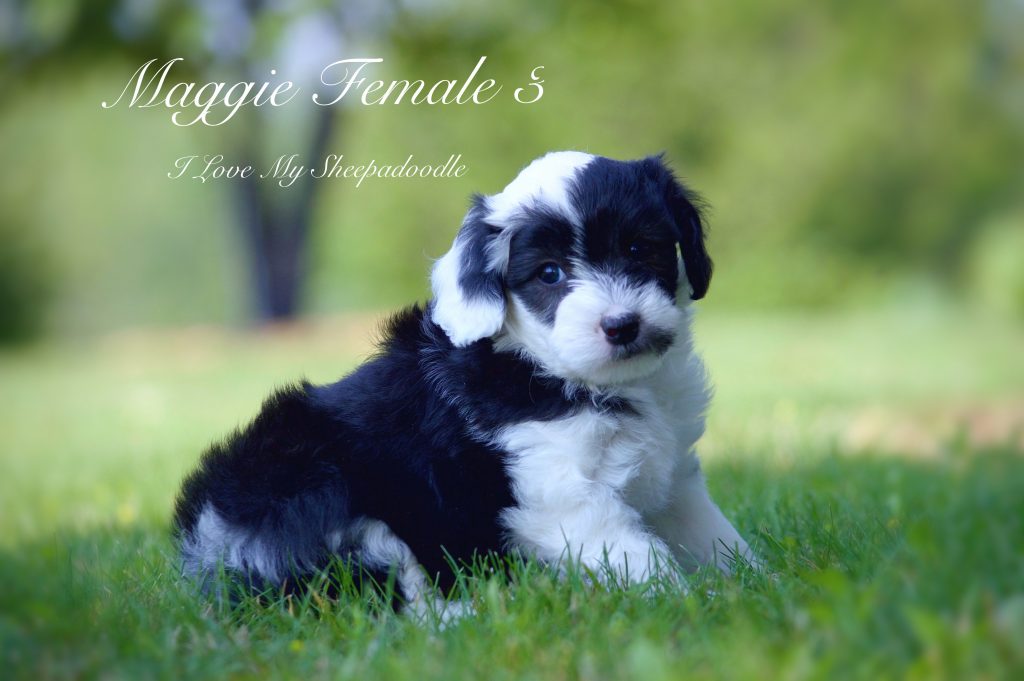 MEET THE PARENTS!
MAGGIE – F1 MINI SHEEPADOODLE
Maggie is our F1 Mini Sheepadoodle weighing in around 25 lbs and 16 inches at the shoulder.  She is 50% Mini Poodle and 50% OES.  She is a very gentle and kind mother. Abby lives with her guardian home most of the time and enjoys the fun and games with her family and just hanging out.  She loves people of all age or genders. She is a beautiful dog inside and out and we expect the same of her puppies!  Maggie has passed her genetic health tests with Good Hips and Elbows.
TOBI – MINI POODLE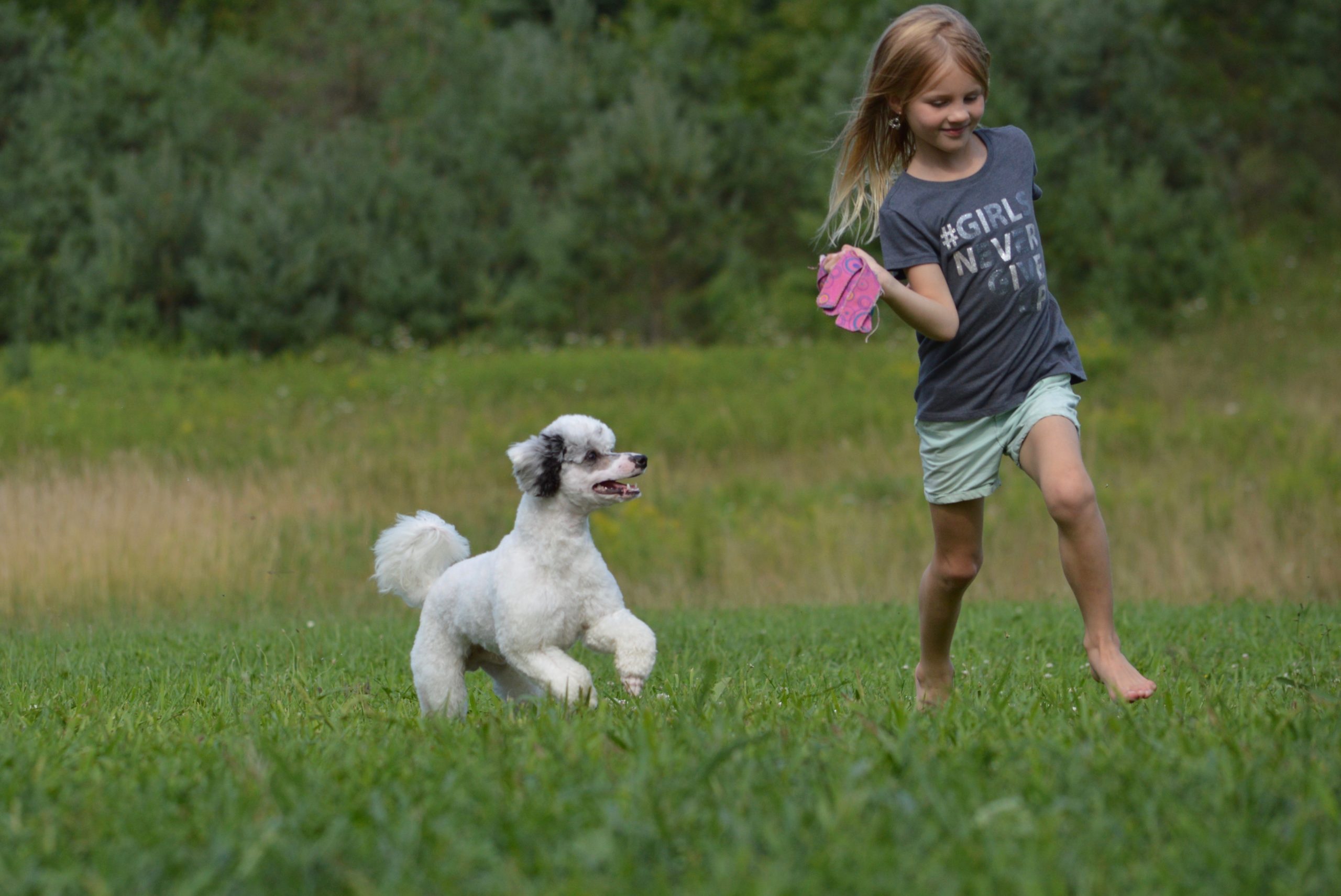 Tobi is our Mini Poodle that is also our family pet.  He lives with us in our home and is our youngest daughters dog.  He is dearly loved!  He has a wonderful disposition and is a big snuggler.  He loves to play!  So fun to watch him during his zoomie time when we go out for our evening walks.
Tobi is a blue Merle Parti poodle registered with the Canadian Kennel Club.  He carries lots of colour and markings and has made many wonderful puppies!  He is a nice little size of about 12 inches high at the shoulder and 16 lbs in weight.  Tobi has past his OFA prelims with good hips and elbows.  He is clear on the Paw Print Poodle panel.
William is our F1b Tiny Sheepadoodle we kept back from our first litter with Abby x Tobi. William has the desired blue merle coat and 2 blue eyes.  He also has a curly, hyper-allergenic coat which he should pass on to his pups. He is a fun loving dog and would play with a ball and stick for hours.  Yet he has a sensitive aspect to him where he wants to please his people and picks up on their feelings.  William is around 20 – 25 lbs and around 16 inches high at his shoulders.     He has past his OFA prelims with good hips and elbows.   William has a clear Paw Print DNA Sheepadoodle panel.

ENJOY SOME OF OUR PAST TINY F1B SHEEPADOODLES
SOME ARE ON INSTAGRAM