~
Born July 19, 2023
Ready Sept 13, 2023
~ OPENINGS ~
$2,000 FOR REMAINING PUP
THE PARENTS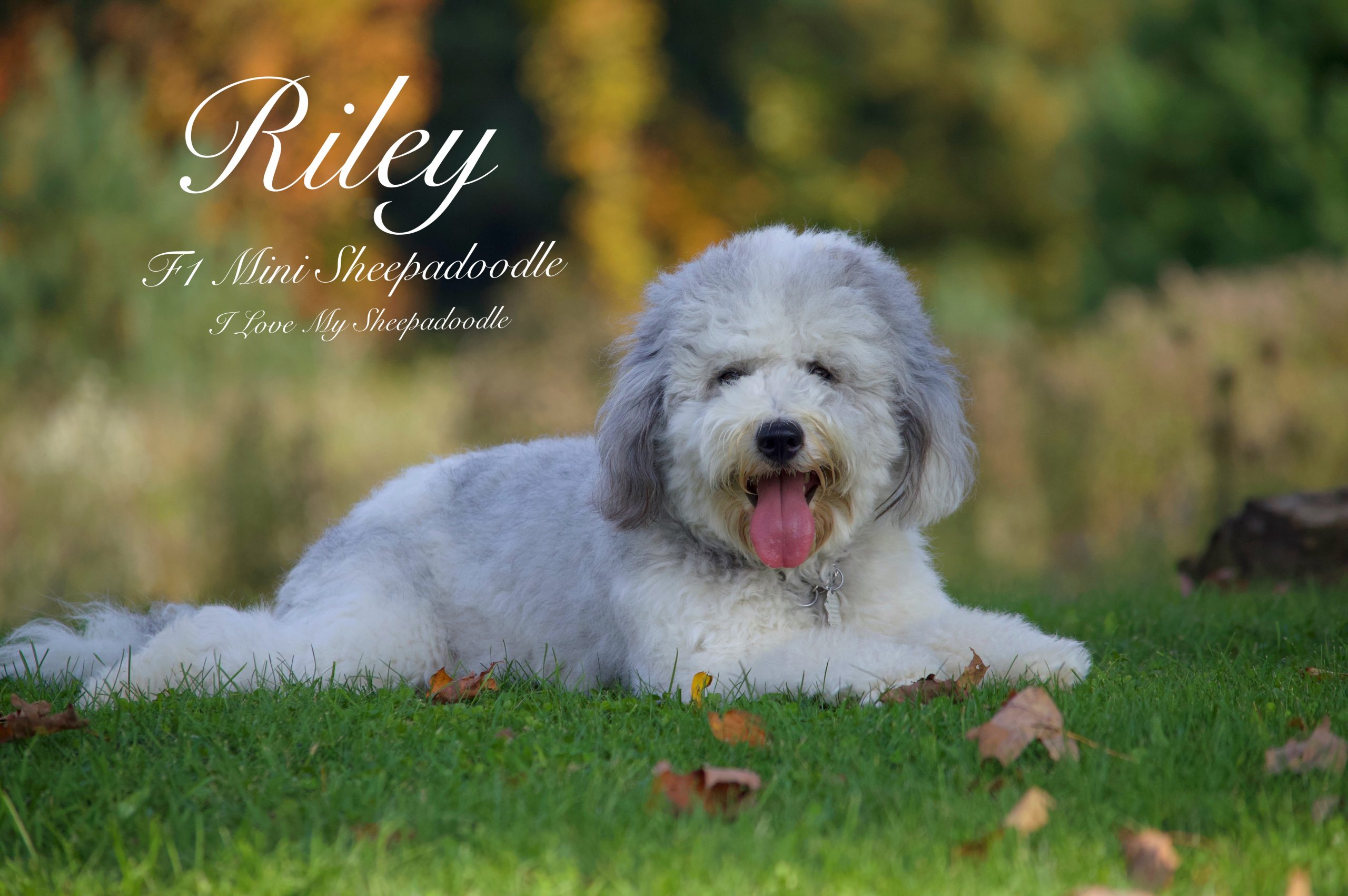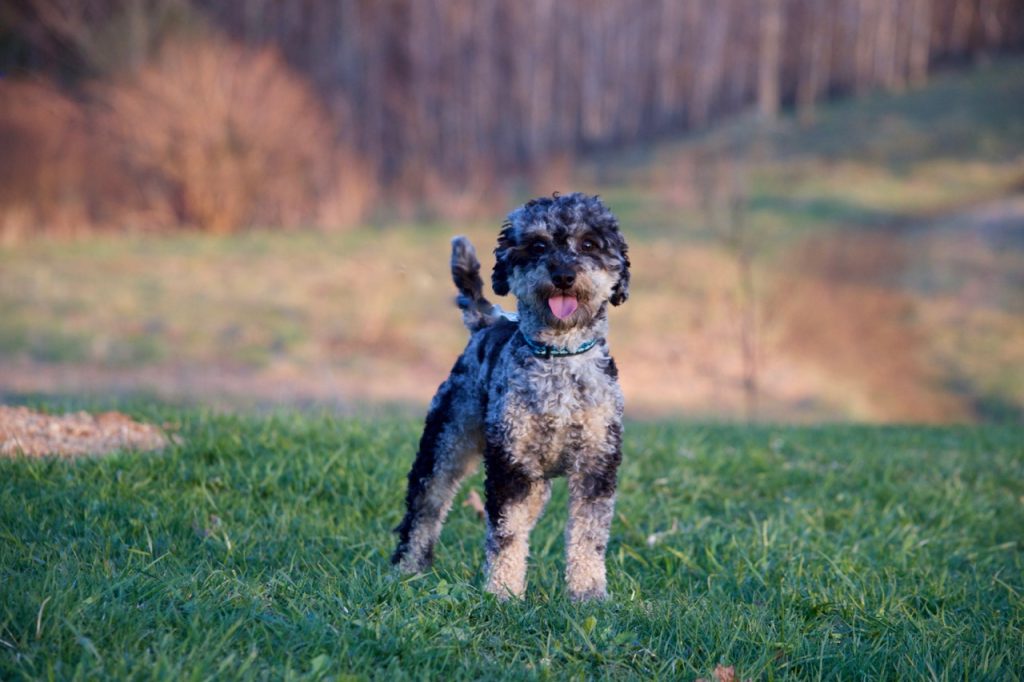 Riley & Teddy welcome a beautiful litter of F1b Tiny Sheepadoodles!  There are 3 girls and 2 boys in this litter.   There are black & white puppies and blue merle & white pups in this litter with some curly coats and some wavy coats with a gentle curl.
The temperaments of these pups should be amazing as both mom and dad are lovely dogs!
This is a F1b Tiny Sheepadoodle  litter which in this case is a F1 Mini Sheepadoodle crossed with a mini poodle.  The puppies are 25% Old English Sheepdog and 75% Mini Poodle.  Since both the Poodle and OES are hypoallergenic breeds these pups will also be hypoallergenic.
The size of these pups is expected in the 15 – 30 lbs range give or take some. There could be a bigger or smaller one than average since there is Old English Sheepdog and Mini Poodle in their genetics.   For matured height at the shoulder the pups can be between 14 – 17 inches with most being around 15 -16 inches high.
Puppy selection is planned for Thursday, August 31/23 when the pups are 6 wks old.  This is done by video call done in order of waitlist below.  Photos will be posted again around 4 to 5 weeks of age.  We will also post videos on Instagram of the puppies playing the day prior to puppy selection.
These pups will be ready to go home Sept 13, 2023 or after between the age of 8 – 9 weeks. They will have their first booster and several rounds of deworming. Our vet will also have done a thorough inspection of each pup.
Fill out our puppy application if you are interested in one of Riley's pups.  Deposits are a non-refundable $500 and hold a spot to your name.  The remaining amount is due 2 days before pick up.
$3,000 CD taxes included
WAITING LIST
Puppy selection August 31/23
1. Marc & Josie Billard ~ Brockville, ON ~ Male 2
2. Iryna Koyeva ~ Kanata, ON ~ Female 1
3. Hinal Ghelani and David Levy ~ Toronto, ON ~ Female 3
4. Desta Shemelis ~ Dunsford, ON ~ Male 1
5.
~~

5 WEEK PHOTOS
~
1 WEEK PHOTOS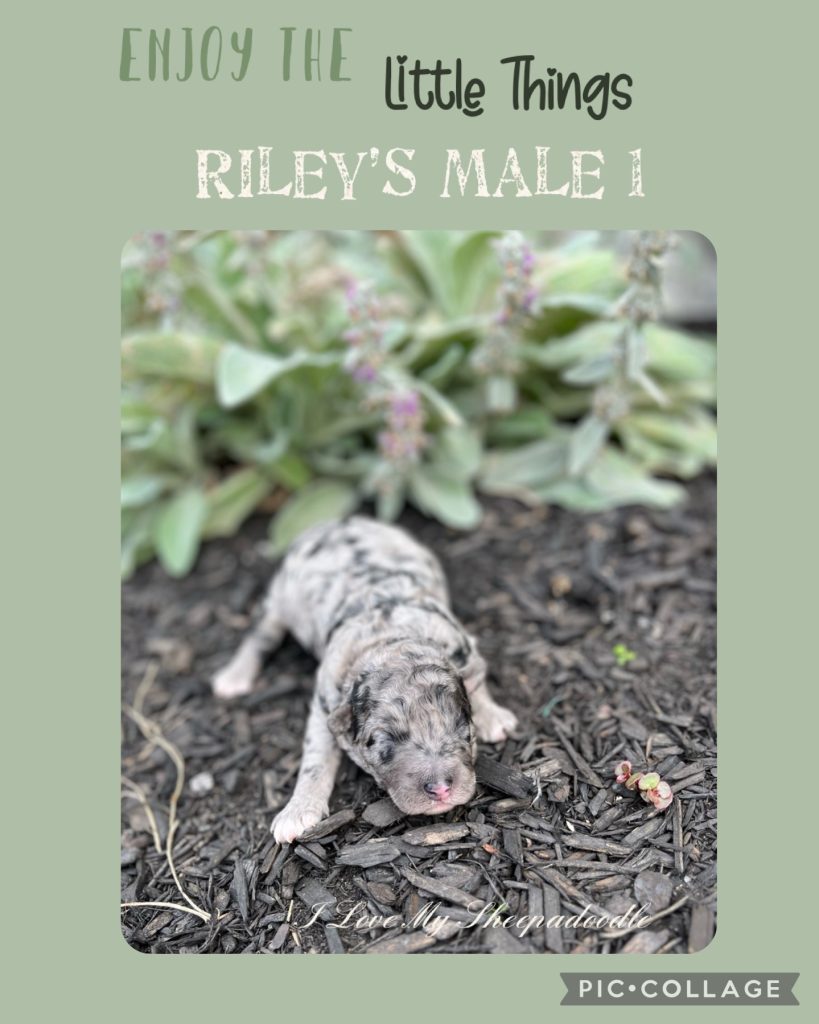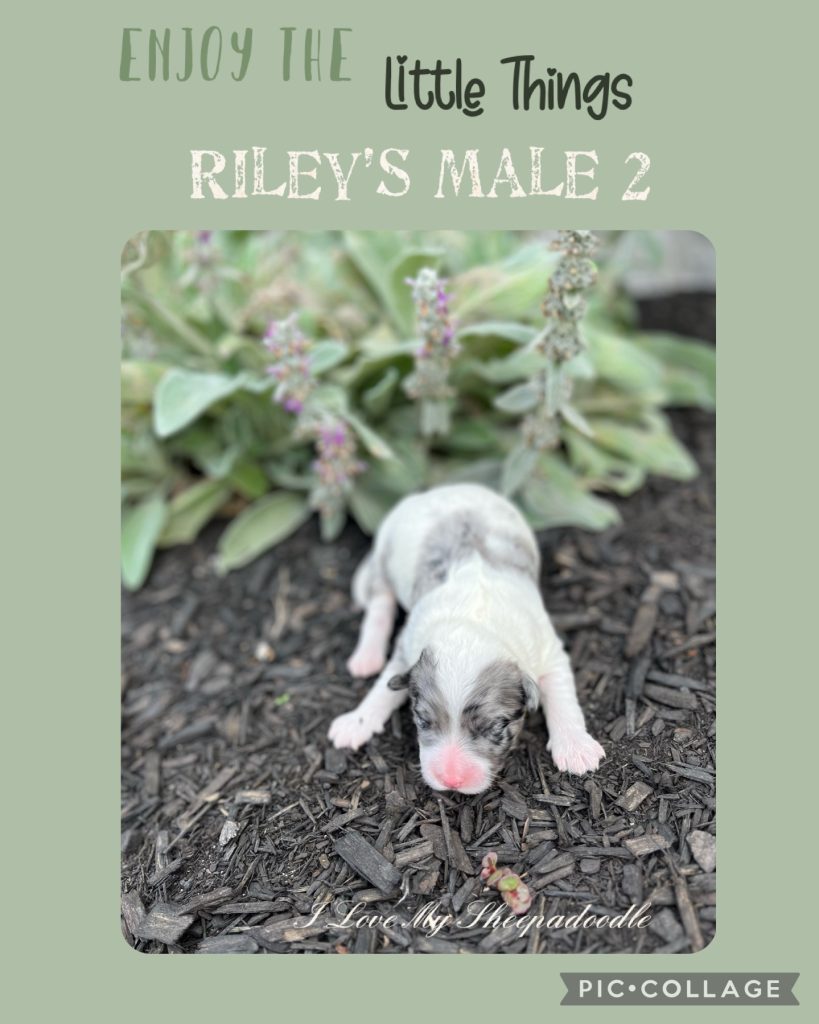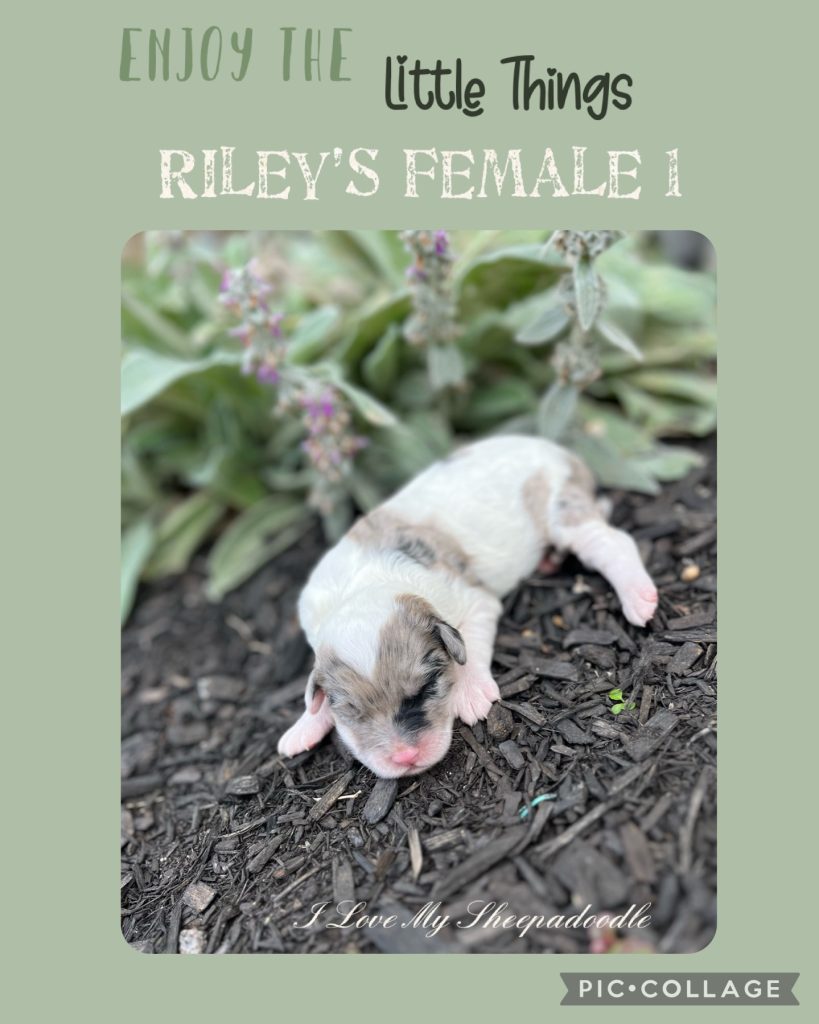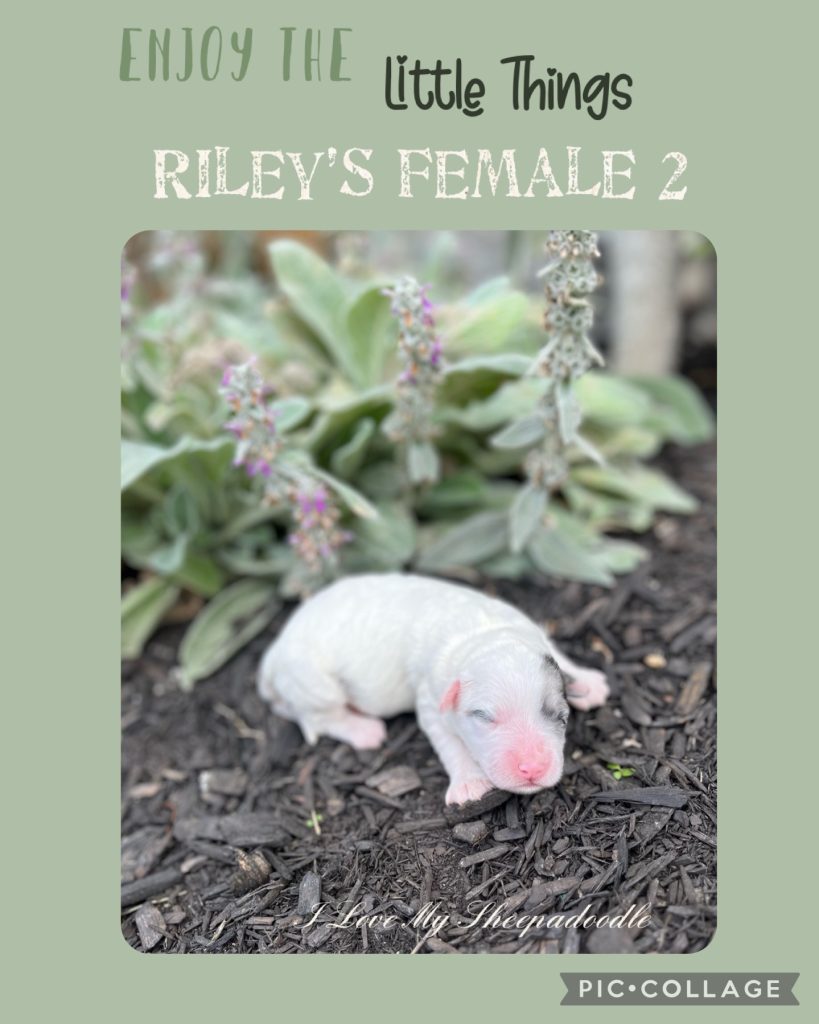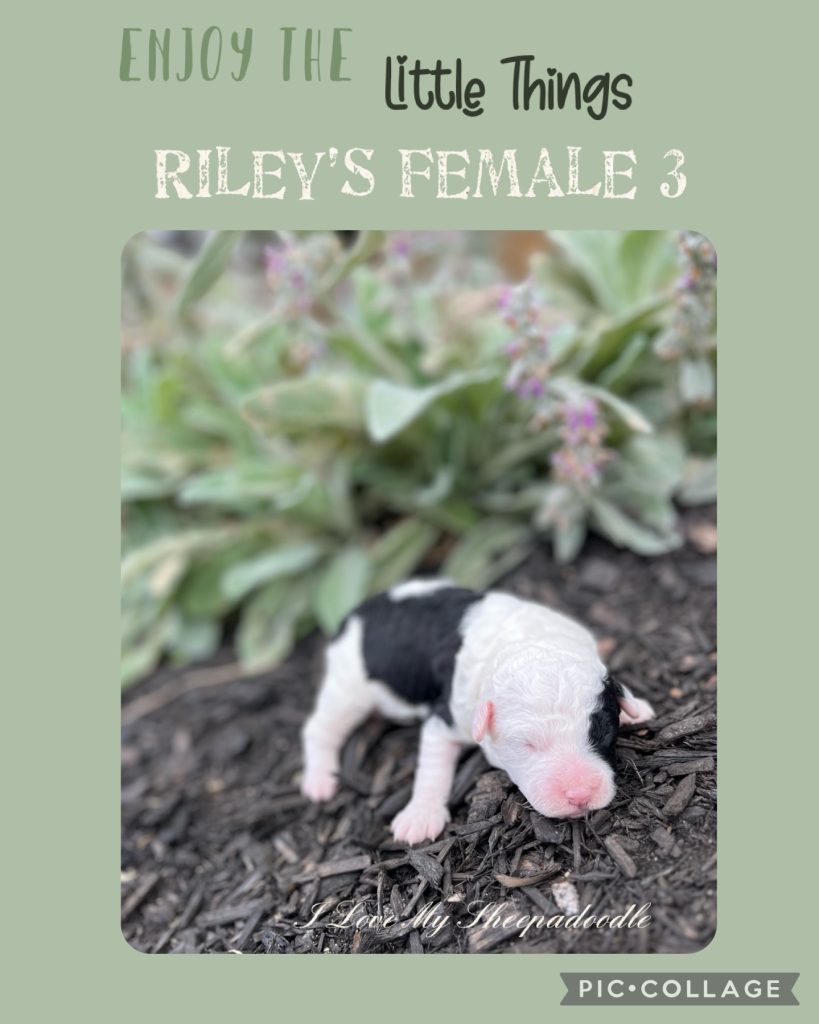 WATCH FOR
5 WEEK PHOTOS
~

MEET THE PARENTS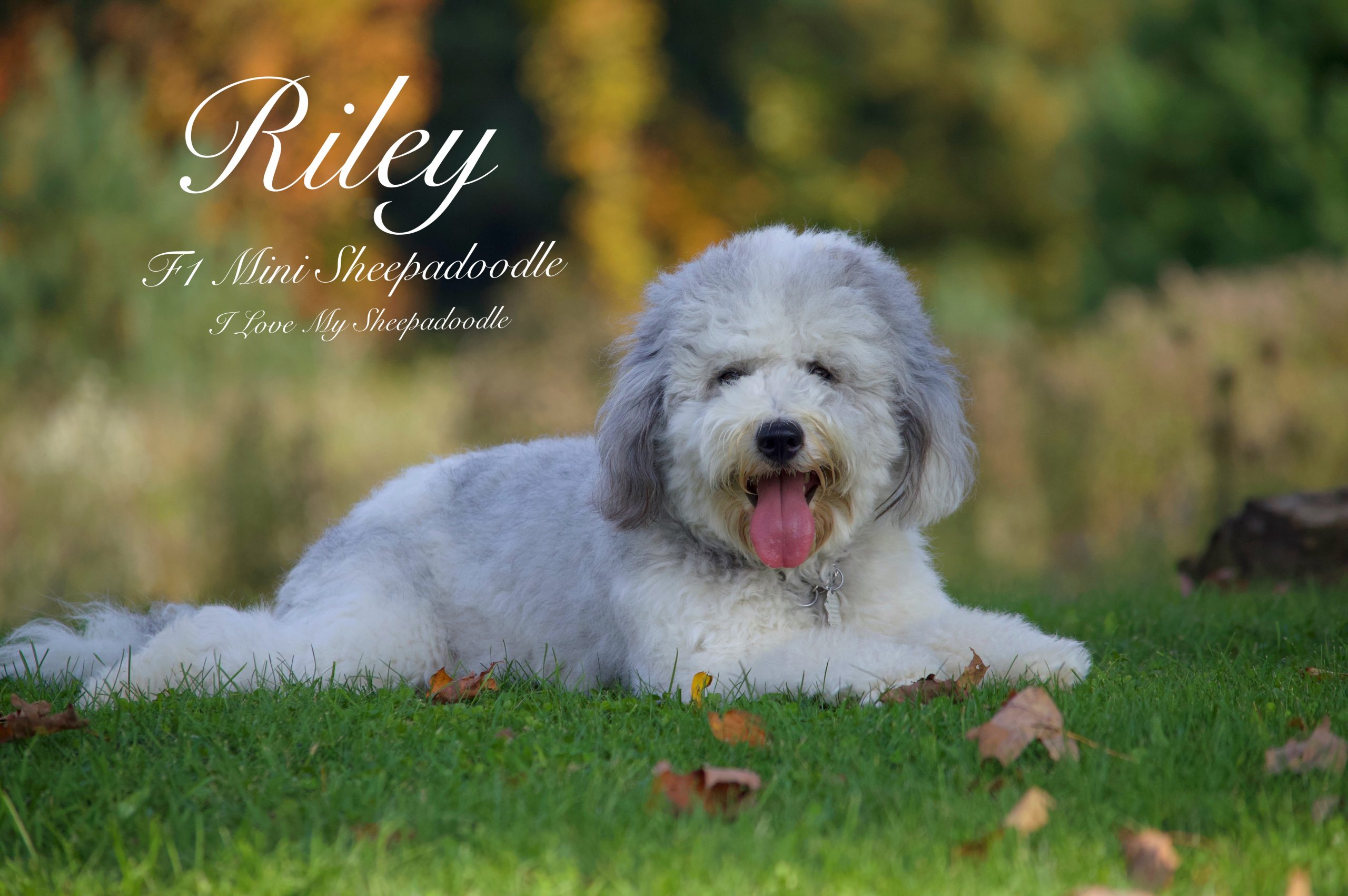 RILEY – F1 MINI SHEEPADOODLE
Riley is a F1 Mini Sheepadoodle with new bloodlines here at I Love My Sheepadoodle.  She weighs in just over 30 lbs and is about 16 inches high at her shoulder.   Her mom is a smaller sized OES weighing in around 45 lbs and her dad is about 25 lbs.   Riley has a shy, reserved personality.   She takes her time to meet new people.  She loves to run and play – give her a ball and a baseball field and she's a happy gal.  She lives close by to us with her guardian and lives a very content and happy life.   We look forward to the Mini and Tiny Sheepadoodles from Riley starting Fall 2021 and after.
Good Hips & Normal Elbows – OFA Prelims
 Embark DNA Panel – Clear with 1 carrier of CDDY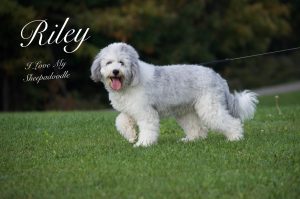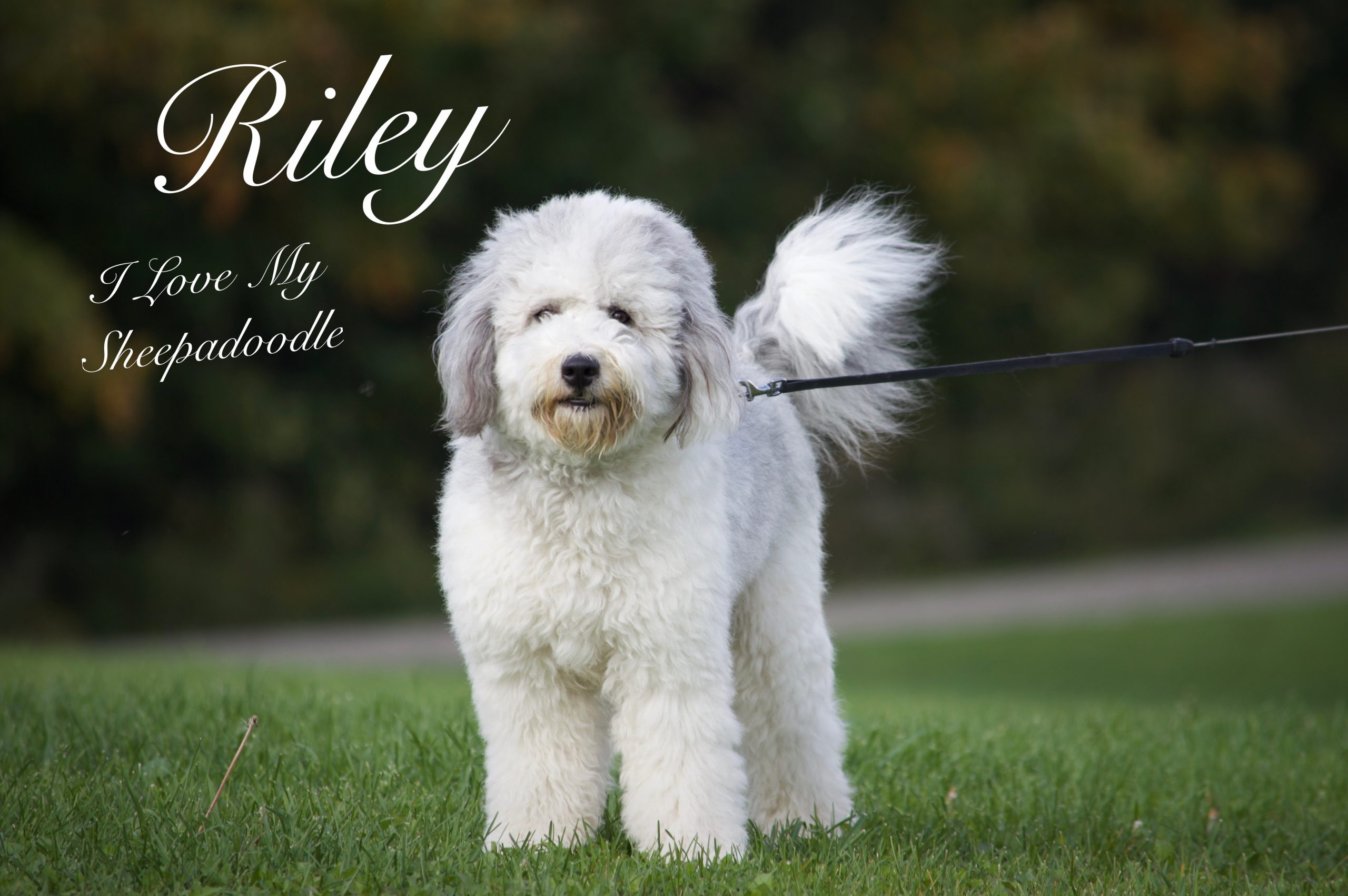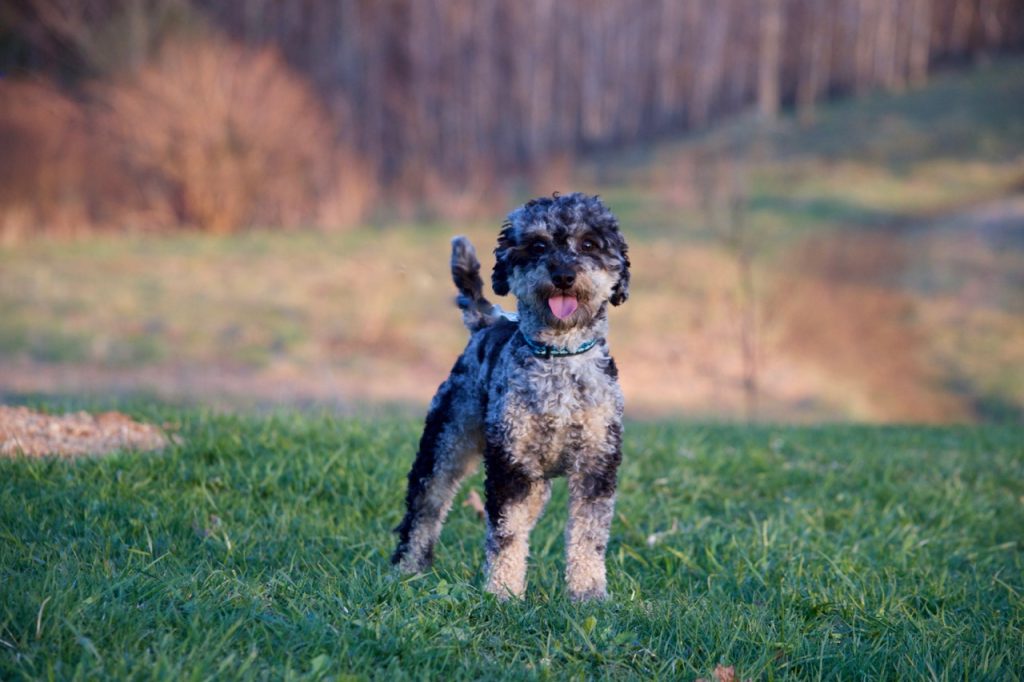 TEDDY ~ MINI POODLE
Teddy is a hired in stud from my nephew's breeding program at Country Raised Bordoodles.   Teddy is a proven 12 lbs Blue Merle Phantom Poodle.  He is super friendly, loves to play and is up to do something fun whenever there is a chance.  He makes friendly, outgoing, happy pups. We look forward to the friendly pups Teddy makes.