As of January 1, 2022 the following is in effect on all new puppy deposits: We have put our prices down $500 and our puppies will not come with a health guarantee by default.  However you may purchase it for an additional $500 if you wish.
Note: Lettering in light purple will be removed for those not purchasing the health guarantee.  
Puppy Health Guarantee & Contract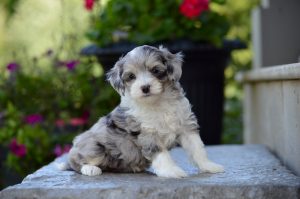 Your puppy comes vet approved and with their first set of vaccinations and several rounds of dewormer. We send home a scented blanket, toy and their health records.  We also offer 30 days free trial with Trupanion's Pet Insurance. Just call within 24 hours of picking up your puppy to activate it.
It is your responsibility to care for this puppy. Please have your puppy checked over by your vet within the first 72 hrs. If something comes up let us know. You can return your puppy within 3 days and we will fully reimburse you with your money (minus deposit).  After that time you may return the puppy to us at your cost, but we cannot reimburse you. We will find a new family for your dog/puppy.  All costs associated with pup after pick up are your responsibility. 
We offer a one year health guarantee against life threatening genetic illnesses on our puppies. We cover hip, eye and heart genetic issues.  We do not cover off bites or hernias.  We do not cover parasites, disposition, behaviour, colour, life span nor things that can be picked environmentally. 
If your puppy has a life threatening genetic illness within the first year, or a vet report and OFA test shows that your puppy from I Love My Sheepadoodle fails a genetic test on its hips, eyes or heart within the first year from puppy's birthdate, 50% of purchase price will be reimbursed and buyer keeps puppy.  Or your puppy can be returned and you can have the next available puppy of your choice from I Love My Sheepadoodle at 50% discount. We may require confirmation from our vet or vet of our choice in addition to your own as a 2nd opinion.
Buyer agrees to spay or neuter the puppy by the age of 8 – 9 months.  Please submit a copy of your spay to us by the time the pup is 10 months old.  Our health guarantee will be void without it and you will be subject to a $5,000 fee.
Our puppies are sold as PET ONLY.  We do not sell pups for breeding purposes. Any breeding with our dogs whether intentional or accidental is strictly prohibited.  Subject up to a $50,000 fine if breeched. 
Please note that due to stress, sometimes their tummy gets upset and they can have loose stools for a bit as they adjust. Just feed them their normal food for a week or so before you make any food changes. 
Training a pup is a lot of work but great rewards! We strongly encourage you to take puppy classes. We do our best to breed quality puppies but the outcome is a responsibility and joy you will reap! So all the best on our new pup!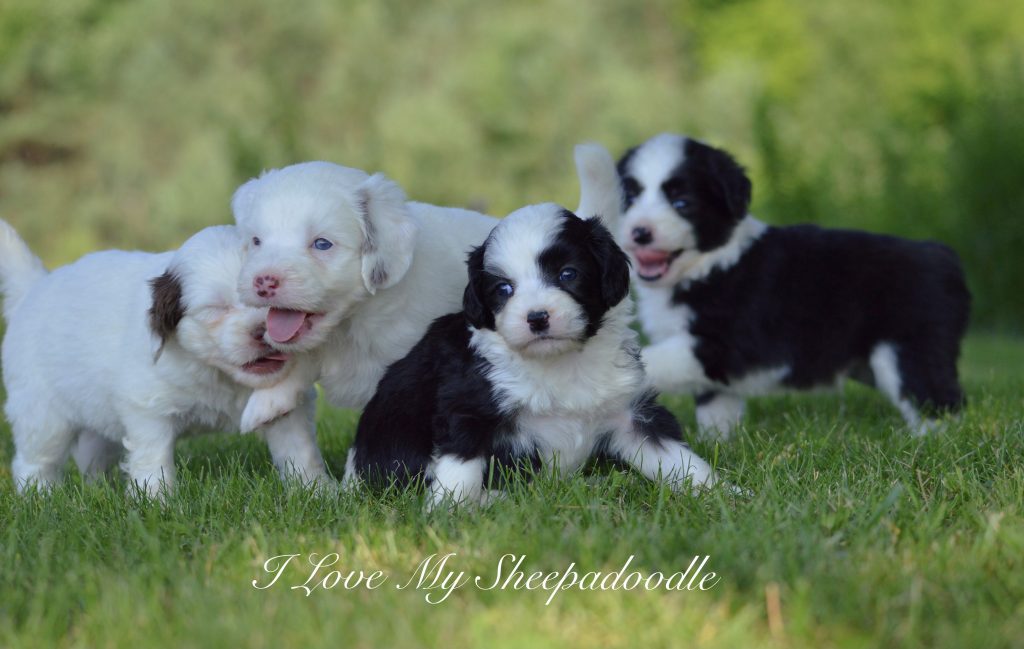 A Few Extra Notes
We feed our puppies good quality food. We recommend 4 Strong Paws Puppy Food or Royal Canin or other similar quality name brands.  Buyer is responsible for feeding quality dog food. Cheap dog food does not give puppy proper nutrition so look for good reviews and quality name brands.

We encourage our puppies to go on NuVet Vitamins to promote a healthy start to their growing bodies.  This is a boost that helps bring them through their first few years. 
We do not dock our puppies tails. We do not microchip our puppies. We leave that up to each individual to decide with their own vet. 
It is your responsibility to care for and train your new puppy.  We strongly recommend enrolling in a puppy class.  You can watch lots of fun videos on YouTube about puppy training. Look under our Links page for some starters. Your puppy becomes what you make it!
Our aim is to produce quality pups to loving and caring owners. We trust you will love and cherish your new addition as we pass on this precious puppy gift from our family to you!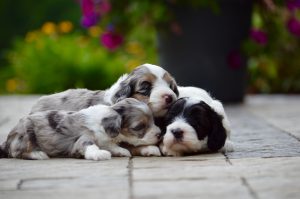 We do DNA genetic health testing on our Breeding Dogs.  We use Paw Prints, Embark and Animal Genetics. 
 We are in the process of getting all our breeding dogs done if they are not already cleared by parentage (if both parents are clear then their puppies will be too).
Click on icon below to see completed results from Paw Prints