Standard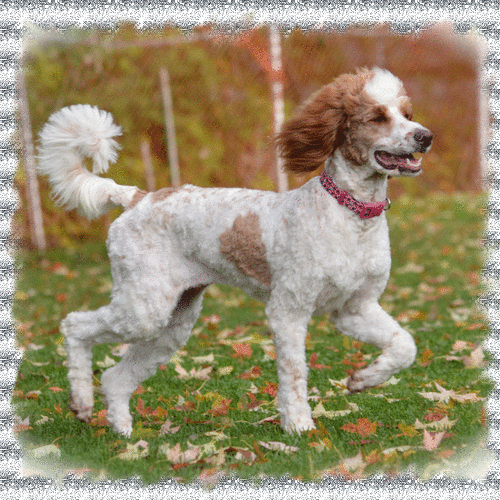 Jewels ~ Red & White Parti Girl
Jewels is our smaller standard girl. She is about 45 lbs.   She will produce black and white Sheepadoodles with a soft wavy coat.  Her puppies have a higher chance of  holding the black and white colouring because of her dark red gene.   Jewels is a sweetheart who will soak in attention from anyone!  She will make friendly,  playful Sheepadoodles in either the Moyen or Standard sizes ranging from 40 – 60 lbs.
CKC Registered, OFA Hips and Elbows Good, Carries Cu/Cuc coat test.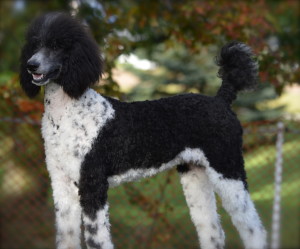 Missy ~ Black & White Irish Tuxedo Girl
Missy is a larger standard girl.  She weighs in at about 55 lbs.  She has a quiet, calm demeanour and takes life in stride.  She should produce some nice pups!!   She has a lovely thick coat with lots of curls!    Her Sheepadoodle puppies will likely have wavy coats that have little chance of shedding.  Since she carries Phantom, Sable and Brindle and brown, she will offer some nice color markings in her offspring.
Missy is kind and gentle, yet still outgoing.  She will make well rounded pups with thick full coats in either the Moyen or Standard Sheepadoodle sizes ranging from 45- 60 lbs.
American Kennel Club Certificate, OFA Hips and Elbows Good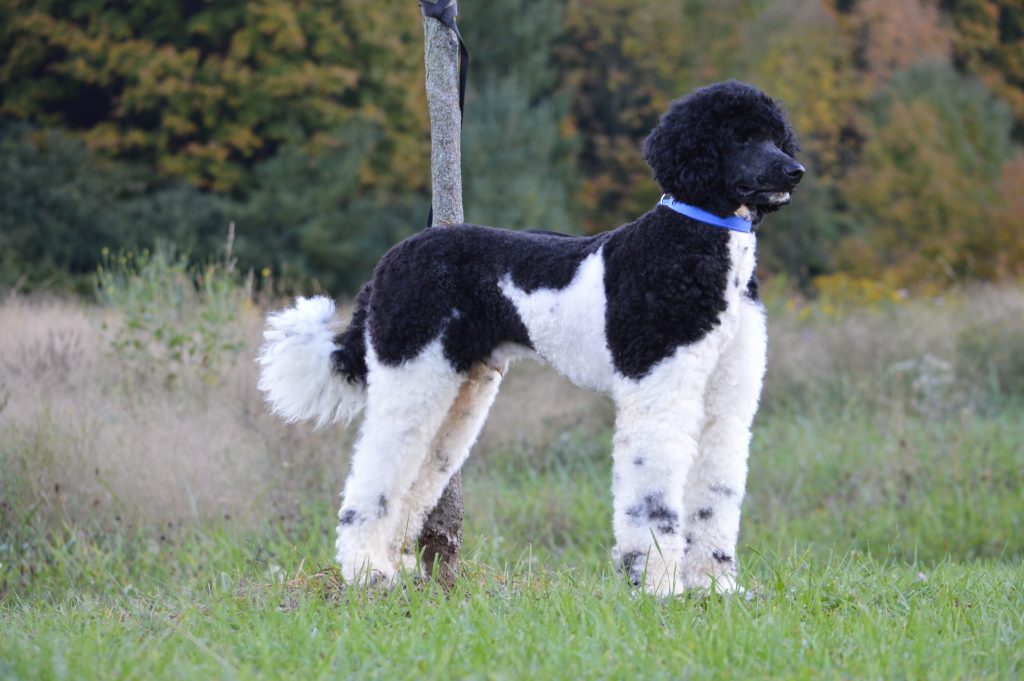 PRINCE MARLIN IN BLACK & WHITE
Marlin is our striking black and white standard poodle.  He weighs in at 50 lbs.  He is registered with the Canadian Kennel Club.  He has passed his hips and elbows tests.  He is a prancy boy – a true poodle!  He is also very loyal and stays close by to his owner.  He has a soft coat with a gentle curl to it.  He will make some stunning Standard Sheepadoodles in our program!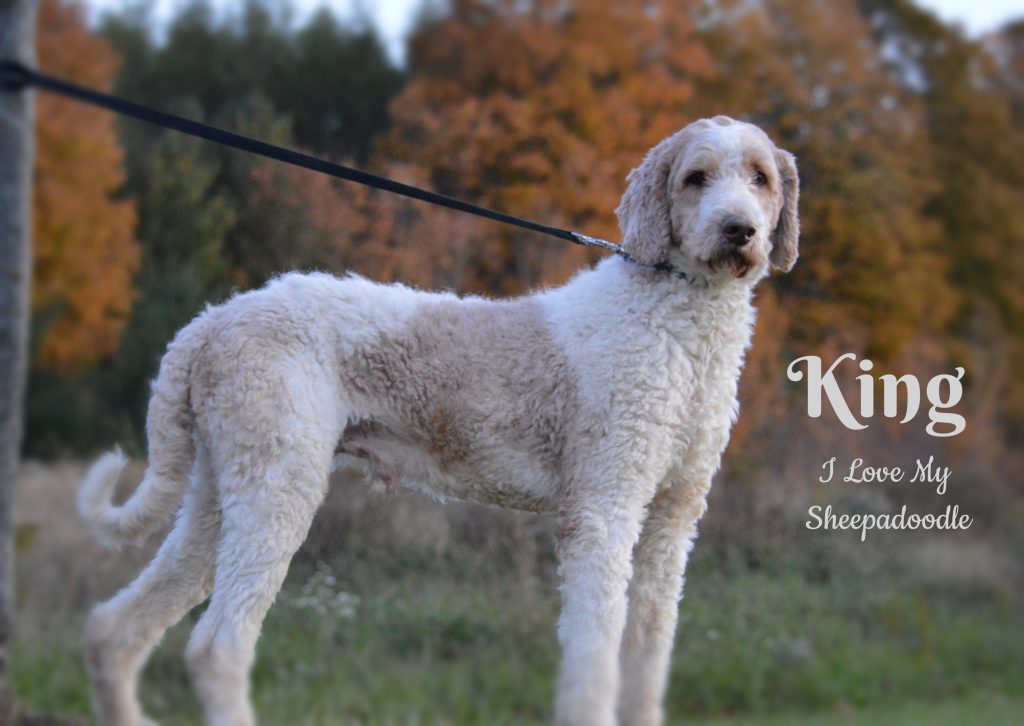 KING – Allen's Willowlane Sampson CKC
King is our newest Standard Apricot and White Parti Poodle. He is registered with the Canadian Kennel Club and has passed his health tests – OFA Hips Fair, Elbows Normal, OFA Heart certificate clear.   He is a tall, regal boy and will throw some bigger Standard Sheepadoodles for us.  He carries a straight coat gene so we expect wavy coats from his litters.   He has a quiet, calm personality.  We look forward to some beautiful Sheepadoodles from King's lines!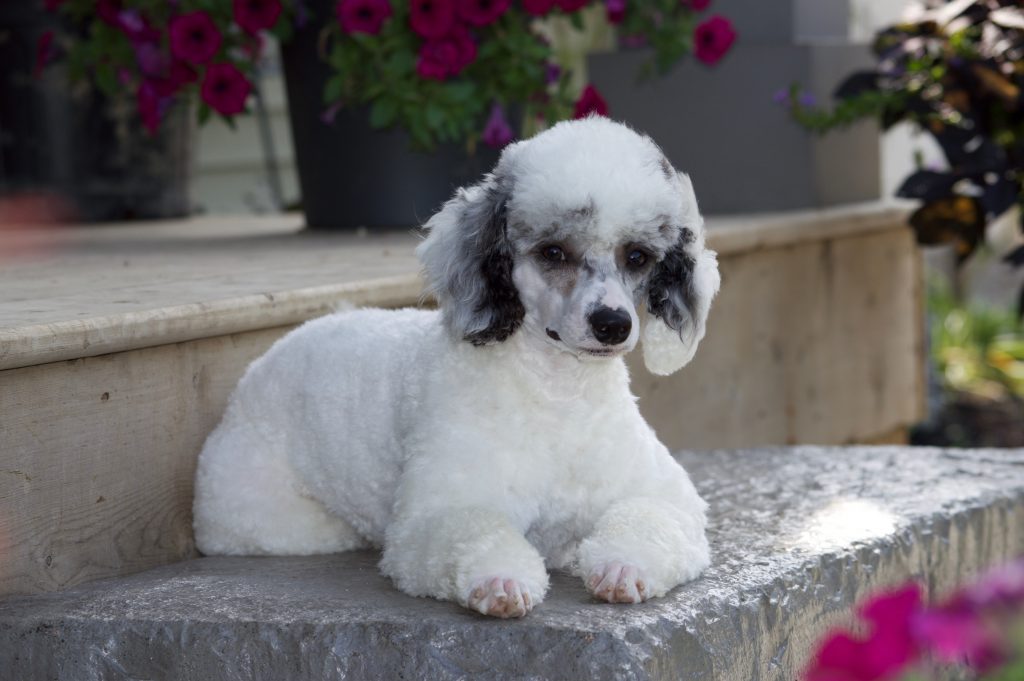 TOBI'S ALL CUDDLES
Tobi is such a sweet boy!  His name says it all!  He plays dress up and lets my kids take him along with them wherever they go.   He also has his pass to the local nursing home where he can bring some more smiles.  Tobi loves life and brings joy to those he meets.   Tobi is 13.5 inches high and 16 lbs.  He has passed his OFA prelims with Good hips and normal elbows. Tobi is registered with the Canadian Kennel Club.   He is a lovely boy and produces beautiful pups inside and out!  He will be father to our Moyen, Mini and Tiny Sheepadoodle pups!

 s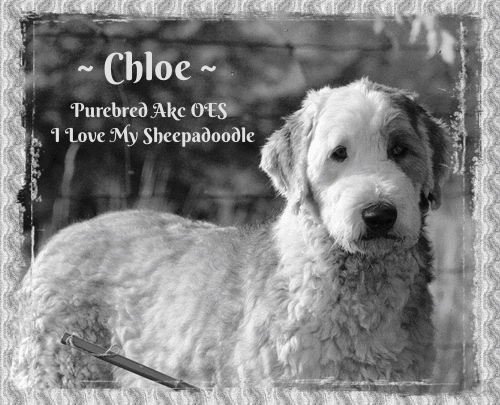 Chloes has a quiet and gentle nature with thick soft fur!   Chloe has a nice boxy build.  She is around 70 -75 lbs.  She is a sweet girl and is a favourite among us.  She can throw tri-colored Sheepadoodles as well as black and white Sheepadoodles. Some have held their black and white colour but most will have a beautiful grey and white coat in their adult hood.  Look at Wrigley below – he is one of her boys!   Chloe's puppies have lovely temperaments and will capture people with their amazing looks! 
Excellent Hips & Normal Elbows – OFA
American Kennel Club Certificatea
MISS SASHA'S A STUNNING LADY ~ CKC
Miss Sasha is our own OES that we produced from I Love My Sheepadoodles.  She is playful but also respectful.  She has a beautiful blue grey coat that is full and fleecy.  She has passed her OFA prelims with Good hips and elbows. We look forward to some Standard F1 Sheepadoodles she will make in 2019!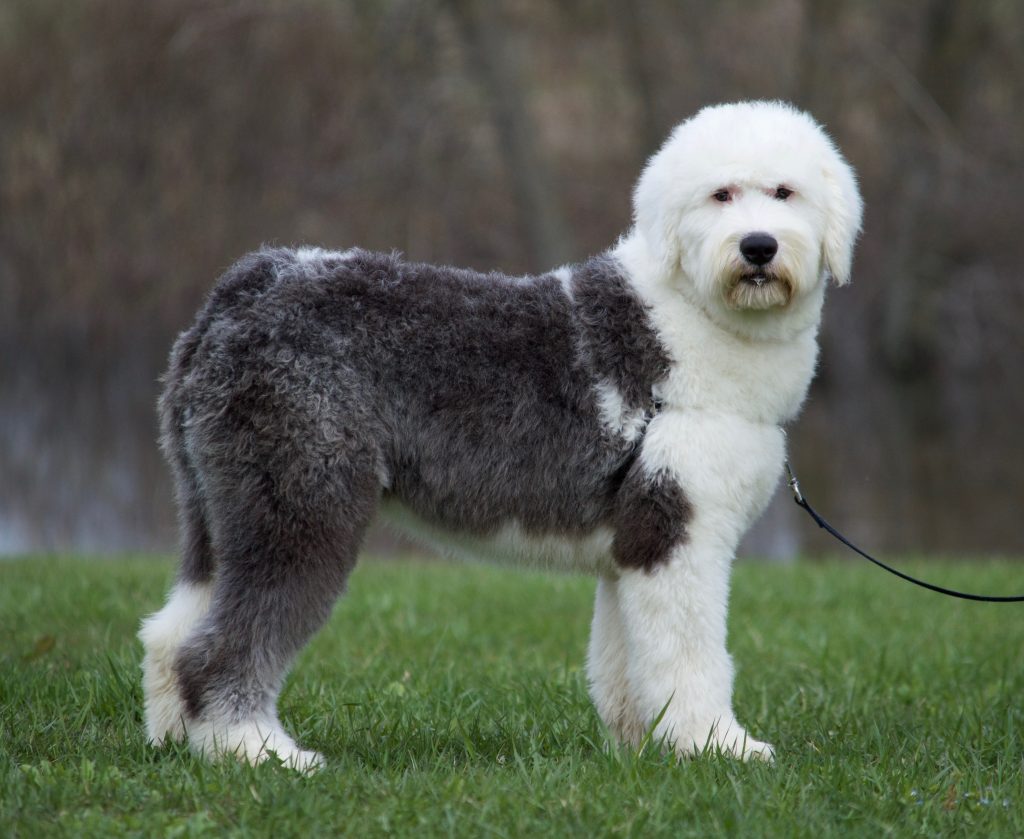 SIR HENRY – THE STAR
Henry is our newest purebred AKC Old English Sheepdog.  He is a sweet affectionate boy. He is calm and friendly with low energy. Henry has a nice boxy build to him.  We are waiting for him to pass his health tests before he starts our program.  We hope he will be a Star in our breeding program!  He should mature to around 75 lbs.
Wrigley is a friendly fellow.  He lives with a foster home in the nearby area where he gets lots of love and attention.  He has turned out to be quite the gentleman!  He sure is a charmer with his good looks and playful but gentle spirit.  He has a thick soft coat ~ it is irresistibly huggable!  Wrigley has matured to 41 pounds.  He is going to be a wonderful stud to our Poodles for Moyen Sheepadooles.  We are so excited to see the pups he produces!  Watch for Fall 2017 for his first pups!
OFA Hips and Elbows – Good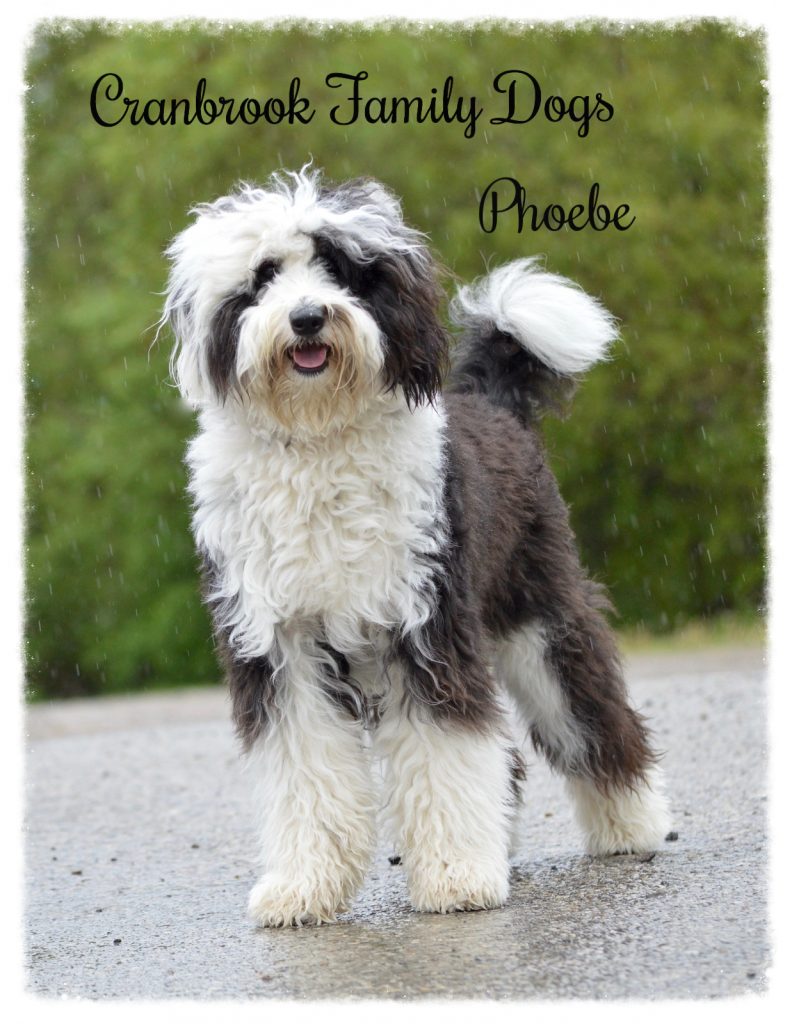 Phoebe has matured into a beautiful young lady! She is sweet and easy going in nature. She has a lovely dark grey coat with a soft gentle wave.   She has matured to 29 pounds.  Phoebe loves living with her foster family and they love her!!   We look forward to seeing her puppies arrive Fall of 2017.  She will be bringing us our first litters of Tiny Sheepadoodles.    What a lovely lady you have become Phoebe!
OFA Hips and Elbows – Good
d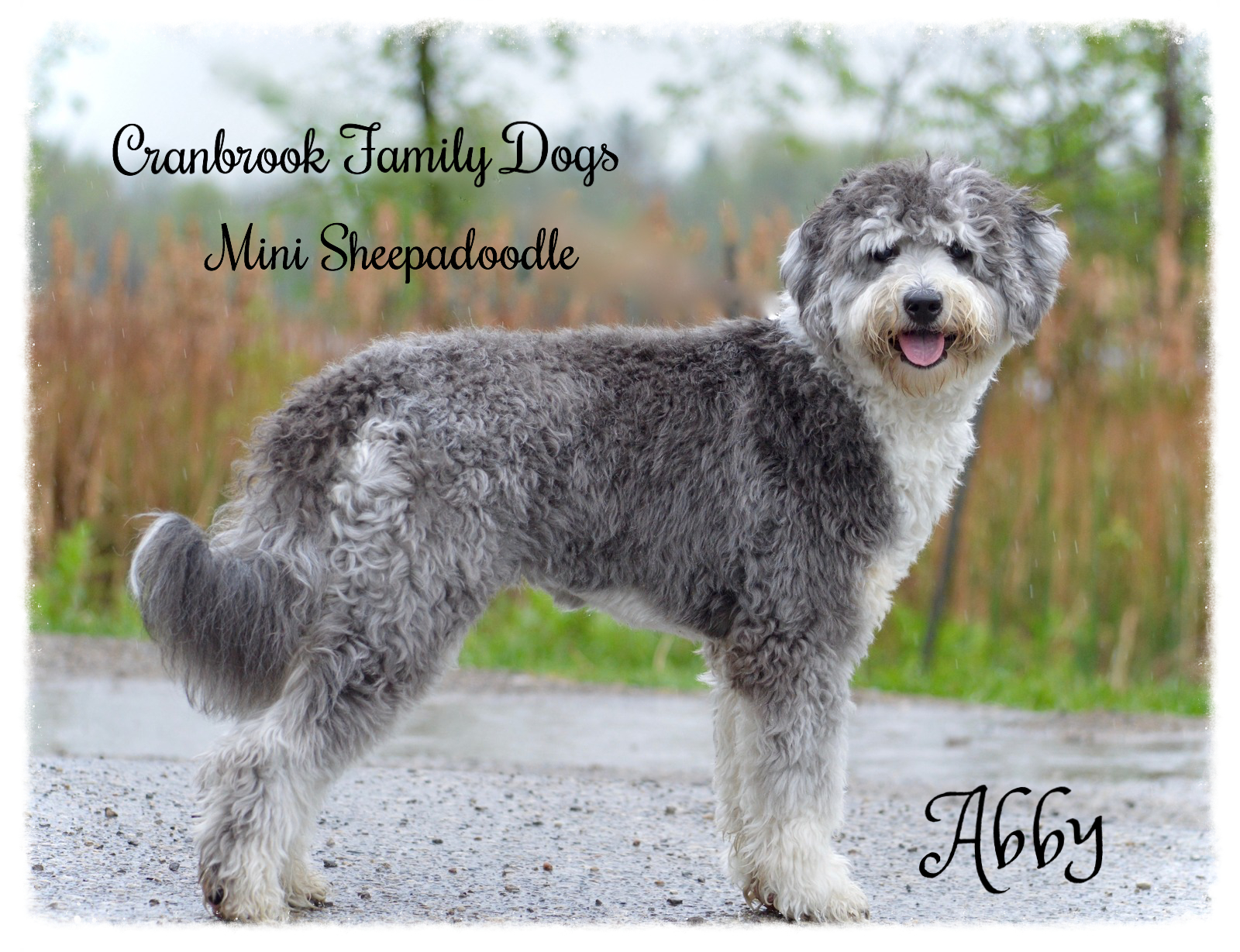 Abby is our most petite Mini Sheepadoodle.  She weighs in at 26 lbs.  She has a curlier coat yet it still has a gentle wave to it as it grows out.   She has a quiet nature and is loyal to those she loves.  She's a smart little cookie too!  She has been a blessing to her foster family as they have been to her.   We look forward to Abby's Tiny Sheepadoodles planned to arrive Fall of 2017.  
OFA Hips and Elbows – Good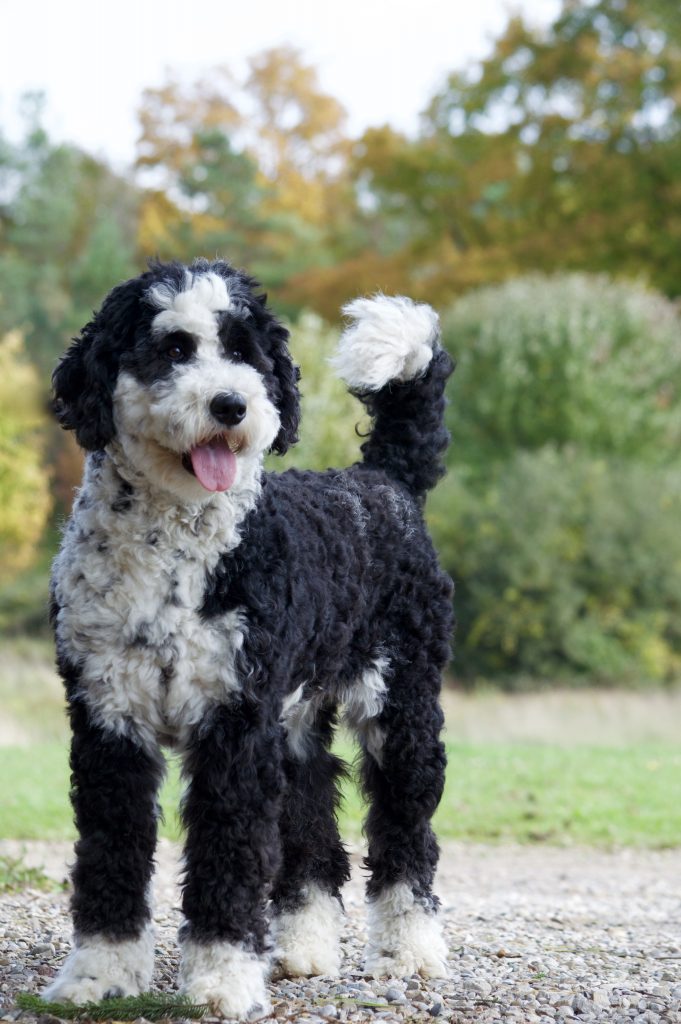 INDIE – F1 Standard Sheepadoodle
Indie is our first Standard F1 Sheepadoodle to keep back to our program. She lives with her guardian family in the city and is well loved by her people. She will be bred to make either Moyen or Mini Sheepadoodles.   We look forward to seeing some fun colours with her pups!  She is a short stocky girl and should make some nice Sheepadoodles for us in the future!
Hips: OFA Prelims Good
Weight: 55 pounds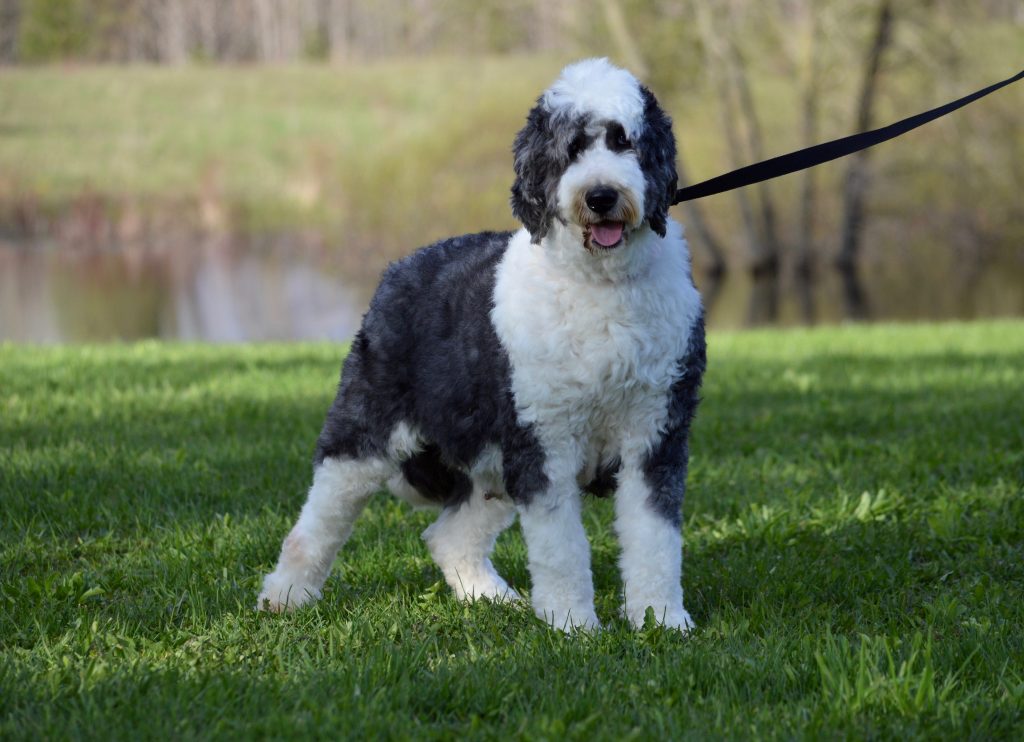 Blossom – Goldendoodle Sheepdog
Blossom is a very special dog to me.  Several years ago we had some Goldendoodle breeders ask to use our OES stud Jake to their Goldendoodles to enhance their lines.  They were very pleased with the results and called this new cross an Olde English Goldendoodle.   We bought back one of those dogs from that breeding to add to our program.  This was Blossom!  She is one of my favourite dogs!  She is sweet and calm, gentle and loyal.  She has a nice stocky build from the OES and Golden Retriever. Her coat is almost non shedding, soft and fleecy.  We have started breeding her with our mini poodle Tobi to make our own Mini Olde English Goldendoodles averaging around 30 – 40 lbs.  In the above picture she is soon due with a litter!  The pups are a perfect blend of the Sheepadoodle and Goldendoodle. We have lovely markings and wonderful temperaments!!
Hips – OFA Good
Weight – 55 lbs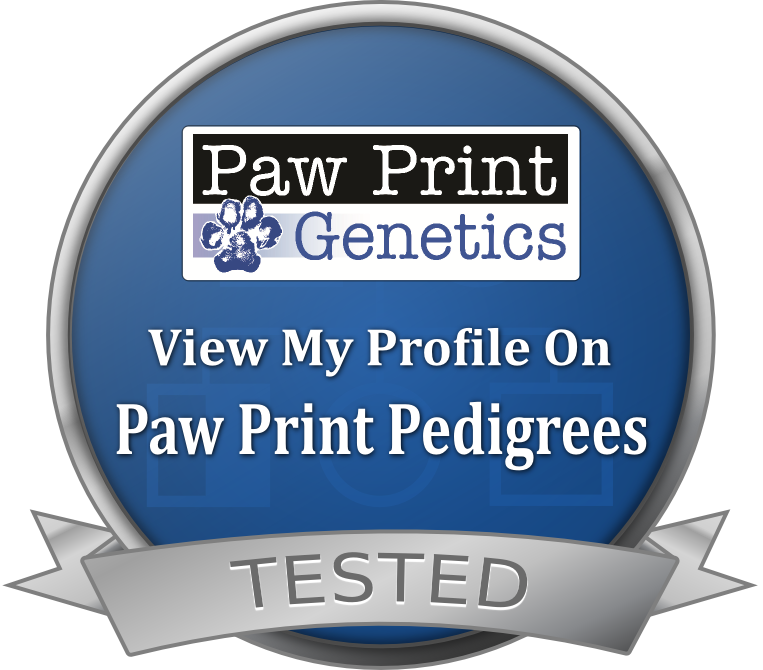 See more by clicking

We are doing Paw Print DNA genetics on our Breeding Dogs – click on icon below to see our dogs.
 We are in the process of getting all our breeding dogs done.
Check back for updates as we get in more results.