~
~
~

FOLLOW US ON

INSTAGRAM 

FOR MORE PHOTOS

.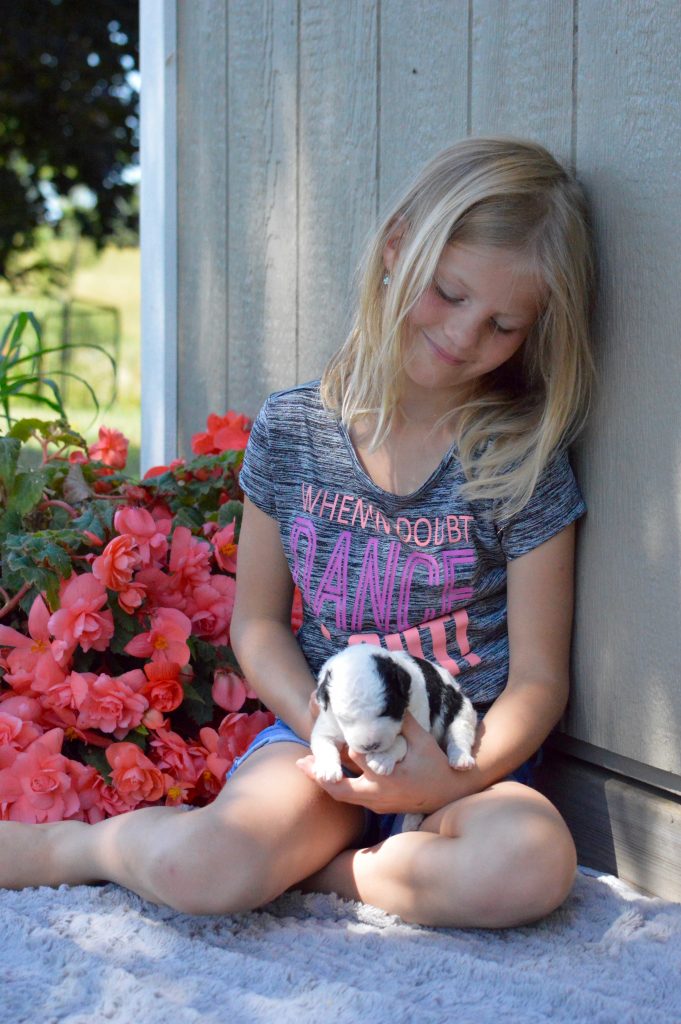 The Moyen sized Sheepadoodle is a smaller sized Standard Sheepadoodle ranging from 40-55 lbs. The term MOYEN comes from the poodle world.  It means medium in French.  The Moyen Poodle is about 30-45 lbs, right in between the Standard and Mini sized poodles.  We have brought this term Moyen over to the Sheepadoodle to make the Moyen Sheepadoodle.
We designed the Moyen Sheepadoodle by bringing in some smaller sizes to our breeding program. We do this by using our F1 Mini Sheepadoodle Stud (40 lbs) with a Smaller Standard Poodle or Sheepadoodle (40-55 lb range).  These Moyen Sheepadoodle pups should mature on average to around 40 – 55 lbs. Some break the rule and can be bigger or smaller.  This is a great size if you like the bigger dog but can't quite manage the normal 60 – 75 lb Sheepadoodle!  The Moyen Sheepadoodle is a great size for the younger or older folk … another perfect family pet!   
The Moyen F1b Sheepadoodle should shed even less then the already hypoallergenic F1 Sheepadoodle.  A small percent of the Moyen F2 Sheepadoodles could shed lightly if they have the straighter OES coat.  Some of the pups will have curlier coats in these litters and others will have the wavy look.  You can have a variety of coats types within the litter.  
You can also have different colours and markings in these litters as well.  We expect brown and white, black and white, apricot and white, merle and white and with phantom markings on that as well.  You can have Tuxedo coats or parti coats or mostly solid white coats. 
I find the temperament of the Moyen F1b Sheepadoodle is great as well!  The pups tend to be less play nippy during their puppy stage.  These are smart pups. Most often affectionate and keen to please. They love other people and dogs so make great playmates and companions.
Our family enjoys the size and temperament of the Moyen Sheepadoodle.  We have many satisfied customers as well!  Contact us if you are interested in one of our current or future Moyen Sheepadoodle pups!
a
OUR BREEDING STOCK
Some of our Moms
Some of Missy's Pups
Testimonials from Missy x Wrigley's Pups
Hi Delicia,
There are no words for how much I love this dog!   She is so affectionate and funny and everyone goes nuts over her wherever I go. I literally have people running over to us saying "What is this dog, where did you get her and how can I get one?"
There is no such thing as a short walk when I go anywhere because we get stopped so often.  In Whistler especially where there are so many tourists milling about,  people are constantly asking me about her.  She loves everyone of course, unreservedly.  Also – everyone remarks on what a calm puppy she is.  She has an extraordinary temperament.  She is a beautiful,  beautiful dog and I'm so happy again. Thank you so much for bringing this amazing creature into our lives.  It was absolutely meant to be.
August 2018 – Female 4 from Missy x Wrigley's Feb 2018 Litter
Good morning,
Just wanted to send a couple of pics of Cooper.  He has adjusted amazingly.  Took to his crate the first night, about a months worth of potty adventures, and no chewing on anything resembling furniture.
Just returned from the cottage where he absolutely loves the water.  Also, took a chance having him leash free, but he was more concerned about losing us than we were of him.  So far so good.
Be well,  George
Thankful that more of these amazing pups have joined our world!

 
ss
Some of Jewel's Past Moyen Sheepadoodle Pups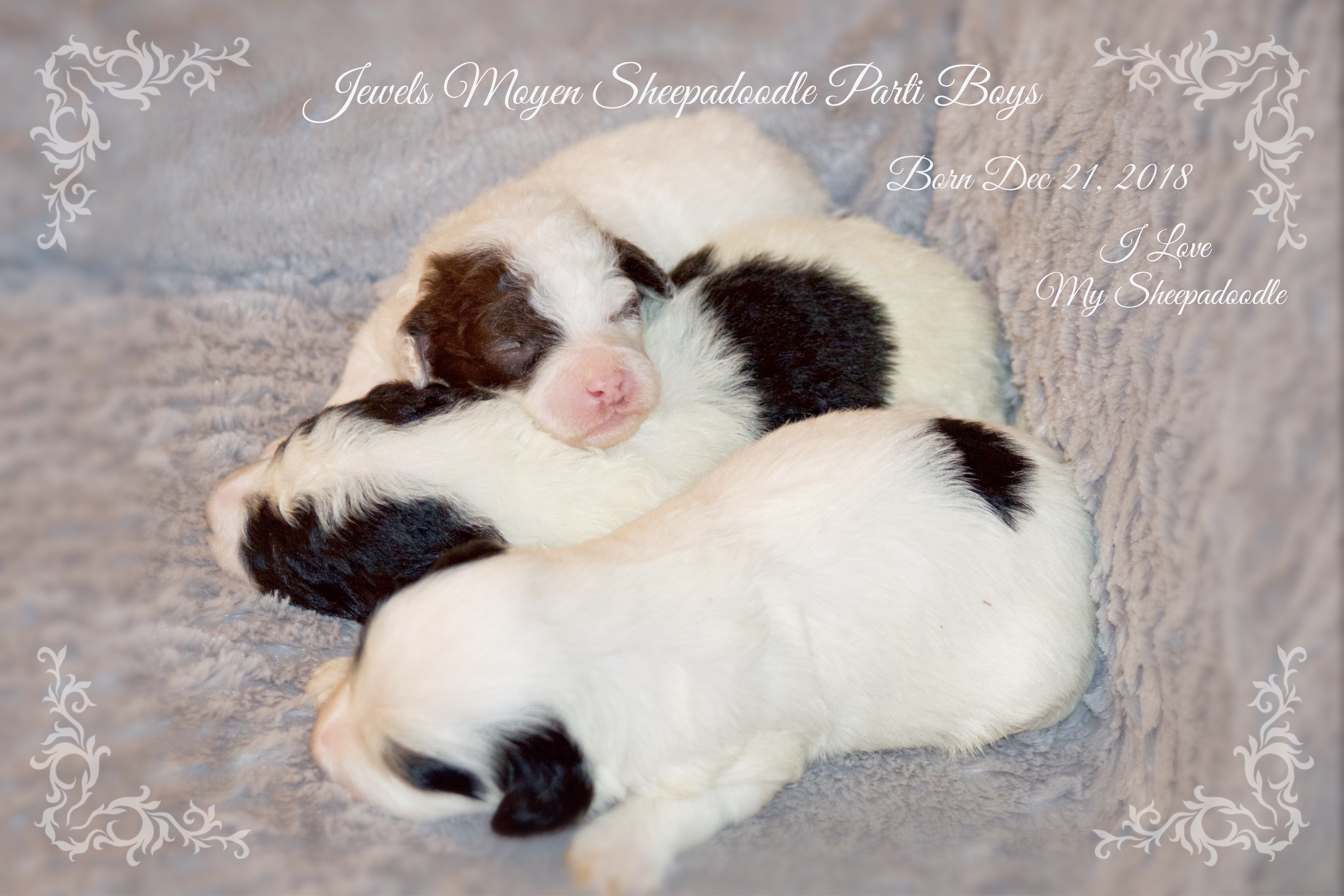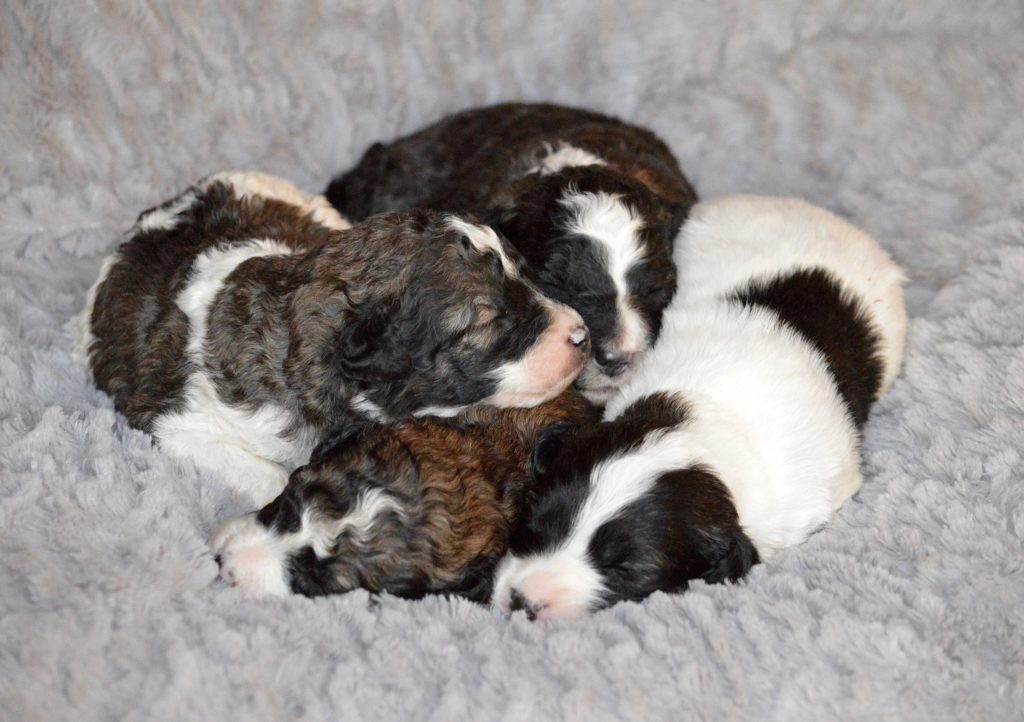 s