Payment Details
PRICES AS OF OCT 1, 2022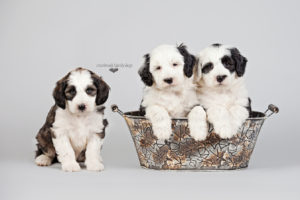 NEW PRICING IS WITHOUT OUR HEALTH GUARANTEE
 If you are interested in our 1 yr health guarantee you can add it to the purchase price for $500 more.  See our Pet Contract and Health Guarantee page.  Our goal is to have our parents each health tested for hips and elbows and we are also working on completing DNA health testing on each of our breeding dogs. The health guarantee is there for an extra peace of mind for those who wish to purchase it. 
Subject to change and include HST – weights are approximate
Puppy Prices
Standard Sheepadoodles 50 – 80 lbs ~ $3,000
Moyen Sheepadoodles 40 – 60 lbs ~ $3,000
Mini Sheepadoodle 25 – 45 lbs ~ $3,000
Tiny Sheepadoodle 15 – 30 lbs ~ $3,000
*Puppy Deposit ~ Holds a pup to your name to your confirmed litter ~ $500 Nonrefundable 
1 Year Health Guarantee ~ See our Contract page for what it covers ~ $500 extra
* Puppy Boarding ~ includes food, deworming and next booster if needed ~ $250/week or $50/day
Shipping ~ includes airline fee and crate, delivery to airport, health certificate and taxes ~ $800
Puppy Delivery ~ Depending on gas prices ~ $.80/km round trip, $1/km if in downtown Toronto
—
*(Deposit go towards puppy purchase – valid for one litter)
*(Puppy boarding is only for puppies that people pick here and need an extra week or two. We prefer pups to go home by 9 weeks of age)

OUR WAIT LISTS

We are taking names and deposits for current available litters or litters on our News & Upcoming litter page. 
Subscribe to our email updates for notifications of our new litters if you are not quite ready for a puppy yet. 
–
PAYMENTS

Full payment must be made before the puppy goes to its new home.  Our preferred payment is by e-transfer.  Please make payments for pup at least 2 days prior to puppy pick up.  If paying by certified cheque or cash you can bring that the day of puppy pick up. If your pup is in training, puppy purchase price is due at 8 weeks and training price is due 2 days prior to puppy pick up.
–
PUPPY PICKING & PICK UP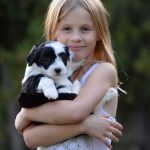 Typically the puppies are chosen around 6 weeks of age.  Picking order comes in order of deposits for those on the waiting list. For those on our email subscriptions, we will send out an email about any openings.  Let us know your top 3 choices.  After going through your application, we will contact you with a spot that we can offer you.  If you are happy with the puppy picking spot at that time you may place a $500 non-refundable deposit.  If you are not happy with the puppy spot we can offer you, you can pass and wait for another litter or look elsewhere.  
Before you pick, have a few favourites in mind so it helps out at picking time.  We will post videos of the pups on our instagram page before puppy selection date.   You will pick your puppy virtually by arranged video call.  Your puppy is ready for its new home between 8 and 9 weeks of age.  After 9 weeks, there is a boarding charge of $50/day or $250/week.  We will arrange a pick up date and time with each new puppy owner when you pick out your puppy.  
Note – If you miss your puppy selection time we will have to pass by your name so please make sure to show up on time for your scheduled puppy picking time.  We will do our best to connect with you beforehand to give a reminder as well.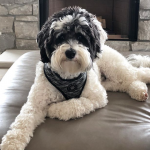 We get a lot of emails and also spend time with our family and pets so we can't always get back right away. Your emails are important to us and we do try to get back within 2 business days. 
Follow us on Instagram in the meantime to see our cute puppy faces.