with a Touch of Goldendoodle
~
BORN SEPT 17, 2023
READY NOV 13 – 18, 2023
~~
SALE OF $2,000 CD
~ THESE OPENINGS ARE AVAILABLE ~
~~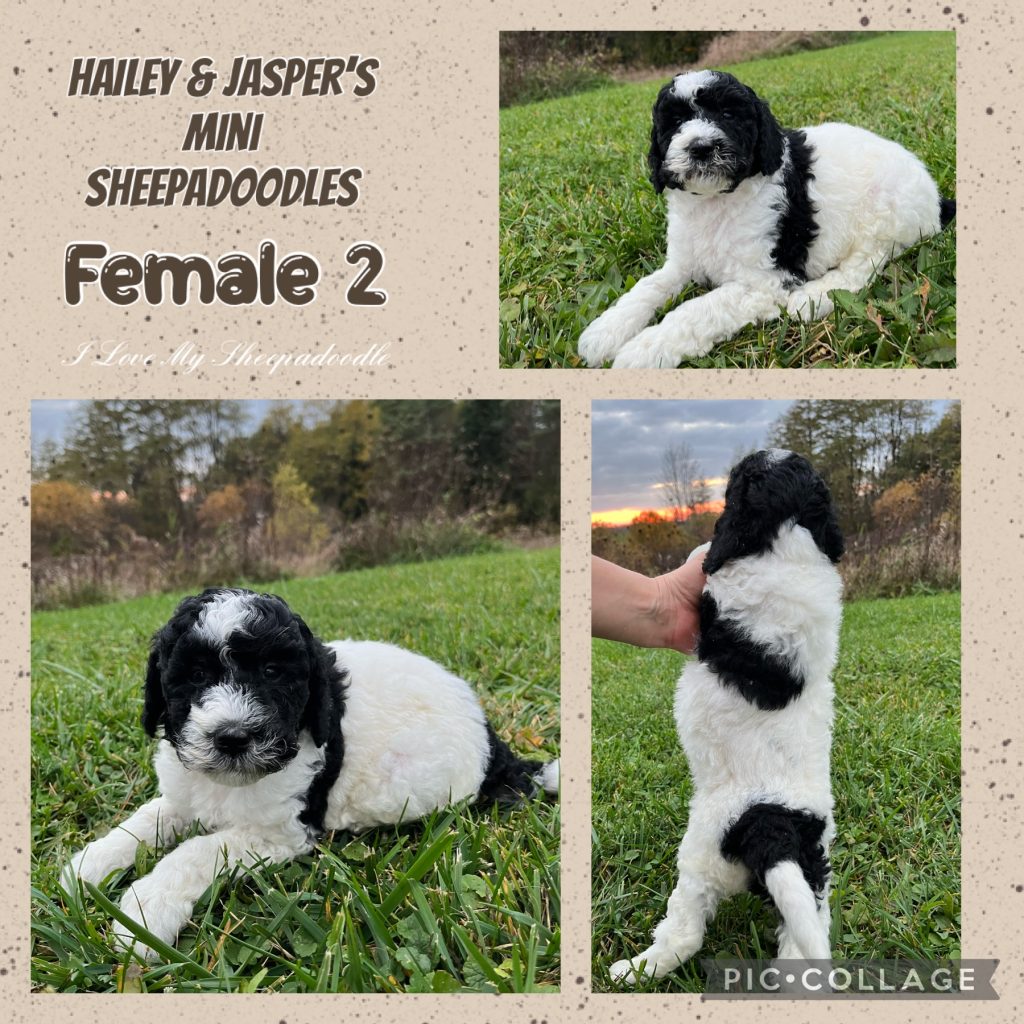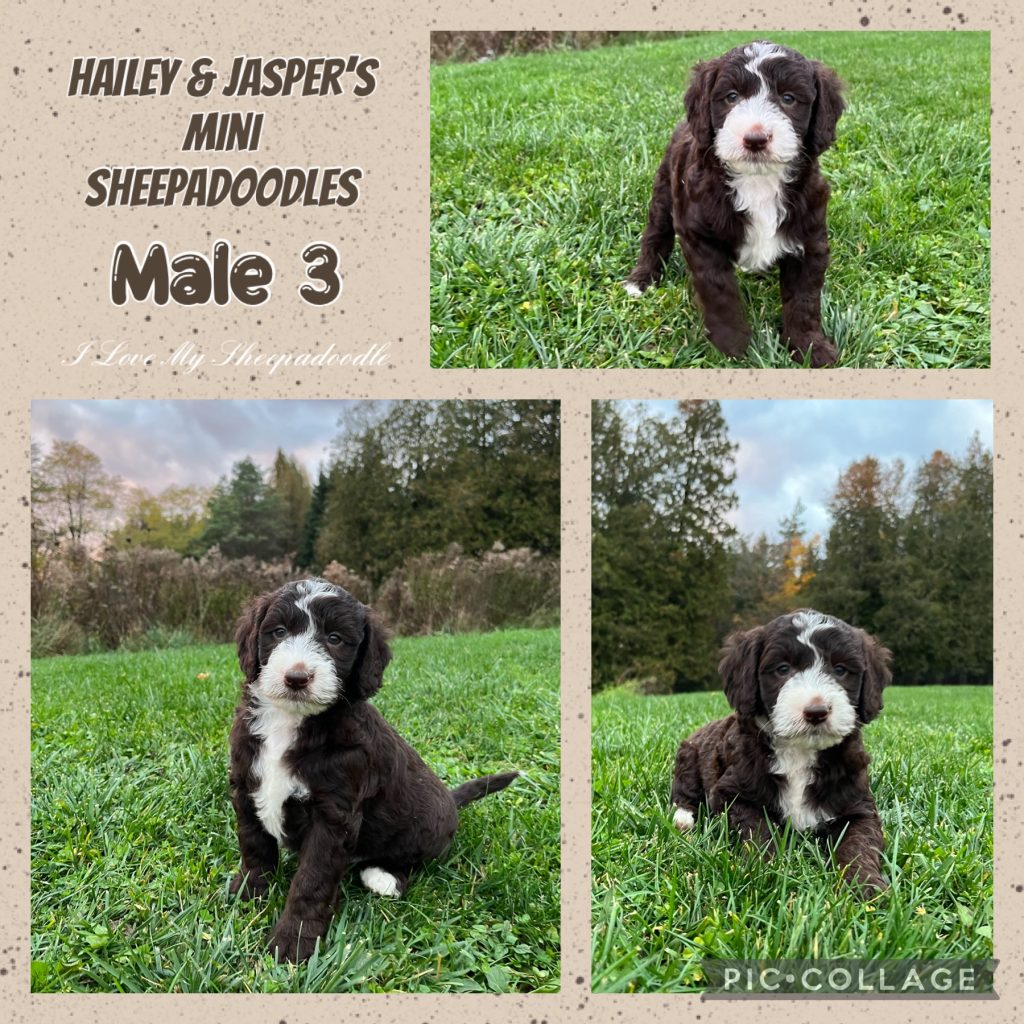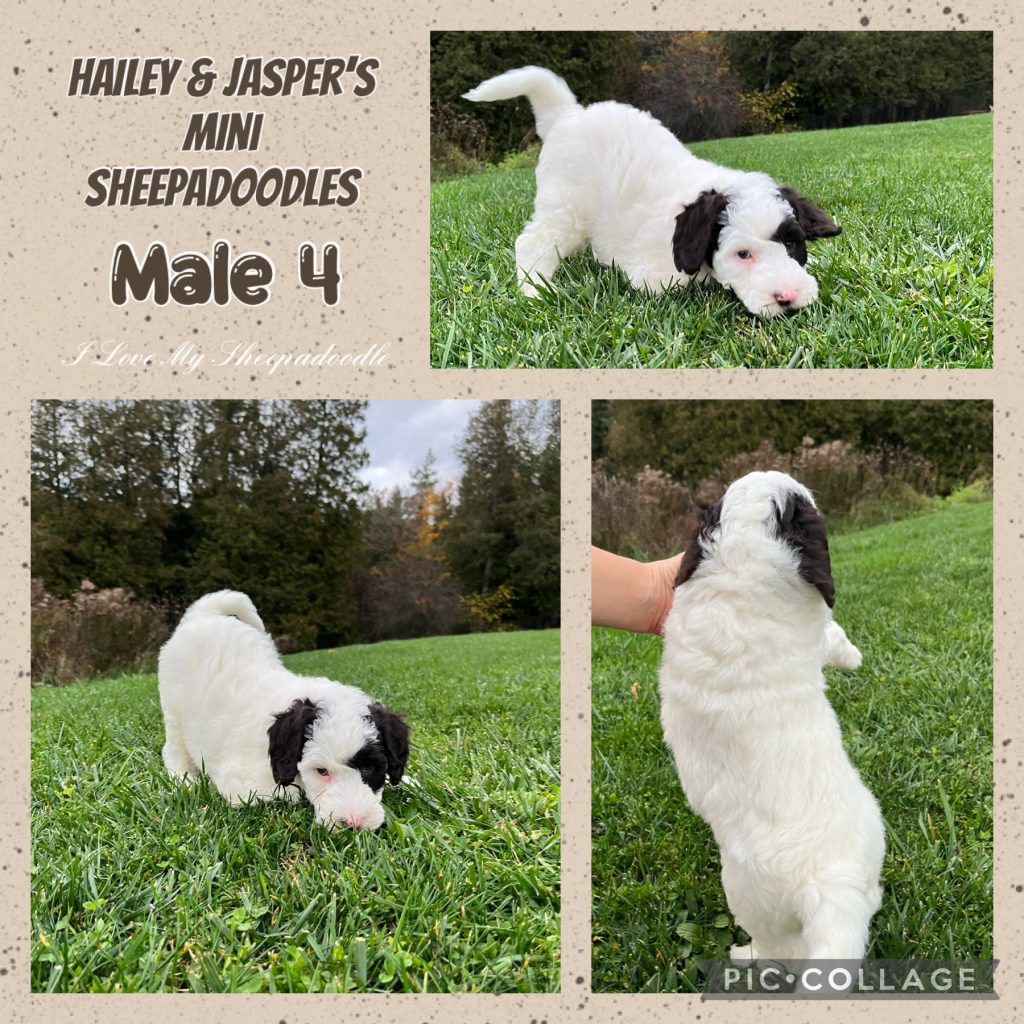 ~

~Hailey & Jasper welcome a beautiful litter of 10 pups!   We have 5 boys and 5 girls.  Look at those colours and markings!  And, there are wavy or curly coats. What a nice variety!  There's something for everyone.
 Hailey & Jasper's pups are Mini Sheepadoodles with just a touch of Goldendoodle. – two favourite doodle breeds! This blend is also known as an Olde English Goldendoodle. It helps them have more of a boxy look, less herding instincts and makes them an overall great family dog, yet still maintaining that hypoallergenic coat. They are friendly, social and love their families.  They make an excellent family dog and companion.
In this litter the pups are about 30% Old English Sheepdog, 10 % Golden Retriever and 60% Mini/Moyen Poodle.
The pups have a soft coat with little to very low shedding. Their hair is similar to human hair; it will continue to grow and needs trimmed.  Their hair needs to be brushed on a regular basis.  Grooming usually starts around 4 or 5 months of age and then would be every 8 – 12 weeks following depending on your preference of hair length.
 These pups should be an average around 25 – 40 lbs matured with most being around 30 – 35 lbs.  Their expected height should be between 17 – 19 inches high at the shoulder. There could be one or two that is bigger or smaller. You will be able to tell by puppy picking date.
The colours of these pups are pretty cool!  There are merle, chocolate and white, black and white or apricot and white!  The colours either stay or fade with time. Both parents stayed dark so there is a good chance these will as well.
Puppy picking is planned when the pups are around 6 wks old.  Puppy picking can be done by video call, phone call, text or email.  We do not do in person visits for the safety of our baby pups.
Pups will be ready to go home the week of November 13, 2023 or after between 8-9 weeks of age.  Pick up is available most days but we are closed Sundays.
The pups will come with their first booster, several rounds of dewormer, vet check with health records, and a puppy pack including some food, toy, blanket, vitamins and optional 30 day free pet insurance.
~~
Priced at $2,500 CD (taxes in)
If you want to add our 1 yr health guarantee it is an additional $500.  You can refer to our Pricing and Payments page for more info on the process.
You may apply for one of these puppies by completing our online puppy application if you are interested in purchasing one of these puppies. Deposits are a non-refundable $500 and only go to this litter.  Deposits will not be accepted until after the puppy application form has been approved.
Thank you and we look forward to helping you with your Sheepadoodle puppy!
– – –
WAITING LIST
Puppy selection available Nov 1 or after
1. Breeder's Pick – Female 5
2. Jerry & Cathy B ~ Barrie, ON ~ Female 1
3. Gabriela & Michael Nonchen ~ Male 1

4. Cat Tod ~ St. Agatha, ON ~ Female 3
5. David Wels ~ White Plains, NY ~ Male 5  
6. Dana and Mike Schutt ~ Franklin Sq, NY ~ M2
7.
8.
9.
10. 
–
6 WEEK PHOTOS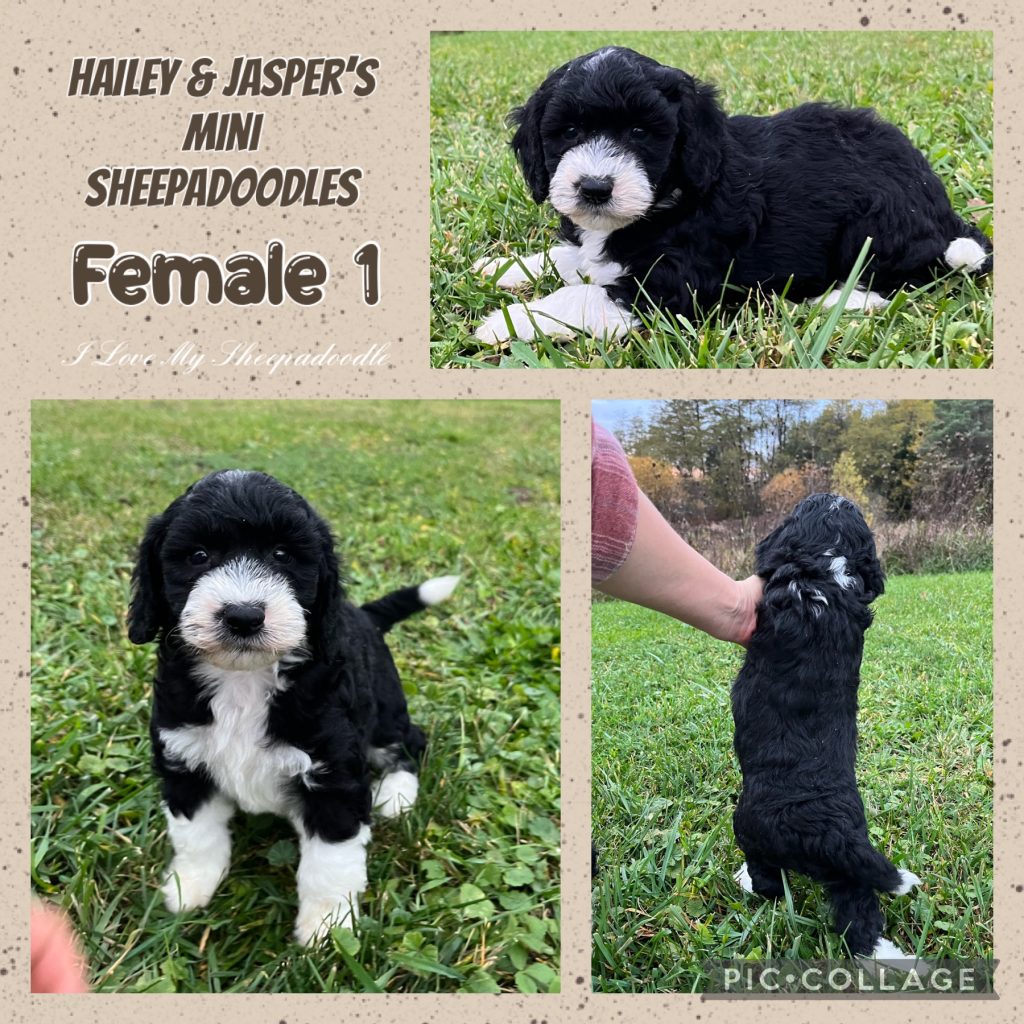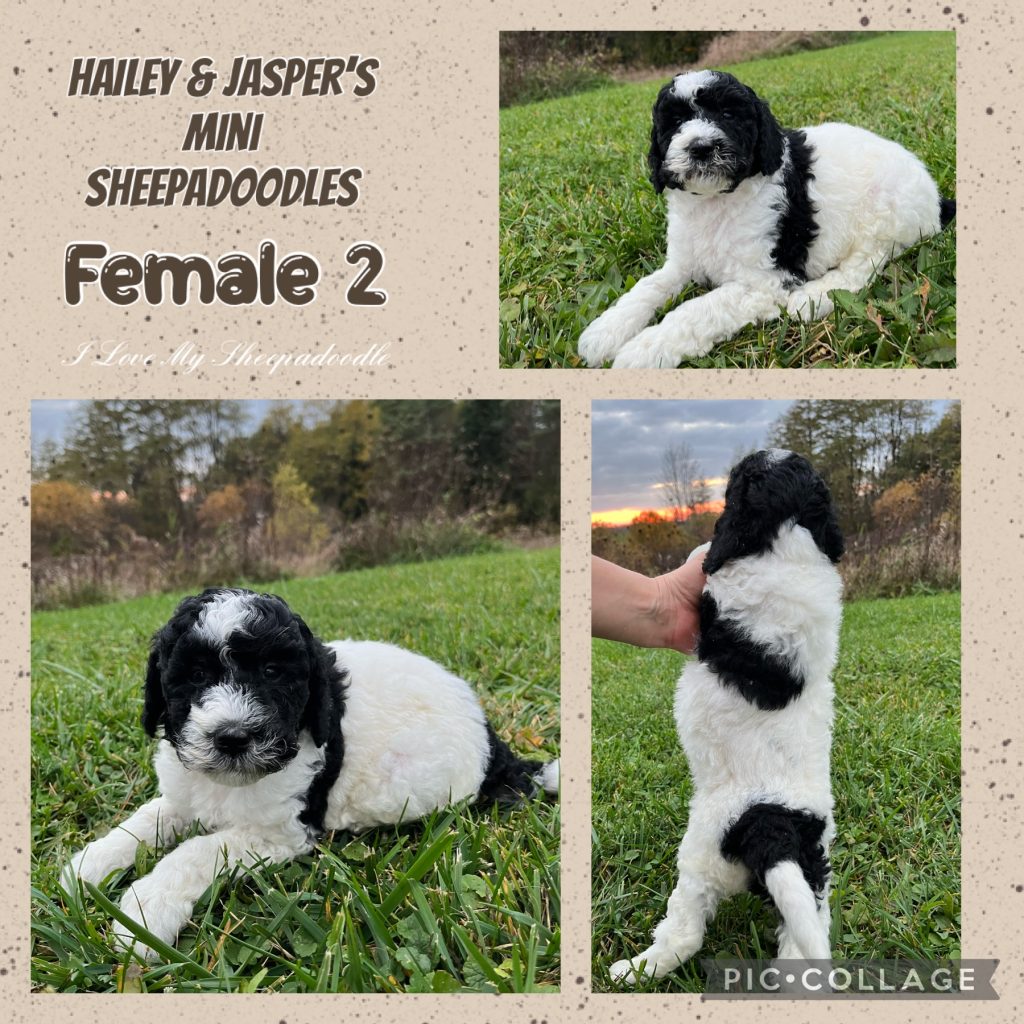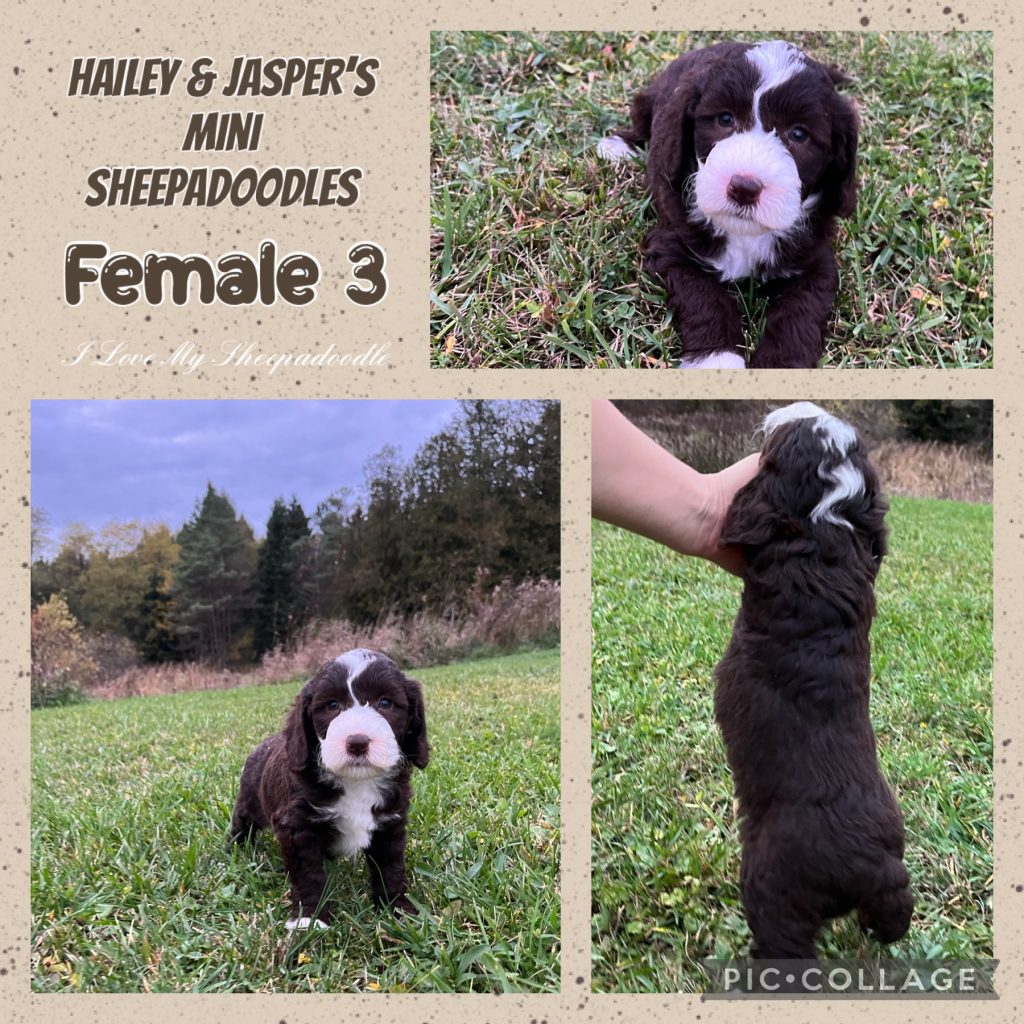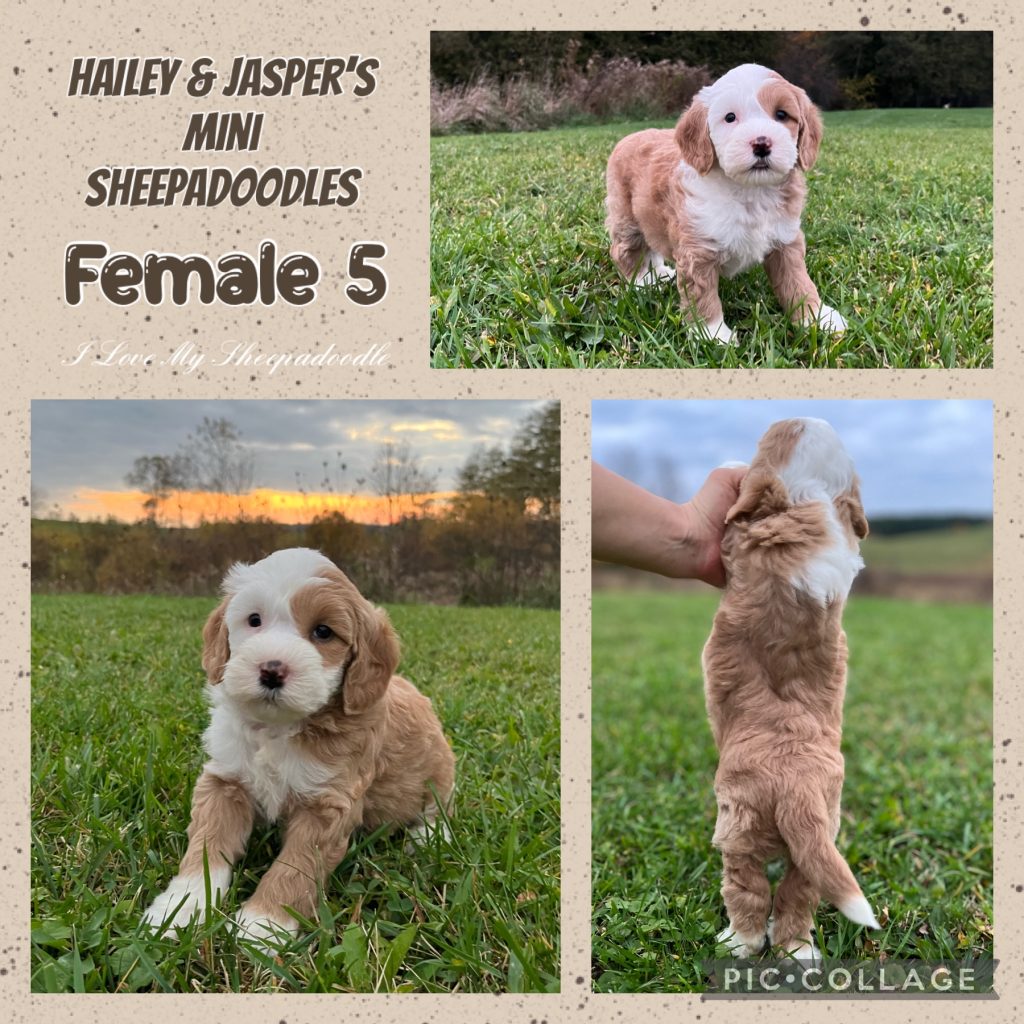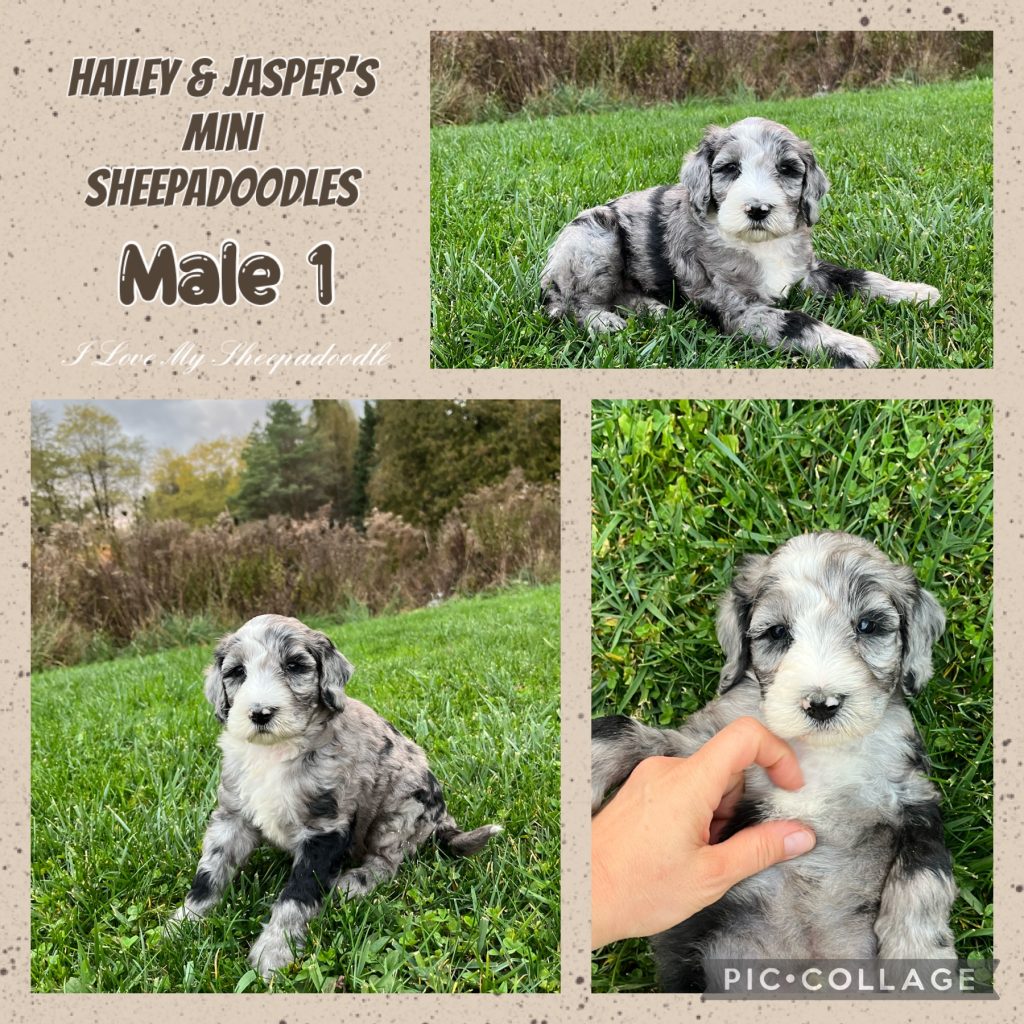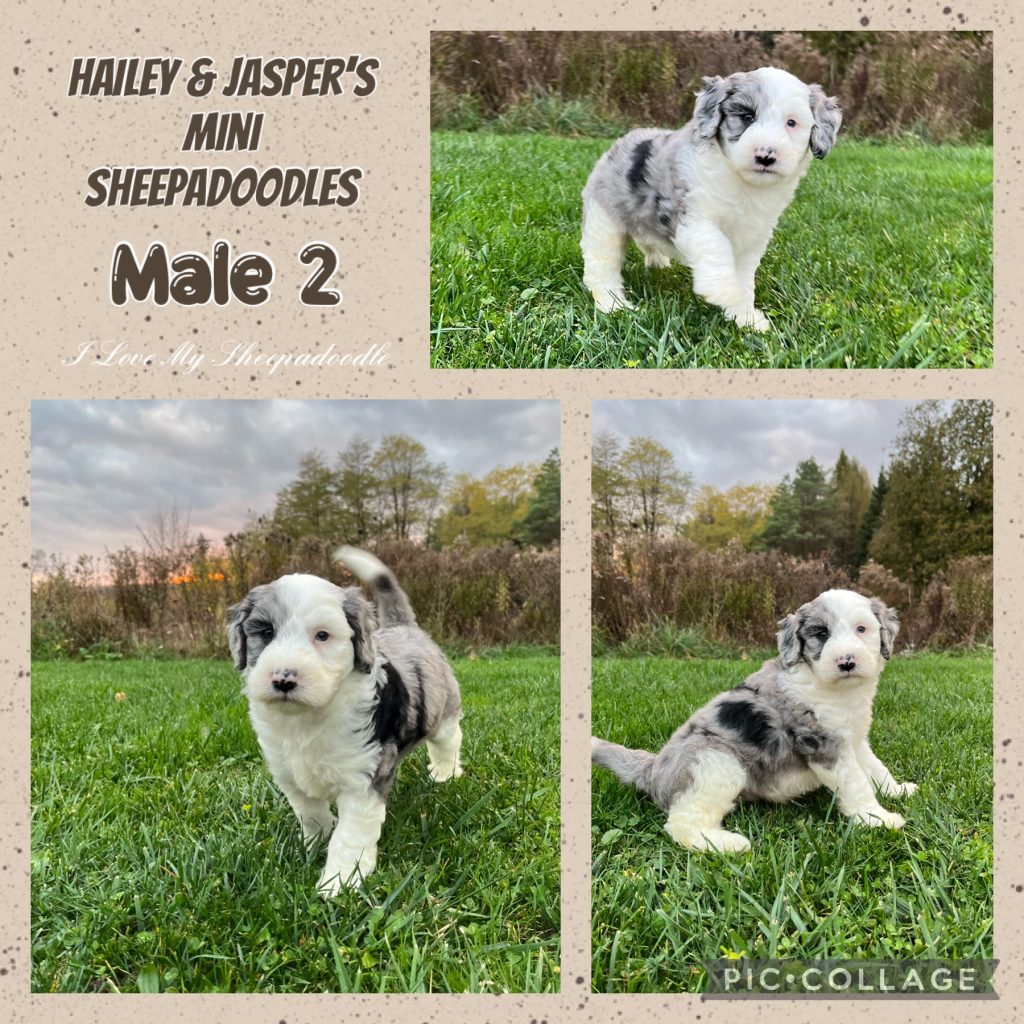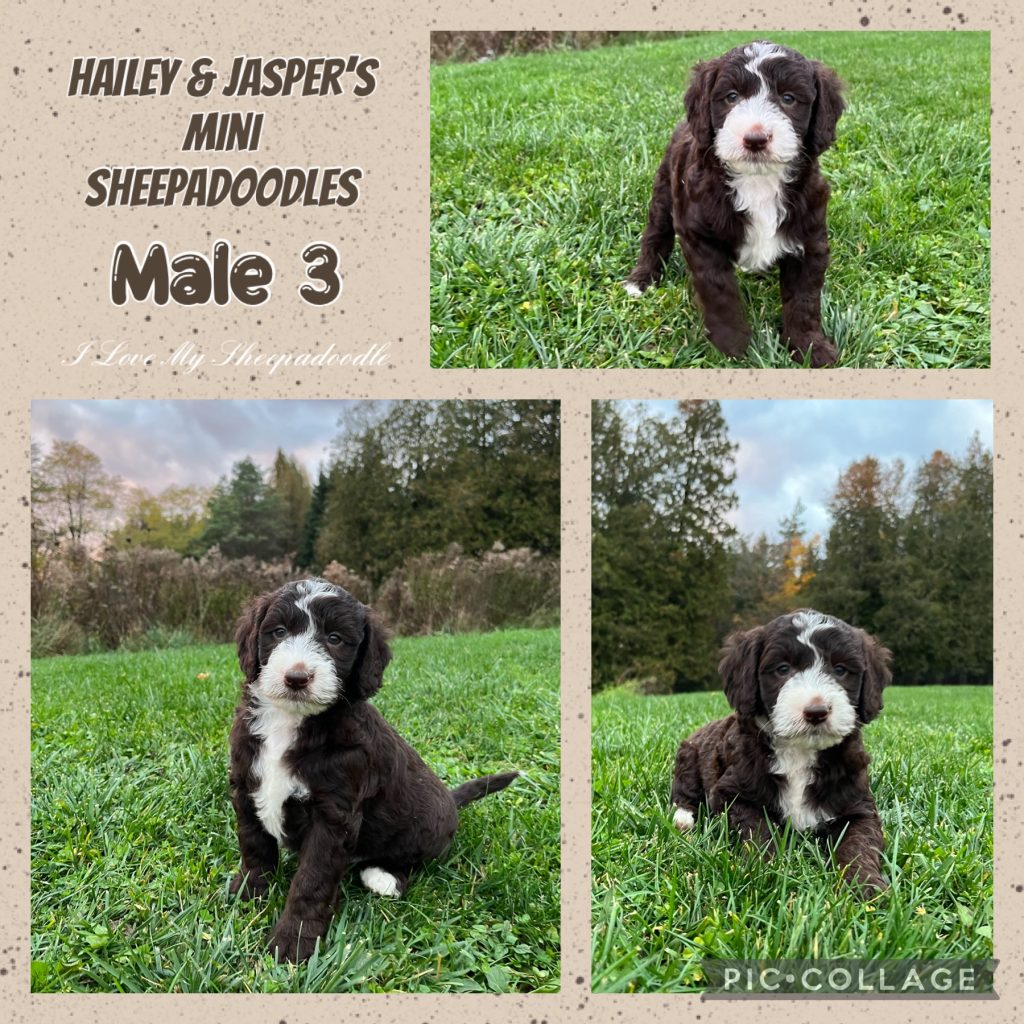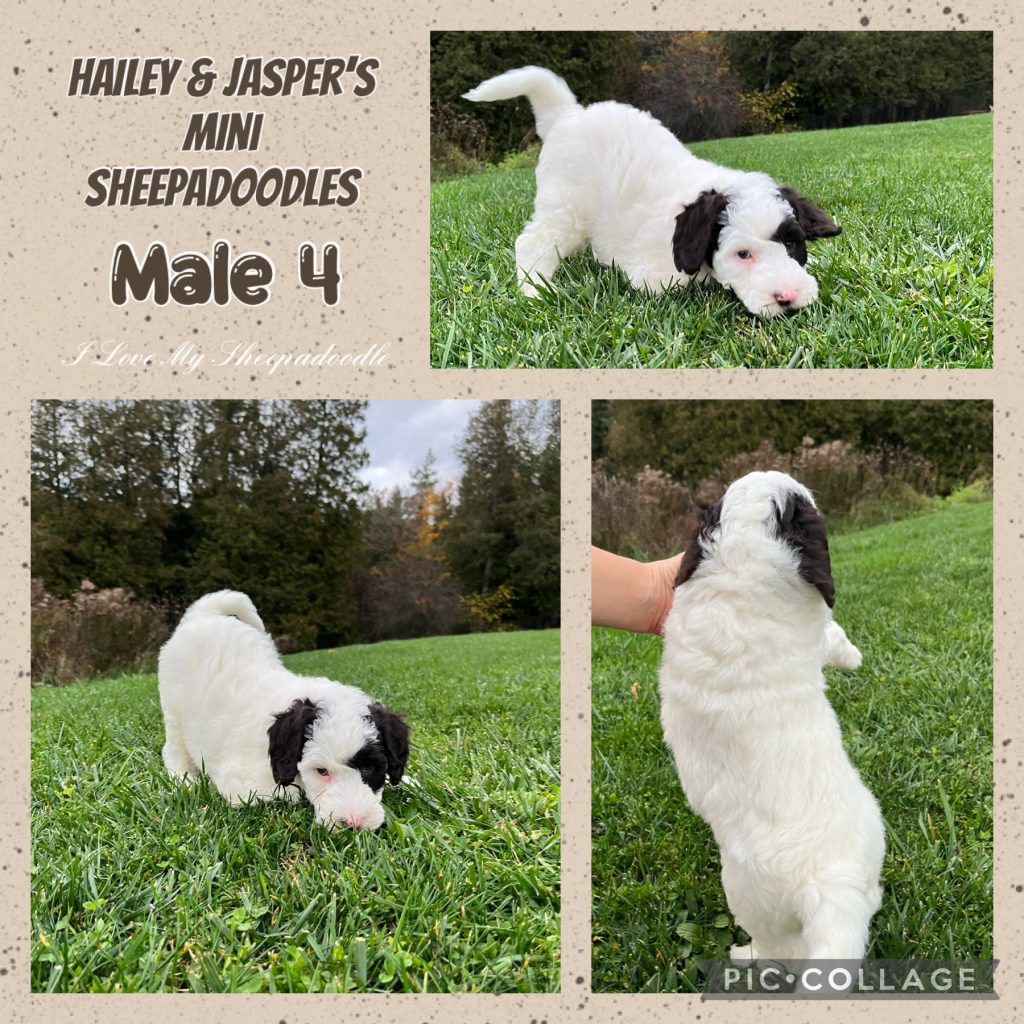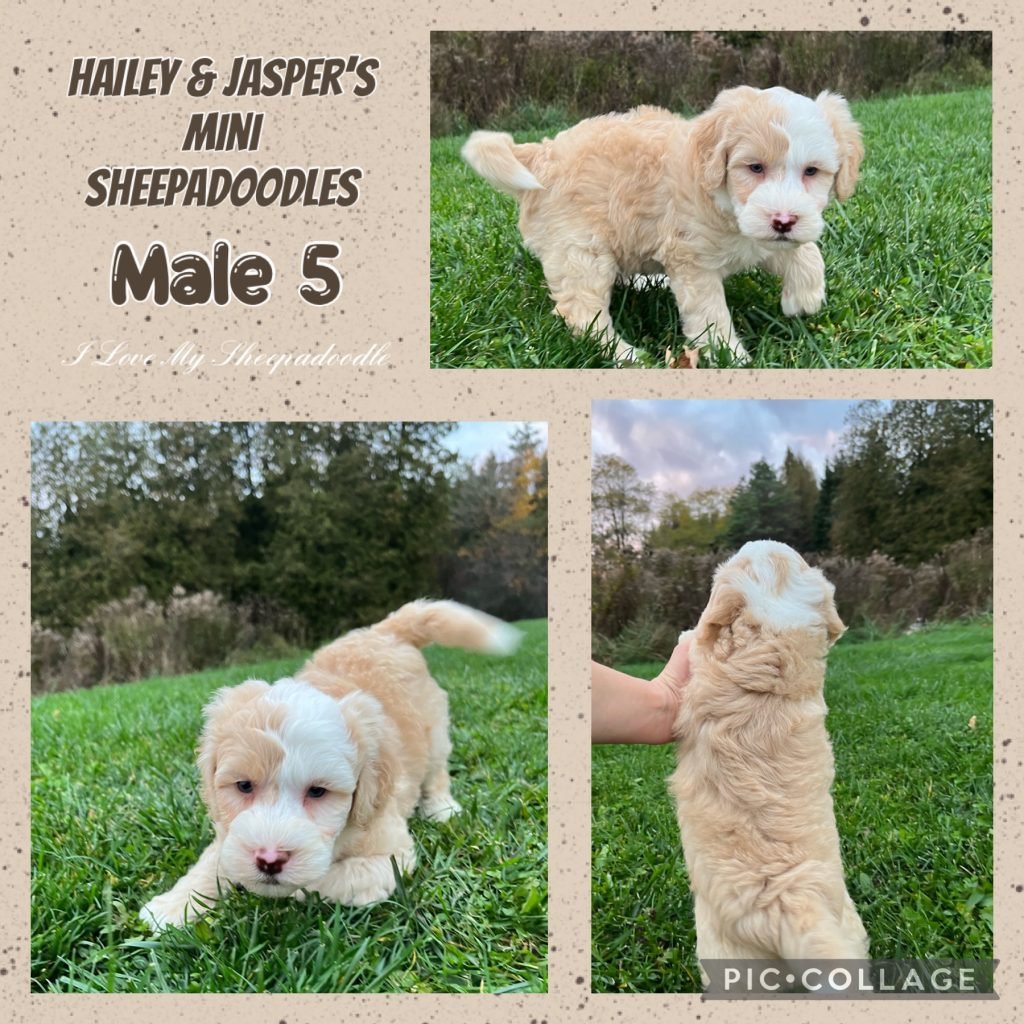 ~
~

–
MEET THE PARENTS
~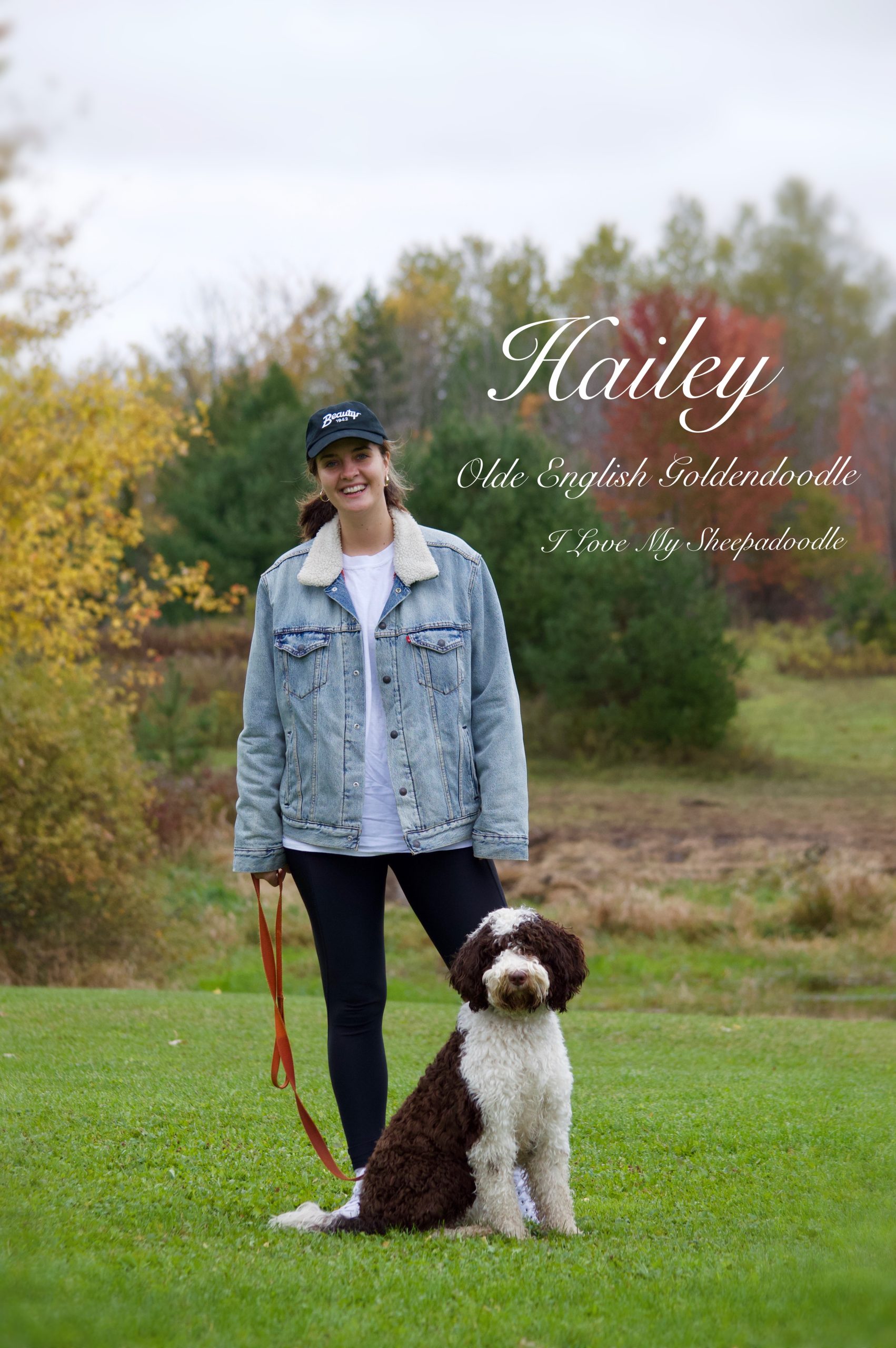 HAILEY
OLDE ENGLISH GOLDENDOODLE
Hailey is our beautiful chocolate and white tuxedo Medium sized Olde English Goldendoodle.  She is 25% Old English Sheepdog, 25% Golden Retriever and 50% Poodle.  Her mom is one of our favourites here, Blossom! And her dad is Duffy from Doodle Creek.  Hailey is about 35 lbs and 19 inches at the shoulders.  She has a super soft silky coat that is a deep chocolate brown.  Hailey loves to play with other dogs and enjoys life with her Guardian mom going on walks and helping her with her work from home.   We look forward to Hailey's puppies starting 2022 and after!
OFA Hips and Elbows – Good & Normal
Clear on Embark DNA Genetic Testing
~

~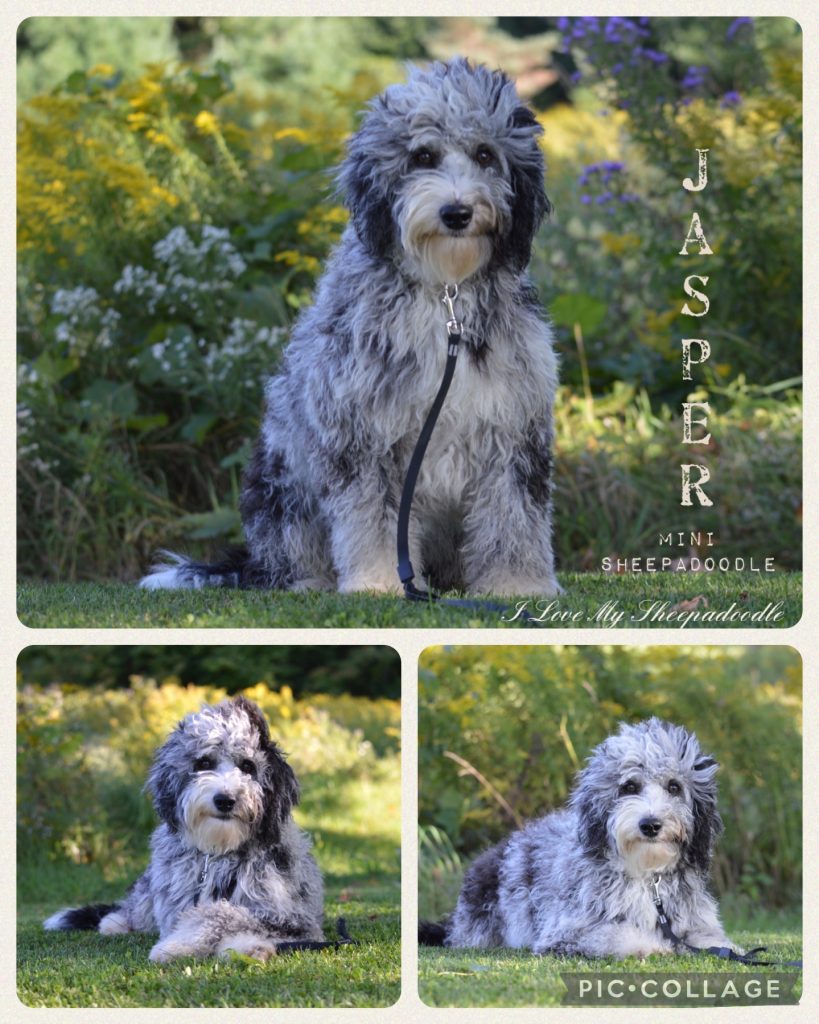 JASPER – F1BB MINI SHEEPADOODLE
Jasper is a fun yet polite Sheepadoodle.  He is excited to do something but will wait his turn.  He has a striking blue merle coat with a soft gentle curl to it.  He carries one copy of straight and one curl copy so can produce either curly or straight coats depending who he is mated with.  Jasper weighs in around 30 lbs and stands about 15.5 inches high at the shoulder. We are excited about Jaspers upcoming puppies that will carry on his beautiful markings, polite personality, and hypoallergenic coat.
OFA Hips and Elbows – Pending Fall 2023
From Proven Breeding Lines
Clear DNA with Embark Genetics
`~
LOLA'S PREVIOUS PUP
~
Penny ~ Mini Goldendoodle/Sheepadoodle from Lola & Murphy Feb 2023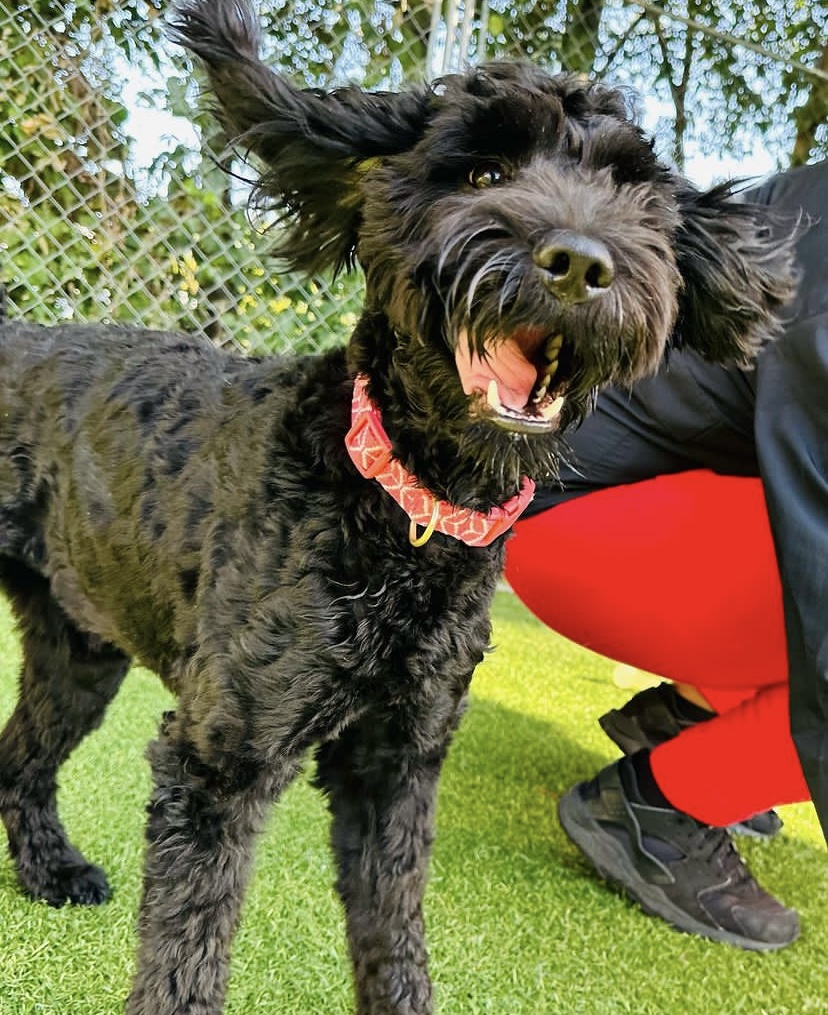 Hi Delicia,
Ira and I wanted to give you a little update on Penny (Lola and Murphy – Feb 13 2023). She  just is 25lbs and all legs!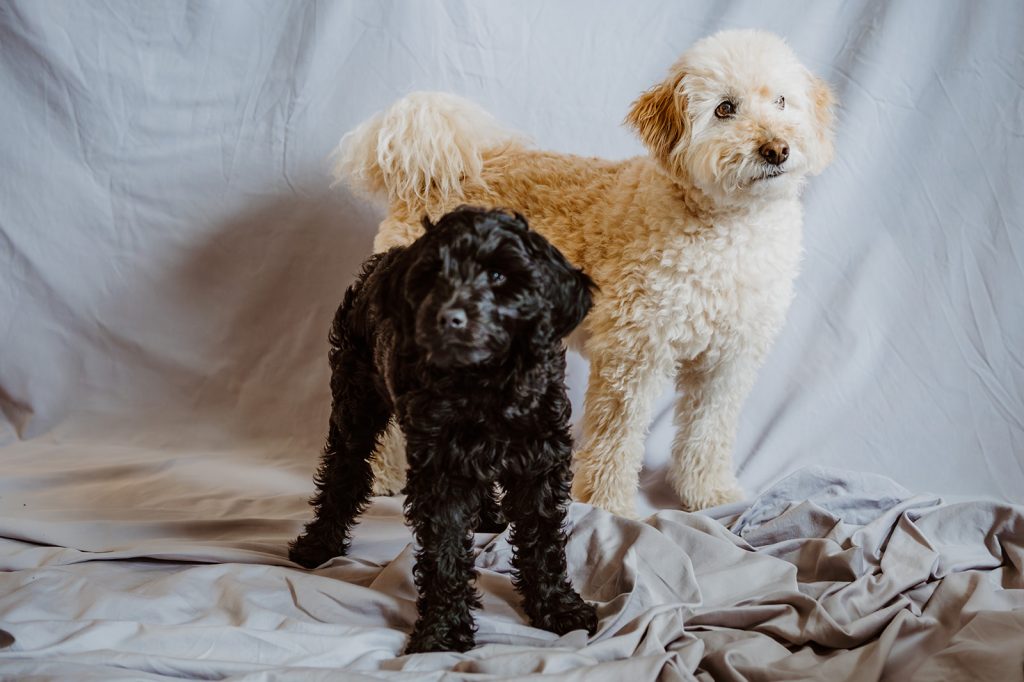 Penny is a little bundle of energy! Sweet, silly, playful but cautious and is the most dramatic dog I have every met. Her favourite things are her fur siblings Abby (cat), Lily (dog), playing with everyone she meets, stealing socks, chewing sticks and destroying unbreakable toys. Her dislikes are loud noises and being left out of the party.
Hope you and the family are doing well!
Christina, Ira and Penny  ~ Sept 2023
~
PAST OLD ENGLISH GOLDENDOODLE PUPS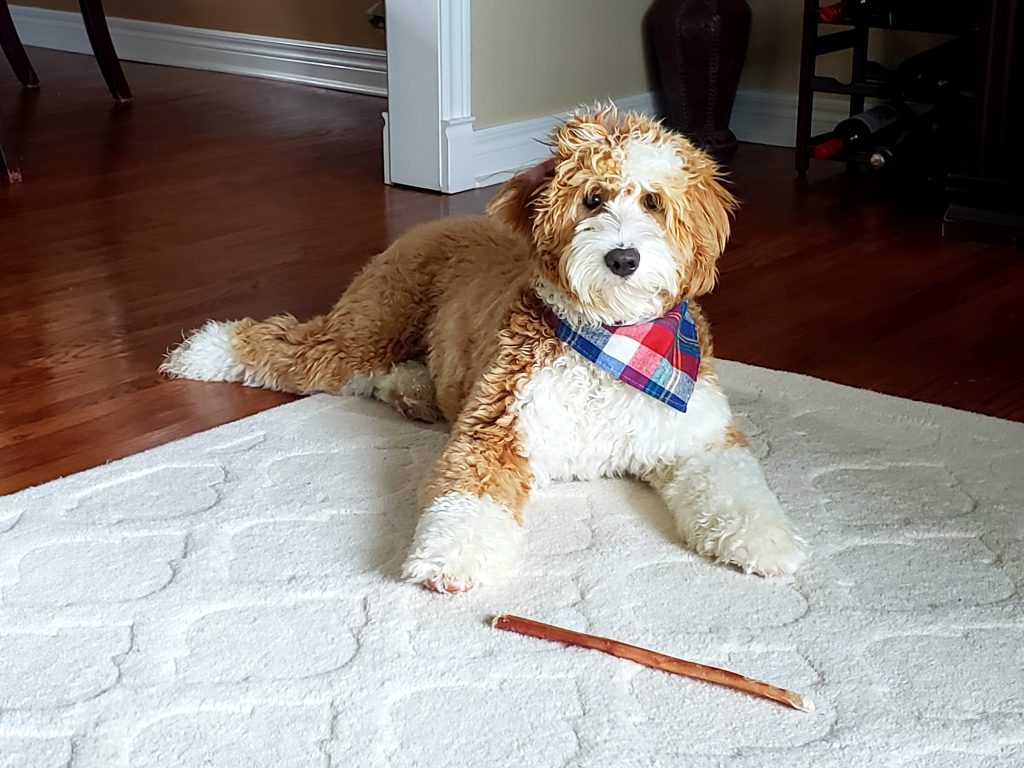 Hi Delicia,
An update on Charlie, from Tobi and Blossom's December 2019 litter.
Charlie is almost 10 months old, and weighs approximately 40 pounds.
He is a wonderful dog, full of love, curiosity and wonder.  He especially loves his morning walks and any visits to the dog park to play with his buddies.
– – –

CHECK SOME OF OUR PAST
OLD ENGLISH GOLDENDOODLES
ON INSTAGRAM